Dragpalooza V


Text and photographs are ęStephen Moon for Eurodragster.com and must not be taken, copied or used in any way without written permission. Unauthorised use may result in legal action.
Click on any image for large version

In preparation for the 2009 season with our Dan Wagner and Dave Beck tuned nitrous Outlaw bike I took the opportunity to visit the ADRL eighth mile event at Houston Raceway to pick up some tuning tips from the best in Pro Mod bike racing, thanks to the hospitality of Dan Wagner, Rob Hunnicutt and Ronnie Procopio.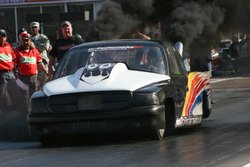 The whole weekend turned out to be a feast of doorslammer and nitrous bike racing at its best, with 37 Pro Mod cars, 20 Pro Nitrous mountain motor cars, 19 of the ultra fast 10.5 cars, 6 Extreme Pro Stockers and over 20 Pro Mod Bikes. With every possible variation of these race vehicles competing, some unusual entries were also evident including a diesel pick-up (think Fast Freddie with a lot of black smoke!) an injected nitro Pro Mod and a Harley Pro Mod bike.

Testing and the first round of qualifying took place on Friday afternoon and into the evening. Saturday afternoon saw the final two rounds of qualifying with eliminations commencing in early evening and running until 11 o'clock.

The ADRL format of racing and the impressive marketing efforts of their professional team paid dividends in a major way, with the competitors entering an arena of immense crowd noise as 40,000 Texan drag race fans got to their feet to watch the ultra-competitive racing. Overall, 50,000 fans entered the raceway during the evening and by the second round of eliminations the access roads to the car parks were closed, leaving a three mile queue of disappointed would-be spectators.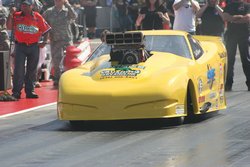 The Pro Mod Extreme cars produced stunning performances in qualifying, with the 16 car field all in the 3.8-3.9 second bracket and Todd Tutterow setting the speed mark with a 201 mph run, one of seven runs in excess of 200mph by Todd over the whole event. The eliminations were equally as quick, with a host of very close races and some very out of shape passes as the cars tested the boundaries of traction. Tutterow maintained his form and took the event win, in addition to a $5,000 bonus for being the third Pro Mod to surpass 200 mph over the eighth. Todd was using the Pro Mod clutch designed and built by Sweden's Leanders Brothers.

Pro Nitrous saw the impressive Al-Anabi team of Qatar field five cars, including Pro Mod legend Rickie Smith and the homegrown talent of Khalid Al-Blooshi. These mountain motor cars - some as large as 820 ci - produced a number of 3.9 second runs in qualifying and performance tailed off very little in the super competitive eliminations, with side by side 4.0 runs being the order of the day. In something of an upset, four of the Al Anabi cars exited in the first round and event honours went to Stan Allen, who took the upset win as #2 qualifier Jim Halsey lost traction.

In 10.5, the honours went to Billy Glidden of the famous Glidden racing dynasty. Local hero Todd Moyer qualified number one in his immaculate turbo Firebird, bagging a $5,000 prize for being the first 10.5 car to exceed 185 mph.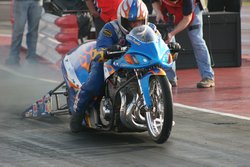 Pro Mod bike saw Charlie Prophit recover from a nitrous explosion in qualifying to deliver a string of consistent, close to class record setting performances in the eliminations on his immaculate Timblin chassis bike. In the final he faced his older brother Matt and took the win with a new record of 4.237. Ronnie Procopio set a new speed record of 175 mph in qualifying on his 1500cc Suzuki.

Text and photographs ©Stephen Moon for Eurodragster.com


---
Place pointer over a thumbnail for caption, or click on thumbnail for a larger view. Click on your Browser's Back button to return.
---
Click here to return to Features index