Part 1 – 1985-1987 – pre-history
Doorslammer racing was always part of the UK drag scene, usually consisting of street cars, with Pro Stock as a stand-alone class from 1973 to 1976, from then on Top Modified being the class for the quickest cars.
During the last year of Pro Stock, efforts were made by the National Drag Racing Club (NDRC) to form a combination class for quick doorslammers, which it announced in the 1976 June issue of the NDRC Newsletter:
In an endeavour to be certain of a field of powerful Street type cars, our promoters (NDRC/Superdrag) have proposed that a new bracket is introduced called 'Supercar'. This will be a heads up bracket for pro Stock and Modifieds that record sub 12 second runs. If less than four Pro Stocks are available for the eliminations they will automatically be included in Supercar. Prize money for both Pro Stock and Super will be £20 per round and it is hoped that those hairy Modifieds that have not shown up yet will make our meeting at Snetterton on July 18th to launch Supercar successfully.
Well, there was an eliminator at that Snetterton meeting with three Pro Stockers and the A Modified of The Stone's Tender Trap Escort. However the four car show was reduced to three when John Ledster's Mustang blew its transmission so it ended up as a three car round robin won by Gerry Andrews in the Chevy/Escort at 10.92s. The other cars were John Dickson's Money Hungry Camaro and Wiffy Smith with the Insurance in Motion Chevy Nova.
From the other reports this was the only time it ran before the closure of Pro Stock by the clubs (mainly BDR & HRA) as a class at the end of '76. Pro Stock merged with Super Street to form Top Modified.
In the 1980s Modified was run under a index system based on weight to horsepower ratios. The main frustration came from those with the quicker cars who had to wait on the start line whilst a much smaller engined car had a massive head start, and won the race despite a slower performance. It was difficult to justify to the fans too. Super Gas had started in 1984 as a heads up class however the quicker racers who could go quicker than the 9.9s index became frustrated with the performance limitation.
So a group of UK racers in Modified and Super Gas wanting to run heads up and without performance limits lobbied the clubs that organised the sport and suggested a class that would be an amalgam of Modified and Super Gas (itself new in 1984), being a combination of both of those classes to be run heads up, with no indices, handicaps, or limitations. Although the British Drag Racing Association at Santa Pod Raceway initially rejected the concept, the National Drag Racing Club , the organising and promoting body at Long Marston Raceway, welcomed it with open arms at a time when the number of nitro cars was reducing following a UK recession, retirements, closure of some the UK sport's temporary venues and a series of tragic accidents.
---
1985 – The Big Yank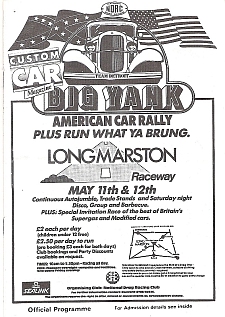 Programme cover for Big Yank race in 1985
Jerry Cookson collection
The new category initially had the title 'A Special Invitation Race of the Best of Britain's Supergas and Modified cars" and its pilot race came at Long Marston Raceway in 1985 at The Big Yank, advertised as the UK's first major American Motor weekend (surely there must have been others before?) and sponsored by Custom Car. This feature race was advertised as the Super Gas Challenge, described initially in Custom Car as 'a field of the country's finest modified doorslammers, racing heads-up for glory'. By the following month the category had been renamed 'Super Modified' however it reverted to Super Gas at the event.
The RAC-sanctioned event, run for a field of eight cars on both Saturday and Sunday 11 & 12 May, had a number of regular Super Gas racers and several Modified racers as well. Super Gas was represented by, 1984 Champion Clive Mechaell in his Acapulco Gold Corvette, Mick Cheley's '27 T bodied Mr Shifter and Doug Gray's Camaro. Modified runners were Dave Mingay in his Hellraiser II Chevy Monza, Graham Barr's Neon Star Boss 351 Pinto, Tom Laffey in his Chevy powered Capri.

Dave Mingay, whose Hellraiser II debuted in 1984
Jerry Cookson photo


Clive Mechaell ran the quickest ET at the Big Yank race
betapix photo
Sylvia Hauser's newly built Super Gas Ford Sierra XR4i had suffered a mishap at Santa Pod Raceway the weekend before and couldn't attend. Other cars listed as entered were the Shalimar Camaro of Vito Adragna, the Mopar Road Runner of Dave and June Wright, Dave Warne's Mean as Hell Chevy Vega pickup, Des Taylor's Revell Rebel Mopar Pop, Jean Tidswell's Stampede Vega and Barry Sheavills' A-Team Camaro. How many of these cars actually attended is unclear as in those days, the programme's entry list often bore little resemblance to the actual turnout due to events that had occurred at the preceding race(s), along with uncertainty over parts delivery and build timetables.
Detailed results are sadly no longer available however Custom Car reported that Dave Mingay won the event on both Saturday and Sunday running 9.998 and 9.999 respectively with no speeds recorded, due to gremlins in the clocks at Long Marston Raceway. Clive Mechaell was quickest over the weekend with a 9.88. The concept however was so successful that the National Drag Racing Club included the class in their race calendar for 1986.
---
1986: the UK Pioneers
During 1986, the class ran as Super Modified for the whole season under the auspices of the NDRC. The press report stated: 'The Super Modified class has been introduced in response to public demand for a heads-up all out class for full bodied saloon cars (note the term doorslammer had not come into common use back then). The class is open to any cars complying with the current Modified or Street class regulations, including the use of nitrous oxide and subject to a minimum weight of 1500kg (3300lb) but no maximum capacity. There will be no pre-set index so racers can go as quickly as possible and this along with a substantial prize fund is expected to attract the likes of Dave Mingay with his new four speed Lenco and Sylvia Hauser with a full race engine in a battle royal 'Race to the Eights'.
Racers were identified by their race numbers and prefixes from 1985 making it easy to identify which class they originated from.
The class headlined the following rounds which were at Long Marston Raceway apart from the June date, the first two day meeting at North Weald and the September meeting at Bitteswell.
12th-13th April – Shakedown Nationals (non competition)
26th – 27th April – Street Machine Yanks Car Rally
3rd – 5th May – May Bank Holiday Speed Spectacular
31st May -1st June - Spring Nationals
7th-8th June – Southern Nationals - North Weald
27th-29th June – International Meeting
19th-20th July – Summer Nationals
23rd -25th August – August Bank Holiday Speed Spectacular
13th-14th September – North of Watford Nationals, Bitteswell
27th-28th September – Autumn Finals (RAC finals)
25th-26th October – Fireworks Special

Below are some race reports for the initial rounds of Super Modified.
---
3rd – 5th May – Long Marston Raceway May Bank Holiday Speed Spectacular
After a demo race at the Street Machine Yanks Car Rally, the 1986 May Day meeting had the first elimination proper of Super Modified.
Richard Eaton, Dave Warne and Dave Mingay were the only three cars entered, and ran a number of races. Richard Eaton's former Super Gas Plymouth Duster had nitrous installed whereas Dave Warne's Vega pickup had the rear shocks relocated outside the chassis rails to eliminate a tendency to turn right.
In the one side-by-side race that took place, Richard took the win 10.181/138 to Dave Warne's 10.120/137. Dave Mingay had suffered valve train problems, so Richard was declared the winner.

Richard Eaton's Duster
Jerry Cookson photo


Dave Warne's Mean as Hell with a typical launch
Jerry Cookson photo
---
7th-8th June North Weald Southern Nationals
This event was the first two day event at the north east London track after its racing debut in August 1985. The NDRC saw this as an important venue for the sport and there was a good field of vehicles.

Dave Pollen's Pollen Count Zodiac
Photographer unknown


Dave Collis's Camaro
Jerry Cookson photo
In Super Modified there were two new entrants, Dave Pollen's '56 Zodiac from the Super Gas ranks and Dave Collis's new Alston-bodied Camaro. Unfortunately Dave Collis's car was not class-legal and switched to running as an altered, leaving five cars in the field.
Graham Barrs in his Pinto (powered by a non-nitrous Cleveland 351ci engine) defeated Dave Pollen in round one with a great 9.884/137 to Pollen's 10.477/134. Then Geof Hauser ran 9.518/140 to defeat Richard Eaton's 10.185/130.
In the semi-finals, Dave Mingay, who had a bye in round one, defeated Graham Barrs 9.709/142 to 10.383/129 and Geof Hauser won against Richard Eaton 9.518/140 to 10.185/130.
The final was an exciting match and Geof Hauser in the repaired Independent Express Sierra XR4i beat Dave Mingay 9.580/142 to 9.889/143.

Geof Hauser in Independent Express Sierra
Sylvia Hauser collection


Graham Barrs Neon Star Pinto 351ci taken at Blackbushe in 1984
Jerry Cookson photo
---
19th-20th July Long Marston Raceway Summer Nationals
Six Super Modifieds entered, however Mick Cheley was out before the event with a broken diff. The favourite was Geof Hauser who had run a fantastic 9.26/146 on a demo run at Santa Pod's Gary's Picnic a month earlier.
In qualifying both Richard Eaton and Steve Clifton (in the Hot Tomato Opel) ran personal bests of 9.855/139 and 10.115/135 but at the cost of engine damage. Dave Mingay was top qualifier at 9.439/151.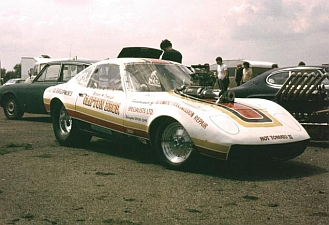 Steve and Trevor Clifton's Hot Tomato II
Alan Currans photo
Round one
Dave Mingay 16.364/65 bye
Dave Warne 11.617/126 def. Steve Clifton 25.327/43
Richard Eaton bye
Geof Hauser 9.559/146 bye

Semi finals
Dave Mingay 9.260/155 def. Richard Eaton
Geof Hauser 9.416/146 def. Dave Warne 10.145/139
Final
Dave Mingay 9.244/155 def. Geof Hauser 9.509/146
Dave Mingay had gained lane choice by running hard against Richard Eaton and his wounded engine.
---
Who was the 1986 champion?
In the points awarded by NDRC, Super Modified were amalgamated into the Modified Championship, however it was clear from the final points that Richard Eaton was the first champion with Dave Mingay runner up.
---
Richard Eaton's Quick Draw Plymouth Duster
Richard wrote an article for UK Drag Racing magazine in which he told the detailed story of his Super Modified/Super Gas Plymouth Duster. He started with a body shell bought from Glenn Mines as part of an abandoned project. Richard, with plans to add a 383ci engine, 727 trans and Dana 60 rear, contacted Clive Bond. Replacement of the front and rear chassis members by a full tube chassis and roll cage took place, the chassis being in CDS (cold drawn steel) tube. Front suspension and steering components were from a Ford Capri and Escort respectively, whereas the rear had coil springs with Alston ladder bars and Koni shocks.

Richard Eaton's Quick Draw
York Raceway photo


Richard Eaton's Quick Draw
York Raceway photo
Clive Bond at Ultimate Race Cars aided Richard in the build and final assembly as the car tipped the scales at 2470lb wet. The 383ci engine lent by Mike Nicholls put out around 400hp and later addition of a Edelbrock manifold put the car into the mid 10s in 1985.
By 1986 Richard had upgraded the engine with high compression pistons, new cam and rockers and a nitrous 'cheater' kit, however he discovered a cracked block on firing it up. A replacement block was satisfactory, however the rockers seized resulting in bent pushrods. Eventually Richard got it working and the car went quicker and into the nines as he won Super Modified at Long Marston on 5th May, getting into the nines later in the season with the nitrous on, and running a best of 9.85.
Richard retained his Duster but ran no races in 1987, the Plymouth Duster, which was half a second off the pace, came out in 1988 once and was then sold to Jim Whelan who was embarking on his drag racing career that would embrace nitro Funny Cars and a high level of showmanship in the 1990s.
---
1987: club organisational changes
The Super Modified class still ran in NDRC events, however the organisation side of the sport had a shake-up mid-way through the season when the club went bust and was hastily replaced by the National Drag Racing Association (NDRA).
Whilst NDRA results were sketchy, we have been able to obtain four race reports written by Steve Bingham, crew member for Mick Cheley, and summarise these below:
May 3rd-4th, Long Marston Raceway May Bank Holiday Speed Spectacular
The first signs of class development were the larger engines that teams had acquired over the winter break. Dave Mingay in the Hellraiser II Monza had increased capacity of 495ci up from 427ci, Dave Warne in the Mean as Hell Vega pickup had gone to 510ci from 427ci. Mick Cheley's Mr Shifter '27 T now had a big block Chrysler of 450ci to replace his 383ci from the previous year. Lastly, Tom Laffey's Opel Monza now had 466ci power up from 427ci. These four were joined by renowned engine builder Kenny Coleman in his 350ci Chevy powered Stampede Ford Maverick.

Tom Laffey's Opel Monza
Darren West photo


Kenny Coleman's Stampede Maverick
Mark Gredzinski photo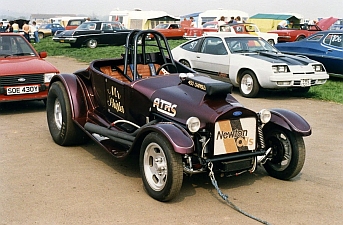 Mick Cheley with new paint and 450ci engine in 1987
Tony Whitehouse photo
Qualifying
Dave Mingay 9.34/155
Dave Warne 9.52/135
Mick Cheley 9.57/139
Tom Laffey 9.72/142
Kenny Coleman 10.40/133
Round 1
Dave Mingay 9.25/156 Bye
Dave Warne 9.60/144 Bye
Mick Cheley 9.53/139 Bye
Kenny Coleman 10.71/133 def. Tom Laffey, broke (no oil pressure)
Semi-finals
Mick Cheley 9.55/139 def. Dave Mingay 9.29/154
Dave Warne 9.59/139 def. Kenny Coleman 10.44/133
Final
Mick Cheley 9.44/141 def. Dave Warne 11.77/No speed
As the times indicate, Mick Cheley strapped a massive holeshot on Dave Mingay in their semi final match. Dave said "I thought I had a problem whilst I was in stage, looked back and saw Mick doing his grip juice, so I checked the gauges but when I looked back I was staring at a green light seeing him in front. I nailed it as hard as I could but I fell about 6" short of him as he crossed the line first". In the final Mick got another smaller holeshot on Dave Warne who got crossed up.
---
May 30th -31st, Long Marston Raceway Spring Nationals
Tom Laffey had problems after three weeks burning the midnight oil to rebuilding his 427ci engine after finding his block and crank had been destroyed at the May Day meeting. He then made it to Long Marston and fired it up only to find the transmission had failed.
The pioneering trio of Dave Warne, Dave Mingay and Mick Cheley were joined by Jean Tidswell, who had raced in the 1985 Yanks race, but had suffered a bad accident at Pennine Raceway in 1986 in a new Fordson Chevy van. Jean had retained her Nice As Pie Vega which was being sorted over the weekend with a misfiring engine. Mick had suffered ignition problems but the loan of a MSD unit from Geof Hauser (taking time off to build a new car) saved the day – until a first gear explosion on his qualifying pass!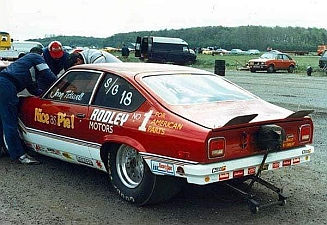 Jean Tidswell's Nice as Pie Vega
Steve Townson photo
Qualifying
Dave Mingay 9.29/160
Dave Warne 9.42/149
Mick Cheley 9.74/138
Jean Tidswell 10.94/116
Semi-final
Dave Warne 9.25/149 def. Jean Tidswell 11.44/119
Dave Mingay 9.31/158 def. Mick Cheley 9.73/142
Final
Dave Warne 9.22/149 def. Dave Mingay 9.68/149
In qualifying Dave Warne suffered a sheared brake caliper but managed to install a replacement in time for eliminations. Dave Mingay's bonnet lifted in his qualifying pass and almost flew off, and on a subsequent 9.34/160 qualifying pass the passenger window blew out at the finish line. In his race against Dave Mingay, Mick Cheley's broken first gear necessitated a second gear launch.
---
6th-7th June North Weald Raceway Southern Nationals
The combination of 40-50mph headwinds (enough to dislodge the temporary timing equipment) and rain showers restricted the amount of qualifying for the five cars that signed on.
Dave Collis and his 427ci Camaro joined the fray for the first time and ironed out most problems, although a reluctant line lock prevented the tyres reaching their optimal temperature in burnouts. Tom Laffey was suffering a misfire in his 427ci engine.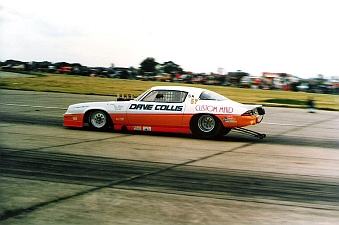 Dave Collis
Jerry Cookson photo
Qualifying
Dave Warne 9.33/154
Dave Mingay 9.49/147
Mick Cheley 9.50/133
Dave Collis 10.78/136
Tom Laffey 10.86/123
Round one
Dave Warne 9.32/150
Mick Cheley 9.60/139
Dave Mingay 9.35/132
Dave Collis 10.46/142 def. Tom Laffey 11.38/105
Semi-Finals
Mick Cheley 9.59/139 def. Dave Warne 10.22/112
Dave Mingay 9.43/131 def. Dave Collis 10.34/144
Final
Dave Mingay 9.42/147 def. Mick Cheley 9.56/139
Dave Warne suffered an early exit following three hard qualifying runs with no times recorded, the car going towards the centre line against Mick Cheley. That there were three wins in three events bode well for the competitiveness of the new class.
---
27th-28th June Long Marston Raceway
Five cars made the call for the first round of qualifying. However there was a casualty during the third session when Trevor Clifton in the Hot Tomato II Opel GT suffered engine problems on his third pass having previously run two eleven second attempts. An inlet valve seat had dropped out of the cylinder head which had then snapped the head off the valve and punched a hole in a piston. So then there were four.
Dave Warne also had a problem on Sunday morning in firing up in the pits when the starter ring gear came away from the flywheel, Dave and his team having to take the Lenco gearbox out in order to refit the errant ring gear on the flywheel. Dave Mingay suffered a broken diff in qualifying with three teeth missing off his pinion gear, the spare in their van having a higher gear. On the positive side, Doug Gray made a reappearance in the class in his big block Camaro, his first run seeing the alternator pulley and belt coming off at the top end.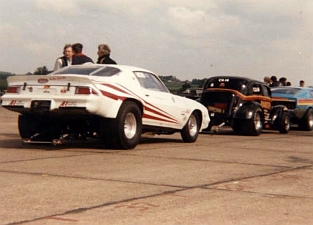 Doug Gray's Camaro
Nick Pettitt photo
Qualifying
Dave Warne 9.20/151
Dave Mingay 9.34/162
Mick Cheley 9.36/144 (personal best)
Doug Gray 10.31/138
Trevor Clifton 11.09/129
Semi Finals
Dave Warne 9.22/150 def. Mick Cheley 9.65/143
Dave Mingay 9.21/154 def. Doug Gray 10.15/140
Final
Dave Warne 9.26/150 def. Dave Mingay 9.34/161
Although Dave Mingay had lane choice by 0.01s, Dave Warne in the unfavoured right lane found better traction in the race and was first through the finish line beam.
---
Next time...
In part 2 we'll have the formation of the Pro Modified Racers Association, how the class came to race at Santa Pod Raceway, and the first cars purpose built for the class.