Part 2 – 1988-89 – PMRA: first years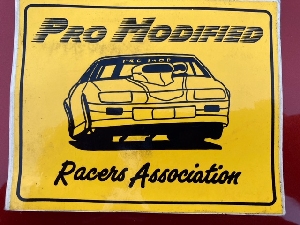 PMRA logo
Mick Harle collection
The racer credited with coming up with the title of Pro Modified was Mick Harle who was a member of Graham Barrs' Modified team. Mick had a role in organising the Pro Modified Racers Association and assembling a set of rules for the class. He recalls: "Top Modified in its handicap format had lost support to Super Gas and the number of cars had reduced to a couple. I floated the idea of a Pro class at the end of 1987 to both clubs so that enough Modified cars were able to race heads up for a decent purse. Eventually I did a deal with Roy Phelps that we were paid £1000 plus free entry for each race we did, with NDRA following suit. That lasted for a season however SPR's financial problems didn't permit Roy to renew the following year."
Supporting the PMRA was an organising committee including Mick, Clive Bond (Ultimate Race Cars), Tim Cook and Geof Hauser with Andy Robinson joining the committee a short while later.
Running Doorslammers heads up and unlimited was, strangely a concept that hadn't yet caught on elsewhere in the world. In the US, nitro racing and Pro Comp were dominant in the US with Pro Stock being the top doorslammer class but non-existent in the UK and anyway more limited in its rules than UK Modified and Super Gas. IHRA had Top Sportsman, which was a dial-in class with a wide variety of machinery incorporating dragsters, altered and doorslammers. It wasn't until 1988 that the IHRA started running Quick Eight doorslammer eliminators which were a sub-group of the Top Sportsman entry. This group of racers became IHRA Pro Modified only at the start of 1990.
Mick Harle added: "The rules were set initially using Super Gas and Modified construction rules at a minimum weight. There were no factors for engine combinations or weight at the beginning, later there was added weight required for running blowers, nitrous and Lencos (turbos weren't used in those days) . We got together and bought our own scales as none of the tracks had decent ones! The initial idea was to mandate 500ci as a maximum engine capacity however even at the start of 1988 some were over 500ci and so the engine limit was dropped".
These basic rules including a less liberal engine setback rule than IHRA were kept from the inception of the class until the mid 1990s when the IHRA rules were adopted.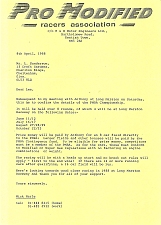 Proposal from PMRA for Long Marston Raceway
Jerry Cookson collection
The founder members of the PMRA and their cars and engine were:
Graham Barrs (Neon Star Ford Pinto/Mustang, Ford 351ci)
Mick Cheley (Mr Shifter 27T Roadster, Chrysler 450ci)
Trevor Clifton (Hot Tomato II Opel GT, Rover 215ci S/C)
Tim Cook (Mr Americar 56 Chevy, Donovan 572ci)
Richard Eaton (Capital Quick Draw Plymouth Duster, Chrysler 505ci)
John Everitt (Bad Intentions Chevy Camaro, Chevy 431ci)
Doug Gray (Bromley Art Chevy Camaro, Chevy 454ci)
Terry Gibbs (Obsession Motorsports Chevy Camaro, Chevy 427ci)
Geof Hauser (Hauser Race Engineering Ford Sierra, Chrysler B-1 440ci)
Tim Hines (Ford Escort Mk2, Ford 460ci)
Dave Mingay (Hellraiser II Chevy Monza, Chevy 427ci)
Dave Pollen (Pollen Count II Opel Manta, Chevy 427ci)
Andy Robinson (Street Elite Racing Chevy Monza, Ford 351ci)
Des Taylor (Ford Model A van)
Dave Warne (Mean As Hell Vega pickup/Sierra Cosworth 500ci Ford)
Contingency money for winners was also set up by Mick Harle, with the list including Mick's own firm H & B Motor Engineers, John Everitt Jewellers, Ultimate Race Cars, Americar, Chers Patissserie, Street Machine and Practical Used Car Rental.
---
1988: new club, new rounds, new cars
There was a new car for Graham Barrs, who had imported a Fox body Mustang, formerly run to a NHRA A/Gas National Record by Jim van Cleve, Graham fitting his own 351ci combo into the rolling chassis.
A week after its LMR debut, Dave Warne tested his brand new Mean as Hell Sierra at the York Raceway Performance Unlimited/Street Machine Street Racer Championship on 18th-19th June. The car ran an amazing 8.13/160 on its first full pass on the Saturday before running out of strip and whacking the side of the car under emergency breaking, calling for some panel bashing over the weekend to straighten it out.

Graham Barrs
Jerry Cookson photo


Tim Cook before signwriting applied
Jerry Cookson photo
Tim Cook's Mr Americar made its debut at Long Marston in June, a car, like Warne's, specifically built for the class, the size of which made a real statement, albeit at the expense initially of class leading performance. Also Dave Pollen bought Tom Laffey's Manta which, with a new paint scheme, became Pollen Count.
Andy Robinson first entered the class in 1988, firstly in his own Monza and later in friend Doug Gray's Camaro. Andy's Ford Cleveland engine was suffering damage on a regular basis and Doug had been advising him for some time to change over to a Big Block Chevy due to the strength, parts availability and power potential. Doug happened to be immigrating to the US so he gave Andy the opportunity to race the Camaro whilst it was up for sale.
Support for the class came from Practical Car Rental and cars can be identified for this year by inclusion of their yellow decals.
---
30th April 2nd-May Santa Pod Raceway - European Drag Racing Grand Prix.
This was the first round of the 1988 Pro Modified Championship. Ten cars were listed meaning an eight car ladder. Richard Eaton was dialling in a nitrous fogger system, and Dave Pollen was making observed runs in his Rat-powered Opel Manta.

The SPR May Day 1988 meeting was Mick Cheley's only event win in 1988-89
Jerry Cookson photo
Qualifying
Mick Cheley 9.04/142
Dave Mingay 9.18/140
Geof Hauser 9.19/150
John Everitt 9.67/143
Richard Eaton 10.06/118
Doug Gray 10.24/134
Tim Hines 10.38/131
Dave Pollen 11.37/133
Graham Barrs' Pinto suffered a dropped valve whilst Andy Robinson, moving up from Street for the first time, was only able to muster a 13s run in his Monza.
Round one
Tim Hines 10.38/128 def Geof Hauser 10.90/149
Mick Cheley 9.25/140 def Richard Eaton 10.05
Dave Mingay 9.24/140 def Doug Gray 10.21
John Everitt 9.68 def Dave Pollen 10.70
Semi Finals
Mick Cheley 9.15/141 def Tim Hines 10.29/136
Dave Mingay 9.17/150 def John Everitt 9.58/143.
Final
Mick Cheley 9.31/136 def Dave Mingay 9.26/122 (DQ red)
Mick Harle summed up the race as 'A satisfying debut for the heads up eliminator, with the prospect of bigger fields and even closer racing as the season progresses'.
---
29th-30th May Santa Pod Fosters Lager Drag Meeting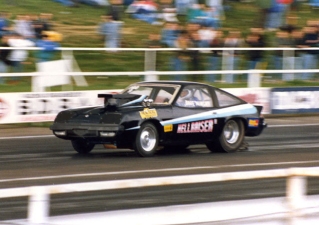 Dave Mingay kept pace by upgrading his engine and applying nitrous
Jon Spoard photo
This event suffered bad weather which led to a washout on Sunday and one-shot qualifying on Monday. Thirteen cars were on the entry list, and the event was the debut of Graham Barrs' Mustang which ran an impressive 9.36/149 on its initial pass, later running 9.00/152 in qualifying. Geof Hauser had upgraded his engine to a 500ci Chrysler B-1 unit. The event was also the debut for Bert Englefield's Sierra XR4i.
Qualifying
Graham Barrs 9.00/152
Dave Mingay
Mick Cheley
Geof Hauser
Tim Hines
John Everitt
Richard Eaton
Bert Englefield
Non-qualifiers were Doug Gray (transmission failure) and Dave Pollen (shut off) who later ran a 9.3 practice run.

Dave Pollen in his Rat-motored Manta
Jerry Cookson photo
Round one (excerpts)
Graham Barrs 9.32/152 def. Tim Hines 10.83/123
Mick Cheley 9.07/142 def. John Everitt
Dave Mingay 8.72/153 def. Richard Eaton 9.65/143
Geof Hauser 8.93/143 def Philip 'Bert' Englefield (Ford Sierra XR4i Chrysler 500ci) 10.74/118
Semi Finals
Graham Barrs 8.90/152 def. Mick Cheley 8.93/144 (first 8 second pass for both)
Dave Mingay 8.82/147 def. Geof Hauser 9.29/153
Final
Dave Mingay 8.92/153 def. Mick Cheley 11.14
Eliminations were unpredictible, the track surface not being at its best. Mark Gredzinski said in his DRN report: "Graham Barrs was shut down with an oil leak after his burnout so Mick Cheley came in as an alternate with no time to burn out properly. On the run Cheley pulled across the track in his "Mr Shifter" almost side swiping Dave Mingay, but Cheley shut off, ending up back in his own lane in an exciting final match."
Dave Mingay ended the meeting pleased with the win, the ET record and the speed record.
---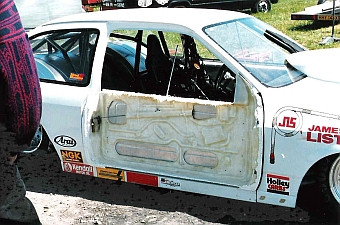 Geof Hauser, the Sierra Cosworth minus its door skin
Jerry Cookson collection
11th-12th June The Real Steel Nationals, Long Marston Raceway
The event was the debut for Dave Warne's Cosworth Sierra and Tim Cook's awesome chopped '56 Chevy. In qualifying Dave Mingay ran a 8.91 off the trailer.
A strong headwind in sunny conditions created a few problems for racers, Geof Hauser having the wind shield caving in and the doorskin flying off while on a 10.18/155 qualifying attempt, which was DQ'd and thus enabled Bert Englefield's XR4i Sierra to make the field as alternate as Geof was unable to continue. Tim Cook was unable to qualify as a rocker broke in the '56 Chevy's stand-in engine, with a new 500ci already under construction.
Qualifying
Dave Mingay 8.91/160
Graham Barrs 9.00/155
Dave Warne 9.05/163
Mick Cheley 9.25/136
Richard Eaton 9.39/150
John Everitt 9.53/128
Tim Hines 10.11/133
Bert Englefield 10.34/132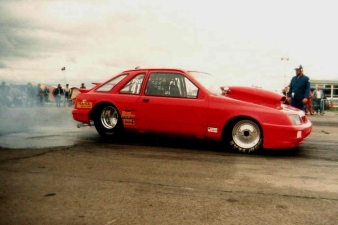 Bert Englefield - still racing in the class 32 years later
Jerry Cookson photo
Round one
Dave Mingay 8.93/160 def. Richard Eaton 9.48/146
Dave Warne 8.93/165 def. Bert Englefield 10.37/132
John Everitt 9.56/144 def. Graham Barrs broke (transmission linkage)
Tim Hines 10.01/130 def. Mick Cheley 10.50/160
Semi final
Dave Mingay 9.36/156 def. Dave Warne 9.57/160
John Everitt 9.55/154 def. Tim Hines 10.09/133
Final
Dave Mingay 9.24/124 def. John Everitt 9.52/146
In his first round defeat Mick Cheley suffered a huge wheelstand which forced him to lift off. Handling problems with Mr Shifter would be a feature during most of the year.
---
2nd-3rd July, Santa Pod Cannonball
Publicity before this highly anticipated event claimed that up to 16 Pro Mod cars would be contesting the class. The entry list included 13 cars, which would permit a 16 car ladder. But in reality the weather intervened. The Drag Racing News report stated that the sport had been "dealt a cruel hand by Mother Nature" as there was rain most of the weekend and the event declared a washout.

Tim Cook at '88 Cannonball
Nick Pettitt photo


Dave Warne's new Sierra Cosworth in 1988 at LMR
Jerry Cookson photo
The Pro Mods got one qualifying session completed, Dave Pollen however unable to compete. Dave Warne led qualifying with 8.56/150, recently having run three tenths quicker than this at Pennine, however at the expense of contact with the barrier at the top end necessitating bodywork repairs.
Graham Barrs' Mustang, imported from the US at the start of the season had been painted it in Neon Star colours and had run a 9.04; Mick Cheley and Richard Eaton carded low nines, and Tim Cook was still ironing out new car gremlins in the Americar '57 Chevy.
---
16th-17th July Long Marston Raceway Real Steel Nationals
Twelve cars were on the entry list for this event, which allowed under the PMRA rules four rounds of eliminations to be run.
The class also took centre stage in a report in NHRA's National Dragster courtesy Melvyn Record, who had recently moved to the US to work at NHRA's headquarters. Melvyn reported to NHRA members: "The latest craze in England is the fabulous Pro Modified class, a sort of hybrid Super Gas/Pro Stock eliminator. The class was borne out of frustration felt by the Super Gas racers who didn't like brake light racing, and by those who wanted to see an English Pro Stock class (Pro Stock has not run in England since 1976)".

Tim Hines
Jerry Cookson photo


Andy Robinson's Monza
Mick Harle collection
This meeting was Doug Gray's final appearance before he emigrated to the US. Of the other cars, it was reported that John Everitt was using nitrous oxide injection for the first time.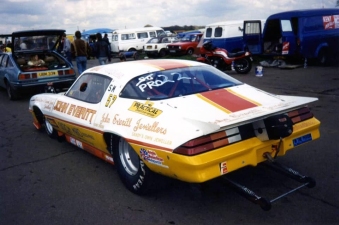 John Everitt in 1988
Tony Preston photo
With qualifying not run due to rain, the first round was drawn from a hat.
Round one
Bye runs for Dave Warne (8.77/167), Dave Mingay (8.89/163), Graham Barrs (9.41/153), and Mick Cheley (9.72/141)
Richard Eaton 9.47/158 def. Bert Englefield 11.06/132
Geof Hauser 9.81/147 def. Doug Gray 10.21
John Everitt 9.52/129 def. Tim Cook 12.22
Tim Hines 10.07/137 def. Andy Robinson 10.71/131
Round two
Dave Mingay 9.22/156 def. Geof Hauser 13.21/76
Graham Barrs 9.11/154 def. Richard Eaton 9.72/157
Tim Hines 10.07/138 def. Mick Cheley 11.45/117
Dave Warne 8.92/164 def. John Everitt DQ crossed centre line
Just prior to the quarter finals a funny car had spread its motor across the starting line. Geof Hauser had got wildly out of shape in the oiled-down left lane, shutting off against Dave Mingay.
John Everitt's Camaro then made a hard move to the left in the right lane (not oiled, but generally considered the inferior lane of the two) and following his correction turned hard right into the guardwall just past half track. The Camaro was all but destroyed in the ensuing tumbles but fortunately the car ended up on its four wheels. John was able to climb from the wreckage, hands aloft to a much relieved and appreciative crowd, and walk over to the waiting ambulance. John's appreciation for the trackside collection and regret that the class would be one car down would be followed up in 1989 by his sponsorship of Pro Mod.
The guardwall was heavily damaged in the accident and consequently the semi-finals and final were delayed to the August meeting.
---
27th-29th August Long Marston Raceway Wynn's Supernationals
This event was a date clash with Santa Pod Raceway however there was an 8 car field in Pro Mod. On the Sunday the final held over from the Real Steel Nationals in July saw Dave Warne solo to the win with a 9.36/167 after Graham Barrs shut off with assorted engine gremlins.
Dave Warne took his Sierra to another win on Bank Holiday Monday, taking out Tim Hines 8.70/166 to 10.18 and then Graham Barrs 8.46/168 to a troubled 15.33 before disposing of Dave Mingay in the final with a new backed-up record of 8.58/167 to the Monza's 9.20/158.
Also on hand in the eight car field were the entries of John Scott (Camaro, originally built for Super Gas) and Trevor Hirst (Rover 800 saloon – see separate piece). John red lit his chances away in round one.

Dave Mingay - Drive it like you hate it!
Jerry Cookson collection


Double winner Dave Warne pictured at York in June '88
Graham Beckwith photo
---
24th-25th September Santa Pod World Finals
Although this date had been announced in Drag Racing News for the championship, the round was not held, the headline doorslammer class at the World Finals being nine Pro Stock cars from Sweden.
---
22nd-23rd October Long Marston Raceway
The field consisted of Tim Cook, Dave Warne, Dave Mingay, Graham Barrs and Tim Hines
The winner was Mick Cheley at 9.22/144 and runner up Tim Hines with a 18.09/45.
---
Champion
The 1988 champion, first in the class as a National Champion was Dave Mingay who was able to run reliable mid eights at more than 160mph.
In a letter to Melvyn Record, Mick Harle described the class's future: 'With up to 30,000 pounds invested in eight second cars, we want to ensure that this class continues for many years to come. We are delighted with the response so far from racers, spectators and media, with many more cars under construction. This is the class of the future'.
---
1989: hunt for the sevens
After a successful first year, the PMRA announced eight rounds of racing, and in addition, the tracks held non-championship rounds if sufficient cars were available to make a race viable.
Long Marston Raceway had started to be refurbished and was renamed Avon Park Raceway before the start of the season.
Sponsorship replaced the track operators' deals and John Everitt, without a ride since his July '88 accident, became class sponsor of the 1989 John Everitt Jewellers Pro Modified Championship.
More cars were entering events, and founder member Des Taylor joined the fray with his Model A panel van, with Colin Taylor (no relation) making several rounds as well, his Camaro having a new tube chassis fabricated by Trevor Hirst and 509/570ci Riolo Chevy based engine.

Des Taylor
Des Taylor collection


Colin Taylor
Jerry Cookson photo
The regular runners didn't field new cars, however there were several important upgrades in the race to be the first in the sevens, Geof Hauser holding the quickest timeslip to date with a 8.07/178. Dave Warne had run a 8.13/184 at Long Marston (the speed not being announced for fear of being seen as inaccurate). Geof had replaced the Dana rear end with a stronger Ford nine inch unit for 1989, Dave had installed a four speed Lenco gearbox behind his 509ci Keith Black block utilising Chevy Pro Stock heads. Both cars had the Sierra Cosworth body shell.
Graham Barrs and Mick Harle had decided their Fox body Mustang needed a larger engine than a 351ci Windsor unit, and had invested in a 500ci Ford Shotgun engine similar to that used with much success by US Pro Stock legend Bob Glidden, with a Lenco gearbox.
Defending champion Dave Mingay continued to campaign his Monza, with a 495ci Can Am Chevy engine which had Pro Stock heads and nitrous.
---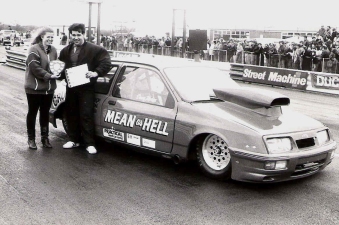 Paul Warne won best mechanic of the year award
Jerry Cookson photo
15th-16th April Avon Park Raceway Spring Nationals
The first race of the season and a lot of the field were eliminating their gremlins.
Semi Finals
Dave Mingay 11.51 def Dave Warne 23.0
Geof Hauser 9.21 def. Tim Cook 15.21
Final
Geof Hauser 8.67/167 def Dave Mingay 11.75
Despite problems on track, Paul Warne, Dave's son, was presented with a certificate for best mechanic of the year by Val Sanderson-Brown.



---
29th April-1st May, SPR Euro Grand Prix
There was a four car field in Pro Mod at this non-championship event. Colin Taylor suffered door damage on a 9.08/146 qualifying pass which spoilt the show quality paint work a little. Tim Cook had a back-halved chassis from Jon Webster, plus a custom aluminium manifold from I.C.E. Automotive on top of a rebuilt Donovan engine.
Semi Final
Geof Hauser 8.19/177.9 def. Colin Taylor 9.20/137.7
Mick Cheley 9.072/143.6 def. Tim Cook broke
Final
Geof Hauser 8.124/119.9 def. Mick Cheley 9.166/142.2 red
---
3rd-4th June Avon Park Raceway, Mountain Motor Nationals
The surface of Avon Park Raceway was described as 'slick and untreated', however Geof Hauser got down the track on his first pass and decided to sit out the morning warm up session on the Sunday.
Making its debut was the Rover 800 fastback from B&H Autokraft; team co-owner Trevor Hirst had to retire the car with a broken rocker on its 492ci injected Chevy engine.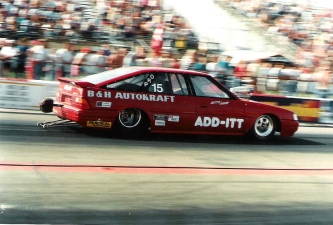 B&H Autokraft Rover 800 Fastback
Jerry Cookson photo
Qualifying
Geof Hauser 8.18/173.3
Dave Warne 8.29
Dave Mingay 8.49
Tim Cook 9.00
Colin Taylor 9.007/153
Mick Cheley 9.22/145
Tim Hines 9.60
Round one
Geof Hauser 8.63/171 bye
Dave Mingay 8.71/168 def. Mick Cheley 9.77/137
Dave Warne 8.46/169 def. Colin Taylor shut-off (out of shape)
Tim Cook 8.91/153 def. Tim Hines shut-off (traction)

This was the first round win for Tim Cook and his first time into the eights. Dave Mingay's engine suffered serious damage in his win against Mick Cheley and Mick was reinstated under the break rule.
Semi Finals
Mick Cheley 9.86/138 def. Geof Hauser 27.73/63 (stalled on line)
Dave Warne 8.28/168 def. Tim Cook 10.68/141
Final
Dave Warne 8.55/166 def. Mick Cheley 10.09/125
Dave Warne's 8.28 was backed up by his qualifying time for a new official class record.
---
1st-2nd July SPR, The Cannonball.
Geof Hauser was out with breakage sustained at Avon Park in June, so Dave Warne (8.24/166) and Dave Mingay were the front runners at The Cannonball in the 8.2s. Colin Taylor had improved performance with a 8.46, closely followed by Tim Cook with a rebuilt 572ci Donovan with a 8.49.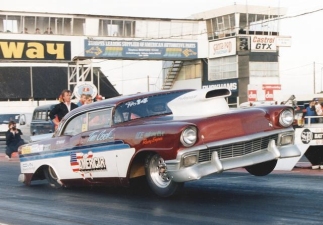 Tim Cook
Mark Gredzinski photo
Qualifying
Dave Warne 8.24/166
Tim Cook 8.59/162
Dave Mingay 9.33/148
Colin Taylor 9.45
Dave Pollen 9.46/145
Mick Cheley 9.60
Bert Englefield
Des Taylor
John Betts
Geof Hauser (cylinder liner collapse) and Tim Hines (dropped valve) failed to qualify after suffering mechanical gremlins on the first day.

Round one

Dave Warne 8.20/184.5 def. Dave Pollen 9.99/98.42
Dave Mingay 8.21/157.2 def. Bert Englefield 9.85
Tim Cook 8.49/160.2 def. Mick Cheley 9.29/145.7
Colin Taylor 11.35/100.7 def. Des Taylor broke (cracked block)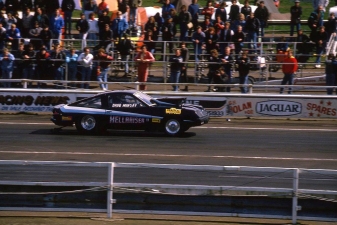 Dave Mingay at SPR
Jerry Cookson photo
Semi Finals
Dave Mingay 8.22/168.9 def. Dave Warne 15.57/no speed
Tim Cook 8.64/no speed def. Colin Taylor 11.35/93.54
Final
Dave Mingay 8.20/169.4 def. Tim Cook 8.55/no speed
Dave Warne won the first round against Dave Pollen with an 8.20/184, the top speed of the meet, but the cars hood blew off above the SPR gantry and on its return, smashed into the windscreen. The RAC steward ruled that the damage to the screen was too bad to let Warne continue racing but he did allow him to come to the start line and collect his round points by making an easy 15s run.
Dave Mingay established a new SPR division record with an 8.20/169 (backed up by an 8.22/168 in the semis).
Colin Taylor's 8.46 came after fitting in a replacement Powerglide on loan from B&H Autokraft, however after the load John Betts discovered their unit installed in the Rover 800 had a cracked case.
---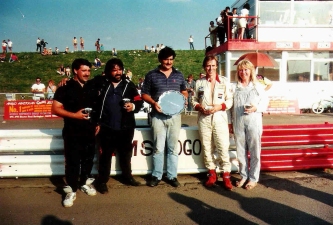 From left to right: Paul Warne, Dave Warne, Anthony Hodges, Geof Hauser, Sylvia Hauser
Jerry Cookson photo
15th-16th July Avon Park Raceway Summer Nationals
This was the halfway point in the 1989 John Everitt Jewellers' Pro Modified Championship. There were severe problems with the timing lights at Avon Park. The left lane also had much better traction than the right. Despite this there was great entertainment for the fans who flocked to Avon Park's new large grandstands. In the first round, the racing went with the form book with all the pre-race favourites making the second round.
Round one
Geof Hauser def. Tim Cook
Dave Mingay def. Dave Pollen
Colin Taylor def. Mick Cheley
Dave Warne 8.25/130 def. Trevor Hirst
Semi Finals
Geof Hauser no time rec. def. Dave Mingay (lost traction)
Dave Warne 8.30/162 def. Colin Taylor 9.53
Final
No result Dave Warne 8.29 red v Geof Hauser 8.72 DQ,red
The APR clocks again malfunctioned with a disagreement occurring over lane choice for the final. In the end both points and trophies were shared.
---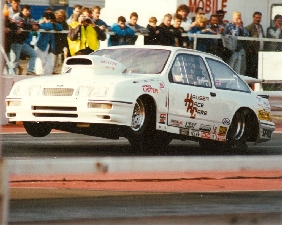 Geoff Hauser, first into the sevens on this run
Martin Bradley photo
26th-28th August SPR Summernationals
Geoff Hauser broke into the seven second barrier for Pro Mod cars in his Ford Sierra Cosworth. He ran an amazing string of passes, 7.84 in qualifying, then 7.85, 7.87 and then 7.88 in the final. Drag Racing News' front cover gave the record breaking success a red-top headline. Geof's achievement was even more impressive as a was running without nitrous and also with a relatively small 500ci engine.
Tim Cook also dipped into the sevens in the semi finals with a 7.97. Tim's performance gain came after testing a fortnight previously. Tim wanted to try out the nitrous on his rebuilt engine, which had new pistons and another (the third to be precise) sheet metal manifold, together with titanium valves. Unfortunately the tyres had seen better days, so the team decided to come back the following week. 17 passes in two days included 8.3 without gas and 8.1 with a small quantity, any step up producing violent tyre shake that broke the pedals, gear linkage and dislodged the rev counter. Crew chief Rob Loaring surmised that the times gad suffered due to the car slipping out of top gear, which was proved when eventually top gear held, and a seven was the result.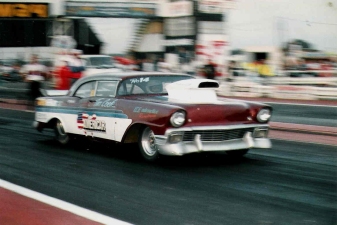 Tim Cook ran his first seven in the semi-finals, following pre-event testing
Jerry Cookson photo
Round one
Geof Hauser 7.85 def. Bert Englefield 9.50
Dave Warne 8.16 def. Colin Taylor 9.16
Tim Cook 8.09 def. John Betts 8.62
Graham Barrs 8.24 def. Mick Cheley 9.03
Semi Finals Geof Hauser 7.87 def. Dave Warne 8.23
Tim Cook 7.97 def. Graham Barrs 8.15
Final
Geof Hauser 7.88/184 def. Tim Cook DQ, red
Before the final, Tim Cook had experienced problems in the staging lanes and in the burnout, failing to stage correctly with a foul start the consequence, a shame as it would have been a heck of a race.


---
22nd-24th September SPR World Finals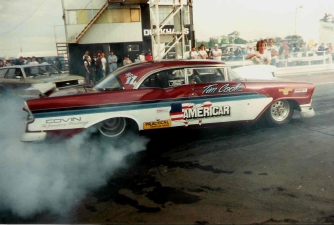 The 1989 World Finals was Tim Cook's first event win
Jerry Cookson photo
Geof Hauser came into this event the favourite for the event win, however his transmission lost drive in top resulting in an over-revved engine that was damaged, nevertheless running third in the qualifying positions. This opened the door for Tim Cook who was more than prepared. Dave Warne was leading the championship but a first round exit put a dent in his lead. Graham Barrs had line-lock problems resulting in a brush with the wall on the launch for one qualifying run, but the damage was limited to bodywork and he was able to come back for fourth position in the next session.
Qualifying
Tim Cook 7.84/174
Dave Mingay 7.92/173
Geof Hauser 8.06
Graham Barrs 8.10/169
Dave Warne 8.12/162 (new PB ET)
Colin Taylor 8.42/160 (new PB ET)
Trevor Hirst 8.58/158
Brian Peach 8.93/152
Bert Englefield 8.84
Dave Pollen 8.98
Mick Cheley 9.13
Tim Hines 9.14/149 (new PB ET)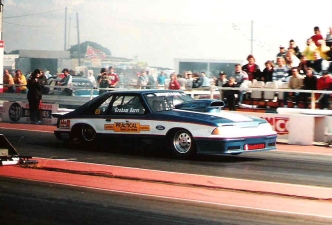 Graham Barrs launch
Jerry Cookson photo
Round one
Byes for Tim Cook, Geof Hauser, Dave Mingay and Graham Barrs.
Dave Warne 8.10/159 (new PB ET) def Bert Englefield 8.94/150.
Trevor Hirst 8.66 def. Mick Cheley 9.04
Colin Taylor 8.34/174 def. Dave Pollen 8.77/150
Brian Peach 8.90/152 def. Tim Hines 9.27/158
Round Two
Tim Cook 7.75/186 (New PB ET) def. Dave Warne 8.51/169
Geof Hauser 8.70 def. Trevor Hirst broke (nitrous)
Dave Mingay 7.92 def. Colin Taylor 8.83/163
Graham Barrs 8.02/172 def. Brian Peach 9.01/150
Semi Finals
Tim Cook 8.07/145 def. Geoff Hauser 8.60/149
Graham Barrs 8.70/170 def. Dave Mingay, broke (transmission)
Final
Tim Cook 8.01/156 def. Graham Barrs, DQ red
In the final, Graham Barrs' clutch dragged him to a red light after waiting for Cook to stage following his double burnout routine.
---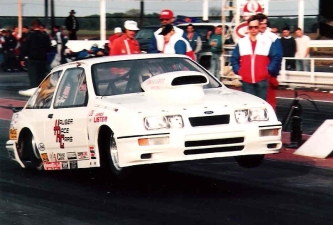 Geoff Hauser returned to the sevens at the season's final event
4th-5th November SPR Fireworks Spectacular
Pro Mod Championship points leader Dave Warne destroyed his transmission in qualifying, putting an end to his title chances as he had no spare or means of rebuilding it, and had to drop points for attending his best seven rounds. Also Tim Cook was forced to sit out the event with a broken crankshaft after a 8.13 practice run.
Qualifying
Geof Hauser 8.13
Dave Mingay 8.20
Graham Barrs 8.30
Colin Taylor 8.82
Bert Englefield 9.17/151
Brian Peach
Des Taylor
Round one
Brian Peach def. Graham Barrs
Dave Mingay 8.31 def. Bert Englefield 9.02
Colin Taylor 8.83/161 def. Des Taylor
Geof Hauser 8.16/159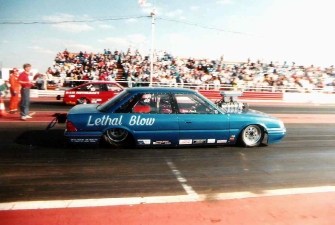 Brian Peach's supercharged ex-B&H Rover 800 saloon
Jerry Cookson photo
Geof suffered a dead battery that caused starting problems in round one but eventually run after being allowed time by the race director. Brian Peach caught Graham Barrs napping on the lights, only to suffer blower damage and a fire the damage which he was able to repair, albeit with an engine that was still sick. Meanwhile Dave Mingay discovered a sump full of water after round one, allowing Bert Englefield back under the break rule
Semi finals
Geof Hauser 7.93/173 def Brian Peach (broke, engine)
Colin Taylor 8.80 def. Bert Englefield 8.90/155.
Final
Geof Hauser 7.98/186 def. Colin Taylor 8.50/164.




---
1989 Champion
Geof Hauser's triumph at the SPR Fireworks Spectacular, with wins at the Avon Park Raceway Spring Nationals and SPR Euro Grand Prix earned him the 1989 PMRA Championship title, along with the distinction of being the first class racer to run a seven second pass.
Geof found record-breaking performance at the right point in the season and was able to recover following an engine failure at the World Finals.
See points table to right (click for large version).


---
Race car focus: B&H Autokraft Rover 800s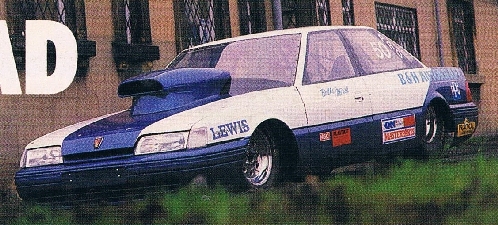 B&H Autokraft Rover 800 saloon from 1988, replaced by a fastback for '89
Custom Car
John Betts and Trevor Hirst were B&H and they brought out their Rover 800 saloon in 1988. Based in Doncaster, they had previously worked on cars for racers including Dave Warne, Kurt Hinchcliffe, and Des Taylor, having started in the sport at the 1979 World Finals, later purchasing the Stones' Tender Trap Escort.
After building up their race car fabrication business in the 1980s they decided on fielding a mobile advert which was this '88 Rover 800, making its debut at the Long Marston August Bank Holiday meeting in 1988. They built the chassis to contemporary Pro Stock specs with CDS double frame rails and a funny car style internal roll cage, all TIG welded by Trevor and John, citing that chrome moly was double the cost, harder to repair and had a shorter lifespan than steel.
The engine was initially a 509ci BBC, but severe engine damage after a thrown rod at the car's debut forced them to plan B. This was the 427ci out of John Everitt's Camaro (ex-Dave Collis) which had crashed severely at Long Marston mid-1988. The engine was an all aluminium Can Am with a a 4-bolt mains block with ally internals. Carburettors were twin 1050 Holley Dominators with nitrous. Gearbox was a TH-400 to a Strange 9" rear axle.
The car's body was all steel apart from the fibreglass bootlid with no aerodynamic aids but converted to a two door configuration. It was said to have been 2160lb in weight, and drew high praise for the standard of construction and skills for building virtually the entire car themselves. "If drag racing is ever to progress in this country, this is surely the way it has to be done", said John Gardiner in Custom Car.

B&H Autokraft Rover 800 Fastback
Jerry Cookson photo


Engine of B&H Autokraft Rover 800 Fastback
Nick Pettitt photo
The car was sold to Super Gas racer Brian Peach after only one season and in the space of five weeks, a new Rover 800 Fastback was constructed. The car's shakedown passes at Avon Park Raceway in June '89 resulted in engine damage, discovered back at the B&H workshop in Doncaster, the valves impacting the top of the pistons.
The next outing at York Dragway saw a cracked Powerglide case, a problem for the team on two other occasions as well in the following month. The car had a potent 492ci Chevy engine with Pontiac Pro Stock heads, and twin four barrel carburettors running on methanol, with an Enderle birdcatcher hat atop a handcrafted sheet metal intake manifold. The Powerglide gearbox sat behind an ATI torque converter with a 6500rpm stall speed, the power going to a Ford nine inch rear. The best times recorded for the Fastback, by Trevor, were 8.035/175 in 1990.
---
Next time...
In part 3 we'll cover events at the newly resurfaced Avon Park Raceway, the new '55 Chevy of Tim Cook and a further two years of major performance gains, the 200mph barrier being the next challenge for the ultimate doorslammers.