General
Home Page
Add a web site
Jeff Bull Swap Meet
Send a News Item
Site Search by Hauser Racing
2020 FIA/FIM Championships schedule
News, Coverage, Features
Latest News
John Woolfe Racing Event Coverage
OCS Paint Points Standings
Features, Interviews, Tributes
Racer Blogs
LA Racing Parts Links
Racers' web sites
Associations, Clubs
Race calendars
Results, Reports, Info
Pictures, Video
Performance Parts, Merchandise
Sponsors
Tracks, Shows
Information
Timing Data
European and UK Bests
Champions' Champions
Editor's Diary archive




















Feature: Robinson Race Cars build gallery – Marc Meihuizen.
1st June: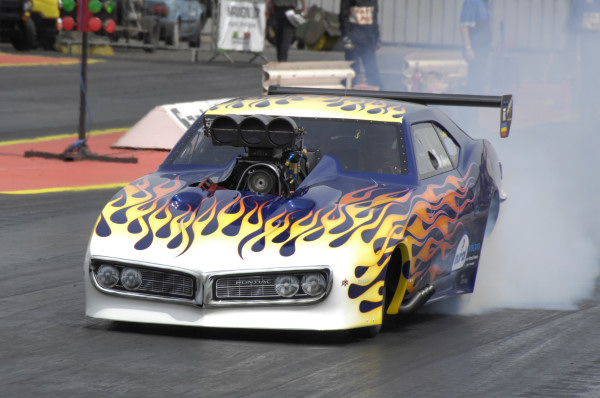 Today we start a new series of features which look behind the scenes at race car builders and Eurodragster.com sponsors Robinson Race Cars. Bob Roberts has kindly supplied a gallery of pictures taken by him and Luke Robinson whilst the build of Marc Meihuizen's car took place.

Bob says 'There are lots of pictures of the finished car because it really is my favourite of all of Andy's builds'. We look at the performance of the car over the years and the consistency and outright speed are amazing.

In future Bob plans to send galleries on three more ground up Pro Mods, one VW, one ProMod rebuild and a couple of non drag cars for good measure. You can see Bob's gallery in our feature in association with Lucas Oil Products at here or go to our Features, Interviews, Tributes index page via the main menu.

Callum at the double.
1st June: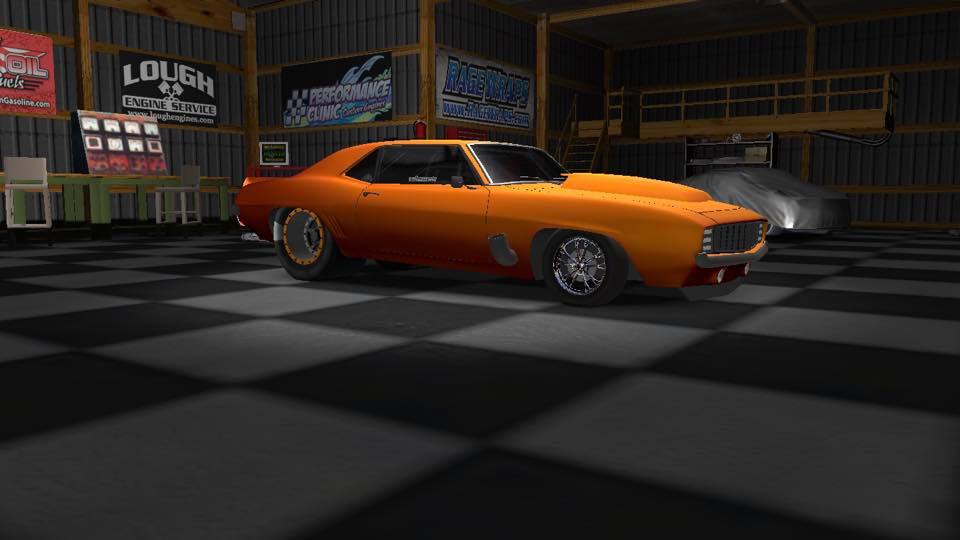 After the on-line RRRC Excitement Nationals held yesterday evening, congratulations go to Callum Swinchatt for his win, his second of the series. Callum defeated Lloyd Perkins in the final after a win over Paul Evans in the semi-final. Lloyd had defeated points leader Joe Kellett in his semi-final.

In the points Joe Kellett leads with Callum now in second place having overtaken Billy Everitt who is a short way behind in third. Will Clark is fourth and Matt Seamarks and Spencer Tramm round out the top five.

We will post the points in due course to our OCS Paint-sponsored points pages.

Swift snippets.
1st June: A big Happy Birthday for tomorrow (Tuesday) to Eurodragster.com Team Nutritionist Syd McDonald. Have a great day Syd and we hope you'll be feeding us again soon.

Kieran has posted his latest compilation video to his Youtube channel. The subject of the upload is a UK Outlaw Anglia Drag Racing Compilation. Kieran summarises: "Outlaw Anglia is one of the most exciting heads up classes in UK Drag Racing with just a few simple rules... The body must be based on a 'Sit-up & beg' style Ford Anglia, Popular, Fordson or Prefect. The wheelbase can be no more than 101", the driver must be seated to one side, no flip-up funny car style bodies and no alterations to the front windscreen angle. Other than that, it's anything goes! Current ET Record Holder is Colin Millar with a 7.24 and Speed Record Holder is Simon Barlow who trapped 193.7mph". You can see Kieran's video here.

If you have seen any 'Tierp Arena is up for sale' comments on Facebook over the weekend, you could be forgiven for thinking you are having flashbacks. But as we don't comment on rumours, we will look for an official announcement and report it here.

Feature: Modified 100e.
28th May: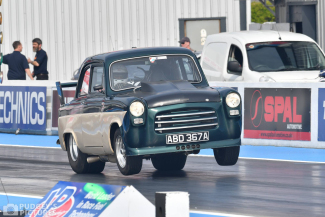 The Ford Modified 100e Challenge had its first year in 2019. It proved to be a great success with five events, a large number of entries and a spirit of banter and mutual help that typifies the best of our sport.

Kieran has gathered information and images of this growth category and our feature highlights the exciting number of new entrants into the class as well as 2019 success stories. Thanks to Kieran and Callum Pudge for the images, also to category founder Scott Collin for his help in bringing together racers that love this classic Ford of the late 1950s.

You can see our feature on Modified 100e, supported by Lucas Oil Products, by clicking here, or following the link on the left hand side of this page to our features, interviews and tributes index page.

Swift snippets.
28th May: In the third part of his autobiographical blog 'Golddigger to Drag Nuts', John Hunt describes his three years of racing his Golddigger dragster, the teams which gave John help at the track, and how his racing years came to an end.

You can read John's blog by clicking here or going to the Race Blog link on the site menu.

Episode 3 of the Santa Podcast premieres on Friday evening 29th May at 7pm on Youtube. In this week's edition, presented by Colin Theobald & Luke Stevenson, the guests with stories from the track are Top Fuel racers Liam Jones and European record holder Maja Udtian with current European Funny Car record holder Kevin Kent and his partner, previous Top Fuel pilot and future funny car driver, Shelley Pearson.

Kieran's latest compilation video is of a long time drag racing staple, the Ford Capri, which first appeared on a UK drag strip in 1971. Kieran says 'you'll see a mixture of V8s, turbocharged 4-pots and even a Nostalgic Funny Car!' You can see Kieran's new video by going to YouTube.

Feature: 1981 Transatlantic Drag Race at Long Marston Raceway.
25th May: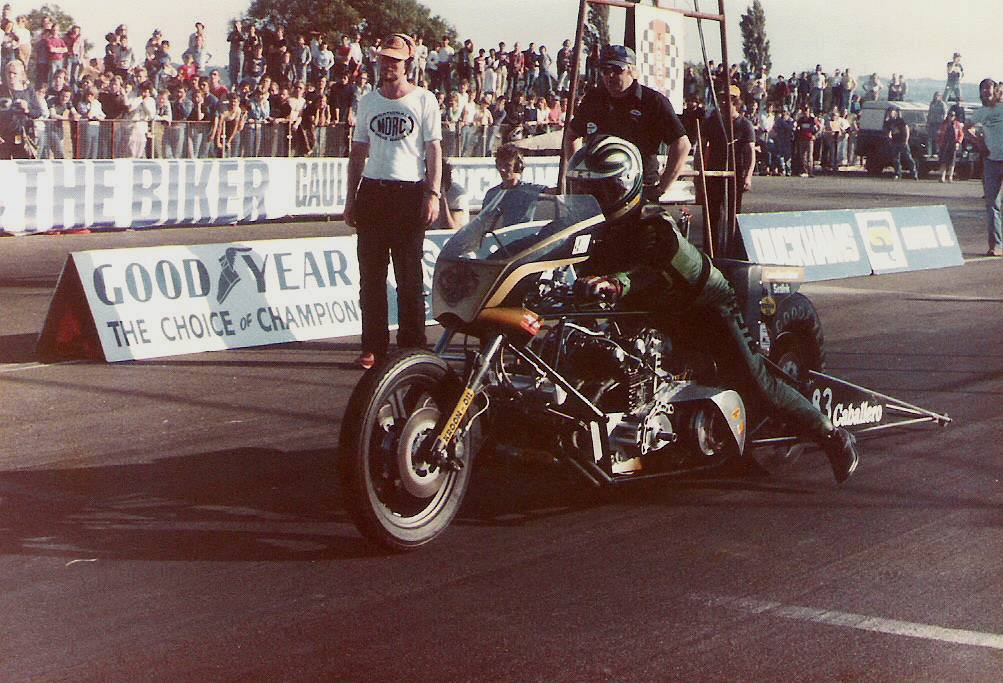 The first big event at the then recently updated Long Marston Raceway held in July 1981 was the Transatlantic Drag Bike Race. There was a huge field of drag bikes and also Top Fuel cars who were racing in their own championship. A US star, Bo O'Brochta from Florida who had the quickest drag bike in the world had been brought over at the National Drag Racing Club's expense, and he proved a prize draw. The eventual winner of the Super Bike category was Henk Vink from Holland (pictured).

With the considerable assistance of drag racing historian and Director of the British Drag Racing Hall of Fame Jerry Cookson, we have set out the archive materials and photographs from the event into our latest historic feature, in association with Lucas Oil Products, which can be seen at this link.

There is a gallery of over 40 photos and you will be able to see those who have become legends since as well as the stars back in those times. To see any of our historic features, follow the link on the left hand side of this page to our features, interviews and tributes index page.

Editor's note: If any readers have requests for historic meetings that merit a future feature please drop an e-mail to editor@eurodragster.com.

Joe achieves hat trick.
25th May: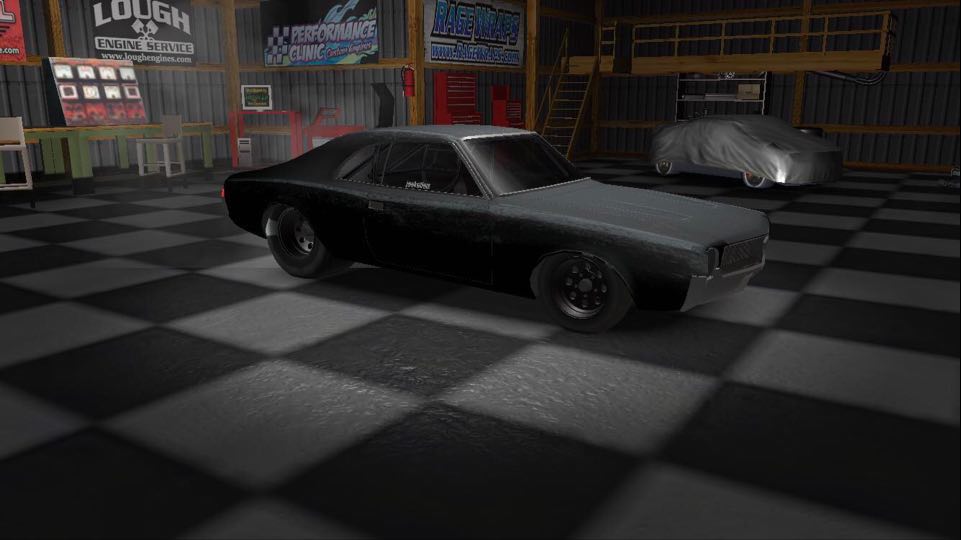 Congratulations to Joe Kellett for his second win in a row, his 3rd of the series in this weeks on-line RRRC Summerspeed Nationals. Joe defeated Matt Seamarks in the final after he overcame Colin Theobald in the semi-final. Matt, who was gifted the winner's Bruce t-shirt by Joe, in turn had defeated Simon Fulton in his semi-final.

In the points, Joe now has a lead over Billy Everitt. Callum Swinchatt is in third place and Will Clark and Matt Seamarks round out the top five.

We have posted the championship points to our OCS Paint-sponsored points pages.

Swift snippets.
25th May: Many thanks to Nitro Revival sponsor Geoff Stilwell for letting us know that Drag Racing announcer and car scene vlogger Bob Beck will be interviewing four time FIA Top Fuel champion Anita Mäkelä on the Gentlemen Driving Club Facebook page this evening. Look in the video section of the group where the interview should be carried in due course.

Julian's special 2019 Main Event gallery.
23rd May:
It won't have escaped your attention that this weekend would have been the first race of the 2020 FIA season, the Main Event at Santa Pod Raceway. So thanks are due to our Julian for enabling us to present a gallery of his pictures from last year's event, complete with captions. You can see Julian's photos at their best, which means they are pretty special.

The 180 shots were taken over the course of the four day event last year, and we present the gallery in association with John Woolfe Racing. You can see Julian's special gallery here or via our 2019 FIA Main Event coverage page which you can access here.


Swift snippets.
23rd May: In the second part of his autobiographical blog 'Golddigger to Drag Nuts', John Hunt describes how the Golddigger dragster came about, and you can find out who helped John get the car to the track.

You can read John's blog by clicking here or going to the Race Blog link on the site menu.

Santa Pod Raceway broadcast the second episode of its new Santa Podcast last night and it included a very entertaining discussion with Eurodragster.com sponsor Andy Robinson, and six second Street Eliminator racer Andy Bond, as well as an interview with resident Podzilla driver Garry Anderson. Not only was there banter about whether Andy B might move up to Pro Mod, but Andy R revealed the 'Anger Management 2.0' build has been progressing during the lockdown, and the car will be another '69 Camaro; every aspect of the car has been looked at to see where improvements can be made. To see the full Santa Podcast, go to Youtube.

We would like to say a very Happy Birthday to Funny Car legend 'Hawaiian' Roland Leong, whose birthday falls today. Roland visited the UK for the 2017 British Drag Racing Hall of Fame Gala and was adviser to Tony Betts at Dragstalgia in 2019. Have a great day Roland!

In video channel updates, our Kieran has posted two videos to Youtube. The first is a series of clips of Chris Todd's Subaru Powered Mk1 Fiesta from 2012 to last year. Kieran says 'The car now runs into the 9.4s and has no signs of stopping there with the new addition of a fancy Mendeola transmission'. The scond video is a compilation of Toyota Starlet drag racing moments, many of which were filmed at Hal Far Raceway in Malta.

Robinson Race Cars on tour – part 6.
21st May: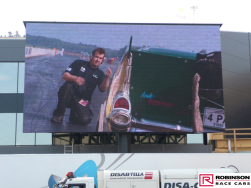 In the sixth feature in our series on Eurodragster.com sponsor Robinson Racecars' trips to overseas races, our good friend Bob Roberts describes the team's trip nine years ago to Tierp Arena, then less than a year old and host to what is still the tightest field in FIA Pro Modified history (0.2298s between no.1 and no.16).

As Tierp had not hosted international drag racing before, there were a number of challenges to overcome with local law enforcement which you can read in Bob's account.

You can read Bob's account, in association with Lucas Oil Products, which includes a gallery of 21 photos, by going to this link or via the features index. Despite being the final feature 'on tour', Bob will return...

Hot Gossip: burning nitro on 30th.
21st May: If you're wondering why the latest issue of Street Machine has not arrived as usual, editor Dave Smith has announced that "thanks to the April issue running way late and the subsequent COVID-19 crisis, it looks like the May issue will be rolled into a subsequent issue". You can still catch up with Dave on his live chat on Street Machine's Facebook page, the latest episode going out live tonight at 7:30pm UK time.

Thanks to Street Machine drag racing contributor Mike Collins for sending us exclusive Hot Gossip including a look back at Anita Makela v Thomas Nataas at the Main Event 2014 and news of an exciting event coming up on 30th May and organised by Famoso Raceway in Bakersfield, California. You can check it out by clicking on the image below: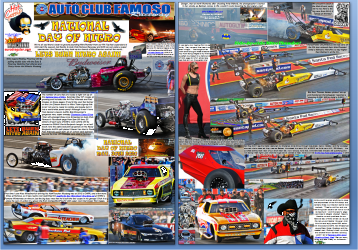 The National Day of Nitro is a world wide opportunity for cars caught by lockdown rules to burn some nitro again. All fireups will be shown on Famoso Raceway's Facebook page starting at noon Eastern Time (5pm UK/6pm CET). Fourteen teams have signed up, and if teams are interested they can participate by clicking on the 'Nitro Team Signup' on www.famosoraceway.com and then emailing the track at nitro@famosoraceway.com. All participating teams will be entered into a drawing where one lucky team will receive $1,000.00 credit towards entry or ticket purchases for the 2021 Good Vibrations March Meet, presented by Lucas Oil. Stith Printing, Inc. is also offering a $1,000.00 credit to be applied towards new artwork.

Feature: 1994 Santa Pod Raceway Main Event.
19th May: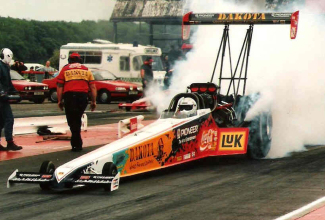 'The one where the track broke up' is the penny-in-the-slot summary of the 1994 Main Event. Yet there is much more to this event than that, as our latest feature in association with Lucas Oil Products highlights.

First, there was a technical advance in Top Fuel which would in later years help advance the class down into the four second zone. Then there was the first appearance of Rocket legend Sammy Miller at the track for eight years (not counting a snowed-off Easter). Also there were some interesting developments in the sportsman classes with one of the biggest ever fields in Super Gas, by then in its eleventh season. From the perspective of 26 years later, it fascinates to see the sheer number of racers then who are still active in the sport.

We are very grateful to drag racing historian and British Drag Racing Hall of Fame director Jerry Cookson for supplying archive material including over thirty photos, a scan of the complete event programme; there is also a link to broadcast footage from the time posted by Nick Pettitt.

You can see our feature on the 1994 Santa Pod Raceway Main Event here or by clicking on the Features, Interviews, Tributes link in the main menu.

Joe doubles up.
19th May: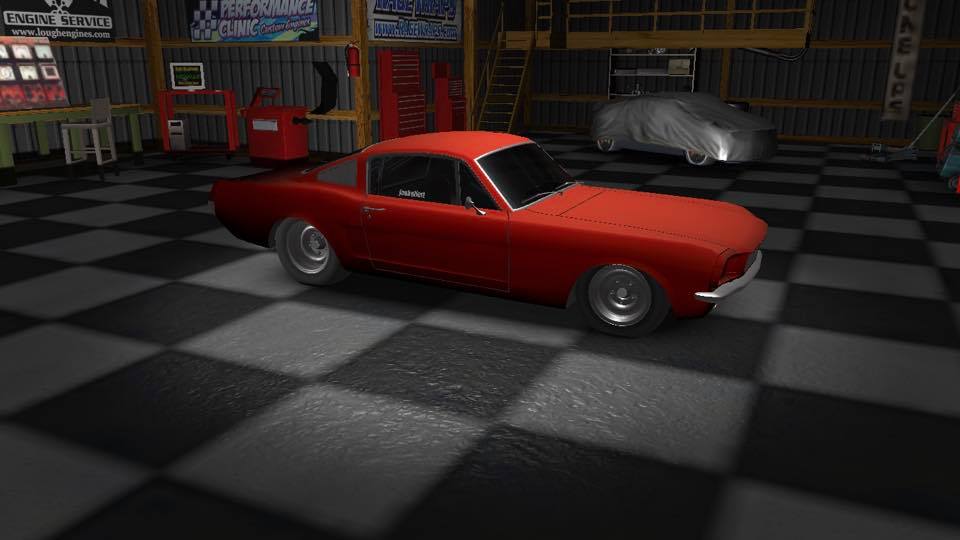 Congratulations to Joe Kellett on winning Sunday's RRRC Lockdown Nationals, his second win of the series. Like all previous winners Joe will receive a Bruce T-shirt from Santa Pod announcer Colin Theobald. In the final Joe defeated Jordan Wilson, having been victorious over Cal Ellswood in his semi final. The other semi final saw Jordan defeat Matt Seamarks.

In the points, Billy Everitt is leader just ahead of Joe, with Will Clark, Callum Swinchatt and Spencer Tramm rounding out the top five. The points posted in association with in association with OCS Paint, can be seen here, or by following the link in the menu.

There will be a further race in the Rip Rap Racers series next Sunday and an entry thread will be posted Wednesday lunchtime. If you're up for it, make sure you have the latest version of Doorslammers 2 installed and go to the Rip Rap Racers Club Facebook page.

Custom Car celebrates 50th Anniversary.
19th May: Custom Car magazine, which your editor has read ever since it was first published in 1970, celebrates its 50th Anniversary with the current Summer 2020 issue, and it's a must-buy.

In it, you will be able to see a 21 page retrospective of covers and feature cars over the years. There is a ten page article, including a centre page poster, on Al's Gasser, looking fantastic after the latest rebuild by Phil 'Ginner' Middleton, Dave Eady and others. Owner Al O'Connor was so delighted with the rebuild that when it appeared at Dragstalgia last year he felt compelled to race it once again. There's also a seven page article on Eurodragster.com sponsor Jon Webster's Fast Company Mustang, Andy Willsheer's report from the 2020 March Meet, and a feature on the history of the Plymouth Duster and its role in drag racing, and much more. This collector's issue is well worth its cover price of £5.99.

Inside Custom Car you will see a very special short term subscription offer for three issues for just £9.99, with no ongoing commitment if you click on this link.

Unusual car sales.
19th May: Nigel Taylor established the Facebook group Unusual Car Sales U.K. in August 2019 and it already has 11,500 members. The group is well worth joining as it specialises in drag racing and U.S. vehicles for sale in the UK. Nigel says "As we return slowly back to reality, there are a few nice cars coming up on the group that would get you back into drag racing in a quicker manner than building a new car from scratch.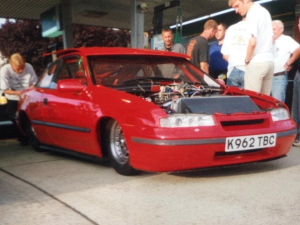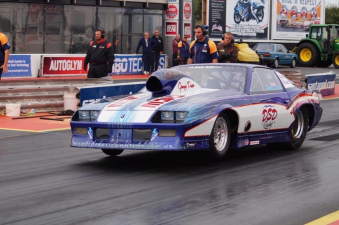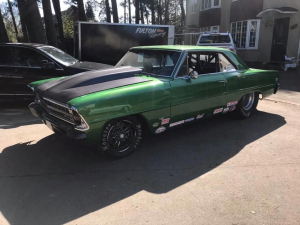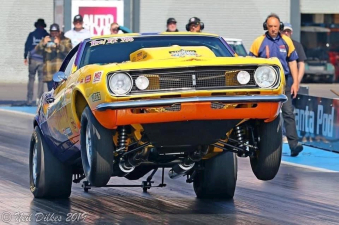 "Street eliminator, Outlaw Anglia , altereds, Super Comp , Modified 100e ,dragsters and much more have come on recently. In the photos above you can see Steve Pateman's legendary Street Eliminator Calibra, Paul Watson's Super Comp Camaro, Dave Fulton's Nova and Mike Lacey's Camaro.

"Take a look at the site on Facebook and support your local drag strip as soon as we get the chance."

Swift snippets.
19th May: In recent Youtube posts, Simon Letkey has been busy on two series for his VeeDubRacing channel. The first is a series of videos on single racers, entitled Legends. Simon says "These are cars that I have filmed, that either do not run anymore, or I have not seen at the track in the last few years. They are cars that either produced outstanding times, or left a big impression on me". As you might expect there is a VW emphasis to his choice of cars, however one Outlaw Anglia has found its way into the collection.

The second group of videos is called 'Throwback' in it Simon looks back through the archives at some of the shows he has been to and presents some highlights. You can see Simon's videos at this link.

Our Kieran has been hard at work with three more compilation videos. First is a compilation of runs showing the evolution of Dad Kev Jenkin's Fraudster Mk1 Escort. Then there is a Ford Anglia 105e drag racing compilation and finally we have Kieran's Top 10 Doorslammer moments. You can check out Kieran's videos by going to this link.

Julian's special 2019 Doorslammers gallery.
17th May:
On the day that, if all had gone to plan, the 2020 edition of the Doorslammers would have taken place, we are pleased to present a special gallery of pictures from last year's event, all taken by our photographer Julian. Julian said "At the event we post images without any adjustment to the raw image, so it is a great opportunity to present them at their best".

Many thanks to Julian for his collection of 180 shots over the course of the three day event last year, which we present with captions identifying the race cars in association with John Woolfe racing. You can see Julian's special gallery here or via our 2019 Doorslammers coverage page which you can access here.


Robinson Race Cars on tour – part 5.
15th May: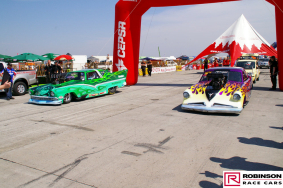 In the fifth feature in our series on Eurodragster.com sponsor Robinson Racecars' trips to overseas races, our good friend Bob Roberts describes the team's trip ten years ago to Hungary. The main purpose of the event was to promote drag racing beyond the bike and street car scene previously established. Eight cars from the FIA series went including four Pro Modifieds.

You can read Bob's account, in association with Lucas Oil Products, which includes a gallery of 50 photos, by going to this link or via the features index.


Golddigger to Drag Race Nuts blog.
15th May: We start a new autobiographical blog series today with Part 1 of a behind-the-scenes series by John Hunt. Among John's roles in British drag racing, he raced an injected rear-engined Daimler powered dragster called Golddigger. He later founded Drag Racing Nuts which he ran with Maureen McRae-McIntyre as a trading unit at the tracks. Organisational hospitality roles followed with Obsession Motorsports and Mark and Jackie Hawkins' Funny Car team. You can read John's blog here or by going to our blog index which contains previous exclusive racer blogs.

If any racers, team members or officials are interested in submitting a blog for publication, please contact us at editor@eurodragster.com.

Swift snippets.
15th May: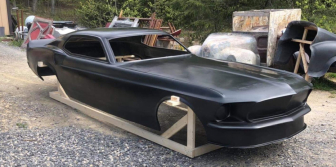 If you have access to Youtube at 7pm tonight, don't miss the Santa Podcast. Featuring a number of European drag racing personalities and presented by track announcers Colin Theobald and Luke Stevenson, this production is a chance for the racing community to come together and talk about the here and now of the sport. The link to go to is via Youtube here.

In Santa Pod Raceway's #RacingThroughTime series, this week's presentation comprises the 2014 Main Event. You can click on the link to see a 26 minute long highlights programme.

Drag racing historian Nick Pettitt has uploaded to Youtube Ken Robbins' video from the 1994 Hot Rod Drags at Avon Park Raceway. You can see the footage here.

The subject of our latest spy picture came courtesy of Carl Sim with the additional information that the order was made in triplicate and the Mustang body shown is on route to the UK, destination European NFC with more news to follow in due course.

If you know more, or would like to send your own spy picture, then drop us a line at editor@eurodragster.com.

Feature: Grand National Roadster Show.
14th May:
Land speed racer and sponsor for Nitro Revival Geoff Stilwell (pictured with Roland Leong) displayed his nitro-fuelled 7707 roadster at the Grand National Roadster Show at the Fairplex, Pomona, California in January. We are grateful to him for sending us an account of this incredible event with forty photos. The Grand National Roadster Show is in its 72nd year, having started life as the Oakland Roadster Show and displayed over 500 show vehicles competing for awards. Geoff's feature, sponsored by Lucas Oil Products, describes the challenges of displaying a vehicle at the show, and the attraction the show has for stars of the sport and entertainment.

Geoff said that despite the challenges presented by the coronavirus outbreak, which resulted in a test session at El Mirage dry lake scheduled for this weekend being cancelled, he still plans to run his roadster at the Bonneville Speed Week. Geoff said "Bonneville Speed Week is still scheduled for 8th-14th August this year and I plan to make an attempt on setting a speed record in excess of 300mph and the challenge is still on with Ron Hope of Rat Trap Racing to see which one of us can be first to 300mph. We would be delighted to see anyone who can get there if the current restrictions are lifted".

Geoff also reminded us of Nitro Revival which will be taking place at Irwindale Drag Strip on Saturday 7th November, a weekend between two NHRA national events at Las Vegas and Pomona.

You can see Geoff's feature on the Grand National Roadster Show here or via our Features, Interviews and Tributes page.

Crew Killer Pop revealed.
14th May: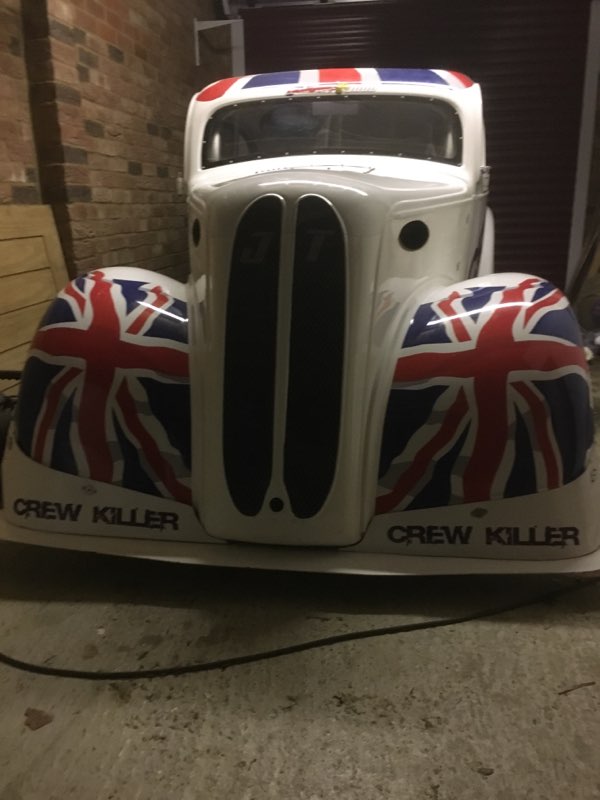 If you saw our news update of 2nd May you may have recognised the white Pop with distinctive signeage as that of Pro Modified and Super Pro ET racer John Tebenham. The car has been refreshed for the 2020 season, whenever it commences.

Crewman Dan Goff said on behalf of the normally-ebullient JT: "Luke, Ricky, Nigel, Frank and the rest of JT racing are all ready to go with the Pop getting a face-lift as well!.

We are looking forward to getting Lightning McQueen and the new Crew Killer out ASAP. A massive thank you to Andy Robinson Race Cars, without them it would not be possible. Stay safe!



Santa Pod Raceway extend suspension.
12th May: Further to our news item on 7th April, Santa Pod Raceway have announced that due to the Covid-19 virus outbreak they will be extending their suspension of events until 30th June:

We would like to thank all of our loyal customers for their patience and understanding during these unprecedented times.

Unfortunately due to Coronavirus and in line with Government Guidelines we have been forced to suspend all scheduled events at Santa Pod Raceway up until the end of June 2020. Therefore ticket holders will receive a full credit to your Santa Pod Ticket Shop account equal to exactly what you've already paid, which can be redeemed against any Santa Pod Raceway event within the next 24 months. This will be added to your account and contrary to our standard terms and conditions, this credit will be available for 24 months instead of the standard 12 AND include any booking and postage fees that you've paid.

We are operating with a reduced workforce like so many other businesses causing a significant delay in our normal administration processes but we will be in touch with all our visitors as soon as we have more information to share. We are also trying hard to instigate a few more bells and whistles on our ticketing platform to make some of the admin quicker and more efficient for us all. Bear with us, while we work through all the communications, enquiries and requests from our customers – we're dealing with everything as quickly as possible but it's not easy. Rest assured that we will get around to you!

In the meantime, we will keep you updated via our website, newsletters and social media. Once again, thank you for your understanding during these very challenging circumstances.

Drag Race Union cancel 2020 Challenge.
12th May: Markus Münch has sent the following announcement from Drag Race Union (English translation by Pat Weidman below German original):

Hallo Fahrer, Teams, Sponsoren, Fans,

"das Jahr 2020 übt immer noch ein gutes zu werden". Zitat eines Freundes.

Was bedeutet das für das Dragracing, die DRU und die Challenges:

Zuerst einmal wünschen wir euch, euren Familien und Freunden alles erdenklich Gute in Punkto Gesundheit und Gelderwerb. Die ganze Covid-19 Situation trifft jeden, ohne Ausnahme.

Vorneweg, es wird dieses Jahr keine DRU Challenges geben.

Was unser geliebtes Hobby, Dragracing, und vor allem die Challenges angeht sehen wir vom DRU Vorstand uns gezwungen zu handeln. Es ist Anfang Mai, viele Teams hätten schon ihr erstes Rennen hinter sich, oder ständen kurz davor. Nicht so in diesem Jahr 2020. Was in diesem Jahr noch alles passieren wird, steht mit dem heutigen Datum noch in den Sternen. Was das "normale" leben und unseren Sport anbetrifft können wir nur gespannt sein, wie sich das Jahr noch entwickelt. Ungarn hat für Mitte Mai ein Rennen angesetzt und genehmigt bekommen. Aber dürfen wir anreisen? Wollen wir anreisen, oder erst einmal noch im Heimathafen bleiben? Italien / AMP / Rivanazzano hat die komplette Saison abgesagt, Frankreich / Clastres, das erste von drei Rennen. Wird da überhaupt noch gefahren? Hockenheim sucht nach einem Ersatztermin für die NOX, Zerbst wartet auf das GO der Behörden, um loslegen zu können, genauso wie Santa Pod, und Jade wurde ja bereits im Winter auf politischer Bühne gestoppt.

Wir von der DRU sehen dieses Jahr keinen geordneten Rennkalender auf uns zukommen. Wenn überhaupt etwas geht, dann wird das alles geballt im September / Oktober stattfinden. Das wäre fein, um etwas an Sprit und Gummi zu verbrennen. Das reicht uns aber nicht aus, um eine ordentliche Challenge in Pro ET und Supro ET auszurichten. Deswegen werden wir die Challenges für dieses Jahr streichen.

Diese Entscheidung ist wohlüberlegt getroffen worden, der Prozess dauerte mindestens seit dem Wochenende des 15 März an. Für uns ist so eine Challenge ein Wettbewerb, der über das Jahr hinweg auf den verschiedenen Rennstrecken seine Wertungsläufe hat. Rivanazzano, Clastres, Hockenheim, Zerbst, Drachten und Santapod, Jade, sind dabei seit Jahren das Rückgrat der Challenges. Ein dahingehuddeltes Rennjahr in 2 Monaten, oder in der Art, das ist nicht die Art von Challenge die wir euch bieten wollen.

Wir freuen uns, wenn es dieses Jahr noch etwas zu fahren gibt und unterstützen die Veranstaltungen dann in anderer Art und Weise, so dass die dortigen Teilnehmer ein geiles Rennen erleben können.

Wir hoffen auf euer Verständnis, wollen darüber auch gar nicht in Diskussion gehen. Euer Feedback ist uns aber wie immer sehr willkommen.

Alleine schon wegen eurer Entscheidung, ob ihr bereits beglichene Teilnahme / Sponsoren Gelder zurück wollt, oder diese für 2021 stehen lassen wollt, müsstet ihr euch kurz bei uns melden. Diese Entscheidung ist selbstredend eure, denn es ist euer Geld.

Zum Thema Trackprep Sammlung für Zerbst. Das Geld ist ebenso sicher bei uns, wird dann Zweckgebunden in die Aktion einfließen, dann wenn sie stattfindet. 2020, oder 2021. Das muss man sehen. Auch hier steht es jedem frei, sein Geld zurückzubekommen. Schreibt uns diesbezüglich einfach eine Nachricht.

Das ist einer der unangenehmsten Newsletter, die ich als Schriftführer der DRU und überhaupt als Reporter des Dragster Sports verfassen musste. Es fühlt sich nicht nur an als ob jemand gestorben wäre, irgendwie ist etwas gestorben. Hoffen wir alle auf ein versöhnliches Restjahr, Spätjahr, mit zumindest ein paar Events, bei denen wir uns alle wieder wohlbehalten sehen. Aktuell gibt es leider wichtigere Dinge zu bewältigen.

Wir sehen uns, wir halten euch auf dem Laufenden…und das alles in dem Jahr, in dem beide Challenges so top aufgestellt sind, Fahrer/Sponsoren… Die XO im DMSB Reglement sind, und richtig durchstarten wollen… Zerbst als Veranstalter voll motiviert in den Startlöchern steht…

Eure DRU, Markus, Jonny, Oliver.



English version:

Hello to all Drivers, Teams, Sponsors & Fans, "It is possible that 2020 could still be a good one" (Quote from a friend).

What does this mean for the DRU and the Challenges?

First thing, we would like to wish you, your family and friends all the best health. The whole Covid-19 situation affects everyone, without exception. There will be no DRU Pro ET & Super Pro ET Challenges in 2020.

As far as our beloved hobby, drag racing and what all the challenges are concerned, we at the DRU board were forced to act. It is the beginning of May, most teams would have already run their first race or would be about to do so, not this year. As of now, only the stars know what will happen this year on and off the track.

Hungary has scheduled a race for the middle of May, it has been approved. Will we be allowed to travel? Do we want to travel or stay safe at home? The AMP has cancelled the entire season in Italy / Rivanazzano. The ATD has canceled the first of three races at Clastres Dragway. We don´t know how it looks for the other two. We will have to wait and see, but we are sure they will do their best to get those weekends in if possible. Hockenheimring is looking for a replacement date for Test & Tune and the NitrOlympx. Santa Pod and Zerbst are waiting for the GO so they can get started. Jade Race got stopped already in the winter by political decision.

We at the DRU do not see a proper racing calendar coming up this year. The way it is looking, all the racing would be in September & October, if anything does take place. That would be fine to burn some fuel and rubber, but that is not enough for us to host a proper Challenge in Pro ET and Super Pro ET. That is why we cancelled both Challenges for 2020.

Our decision was not an easy one for us, as we see a challenge as a competition that has races on the various racetracks (Rivanazzano, Clastres, Hockenheim, Zerbst, Drachten and Santa Pod) throughout Europe during the year. A whole racing season put into 2 months, or not at all, that is not the kind of challenge we want to offer you.

It would be great if there would be some races in 2020. We will support those races that do take place the best we can, so that all the participants will experience a great weekend of racing. We hope you all understand our decision. Your feedback is very welcome, as always.

Concerning the already paid participation / sponsorship money for the 2020 DRU Challenge, would you like it back or do you want to leave it for 2021? Please contact us with your decision. Now to the track preparation support for Zerbst: The money that we have collected so far will be used for that purpose when they are allowed to start back up, either in 2020 or 2021 or can be returned. Anyone who has donated and wants their money returned should get in touch with us. This was one of the most unpleasant newsletters that I have had to write as DRU secretary and as a Drag Racing sports reporter. It does not just feel like someone died, somehow something did die. Let us all hope for a healthy rest of the year with at least a few events where we all can see each other again. Unfortunately, there are more important things going on right now.

We will keep you up to date…And all of this in the year in which both challenges are set up so well for drivers and sponsors. ... The Extreme Outlaws are in the DMSB regulations and are also already to go. … The organizer from Zerbst is fully motivated to get things going!

Walters wins.
12th May: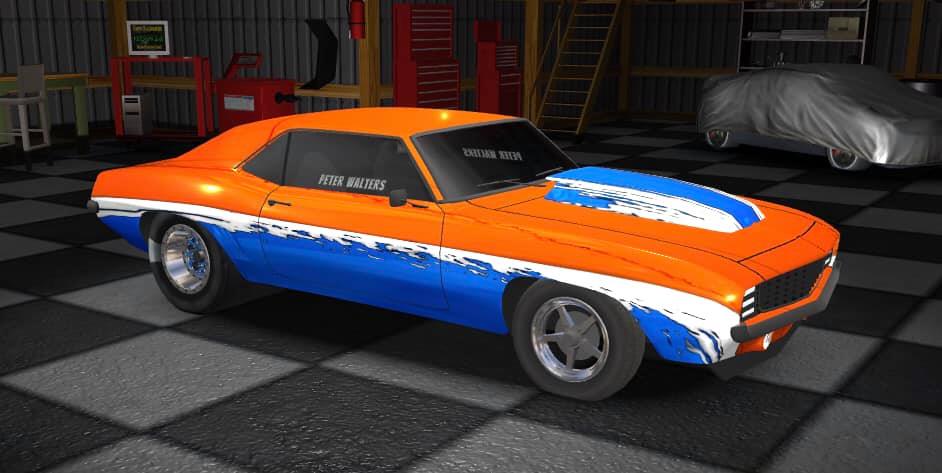 Congratulations to Eurodragster.com sponsor Peter Walters for winning Sunday's RRRC Allstar Nationals. Peter defeated Jon Crawford in the final having previously been the victor against series organiser and honorary Eurodragster.com member Spencer Tramm in the semi final. Jon came out on top against Matt Seamarks in his semi final. In the points, posted in association with in association with OCS Paint, Billy Everitt has now taken a 300 point lead over previous leader Callum Swinchatt. Will Clark is third with Joe Kellett and Spencer Tramm joint fourth place.

For those wishing to compete at next Sunday's event there will, as usual, be an entry thread Wednesday lunchtime. If you're up for it, make sure you have the latest version installed and go to Rip Rap Racers Club Facebook page.

Euro Drag Racing List - 1992.
12th May: Many thanks to drag racing historian and director of the British Drag Racing Hall of Fame Jerry Cookson for supplying more historic information in the form of a scan of the 1992-93 edition of the Euro Drag Racing List for car classes originally published by Tommy Nilsson as mentioned in our news update of 10th May.

As well as the pro classes, bests are included for Competition classes, Modified Stock, Pro Street, Super Stock GT, Street Altered, Modified Stock and Stock under Euroseries, German and Swedish rules as appropriate. There are many names to nudge memories in the Euro Drag Racing List which can be downloaded here.

Motorsport UK Consultation – deadline today.
10th May:.

Motorsport UK has embarked on a consultation across Clubs, Competitors and Volunteers to help us better understand, direct from the community, their views on key issues that need addressing to create a sustainable future for our sport.

Even prior to the onset of COVID-19, motorsport in this country has faced some fundamental challenges in recent years, presenting significant risks to the future of the sport. It is important that these concerns are addressed head-on to safeguard and sustain the sport we all enjoy. Motorsport UK been working on a delivery plan to tackle many of the challenges we face, and grow our sport through greater collaboration with clubs, members and volunteers.

Already more than 6,000 perspectives from our community have been recorded to ensure that the delivery plan reflects opinions across the sport. Tailored surveys have been created and distributed to Clubs, Volunteers, Competitors and Entrants to gather the views of each respective group. The club survey has now concluded but the deadline for submission of responses to the other surveys has been extended until midnight on Sunday 10 May and if you have not yet contributed, now is the time to ensure your voice is heard. All respondents will also be entered into a draw for £100 of Amazon vouchers!

There are three specific surveys, and some members will have relevance to more than one, Competitor Survey, Entrants Survey and Volunteer Survey. Drag racing is allocated a dedicated category so it will be beneficial if as many racers, teams and volunteers can respond to the survey.

Please share your views by clicking the relevant button on this page and contribute to the creation of a sustainable future for our sport.

If you have any queries about this consultation process, please contact: sportdevelopment@motorsportuk.org. Ensure your voice is heard!

Getting motorsport back on track.
10th May:. Motorsport UK, like other sports governing bodies, has been planning how it will be possible to restart our sport in the not too distant future – whilst working within the prevailing government guidelines. As official government communications begin to indicate a gradual release of the lockdown, we need to plan how to best resume our activities as quickly as we can.

Currently motorsport is suspended throughout the UK until 30th June 2020 in order to protect the NHS and save lives. This is in line with practically every sport in the country.

This planning is being undertaken in consultation with a wide selection of stakeholders including the specialist committees of each sport discipline. The organisation is actively modelling how each of the sport's eleven different competition categories could potentially begin to restart motorsport when it is safe and practical to do so.

Motorsport UK CEO, Hugh Chambers commented, "I thank all of the motorsport community for supporting the need to suspend our activities; we appreciate just how difficult this has been for many individuals and organisations. Our goal is to get the sport running again as fast as practically possible. We are working with the government (DCMS) and have led the development of a detailed plan that can be used by clubs, officials, venues and competitors to manage events safely and successfully.

"We are fortunate that our sport takes place in large outdoor environments, so that with practical measures in place, much of motorsport should be able to resume. We will all need to modify the way we have worked in the past and accept these changes in a collaborative and constructive way. I am sure that the ingenuity and passion of the motorsport community will allow us to navigate the essential requirements to keep everyone safe, but at the same time allow our sport to get going again."

Editor's note: we will announce any resumption of activities as soon as it is published.

European Drag Racing List unearthed.
10th May:. In the 1990s, even before the existence of Eurodrag.com or Drdb.eu, Tommy Nilsson who was based in Copenhagen and was PR man for Jens Nybo's Top Fuel Dragster team, published a list of European best times and speeds as The European Drag Racing List. We are grateful to drag racing historian and director of the British Drag Racing Hall of Fame Jerry Cookson for providing us with a scanned copy of this now very rare document dating from the start of 1995.

Jerry says: "This publication was produced as an A4 booklet but others I recall were printed in paper form as A5 booklets, and were based on Bill Pratt's Drag Racing List. At the time Fire Up/European Dragster magazines were regular contributors". Jerry also has some earlier editions dating from 1992 and 1993 which we look forward to seeing in due course.

You can see a pdf scan of the 1995 European Drag Racing List here and the download is 6Mb in size, from our new, quicker, server.

Feature: 1994 Santa Pod World Finals.
7th May: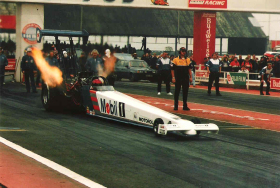 In our latest feature presented in association with Lucas Oil Products, we look back on another race that took place prior to Eurodragster.com's existence. This time we are looking at the 1994 Santa Pod Raceway World Finals, an event with many classic races, personal bests and not a little drama. In Top Fuel, Peter Lantz secured the European Top Fuel Association (ETFA) championship, whilst Risto Poutiainen (pictured) won the event after qualifying fifth of six cars entered. Tommi Haapanen qualified number one, although Tony Bryntesson got low ET of the event at 5.222.

In the pre-FIA era, the class structure was very different from today, there was no Pro Stock, and Pro Modified at this race was confined to Alan Packman making three demo passes of 6.8-6.9s. The Super Twins also had yet to race at SPR events. Top Alcohol and Outlaw Anglia provided lots of excitement as Barry Sheavills ran the first methanol-fuelled five second pass at SPR and Anita Mäkelä won the European Top Alcohol championship. Andy Carter in Outlaw Anglia ran a new class best of 7.578 that stood for many years.

The drama was provided by Funny Car legend Gary Page suffering an engine fire on a half pass, the car rolling over in the field (no barrier on the right hand side of the shut down area in those days). Fellow Funny Car racer Harlan Thompson had problems too, a supercharger exploding on the start line. And Sammy Miller, driving his new jet dragster, reset the track jet record and gave an unforgettable fireball and thunder show.

We are grateful to drag racing historian and British Drag Racing Hall of Fame director Jerry Cookson for providing a complete scan of the event programme, 43 photos taken by Dick Parnham and Eric Sawyer, a Street Machine report courtesy of Dave and Alli Gibbons, and we have linked to Nick Pettitt's YouTube upload of the broadcast coverage of the event.

You can see our feature on the 1994 Santa Pod World Finals here or via our Features, Interviews and Tributes page.

Pro Dutch: red light through Covid-19.
7th May: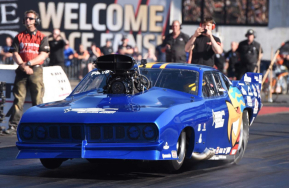 Many thanks to Bianca Booij from Pro Dutch Racing for sending us a copy of the team's newsletter for May 2020 which, through the magic of Google Translate, we have translated into English:

Pro Dutch Racing was ready. All preparations were on schedule and both the team and the Cuda were ready to kick off the 2020 season. And then suddenly there was COVID - 19. The corona crisis threw a spanner in the works. All the team are healthy and of course we hope the same for you all. With the restrictions in place, the start of the season has been postponed for a while, but for Pro Dutch Racing there is no reason to sit still. As we said in our January newsletter, the team members of Pro Dutch Racing last winter again spent many hours in the workshop at the Pro Dutch Racing '71 Plymouth Barracuda to prepare it optimally for the new season. The car was refreshed, various parts replaced and the fuel system and blower were sent to America for checking and updates. Work continued unabated for the past few weeks and substantial investments have been made in order not to be surprised when the season starts soon.

For example, an extra set of cylinder heads are welcome, a newly manufactured inlet manifold will be installed and the team got a new injector unit from America. The existing injector needed at least to be refurbished and modified, after which Pro Dutch Racing, in consultation with the American supplier, decided that it would be better for a new unit to be sent to Rotterdam.

It is always an exciting moment, the first time in the new season when, after all preparatory work the engine is started. Is everything in the right place, is everything properly secured and has nothing been forgotten? Just over a week ago, it was that magical moment again. In the workshop the starter motor was put on the V8 and the start button pressed. And yes, without a hitch the 3,500 hp engine started and ran like a charm. The perfect proof of the careful work done by the team.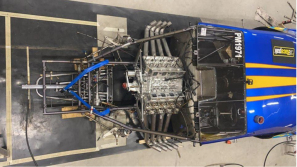 With participation in the FIA European Pro Modified Championship and the Motorsport UK Pro Modified Championship and therefore no fewer than nine events on the calendar, 2020 could have been the busiest season ever for Pro Dutch Racing. COVID-19, however, had other plans, requiring events to be canceled or moved to another date moved. With that, the plans of Pro Dutch Racing have been turned upside down.

The Easter weekend Festival of Power (Motorsport UK Championship) at Santa Pod Raceway quickly fell victim to the corona restrictions, followed by the Main Event (FIA European Championship and Motorsport UK Championship). Unfortunately we recently lost the second round of the FIA European Championship, the early June trip to the Tierp Internationals at the Tierp Arena in Sweden.

In principle, the STP Summer Nationals at Santa Pod Raceay on July 18-19 will be the first race in the Motorsport UK Championship and the opening race of the season for Pro Dutch Racing. Whether we can bring the car to run depends on the current corona guidelines. Similarly, if Santa Pod Raceway decides to have a test weekend in the coming weeks then Pro Dutch Racing makes every effort to be present.

In Germany, the ban on events has been extended until August 31, resulting in the FIA European Championship counting NitrOlympX at Hockenheim not being able to be run on the original date. The German circuit is eagerly looking for a date later in the year. Given the financial importance of this event for the Hockenheim Ring this event is sure not yet to be considered lost.

Our race calendar as it currently looks is:

FIA European Drag Racing Championship
13-16 August, Summit Racing Equipment Internationals, Tierp Arena, Sweden
10-13 September, European Finals, Santa Pod Raceway
NitrOlympX, HockenheimRing, Germany (to be rescheduled)

Motorsport UK Championship
18-19 July, STP Summer Nationals,Santa Pod Raceway
31 July - 2 August, MOPAR Euro Nationals,Santa Pod Raceway
10-13 September, European Finals, Santa Pod Raceway
26-27 September, STP National Finals, Santa Pod Raceway

You can see all of Pro Dutch racing's many sponsors on their website.

RRRC Allstar Nationals update.
7th May: Honorary Eurodragster.com member Spencer Tramm has confirmed that the 96 slots for this Sunday's on-line race, the Allstar Nationals, are now allocated and there are seven alternates listed on the Rip Rap Racing Club's Facebook page. He adds "The first 32 listed are qualified for round 2 and will start at 7pm The next 64 will race in round 1 starting at 6pm. If they haven't already done so, racers should still list their name on the FB post to show they want to be involved.

Swift snippets.
7th May: Our good friend Bob Roberts has posted something of more technical interest to anyone running, or contemplating running a blown methanol fuelled V8 engine. In the video, filmed in 2015, Eurodragster.com sponsor Andy Robinson explains the fuel system on his engine. The video will be of interest to many racers and fans and can be seen here.

Kieran has updated his Youtube channel with two more compilation videos. The first is an Audi drag racing compilation, which contains some of the fastest and quickest Audis in the world boasting huge horsepower figures and running from 7 seconds to 10 seconds over the 1/4 mile. You can see the action here. The second compilation is a Mk2 Escort Drag Racing Compilation. Kieran says "The Mk2 Escort is a well loved Classic Ford from all around the globe so it only made sense to dig through the archives and put together this video of some of the fastest and coolest Mk2 Escorts to grace the 1/4 mile in the UK & Malta. These clips were all filmed by me from 2012-2019 and include a real variety of combinations including normally aspirated screamers, Pinto & X-Flow turbos and of course big power Cosworth YBs! You can see Kieran's Escort Mk2 video here.

Kieran has also posted photos to his Mk1Kieran Facebook albums. The latest posts, over the last couple of days, include 222 photos taken at Shakespeare County Raceway and 73 shots from the 2007 Retro Show.

Back-to-back for Billy.
4th May: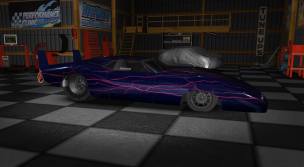 Congratulations to Billy Everitt for winning last night's RRRC Powernationals, his second event win in a row. Billy defeated Martin Britton in the final having previously been the victor against Simon Fulton in the semi final. Martin came out on top against points leader Callum Swinchatt. The exciting situation in the points is that Billy and Callum are equal in the points. Joe Kellett and Will Clark are equal third.

Organiser Spencer Tramm said the entry filled up in record time (48 minutes!) "Sorry to those that haven't made it in this time, we tried all kinds of permutations to try and make it work but we'd end up starting earlier and earlier and, trust me, 96 is a bunch of work already!"

We are pleased to be able to host the championship points in association with OCS Paint. You can access the points by clicking here or going to the points link in the main menu.

For those wishing to compete at next Sunday's event there will, as usual, be an entry thread Wednesday lunchtime. If you're up for it, make sure you have the latest version installed and go to Rip Rap Racers Club Facebook page.

Dutch demo - 1973.
4th May: Today's historic feature looks back to a major event in the history of the sport in the Netherlands, a demo on a public road by two cars and seven bikes from the UK that took place in September 1973. If this sounds quite mundane, the vehicles were far from it – the fueler Firefly and the Stardust Cuda Funny Car, and several bikes, all capable of 130mph terminal speeds in 10s or less.

For the full story and photos of this important but now mainly-forgotten event in the development of drag racing in the Netherlands, presented in association with Lucas Oils, click here or or via our Features, Interviews and Tributes page.

John Hobbs book under way.
4th May: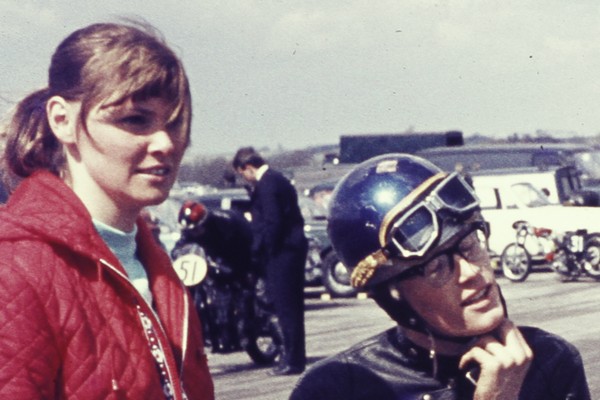 Good news for drag bike enthusiasts is that Eurodragster.com is able to exclusively announce that Keith Lee is busy working on his new project, which will be the story of drag bike legend John Hobbs. This follow-up to his highly regarded book on Mister Six himself, Dennis Priddle, will focus on the two-wheeled side of drag racing, as it evolved out of the world of sprinting. From raw newcomer to world record holder, the Hobbs name was rapidly established in the late sixties, and he went on to lead the way during the golden years of the sport in the 1970s.

Keith commented; "It took some time to decide whether I was up for the task of writing another comprehensive book, but one thing I did know was that there was only one person in my sights if it was going to happen. John is someone I have known for 50 years now - and even followed him up the track in the other lane on a couple of occasions in the early seventies! I have reported and commentated on his racing career so many times, and focused my lens on him in action equally often. If I was going to undertake another book of the breadth of Mister Six - John Hobbs just had to be the subject. He has been a tremendous ambassador for the sport, and the names of his bikes, Olympus and Hobbit, have been etched into the record books many times. Dragstalgia in particular has given younger drag race enthusiasts a chance to see this standout racer from an earlier era show that he has lost none of his competitive drive and speed - despite now being in his early seventies.

John and Cheryl, who has supported him throughout his racing career, celebrated their Golden Wedding anniversary this past weekend, and it is true to say that without her backing it would have been a much shorter story! The attached picture shows John and Cheryl at Santa Pod a year or two prior to that 1970 wedding date!

I first broached the subject of a book with John in the latter part of last year, and was pleased that he was happy to be grilled extensively as part of the process. We now have many hours of conversations logged, with plenty more to come, both from John and Cheryl, along with other competitors and relevant people along the way. If you enjoyed the Mister Six book, then this will be in a similar format, but with a North London accent instead of a Somerset dialect."

Eurodragster.com will be bringing you blog updates as the book progresses. Keith himself is establishing a Facebook page - John Hobbs Book - to keep everyone up to date, and exchange views. The plan is to publish the book next year, most probably in the second half of 2021. More details on that in future updates. Keith himself can be contacted via Facebook, at Keith Lee Images, or email: info@keithleeimages.co.uk.

Swift snippets.
4th May: In his latest uploads to Youtube, drag racing historian Nick Pettitt has posted coverage of the whole episode of Tomorrow's World where Dennis Priddle gave presenter Maggie Philbin the opportunity to drive his Top Fuel Dragster with scientifically revised aerodynamics - and no rear wing. Nick has also posted video coverage of the 1994 Cannonball . The legendary Sammy Miller was at this event, although problems with the fuel mix hampered the performance of Vanishing Point.

Santa Pod Raceway have also been updating their online videos by posting the Euro Finals from 2012, a race run in great weather conditions.

Robinson Race Cars on tour – part 4.
2nd May: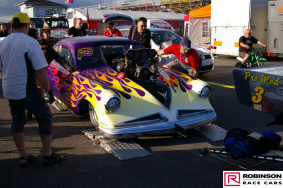 Many thanks once again to our good friend Bob Roberts for part 4 in our series documenting the story of some of Eurodragster.com sponsor Robinson Race Cars' overseas racing trips.

In 2009 Andy once again attended all rounds in the FIA Pro Modified championship and round number two at the start of July was Alastaro in Finland. In both qualifying and eliminations, Andy started well but then experienced traction issues. There was a field of 18 cars and the event suffered much rain and downtime.

Bob's account tells the team's behind the scenes story of the event with a gallery of 36 photos and a link to his video record of the event. You can read Part 4 of Robinson Race Cars on tour here or via our Features, Interviews and Tributes page.

Spy picture.
2nd May: Today we have a trio of spy pictures from a single source. The inscription on the side of the Pop is a bit of a giveaway if you have been reading our updates recently. There is also a touching dedication to Santa Pod Raceway announcer Darryl Bradford.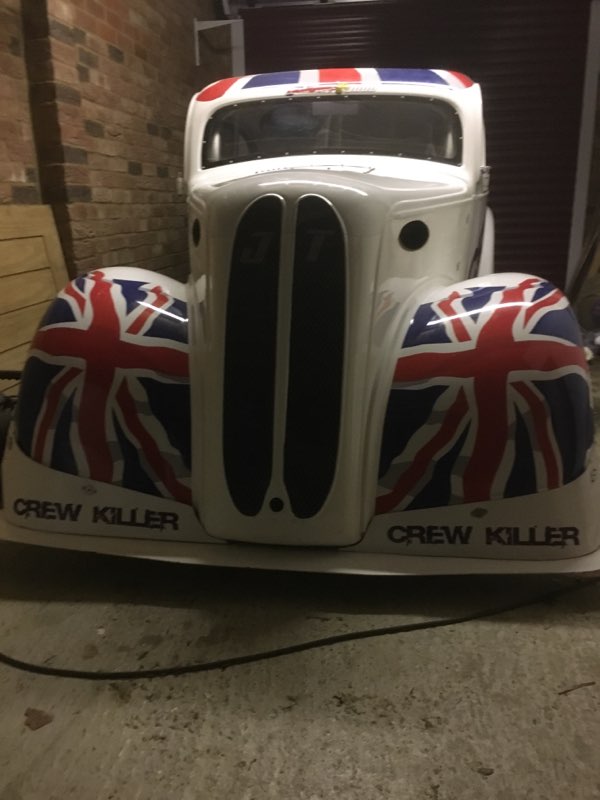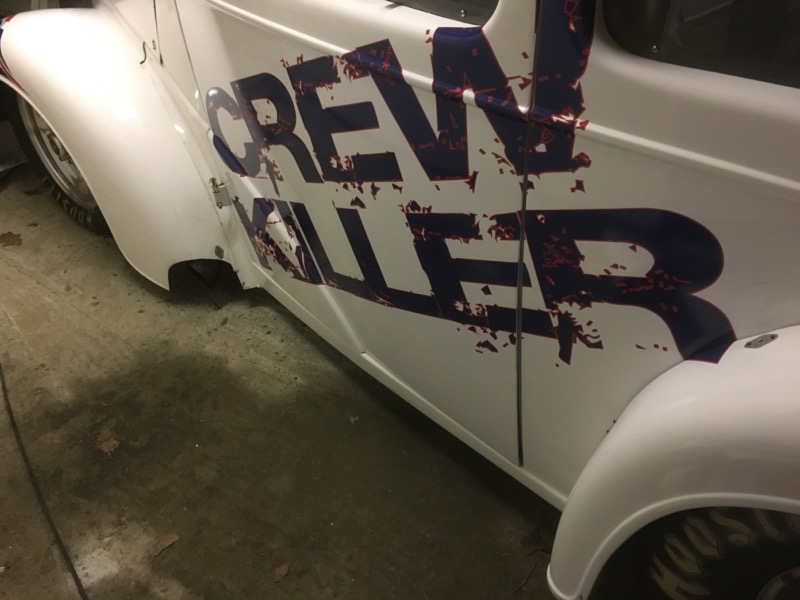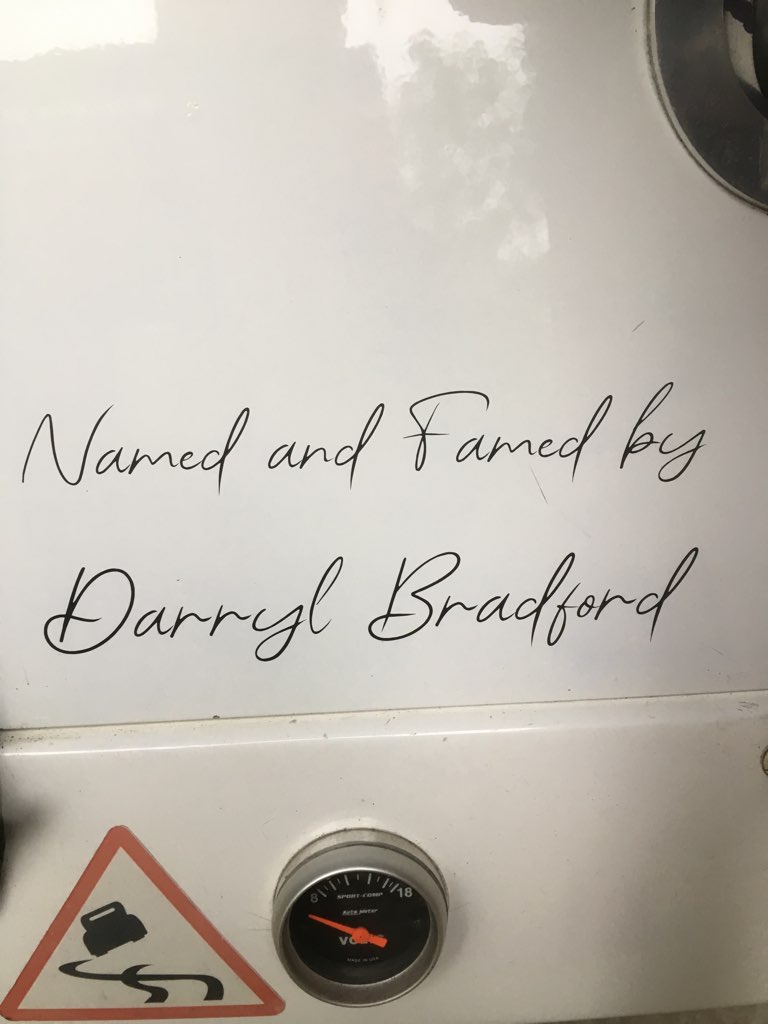 If you know more, or if you would like to send your own spy picture, then drop us a line at editor@eurodragster.com.

Feature: Eurodrag files.
2nd May: As a follow up to our piece on 30th April prompted by Chris Hobson sending us some long-lost championship standings in the European Top Fuel Challenge 1991 and 1995, we searched our hard disk and the web, and found more material from the long-since defunct site Eurodrag.com.

A message to former web master Erwin Raets resulted in confirmation that he was happy for us to republish his work. So we have assembled a feature which covers many of the pre-FIA championships in the 1990s. We also found detailed results from FIA races held in Sweden and Finland between 1996 and 1999, before Eurodragster.com reported at these events, kindly supplied by honorary Eurodragster.com member Andy Marrs. For good measure, we have linked the results to high quality videos of the events.

You can see our feature on the Eurodrag files here or via our Features, Interviews and Tributes page.

Thacker launches blog.
2nd May: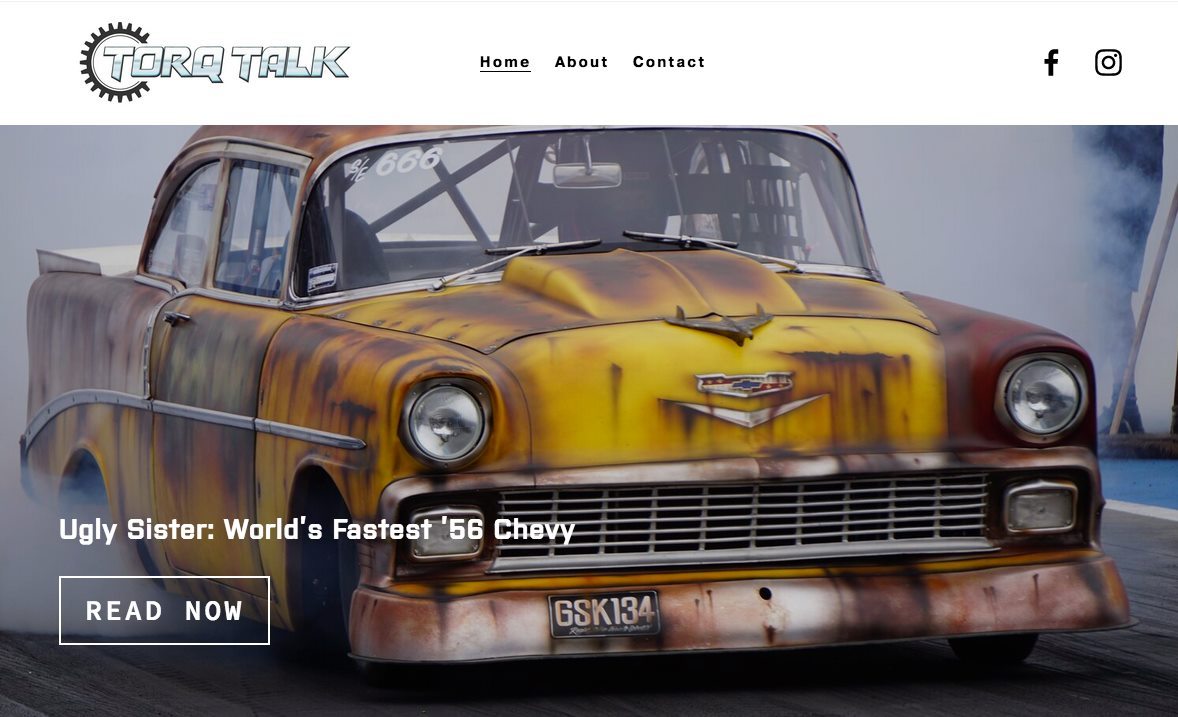 Photo journalist Tony Thacker lives and breathes car culture as those who have met him will attest. Among his achievements are editorship of Custom Car, director of the NHRA Museum in Pomona, California, founder of the World of Speed museum in Oregon and compere of the British Drag Racing Hall of Fame Gala for the last three years.

Tony has now launched his personal blog with his take on the many automotive things that fascinate him and us. Torqtalk covers both the UK and US speed and custom scene and pieces posted recently include a Dragstalgia review, the Ugly Sister world's fastest '56 Chevy, Geoff Stilwell's 300mph Bonneville LSR roadster and Williams Bros racing.

Thanks go to designer Kailay Yu and sponsors: Geoff Stilwell & BUA Motorsports, HandHFlatheads.com, MicksPaint.com, RatTrapRacing.com and USAutomotive.co.uk.

Webster interviewed.
2nd May: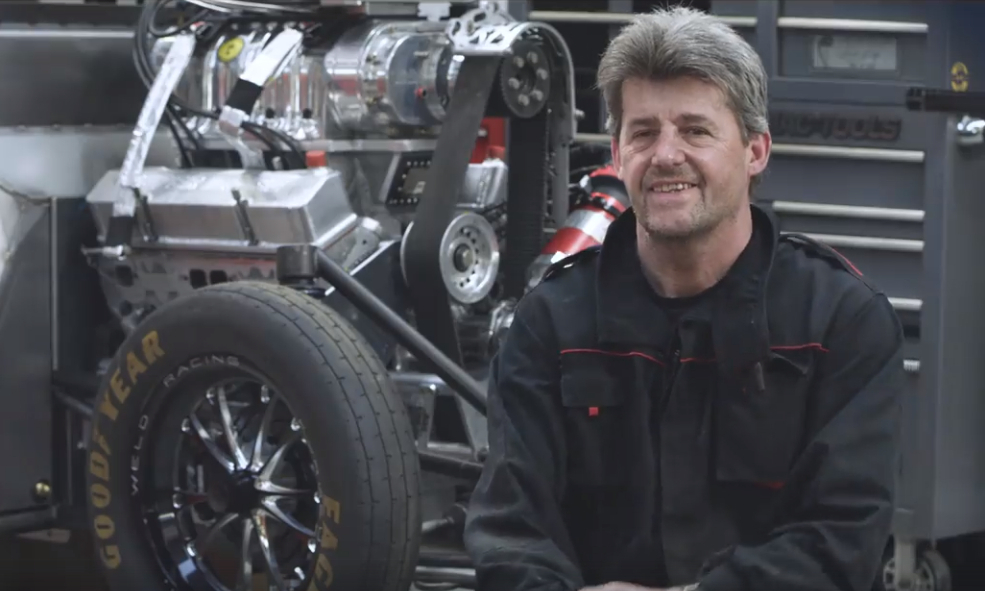 BeFastR is a company providing motorsport media services, and motorsport inspired clothing and merchandise. In their latest video post to Facebook they interviewed Eurodragster.com sponsor Jon Webster and found how he got "from humble beginnings, serious graft and plenty of ups and downs to becoming one of the most highly regarded drag car builders in the industry".

By watching this highly recommended video, you can follow Jon's fascinating story of the hard work and dedication it takes to become a true master craftsman, and learn just how critical and precise one has to be when building cars for what is without a doubt the loudest and fastest motorsport on the planet! You can see the video on Facebook by clicking here.

NitrOlympX postponed.
30th April: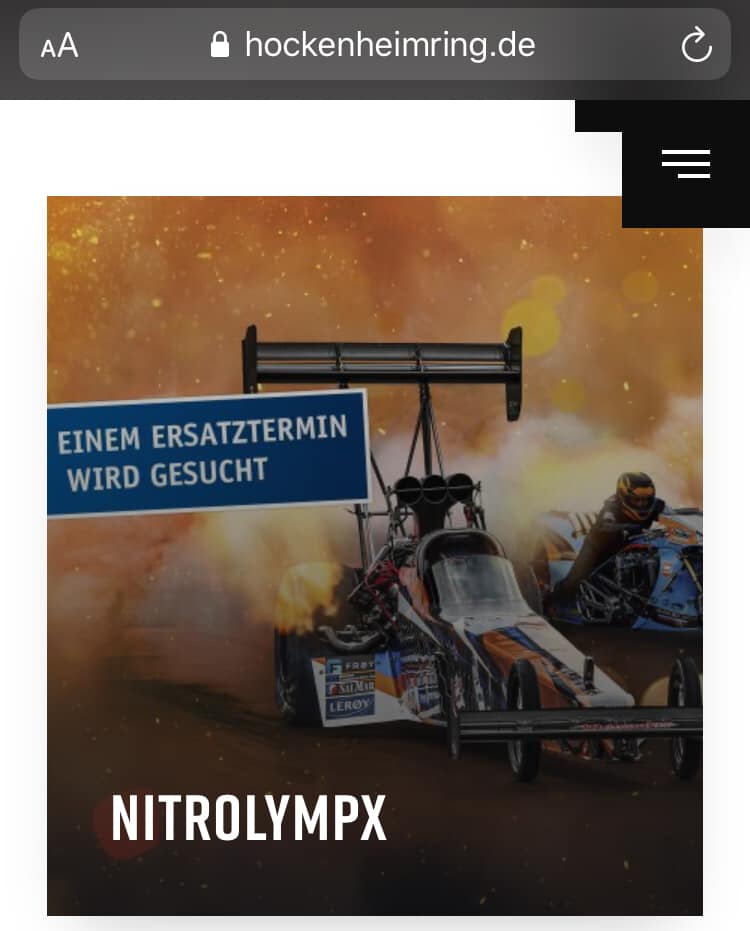 Displayed on the web site of Hockenheimring today are the following words: Einem eratztermin wird gesucht (A replacement date is sought). So Hockenheim is looking to find a new date for the NitrOlympX 2020. The web site of the track and the event, previously scheduled for 28th-30th August, states:

The Federal Government's decision published on 15th April states that no major events may be held in Germany until at least August 31, 2020. The respective federal states are responsible for the design of such a regulation. As soon as we have the ordinance of the state of Baden-Württemberg with all information and details, we will be able to get an exact picture of which events planned at the Hockenheimring are affected and must be canceled or rescheduled. This is a complex process that requires a high level of coordination with everyone involved. We will continue to go full throttle in order to be able to offer you as many racing events as possible in 2020 within a responsible framework. The health of every individual has top priority!

Stay tuned for further developments.

Rip Rap Racers Club announces Powernationals.
30th April: Many thanks to Honorary Eurodragster.com member Spencer Tramm for confirming the on-line RRRC Powernationals will take place on Sunday 3rd May from 6pm:

Entry is now open and limited to 96, those that made round 3 are seeded into round 2 (starting at 7pm) however you must still list your name to show you want to be involved. Those that made the last 32 have been reserved spots but racers must post in the thread to enter, from today (Thursday) onwards any unreserved spots will be free for anyone to take. For full information go to Rip Rap Racers Club Facebook page, or our points page to see the current standings.

Spy picture.
30th April: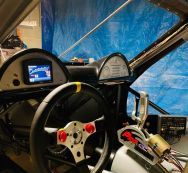 The latest spy picture to arrive at the offices of Eurodragster.com came without any caption but was located to the FB page of a multi championship winning team.

If you know more, or if you would like to send your own spy picture, then drop us a line at editor@eurodragster.com.




BDRHoF US representatives active in the media.
30th April: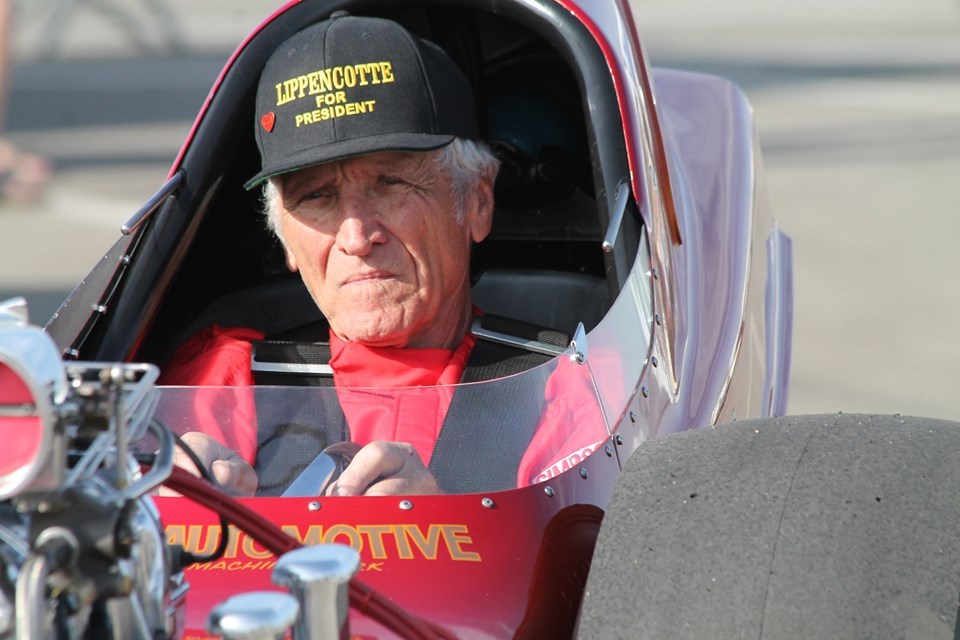 Many thanks to Eurodragster.com sponsor Geoff Stilwell supporting Nitro Revival for drawing our attention to a detailed and well researched article about the background to Bob Muravez's racing life. Bob, an international ambassador of the British Drag Racing Hall of Fame, famously raced under the alias of Floyd Lippencotte Jr in the 1960s when he was a feared competitor in Top Gas Dragster. John P Glionna, writing for the SB Nation web site, documents Bob's childhood and the difficult relationship with his father which led to Bob to adopt his nom-de-guerre, and what happened when this was uncovered. It is not an easy read emotionally, but it is an outstanding story.

On a different note but sometimes tinged with sadness is a series of presentations by BDRHoF 2017 Lucas Oil Global Achievement Award recipient Steve Gibbs filmed by daughter Cindy and posted on the Nitro Revival Group Facebook page. Steve is a great raconteur as those who met him at the BDRHoF Galas will remember. These videos are like a one-man bench race, coming as they do from someone with huge experience of running the sport in the NHRA.

European Top Fuel Challenge results located.
30th April: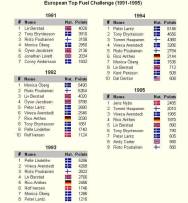 Thanks to long time fan Chris Hobson for locating this table of pre FIA era points standings for Top Fuel (click for larger, legible version). They come from the European Top Fuel Challenge 1991 and 1995 which was promoted by Santa Pod owner Keith Bartlett. Chris says 'These are not my calculations but from an older page that I can no longer find on-line'.

In the table, you can see the Scandinavian dominance of the category during this period, and the legendary names who competed in the.

A look through our own records confirmed that the page in question is Eurodrag.com which was live until 2009 and listed personal bests and pictures of European racers and was run by computer programmer and racing fan Erwin Raets. The site disappeared when Erwin passed the database to the successor site the European Drag Racing Database at www.drdb.eu, which happily is still fully active and a superb source of information. But we shouldn't forget Erwin's role in establishing such a database in the early days of the internet over 20 years ago.

Billy wins, Callum leads.
28th April: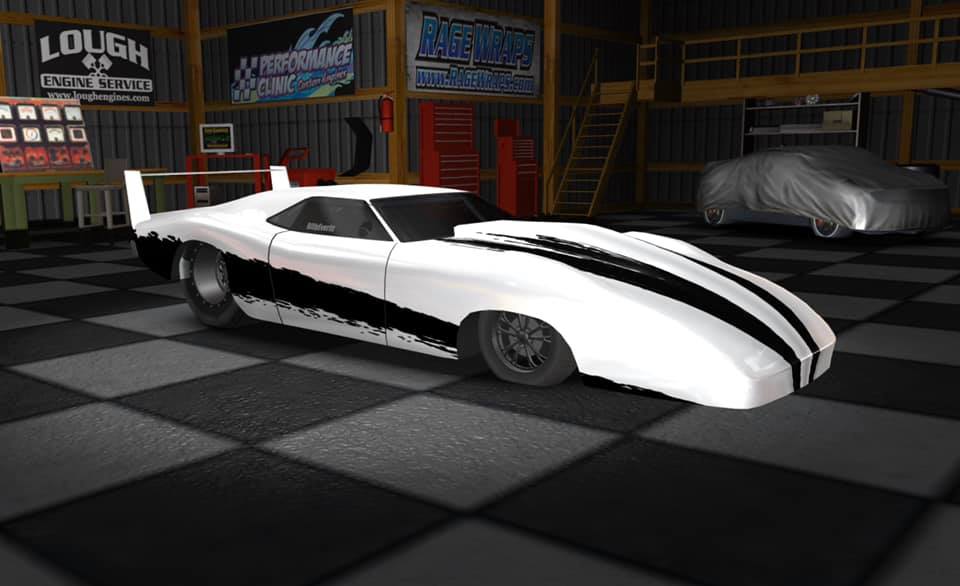 Congratulations to Billy Everitt on winning the Sports Nationals, the latest round in the RRRC6 online racing series held on Sunday night. Billy was up against a field of 96 racers and defeated Santa Pod Raceway announcer Colin Theobald in the final, having previously defeated Robbie Grabham in his semi-final and Colin having defeated Craig Wright in his semi-final. Billy's car was a Plymouth Superbird, pictured to the left.

We are pleased to be able to host the championship points in association with OCS Paint. You can access the points by clicking here or going to the points link in the main menu. Callum Swinchatt remains as points leader over Joe Kellett, followed by Will Clark and Craig Wright.

For those wishing to compete at the following Sunday's event there will be an entry thread Wednesday lunchtime. If you're up for it, make sure you have the latest version installed and go to Rip Rap Racers Club Facebook page.

Markus Ek 2008 Veidec gallery.
28th April: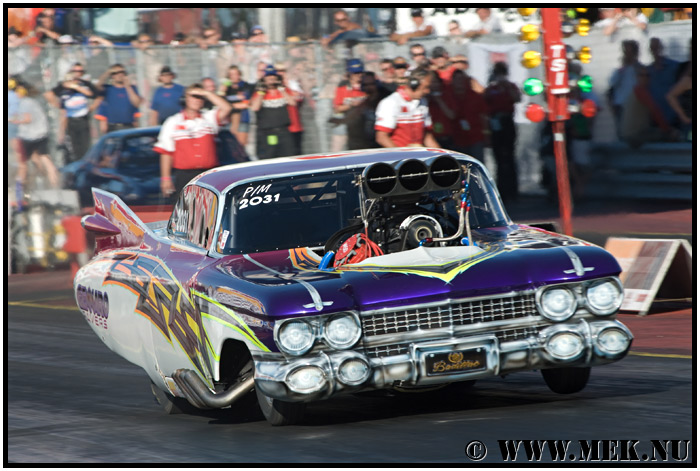 Many thanks to Markus Ek for kindly giving permission for us to post 140 of his photos taken at the 2008 Veidec Festival held at Mantorp Park in Sweden. This was a memorable event in many ways, Markus coming on board to help out Eurodragster.com and being part of the team working into the small hours to get the coverage completed.

The whole event was an absolute blast with a huge field and many track records set in the process. For more explanations, see our feature which as ever is supported by Lucas Oil Products. Our gallery of Markus's photos is here or via our Features, Interviews and Tributes page. (Pictured is Jan Gunnarson's Badillac Pro Modified which made its race debut at this event.


Swift snippets.
28th April: Kieran has posted another in his series of drag racing compilation videos to Youtube. Ford's model 100E has had a surge of popularity over the last couple of years with the formation of the Modified 100E group, and his latest shows many examples of the breed. Kieran says "LS Swapped & turbocharged 4-cylinder motors... this compilation dedicated to Ford's little 100e has it all! These are just some of the examples I've filmed over the last 8 years with all different levels of performance".You can see Kieran's video at his Youtube channel.

Retired Editor and Race Reporter has asked us to wish former junior drag racer and friend Thaliah Gibb a very Happy Birthday for tomorrow (29th April). Have a lovely day Thaliah.


West Ten Motorsport - off track but online.
25th April: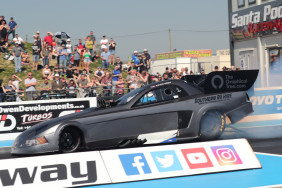 Many thanks to Dan Welberry of West Ten Motorsport, with a two car line-up for this year and Kevin Kent and Shelley Pearson driving, who has been in touch about the team's preparation for racing later this year.

As we're sure was the case for many race fans, Easter was a very frustrating weekend for West Ten Motorsport. For starters, there was the cancellation of the Festival of Power, the season opener for our class - the European Funny Car Series. And the weather was also a little frustrating in that it was amazing! We all know that this is often not the case for this particular weekend. Who can remember snow and snowmen on the start-line a few years back? Despite these unprecedented times, West Ten is not sitting still and doing our best to keep things moving on all fronts. Both Kevin and Shelley's cars are ready to run hard when the racing does get underway and Kevin is continuing with routine maintenance on the team machinery as much as he can during this lockdown period.

And it's not just in the workshop that progress has been made. We're also delighted to announce the release of our new West Ten Motorsport website - www.westtenmotorsport.com. This visually striking site brings you all the latest news from the West Ten camp, as well as driver profiles, video clips from the 2019 season and a brief history of the Funny Car. You can also get in touch with the team here and download our latest partner brochure to find out more about becoming a partner with Europe's only two-car Funny Car team.

Why not take a look and let us know what you think? We'd love to hear your feedback.

We'll do our best to keep you posted on any further developments with the team as they happen but until we can get back to the track, stay safe and we can't wait to go racing as soon as is safe to do so.

Robinson Race Cars on tour – part 3.
25th April:
Many thanks to our good friend Bob Roberts for part 3 in this series documenting the story of some of Eurodragster.com sponsor Robinson Race Cars' overseas racing trips.

This time on the team's visit to Mantorp Park in Sweden for the 2007 Veidec Festival, Andy was top qualifier of 22 cars, setting a new track record in the process – thereby winning Tog a 50 Krona note. A close final saw Andy become runner-up to Micke Gullqvist.

Bob's account tells the team's behind the scenes story of the event with a gallery of 23 photos. You can read Part 3 of Robinson Race Cars on tour here or via our Features, Interviews and Tributes page.

Swift snippets.
25th April: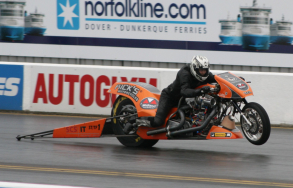 The Mad Welshman has updated his Flickr gallery with two large albums of 425 pictures covering a variety of events from 2008 at Santa Pod Raceway and Shakespeare County Raceway. You can check out Mad's shots at flickr.com.

Kieran has posted another in his series of drag racing compilation videos to Youtube. This time it is the turn of the Ford Cortina, with clips are filmed by Kieran from the past eight years at Santa Pod Raceway in the UK and Hal Far Raceway in Malta. Kieran says 'The video includes runs from full-blown drag cars to modified street cars'. First up is the legendary John Woolfe Racing/Ampar Cortina of Steve Green. You can see Kieran's video at his Youtube channel.

The latest video in Santa Pod Raceway's #RacingThroughTime series is the 1989 World Finals. Liv Berstad failed to qualify but later ran the fastest time outside of North America, a 5.37/260. There was plenty of nitro action in Top Fuel, Funny Car, Top Alcohol, Pro Stock (the Nordic series at SPR for the very first time) and Pro Mod, so catch the action here.

A big Happy Birthday to our good friend and former supplier of our webcast streaming service Doyousee.me, Maikel Gloudemans, whose birthday it is today. Have a great day Maikel.

Feature: 1997 FIA European Finals.
23rd April:

In a new series of features presented in association with Lucas Oil Products, we look back on results of some of the races that took place prior to Eurodragster.com carrying live reports. The first race we are presenting comprehensive results for is the 1997 FIA European Finals. We are grateful to Andy Marrs of TSI Timers for sending us data, retired News Editor and Race Reporter Tog for supplying over 30 photos of the event, and to Santa Pod Raceway (then in the guise of Power Race Comminications) for allowing us to carry a scan of many pages of the event programme.

A few weeks earlier to this event, Kent Persson had become the first Top Fuel racer in Europe to record a four second time at the Hockenheim NitrOlympX. But it was Rico Anthes who took the second ever FIA TF Championship with a semi-final finish. In Top Alcohol (dragsters and funny cars combined but ,running heads-up). Peter Beck became champion by a margin of three points but the headlines were taken by Jarmo Roivas' ET record and Leif Andreasson's five second pass, the first by a methanol-fulled FC in Europe. In Pro Stock, Tomi Laine took the no.1 qualifier, the event, the record and the championship. The bike classes were yet to run as a FIM Championship series, however Brian Johnson won Top Fuel Bike.

You can read our feature on the 1997 FIA European Finalshere or via our Features, Interviews and Tributes page.

If you would like a particular event covered that is not already in our event coverage, we have data going back to mid-1995. If you've official data before this, we would also be very pleased to hear from you. Please send your suggestions to news@eurodragster.com and keep the news coming.

Swift snippets.
23rd April: Advance birthday greetings to honorary Eurodragster.com member Colin Roaf who celebrates his special day tomorrow (Friday). Have a great day Colin and see you at the track before too long.

Joe wins RRRC Supernationals.
21st April: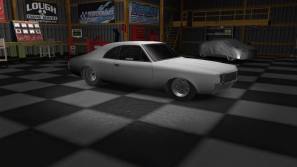 Congratulations to Joe Kellett for winning the RRRC Supernationals held on Sunday night. Joe achieved his win in a field of 96 racers by defeating Will Clark in the final and Jack Gooding in the semi final. In turn, Will had defeated series organiser Spencer Tramm in his semi-final. Joe's car was a first generation AMC Javelin, pictured to the left.

Callum Swinchatt remains as points leader over Joe Kellett, followed by Will Clark and Craig Wright. For those wishing to compete at the following Sunday's event there will be an entry thread Wednesday lunchtime. If you're up for it, make sure you have the latest version installed and go to Rip Rap Racers Club Facebook page.

We are pleased to be able to host the championship points in association with OCS Paint. You can access the points by clicking here or going to the points link in the main menu.

Expat review – Lex Joon Racing.
21st April:
Top Fuel Dragster racer Lex Joon started his racing career in the Netherlands in 1993 with a Top Methanol Funny Car, moved to the Kings of the Sport in 2004 and won the FIA championship in the following year. He raced in Europe until 2011 and then made the momentous decision to move permanently to the US and obtain citizenship. Planning the move took some time and it was not until October 2013 that he, wife Gerda and Cha Cha, the family 'dogster' shipped their possessions and Lex's Top Fuel Dragster so they could settle again in Indianapolis.

Having found employment, Lex and Gerda rented a small race shop opposite Don Schumacher's headquarters in Indianapolis. The car needed a new front half to be NHRA legal and the team's parts inventory was built up. Then in 2018 Lex ran three races so he could re-licence, and so runs at the Texas Motorplex and Lucas Oil Raceway in Indianapolis helped in that process. The team then went to St. Louis (Gateway Motorsports Park) and Charlotte zMax Dragway. He didn't qualify, but the team got used to tuning and running a TF car.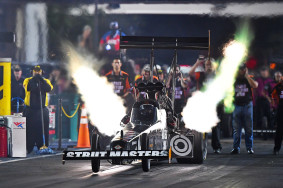 In 2019, Lex and the team had an expanded programme of eleven races which enabled Lex to finish 18th in the points and pick up an important round win against Leah Pritchett of Don Schumacher Racing at Bristol. By this stage Lex had signed sponsor deals enabling the expanded tour schedule. The initial deals were with Strutmasters.com (suspension parts manufacturer) and JLM Lubricants.

In December, Strutmasters.com extended the sponsorship to enable Lex to run multiple races during the 2020 NHRA Mello Yello Drag Racing Series. Lex commented "With a total of four Top Fuel dragsters running under the Strutmasters banner we can expect a race within a race when it comes to bragging rights for the best performing car in 2020".

In 2020, Lex and Gerda have added more sponsors to their increasing roster. In January, they announced CP-Carillo, manufacturer of pistons, rods and piston rings. Lex says "With the support of CP-Carrillo, along with our other amazing sponsors, we know that we will be a stronger contender for the upcoming NHRA season".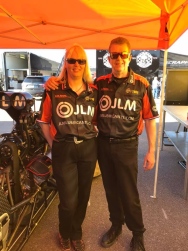 The team has also been joined as supporters by Gates Poly Chain® belt, and Better Diesel™ FBC as its newest associate partners for the season. Lex Joon Racing will be adding Better Diesel™ FBC fuel borne catalyst treatment to the diesel tanks of their new Kenworth race hauler.

The latest additions to the sponsor roster for LJR are Red Line Synthetic Oil and Best of Texas Barbecue Sauce. Lex commented on Red Line Synthetic Oil: "It is critical we utilize superior oils and lubricants that can endure the extreme temperatures we see regularly as our cars produce 11,000 horsepower. Red Line products give us the confidence that our drivers will be able to perform at their full potential".

Best of Texas Barbecue Sauce is owned by Funny Car racer John Hale. Lex says: "John's enthusiasm for drag racing, his understanding of the sport, and his Best of Texas Barbecue Sauce are a perfectly balanced addition to our line-up of top notch sponsors".

With such an array of sponsors, we look forward to seeing Lex in events in the East and Mid-West in the shortened NHRA season and will keep readers updated with his racing activities. It's well worth visiting his web site at www.lexjoonracing.com which is full of images and is a model for attracting sponsor and fan interest.

Williams Bros reveal.
21st April: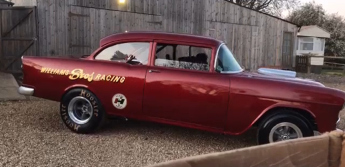 Last night saw the reveal of the latest Williams Bros Racing creation live on Facebook. The superb candy apple red '55 Chevy, which was worked on as a part time project by dad Keith Williams with Eurodragster.com sponsor (through OCS Paint) Nic and brother Dan with their team, was shown on the William Bros Racing page and can be seen driving out of the garage.

Santa Pod Raceway commentator Colin Theobald presented the reveal to viewers with interviews with Nic, Dan and the car's driver Keith Williams. The car has a 302ci small block Chevy engine with a FST carburettor and a dynoed power output of 540hp, designed to run in the 10-11s range. Thanks go to Jon Webster for the roll cage and Neil Melliard for the hand brushed lettering.

Tony Morris Carburetors launches.
21st April: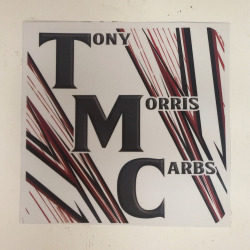 Tony Morris has long been known in the UK and Europe as a drag racer and racing carburetor specialist. Now, after years of working for and alongside the best carburetor suppliers in the USA, he has decided it's time to branch out on his own.

The ex-pat Florida resident has been involved in motorsport since he was a toddler and has been actively drag racing for 41 years in the UK, Germany and the USA. Tony has gained immense knowledge and experience with leading companies like chassis builder Undercover Race Cars, noted carburetor supplier BLP, and by way of his thousands of hours logged in a variety of sportsman race cars.

Tony Morris Carburetors - TMC - can build and supply bespoke, fully adjustable, Holley style racing carburetors for all fuel types and for all classes of race car, offering the consistency and adjustability required of today's bracket racer. Upgrades, conversions, and refurbishment to your existing carburettor is offered as well, along with premium spare parts and components. Conversions are a cost effective alternative to brand new 'out of the box' carbs, and are calibrated to your vehicle's specific requirements rather than set up with a 'catch all' tune.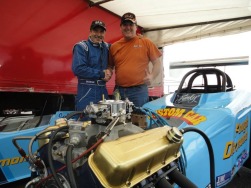 The good news for the UK and European racer, is that Tony has negotiated a UK based agent in the form of Dave Gibbons at Rough Diamond Racing. Tony and Dave have been close friends and worked with each other for over forty years. Dave has a lengthy reputation in drag racing and other UK motorsport disciplines as well.

Once fully established, TMC will offer an identical service inthe UK (and European) racer as they would get if they were located in the United States. Dave will assemble, convert and refurbish carburetors to Tony's exact specifications, and supply support and parts to keep them running the way they should, offering a more convenient Tony Morris Carburetorservice without the added cost, duties, shipping, and delay in timescale involved on orders direct from TMC in the USA.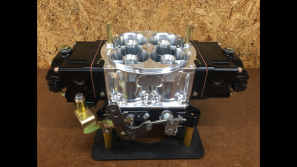 Tony explained, "Dave has a reputation for meticulous preparation and attention to detail. I trust him to provide the same quality of work I would supply myself". Dave responded, "This collaboration makes perfect sense. Tony is at the top of the game when it comes to carbs, and there's a demand for his services in the UK and Europe. I have the capacity to carry out the work and supply that service 'remotely' with the technical experience coming directly from Tony". This means that customers can be assured that each quality carburetor will be assembled with the time and care as should be expected - not put together by an employee on minimum wage in a hurry to get on his lunch break!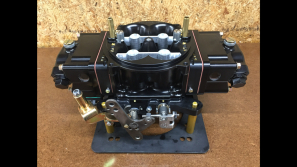 Tony concluded, "The agreement for a UK base was made before the coronavirus crisis struck, which has clearly put a delay on the UK launch". However Tony and Dave appreciate that this might be a good time for racers to carry out maintenance, so have decided to offer a UK service (while shipping and courier services remain available) to carry out carb refresh and refurbishment with immediate effect. Conversions and upgrades will be available in the near future. So if you're in the UK and you have a carburetor in need of a refresh, prices start at £215.00 including top quality US manufactured parts. Please contact Dave at TMC@roughdiamondracing.com who will be happy to oblige.

Tony Morris Carburetors LLC is up and running in the USA now, and are currently able to offer their full range of services. Tony can be contacted via email at anthonyrmorris@yahoo.com or the Tony Morris Carburetors Facebook page.

Swift snippets.
21st April: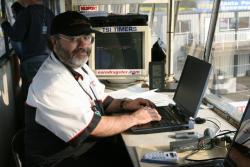 If you can get a subscription or visit a newsagent during the lockdown, you need to buy the June/July edition of Custom Car magazine. Our good friend Keith Lee has an article on our now-retired Editor and Race Reporter Tog. In the article you can see pictures of Tog with his favourite cars, and find out about how Eurodragster.com started and how the advances in technology in the last 23 years have helped the web site expand.

In his latest update on Youtube, Kieran has posted a compilation of videos of the Taz Racing Fiat 126's, some of drag racing's shortest wheelbase creations that are likely to do a wheelstand by merely looking at them. Kieran's other recent upload is dedicated to VW Golfs traversing the quarter mile with a variety of wheel driving configurations and power plants.

Aidan to Top Fuel.
18th April: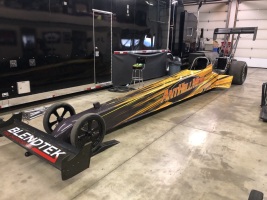 Thanks to Ant Hill Mob Dragracing Team's Aidan Heatley-Smith, former Top Alcohol Funny Car racer and son of Smax Smith, who has been in touch about his new ride:

After a long delay since the latest spy pic (Ed: posted on 3rd February in Swift snippets) we can finally unveil the news.

What do you do during a world wide pandemic? Buy a Top Fuel dragster!

Smax has purchased the ex Patrik Pers Top Fuel dragster from Sweden, after selling the Top Alcohol Funny Car to a guy in France. Our plan is to have Aidan license as soon as the tracks open again, and have a father vs son match race later in the year, but all plans are on hold right now due to the Covid-19! We are currently getting the car race ready so we can go testing the second the track opens, and hope everyone is staying safe and healthy. Tune into our Facebook page for more updates!

Robinson Race Cars on tour – part 2.
18th April: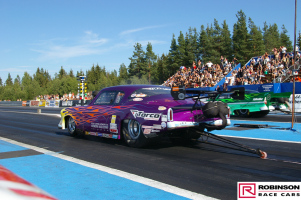 Many thanks to our good friend Bob Roberts for part 2 in this series documenting the story of some of Eurodragster.com sponsor Robinson Race Cars' overseas racing trips.

This time we focus on the team's visit to Gardermoen for the 2006 Summer Nationals. There were 20 cars competing in Pro Modified and Andy qualified number one with a 6.266 in a field spread by 0.493 seconds. In the final, Andy was runner-up to Micke Gullqvist.

Bob's account tells the team's behind the scenes story of the event with a gallery of 39 photos. You can read Part 2 of Robinson Race Cars on tour here or via our Features, Interviews and Tributes page.


Twister's Perfect new sponsor.
18th April: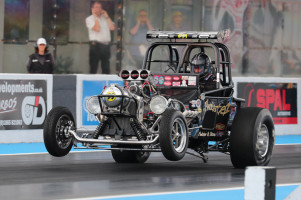 Many thanks to Andy 'Fadster' Hadfield, sponsor of Eurodragster.com's Perfect ET award in 2019 through Team Twister, for providing details of a new sponsor for his Supercharged Outlaws street-legal seven second altered:

Team Twister and Twister's Sister are delighted to announce a new sponsor. What a boost for us during these sad and strange times.

Trackstuff Racing Fuels and Tyres and #renegaderacingfuels have very kindly agreed to sponsor both teams with all their products.

This is a massive deal for me personally. As a privateer, my racing budget has always been challenging and anytime I get the opportunity to get a great deal at discounted prices, I jump at it.

Thank you to Jeff Ludgate of Trackstuff for his support and faith in Team Twister.

Editor's note: We will have news on the Perfect ET award when the racing season gets under way, so stay tuned to Eurodragster.com for further details.

Tierp Internationals cancelled.
16th April: Urban Axelsson, of Tierp Arena and NDRS Motor Club, has made the following announcement:

It is with heavy hearts we have to inform you that we have made the decision to cancel the 2020 Tierp Internationals at Tierp Arena on June 4-7 which would have included rounds of the FIA European Drag Racing Championship, EDRS Pro MC series and Summit Racing EDRS Series, as a result of restrictions in place because of the Covid-19 virus.

We have closely followed the development of the situation around us and even if we hope the world will be in a better state in the beginning of June, we see no possible way of holding the event due to the restrictions currently in place and the uncertainty of international travel and border crossing. The safeguarding of our spectators, racing teams, staff and volunteers and their families must come first. The decision process has been made in dialogue with FIA, DRE, SBF, SVEMO and Speedgroup.

We are now turning our main focus towards the 2020 Summit Racing Equipment Internationals on August 13-16 with the aim to make it a great event.

Refund for the 2020 Tierp Internationals will be made for advance tickets and entry fees.

We hope for your understanding and support in the future.

See you at the Summit Racing Equipment Internationals August 13-16.

Swift snippets.
16th April: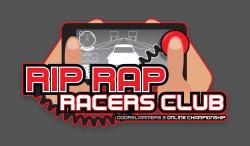 Many thanks to honorary Eurodragster.com member Spencer Tramm for letting us know the Rip Rap Racers Club are racing again on Sunday with the RRRC Supernationals starting at 6pm. Spencer says "numbers are limited to 96, although we are filling up fast!" Spencer also thanks Eurodragster.com sponsor Peter Walters at Peter Walters Race Design for designing the club logo.

European coverage in the crowded U.S. drag racing media is always notable, and our former photo editor Roger Gorringe has supplied an article to Drag Racing Edge magazine describing European drag racing's reactions to the lockdown and its effects on racing activity. Eurodragster.com provided its viewpoint and you can read the article online here.

If you're wanting to join the community of drag racers acknowledging the fantastic work being done by key workers in these uncertain times, posting a picture of your car or bike at Drag Racers Saying Thank You is a way of making your gratitude known. You can also post a link to a charity which is helping those in need; two such charities are the amazing Tom's Walk For the NHS and the Imperial Health Charity.

FHRA update.
14th April: Many thanks to Rami Vaan who has supplied an English translation of an announcement by the Finnish Hot Rod Association about their season. Rami says the announcement from FHRA Management Team (decided on 31st March 2020) concerns the 2020 Finnish drag racing season.

The FHRA announced that all races until end of June 2020 are cancelled. This means that the 2020 Nitro Nationals, planned to take place on 25th-28th June, and which is not a part of the FIA and FIM-E drag racing championships, has also been cancelled.

The fate of the rest of the racing season will be reviewed on 17th June 2020 by the FHRA management team, and there will be separate announcement about further decisions after 17th June.

The FHRA have also produced the first two episodes of a series about the sport in Finland which goes under the title FHRA Power & Speed. Episode 1 looks at Stock/Super Stock and focuses on the Grönman Motorsport Factory Stock Mustang. Episode 2 looks at Pro Street and in particular Ossi Oikarinen's '37 Chevrolet from the 7.60 indexed class. Although both programmes are in Finnish, they are well produced and we are hopeful of English subtitles being included in the future.

Robinson Race Cars on tour.
14th April: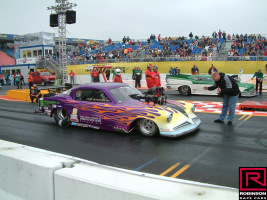 Many thanks to our good friend Bob Roberts who has supplied photos and the story of Eurodragster.com sponsor Robinson Race Cars and their trip to Hockenheim for the 2005 NitrOlympX. In that year the competition in the Pro Modified division, as with Top Fuel Dragster, Top Methanol Funny Car and Super Modified, was on a Cannonball basis. The Sunday racing was completely rained off, however promoter Rico Anthes persuaded the Pro Mods to come out and do some burnouts and launches to entertain the fans that had come in the hope of some action. Andy and the team finished first in the event, running a 6.429/223.8mph in the process.

Bob's account tells the behind the scenes story of the team's weekend with a generous gallery of 40 photos. You can read Part 1 of Robinson Race Cars on tour in association with Lucas Oil Products here or via our Features, Interviews and Tributes page.

Swift snippets.
14th April: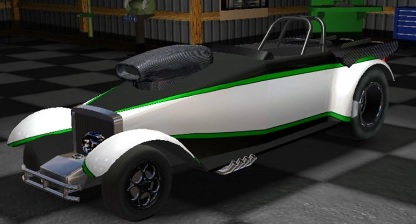 Congratulations to Craig Wright for winning over a field of 95 other virtual drivers at the Rip Rap Racers Club Springnationals for the prize of a Bruce t-shirt courtesy of SPR announcer Colin Theobald. In the semi final, Craig (his roadster pictured) won against current points leader Callum Swinchatt. In the final Craig beat Joe Holland-Villa, who had in turn defeated Darrell Bennett in the other semi-final. Thanks are due to organiser and honorary Eurodragster.com member Spencer Tramm who says that there will be another event next Sunday. Potential entrants should head towards the RRRC Facebook page.

Drag racing historian Nick Pettitt has been uploading to Youtube more off-air recordings of now-historic drag racing events. His most recent batch comprises twelve events from 1994 to 1998 covering the European Top Fuel Association (1994-5) and FIA Championship (1996-8) at venues across Europe.

Swedes in Florida.
11th April: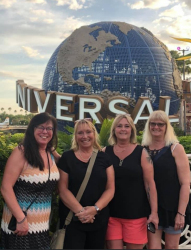 Photojournalist and PR for the EDRS Lena Perés has been in touch with an account of her eventful trip to Florida with Swedish racing colleagues to see the foreshortened Gatornationals, one of the key NHRA races for attracting racers and fans from Europe:

In these troublesome times, we need to try to look for and appreciate some of the positive things, and here is a report from the other side of the Atlantic before everything started going on a lock-down.

It wasn't what we had planned for and it turned into an odd and remarkable experience. We, Helene Rapp, Eva-Karin Brinell, Anette Heleander and Lena Perés travelled to Gainesville, Florida, for attending and working at the third NHRA drag race of the season, the Amalie Motor Oil Gatornationals. Everyone was fired up for this race, teams as well as track crews together with a big audience from around the world. Though with only a few hours notice, the event was called for a postponement on Thursday, the first day of sportsman racing.

Everything was set for a fantastic race weekend with all the professional and sportsman teams on site when the news of the postponement was made public on Thursday morning. Many visitors from Europe were present and the people in our group were set up to work at the event.

"We got the message when we were on the way to the track on Thursday morning", says Annette Heleander who would have worked with the NHRA Safety Safari all weekend, "it felt like the wind got knocked out of us. We were of course very charged up for this weekend and had planned this trip for a long time".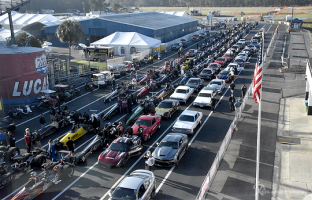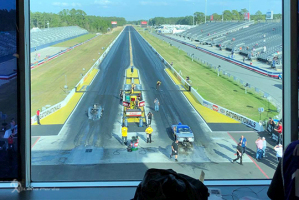 On the Wednesday, all trailers were in place and the teams all set and ready to race, but on arriving Thursday morning, most professional category drivers had left the pits. Some teams remained and were noticeably dissatisfied with the situation. They would have liked to run event race in front of empty bleachers since they were already on site. Racers are a problem-solving species though and pretty soon many had found alternate activities such as going off on an air boat excursion or making for a family weekend with other pleasantries.

Good enough, we ran into a well-known Swede and two-time NHRA TAFC champion Jonnie Lindberg (pictured below) who had flown into Gainesville for the day to build a seat for nitro Funny Car ace Tim Wilkerson.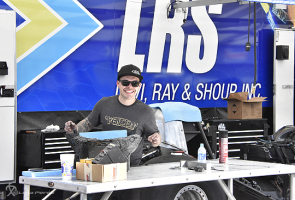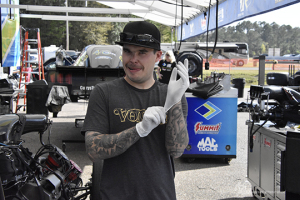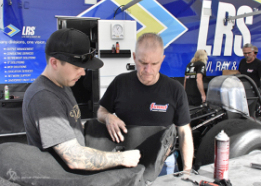 "A great job", said Jonnie, "too bad I don't have time to stay and hang out, I have far too much to do in the shop and have to travel home already tonight".

That's a nice situation to be in, having the talent and the network in the racing business and we're happy for Jonnie in his success in his US venture.

Other well-known racers for Swedes are Bo Butner and his partner Randi Lyn Shipp (pictured below) who were also on site. Randi of course competing in Stock Eliminator and Pro Stock driver Bo who did a season in Europe a couple of years ago and did like it very much. We hope to see them both back in Europe in the future.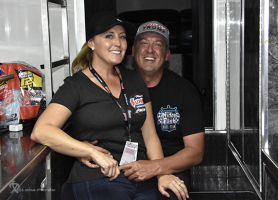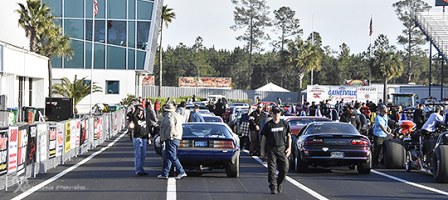 Though the postponement of parts of the event, there was racing on Thursday and Friday with the sportsman classes running in front of empty bleachers. We met up with Stig "StigO" Olsson (pictured below) from Sweden who's competing in a number of NHRA races with his front-engined dragster in Competition Eliminator. Unfortunately, Stig went out in the first elimination round against Randy Daniels at this event.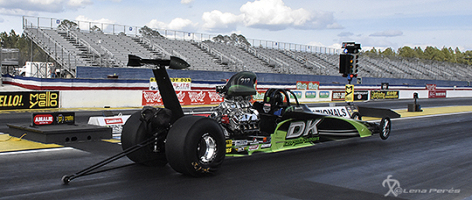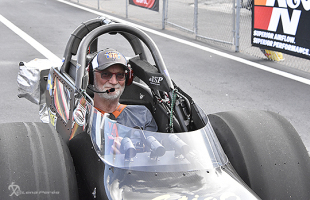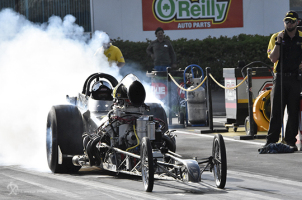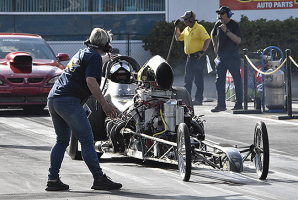 "So far, things haven't been going well at all," Stig says, "three events and not a single solid run so far. We have lost the settings window and have no good ideas as how to get back in there. Now we're packing up and are looking for flights back home to Sweden, which can be tricky as most departures to Europe are cancelled".

Stig and Bente made it home OK and can now plan for a season here in Sweden which we hope will not be too limited in its scope.

On the weekend before Gainesville, there was the now famous and inaugural Drag Illustrated World Doorslammer Nationals, a huge big dollar shoot-out race for Pro Stock and Pro Mod cars. It was contested at Orlando Speed World Dragway just a few miles east of Orlando. It made for very good racing and in retrospect it really made up big time for the disappointment of the loss of this years Gatornationals.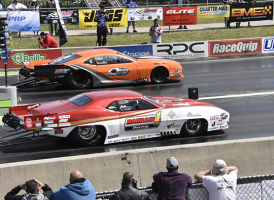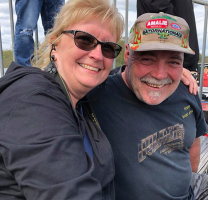 The idea of running a race like this was the brainchild of Drag Illustrated founder and editor Wes Buck together with Richard Freeman of Elite Motorsports and Orlando Speed World Dragway owner Ozzy Moya. After some fine tuning of the logistics and planning there was a great number of the world's quickest and fastest NHRA doorslammers in attendance. All of 18 Pro Stock and 33 Pro Modified teams were in place to shoot it out for $75,000 and $50,000, respectively. The track conditions were outstanding, resulting in the fastest NHRA-legal Pro Modified field in history. Justin Bond ran the quickest Pro Mod time ever with 5.623 seconds in qualifying. It made for a 16-car ladder with ETs between 5.623 for #1 Bond and 5.739(!) for Steve Matusek in the #16 spot.

With that event under our belts, our travel group got to experience a positive and historical drag race. Though in all this trip of course did not turn out as planned, we all got back home safe and sound. But we expect to come back sooner than later. Now, be safe out there! See you on a track somewhere soon!

Text and photos © Lena Perés.

Paul Castle.
11th April: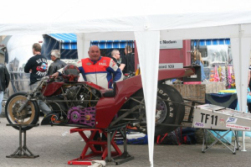 We were very sorry to hear of the death of former UK Supertwin racer Paul Castle. Born in Henley on Thames, Paul was a member of the Infantry Junior Leaders Battalion of the Grenadier Guards, and in later life lived in Eindhoven, Netherlands where he was an engine builder.

Paul was a supporter of drag racing and Eurodragster.com, setting up a web site and photo gallery in the early days of the internet and sending reports to us of his exploits. He took his Supertwin Fuel bike Grandpa's Toy to various events in Holland, and even following the end of his racing career, could be seen firing it up at Drachten to make some noise for the fans.


Swift snippets.
11th April: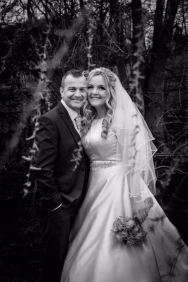 Belated congratulations to Santa Pod Raceway announcer Darryl Bradford and Kelly Juanita Bradford on their wedding to which took place just before the lockdown. Darryl's announcing colleague Colin Theobald took the role of toastmaster - with aid of an inflatable mic. Best wishes to Darryl and Kelly for a long and happy marriage.

Santa Pod Raceway is running a series of video premieres on Youtube over the holiday weekend. The 2010 FIA Main Event premiered on Friday and the 2010 FIA Euro Finals will be divided between Saturday and Sunday. Each episode is over 50 minutes long and we have already seen pictures of TV sets outdoors with barbecues in an attempt to recreate the SPR strip atmosphere.

For those who fancy a leisurely read over the Easter weekend, we can recommend two series of articles posted to Facebook. Our good friends Nick Davies and Rob Loaring of Havoc AA/FA Fuel Altered Racing have posted a series entitled 'Havoc – the History'.

Top Fuel Bike racer, constructor and engineer Phil Baimbridge has posted to the PBR Top Fuel Bike Facebook page a series of posts about the rationale and process associated with building the triple "The Rocket", which Al Smith races.

Tierp Internationals update.
10th April: Drag Racing Europe (DRE) Chairman Keith Bartlett has issued the following statement:

The management of Tierp Arena have informed DRE that they are going to further hold on from making a final decision on the cancelling of the Tierp Internationals at Tierp Arena (Sweden) on the 4th-7th June. This final decision will be made within the next 10-14 days.

We will keep you updated on this event plus any new developments within the FIA European Drag Racing Championship.

On behalf of the board of DRE shareholders.

Online Springnationals Sunday.
10th April: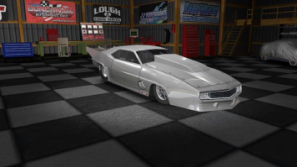 Many thanks to honorary Eurodragster.com member Spencer Tramm for providing an update on the latest online event for the Rip Rap Racers Club, using the Doorslammers 2 game on-line:

Following our first race and subsequent news item we had a lot of interest from people who had downloaded the game and wanted to know if they could get in on the action so we decided to suspend our usual race setup and hold a big bracket race, our usual 16 suspects hoped we might get an additional 16 to race against, however it was clear that only an hour after Eurodragster.com's news item we had 64 people entered. We decided to limit the field to 64 and then started taking names for alternates in case people didn't show, and currently have 78 names down. Apologies to those that didn't make it in this time but we are happy to announce it is our intention to hold the RRRC Springnationals on Sunday at 7pm, you can register your interest by going to our Facebook page and adding your Doorslammers 2 game username to our entry thread.

As for our first race, the RRRC Winternationals, we started with 64 people including drivers, riders, marshals, press and fans. The last two standing were ET Bike racer Jordan Kenway and Wild Bunch champion Callum Swinchatt (picture attached). A 0.038 reaction and two hundredths off the dial in 10.38 beat Jordan's 0.083 light and six thousandths breakout. Thanks to all those that entered, showed interest and were watching the results being uploaded. A special mention must go to Colin Theobald who sponsored the race providing a Bruce t-shirt to the winner.

Santa Pod apparel.
10th April: You may be missing the track action but you can still look the part in the comfort of your own home.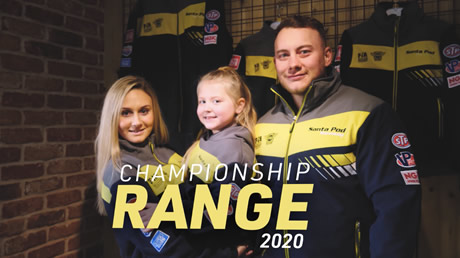 Santa Pod Raceway's online Merchandise Shop is open as normal so head on over to www.SantaPodShop.com to get the lastest 2020 Championship range. All orders will be despatched on a weekly basis (no facility for collection) so this may take a little longer than usual but is well worth the wait!

Looking for a faster service for an Easter gift? Then why not send a loved one a Santa Pod eGift Card, that way they can spend it on what they love either on our Merchandise Shop or the Ticket Shop when Santa Pod can safely open again to the public. Gift cards do not have a expiration date so this is a perfect gift!

Just received the latest Santa Pod merchandise but cant go outsite to show it off? Then take a photo of yourself or someone you know in Santa Pod apparel (old or new) and post it on Santa Pod Raceway's Facebook page. The photo with the most likes will be picked at the end of the month and they will receive a £10 eGift Card.

The range includes jackets, hoodies, fleeces, polo shirts, t-shirts and caps.

Swift Snippets.
10th April: We have two birthdays today (10th April). Nitro Junkie Lizz McCarthy-Charman is hopefully taking time off, albeit not at the race track. Lizz tells us the traditional birthday muffins are on hold until racing starts again, but we join her in wishing Santa Pod commentator and very part-time racer Colin Theobald a very happy if rather more relaxed and quiet birthday than originally planned. Have a great day Lizz and Colin.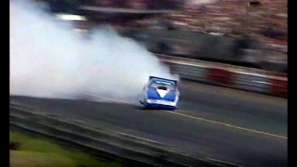 Drag racing historian Nick Pettitt has been working like a Trojan to upload more material for us all to enjoy. Latest uploads to Nick's Youtube channel comprise the 1991 and 1995 NitrOlympX, racing from Zandvoort in 1992, the 1994 Main Event (pictured) and 1994 World Finals from Santa Pod Raceway, a 1994 event from Dieppe in France and the 1995 Sko Uno drag festival from Mantorp Park.

There's plenty for VW Beetle racing fans too, as Kieran has posted a VW Beetle compilation on his Mk1 Kieran Youtube channel. There is also a new compilation of Beetles on Simon Letkey's VeeDubracing channel.

Easter story: It's all about the dye.
10th April: We are indebted to author and former executive with VP Racing Fuels Jim 'JK' Kelly who has supplied an exclusive extract from his entertaining autobiographical book Fuelin' Around: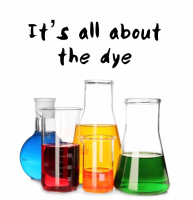 Dealing with customers, especially the rare one who felt he might have bought bad fuel was always interesting. I have mentioned before though, I always found humor was a good way to deflect tension and get people breathing again. One time this racer said he had some green C12 that didn't make it through tech. We were closing up for the day and his sample was way on the other side of the track. I asked him if he would bring it by in the morning and we'd run a few tests on it.

That night, in addition to picking up more beer and munchies at a local grocery store, I picked up one of those little boxes of food dyes. The next morning I put some water in a new white plastic jug cap and dropped a bit of green food dye in to make it resemble green C12. Eventually the customer came by and I invited him into the nose of the trailer where I had set up my hydrometer kit, dielectric meter and a few other gizmos to make things look like we knew what we were doing. Actually, we did know how to check fuel in the field and would, once we had some fun with this guy.

With everything going on I managed to pour his sample into another new white jug cap and then pulled a switch. As an aside, jug caps used to be white plastic until someone at VP realized ultraviolet rays could get to the fuel and damage it so eventually even through that small lid opening and made the change to black. White jugs are the easiest to see through to check fuel levels but just like you can see through it so can the ultraviolet rays. Left out in the sunlight, the lead or other chemicals in race fuels can be knocked out of suspension by the rays and render the gas useless. I picked up the green water I had made and smelled it for a few seconds as if I was checking a ne wine. As the customer and my truck driver watched intently I then took a big swig of it. His face might not have changed expression and neither did mine but the driver turned away and went back to work so his laughter wouldn't give it all away. I swished it around and down it went. "Yep, that's C12." I offered him a sip and he looked at me like I was crazy. Then I showed him the food dye, offered him a donut, and went about testing the sample he had brought me. It was off. We determined that one of his crew guys had used the same fuel jug to get pump gas for their generator and once good clean race fuel was pumped into the jug the good fuel became tainted with gasoline residue. Case closed. By the way, food dye can be fun for the whole family, just ask my kids. They grew up on my Saturday morning breakfasts of green French toast, blue scrambled eggs, red milk, and so on.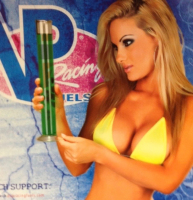 Working at VP wasn't all fun and games though, there were annual calendar posters to produce and back then I was responsible for most of them. Typically, professionals know how to pose and pose and pose but one of the two best posters I did were a hit thanks to some props. For the 2010 calendar I filled a graduated cylinder with water and some green food dye and then the model held it up and gazed at it. Some thought it was a bit phallic while others saw it for what it was, just a really hot bikini-clad VP technician giving the fuel sample a visual examination.

Fuel companies use dyes to identify their products and this often helps at fuel check. Hmmm. I wonder if anyone's ever played with dyes to get around technical scrutiny. Read more in Fuelin' Around.




Angus MacPhail.
8th April: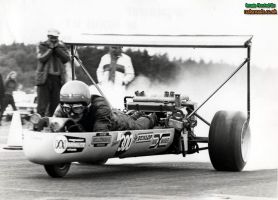 We were very sorry to hear of the death of motorcycle engineer and drag racer Angus MacPhail. Angus or 'Ag' formed the McCoy Dynamics team in the 1970s with Mick Hand and Keith Parnell. Together the team set world records at Elvington and produced some of the most innovative machines ever seen in the drag bike ranks.

Keith Lee wrote in the citation for the McCoy Dynamics team's induction into the British Drag Racing Hall of Fame: he was someone who is definitely able to think laterally. After a spell riding a miniature Ariel two-stroke, he built his version of a three wheeler, which featured the Triumph engine and gearbox positioned between the rider and passenger. He next built a novel Ford powered three wheeler, which featured the rider prone, in front of the engine. When three wheelers were banned from competition - due in no small part to the performance of Ag, he remodelled the bike as a two wheeler, with wide slick, to mutterings that it would never work. It did!

The McCoy machine was effectively a test bed for the unforgettable Jade Warrior, boasting a monocoque chassis, one-off 2 litre supercharged motor, torque converter transmission - and a very effective exhaust-driven ground effects system. Helped by Mick, this most unusual machine eventually broke into the seven second zone in 1985, running on straight methanol, which was a brilliant achievement.

In his eighties but still an 'out of the box' thinker, Angus made his own notable contribution to the Storm drag project - especially with the fairing design.

Team member Mick Hand wrote on Facebook in tribute:

With great sadness, I must inform you that Angus MacPhail passed away last night as a result of diabetes and coronavirus. Our sincere condolences go to his wife, Carol, his family and friends.

Angus, I am sure, will be remembered by many people for many things. For me, growing up around 1970s drag racing, Angus was the softly spoken boffin with the Scottish name but the London accent. The mad professor who didn't know what day it was, who would turn up at a race meeting at 4pm on the Sunday, hoping to get some runs in with "just a bit of nut and bolt work to do".

I remember the McCoy 3-wheeler (that got banned for being too fast). Jade Warrior, of course, possibly his zenith in motorsport, and one that now appears on any number of websites under the tagline "Look at this crazy Brit!", or something similar.

I remember him introducing exhaust-driven ground effect into drag racing, conceived with his brother Nick, and tried first on my father's bike, where it proceeded to pebble dash any unfortunate marshals standing behind with grit from the track surface. But, most of all, I will remember listening intently to Angus rambling about the comparative strengths and attributes of various materials, for which he had an infectious and unending enthusiasm.

We will miss you, Angus. Like your bikes, you were one of a kind.

The picture is of the 'Wild Thing' three wheeler which was built to break the three wheel Land Speed Record – originally named McPhail's Nail. Angus made many of the engine internal parts and made virtually all of the gearbox. Details and pic courtesy Jon Spoard.

Update from Santa Pod Raceway.
7th April: Trakbak Racing and Santa Pod Raceway CEO, Keith Bartlett, has issued the following statement: Although many of you may have seen this statement on the Santa Pod web site I feel we also need to reach out to as many racers and fans as possible and have therefore also posted it below.

As a result of the Covid-19 virus and its impact upon the whole of the UK, outside events and sporting activities, it is with deep, deep regret that we are having to suspend all events at Santa Pod now until the end of May.

Motorsports UK (formerly MSA) alongside the FIA has already cancelled our FIA permit to hold the first round for the FIA European Drag Racing Championship on May the 22nd-25th but of course, we will be monitoring government regulations closely to see if they remain in force or if the lifting of restrictions comes into force before then. If event restrictions were to be lifted (which is most unlikely as we sit today) we would look to put on as big an event as we possibly can on the Main Event weekend (with Nitro cars) plus any other events sooner if at all possible!

All of the staff at Trakbak Racing and Santa Pod Raceway are devastated to cancel ONE event, let alone numerous consecutive events as far as May 31st.

On a more personal note, most people both racers and fans alike, know that I am a total Drag Racing junkie and the sport of Drag Racing is my life. It's also my hobby, my passion and my sole business. Santa Pod today is a very successful business and one that I have built up to where it is today and of which I am very proud of. We employ many full time and seasonal staff all of whom I have had to lay off for a period of at least 6-8 weeks – that hurts me on a personal level greatly.

In the 24 years that I have owned Santa Pod, we have never cancelled any major event, or even medium sized event – yes, we may have had to postpone a couple of events to another date due extreme weather, but that is the exception not the norm.

I need not go into the huge losses that Santa Pod is incurring month on month currently. I also very much appreciate that all our racers, suppliers, spectators and fans are also going through exactly the same suffering – yes, we are in it together, but I know the that the drag racing fraternity is one big family and that in times of crisis always 'steps up to the plate'. I hope that we count on all your support in these very difficult weeks and possibly months – and will see you all, racers and spectators alike returning to Santa Pod Raceway in force once we open our doors to the wonderful world of Drag Racing.

Santa Pod will come through this and will be fully operational at some date in the future and I sincerely hope that will be in the near future! Our drag racing family can then be back together where we all belong – at the race track!

For sure, some of our planned future improvements and development will now be delayed since those funds will be eaten up in surviving this crisis.

On a more positive and possibly interesting note, I am toying with the idea of some winter events in the period of 2020/2021. How does 'Fuel & Fire' sound? Or the 'Winter Nationals'? All I will say right now is think about keeping 'New Year's Day' free!

The Dark Side of the SPRC lyrics competition.
7th April: Further to our announcement on 1st April, Santa Pod Racers Club Secretary Ian Marshall has confirmed the third judge for the lyric competition, none other than Nick Mason, all round petrol head and of course drummer with Pink Floyd. Nick who will be helping judge the best versions of the chosen songs. Nick joins fellow judges Ian Hart (pictured with Empire) and Joe Kellett.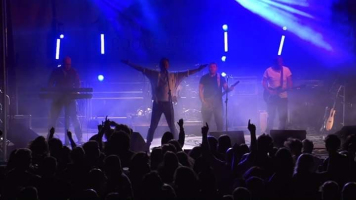 A reminder of the competition rules: we have chosen four songs and what we would like you to do is come up with a set of lyrics, but in a Drag Race style, cars, bikes, engines, fuels, races and who knows what can be used, but please keep it for a family audience, so no sweary stuff.

The songs are as follows:

Cars Drive
Eminem Lose Yourself (radio edit - there is a swear word in the original)
Snow Patrol Chasing Cars
Queen Bohemian Rhapsody

When you have the lyrics please email them to ir.marshall@btconnect.com by 14th April 2020, we will then compile a short list with the judges and post the list here on Eurodragster.com the final versions, for whom you will get the opportunity to vote for what you consider the best for each title.

Swift snippets.
7th April: In our regular update of online video and photography there is no let-up in material being posted. Drag racing historian Nick Pettitt has placed links of his uploads to his Youtube channel at his excellent web site timetraveldvds.blogspot.com. Material is ordered by decade including uploads of the first eleven Time Travel DVDs. Recent uploads include the BBC report on Santa Pod in 1970 (which includes a great interview with Mike Collins), and footage from the 1977 September Internationals, 1992 NitrOlympX, 1993 Austrian action, 1994 Thunderball, 1994 and 1995 Summer Nationals, and the 1995 Cannonball (plus the NHRA Today footage of the first two CHRRs). These are all off-air recordings in excellent quality.

Kieran has posted three compilation videos in the last week on diesel drag racing, European FWD and Ford Fiesta. Kieran's Youtube channel can be found here.

There are plenty of photos posted to Facebook Groups such as UK & European drag racing photos, Memories of a Warwickshire Drag Strip and UK Drag & Sprint Strips That Time Forgot!, and there are also photo sites like Flikr to which many are contributing.

JT's secret weapon.
6th April: Pro Modified, Super Pro ET and Pro ET racer John Tebenham has been in touch with an announcement which will be of particular interest to the latter of these classes:

We raced in three classes last year, and for sure the nicest, friendliest racers were Pro ET. It was great, nobody ever thought we were too big, and people like Dave, Gino, the Huxleys etc just thought we added to it, so in return we have decided to add to a prize fund. Not that the other classes aren't, it just becomes more serious.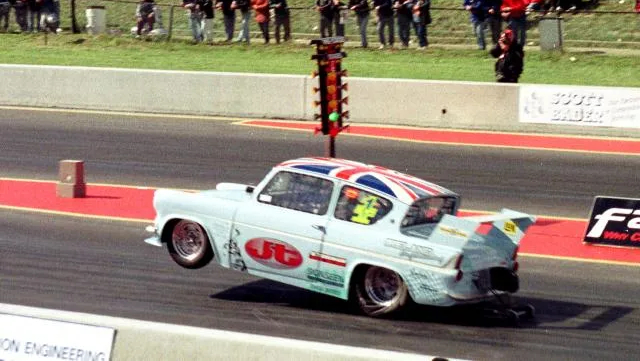 That's why I've decided after talking to my secret weapon, I am going to put in £3,000 to the championship in memory of Tim Mugridge, £2,000 to the winner and £1,000 to the runner up we think is the right split. There will need to be at least three championship rounds to give everyone a fair chance. It's a fantastic class and tough, man these guys and girls are good. I raced here about twenty years ago with a road going 105e, that's where we started, and now I am the third British five second Pro Mod.

Watch this Ford Pop burnout in the rain to see how much fun you can have in a Pro ET car!

Pro ET and Super Pro ET Challenge is on.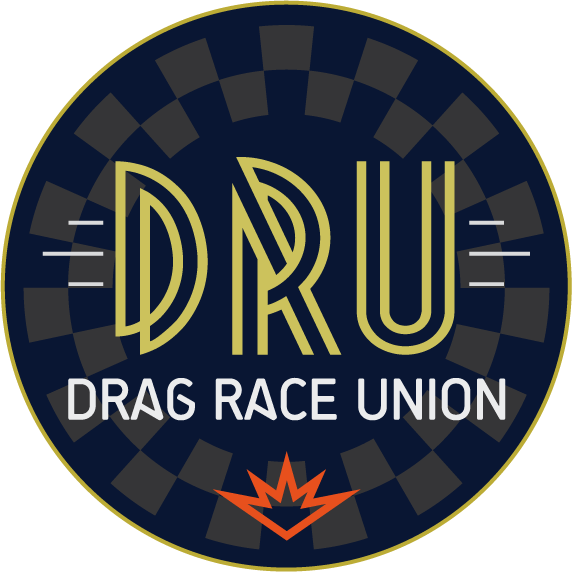 6th April: Race organiser and unfired photojournalist from Germany Markus Münch has been in touch about the Drag Race Union 2020 Pro ET and Super Pro ET Challenge (In English below):

Die Nennung für die 2020er Challenge ist seit dem 1.4.2020 geschlossen.

Pro ET Challenge 2020, 30 Teilnehmer und Teilnehmerinnen aus 5 Nationen (BRD, Österreich, Italien, Frankreich, England) haben genannt und wollen den Titel erringen.

Supro ET Challenge 2020, 23 hochkarätige Teams aus 6 Nationen (BRD, Österreich, England, Frankreich, Italien und der Schweiz) sind am Start.

Wir sind bereit, die Saison kann beginnen…. Wir sind der Aktuellen Lage (Covid 19) gewahr und es gibt aktuell bestimmt wichtigere Dinge als Dragracing. Wir sind ersteinmal auf Standby. Bleibt bitte gesund, alles Gute für eure Arbeitsplätze... auf dass wir uns bald wieder gesund im Fahrerlager treffen können. Wenn klar ist, ob es 2020 einen Rennkalender gibt und wie dieser aussieht, werden wir schauen was mit den Challenges in diesem Jahr geschieht.

English:

The entry for the 2020 DRU Challenges is closed.

In Pro ET we have 30 entries from 5 countries (Germany, Austria, Italy, England and France). In Super Pro ET there are 23 entries from 6 countries (Switzerland, England, Germany, France, Austria and Italy).

We are set with strong fields and we are excited to run thouse 2020 challenges. We are also aware oft he current Covid 19 situation. There are more important things right now than Dragracing. So we are on a hold, we are on standby. Please stay save, we wish you the best of luck for your Jobs and hope to be with you on the racetracks again soon.

As and when it is clear if and what races are on in 2020, we will decide then what to do with the Challenges. Stay tuned.

Of course it was going to be pink!
6th April: If you saw the spy picture on 15th February, the mystery can now be marked 'solved' as Jayne Kay has revealed her new machine, a turbocharged funny bike which will initially be competing in the ET Bike class:

Since we won't be making our first official appearance next weekend we wanted to show you all the new look for the bike. It was painted in-house by my Dad! After a few hours spent on YouTube he mixed the perfect candy pink. Thanks to Steve Taylor at GB Refinishers for supplying the paint. We wanted a design similar to the original Pink Lady funny car with those Hot Wheels style flames, and I think we achieved the perfect look! The pink has a slight gold pearl that comes out in the sun, you'll be able to see in person when we get out. We're really chuffed with the look.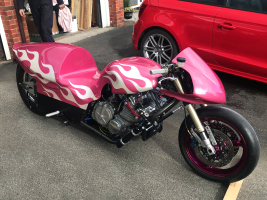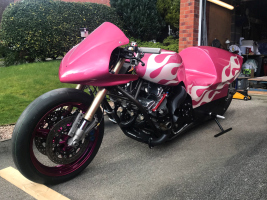 The bike is all ready to go, and we wouldn't have got there without the help of a few people so shoutout to: Dave Branch for the engine machining, Dave Dunlop for the Turbo builds and Phil Crossley for machining parts. Another thanks to Jake Mechaell, Nick Shaggy Daniels, Kev Charman and Steve French for the advice and answered silly questions over the last few years! We will be sharing some more pictures and updates on our Facebook page, so give us a follow if you're not already!

UK Tech meeting cancelled.
3rd April: Ian Marshall has asked us to advise that the UK Tech Committee meeting, originally scheduled for Sunday 5th April at the Hilton Hotel, Northampton is cancelled as a result of the lockdown currently in place. Details of a revised date will be announced in due course.

Statement on FIM-E championship.
3rd April: Promoter of the FIM European Drag Bike Championship Keith Bartlett has issued the following statement:

Firstly let me start by saying we all here at Santa Pod Raceway hope that you and your families are safe and well, I know that some areas of Europe are in a far worse state than others but we are all in this together and we are thinking of you all.

I am sorry for the delay in getting in touch with you all, but these past 2-3 weeks have been an extremely stressful and busy time for myself along with some of my key staff to ensure that Santa Pod Raceway comes out the other end of this terrible situation. I have already had to lay of more than 40 full time staff for the next 8 to 12 weeks, along with the majority of our part-time staff - a decision not taken lightly but very necessary, given the serious situation with the Covid-19 virus in the UK.

I have personally along with my key staff, had to make some very difficult decisions and we have many more to make in the coming weeks or even possibly months ahead.

Many of you I am sure will have seen some of my statements that have already been posted on the Santa Pod web site and Eurodragster.com

With an extremely busy Santa Pod calendar it has meant we have already lost all our events until at least the end of May as a result of government restrictions and legislation on all outside sporting events. My personal feeling is these restrictions put upon outside events, especially in the UK will probably be going on well into June.

To date we have had to cancel all our events at Santa Pod from the 15th March through to the end of May. This has included the first rounds of the FIA European Drag Racing Championship and the FIM European Drag Bike Championship, both to be held at Santa Pod Raceway at the 'Main Event' on the 22nd -25th May (2020).

So, at present the first round of the FIM European Drag Bike Championship will be at the Nitro Olympics at Hockenheim (Germany) followed by Round 2 at Santa Pod Raceway on the 10th- 13th September.

I am extremely disappointed to have to cancel the Main Event and the FIA & FIM Championship rounds but the whole situation is totally out of my control. At Santa Pod I am already planning to put on bigger events in the months of October and November (2020) than we currently already have scheduled for those months. We will keep all the FIM-E racers and ACU bike riders informed of what events may be available for them to run their bikes down the ¼ mile Santa Pod track during those months.

We will keep the FIM -E racers and teams updated as the situation with the Covid-19 virus as it develops or more hopefully contracts. Best Regards to you all – see you at the track!

Online drag racing event on Sunday.
3rd April: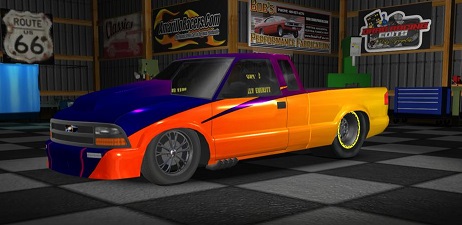 Honorary Eurodragster.com member Spencer Trammhas been in touch about a new event and Facebook group for Rip Rap Racers Club:

Thanks to the power of Eurodragster.com we have had a lot of people since our last news item contact us about playing on Doorslammers 2, therefore on Sunday 5th April at 7pm we are holding the RRRC Winternationals, an open bracket race, to show your interest please visit our new Facebook page and post your username on the game by 5pm on Sunday so we have time to draw the pairings.

Isky inducted into SEMA Hall of Fame.
3rd April: Carl Winn of SEMA writes: When he was a young man racing his own cars, Ed Iskenderian — or as he was later nicknamed, "Camfather"—had trouble buying racing-grind camshafts. He didn't like to wait for them. So, he said to himself, "I can make those…." And that was the start of Iskenderian Racing Cams, popularly known as "Isky Cams," one of the largest specialty cam grinders in America. Here's the Camfather talking about when he first fell in love with hot rodding.

Isky Cams developed the first high-density, chilled-iron lifters for Top Fuel dragsters, and was also responsible for the first anti-cam-walk kit for Chevy V8s and the first offset cam keys and bushings for adjusting cam timing. Iskenderian was part of the small group that created SEMA, and was its first president. One of the first official events they backed was the International Dragster Challenge organised by Sydney Allard in the UK during the same year of 1963. He also pioneered corporate sponsorship in motor sport in the 1950s. Isky was memorably a special guest at the 2016 British Drag Racing Hall of Fame gala where he received a special trophy for his achievements and took part in the Beech Underwriting Bench Racing Session to the delight of all present.

Swift snippets.
3rd April: Santa Pod Raceway will be running a livestream of Pro Mod racing from the 2009 Main Event and Euro Finals starting at 5pm tonight. To see these videos, tune into their Facebook page or Youtube channel.

Also posting to Youtube is Kieranwho has created a European FWD Drag Racing Compilation. Kieran says "The European FWD Drag Racing scene continues to grow year after year with the cars getting quicker and quicker. I've been lucky enough to witness the last 3 times the European FWD record was reset and I've also seen some mega FWD cars that travel to Santa Pod from mainland Europe as well as on my travels to Malta".

Drag racing historian Nick Pettitt has uploaded to Youtube videos of the 1992 Main Event and Cannonball, with camera work by Ken Robbins, together with SPR marshal Tim Mudd's footage of the track in 1969.

Not strictly European, but nevertheless highly recommended is The Dork-O-Motive Podcast available on many podcast providers. Presented by NHRA announcer Brian Lohnes, this covers many legendary and crazy stories from the sport, including Captain Jack McClure's rocket-powered go-kart, Broadway Freddy DaName's Funny Car and mob career, the insane speed parts company Turbonique, and the last front engined Top Fueler to win an NHRA Wally.

Drag racing lyrics competition.
1st April: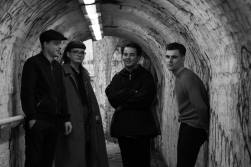 Santa Pod Racers Club Secretary Ian Marshall has come up with a competition that all can enter:

During the current situation keeping the spirits of our racers, crew members and spectators, is key. Whilst there are some fantastic videos from Santa Pod and the great looking Doorslammer game featured on these very pages, we at the SPRC have been considering a further set of brain teasers. The first is song lyrics. When we are all allowed back to the track, there is going to be one hell of a party atmosphere, when that will be we don't know yet but hopefully soon, and as is the norm there will be bands playing at various venues around the track.

Let's cut to the chase, we have chosen four songs and what we would like you to do is come up with a set of lyrics, but in a Drag Race style, cars, bikes, engines, fuels, races and who knows what can be used, but please keep it for a family audience, so no sweary stuff.

The songs are as follows:

Cars Drive
Eminem Lose Yourself (radio edit - there is a swear word in the original)
Snow Patrol Chasing Cars
Queen Bohemian Rhapsody

Both Ian Hart (Empire) and Joe Kellett (Electric Screams, pictured above) have both put some ideas forward to give you just a taster, please bear in mind they had two days to come up with these, in their words they are okay, but I'm impressed at such short notice, their lyrics are below.

We will have three judges to adjudicate the winners, and there may well be more than one winner, the judges are Ian Hart (Empire), Nitro FM and one other who we are waiting on confirmation.

So see what you can come up with, as there are quite a few existing bands in the drag racing community and several budding bands that we know of, but you don't need to be in a band or in any way connected to have a go. We are also looking into the possibility that one or more of the new songs are played by bands at the track, more news on that later.

When you have the lyrics please email them to ir.marshall@btconnect.com by the 14th April 2020, we will then compile a short list with the judges and post the list here on Eurodragster.com the final versions, for whom you will get the opportunity to vote for what you consider the best for each title.



Joe Kellett: The Cars - Drive

Who's gonna enter first
Into full stage?
Who's gonna make a move
Before it's to late?

You must hold on
Knowing, the race is on
Who's got the winning light
Today?

Who's got the need for speed?
We'll soon see...
The stands are on their feet!
It's showtime...
Who's gonna get the win?
It's so tense...
The crowd is going wild!
It's a PB...

You must hold on
Knowing, the race is on
Who's got the winning light
Today?

As we close out the day
It's come to this...
So Who's got the goods to give For the finale?
You must hold on Knowing, the race is on
Who's got the winning light
Today?
Oh, you must hold on
Knowing, the race is on
So who's got the winning light
Today?



Ian Hart's two sample sets of lyrics are :-



Snow Patrol Chasing Cars

We race it all
Everything
Side by side

We don't need
Lots of laps
To prove who won

If I race here
If I drag race here
Would you race with me and just forget the world

Bring your car
Or your bike
To the strip

Take the lights
A quarter mile
You'll get the bug

Would you race here
Would you drag race here
I'll come race with you we'll just forget the world

Forget about stress
Just enjoy happiness
Racing at Santa Pod there's no time to be glum

Let's waste time
Racing cars
Along the strip

You'll make great friends
And have great times
I promise you

Would you race here
Would you drag race here
I'll come race with you we'll just forget the world

Forget about stress
Just enjoy happiness
Racing at Santa Pod there's no time to be glum

All of the world
In all its variety
Is there with one aim in mind, to enjoy themselves

Doesn't matter what car
What truck or what bike you race
Just know that the rules are that the quickest wins

Would you race here
Would you drag race here
I'll come race with you we'll just forget the world

Queen - Bohemian Rhapsody - Santa Podian Rhapsody:

Shall I build a flat head Ford?
Or maybe an SBC?
Built with some trick parts
To provide max velocity

Nothing comes cheap
The bills make you weep you'll see
Now I'm a poor boy, But I need no sympathy
Because its really quick, really low
Very loud, never slow
Aiming for the win light, Nothing else can matter to me, To me.

Mama – just built a car
With lots of shiny things
H forged rods and beefed up springs
Mama – I had piles of cash
But now I've gone and thrown it all away.

Mama – Ooooh
I'm hugely overdrawn
If I don't make some cash before tomorrow
Get a loan, get a loan, Because racing's all that matters

Too late, I've spent it all
Its beans on toast for tea
No more decent meals for me
Hello everybody at Santa Pod
Gotta make it to the line and take the lights

Mama – ooooh
I don't want to die
The scrutineers are checking each bolt and weld

I see a little topolino and a van
And a Pop and a rail and of course there's a Camaro
Great big hemi Blower's
Children powered by mowers, see
Do the burn out (do the burn out)
Do the burn out (do the burn out)
Do the burn out then we go
Magnifico-o-o-o-o

I've got a trans brake This should be easy
He's got a trans brake but he lacks ability
This should be fun, bet he stalls on the line!

Here I come, creeping in, very very slow
Get in to STAGE and watch the tree lights glow (Into stage)
Get in and watch the tree lights glow (Into stage)
Get in and watch the tree lights glow (Into stage)
Watch the tree lights glow (Into stage)
Watch the tree lights glow (Into stage)

Am-ber Am-ber Am-ber Green
Oh mama mia mama mia mama mia this thing goes
I've scared myself there's a massive lot of horsepower here, in here, in here

So you think its just straight lines and holding the wheel
So you think this whole drag racing thing lacks appeal
Oh baby, can't explain this thing sanely
Just gotta get out, just gotta get out on the strip

Racing's all that matters
Anyone can see
Racing's all that matters
Racing's all that matters to me

Any time the rain goes




No Fox given.
1st April: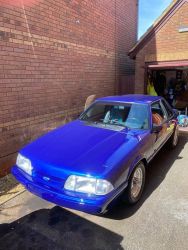 2019 UK Sportsman ET Champion Daniel Holloway has written in about his new Fox body Mustang which he has acquired in order to be at the quicker end of the class:

Before I ended up buying the Fox body, I never had a particular want or desire to own one; I knew they existed of course and I knew they were a cracking platform for a drag car.

Having been involved in drag racing all my life, thanks to ex-Super Pro racer Dave Ward and my Dad Adrian who crewed for him, it was only a matter of time that once I passed my driving test I built up some funds to find a car of my own. September 2016, 21 years old, I'd just finished my apprenticeship and also became employed with what was then the Force India F1 Team (Aston Martin F1 from next year!) and I felt I was in a position to start drag racing myself. I was scrolling through eBay looking at cars I couldn't afford, and this Fox body mustang was for sale, well within budget, running and driving and already came with a Procharger on it.

So I went and had a look at it over in Wisbech, previous owner Kris is a great chap, very honest with what he felt it needed. Before he bought it he'd drive past it every day on the way to work where it was sat under a willow tree degrading by the day. He managed to pry it from the previous reluctant owner, who had bought the Procharger kit for it but hadn't fitted it yet. Kris then set about having any rust professionally repaired, of which there was little of, and repainted the complete underside and engine bay before putting back in the motor, gearbox etc.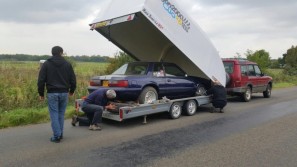 It had a rebuilt stock 302ci engine along with Edelbrock Performer heads and 1.7 roller rockers, Edelbrock intake, bigger throttle body, bigger injectors, bigger Walbro In-Tank pump, equal length shorties, custom Magnaflow exhaust with axle dumps and...oh yeah...the Paxton Novi 2000 Procharger. It was running a completely stock C6 transmission with an off the shelf TCI street converter and a completely standard factory 8.8" rear. The car ran and drove, but had absolutely no engine management beyond the stock computer and an FMU to control what was a big increase in air from the Procharger, so was forever hunting at idle trying to keep rpm constant and massively overfuelling. It would also have been a quick way to blow the motor up with no control over the timing. Kris admitted to being out of his depth with the EFI and had lost motivation with the car. So I figured I'd be the one to get the project finished, onto the road and of course the drag strip as per my plan, so a deal was done and I collected the car a few weeks later.

Happy days I thought, it needs a small amount doing to it over winter and I'll be out next year (2017). Yeaaaa...no. As me and my Dad began going over the car and looking up online of various parts I'd need to ensure the car ran safely and reliably, it soon became apparent that it needed a lot of work and money thrown at it before it saw a drag strip. I wasn't going to be racing it the next year as planned. A few months went by, throughout which I had been in constant contact with Steve Hulett at Drag Radial Performance in Florida who lets say knows a thing or two, especially about these stock Ford computers my Fox body was running. In a nutshell he gave me a list of parts that I'd need if I was going to be running the car in an optimal state.

My Fox had 30lb injectors, I needed 60lb. The FMU? Put it in the bin. If I'm keeping the stock computer and harness, purchase a reputable piggyback of some description to plug into the stock ecu, buy a blow through MAF (Mass Air Flow) instead of the old draw through, and a blow off valve. Oh and you'll need to add an intercooler too 'cause that Novi 2000 procharger is going to be producing a chunk of hot air and you don't want to be pumping it straight into the intake. Once you've done all that I can write you a base tune to get you up and running before taking it to the dyno. Blimey I thought! This was quite the step up to what I had in mind before I purchased the car.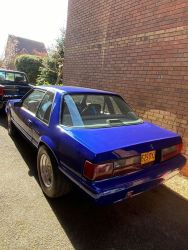 I was in two minds for a while on whether to take Steve's advice or not, after all I didn't really know him, but he was recommended by a friend in the community so in the end I bit the bullet and set about buying all the parts he had recommended. I look back on this decision as I type this and think what a good choice I made. He talked me through step by step, all via email using descriptions and diagrams, in his freetime, to the point where when I wrote his base tune to the piggyback the car fired up on the key first time. There was no idle hunting, it wasn't overfuelling anymore, and the sound the blow off valve made was gnarly!

But of course all of these changes I had to make took time and more crucially funds to do, which ended up adding another year onto the build. This was mainly because I was doing some part time work on the side of my full time job involving Jaguar F-Type GT4 cars in British GT which meant my weekends where I'd be free to do all this work on the Fox was suddenly taken up. I did however manage to find time to get the factory 8.8 rear over to Hauser where it had fitted an Eaton Truetrac LSD, Ford Racing 3.73 gears and Moser 31 spline shafts along with the tubes welded to the main housing. A pretty billet Ford Racing diff cover and a lick of black paint completed the look.

Going back to Kris, who I bought the Mustang from, he also owned a wicked little black Chevy S10 SS pickup truck, you may know it. My Dad took a liking to the truck when we collected the Mustang but wasn't in a position to offer to buy it, should it be for sale. So roughly about a year on from getting the Fox I phoned Kris, asked if he still had the truck and whether he'd be interested in parting with it. Reluctantly he said he would but that it would cost me, so he named his price to which I said yes I'll have it! So with the Fox needing the work it did, and two events in 2018 not clashing with my British GT work, I entered Sportsman ET at both the Summer Nationals and National Finals with the truck.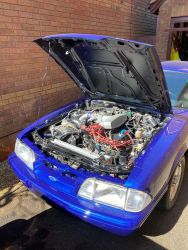 It turns out all the years of crewing with Dave Ward in Pro ET and Super Pro ET had taught me something about the art of bracket racing, where I'd lose to eventual winner Ricky Hale in the semi finals at my first meeting in the summer, and go on to win the National Finals against a red-lighting Andy Dibley in the final (sorry Dibs!). My mind was made clear from that point, I'd continue adding the needed parts to the Fox, but I needed to enter the full season in 2019 with the truck. This meant sidelining my part time work, but it was something I was willing to do. The rest as they say is history!

September 2019, it'd just ticked over owning the Mustang for three years and it went to John Sleath for a dyno tune. It wasn't all smooth sailing, an unknown wiring fault meant all this time of ownership there was actually no TPS signal to the ECU, but fortunately John was able to sort it out. A few days went by and I hadn't heard anything, so assumed it was either going ok, it was sidelined and he'd had enough or worse! But low and behold a video comes through WhatsApp of the Fox doing a dyno pull, and what a great feeling that was for me and my Dad! It meant everything we'd added to the car over the last few years was working how it should have been. It sounded mega! John ended up having to turn it right down as it was making more boost than anticipated; those who know are aware of what these stock 5.0 blocks can be like! It's losing a wad of power through the big C6 box, but seeing as it's built for bracket racing it's irrelevant. It's still over 500hp which is enough for the engine and to be at the quick end of Sportsman ET; my initial goal when I first bought the car.

Lastly it was time to do something about the bodywork. It was 50 different shades of blue and had silver stripes. I'm the kind of person where sometimes less is more so I wanted to ditch the stripes and just go with a nice colour on its own so the car was at least presentable. It was the 2nd March 2020, Easter was just over a month away and I needed someone to paint the car in that time frame. Whilst nowhere near the closest to me, I made a phone call to Rich Walters and I just about managed to persuade him to agree to painting it, despite his busy schedule, but it needed to be delivered as soon as. I was set on Kona Blue for a long time, which is a darker modern Mustang colour, but I became wary of it being a bit too dark. So in the end I went with a known stunner of a colour, Ford Sonic Blue Pearl, and I'm so glad I changed at the last minute as it came out awesome. Rich also turned the car around in less than two weeks from when I dropped it off to when I picked it up which is some good going. It was a bit disappointing but not unexpected when the Festival of Power was called off given the graft to get the car done in time!

Of course, it's now April 2020, three and a half years on from first getting the Fox and it's finally ready to race but it can't go anywhere due to a certain virus. Do want to say a big thank you to my Dad however, without whom it'd be another 3 years before the car was finished! Stay safe everyone and hope to see you all again at the Pod sooner rather than later!

Swift snippets.
1st April: We have a special birthday greeting today to Steve Gibbs, organiser of Nitro Revival and former Board Member and Vice President – Competitions of the NHRA who reaches 80 today. Have a great day Steve.

Summit discounts.
1st April: Remco Scheelings of Drag Racing Europe Blog writes: Summit Racing Equipment are one of the most loyal and dedicated supporters of European drag racing. The American company offer discount for all EDRS and FIA racers and their fans.

Summit Racing Equipment started their involvement in European drag racing with the support of multiple FIA European champion Jimmy Ålund. The next step was the contingency partnership with EDRS, followed by the series sponsorship of the Summit Racing EDRS Series. The world's largest mail order automotive performance equipment company are also the title sponsor of the Summit Racing Equipment Internationals at Tierp Arena.

Summit Racing Equipment offer discount* for all EDRS and FIA racers and their fans.
The promo code is: EDRS
Offer: $ 25 off $ 250 or $ 50 off $ 500 – code will activate either tier
Valid until April 30th, 2020
* some exclusion apply, see website for details
Link to the discount: here.


Earlier news