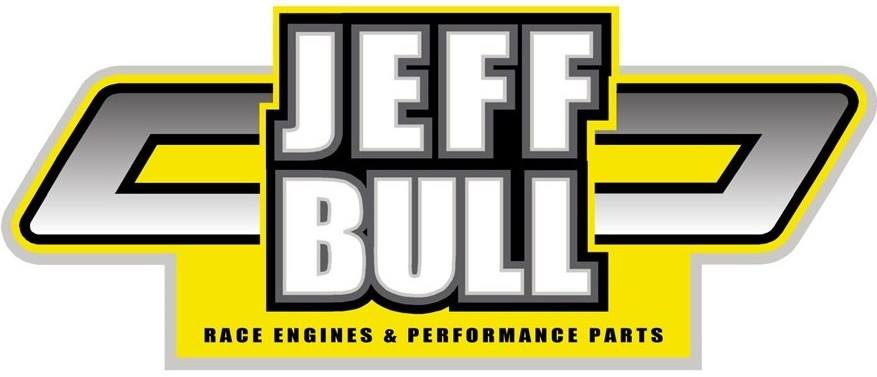 2021 SPRC Perpetual Awards vote 1.
7th December: Santa Pod Racers Club and Eurodragster.com are again teaming up to give Eurodragster.com readers the chance of input to the SPRC Perpetual Awards, which will be presented at the SPRC Dinner Dance and Trophy Presentation on 29th January 2022.

For several of the 2021 season awards, a shortlist has been decided upon for which votes can be submitted by E-Mail. Nominations are now also being accepted for the Alex Brachtvogel Memorial Trophy. The votes of Eurodragster.com readers will be taken into consideration when the SPRC Committee decides upon their winners.

Today's category is Most Promising Newcomer. Nominees for SPRC Most Promising Newcomer have impressed whilst contesting their first full season in a class or making their on-track début in 2021.

The SPRC Committee's shortlist, in alphabetical order, is as follows: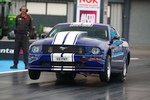 John Bean, Modurstang Pro ET

Vote for John Bean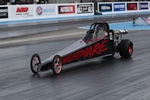 Jessica Bishop, Lucas Oil Junior Dragster

Vote for Jessica Bishop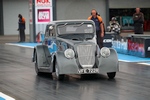 Elliot Day, Topspeed Automotive Street Eliminator

Vote for Elliot Day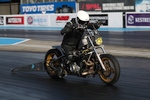 Matt Jones, Blood Cancer UK ET Bike

Vote for Matt Jones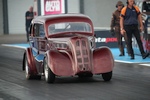 Ben Kennedy, Renegade Outlaw Anglia

Vote for Ben Kennedy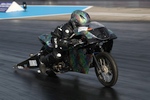 Hollie King, Eurodragster.com Junior Drag Bike

Vote for Hollie King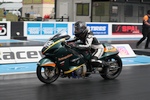 Bill Marsh, Blood Cancer UK ET Bike

Vote for Bill Marsh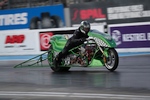 Roger Moore, Leeks Landscapes Funny Bike

Vote for Roger Moore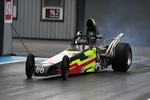 Allan Schofield, Be Fast R Super Comp

Vote for Allan Schofield

To place your vote, either use the links above or go to the official Perpetual Awards voting page which you can view by clicking here or by clicking on the SPRC Perpetual Awards vote link on the left-hand side of any Eurodragster.com page. If your device doesn't automatically generate an E-Mail then please E-Mail your choice to 2021sprcawards@eurodragster.com .
©Eurodragster.com
The Alex Brachtvogel Memorial Trophy, for which nominations are also now being taken, was first awarded to Santa Pod Racers Club's late Chief Marshal, Alex Brachtvogel, in 2001 to mark his outstanding contribution to Santa Pod Raceway and the sport as a whole. After Alex's death the trophy was named in his memory and continues to be awarded for contribution to drag racing. There is no shortlist for the Alex Brachtvogel award. Nominations are invited from Eurodragster.com readers for racers, race officials, track and safety crews, club officials, media, or anyone else who has contributed to the sport. Last year the trophy was awarded to Julian Parsons for Nitro FM and many other duties around Santa Pod. Again see the official page for more details or E-Mail your nomination to 2021sprcawards@eurodragster.com specifying SPRC Alex Brachtvogel Memorial Trophy nomination as the subject and your nomination in the body of the E-Mail.

For each of the Awards, one vote per E-Mail address per nominee will be accepted: multiple votes for the same nominee from the same E-Mail address will all be disqualified. Please note that blatant attempts at organising mass votes - for example asking workmates, forum members or Facebook friends to vote en masse - are easily identified and all such votes will be disallowed as they have been in previous years. If in any doubt about what constitutes canvassing then please drop us a line at 2020sprcawards@eurodragster.com. Voting for the Awards closes on 31st December.

Additionally, if anyone should have issues with the content of any of the shortlists then please contact SPRC direct rather than E-Mailing Eurodragster.com or commenting on social media.

The next voting category will be Best Appearing Car.

Three Huxleys - One Class!
7th December: Many thanks to Huxley Motorsport crew member Richard Bell for sending a review of their 2021 year:

2020 saw Team Dark Horse win their seventh Pro E.T championship, however the 2021 Drag Racing season saw some big changes for father and son team Brian and Lee Huxley. After sharing driving duties for over twenty years, for the first time since 1997, they would compete in separate cars and race against each other.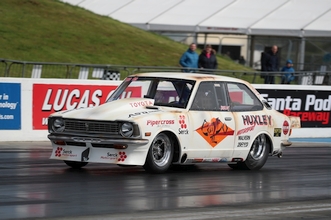 Lee opted for a new challenge taking the driving seat in long-time friend Neil Bell's Chevy Nova. Brian took the reins of the Dark Horse Mustang. Meanwhile 3rd Huxley son Marc entered in a replica of his dad's 'Can Do' Toyota Corolla which was campaigned back in the 80s. This meant that three Huxley's would compete against each other in the Pro E.T class...but which Huxley would come out with the bragging rights?

The first round (Spring Speed Nationals) would have seen a first round meet-up of Brian vs Lee, their very first competitive race against each other. However the Huxley curse put pay to that – rain stopped play!

Next up was The Festival of Power which saw Marc reach his first final, not bad going for only his second competitive outing in the car. Unfortunately he lost out to Will Clark. Other results from that meeting were Lee qualifying 5th out of 32 but losing in the 3rd round and Brian only getting so far as the first round.

July saw The Summer Nationals. Marc was sadly a no show with engine issues which then left Brian and Lee to battle it out for the family spoils. Lee qualified number one off the trailer. In eliminations Brian was knocked out by Simon Innes and Lee pulled an unexpected red light in the 2nd round against Dave Cherrett.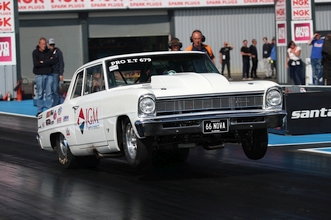 The Greenlight Nationals held in late August saw the first Huxley vs Huxley race with Brian and Marc meeting in the 1st round with Marc taking the win (getting a bit emotional in the process). Lee lost to points leader Amy Watkins in round three. After this event Lee was number two in the championship points race with only two races remaining.

Round number five of the championship was the Euro Finals. Lee beat Marc in their 3rd round match up before going on to reach his first final of the year, sadly losing out to Ronnie Mercer. After qualifying number 3 and with points leader Amy losing in her first round race this gave Lee the advantage going into the final round of the championship.

The final round of the championship and Lee was in a strong position as points leader. Lee struggled to get the Nova dialled in during qualifying and finished up in 19th position meaning Amy could still win the championship if things went her way. After the 2nd round, match ups saw Amy lose alongside fellow points chaser Ronnie Mercer. Lee had sealed his first solo championship with a win against Amy's dad Neill.

After another fantastic year of competitive racing Lee finished as Pro E.T champion with Marc finishing a respectable 9th (who knows where he'd have finished if he hadn't missed a meeting) with Brian finishing 17th out of 49. A great result for all Huxley's! Amazingly Brian and Lee managing to avoid each other throughout the season!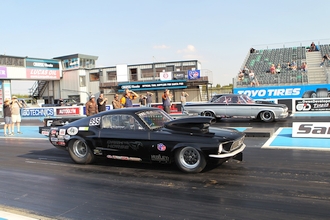 Finally, outside the main six championship rounds, the Doorslammer event saw Lee back behind the wheel of the Mustang. Saturday saw a red light loss in the quarter finals to Keith Herbert. On Sunday Lee faired much better, luck was on his side with two solo runs pulled from a hat on his way to the final. In the final, Lee would lose a tight race against good friend Billy Gane.

The Nova is off to a new home so who knows what 2022 will bring, but Lee said "Bigger and better things are to come in 2022. Bring it on!

Plus a huge thank you to all of our sponsors; Blackpole Recycling, JGM Flooring, SJ Carpet and Flooring Supplies Ltd, ETB Worcester, Bradfords Building Supplies, PJ Home Improvements, M F Hydraulics, B A Hirons, HSC Utilities, Blackpole Powder Coating, ASD engines, VP Fuels, F and A Racing, GG Holloway and Sons, SB Plumbing and Heating and Hafren Environmental Associates."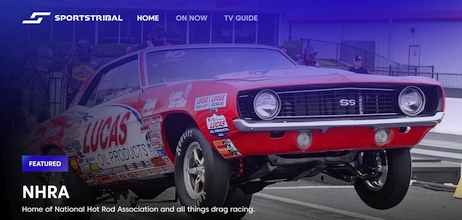 SportsTribal hits the mark.
7th December: Many thanks to British Drag Racing Hall of Fame director Jerry Cookson for sending a review of the SportsTribal FREE steaming TV service and its extensive NHRA programming (click the photo to go direct to the NHRA channel):

I have downloaded the app to my ipad and some of the NHRA stuff from back in the day has been impressive to say the least. In fact there's earlier content streaming that I have never seen before. Just watched the 1965 Winternationals; the original ABC Wide World of Sports show all in glorious black and white.

In some of the shows there's a lot of up to date programming from Fox Sports and coverage from 2020 and 2021 seasons. Announcer Brian Lohnes also has his own look back segment concentrating on racing stories from back in the day.

And that's not all. Sports Tribal also features programming from MavTV with many programmes sponsored by Lucas Oil featuring a variety of US motorsports from NASCAR, ARCA, World of Outlaws, Pro Pulling League and Drag Boat Racing. In the 'On The Edge' series they have featured drag bikes from South Georgia Motorsports Park with Top Fuel and Top Fuel Harley.

Other channels include Extreme (this channel has featured drag racing before)and RPM Motorsports with British and European based circuit racing and rallying.

From the web site it was so easy to download the app to any device and it's all FREE 24/7. I believe that you can also watch it on your TV through an Amazon Firestick (some smart TVs and TV boxes include SportsTribal on the Plex app - editor)!

I know what I'll be watching during the closed season even if some programmes are repeated several times but some of the earlier NHRA TV shows from ABC are rather good entertainment; some I've seen on our own ITV World of Sport in the 70s. Great stuff.

Perhaps if more respond and join the channel for the drags then maybe they will increase there coverage to feature IHRA, other American drag racing programming and European races from the past.

Superb entertainment.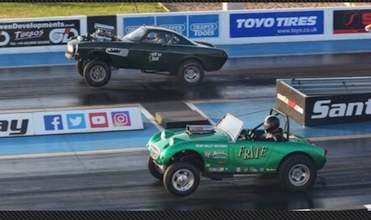 Swift snippets.
7th December: Happy Birthday today to Tombola assistant extraordinaire Carolyne Beckwith and to Nostalgia Superstock racer Jake Cawthorne. Have a great day both.

Lee Johnstone, owner and co-driver of the Hot Wheels Legends Tour-winning Ain't No Saint has an unusual request: "Would the owner of this picture please get in touch with me as we have a media company who wishes to use it and wants your permission?" The picture shows Ain't No Saint in the far lane racing the 'Frite of Mark Bull and Stephen Gotz.

Velocity Race Team doubles up.
5th December: The Netherlands-based Velocity Race Team will be racing in 2022 with two cars, writes team principal Jan Scheppers:

"Velocity Racing returns to the track in 2022! We have two cars which we are currently preparing for competition. The first car is a Dodge Viper GTS/R Super Pro ET car with 740cid BRE engine with a Bruno Lenco transmission. It has 4-stages of nitrous and is capable of mid 6 secs runs on the quarter mile. I will be the driver and will start with a single stage of nitrous to try to run as consistent as possible 7 secs in the quarter mile.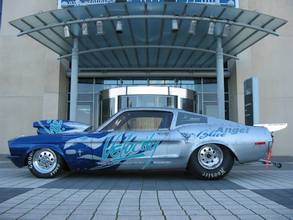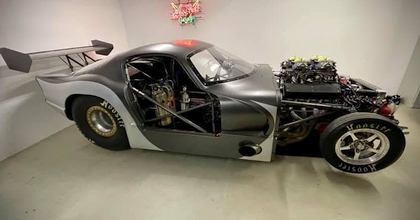 "The second car is the well known 1968 Velocity Ford Mustang Pro ET car which has a high revving 388cid small block with Powerglide trans, with a small sniff of nitrous; the Mustang is capable of 8.9 secs in the quarter mile and its new driver will be Nick Weel. Nick will start without nitrous to get used to the car.

"Our race dates are not fixed yet however we want to go to the Main Event of course, depending on covid restrictions, and the rest of the season is to be decided.

"You can follow us on Facebook Velocity Racing Team, and thanks to our main sponsor www.velocityclassics.eu."

Readers may spot the Viper as the ex Johan Ooman car which competed in UK Super Pro ET between 2012-16.

Swift snippets.
5th December: Good luck and stay safe to expat Swedish Pro Modified racer Adam Flamholc who ran an eighth mile qualifying time of 3.682/205.41 to go 23rd out of 49 cars for the 50th Annual Snowbird Outlaw Nationals at Bradenton Motorsports Park, Florida. The tight 32 car field for eliminations was between 3.616 #1 and 3.717 #32. For those interested in the detail of what combinations competed in qualifying, we recommend this Facebook post from Cole Rokosky. If you want to see the action from Bradenton live, tune into Floracing from 14:00 GMT onwards.

We wish a Happy Birthday to Norwegian Super Comp Racer Mari Udtian, expat Czech Comp Bike racer Jiri Lukes, and to former Top Methanol Dragster racer Tony Dönges. Belated greetings for yesterday to Sportsman ET racer Holley Walters, Top Fuel crew chief Mark Bodimeade and Fuel Funny Car crew member Malc Short. Hope you are having, or had, a great day guys.

Flamholc at Snowbirds this weekend.
3rd December: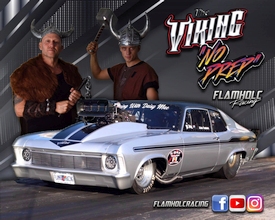 We last reported on the racing activities of hyperactive expat Swedish doorslammer racer Adam Flamholc in March. Since then he has covered thousands of miles in the US, made racing visits to Russia and Sweden, won his first no-prep title, entered into No Prep Kings and built a doorslammer for son Mattias and crewman William Serler to race.

Back in March, Adam did two races in one crazy weekend when he qualified his Corvette on 19th at NMCA Musclecar Mayhem at Bradenton Motorsports Park, then he took his blower and various other parts off the Vette and placed it on his big tyre Viking Nova II, driving to do some 'Arm Drop' racing at Powerhouse Motorsports Park, Fountain, Florida on Saturday 20th. There was a problem with the 'Vette as both front wheels were found 10 minutes before his run to be cracked, however thanks to another expat European Rene Meierhofer, a spare set of wheels were borrowed, and he went on to record 3.704/205.07 to qualify #3. His first round win in the Nova the following day are on Youtube courtesy National No Prep Association. The Nova suffered some front end damage and the race was on to repair the nose.

After that he went back to Bradenton on Sunday to race his '63 Corvette, where he ran a winning first round 3.781/204.51. Adam improved to 3.71 in the second round but went down to Randy Weatherford's 3.61 when his engine shut off at 450ft.

April - "Street Outlaw Fastest in America"

The damage to the Nova was made good by crewmen William Serler and Thomas Monsenego, Adam joking that "We have become bodywork experts since we started no prep racing!" The quick repair was needed as the team headed out for a three week road trip, stopping at Turn Key Speedshop in Texas to get the front of the Nova painted and completed. The destination, after 45 hours drive, was Las Vegas for Discovery Channel's "Street Outlaw Fastest in America", his first race on the street. Thomas said "It's definitely really different that what we're used to but we love it". Adam tested on 31st March and 5th April and ran the race on 9th April. He said "I really like racing on the streets! It's like going back to my roots! When I grew up in Sweden and started racing, we didn't have any tracks, so basically every Wednesday and Saturday we found places to race. And its all coming back to me now!" The only problem was a steel body was required to be legal for street racing (if you see what we mean).

Once back at his Cape Coral, Florida base Adam concentrated on tuning customer Steve Wiley's '63 Corvette at a Pro Mod race at Xtreme Raceway Park, Ferris, Texas on 18th April where Steve qualified second and won the race with a best run of 3.71 @ 210 (new PB for speed). Steve commented "Adam helped turn a car that I've been fighting for about 2 years into a badass hotrod that was on rails! Thank you for all the help!"

May - ADRL rain-off replaced by RODS

Preparation for Adam's two next races in Texas was next, first to the Texas Motorplex for the ADRL Dragpalooza season opener April 30-May 1st, then with the Nova for Brawl In The Falls 2.0 No-Prep on May 7-8 at Wichita Falls, TX. Both cars went into Adam's 18 wheel trailer however the day before the ADRL event the sanctioning body took the decision to cancel the race with inbound bad weather likely to ruin the weekend.

Not to be deterred, Adam found the RODS Pro Mod event at Albuquerque Dragway, New Mexico starting 30th April and proceeded to drive through the night to get there in time. Even taking account of the drive there were other challenges. Adam said "Always interesting to race at new tracks! This is a high elevation track, altitude is 8000-9000ft above sea level. This will be a fun challenge changing gear ratios etc to try to get the car right for the conditions here." He qualified second despite the car "Keeping blowing the tires off half way down the track. We made a bunch of changes to the car to soften it up, so hopefully it'll go down today!" It did, Adam qualifying first with a 4.163/165.62, but there were ignition problems on that run. "On the last q run the car shut off before the finish line. We changed everything in the ignition system, tried to run it straight on the mag, just couldn't get it to fire." Running out of time to try to fix the car, Adam and William packed up and headed towards Texas.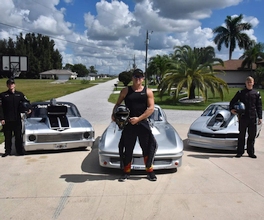 At Witchita Falls, Adam brought out the Nova but lost first round. Adam explained "The track was better then what I expected down low, so I took a bit to much power out of it, then at the top end it got lose, so I pedalled it a couple of times, and lost by a car length." The team found out the source of the ignition problem at Turn Key Speed Shop a couple of days later, where the Nova got treated to a new, lighter front end, hood, doors and a silver paint job whilst the Vette was being tested at Xtreme Raceway Park, Ferris before the following weekend's (14th-15th May) round two in the Texas outlaw Pro Mod series. Adam admitted "We didnt really put the work needed in on my Corvette to make it right for outlaw Pro Mod racing".

The following weekend (22nd May) was Bobby Wildchild's Big Tyre Cash Days no prep race at US19 Dragway Albany, Georgia, with the Nova. Adam won the race in the hot conditions, his first no prep race win. He commented: "It's a lot of work between races having both the Pro Mod Corvette and The Viking Nova, and changing setups almost every week, and its just me and William that works on the cars, but he ain't complaining, and make sure it gets done! This is the first race we won in No prep, I want to dedicate it in honour of Daisy Mae, a 6 year old girl lost her life a couple of weeks ago, this win is for her, Andy Cowen, Kayleigh Cowen and their families."

June - No Prep Kings

Back to Florida, Adam undertook preparation for his trip to Russia (a race in Bowling Green, Kentucky 29th-30th May with NHRA inviting 8 outlaw Pro Mod teams to run at their divisional event was passed up), followed by testing the Nova at Orlando Speed World Dragway and then to National Trail Raceway, Hebron, Ohio for No Prep Kings 5th-6th June. He said "This was our first No Prep Kings event, and it was huge! A ton of people, a ton of cars and good racing. We ran in the class Future NPK, and made some good runs, getting to the semi finals". His run was spoilt by a failed Bruno convertor, following a staging delay, causing the car to overheat.

The next No Prep Kings race was June 18-19 at West Palm Beach International Raceway. Adam said "Not a good weekend of racing for us, on the first test run the ring gear on the starter broke, and it took some time to fix it, so we missed both grudge/test runs. Then in first round of eliminations the car shut off 3 seconds into the run.. Haven't looked at it yet, so I dont know why. But, it was great to race close to home with family at the track! And the young Flamholc Racing crew worked hard in the Florida summer heat!"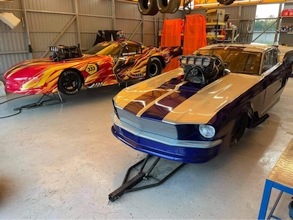 July/August/September - Russia and Sweden

This was Adam's last race in US for a while as he headed to Russia (RDRC to help with tuning and technical things at the Russian Drag Racing Community, particularly with the team of Dmitry Samorukov. Because of Covid, its been hard to travel overseas, but yesterday I got a Visa, so on Wednesday Im heading over! Gonna be good to meet all my friends in Russia again. I also hope to be able to see family and friends in Sweden, that I haven't seen for almost 2 years now, also because of Covid."

The first race was at RDRC Racepark in Zhukovsky, Moscow, Russia on 3rd-4th July, but Adam's participation was limited due to waiting on parts to finish the RDRC Technology Viper of Dmitry Samorukov and his own Mustang, however the dragster of Dmitry Lisin which Adam tuned went 7.47 for a PB improvement of 1.5s. Adam's family were in Sweden where they held a early 20th birthday party for his daughter Isabell, but Adam was unable to leave Russia due to covid-related visa restrictions and, worse, went down with food poisoning. The second race at RDRC Racepark (first round of the RDRC champsionship) was on 30th July, however the first day was rained off limiting qualifying. It also rained pretty hard after first round of eliminations, so the race got canceled. In the RDRC Technology team, Dmitry qualified first with the Viper, and won first round. Adam's Mustang had issues with the brakes and Dmitry Lisin's dragster suffered a broken pump in the transmission broke. "Its not easy to find parts for these cars here in Russia, or to get parts shipped here," In the event, the other cars of Dmitry Samorukov and Dmitry Lisin were able to run, but Adam's did not.

Mid August Adam took a break flying back to Florida and then on 24th August to Sweden to support Rimbert Vahlström's '53 Vette Bankrobber Top Doorslammer to #1 qualifier at Malmo before the rains came, then heading back to Moscow for round three of the RDRC championship. The race, scheduled for 28th-29th August, got postponed, making the 17th-19th September race at RDRC Racepark and 2nd-3rd October at Fort Grozny Autodrom in Chechnya the final round. As well as preparing the cars, there was time for tourism and exercise, and a trip back to Florida. In the Russian Drag Racing Championship only one race was completed this season, and in that event Dmitry Samorukov lost the final on a holeshot, so he ended up second in points.

October - making history in the NHRA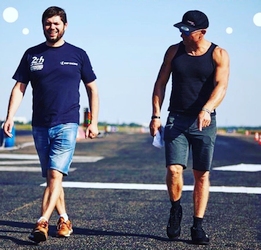 Adam returned to Florida on 4th October, however wasn't able to run the No Prep Kings in Tulsa 9th-10th October as he was still waiting on parts. But at that stage he was starting to work on a Chevy Beretta, named Odin, that he plans to do some street racing with son Mattias Flamholc and crewman William driving, which they tested at Bradenton, the pair due to license soon. The Viking Nova has also been treated to a new engine however Adam was unable to attend his second no prep race in October due to viral pneumonia.

After recovering from illness, Adam embarked on his biggest road trip of the year, Cape Coral-Texas-Oklahoma-Las Vegas and back, around 5600 miles. The Texas stop was Brawl In The Falls 3.0 No-Prep at Wichita Falls on 23rd-24th October was a good race for Adam, reaching the final. He said "I lost the final to Brandon in his super cool Studebaker, the final was our first run in the left lane, and I had problems seeing the Christmas Tree, I deep staged and left way late. Brandon made a solid pass and deserved the win!"

As reported on 23rd October Dimitry Samorukov licensed for the NHRA race at Tulsa on 25th October and became the first Russian to race with NHRA. At the Las Vegas race, Dmitry Dmitry raced the same Pro Modified Camaro that he competed in the 2019 FIA Championship and plans to race in the 2022 Championship, which will be his main focus as well as some NHRA dates in the US. Although there were electrical issues in qualifying, Dmitry had his first NHRA round win at the expense of former champion Stevie 'Fast' Jackson to the delight of his and Adam's fans.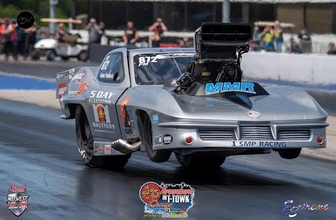 November - World Street Nationals

Adam went to the World Street Nationals at Orlando Speedworld Dragway with the Corvette, the first time he raced it since mid-May. "The Thursday test day was cancelled by rain, then on Friday we waited in line for 3 hours then when we where gonna run the starter broke. Saturday in Q2 the car with a new engine, shut off after half a second. We got one test run and one qualifying run in, and I missed the tuneup on both of those. We had other issues as well, like the blower starter didnt work, MSD point box went bad." Adam worked on the car and returned to Bradenton to test on 20th and 21st November with a best eighth mile time of 3.734/202.94 (0.941 60ft) lifting to a 5.999/184.04 at the quarter.

December - Snowbirds

Adam will be racing this weekend in the 50th Annual Snowbird Outlaw Nationals at Bradenton Motorsports Park in Pro Modified (1/8 mile). In testing yesterday he recorded a best of 3.714/203.22 with a 0.935 60ft time. He said "On the first test run, I had it a bit too aggressive, it almost made it, but broke the tires lose at the first gearshift. We calmed it down a bit and made a good run!" The race should be a barnburner with 50 Promods all trying for a winning purse of $50,000. So good luck and stay safe to Adam.

You can see streaming video coverage of the Snowbird Outlaw Nationals at Floracing from 21:00 GMT tonight (subscription required) and media coverage at David Hilner photography.

Swift snippets.
3rd December: A very Happy Birthday from us at Eurodragster.com today to Super Pro ET racer Steve Saunders, Outlaw Anglia racer Brian Nixon, and expat Norwegian Top Alcohol Dragster racer Julie Nataas. No news update yesterday but we hope Funny Car racer John Spuffard, Pro Mod racer Dave Pollen, Robinson Race Cars constructor Luke Robinson and Outlaw Street racer Dave Mahoney had a great day.

Thanks to Drag Seen publisher Paul Martin for letting us know that Drag Seen 2 is now officially sold out, and sales have raised £390.43 for Cancer Research UK.

Kieran has uploaded his Top 10 Drag Cars of 2021 to his Mk1Kieran Youtube channel. He said "This list consists of cars I filmed on track throughout this year and includes some awesome new builds and stand out performances at Santa Pod Raceway. As always it was really hard to narrow it down to just 10 that I haven't picked in previous years, This is just my personal choice and lets me make a fun video in the off season which hopefully you all enjoy!"

Dan's Rattler.
1st December: Double National Sportsman ET champion Dan Holloway has written in to tell us of his latest project which will see him change class for 2022:


Flame and Thunder in the year 2000 and 5 year old me was taken to my first ever event at Santa Pod by my parents. I remember the jet cars of the time, the huge bonfire, the cracking fireworks and all that goes with, but the biggest aspect of my first event I still remember to the day was experiencing the noise and speed of the cars that this unique sport has to offer.

Fast forward through the following number of years which saw me start to go to race meetings with my Dad Adrian, who crewed for our good friend Dave Ward in Pro and Super Pro with the Rampage nostalgia funny car, where at a national event I would see a junior dragster for the first time. Dad! Dad! Can I drive one too?! And so eventually for my eleventh birthday I got the chance to drive the SPRC junior; I was hooked. Unfortunately my parents weren't financially interested in funding such a venture (can't think why?!) so I had to watch the other lucky guys and gals my age race them instead, as I continued to go to every event and help Mr. Ward with his 'grown up' car. My Dad's words at the time after declining my proposal of junior drag racing are still remembered to this day - "when you're old enough, you'll be able to race in big cars" - well having been officially an adult for 8 years now, I wish he'd told me at the time that it isn't as easy as that! However I said to myself at that time that one day, somehow, I'd be one of those lucky ones who gets the chance to race what I called a 'grown up' car.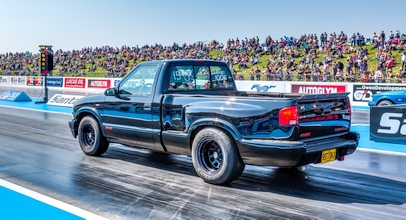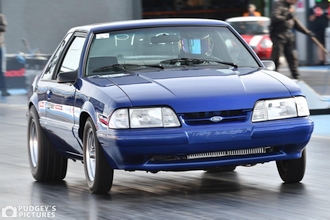 I made my drag racing debut in 2018 in Truck Norris, my cracking little Chevy S10 SS pickup, in Sportsman ET, coming third in my first event and winning the second. 2019 saw my first full season, taking my first championship. In that same time period I purchased and built up my procharged Foxbody Mustang aptly named No Fox Given, debuted it in the Covid Cup series in 2020, blew the head gasket in the first event and believed to have done a bit of bottom end damage too, so sidelined it and jumped into Truck Norris for the following few events, winning the National Finals and finishing the series runner up.

That first event and debut for my Foxbody Mustang saw brothers Dave and Stu King come by and watch a spot of drag racing and take an interest in what me and my Dad had done with the Fox. They're mainly of F1 stock car racing background, you know that roundy roundy stuff, but love their drag racing too and are friends of whom I've known through Dave Ward for a number of years, as Dave King painted the chromoflair paint on the Rampage funny car. The event ended and I received a phone call from Dave Ward saying he'd just got off the phone with Dave King who had a proposal for me. Dave and Stu had been piecing an altered together for a number of years prior to this point, but the project had stalled in the last few years due to various reasons and it was just sitting in the garage waiting to be finished, eager to be let loose again on the 1/4 mile. With neither of them able to offer the time needed to finish the car, would I be interested in finishing it off...and then subsequently race it. I don't think Dave Ward had finished his sentence in full to me over the phone before I replied a resounding yes! All of a sudden the boyhood dream of racing a fully fledged 'grown up' car was about to come true.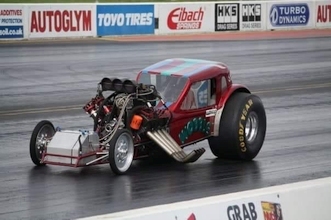 This meant my Foxbody would have to wait for now, as me and my Dad had a new project to undertake. He hasn't told me he's grown tired of the next project I've brought forward to the table yet, so he must still like doing it! Upon first seeing it, the altered to the naked eye looked pretty close to being track ready, and it was thought to be too. Named Rattler, the striking rattle snake airbrushed to the gorgeous red paint looked fantastic, coupled with a roof chop from the original mould and a big block Chevy; I was more than sold on it. It's the ex-Wobble car that competed in Supercharged Outlaws many moons ago; a Steve Plueger funny car chassis that used to house a rather enormous supercharged methanol burning hemi, so with it's now mild big block Chevy the chassis will be saying its thank-yous in comparison.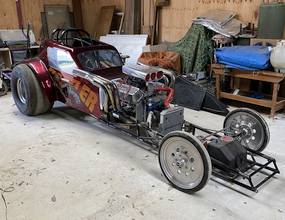 We started going over the car, and to cut a very long story short, it was found the engine was unfortunately a bit worse for wear, to put it lightly, and being an already 60 thou over 2 bolt main 454 truck block it wasn't going to be viable to continue with it given the extent of the damage. A new one was needed. This meant the plans to be out in 2021 with the altered were quickly curtailed and with a broken Mustang I turned back to my ol' faithful Truck Norris, with whom we went onto win a second national championship with. I managed to source a new build but mild 489BBC from Lee Huxley on behalf of Neil Bell, which we took straight to Hauser to be gone over, before making its way to the Williams Brothers for a dyno tune. I wanted an engine that ran on pump fuel, would do 'laps' all day long without breaking a sweat and be low maintenance, and this engine should prove to be just that. Stick something with a bit under 600hp into what's effectively a shopping trolley and it should go just fine, with goals of anywhere in the mid to low 9s, hopefully entering into Pro ET providing everything checks out with the tagging of the chassis and all the safety bits and bobs that goes with. It's going to be a year of learning the car and learning how to best drive it, trying to dial it in to some sort of consistency, and have a damn good time doing it. Of course writing this article has put a bit of pressure on to actually get the car done and out on time for the start of the 2022 season, but sometimes you need a bit of that in life to get things done!

This is a very exciting prospect for me, my drag racing dream coming to life, and this wouldn't be possible without Dave and Stu, putting their faith in me and my Dad to bring their car to the track after so many years of ownership, of which I cannot express my thanks enough. I hope we can do the car and you guys proud. See those of you at the Dinner and Dance who are going, otherwise see you all at the track.

Wild Bunch 2021 prize presentation.
1st December: Many thanks to Wild Bunch co-ordinator Claire Meaddows for sending her account of their 25th Annual Prize Presentation which was held on Saturday, 27th November at Drayton Manor, Tamworth. This was a fantastic night, enjoyed by all, says Claire: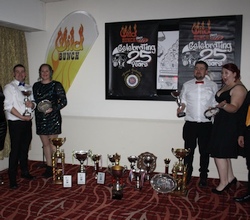 Many thanks to our great MC Paul Wright, who did a wonderful job as always, calling the winners, reading the citations and doing so with great style! Thank you also to our fab DJ Stuart who has given us many years of great discos and really enjoys joining in with celebrating our winners!

All the various Series winners were presented with their awards, with the biggest winners of the night being The Marras Pete and Rob Brown (pictured right with partners and crew Natalie Long and Hayley Fyfe) who, with their awesome Rebel slingshot, WON every Series we run! This was their first time winning any Series! They won the 25th Anniversary Wild Bunch Series, the 6th Spirit of Nostalgia Challenge, the 9th Springbridge MSUK Challenge, (held over the 4 MSA events that the Wild Bunch compete in) and the 23rd Roy Wilding Nostalgia Race Cars Series, as well as the SPRC Championship for Wild Bunch, to be awarded in January. Of note, the twins had both of their cars in the Top 4 of the Wild Bunch Series, with Wrathchild finishing 3rd! This is the first time this has been done! Many Congratulations to Pete and Rob for their wins, and to all those who finished in the Top 4, and the Top 10 in the Wild Bunch Series.

The Wild Bunch would like to thank all their sponsors and those who have provided great services this year! Bob Hawkins of Springbridge Direct Ltd, for his longstanding and ongoing support, and our host of other event trophy and prize money sponsors this season: MJC Property Solutions, Sutton Soda Blasting, Team Ratcatcher Racing, Matt Fuller of Team Oblivion, Ian Wild of WildCat Racing and Steve Cassisi of Piston Rings & Things (awesome bespoke unique trophies!). Thank you also for amazing bespoke trophies at the Hot Rod Drags to Elaine Southworth of Coolengineeredart. Plus a massive thank you to Photog extraordinaire Callum Pudge of Pudgey's Pictures for the brilliant photos for our Top 10 and other winners!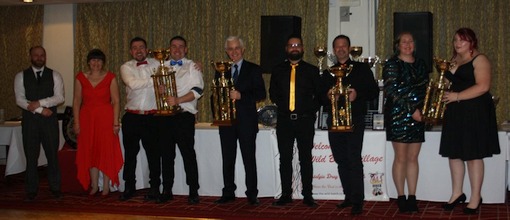 We would also like to hugely thank each and every one at Santa Pod for all they have done to run such a fantastic season in difficult circumstances this year! What an amazing team! We massively appreciate all they have done to provide excellent events for us to race at! You are all stars!

There were presentations made during the evening, including to Secretary Lynne Coulsell, and Race Co-ordinator, Treasurer and GM Claire Meaddows for all their efforts. Gifts were given to all the lovely ladies attending. Flowers were given to Claire and Angie Woods, kindly donated by Mark Coulsell of Team Limited Funz.

There were more special presentations made including some crystal stars to commemorate our WB Silver Anniversary, to founder and first Chairman Roy Wilding, and longtime 13-year Chairman Chris Hartnell. It was brilliant to have both Roy and Chris there to celebrate the occasion, and also to present their trophies personally!

We also presented commemorative crystal stars to our current highly valued committee members: Mark Coulsell, Dave Williams, Bob Hawkins, Steve Cassisi and Mark Hartnell and to GM Claire Meaddows for that role.

We also have a star to send to Tony Smith in recognition of all of his years of service on the committee (and get well soon Tony from us at Eurodragster.com).

Thank you to all these wonderful people for all they have done for the Wild Bunch over the years and for all they continue to do, it is so much appreciated!

In addition, the winners of all the Wild Bunch Special Merit Awards were announced, and are shown below: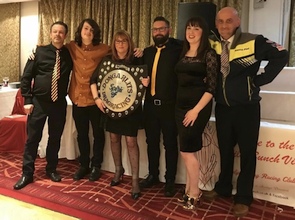 Big Bang Trophy: Bob Hawkins with Time Traveller II
Fastest time by a British-engined dragster (Sponsored by Martin Holgate): Tim Roy in Boston Straggler II - 9.121
Fastest MPH: Mark Coulsell in Ballbreaker with 161.94 mph
Quickest E.T.: Bob Hawkins in Time Traveller II 7.800
Best Newcomer: Steve Garlant in Sonic Attack
Best Dragster/Radical: Phil James in Rampage
Best Slingshot: Andy Clifford in Snake Eyes
Best Altered: Steve Garlant in Sonic Attack
Best Turned Out: Andy Clifford and Team Roll the Dice Racing in Snake Eyes
Best Achievers: Pete and Rob Brown of Wrathchild & Rebel Racing
Perseverance Award: The Heaven family of Slimline Racing with Tight Fit
Derek and Brenda Annable trophy: Chris and Callum Swinchatt of Kings N/W
C & C Sportsperson: Jim Tanner of Shindigger
Crew of the Year: Hayley Fyfe & Natalie Long, George & Julie Brown and Rob & Pete Brown of Wrathchild & Rebel Racing
Scottie Durrant Above & Beyond Award: Team Limited Funz Racing with Ballbreaker
Personal Achievement (Daddy Cool Sag Award): Warren Rowlands & Angie Woods & Team Destiny's Angel
Crazy Chris Showmanship Award: Pete & Rob Brown of Wrathchild & Rebel Racing

Plus there was a new award, the Driver Dave Memorial Bell - Kept Calm and Carried on! in loving memory of Dave Rowlands. This was presented to Mark Hartnell.

The greatest Wild Bunch accolade of the evening was as always, the Don Garlits 'Spirit of Drag Racing' Shield, the most prestigious award in the Wild Bunch, which represents sportsmanship, achievement, perseverance, commitment, presentation and a host of other attributes. The 2019 winners, The Marras of Team Wrathchild & Rebel Racing, presented the Shield to the 25th winners: Team Limited Funz - Mark & Lynne, Steve & Anna, Harley & Ada. This is the 2nd time that this outstanding team have won the award, making them the first team to ever win it twice! Very well deserved! Huge Congratulations to the whole team on this achievement, a very popular win!

We also held a raffle to raise funds for the club, so we would like to say many thanks to all who donated prizes.

The night proceeded with champagne for some, dancing, cheers, hugs and laughter all round. It was an honour and a delight to be with such a great Bunch of lovely people!

Many congratulations to all our winners. We can't wait until 2022 to be back out at the drags for another fantastic season! Full info can be found on the WB website www.the-wild-bunch.co.uk.

Best wishes for a Merry Christmas and a Happy, healthy, dry, safe and quick New Year to all racers and teams, marshals and officials, track and safety crews, photographers, media, promoters, managers and of course Eurodragster.com staff, who all work so hard (Thanks! - Editor). Thanks to everyone for all they do for this sport of Drag Racing we all love so much! See you all at the drags next season!

Kelly tapped to write VP Golden History.
1st December: Eurodragster.com sponsor VP Racing Fuels, Inc., a world leader in fuel technology and product innovation, has commissioned Jim "JK" Kelly to author a book chronicling the company's first fifty years in business, 1975-2025.

"There probably isn't one element of VP and its history that Kelly wasn't here for or was close to until he retired in 2015," stated Bob Merz, Director, Brand Management & Licensing at VP. "With his knowledge of the company's personnel, suppliers, affiliations, their challenges, and accomplishments, he was the obvious choice to write this book."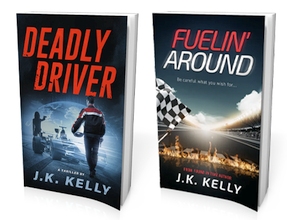 Kelly served in various capacities in his thirty-plus years with VP, including Regional Manager and also as Director of Sales & Marketing. While Kelly retired to write novels, six to date, Kelly continued to work with the company as a marketing consultant. His most recent novel, Deadly Driver is a fictional thriller about a Formula 1 driver who's been forced to work for the CIA. That novel has received excellent reviews from world champion racers and the media.

"My first experience with VP dates back to the mid-'70s in San Antonio when the company was just an upstart going after the big players in the industry like 76, Sunoco, Elf, and the rest," said Kelly. "I told my tale in the novel Fuelin' Around, and now VP's asked me to recount the whole story. It's a remarkable one, and I'm honored they've chosen me to tell it." You can buy Jim's books from his web site jkkelly.com.

VWDRC celebrates 2021, plans 2022.
29th November: The annual VW Drag Racing Club AGM and prizegiving gathering took place this weekend. Starting with a karting race at Formula Fast Karting in Bletchley, appropriately divided into Pro and Sportsman categories, the event moved to Wetherspoons in Midsummers Place Milton Keynes where prizes were given out; the AGM was held on Sunday at Jury's Inn nearby.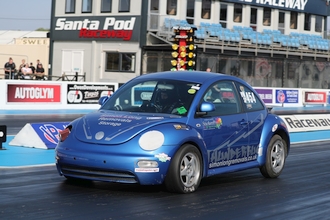 The trophies presented, with congratulations to all racers, crew and others involved in the club for another successful year, were:

VW Pro Championship winner: James Hodson
VW Pro Championship runner-up: Adrian Solly
VW Sportsman Championship winner: Rob Creswell
VW Sportsman Championship runner-up: Jon Crawford
VW Heads Up Championship winner: Jacob Bailey
VW Heads Up Championship runner-up: Paul Jordan
Dennis Cox memorial trophy (for highest consistent qualifier): Laurence Clark (pictured top)
Brian Burrows Rookie of the Year trophy: Jack Gooding (pictured middle)
Wagenmaster Driver of the Year: Paul Jackson (pictured bottom)
RNJ Motorsport Car of the Year: Paul Jackson
Becky Sutton Memorial trophy (for services above and beyond to the Club and the Club spirit): Luke Stevenson

Also at the event announcements were made about 2022, all events taking place at Santa Pod Raceway. The VWDRC are going BIG for 35th year, and have pulled together a huge prize fund of £20,000 for the club which is for the championship and its club days.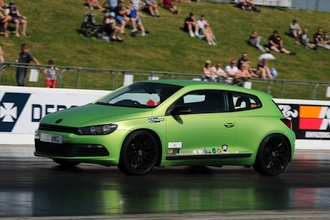 The VW Pro and VW Sportsman championships will take place at UK Motorsport governed events as follows:
Festival of Power 15th-17th April
Springspeed Nationals 30th April–2nd May
Summer Nationals 2nd-3rd July
Bug Jam 23rd-24th July
Greenlight Nationals 20th-21st August
National Finals 24th-25th September
The prize fund for VW Pro and VW Sportsman is set at £4000 each, with the champion winning £2000 and prize money paid down to 5th place. Thanks to sponsors:

R-Tech Performance
CG Motorsport
White Label Business Consulting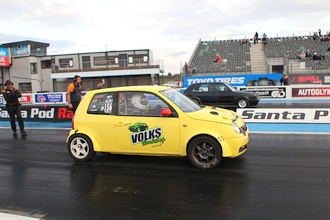 Darkside Developments Performance Diesel Tuning
GP Turbos
Hangar 30 race car preparation
The Car Kitchen
Pro-Race Engineering

Thanks also go to associate sponsors:

EST Performance
BJ Bates Electrical
European Front Wheel Drive
Harvey Property Services
Renegade Fuel
Track Ready
WRP Paint and Restoration
32 Speed Shop

The VW Heads Up championship, with £500 to the Champion, will take place at the following lifestyle events:
GTI Spring Festival 10th April
Das Auto Show 14th August
GTI Festival 2nd October
Test days have been set for 18th March (Pre-season testing) and 9th-10th June (Drag Days). The Drag Days event, open to all VAG bodied or engined cars, will incorporate an all-in Bracket Class a heads-up 12s index class and a heads up competition, with big prize money. Entry for each of these competitions or as a run what ya brung participant is now available at vwdrc.bigcartel.com.

There will be a trial for the 2022 season of the lower index of VW Sportsman moving to 11.99 from 12.99. This will bring it inline with other national classes whilst having no change on VW Pro. It means that there will be an overlap, so that racers who run in the 12's have a choice as to which class they wish to enter and what they are legal for.

A VWDRC Hall of Fame will be established, incorporating Honorary Lifetime Membership as well as new nominees proposed by members and decided by the Committee.

Those wishing to join the VWDRC can do so, before rates increase from 1st January 2022, by going to vwdrc.bigcartel.com.

Tina Hambidge's Funeral.
29th November: Many thanks to Ian Marshall for letting us know that the funeral of Tina Hambidge will take place at Kingsdown Cemetery Swindon SN25 6SG on Friday 17th December 2021 at 2.15pm, anyone wishing to attend will be made welcome.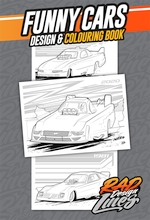 Funny Cars Colouring Book launched.
29th November: Thanks to Darren West of Power Race Graphics and RAD Design Lines for telling us about the latest in his series of colouring books, designed for artists of all ages. Darren writes:

I am very excited to announce our brand new RAD Design Lines 'Funny Cars' colouring book is out today and available now to purchase from our website. 'Funny Cars' is the second in the series of Drag Racing design and colouring books and features some of the most popular funny car body styles in the history of the class. Printed on heavyweight high quality paper, we managed to squeeze a few more pages in this time of our own exclusive design and colouring blank template outlines. Expect to see some very cool funny cars to design the graphics and create the colour schemes for! This is a great Christmas gift for the colouring kids and the funny car fans!

Huge thanks to all who pre-ordered the book - those orders ship today - Monday 29th November. 'Funny Cars' ships internationally - just head over to our website to order your copy! Shop now at www.raddesignlines.com.

The RAD Design Lines mission continues to inspire and encourage young people to unleash their creativity!

Monica Öberg Racing TF operation for sale.
29th November: "Every fairy tale has an ending... also this one." After a 35 year Top Fuel career, Monica Öberg has announced that her whole Top Fuel operation is for sale and those interested should contact Dan Soderberg for further information on +46 706975788 or by e-mail at Dan@monicaoberg.se.

Monica's team was founded in 1979 and was co-owned by her and chief mechanic Dan Söderberg. Based in Piteå, Northern Sweden, the team started competing in Top Fuel class in 1982, becoming successful mainly at home but also internationally. Monica is a three-time Swedish champion (1986, 1989 and 1992) and in 1992 won the prestigious European Top Fuel Association championship, held in the five years before the FIA Championship came into being.

In 1997 and for several years after, she competed in the FIA Championship, on a limited basis always being budget-conscious and her final FIA race as a driver was the Scandinavian Internationals in 2016. The team returned with Jöran Persåker as driver at the 2018 Tierp Internationals.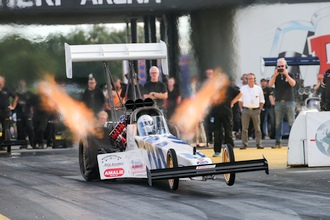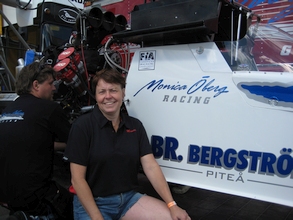 Monica had a special affinity with the Midnight Sun Internationals race which was held annually at Piteå Raceway near her home and many of her quickest runs in the low 5s at 280mph+ were set there.

The car that is for sale, with all spare parts, was built by Lars-Goran Eriksson of ME Racing Service in 2010. You can see video of it being started up in 2016 at this Youtube link.

We wish Monica and Dan a long and happy retirement, and thanks to them for providing us with thrills and spectacle at the track over so many years.

Malta Drag Racing Association announces 2022 schedule.
27th November: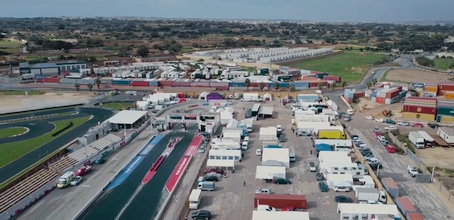 The calendar for events held by the Malta Drag Racing Association has been released. The dates for your diary are:
12th February: Test Day
26th February: Run What Ya Brung
11th-13th March: QTM Event Round 1
31st March: MDRA for Charity
7th May: Run What Ya Brung
20th-22nd May: QTM Event Round 2
1st July: Run What Ya Brung (night event)
14th-16th July: QTM Event Round 3 (night event)
3rd September: Run What Ya Brung
16th-18th September: QTM Event Round 4
5th November: Run What Ya Brung
17th-20th November: QTM Event Round 5 - The Finals
The MDRA said: "We are posting next year's events calendar on our MDRA site. As you know enough, next year is a particular year with great challenges for our track (redevelopment is planned to take place - editor), but we will promise to do our best to stick to this calendar and not miss any rounds. This is surely the wish of all of us."

A meeting of the association including trophy presentation for the last event will take place on 17th December 2021 at 19:30.

Whilst we are looking at Malta, the latest video posting by Kieran to his Mk1Kieran Youtube channel of the 2021 Malta Finals held on 11th-14th November. Kieran says "Big thank you to Konrad D'Anastasi for letting me use his footage again this year! Konrad is the resident videographer at Hal Far Raceway and films every single run! Check out his YouTube channel at here."

Picture credit: Shawn Mifsud

Pelle's speech restored.
27th November: It was great to see Pelle Lindelöw at the British Drag Racing Hall of Fame gala last weekend for his induction alongside long time friend and co-owner Gunnar Elmqvist. Pelle has been in touch to tell us that his acceptance speech was not the full story:

"Gunnar and I had an idea how to conduct and express our feelings and thankfulness for the induction. I should start, Gunnar should then take over and I should finish. But our strategy didn't work out as planned and all of a sudden I found myself back at our dinner table, but with the very exciting part II of my speech unspoken. Thanks so much for a fantastic evening with great company from all my friends in the British drag racing family that we now feel part of.

We, P&G Racing, have had a fantastic career no doubt about that.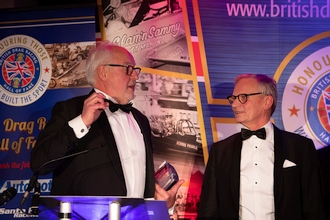 It all started after our first visit at Santa Pod in July 1972 (click here for Pelle's video), and I was totally blown away. Skilton, Priddle and all the others including a bunch of teams from Sweden, Lantz/Jönsson's Plymouth, Gunne Back's Corvette, Ryman/Larsson's Mustang f/c among others. We were travelling to the UK in our three Renault 4CV's. First impression of the facility and all the cars and crowd, it was all mind boggling. If someone had said that Gunnar and I should be owning and racing a Top Fuel dragster 10 years later, I would never have believed that. Not in my wildest dreams.

Back at home after the UK trip we planned to build a motor for a Renault and put it in one of our Renaults. After some consideration we realized that using a street car wouldn't work, so we bought another 4CV and a R16 TS (hemi) motor. First year with the car we went to as many races as we possibly could, best E/T was 15.2 sec. Not a real threat to anyone but good learning for the future for Gunnar and myself. In September we took a very quick decision to load the car and travel to UK to join the other swedes and go to the Snetterton season finale (click here for Pelle's video). Our Renault was placed in the Competition Altered class where we among others had Barry Sheavills in his "Stagecoach" and several other Jag and small block motorized cars. But our 1.6-liter Renault engined car without handicap couldn't match any of them and we fell short in the first round of elimination. At the distribution of price money after the race we received £3 for our efforts but were given a fiver as the treasurer thought our car was sweet. I would have preferred another judgement, but we were happy for the two extra pounds. Could make a fortune out of this if we'd continued a couple of hundred years more.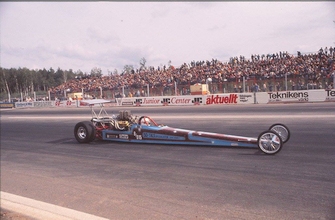 We realized that we reached the end of the possibilities with the little Renault, so we built a dragster with the Revell model of Tony Nancy's car as the role model. We looked at the picture on the box and found out how the frame was constructed and where the brackets should be fitted. First year with a Chev 402" BB, no success but a steeper and steeper learning curve. We bought a Chev 454" from Anders Lantz and suddenly we could actually beat some our competitors for the first time ever. Best E/T that year was 9.003 and quite close to our target to run an 8 second run. We had by then realized that our gas dragster needed to be replaced and we were planning to build a Pro Comp dragster. Our host in the shop we spent our Tuesdays in, Lee Anders Hasselström convinced us it was much better to go nitro. He said: "if you are chasing sponsor money you can't say you're competing in the next fastest class, that wouldn't convince anyone". So, we ordered a chassis from famous racecar builders Kjellin Brothers, bought Kent Person's Chev 454 from his top fuel dragster. First year with that car ended with a 6.97 run and a visit in the fields after the end of the Mantorp strip. The car was a wreck and as the Kjellins were at the track we used the opportunity to order a new car from them before going home that day.


This has been our story all the years Gunnar and I have worked together. Never give up, there is sunshine after the rain and so on. We have always been blessed with good and loyal friends/team members. Janne Carlsson joined us in '81, Ulf "Hot Dog" Schill and Leif Hamberg after they sold their T/F dragster in '83, my cousin Bo Söderkvist from day one. Benjamin Wahlström (best chef in the pits) and Sören Isaksson from early '90's till the end in 2001. Thank you all so very much!

Last years we've lost some people that has been instrumental in our career: our supplier extra ordinaire, crew chief and very good friend Gary Burgin, "Benji" and "Hot Dog". All sadly missed.

At my return from the US in February 2020 I was waiting to depart at LAX when I received a mail from Stu Bradbury asking if we could accept an induction to BDRHoF in November that year. I couldn't believe what I was reading and had to discuss with Gunnar if this was a kind of joke or not. We realized that it wasn't a joke and of course we accepted the invitation and now, 49 years after the first visit to Santa Pod we are the proud members in this exclusive "club". Something that we both are extremely proud of. Thank you.

Finally, what Gunnar and I have achieved had never been possible without the support and patience of our respective wives; Pia and Suzanne, allowing us to work with the cars and go racing all these years. Heaps of thanks for everything.

Tony Morris Carburettors sponsor Super Gas.
27th November: Tony Morris and Dave Gibbons are delighted to announce that Tony Morris Carburetors will be the headline sponsor of the 2022 UK Super Gas series!

In addition to the usual Santa Pod Racers Club award, there will be an additional £250.00 for the overall Super Gas champion, and £50.00 awarded to the winner of each round of the championship series.

As the sole UK agent for Tony Morris Carburetors, Dave Gibbons' TMC with RDR Performance Carburetors operation will also offer a 10% discount on parts and labour on servicing, as well as keen pricing on new carburetors for Super Gas race car requirements – Tim Moore (pictured below right) has already taken advantage of this offer!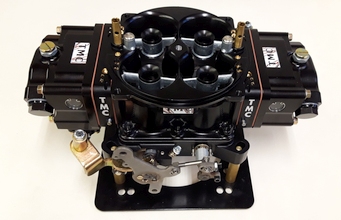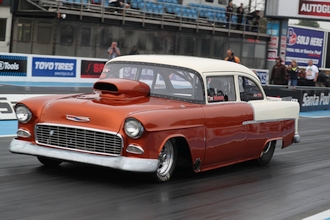 Tony Morris Carburetors specialize in performance carbs on the 4150 and 4500 Holley platform, and each carburetor is hand built for its application. Not only do TMC supply traditional four barrel racing carbs, they also supply twin blade carburetors featuring the patented upper jets, which provide superior tunability and offer the advantage of a wider range of flow rating to optimise your combination.

Contact Dave via Facebook messenger on TMC with RDR Performance Carburetors Facebook page, on Instagram at #thecarbfellas or by e-mail on TMC@roughdiamondracing.com with your requirements.

Stilwell's speed plans for 2022.
27th November: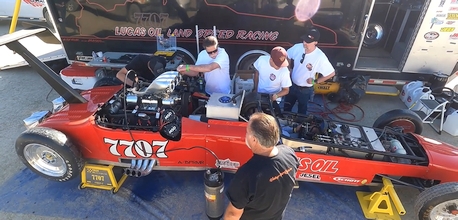 Eurodragster.com sponsor Geoff Stilwell has revealed his plans for 2022 with his Lucas Oil 7707 Blown Fuel roadster, also sponsored by Mick's Paint, and BUA Motorsport, with which he plans to run a new class record of over 300mph.

"My team and I will be displaying the LSR car and my '34 Ford roadster hot rod at the Grand National Roadster Show in Oakland in January, then we will be back at El Mirage in May and November, with visits to Bonneville in August for Speed Week and September/October."

Our good friends at the Torq Talk blog have posted on their Youtube channel a video of the Lucas Oil 7707 at Lake El Mirage two weeks ago, including a fire up and on board footage from Geoff's runs. Well worth reading is an article in Torq Talk about Geoff's Brad Andersen engine.

Swift snippets.
27th November: Happy Birthday from all of us at Eurodragster.com to former Junior, and currently, VW Sportsman team boss Rachel Wilson. Have a lovely day Rachel.

The organisers of Nitro Revival, Steve and Cindy Gibbs, have had posted on their web site a photo gallery of shots taken by accredited photographers at the event which took place at Irwindale Raceway on 6th-7th November. Don Ewald said "Presenting, in segments, what will go down as possibly the most epic event in nostalgia/historical is challenging to say the least. As media director I issued an unprecedented 32 credential requests, 30 of which showed up cameras in hand (it would have been 32, barring pesky travel restrictions from the UK - editor). With that fact in mind we feel obliged to offer just the beginning of an extensive review of Nitro Revival 4 starting with images submitted to nitrorevival.com as requested and not to Facebook which is one and done."

Santa Pod Raceway announces 2022 schedule.
25th November: Santa Pod Raceway has unveiled a full 2022 calendar of events running from March to November and embracing its usual array of championship drag races, modified car shows, specialist and family events. Public track days (Run What Ya Brung and Drift What Ya Brung) will extend throughout the year from January to December.

In a normal year, 400,000 people pass through Santa Pod's gates to attend more than 75 events. 2020's planned programme was halted abruptly by the pandemic's arrival before a reduced, socially-distanced schedule was completed. 2021's programme was also significantly truncated early in the season. A full, unrestricted schedule is anticipated in 2022.

Booking for the season will open on Wednesday 1st December.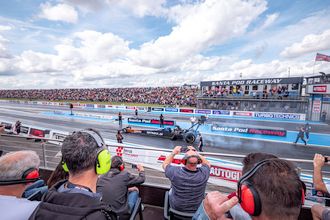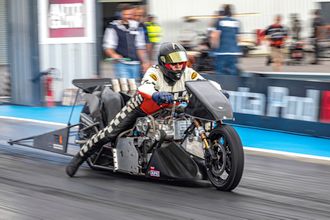 Calendar highlights include the first and last rounds of the FIA/FIM European Drag Racing Championships, returning after Covid cancellations in 2020 and 2021. The first round – The Main Event – retains its usual late-May weekend, Thursday 26th to Sunday 29th, rather than switching to the Platinum Jubilee bank holiday a week later. The European Finals, 8th-11th September, brings the international racing season to a close.

UK national drag racing championships on two and four wheels begin with the annual Festival of Power over Easter weekend (Friday 15 th to Sunday 17th April) and conclude with the National Finals on the 24th and 25th September. The Motorsport UK British Drag Racing Championship (the Pro Mods) will be contested over six rounds, beginning and ending on those dates.

Historic drag racing takes centre stage over three weekends, with the Nostalgia Nationals (3rd to 5th June) and the Hot Rod Drags (16th to 18th September) book-ending the 11 th annual Dragstalgia summer fiesta, 8th-10th July.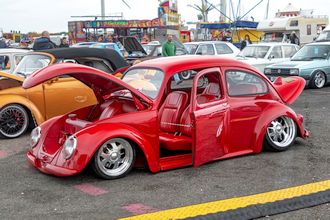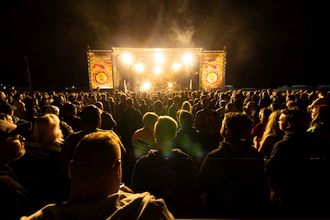 July is also the month for the season's biggest festival event, Bug Jam (22nd-24th July), the largest of several popular Volkswagen celebrations. Other marques featured with their own dedicated events throughout the year include Vauxhall, BMW and Ford, while enthusiasts for French, Japanese, American and German car cultures are also well served. Another major festival, USC (Ultimate Street Car), takes place over the 5th-7th August weekend.

Dial-In Day, the occasion for interested newcomers to learn about, and try their hand at, entry-level bracket racing, takes place on Saturday 5th March.

The complete calendar of events, including Run and Drift What Ya Brung public track days, can be found at this link.

Booking opens on Wednesday 1st December. Tickets may be booked online at www.santapodtickets.com or by telephoning the Box Office at 01234 782828.

Mike's Thanksgiving message.
25th November: A Happy Thanksgiving to all our U.S. readers. To mark the occasion, regular contributor Mike Collins has sent his latest production in an audio visual format. He writes:

Happy Thanksgiving folks. Being a tad behind schedule with a couple features it was decided to put up pair of pre-publication, authorised bootleg, audio visual mixes which you'll hopefully find entertaining, especially as they feature the late drag racing legend Dennis Priddle on form and having a ball; being able to put them together has made me feel more than a little thankful for having had such a lengthy and rewarding friendship with a true giant of our sport; his humour providing a wealth of laughter for many that were lucky enough to share time with him over the years.

For me personally, knowing Dennis was a full tilt blast all the way down track from our first meeting w-a-y back in the day, with many, many memorable get-togethers before our last time meeting at the 2018 BDRHoF gala, and that was a hoot and half! As a special Thanksgiving Day treat, we've a couple fine examples of PriddlePower, dedicate to his family, fans and friends; neither have been published this way before. From the 2018 Bench Racing session we've Dennis on full throttle with his crystal clear description of the "the most phenomenal buzz…"

A stand-alone PDF has wall-to-wall, NitroPower packed images with a few words from yours truly, but Dennis is the super-star, so enjoy! T'other offering's packed with GroundPoundin NitroPower at my first encounter with FuelCoupeThunder when Dennis unleashed his awesome Avenger on Easter Sunday 1976, up close and personal, with in y'face SuperStickyStereo that fans old and new could enjoy.

Either way, we're still working hard on a celebration of Dennis's time spent walking amongst us that's a full-of-fun tales spread between a pair of stunning smiles; the first from 1966 when his eyes sparkled with the knowledge that his dream of unleashing some NitroPower was far closer than any of us ever knew; including the photographer, my ol' boss John Bennett, who Eurodragster told me celebrated his 91st birthday a couple days ago, so a belated Happy Birthday to you sir.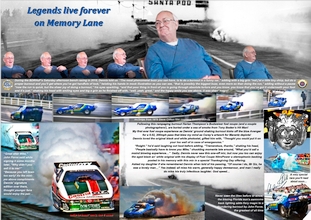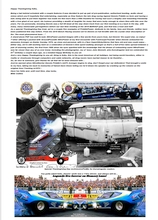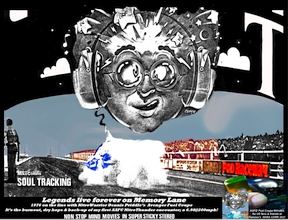 And a very Happy Thanksgiving to you all; thing is, folks, this is the most American of all holidays, but being world travellers, either in reality or vicariously through computers and cable networks, all drag racers have myriad reasons to be thankful.

So, be nice to someone, give thanks for all that we've been blessed with.

And be warned when NitroWarrior Dennis Priddle's AAFC Avenger begins to sing, don't forget your ear defenders! That brought a smile to my face, taking me back to memories of famed Dave Stone telling me he'd blown his speaker by cranking up the volume on the original Soul Tracking in 1976!

Have fun folks and, until next time, stay lucky - Mike Collins

Drag Seen 2 special offer.
25th November: Thanks to publisher of Drag Seen 2 Paul Martin, who has let us know that he is making a special offer for the photo book, which we first showed on 18th November and has almost sold out:

"The last eleven copies of Drag-Seen 2 are now listed exclusively for Eurodragster.com readers on eBay 24 hours before the link goes live.

Our long-time supporter and sponsor Bob Roberts gave us this endorsement: "Drag Seen 2 is a welcome reminder of things past. The centre page spread of Oklahoma Willy is worth the cover price on its own. Certainly helps to dispel the winter blues on a frosty morning, better than a SAD lamp I think."

Also as a early Black Friday offer to Eurodragster.com readers, I'll include a Drag Seen Logo sticker with any purchases of last 11 x copies of Drag Seen 1 available on eBay at this link.

All profits from the production of Drag Seen 2 go to Cancer Research and Paul has promised to let us know the amount raised early next week.

Spitfire Raceway times and gallery.
23rd November: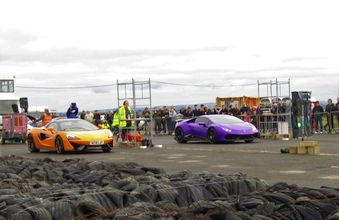 Thanks to Spitfire Raceway promoter Lee Child for sending results from the run what ya brung event held last Saturday at the Cornwall track, and to photographer James Webber for providing a gallery of photos which you can see at our coverage page, supported by John Woolfe Racing.

The run what ya brung, held in damp conditions but still attracting 71 cars, had the incentive of a £500 prize for the quickest time recorded which was won by David Lea in his VW Golf R. The quickest times, with VP Racing Fuels goody bags and fuel jugs going to the winners were:
David Lea (VW Golf R) 9.636/145.58
Paul Beattie (VW Golf R) 9.909/143.58
Richard Milton (VW Golf R) 10.409/139.27
Lee said "Massive thanks to everyone visiting Spitfire Raceway today, we really appreciate it. Big shout to all the motorcycle riders for supporting the event and understanding the situation wasn't perfect for fast motorcycles, we will try again in January, hopefully dry."

The 2022 dates for Spitfire Raceway have been published:
29th January
29th January
9th April
2nd July
24th September
10th December
Drag and drift racers may enter at spitfireraceway.com which includes all the required information in an easy-to-complete form.

Swift snippets.
23rd November: A very Happy Birthday to Gasser Circus and Outlaw Anglia racer Tom Margesson, and to Pro ET and Nostalgia Superstock racer James Oliver. Have a great day guys.

If you're looking for free, high definition remastered, historic NHRA drag racing footage, streamed 24/7, then go no further than the Sportstribal page. Included in the NHRA channel are many Diamond P productions and races going back to the 1960s.

Warpspeed Racing win at Man Cup Finals.
22nd November: Congratulations to Stuart Crane, Dale Leeks and Andrew Leeks of Warpspeed Racing who, with rider Terry Schweigert and tuner Dan Wagner, won the the Pro Open class at the Man Cup Finals at South Georgia Motorsports Park. Running consistently in the 3.9s at 180+mph, the bike had the legs on its competitors and ran reliably.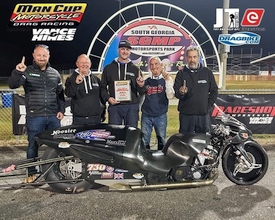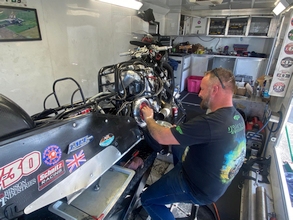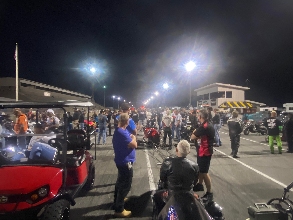 Thanks to Dale for providing photos from the event. He said "Well, we did it with a British built Warpspeed Racing motor, and British-built new billet Hurricane head by me and Andy Lock. We went and won the World Finals."

The event which was streamed free on the Youtube channel of MotorMania TV with an on-the-spot video from Jack Korpela available to watch on the CycleDrag Youtube channel.

BDRHoF Gala returns.
22nd November: The British Drag Racing Hall of Fame Gala dinner took place on Saturday at Oatlands Park Hotel, Weybridge, Surrey and was another star-studded occasion with acceptance speeches that were well considered, humorous and at times emotional.

We thank Julian for supplying a gallery of pictures from the evening which you can see by clicking here or going to our Features Index sponsored by Lucas Oil.

Honorary Chair Lesley Wright commenced the formal part of the evening by reflecting on events since the last Gala dinner in November 2019. "It's been a tough 2 years for all, however thanks to the amazing efforts by our tracks, I am pleased to say that Drag Racing is alive and kicking!

"The dogged determination of Keith and the staff at Santa Pod Raceway to re-open the track last year, despite all the authorities' objections, was amazing. Also, the generosity of people and the efforts of volunteers in establishing a great series of events at Melbourne Raceway was outstanding.

"Sadly, we've lost a lot of people from the Drag Racing community since our last Gala and their loss is heartfelt. In particular, we miss our members Lawrie Gatehouse, Dennis Priddle and Stuart Bradbury. I always appreciated how hard Stuart worked for the Hall of Fame, but never more so since taking over the reins last year. I'm proud to say that Stuart's name will be forever associated with the Hall of Fame through the naming of the Junior Awards after him. A fitting tribute to ensure that his legacy will continue."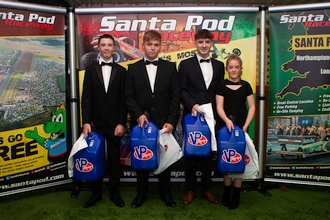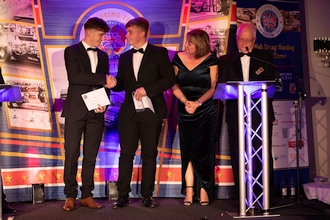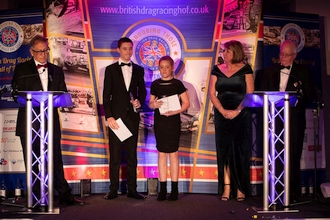 Compere Tony Thacker continued by announcing the inaugural Stuart Bradbury Junior Drag Racing Awards which were presented by his wife Bev Bradbury. The awards went to the Junior Covid Cup winners of 2020 Liam Holgate (Junior Dragbike) and Luke Fulton (Junior Dragster) alongside 2021 champions Hollie King (Junior Dragbike) and Harry Redshaw (Junior Dragster).

Earlier, Tom Davis of BDRHoF and Eurodragster.com sponsor VP Racing Fuels made presentations to the 2020 and 2021 Junior Drag Racing champions in the drinks reception sponsored by Santa Pod Raceway.

The inductees at the Gala have had to wait patiently for 21 whole months for their moment in the limelight, but were all present and keen to be formally inducted. Each inductee received the Bootsie trophy in memory of the late, great Allan 'Bootsie' Herridge, the trophies sponsored by the Santa Pod Racers Club, the Hall of Fame being indebted to Ian Marshall, Philip Evans, Kathy Taylor and the SPRC committee for this continued support.

You can see the full citations in our news update on 10th July 2020. Here are the acceptance speeches for each inductee and their presenters, following the reading of the citations by SPR announcer Colin Theobald:

Jeff Byne: Land Speed Racer and former Pro Stock Bike racer Geoff Stilwell presented the trophy to Jeff, who said: I'm a man of small words all I can say is Thank You to the Hall of Fame team just to put on tonight after what we've been through, and inducting me. It's an honour and a privilege.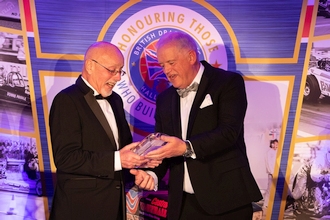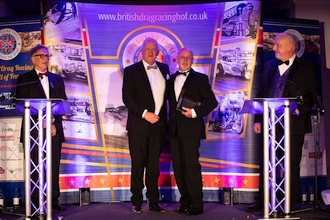 Dave Wilson: Former Editor of Eurodragster.com Tog presented Dave Wilson's trophy and said: Dave was very supportive of Eurodragster.com from day one and as the site's popularity snowballed he always credited me with more foresight than I had actually exercised. In the late 1990s, when I first knew the cheerful chap always laughing and joking with me in his pit, I couldn't understand his handle so I asked a fellow journalist "Why do they call him Grumpy?". "Because "You could hear him at the other end of the pits" was too long for a nickname" was the reply.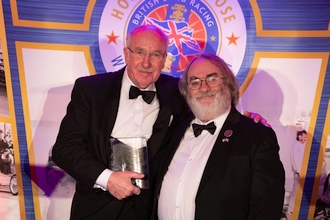 The citation has told you about the record of Dave and his team but I would like to share one story with you, from the days when I did as much photography as writing. Dave asked for a copy of a particular launch shot of the Top Alcohol Dragster. Now, I'm sure that Julian and Willsheer and all the photographers in the room will agree with me that it doesn't matter how many requests you get for pictures, it always feels good. I took the print to Grumpy's pit and he called David to take a look. "Look at that", he said and I started to preen. "Those butterflies aren't all the way open". So I unpreened.

I have to say that it is an honour and a privilege to present you. Hopefully you and your family and team realise just how popular you all were and are with the fans and just how fitting we consider your induction.

Dave said: I would like to thank Tog for making this presentation, he is a man who has contributed an enormous amount to European Drag Racing. For me it's been a long journey. On my table tonight there are people who were with me at the beginning of that journey and remarkably still with me at the end. Rod George got me involved, taught me many things at the beginning, mostly to open my mind and find answers to problems.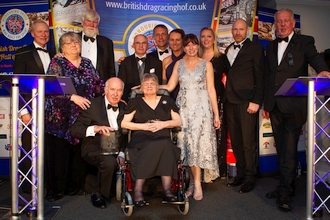 It was a very big learning experience. Raymond White was there as crew in the beginning and back again after 20 years, bringing support in from Playstation, and I also got great support from Anthony Cohen from American Car imports who unfortunately can't be here tonight. My first experience of drag racing along with many people was the Drag Fests at Blackbushe. I actually came across Allan and his straight eight Buick at that meeting and little did I imagine that years later I'd be collecting an award with his name on it.

There have been many people who have helped and taken part in this journey and I'm going to name a few. Steve Martyn and Dave Fletcher, helped build the Krypton car after we made a mess of the Stormbringer, Charlie Jarrett and Bob Vaughan who crewed on it for many years – invaluable. Later Ricky Packham, Harry Palmer, Mike Nichols, Fred Willbanks, Andy and Jennifer Bissett, all involved with the Amrican Car Imports car and the FIA Championships.

Andy and Jennifer actually took a whole year off to chase after the first FIA Championship with me and then faithfully followed our truck for many miles and hours and hours on our tour across the USA. They must have got really bored at the sight of the back door of that trailer. Andy of course shared the crew chief duties with my son David during that period and the one thing that has enabled me to complete this journey is the unwavering support of my family. Anne and David have been trucked around Europe to different races from when they were little children David worked on the car from a young age and Anne was always cleaning and polishing and helping Mum. Which brings me to my biggest asset – Linda, team mum. Without any doubt my greatest support without which none of this would have been possible. So I want to share this honour with all of them. I also want to pay tribute to Stu Bradbury for what he started and to the people who carry it on today. Thank you all.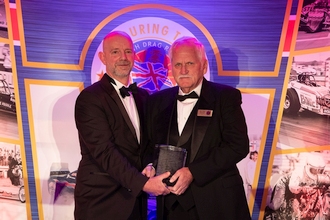 Nick Davies: Fuel Altered racer Ron Hope presented Nick with his trophy and said: For the last thirteen sessions of this meeting, I've been honoured to attend so I feel as if I know each and every one of you and I consider you all to be great friends. You're always welcome in Tennessee, anywhere in the US actually. As was pointed out, Rob and Nick came to the US a few years ago and beat us all up everywhere we went, so I've reluctantly invited them back as we'd like another shot at them. I had the great honour some years ago of inducting Rob into the Hall of Fame and now it is truly an honour to introduce Nick Davies into the Hall of Fame.

Nick said: About thirty years ago I parachuted way into a purple patch in British Drag Racing in the 1990s in Super Gas with the era of such luminaries as Al O'Connor, Brian Pateman, Terry Gibbs, Terry Gransden, Timmy Adam and Ray White. It was a real blessing and cemented my love for the sport. Five years later I gave up work in what some considered to be a fairly promising career, certainly a lucrative one, in the City and made the jump. From a financial perspective it wasn't the wisest move in the world but there is more to life, as the older generation here will probably tell you, than purely financial stuff – it's about family, friends and making memories, and I've made a lot of memories along the way, some of which were the first six, the first five which was this year, first 200mph run, first 250mph – almost, we ran 400kph but not quite 250mph but I'm sure that's coming.

The first Pro Mod championship, the first time into the field at the end of the track, that became pretty dull by the fourth or fifth time. Also with customers, the Ugly Sister's first six, the Apache's first five, all huge.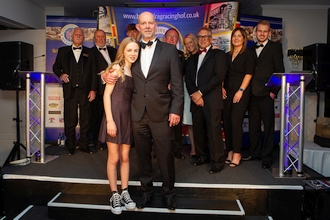 Then taking the car out to America, it was an amazing experience pulling round to the start line at Bakersfield strapped into your own car, it was an emotional moment and winning the Hot Rod Reunion, it was just the icing on the cake. To cap it all to celebrate it with the people that were there that came out to support us and watch the racing was truly memorable.

It is about friends and people, there's a few people I'd like to thank, firstly all the people at Santa Pod on and off the track who have given me the platform and opportunity to make these memories. Stuart Bradbury, he did a lot of things behind the scenes before we went to the US in 2017, to my great friend Lawrie Gatehouse who backed and helped me unwaveringly through the time and gave me the opportunity to drive a nitro car for the first time, to Geoff Stilwell of BUA Motorsports, thank you for giving us the opportunity to go out to Bonneville, to go out to El Mirage this last weekend, I think the memories have not quite finished in that book yet, to Stewart and US Automotive thanks very much indeed, to Ron for the US Tour which wouldn't have happened if it wasn't for the logistics and support that Ron gave us in 2017 and not just that, I suspect the Bantam would still be sitting in my garage with an alcohol Chevy in it with mothballs and covered in dust.

To my family, Jo and the kids, I couldn't have done it without the patience and support you've given, amazing. And lastly to my racing and business partners - Scott where would we have been without you? You provide the engineering when Rob and I have been lagging and does so much behind the scenes that everything seems to run smoothly at the track largely because of you. And Rob thank you very much, 20 years and counting, I think we've got a few more to go, it hasn't been the easiest times recently but we work towards a common goal. Everyone, thanks very much indeed.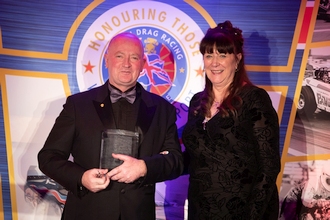 Ian King was presented with his trophy by SPRC director and race secretary Kathy Taylor. Ian said: I'm still kind of embarrassed because a few years ago when Stu Bradbury contacted me and asked if I was willing to be inducted I was embarrassed to say I was racing in the US the same weekend all the time and it was unfortunate I couldn't do it, he said could it be presented from the outside but I really wanted to be here because doing the remote thing doesn't work. I was lucky that two years ago I was able to accept it and I was really looking forward to meeting Stu and it's such a sad and poignant moment for me that Stu isn't here now, but I'd just love to say Bev, thank you for continuing the work that Stu did and to the BDRHoF guys and girls who work hard behind the scenes to make sure that this all works.

When I first started going to Santa Pod at their Run What Ya Brungs and seeing all the guys going up and down in their bikes and cars I thought maybe I'd like to do that sort of thing in the future but I never believed I could actually do it. It's turned out to be the best thing I ever did.

I've made so many lifelong friends, all my guys on the two tables we have, of course my family supports me, my long suffering wife Debbie who's sacrificed so much and she's been the person who's enabled me to do what I want to do so thank you Debbie. My two girls Alex and Georgina, who've grown up in drag racing, I have to say they've turned out to be such wonderful people and part of that is the drag racing family, they've been brought up within this fantastic family of people and learned so much from everyone , how people should be with each other how people should treat each other, nicely and fairly, so that's the main thing I got from drag racing, thank you for making my family what it is now.

Us racers, we're always in the front getting accolades but we can't be here without our team, and I have such a fantastic team behind me that have been with me for so many years now, over 20 years, they've stuck with me through thick and thin actually it's been their input that made me race, my part of this has been very small, because you can't do anything without your team.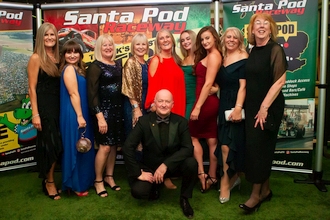 It's a genuine thing that I'm the guy whose sitting on the bike and it's all about them, not about me, especially my crew chief for 20 years Michael Beaumont, it was a bit of an accident that he became my crew chief, he was meant to be Jon Morton's crew chief, actually I stole him, I was going to train him but it didn't work out that way. The people behind the scenes are the main people, the backroom staff at Santa Pod, the guys and girls who do the tickets, the entries and everything else, I'm so honoured that Kathy Taylor who's such a wonderful person is the person who is presenting me as she is for me Santa Pod, when I turn up she is the first person I see, Kathy, please don't ever give in.

I want to reflect on absent friends at this point, there's been a number of friends of ours in the motorcycle community who've tragically left us for various reasons. Unfortunately we have family ties between our team and those that have gone.

Can I start with Paul Giddings, some of us used to race with Paul and I'm very sad he's not here with us tonight, he used to come to the Santa Pod Dinner Dance to take the mick out of me, dropping his ash into my cups when I won. We tragically lost Brian Johnson and then Anne which is such a sad story. Then Chris Hampson, I hope no-one ever forgets Chris when I was running against him when he tragically lost his life at SP in one of my early Top Fuel Bike rides. And then more recently Paul Willis who was obviously very connected with our team with Jemma and Julie, he'll never be forgotten, and then more recently Barry Eastman who was a great friend to all of us.

Finally thank you to the BDRHoF for running this fantastic event and remembering all the people that may be forgotten sometimes like myself, I'm very blessed to be remembered in this way and I just hope your work continues and what a great event you put on for us. Thank you everyone.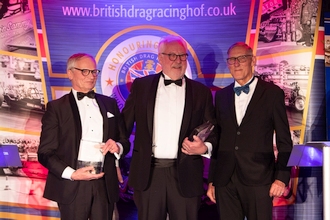 Pelle Lindelöw and Gunnar Elmqvist: Santa Pod CEO Keith Bartlett presented Pelle and Gunnar with their trophies and said: I've known Pelle for a very long time, I knew of Pelle's exploits before I met Pelle and Gunnar and I really got to know Pelle very well from 1991 when he had the Budweiser car but was also Vice President behind me as President of the European Top Fuel Association. They were a very dedicated team, they became quite infamous and won lots of races and were quite feared.

But what none of you know about Pelle is for all their professionalism they were quite a family unit to the point of they were quite stubborn, most would come to the race track, would put their awning up, would get the car ready and service it. Not P&G! The first thing that happened was out came the barbecue, out came the coffee pots and they had coffee. You could chase them up, you've got to be ready but coffee always came first. Between rounds – coffee. If the engine was blown to pieces – let's have a cup of coffee. It was a Swedish tradition – and that was P&G.

The other thing that none of you know is they were dedicated not just at the race track but in the week. Every single Tuesday from 1981 until they retired, they met at the workshop, they always looked at the car and decided what they think should be done on it. What do you think was the first thing they did when they arrived? They put the coffee on! Sometimes they worked a lot, sometimes they drunk a lot of coffee.

I travelled a lot with Pelle in the ETFA Championship I ran from 1991 to 1996. One round was in the North of Sweden at Pitea and it was called the Midnight Sun Nationals. It doesn't get dark until midnight which is why they called it that. Again P&G Racing turned up, they were very serious - coffee. On Sunday nights when the racing finished the Swedes became Swedes. We had others there, German drivers, British racers, but there were Swedes, Danny Soderberg, Monica, Pelle, Gunnar the whole team. What would happen is that the race would finish at 10 or 11pm and then they would go back to their hotel and the Swedes would come into their own. So when you realise that those guys over there are dedicated serious racers when you see them at 6am on Monday morning laying on the floor of their hotel reception all drunk, you would not call them professional.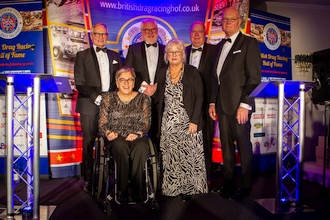 However, they are very professional and I'm delighted that Pelle and Gunnar's wives are here. Gunnar's wife Suzanne had quite a serious accident in 1991 and I'm delighted she's been able to come tonight, she's been handicapped ever since and I don't think she minds me saying the Tuesday after the accident, Gunnar was very worried about Susanne but they still made the coffee!

They've been part of drag racing since 1972, they've stepped up and stepped up and supported drag racing, Pelle went on to work for Speedgroup, he's now helping out in nostalgia racing in Sweden, and P&G are thoroughly deserved of this award.

Pelle said: (starts acceptance speech in Swedish) I didn't prepare something to say but next time could you give us some more notice? People say that bumblebees couldn't fly and that's what we say to each other sometimes but in 1972 when we were at Santa Pod for the first time, if anyone had told us that some years later we would be here with all our friends we should have never believed it because we have had so much fun and so many friends in Eurpe also in the States, it's been fantastic.

Gunnar said: I'm the G in P&G Racing. For 20 years Pelle is the guy in the front line – I'm not. I've been in the background. Pelle is the talker, I'm not. Today I must thank you, this is a great moment for me, Pelle and P&G Racing. I'm glad, I'm proud and I'm humbled to be a member of the British Drag Racing Hall of Fame. I want to thank the members of the jury for connecting us. In racing we have made a lot of friendships on the strip over the years. It's 20 years since we ended our racing career and yet we are still remembered. Once again, thank you very much.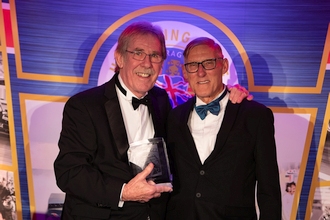 John Price: Keith Bartlett presented John with his trophy and said: We all know John very well, he's been seen as the voice of Santa Pod and I'm sure one day Colin will also be seen as the voice of Santa Pod.

What a lot of you don't know is how much he promotes drag racing when is was away from the sport. You know John is involved in a lot of Hot Rod shows and airplane shows, throughout all of those shows John is always promoting and pushing Santa Pod which I'm very proud of. He was, and is still, infatuated with the sport of drag racing to the point at which I started to use John as a voice over on all the TV shows we produced.

John is also very good on television, we started on the FIA shows and one round I developed was in Hungary where we did some exhibition races. I said to John why don't we go into Budapest and interview the ordinary public and ask them have you heard of drag racing and do you know there's a big drag racing event on this weekend? And we thought that was a good idea.

We chose a big tourist area and started interviewing with a cameraman there, most said no, we haven't heard about drag racing. John is very professional, he's got to get it right, he wants a script and if he knows what he wants to do, he does it very well. But this was outside his comfort zone, I was flipping backwards and forwards, and these two American girls came up, they answered my question 'It's not as exciting as what we're going to do', I said 'What's that?' and they said 'We're not going to tell you, we're going now' and I said 'no, I'm coming with you' and they jumped on to a tram, I followed and John said 'What's going on?' I said 'I'm going with them', John said 'Where's the car?' I said 'I've got the keys and I'm going with them'. We climbed on the tram and John was quite mortified. But on the other hand that same event John was the ultimate professional with his commentary and interviews.

Here tonight from John's day job in Flint Insurance is David Taylor, one of the co-owners with his brother is here tonight. John would always like to prepare and he would take Thursday and Friday off and want to recover on Monday, so every meeting he would have three days off, this went on for thirty years. I want to thank you David and if John had stayed with us I'm sure that I'll be coming to you and saying 'We've given you three days off!' It's well deserved.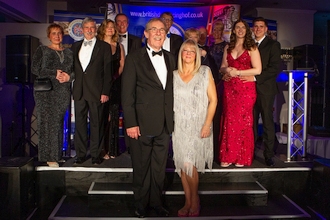 John said: I'm only a little bit excited! It's easier being on that side, I'm quite good at dishing stuff out not quite so clever at receiving it. Thank you for all your kind words guys, I just wanted to check a few things with you (brings out huge list). There's some people of my age here, you may remember lots of things happened when I came to drag racing.

It was 1981, the place was, no matter what people say to me Santa Pod is exactly the same as it was 40 years ago, it isn't, it's nothing like the place that I first went to when there were tufts of grass growing through the track - totally different now. I was interviewed by Roy Phelps at Fibreglass Repairs. Roy was on his milling machine, and he didn't stop. He just turned to me and said 'Son you want to be a commentator?'

I got the job and I really thought I'd made the big time. I was going to be the voice of Santa Pod. When I got there - whole different ball game, this is what led to most of my early commentaries being 'Red car, blue car, going 100mph on the circuit.' Two of my teachers were John and Liz Ledster. Well, Liz was more virulent than John, he was the strong silent type and Liz was the mouthy one, she gave me a hard time for calling the track a circuit.

It would have been natural for everyone there to have got fed up with me and to kick me out. But for some unknown reason, here was a South London boy who knew nothing about drag racing so we'll teach him, and so everyone took me under their wing and I learned. This was the days when I started to say we had a playpen where Bootsie would always try to break the chains on a jet car when it was chained up in the playpen, we had the VIP area - two London Transport buses joined back to back with a sponsor's name on the side (B.F. Goodrich - Editor). Bob had gone across them with a blowtorch welding them, people used to go up them and had soup!

It was just a few of them running Santa Pod, Bob Phelps, Roy Phelps, Eileen, Bootsie and a few others. Do you remember Whack on the gate? You paid him money I remember. When I first went to Santa Pod a bit before 1981 I was DJ at Gary's Picnic. So I turned up there in my Transit with the aircraft seats in it and all the kit in the back and this old man threw us out of the truck, climbed all over it, looked behind the seats went in the back – Bob Phelps.

Quite extraordinary - but that was my introduction to Santa Pod, then I met Roy and got used to him, and then we had Bo and Don, then we got this guy and from then on, it all changed. Life is so much better. The racing – I was explaining the other day to someone who hadn't been to Santa Pod for years, 'It's unbelievable now, we've got Top Fuel Motorcycles running fives', I remember being with Ian in Ultimate Street Bike going all over the country at crazy old airfields. We've got Top Fuel cars running three seconds, your wife Susanne is here, Keith, she's done three second runs. And then we have street cars and Ford Pops running sixes. What a sport we're in, I'm so lucky I'm part of it.

I want to say thank you to my family it's quite true, the families back you up the whole time, without them we'd be lost. You've heard about my mate Dave who I've worked for for thirty years, really it's only about twenty days I've worked for him. Most of all my mate Mike Knowles who's here to night, he's not been to a Hall of Fame thing before but we started DJing together in 1968.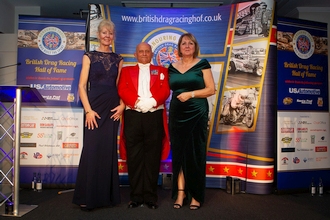 Thanks very much to Stu and Bev, I went out to lunch with them just about two years ago, Stuart very quietly passed me an envelope under the table, I thought, Christ, he's passing me a writ or something. It actually said 'You are invited to join the Hall of Fame'. It was delightful but I'm sorry he's not here. I used to enjoy his company so much, especially when it was raining at the track. In those days we'd all go in the control tower and all the crew would be in there smoking fags and talking about who had the biggest…well you know the story, but I'd like to say thank you to the BDRHoF it was totally unexpected thank you to all the people who I worked with and who I've worked for. I can honestly say 'I've had a great life!' Thank you very much!

Lesley concluded this year's formalities with thanks to everyone who has made this possible – sponsors US Automotive, Santa Pod Raceway, Santa Pod Racers Club and National Street Rod Association with sponsors Atlantic Fluid Tech, BUA Motorsport, Chair Office, Custom Car, Don Garlits Museum of Drag Racing, Eurodragster.com, Jeff Bull Performance Engines, 55+Equity Release, Institute of Professional Drivers, IRH Assessors Ltd, Julian Hunt Drag Racing Photography, Paul Whitehouse Art, Shakespeare Relics, Straightliners, VP Racing Fuels, AMH Air Conditioning and Matthew Dowdy Racing.

Lesley also thanked the Directors, Advisers and Selectors of the BDRHoF for all their hard work, in particular Robin Jackson and Bev Bradbury for their guidance and support. Also mentioned were Master of Ceremonies Paul 'Oz' Wright, Jordan Payne, Andy Wheeler and AMP Audio for their help with the event.

The tombola in aid of raising funds for the BDRHOF Benevolent fund raised £1200 and thanks go to Eurodragster.com editor Simon Groves and his wife Ros, assisted by Phil Cottingham and his wife Angie with Graham Beckwith and his wife Carolynne.

Hal Far Christmas Run What Ya Brung.
20th November: The Malta Drag Racing Association has announced that on 11th-12th December a Christmas Run What Ya Brung will be held from 10am Central European Time onwards at Hal Far Raceway.

MDRA chairman Juan Wolf said "Let's get back to the track for the last time this year to score better ETs".

Swift snippets.
20th November: Birthday wishes today for Santa Pod Raceway co-founder John Bennett (91 years young), noted car painter Jeff Glasser, retired nostalgia funny car and comp bike crewman Denis Bulford, and Top Alcohol Funny Car racer Ulf Leanders, last spotted racing at the recent NHRA Finals at Pomona. Have a great day all from Simon and all at Eurodragster.com.

Good luck to Diane Bowe, wife of Super Street Bike racer Garry Bowe, this afternoon at 15:00 Di will be having her head shaved in support of raising money for breast cancer awareness and you can give by clicking on this Cancer Research UK link.

Well done to Warpspeed Racing's Stuart Crane and Dale Leeks who have supported Canadian racer Terry Schweigert to an eighth mile qualifying time of 3.962/183.84 (1.038 60ft) in the Pro Open class. A dearth of qualifying lists has deprived us of knowing where Terry is in the field, but you can bet he is near the top.

Jonny Young.
19th November: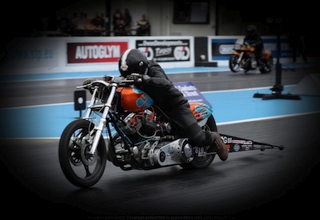 We are shocked and saddened to learn of the passing of Super Twin Top Gas and ET Bike racer Jonny Young. ET Bike co-ordinator Suze Morris writes:

Johnny raced with us in ET Bike at Festival of Power, Euro Finals Shootout and National Finals this year and was a great addition to the class, finishing the 2021 season in 12th spot.

Please join us in sending our condolences and thoughts to Johnny's family and friends at this heartbreaking time. Sleep Well Johnny... the Heavenly Drag Strip has gained a great competitor. RIP 818.


Inaugural Stuart Bradbury Junior Drag Racing Awards.
19th November: Past achievement is the British Drag Racing Hall of Fame's cornerstone, yet it has an eye to the present and future too and has long celebrated success in the Junior ranks. This Saturday sees the presentation of the inaugural Stuart Bradbury Junior Drag Racing Awards when the Hall of Fame's 2021 Gala Awards Dinner takes place at Oatlands Park Hotel in Weybridge, Surrey.

Named in memory of the Hall of Fame's founding chairman, the late Stu Bradbury, the awards recognise the winning Junior Dragster and Dragbike racers of the past two seasons, who will each receive a personal trophy and a cheque for £100.

Thanks to Covid, national championships were cancelled in 2020. Instead, Santa Pod Raceway conducted its Covid Cup competition. The Hall of Fame's directors did not want the winning Junior Covid Cup racers to miss out on the celebration, so have invited them and their families to join 2021's national champions at the Gala.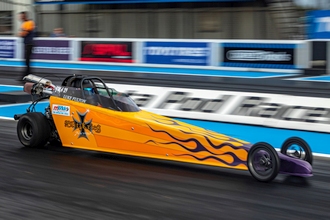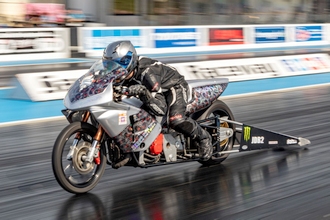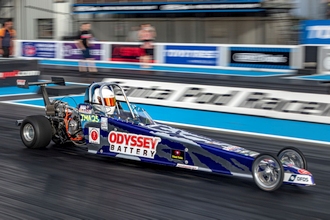 The 2020 Covid Cup winners, pictured above, are Luke Fulton (Junior Dragster) and Liam Holgate (Junior Dragbike), who has since graduated to the Senior ranks in ET Bike. 2021's national champions are Harry Redshaw (Junior Dragster) and Hollie King (Junior Dragbike).

The Junior Awards depend upon the support of sponsors who recognise and understand the value that Junior Drag Racers bring to the future of the sport. The Hall of Fame's directors are grateful to the Santa Pod Racers Club, VP Racing Fuels, Donna Garlits and the Don Garlits Museum of Drag Racing, Philip Evans' company Atlantic Fluid Tech, Jeff Bull Racing Engines, Matthew Dowdy Racing, Andy Hadfield's Team Twister and his company AMH Airconditioning, and an eighth, anonymous supporter who have jointly sponsored two corporate tables for the Junior racers and their families.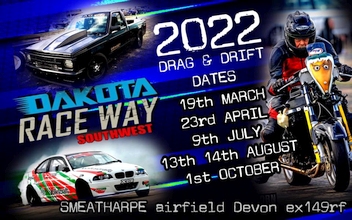 Dakota Raceway announces 2022 dates.
19th November: Smeatharpe Airfield, Devon, known to the drag racing community as Dakota Raceway, have released their dates for 2022. Comprising five races, the dates for your diary are:
19th March
23rd April
9th July
13th-14th August
1st October
Promoter and Eurodragster.com sponsor Lee Child says "There will be more information to follow soon, racers should note that 13th August is a static display day, and the racing will take place on Sunday 14th August."

Swift snippets.
19th November: We've several birthdays to celebrate today. A very Happy Birthday to Pro ET racer Geoff Cowley, Comp Eliminator and FWD racer Simon Crowley, Santa Pod Raceway marshal Bob Day, former Top Fuel and current Gasser Circus racer Tony Pearson who reaches 65, former Super Twin crew chief Vincent Pels and Pro ET racer and former Hot Rod Drag Week competitor Tim Stanbury. We wish you all a great day and many happy returns.

Congratulations to Dániel Donát Lencsés who on his new build Super Street Bike from DME Racing recorded an new PB of 6.883/215.34 pass in qualifying at the Man Cup Finals at South Georgia Motorsports Park yesterday, only his fifth pass on his new bike. A reminder that you can see a free live feed to action from SGMP on Motormania TV from Friday at 10pm GMT.

BDRHoF Benevolent Fund tombola at Gala.
18th November: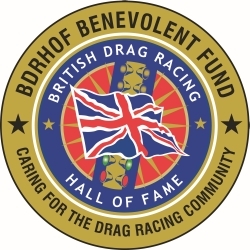 The BDRHoF Benevolent Fund will be holding a Tombola in the drinks reception for the British Drag Racing Hall of Fame Gala on Saturday. A wide range of prizes will be on offer.

To enter, you need to have bought a ticket for the Gala and attend the drinks reception which will commence at 5:30pm at the Oatlands Park Hotel, Weybridge. Tickets for the Tombola will be £10 each payable by cash or card.

The prizes will be located on the long tables by the doors of the Terrazza where the reception will be taking place. Just buy a ticket and see if you have a winning number for the prizes, and pick your prize up on the spot!

The BDRHoF Benevolent Fund is grateful to all those who have supplied prizes for the tombola. The star prize is a Paul Whitehouse Gladiator limited edition print. Other prizes include a model kit from the late Kevin Cerasale's collection donated to us by Richard and Jazmine Tunstall, four posters originally offered at the Dragstalgia auction, Peter Walters Race Design (£100 voucher), Hauser Racing (£75 voucher), Santa Pod Raceway - £50 voucher, Custom Car (1 Free subscription) and Funny Car pistons (used) courtesy Tony Betts, 20 envelopes containing 15 assorted historical Hero Cards from European racers (donated by Eurodragster.com) and drag racing DVDs (donated by Eurodragster.com).

Note the vouchers will be non-transferable, if you win a voucher can you give us your name for including on the voucher.


Drag Seen 2 launches this Friday.
18th November: The newly published Drag Seen 2 sees photographers Paul Martin and Eurodragster.com's Julian Hunt collaborate to produce a magazine featuring 58 images taken at nostalgia drag racing events during 2021, plus a few favourites hand picked by Julian from his archives.

Printed on high quality silk paper in an A5 landscape format Drag Seen 2 features smokin' burnouts, wild wheel stands, track and pit action featuring Gassers, Superstockers, Outlaws, the Wild Bunch and more.

With an introduction written by Niamh Frances Smith (@racewayhussy), the first 100 sold will include a Drag Seen logo sticker designed by official Rat Fink artist and pinstriper extraordinaire Eyeball Mike. It's the ideal Christmas gift for the drag racing addict in your life. Or buy it for yourself to fill the gap till the 2022 season begins.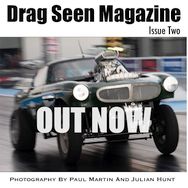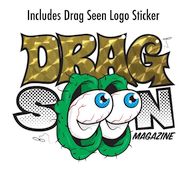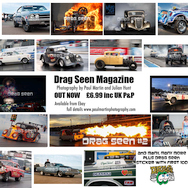 All profits will be donated to Cancer Research UK, and if you missed Drag Seen 1 a limited number are currently for sale - details available on paulmartinphotography.com

The photographers are: Julian Hunt - After his first visit to Santa Pod Raceway in 1990 Julian was hooked on Drag Racing and has attended race meetings regularly ever since. Living close to London in the South East of England Julian enjoyed a long career in the Vintage VW and Porsche parts business and then, in 2007, he decided to learn how a camera worked and has never looked back. His award winning work is published on specialist websites and in many magazines as well as his own website julianhunt.net.

Paul Martin Having spent years living by the sea in the South of England and photographing live music and bands both for magazines and venues, a move to the North re-introduced Paul to his teenage passion of hot rods and drag racing. Applying the same techniques he had employed for photographing live music, using film cameras and vintage lenses on digital cameras, he looks to capture some of the atmosphere of the events he photographs as well as documenting those attending and racing. Paul's website is at paulmartinphotography.com.

£500 up for grabs at Spitfire Raceway.
18th November: We announced a month back that Spitfire Raceway, Perranporth, Cornwall has its last event of the year on 20th November, this coming Saturday. Organiser Lee Child has added a bonus of £500 for the quickest car on the quarter mile drag strip, with VP Racing Fuels goodies for runners up.

Drag and drift racers may enter at this link which includes all the required information in an easy-to-complete form. You can buy a spectator admission ticket for £10 (under 16s go free), and, if you have a crash helmet and full driving licence you can then go drifting or Run What You Brung drag racing once registered. £10 buys you one dragstrip run, £20 three runs and £35 unlimited runs. £60 buys you unlimited drifting.

Gates open at 8am, with track action 11am to 3pm. All vehicles have a safety check for drag racing and drifting, and drag strip riders and drivers meeting at race control 10.45am.

Lee reminds us "Please leave the racing and speeding for the race track . Devon and Cornwall police will attending the event and monitoring the local area. Get a speeding ticket for drag strip not from the police." Perranporth Airfield is located at TR5 0XS.

2022 Melbourne Raceway calendar published.
18th November: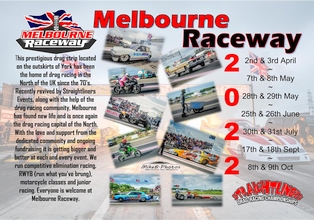 Melbourne Raceway, Straightliners and Duck All promoter Lee Child have announced dates for Melbourne Raceway in 2022. The seven dates in the calendar are:

9th-10th April
7th-8th May
28th-29th May
25th-26th June
30th-31st July
10th-11th September
8th-9th October


Each date includes RWYB, Motorcycles & Duck all prep drag race competition Melbourne Raceway. Following planned track improvements in the run-off area, more cars are expected to attend and it's likely there will be a whiff of nitro in the air during 2022. If you wish to add to the appeal for funds which has now raised £10,000 out of the £45,000 needed to complete the next phase of improvements, go to this link on the Straightliners website.

The UK Nostalgia Superstock Association have announced they will be running the final round of their lifestyle championship at the 8th-9th October event.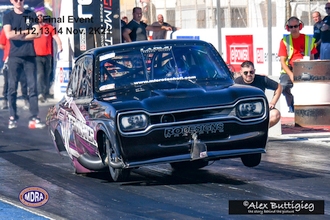 Terminator Escort clutches for low seven.
18th November: Justin Muscat, known as Justin Ladmu to his many fans in Malta is a drag racer who has faced many mechanical challenges. Last weekend at Hal Far Raceway, he demonstrated he had solved all of them - apart from a pesky clutch which failed just as he was approaching his first six second timeslip at the Enemed Malta Drag Racing Association Finals:

Justin told us "I've been running with a rotary since 2014, I've done my PB in 2017 and been struggling to do a pass since then. I was on a storming pass. But we had issues with the RAM clutch in the last run and it kept us from doing a full 6 sec pass. The clutch failed after 5.5 seconds in the run, it was a PB up to that point and that 6 second pass is still teasing us."

Justin's Terminator Mk1 Escort was featured in a 15 page feature in RPM Magazine in 2018 after a photoshoot at Santa Pod Raceway's Doorslammers that year. He acquired his Mark 1 Escort at the age of 12, and by the time he was 15, he had fitted a Pinto engine in it (de rigeur for the Malta Escort classes) and in 2009, won 14 out of 17 events that he entered. After that he acquired another Escort and in 2013-14 built it for quick strip action, including a Mazda 13B twin rotor engine and a 98mm Garrett turbo that sits in front of the 1100hp engine. The car's chassis work and engineering were all done locally in Malta, by Ladmu Chassis Builders. Tuned by Wilbert Performance.

Justin's PB of 7.188/192.6 was recorded in 2017. The gearbox has been a Jerico 5 speed, popular with "sports compact" doorslammers around the world, and rear axle and brake components are from Strange Engineering in the US.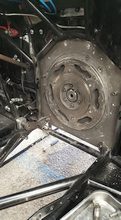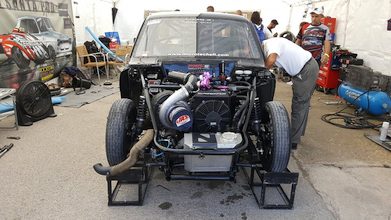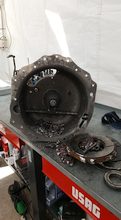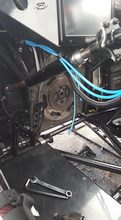 The car's runs in the sevens have been European records with a rotary engine. So expectations were high when Justin hit the track at the weekend. A 7.366 at a slowing 151.85 was the result, with the clutch giving up the ghost at 1000ft. Thanks to Andrew Green for providing photos of the sad result.

We hope Justin, aged just 30, will be able to repair the damage and come back stronger for his first six. He is supported by his team, including dad Eddie Muscat, Christian 'Burbinu' who does the electrical work on the car,Colum Chadwick from Garage Reg, friends, family, sponsors, Ro designs, Vella Brown Garage, Cumina, LMS Transport, Electech, Joe's garage, Fanal Restaurant, Goliath coatings, Pro-S, Forch, Lucas Oil and GarageReg.

Photo credits: launch: Alex Buttigieg, workshop: Andrew Green.

Swift snippets.
18th November: All of us at Eurodragster.com would like to wish Pro Modified racer Annie Wallace a very Happy Birthday for today, have a great day Annie!

Good luck and stay safe to the two teams from Europe who will be competing at the Man Cup Finals motorcycle drag race at South Georgia Motorsports Park 18th-21st November. Warpspeed Racing's Stuart Crane and Dale Leeks will be supporting Canadian racer Terry Schweigert who is riding a bike with a Warpspeed turbo motor and a new billet head combo, built by Warpspeed Racing. Stuart, Dale and Andy Leeks have been working on the new setup with US builder and tuner Dan Wagner; initial results yesterday were impressive with an early shutoff 6.75. From Hungary, Dániel Donát Lencsés is on a new build Super Street Bike from DME Racing, and has recorded an initial 6.99/205mph pass in testing yesterday. Dániel will be bringing this bike back to Europe for 2022 competition. You can see a live feed to action from SGMP on Motormania TV from Friday at 10pm GMT.

Ray Cross.
16th November:
We were very sorry to hear from Robin Read that former Comp Altered racer Ray Cross had passed away last Saturday morning. Robin writes:

"Ray was partnered with brother Brian in the Deadly Messiah Competition Altered. Don Cross has asked me to tell you that everyone is welcome to attend Ray's funeral . It will be at Nene Valley Crematorium on Wednesday 24th November at 1.00 pm.

"Should you wish to make a donation , it is in aid of the Air Ambulance Service . Please contact A L & G Abbott Funeral Directors.

"Brian and Ray crewed on Little Car (Robin's Daimler powered and nitro fuelled rear engined dragster) between 1992 and 1999 , we had some great times and memorable adventures."

Our deepest condolences go to Ray's family and friends.

Photo of Deadly Messiah courtesy Jerry Cookson.

Tina Hambidge.
16th November: Santa Pod Racers Club and Eurodragster.com are deeply saddened to learn of the passing of Tina Hambidge, wife of Comp Bike racer Paul Hambidge. We send our condolences to Paul and Tina's family and friends at this heartbreaking time.

EDRS 2022 dates announced.
16th November: The 2022 Summit Racing EDRS Series preliminary calendar has been announced by Speedgroup in Sweden. Also posted was a photo of the meeting at which plans were decided.

Lena Perés wrote "Organizers from all Scandinavia is making big plans for 2022 drag racing season and Summit Racing EDRS Series calendar was drawn up last weekend. Speedgroup and Scandinavian organizers had a conference in Stockholm discussing plans for the 2022 season."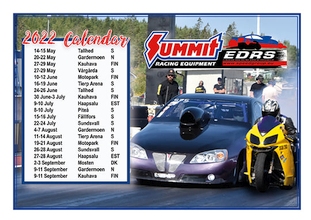 Chairman Michael Gullquist said "The meeting is creating a great foundation for an exciting season in 2022".

The Tierp dates of 16-19 June and 11-14 August will no doubt interest teams wishing to compete at an international event, although no announcement has yet been made by FIA or FIM-E as to the structure of their drag racing championship for next year.

Photo credit: Michael Gullqvist/Janne Sjöberg

Malta results, racer quotes.
16th November: Congratulations to the winners at the Enemed Malta Drag Racing Association Finals which concluded on Sunday:

Top Fuel Dragster: Duncan Micallef, unopposed (event best times: 4.056/295.37 over 1000ft)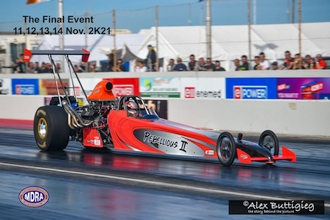 D 6 Class: Mario Borg (pictured right) , unopposed
Open 6 Class: Mario Borg def. Lewis Vella
CA6 Class: Mark Mallia def. Gary Camilleri
DTA 1 / 6 Class: Alan Muscat, unopposed
D 5 Class: Nathan Bartolo (pictured right) def. Alan Zammit
D 4 Class: Nathan Bartolo def. Patrick Cassar
PS4 Class: Rosello Cassar, unopposed
Extreme 3 Class: George Zarb, unopposed
SM3 Class: James Aquilina def. George Cutajar
Escort Class 3: Ronnie Busuttil def. Martin Scerri
Escort Class 2: Martin Scerri
Extreme 2 Class: Clint Fenech def. Mark Farrugia
Open 2 Class: Clint Fenech def. George Zarb
Open 1 Class: John Martin def. Charlie Camilleri
FWD Outlaw Class: Miguel Montebello, unopposed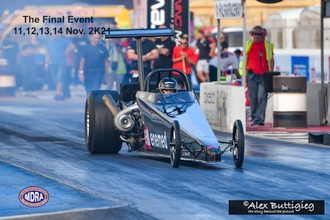 FWD Open Class: Marvic Galea def. Miguel Montebello
Junior Dragster Class: Luca Mangion def. Issac Mula Debono

Index class 3: Neil Caruana def. Neil Gauci
Index class 2: Joe Ashton def. Steve Jennerway
Index class 1: Kevin Gauci def. Wayne Scicluna
Bracket 8.00-8.49: Dennis Desira, unopposed
Bracket 9.00-9.49: Charlie Camilleri def. Wayne Muscat
Bracket 9.50-9.99: Wayne Scicluna, unopposed
Bracket 10.00-10.49: Dunstin Mangion def. Malcolm Parnis
Bracket 10.50-10.99: Gordon Cassar def. Nigel Muscat
Bracket 11.00-11.49: Joe Ashton def. Semira Galea
Bracket 11.50-11.99: Dillon Lanzon def. Steve Jennerway
Bracket 12.00-12.49: Mario Scerri def. Terry Gilam
Bracket 12.50-12.99: Reuben Micallef, unopposed

Bracket 13.00-13.49: Neil Gauci, unopposed
Bracket 13.50-13.99: Maria Degiorgio, unopposed

Top Fuel M/Cycle: Franklyn Borg, unopposed
M/Cycle Open Class: Franklyn Borg def. Joseph Grima
Outlaw M/C: Shawn Buttigieg, unopposed
M/Cycle Index 8.5: Steve Bezzina def. Briegel Micallef
M/Cycle Index 9.5 and Bracket M/C 9.50-9.99: Brian Seychell, unopposed
Bracket M/C 8.50-8.99: Briegel Micallef, unopposed

Bracket M/C 8.00-8.49: Chris Vella, unopposed

We obtained some comments from racers who posted to social media and notes on quick runs:

Dennis Desira who won the Bracket 8.00-8.49 class ran a seven 7.926/177.18 in his street legal Cosworth Sierra Sapphire 4x4.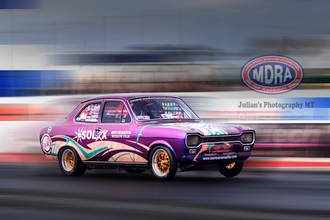 Rosello Cassar (pictured left), the unopposed winner of PS4 class, said "The race weekend is over and it was not one of the best weekends, but we still managed to get some positive feedback. With my race car in the Escort Classes, we had a good start in practice with one full pass hitting 11.02s. In qualifying we were modifying the car setup to solve an issue with the 60ft times but unfortunately after the 3rd run we had an issue in the car and we had to stop.

"On the other hand, I was given the opportunity to drive The Fireball Escort, Bjorn Xuereb's race car. It was the first time for me racing with nitrous, and I must say that I enjoyed it so much. The car has a new setup, and from three passes with no issues we logged 9.4, 9.4 and a 9.25. I would like to say big thanks to Bjorn Xuereb and his Team Sandro Mamo, Luke Mamo, Ludwig Camilleri for their trust in me and all their help during the weekend.

"A big thank you goes to my team Francesco Desira, Marco Magri, Joseph Desira and Stephen Borg that had to work harder as I increased their job now. "A bigger thanks goes to the Engine builder Monty Joseph Bugeja for his dedication and perfection at Powerhouse Garage, and special thanks to Eddie Muscat & his son Justin Muscat at Ladmu Chassis Builder for all their help. Last but not least, a special thanks go to my family especially my wife Priscilla Cassar for all her patience & support, and all the fans locally and abroad for your support."

Jurgen Caruana (Escort Mk5) said: After a long break from driving feels good to be back. After all the issues during the weekend we made only 4 full passes and managed to get the car running low 10.s with a PB 1.6 60 ft to 10.2sec and 138mph. Special thanks to Mark Farrugia my mechanic and tuner, my team Horatius Caruana, Matthew Grech and Timothy Caruana and all the people involved.

In Motorcycle classes, Franklyn Borg (pictured above right) won Top Fuel M/Cycle and M/Cycle Open Class running a new 6.88 PB after going 6.92 193MPH in qualifying. He acknowledged the support of Tony Engineering, Power House Garage, Bilom Service Station and Joseph Caruana Chassis as well as his team.

Shawn Buttigieg ran the Outlaw M/C class and ran a 7.084/204.62 in qualifying on Friday, with a 6.824/209.36 in round two against M Agius.

Steve Bezzina said "I was very happy winning Index class and managed to make new personal best 8.45 with 1:25 60ft. Big thanks go to my great helper Richard Schembri, to my tuner Shawn Buttigieg, my family and friends for all the help and support."

Thanks also to Justin Ladmu (rotary engined Escort) who ran a best-ever 7.366/151mph but suffered a clutch explosion. We will be posting Justin's story in tomorrow's update.
.
We have posted galleries from both Friday's and Saturday's action at our event coverage page sponsored by John Woolfe Racing.

You can see media from the Enemed Malta Drag Racing finals at the following links:


Dakota Raceway results, gallery.
16th November: Congratulations to the winners at the Dakota Raceway No Prep cash race on Saturday, information courtesy race organiser and promoter Lee Child:

Pro rear wheel drive: Pete Lane (Plymouth Barracuda) def. Nick Barnett (Ford Falcon)
Pro all wheel drive: Nick Martin (AMG Mercedes) def. Sam Jones (Tesla)
Pro front wheel drive: Richard Penfold (Ford Escort) def. James Penfold (Ford Escort)

Thanks to James Webber there is a gallery of photos around the track and in the pits which you can see at our gallery sponsored by John Woolfe Racing.


Stilwell achieves objectives.
16th November: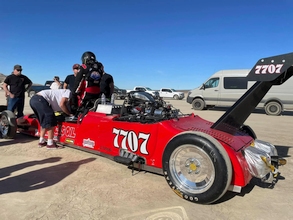 Land speed racer and Eurodragster.com sponsor Geoff Stilwell sent us another update from Lake El Mirage following his runs on Sunday in the the 7707 Lucas Oil Landspeed '27 Ford roadster:

"Saturday was quite a difficult day and the organisers decided to close the course at 2pm as it was a bit like a ploughed field. Two cars had spun out. Whilst the organisers worked on the course my team serviced the engine. We looked at the data and found that going 148mph I was only using 17% throttle, almost on tickover!

The fuel consumption was something else, three gallons of methanol in one minute before switching it over to nitro and then 14 gallons of nitro on the run. John Beck and Nick are doing a great job. The supercharger is only on 17% overdrive with minimal boost as a result, and on 69% nitro."

There are some amazing cars here, twin engined machines, blown flatheads in streamliners. Crew chief Nick Davies commented "Fascinating weekend of insight and education at the El Mirage dry lake, the birthplace of the SCTA. The free-thinking innovation behind some of the race cars is extraordinary."

On Sunday Geoff ran two passes of 126.749mph and 174.816mph to obtain his C and D licenses for El Mirage, for which many congratulations to him. He said "Huge thanks first of all to the following people, Lucas Oil, Mick Jenkins at Micks Paint, Tony Thacker, Donny Cummins, John Beck, Nick Davies, Paul Bowman, Paul Rivera, and Nathan. We went to El Mirage to get comfortable with the car and test it out. It was mission accomplished. The 7707 performed flawlessly. I need to also thank everyone at the SCTA for all their help and advice, and keeping us safe. The 7707 team will be back at El Mirage in May 2022."

You can see a video of Geoff's licensing runs taken by land speeed videographer extraordinaire John Wylie by clicking here. John's apposite comment at the end was "That's how you do it!"

Eurodragster.com Christmas Mart.
15th November: Thanks to all contributors to this year's Christmas Mart, for the person in your life who has a love of European drag racing, supporting those who invest their lives into our sport:

If calendars are your choice, Chris Eyre has come up with a whole range. Chris says "For this year I am doing 4 different calendars, Top Fuel, Funny Car, Pro Mod and Nitro Bikes. I am also doing 40x60cm canvas prints which can feature any of my photos. I have many photos not on my site too, so please message on my contact page to discuss your needs. All this can be found at Chris's online shop." The photos below shows all calendar covers and the canvas.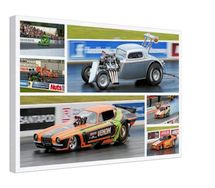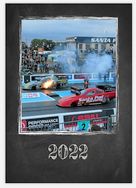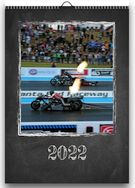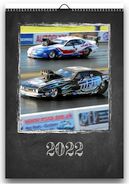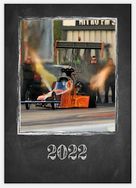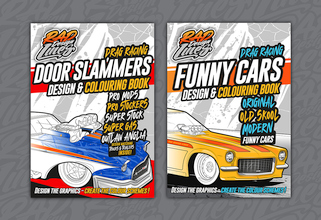 Youngsters and the young at heart love colouring books. Darren West of Power Race Graphics writes: Our RAD Design Lines brand has great colouring book stocking fillers for the drags mad artist and designer! We are excited to announce we have a brand new book coming for Christmas 2021. Our 'Funny Cars' book is the second in the series of design and colouring books featuring some of the most popular funny car body styles in the history of the class - this is a cool gift for the funny car fans! The new book is available now to pre-order and ships from Monday 29th November .. just head over to our website to order your copy!

Our very popular 'Door Slammers' design and colouring book is still available on our website, but there's just a limited number of these left now so move quickly as we won't be reprinting this book before Christmas.

The RAD Design Lines mission continues to inspire young people to get creative, get into design and motorsport graphics and let their imaginations run wild! Shop now for both books at - www.raddesignlines.com.

Longtime Eurodragster.com sponsor and race car builder Robinson Race Cars has a new on-line store selling Anger Management 2.0 t-shirts, depicting Andy's new Pro Mod '69 Camaro, at www.robinsonracecars.com/merch. Many sizes are available.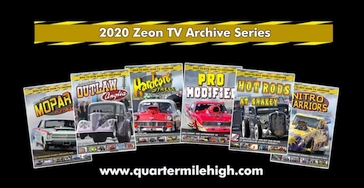 Our good friends at Zeon video are selling DVDs of previous years at Santa Pod Raceway, with great quality pictures and commentary from the finest in the sport. UK shipping is now free and generous multi buy discounts are available - if you buy 5 or more there is a 30% discount.

Illustrated are the 6 exciting DVDs from the archives of Zeon TV, with some of the best drag racing action from the last 20 years at Shakespeare County Raceway and, of course, Santa Pod. The titles comprise Street Eliminator, Outlaw Anglia, Pro Modified, NFAA Fuel Altereds, Hot Rods at Shakey and Mopar Euronationals.

Helen Todd of Zeon said "We have put some of the old titles back to 2006 on there that we haven't had listed for a few years, on the basis that when they're gone they're gone." So if you want these DVDs the message is to order sooner rather than later. Zeon's web site is at www.quartermilehigh.com.

Eurodragster.com sponsor and Super Pro ET racer Peter Walters has an offer from his Peter Walters Race Design online shop POWERED Co: 'Tree' Air Fresheners are the perfect stocking filler! Forget those other trees. This is the only 'tree' air freshener you need! Give your daily driver, hot rod, trailer, RV or even race car that fresh lemon scent! Guaranteed to please and makes any enclosed space smell fresh and clean. They're Lemon scented, Easy to hang and Long lasting. Just £3.00 from powered.shop.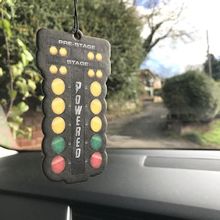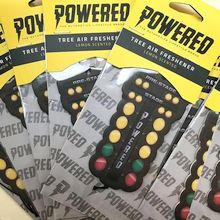 Event coverage sponsor John Woolfe Racing has an extensive stock of automotive books focusing on US marques, including several drag racing related titles, all available to buy on its on-line shop. Prices include free shipping. Titles that caught our eye are the Warren "The Professor" Johnson and Don "The Snake" Prudhomme autobiographies.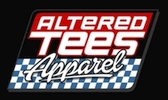 Craig Dixon of Altered Tees Apparel offers a wide range of clothing for drag racing and hot rod enthusiasts including work from 27 listed artists as well as custom designs. A number of British drag racing teams' apparel is featured which you can see at the race teams page - for any of these you can buy a t-shirt, hoodie, zoodie or vest. Craig said "Quality using the latest technology production is stunning with great ease of washability. In a few days Christmas special money-saving offers will appear on the web site, keep a watch out for these".

Last but definitely not least Santa Pod Raceway has a range of gift cards, gifts and branded championship apparel which you can buy online from the Santa Pod shop.

Perpetual trophy return appeal.
15th November: Thanks to to Santa Pod Racers Club Secretary Ian Marshall for requesting the return of the Perpetual trophies from the current holders.

Ian says "Can current trophy holders please return them to either the SPRC address or to Santa Pod Raceway if that's easier. The P.O. Box address is Santa Pod Racers Club, P.O. Box 12, Rushden, Northants, NN100ZU or send to Santa Pod Raceway, Airfield Road, Podington, Nr Wellingborough, Northants, NN29 7XA for the attention of Darren Prentice."

Highs and lows at Hal Far.
14th November: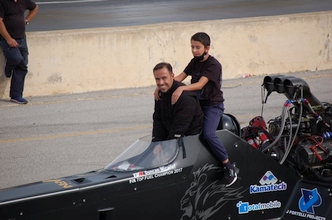 The Enemed Malta Drag Racing Association Finals continued on Saturday with final qualifying and eliminations. Several cars ran quick times which we will list in a separate news item. One of the highs was Duncan Micallef in a Top Fuel exhibition run going 4.05/295 on the 1000ft, which you can see at this link, Duncan slowing down and stopping with his chutes out.

Later, Duncan in his role as Malta Motorsport Federation President announced in conjunction with FIA Drag Racing Commission member Keith Bartlett that the drag racing part of the €20 million project to transform Hal-Far into a motorsports complex will come to fruition over the next 12 months.

The plan is to licence the track at next November's MDRA Finals with the addition of Top Fuel, Pro Mod and other classes from the FIA/FIM tour doing exhibition competition, then for Malta to be the opener for the full FIA European Championships in April 2023.

The day was marred only a couple of hours later when Open 6/CA6 class racer Nicholas Ferrugia's parachutes failed to open on his small block Chevy powered Escort Mk1, after a 7.6s/170mph run, and, despite a huge effort to get the car stopped using its brakes, it went through the sand trap and tyre wall, as well as the track's main outer wall. A 14 year old girl who was the other side of the main outer wall was hit by debris from the incident and was hospitalised with injuries, where we understand she is currently recovering. Nick Ferrugia was also taken to hospital for observation and released. We wish all parties involved a speedy recovery from the incident. As it is under police investigation, we will not comment further.

The race continued at 09:00 CET (08:00 GMT) today. You can see a gallery of photos from Andrew Green as well as updated information about the racers' vehicles at our Event Coverage page sponsored by John Woolfe Racing.

Streaming video of today's action is available at Motors MT Facebook page, and Malta Drag Racing Association secretary Konrad D'Anastasi will be posting videos to his Youtube channel after the event. Photographer Alex Buttigieg has posted a gallery from the track today on his Facebook page.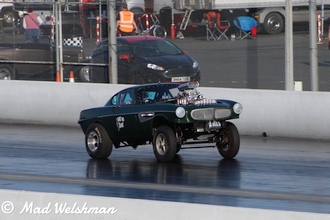 Ain't No Saint wins Hot Wheels Legends Tour.
14th November: Congratulations to the Ain't No Saint team, headed by Lee Johnstone with car constructor Steve Wright, Lee's wife Sue and daughters Eleanor, Sarah and Victoria, for becoming the global winner of the Hot Wheels Legends Tour. As winners, Hot Wheels will be producing a die cast model of the Ain't No Saint Volvo P1800 gasser.

The award presentation show was hosted live at Jay Leno's Garage, which you can see on Youtube by clicking here, the judges (including 2019 Santa Pod visitor Elena Scherr) paid compliments to both the car and Santa Pod Raceway as its home track. "It's so nicely done he kept the shape so clean with the giant engine in the front, he didn't overdo anything which is so nice, I would just like it to cruise down Sunset Boulevard in it, it's classy."

The video around the construction of the car which was shown in the entertaining presentation.

Lee commented: "I would just like to thank everyone for all the likes, thumbs up, and congratulations that you have posted. It's rather overwhelming, but a very nice accolade, thank you to all the judges at Hotwheels Legends 2021 it will be a great legacy for my daughters and grandchildren."

Photo credit: Mad Welshman.

Update from 7707.
14th November: Geoff Stilwell made his first Landspeed run since 2018 in the the 7707 Lucas Oil Landspeed '27 Ford roadster, following the team setting up and the car being scrutineered. He told us:

"On the first run, the plan was a shakedown run just so I could get used to the car. However, at 148mph it started to spin the rear tires really hard so I backed out out of it, pulled the chutes and we are now just making sure everything is ok. We are currently servicing the car, and hoping to get out for another run this afternoon.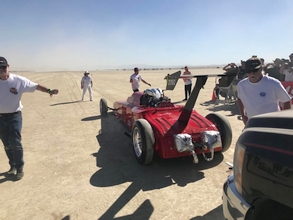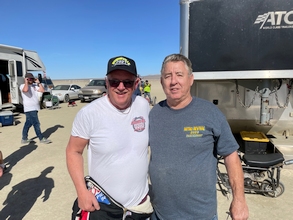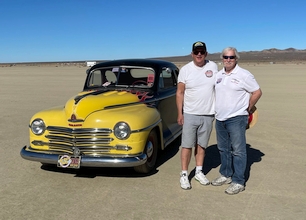 "They have had to put everything on hold so I doubt we will run again today, so after we have serviced the car we will fire it up ready for either today or Sunday morning."

Geoff was greeted by some well-wishers who visited El Mirage, landspeed legend Al Teague (pictured left) and Irwindale Raceway and nostalgia events announcer Bob Beck (pictured right). Despite outages caused by poor local internet bandwidth, we hope the live streaming coverage from lsrlive.com will continue.

Swift snippets.
14th November: Happy Birthday today to Barney Campbell, head of Box Lane Video Productions who produces streaming video for Santa Pod Raceway, have a great day Barney!

Photojournalist Steve Moxley has had his report on 2021's Dragstalgia posted at Tim Hailey's US site Eat My Ink, which you can see by clicking here. Steve's report as usual includes superb photography and notes on the racers.

King Racing, Cannon Motorsports announce collaboration.
13th November: Some great news for European Top Fuel Bike racing today with a record holding machine now planned to remain in the UK:

The twelve-time FIM European Championship winning King Racing team and Cannon Motorsports have announced they are to join forces for the 2022 season.

The collaboration between the UK based teams will see Neil Midgley take the seat of the Puma Engineering constructed multiple FIM Championship and world record holding machine in European competition whilst continuing the development of his impressive supercharged DOHC V Twin machine in the ACU British Championship.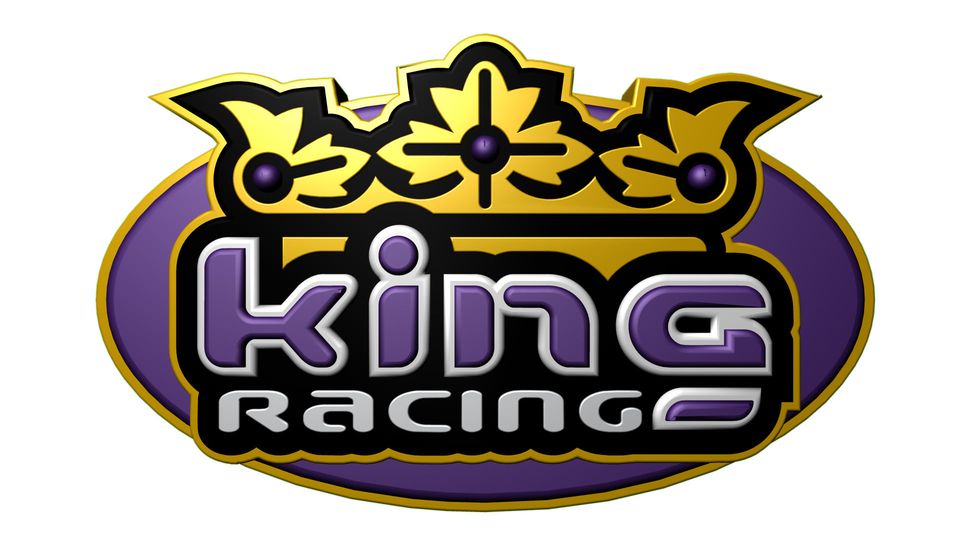 Chris Hannam, Team Principal for the Cannon Motorsports team said "this is another exciting evolution of our team activities, as a previous owner and rider of a six second supercharged 4 cylinder Top Fuel Motorcycle I regret I did not spend more time in the class, but with Neil's investment in this program we have another opportunity to show what we can do and compete at the very pinnacle of motorcycle drag racing alongside the ongoing development of our Nitro Supertwin".

Ian King, Team Principal of the King Racing team and co-owner of Puma Engineering said "with our current rider Filippos `Fast Fil' Papafilippou announcing his intention to concentrate on family and business priorities I am delighted that Neil and Chris have decided to take the opportunity to join forces with our team and take advantage of the continuing development program we have for our world class machine. Neil has shown his riding talents over the last decades in Super Street, Funnybike and Nitro Supertwin and we have no doubt that he will be more than able to exploit the continuing developments we have been working on over the last decade and maintain performance at the very top in the world.

For more information contact Ian King or Chris Hannam.

Cosworth doorslammer six second barrier broken.
13th November: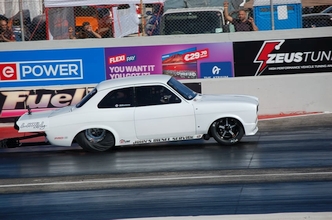 The Mk1 Ford Escort driven by Clint Fenech, run by Lixxu Racing and powered by a Cosworth YB, yesterday broke the six second barrier at Hal Far Raceway, confirming its title as the quickest 4cyl Mk1 Escort in the world. The car's previous best was 7.053/193 and the new mark, yet to be backed up was set in qualifying for the Malta Drag Racing Association finals at Hal Far Raceway.

Congratulations to Clint and Lixxu Racing on the 6.998/194.05 run which had incremental times of 1.086 to 60ft, 2.923 to 330ft and 4.479/157.39 to half track. Whilst running the Escort, the team has been building a 2JZ-powered Pro Mod Mustang.

Clint and the team told us about how the record-setting car came about: "The Escort was built originally in 2014, however after two years running mid 8s passes and eventually going into the 7 sec zone, we needed to upgrade a lot of parts for the car to be consistent and reliable. We put the car under the knife in 2017 in our own workshop and with help from Grampun chassis works we reinforced the 3/4 chassis frame.

"We rebuilt the car from scratch, revising the Cosworth YB, fitting a new Garrett G42 turbo along with a Precision PT2000 air to water cooler. Also we converted it to run on methanol fuel. The engine is all designed and built in our own workshop. Electronics-wise, the car is fitted with a Link G4 ECU, all wired in-house and tuned with help from Vince Auto Mechanic.

"Transmission is a Liberty 5 speed, air shifted, and power is transferred through a Ram adjustable clutch. We would like to thank all the team for all the effort and hard work. Also big thanks for our sponsors John's Diesel Service, Vince Auto Mechanic, Grampun Chassis works, Prospeed Parts, Quttu Garage, Fuch Lubricants by RTK Dimech, Balsons Silencers, K&O Detailing, Venom Concepts and AMC Towing."

Many thanks to Andrew Green for sending a gallery of 65 photos from Friday which we have posted on our Event Coverage page for the Enemed Malta Finals sponsored by John Woolfe Racing. Andrew will be sending photos for each day of the event. Today's include several familiar faces from the UK which you can see in the gallery at pic 5, 19, 28, 29, 33, 37, 40, 41 and 60.

7707 arrives.
13th November: Land Speed Racer and Eurodragster.com sponsor Geoff Stilwell arrived at El Mirage lake with the 7707 Lucas Oil Landspeed '27 Ford roadster and team, and he reported that the landscape there is 'surreal':

"We towed up Friday morning, left at 08:10 and arrived at the track at 10:10. The landscape is like being on another world, and it's amazing that it was actually a lake once.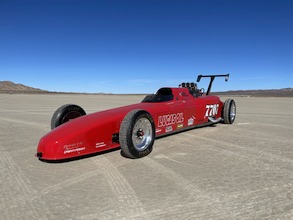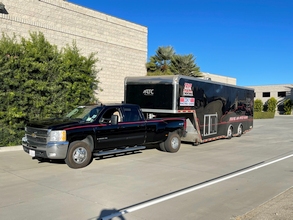 "We plan to get the car through tech and then will fire the engine up two or three times in order to tune it up and check the procedure. On Saturday there will be a 7am start with first runs about half an hour later showing on the live feed. "Weather conditions are looking good, with a slight breeze characteristic of El Mirage and temperatures in the mid seventies. Crew chief Nick Davies will be working with engine builder John Beck and Donny Cummins on running the car. The pits are filling up nicely and we're looking forward to running the car." You can see action from El Mirage in the live streaming coverage from lsrlive.com starting 15:30 GMT on Saturday.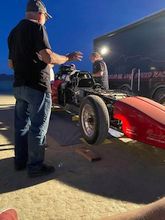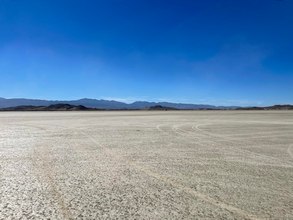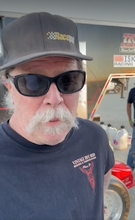 Update 12:00: Geoff said early today "We have the drivers meeting at 7.15am. Then the top ranked 25 vehicles go down the track. While they are doing that we will be warming the motor, so I think we will be running around 09:30 (around 17:30 GMT). We are looking to run between 175 and 190 on the first pass. Then we look at the data. We currently have the blower set to 17% overdrive."

John Beck commented "We got the engine in meow mode, it's only got 69% nitro in it, we got the blower backed up a little bit, so it's a little timid, but it's going to propel you, my friend, and any time if you come back and say "can we put a little more in it", that will be no problem, you know."

NSRA at Classic Motor Show.
13th November: Many thanks to Alan Martin who spent Thursday setting up the NSRA stand at the Classic Car Show at the NEC and will be in attendance every day until Sunday. Alan said "The NSRA stand has a 34 Ford Coupe with a blown Hemi as part of their display and as always, Outlaw Anglia are in attendance. All in all, it looks to be a very promising show, with an eclectic mix of road and race machinery to appeal to any petrolhead."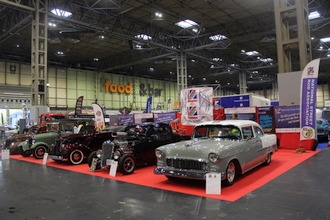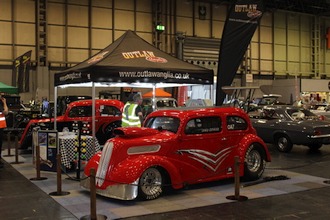 The NSRA will be celebrating its 50th anniversary in 2022 and special events are planned to celebrate pre-1972 hot rods, street rods and customs, with the two nostalgia drag racing weekends at the Nostalgia Drags 3rd-5th June and Hot Rod Drags 16th-18th September.

Details of the show which continues Saturday 9am - 6.30pm and Sunday 9am - 5.00pm are available at www.necclassicmotorshow.com. Features include the Discovery+ Live Stage, a plethora of marque exhibitors, Old Skool Ford, and Classic American magazine.

Happy 50th Mark Coulsell!
13th November: Thanks to Lynne Coulsell who has sent a 50th Birthday greeting for husband Mark:

Limited Funz Racing want to wish Mark 'Marra Senior' Coulsell a MARRAHOOSIVE Happy 50th Birthday. Looking forward to a fabulous weekend in Wales with our Racing Family. 8.07 @ 161.94mph - not bad for an old man.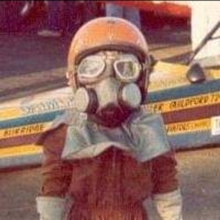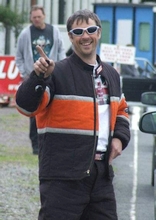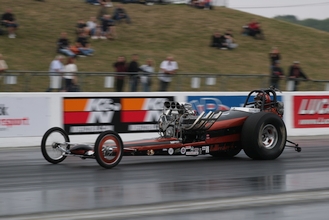 Eurodragster.com wishes Mark a splendid birthday, have a great day!

Destination: El Mirage.
11th November: Land Speed Racer and Eurodragster.com sponsor Geoff Stilwell has a tight schedule to prepare his 7707 Lucas Oil Landspeed team's '27 Ford roadster for test runs at El Mirage dry lake in Californiaat this weekend's meeting organised by Southern California Timing Association:

"We arrived yesterday and have a day to check everything is right before setting off for the lake tomorrow. Nick Davies and engine builder John Beck will be going through the 494ci Brad Anderson nitro motor and I will have a seat belt fitting. We've so much equipment that we've had to rent a truck to put everything in as we have a lot more parts than we had when we ran at Bonneville in 2018. That includes engine components such as rods, pistons, bearings, valves and spare heads.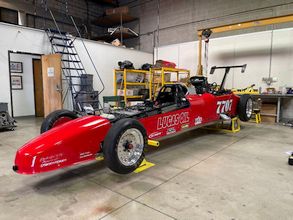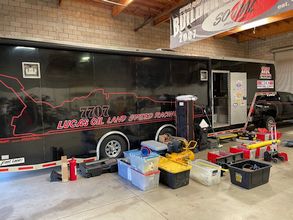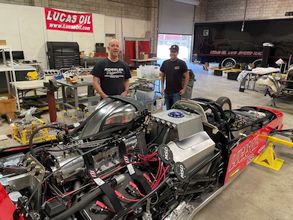 "Space will be taken up by the 60 gallons of Lucas oil that we change after each run, but not by nitro as we are not permitted to carry that in our rig and it is transported separately to the lake.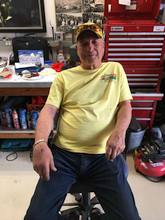 "The team going will be six of us, myself, Nick Davies, Mick Jenkins, Tony Thacker, John Beck, Dony Cummins, Paul Bowman and Nick who I thank in advance for their help and support. There will be other friends at the lake and I am thrilled that legendary fuel tuner Bill Schultz who came over to Europe some years ago, will be joining us for the weekend.

"We will arrive at El Mirage tomorrow after a 70 mile drive, set up and get through tech inspections. El Mirage is different from Bonneville in many ways. We can stay overnight at the lake, unlike Bonneville, and the surface is hardened mud on a dried out lake bed rather than salt. This means we have to seal the car completely otherwise a lot of dust and mud particles can get in the car. Fortunately the weather forecast is good but if a wind gets up or twister arrives, the surface can get blown about.

"The course is shorter than Bonneville, one mile, a timed course of 0.3 miles and just a mile to stop. That's not a lot of distance to slow down a 5000lb car from high speed with chutes and powerful brakes. So our target for our testing this weekend is to set a time, see how the car handles, make sure all the tricks and gadgets on it work, and then see if we can go for a decent run over 200mph.

"As it is a two day event and will be well attended (the entry list shows 123 vehicles - Editor) we want to aim for 4-5 runs over the weekend with the possibility of a sixth if things go well.

"The procedure of starting the car takes four people and that will be what Nick will be looking at although it is different from that for his fuel altered, let alone the Pro Mod. There will be plenty of footage with onboard cameras and we'll get some media up as soon as we can." So good luck and stay safe to the Geoff and his team. In the meantime you can see live streaming coverage from lsrlive.com starting 15:30 GMT on Saturday.

Pictures © Geoff Stilwell: 7707, everything ready to load, Nick with Donny Cummins, special guest Bill Schultz.

Final call for 2021 Dakota.
11th November: Lee Child has announced it's still possible for racers to enter the season-ending race this weekend at Dakota Raceway Southwest, Smeatharpe Airfield - and both racers and spectators must now enter pay on the gate:

Spectators are welcome this Saturday for the drag and drift on 13th November with track action 9am to 4pm. Racers can enter on the day for quarter mile run what ya brung for £60 including a driver's admission ticket. Quarter mile passenger rides will be accepted in RWYB. The 1/8 mile heads up drag race cash day includes run what you brung driver entry and two admission tickets for £120 which should also now be entered on the day. Full details of the competition were announced on 23rd October and classes and other arrangements remain unchanged.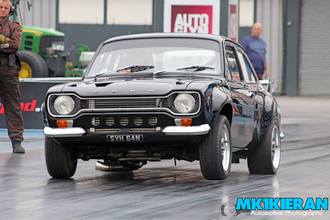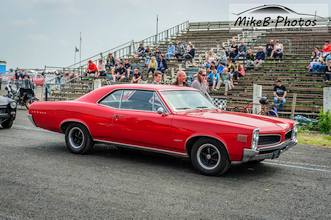 The 1/8 mile drag race for cash competition is Street Outlaw style and Dakota is an excellent place to meet up, with coffee, cars, bikes and bacon butties all on the menu. Spectator admission is £10 each, kids go free.

The entry includes several quick cars, the Ford Escort Mk1 of Paul Margetts, Pontiac GTO of Kevin Headon, and several other full-on doorslammers. Drifting for the weekend is sold out, a drivers meeting for drifting is at 08:30.

The post code for Smeatharpe Airfield is EX14 9RF.

Photos by Kieran and Mike Burrowes

Malta spotter's guide.
11th November: Greetings to all those that have made it to Hal Far Raceway, Malta for the 2021 Finals which runs from today to 14th November. Fans of drag racing at Hal Far, Malta that cannot attend may have at least a day more to wait for streaming video online, however everyone can see what race cars will be in store by downloading our exclusive, and completely unofficial, spotter's guide. We've gathered such information we could find from a trawl of our sources, sorting it both by race number and by vehicle type.

Malta Drag Racing Association secretary Konrad D'Anastasi will be taking videos of practice and qualifying tomorrow and posting them to his Youtube channel. Photographer Alex Buttigieg has posted a gallery from the track today on his Facebook page.

Video producer Christian Bordieri has announced rewards for racers who have entered this weekend and commission him produce videos on their cars for publicity after the event. The cost of Christian's video production is reduced to €100 per entrant and there are a number of other incentives sponsored by MDRA, Hal Far Raceway bar, Visage Sound Ltd and CarXify Malta.

Action starts tomorrow at 10am with dial in runs. Drivers and crew can collect wrist bands at the gate from 8am.

Malta entry list, D5 debuts.
9th November: You can see the current entry list for this weekend's Enemed Malta Drag Race Finals at this link.

Looking at the entry list, there are several observed runs for drivers in new classes. In the Dragster D5 class, populated by turbocharged four and six cylinder engines that often run startlingly quick times, Clifton Abdilla has a new car (pictured left), with the aid of Jonathan Galea, Tony's Engineering and Grampun Chassis works; Melvin Vella (pictured right) is also debuting, aided by Mark Farrugia. Both have done limited tests at the end of October and hope to be up to speed for their observed runs.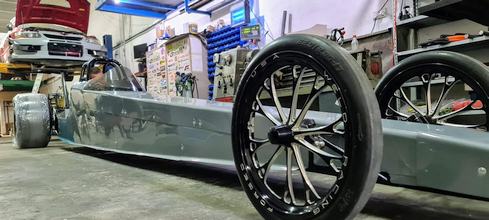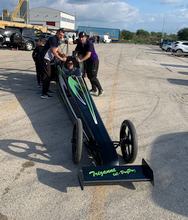 Clifton told us "Our dragster aptly named anonymous is a 247" long dragster chassis originally purchased from the UK and brought down to Malta for assembly. We started off with a 94mm Precision Pro Mod turbo-powered Toyota 2JZ engine which was expertly built by co-owner and tuner Jonathan Galea and all engineering was done by Tony's Engineering. The engine is mated to an airshifted Liberty 5-speed transmission which drives the wheels through a custom Chrisman differential setup. All of this is orchestrated through Fueltech's flagship FT600 ECU. The dragster features several custom fabricated pieces which were all crafted by Matthew Camilleri from Grampun Chassis works."

Melvin's dragster has a Mark Williams chassis with a Toyota 3-S GTE 2.0ltr engine with Precision turbo, Fueltech FT600 ECU and Liberty gearbox with air shift. Engineering work was done by Tony's Engineering and the crew chief and tuner is Mark 'Gladiator' Farrugia who helped Melvin with the build.

Thanks to Clifton and Melvin for supply information on their dragsters. With a full 8 car field in prospect the D5 class will provide spectacular action, and good luck and stay safe to all.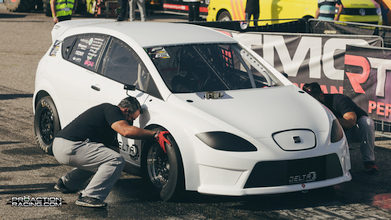 Agrinio media, snippets.
9th November: Thanks to officials at Proaction Racing in Greece for posting photos from the 3rd race of the Panhellenic Drag Racing championship at their Facebook page. More photos will be posted at the same link in due course.

Well done to Dimitris Zachos for winning the 9s bracket class in his Seat Leon 2.5ltr turbo, you can see a well produced in-car video by clicking on this Facebook link. Dimitris's time of 9.795/244.89kph was only just short of his PB of 9.699/250.87 set back in May.

We have also heard that Agrinio Raceway announced the 4th race of the Greek Championship on 3-4-5/12 under the auspices of rule-setting body OMAE. This is a positive message about the future of the sport in Greece, along with the FIA safety upgrades we mention below.

Safety in Panhellenic Championship to be addressed further.
9th November: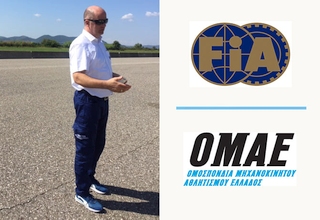 As part of the close cooperation that is taking place between the FIA ​​and OMAE-EPA to upgrade safety in Drag Racing in Greece, the Race Committee of OMAE hosted Frans Steilberg, FIA Technical Delegate for Drag Racing, (pictured right)at the third race of this year's Greek Championship, held in Agrinio on 5-7 November 2021.

During his previous visit at the beginning of September 2021, Frans has presented the possibilities offered by the FIA in order to upgrade the safety standards to the Committee (EPA) of OMAE.

Noting that the area needing improvement in the majority of European countries is the technical inspection of cars as well as complying to current safety standards, Frans made a detailed presentation to members of the OMAE Safety and Drag Racing Committees, concerning the critical parameters that must be checked along with the provision of safety equipment for both cars and drivers as well as the procedures to be followed to ensure compliance with the regulations.

He also pointed out ways in which further training of drivers, engineers and officials as well as the members of the emergency rescue teams, should take place.

Frans made his first visit to the airport of Agrinio in September to review the preparations for this particular facility to host Drag Racing. He noted that the condition of the track and the concrete barriers alongside the track are positive features and to be encouraged throughout European drag racing.

Last weekend Frans attended Agrinio Raceway to observe the 3rd round of the Panhellenic Drag Racing Championship.

Based on Frans's observations which were addressed to the executives of Greek Drag Racing, the OMAE-EPA will adopt a detailed plan to upgrade the safety of each racetrack and every aspect of dragster racing used in the Greek Drag Racing Championship. The main priority of OMAE-EPA is to make the most of the opportunities generously offered by the FIA ​​to upgrade the level of safety in drag racing, as well as in all other forms of car racing.

Swift snippets.
7th November: Diana, Kirstie, Julian, Kieran and Simon would like to wish retired Eurodragster.com News Editor, Race Reporter and not-yet-retired Photographer Tog a very Happy Birthday for today. Have a great day buddy and many happy returns.

For those following the Haltech World Cup Finals for Import vs Domestic which are taking place at Maryland International Raceway, Budds Creek, US, qualifying sheets and ladders can be seen at the event's Facebook page. The diversity of entries and unpredictability of performance in the cool conditions, despite the track announcer's plea of "Heat in the motors!", makes for intruiging viewing.

Also from over the Pond, you can see media from Nitro Revival at the event's Facebook Group including a number of videos, with apologies to those who had planned to attend but travel arrangements got stymied by the travel restrictions ending tomorrow.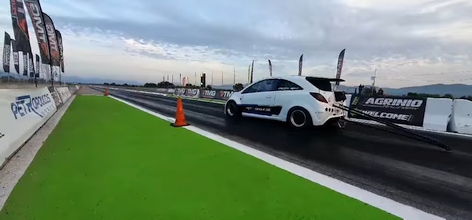 Agrinio ladders.
7th November: Thanks to track officials at Agrinio Raceway in Greece for posting ladders following qualifying at the 3rd race of the Greek Drag Racing championship. You can see ladders for classes AT1, BT1 and BT2, index classes 8/9/10/12s, and index class 11.

Pictured is Savvas Petropoulos in his qualifying run yesterday, going 5.8/212kph to the eighth. We plan to publish results and media from the event over the next few days.



Drag Racing Into the 80s.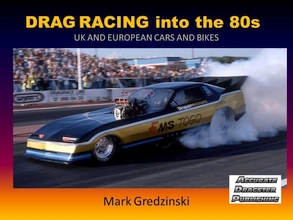 6th November: Many thanks to photojournalist Mark Gredzinski for updating us on progress on his book Drag Racing Into the 80s, following the publishing of his well received truck book Midnight Movers produced by his publishing company Accurate Dragster Publishing:

"The whole thing is similar to the truck book in that it will have taken around 1000 hours to produce. That's unpaid hours incidentally (are there any other sort of hours? - Editor).

"I have scanned some 5000 images of which I have earmarked around 300 for the book. The final total will depend on the design. No point in putting lots of postage size pics when many deserve enlargement. Ninety nine percent of the shots have never been seen before. Right now I'm at the individual picture editing stage. This is variable. Some films like Kodachrome slide film have just small dust removal to contend with. Other key shots like one of Tom Hoover, has negative damage (happens on 40 year old film sometimes) so took about 90 minutes of careful work to get up to scratch. I never use Photoshop as I like a naturalistic look with just colour correction etc.

"The envisaged book is 144 pages long with ten chapters. Written work and composition is ongoing. The images cover the period 1980 to 1989. The title of the book is very obvious deliberately to prevent ambiguity. My title of Accurate Dragster Publishing promoted a few sniggers down at the post office since they are unaware of my interest in motorsport/ trucks and not pictures of men dressing up in garish clothes and makeup. Such is the influence of the general media.

"Anyway, chapters include one on Jaguar powered altereds, then there is nitro Funny Cars (natch!) with around 60 shots of those, Pro Comp, Top Fuel though the prism of my time with the Frontline team, the rise of Pro Mod and doorslammers in general, Fuel Atlereds, something on the bikes that were around etc....and many others cars, classes and anecdotes.

"The book does not go into the history of the sport from day one or cover the political angle since that has been covered before. Its basically my take on the sport during that specific era, while highlighting the cars and races that took place. There will be a couple of intriguing shots for everyone to enjoy and lots of Scandinavian cars and our American visitors in print too.

"There's some juicy pit shots to go with the action stuff and all photos are in colour. Enclosed is a mockup of the cover. Note that this is only a preview and not the final design as such. Its been devised to give a flavour of the contents. Though I confess both I and the printer like it.

"The book is entirely my production and while it will be completed by Christmas from a written point of view, I cannot assure anyone that it will be actually printed by then. This takes time to do right." As soon as we know any more about publication date we will let readers know.

Greek championship at Agrinio.
6th November: The 3rd race of the Greek Drag Racing championship takes place this weekend at Agrinio Raceway, Asiraklion (now improved with concrete barriers installed for the full track length) this weekend. Friday was limited to sign on and scrutineering and qualifying takes place today for all classes with eliminations tomorrow.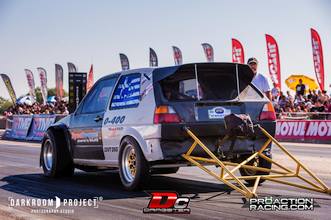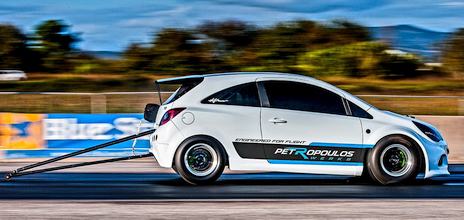 Out of the entry list of 67 vehicles, the quickest cars are in Category A, which is subdivided into sub-classes according to power adders, engine size or cylinders. Dimitrios Panitsas runs a VW Golf Mk2 DSG 20vt turbo (above left) and has a PB of 8.403/269.66kph which places him fifth in the European FWD league. Savvas Petropoulos has a Opel Corsa (above right) which ran a best of 8.959/257.87 in 2020. Thomas Stefanakos has a Citroen AX 1600cc that has recorded a best of 9.262/243.90 back in 2017.

Running in Category A and in the index racing classes is Giannis Apergis who has a best of 9.312/203,38 in his Opel Corsa (below left) which he runs in a team with Savvas Petropoulos. One of the quickest in the Open (i.e. unlimited capacity) is Petros Taxopoulos of main sponsors RTMG Performance who has a new Audi RS5 (below right).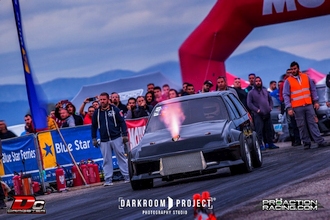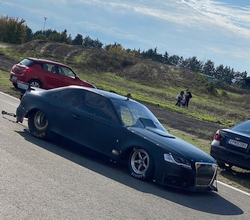 Promoters Proaction Racing are highlighting the 11s index class is the most competitive, with 19 diverse entries including Audi, Fiat, Honda, Mazda, Peugeot, Seat, Toyota and VW.

Swift snippets.
6th November: Today is the 38th anniversary of the passing of British drag racing pioneer and stalwart Allan Herridge whose competitiveness, bravery and engineering skill set a standard for all racers to follow.

We also celebrate ten years of VW Pro racer and announcer Luke Stevenson taking on the chairmanship of the VW Drag Racing Club. Luke does a fantastic job of promoting the sport and will be at Hal Far Raceway Malta next weekend to commentate on the racing, which we hopefully will hear on the live stream. Luke commented "In 3 weeks time we are gonna announce one of the largest prize funds I've seen in UK Drag Racing by a club. We are planning the biggest VW/VAG Drag Race ever seen in 2022 with Drag Days, quite simply if you have a Bracket or a Heads Up car you are gonna want to be involved wether you are a club member or not."

Our longtime supporter and sponsor Bob Roberts aka West End Racers has created a Flickr page where you can see a wide variety of drag racing photography from the 2021 National Finals test day all the way back to the 1978 Yesteryear Drags at Orange County International Raceway, surely one of the first drag racing nostalgia events ever held.

Fans of compact racing are recommended to check out the Haltech World Cup Finals which are taking place at Maryland International Raceway, Budds Creek, US and will include wild action from a variety of heads up classes (a subscription is necessary).

Swift snippets.
5th November: Happy Birthday wishes for today to Top Fuel Bike racer Filippos Papafilippou, Street Eliminator racer Tony Higgs, Wild Bunch racer Danny Jones, Super Street Bike racer Ross Morrison and photographer and VW Pro crew Alice Fairhead. We hope you all have had a great day.

De'ath debuts Super Street Bike.
4th November: Long time Pro Mod and drag bike crewman Dan De'ath has built a new Super Street Bike which he brought out for the first time at Flame & Thunder for three initial passes down the Santa Pod Raceway track.

Dan's drag racing bug first bit after he sat in grandad Roy Cockerill's 'Wolf In Jeep's Clothing' Wild Bunch hot rod as a youngster. He got into motorbikes as a teenager and competed in motocross "without too much serious injury but having a blast over the years". Dan's first step into working around drag racing was with Danny Cockerill in the Pro Mod '57 Chevy he ran between 2005 and 2008 of which Dan says "What an experience , a lot of hard work and great payoffs when it all goes right; highs and lows balance up over time and great times, friendships and memories were made".

After Danny stopped racing in Pro Mod, Dan crewed for Ray White on his quest to the 6's with Lethal Zephyr. "We had ups and downs literally , but in the end the car gave up the fight and we won the battle running a 6.78@208!"

In 2011 Dan was back crewing for Danny Cockerill in his five year Super Street Bike stint. Danny ran down to 7.3s with a couple of bikes, the second of which was the NLR Hayabusa which is now in the hands of Alex Hope. After Danny sold the bike and retired from racing, Dan crewed for Sam Sykes in Comp Bike. Away from drag racing, Dan has done a bare metal restoration on a Nissan Skyline.

Dan takes up the story on the bike's build: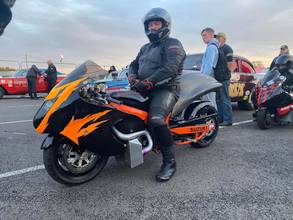 Basically the bike was bought as a project which was going to be sold, but after a little thought, curiosity got the better of me, after assisting a few bikes I was interested to see what changes felt like to these bikes, and while I had the opportunity of a relatively cheap bike it was the prime time to do so!

The project then became way more than I ever expected when a good selection of parts became available from Alex Hope (who bought and raced Danny's bike). I purchased the body work from Adam Burns who had bought it from Alex, the turbo kit and clutch was bought from Alex, a donor engine was sourced and a full NLR spec engine was assembled.

To look at the bike would be almost identical to Danny's bike, but actually the rolling bike was bought from Sweden with a good selection of parts already on it. The body was Danny's as was the turbo kit, the dash was also bought from Alex which was Danny's too, besides that, there is nothing else of Danny's on there.

All the work was completed by myself including all fabrication of front rack including mounting the body , rear subframe and various brackets around the bike.

Throughout the whole process I have had a pretty good idea where I wanted the bike to be after working on these bikes for nearly 10 years on and off finding what people had and didn't have , what worked and didn't work I compiled my brain child.

Along the way, I have had a massive amount of guidance and assistance from Garry Bowe, Brad O'Connor, Alex and Mark Hope and Danny as well as various other people whom I'm probably forgetting!

The whole bike took around 15 months to complete.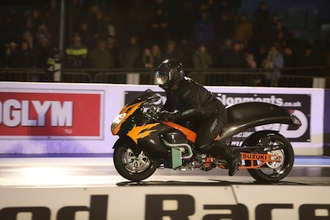 I am very grateful to have the likes of Garry Bowe, multi time European SSB champion and tuner likewise of Brad O'Connor to help guide me not only through the build but also to assist in teaching me how to ride this absolute animal of a bike!

These bikes are more than capable of well over 600hp on a street legal tyre with no wheelie bars and are truly a handful but with Brad getting the setup spot on for me to make my first passes last weekend the intention was to be safe and steady which it was! Not one wheelie or spin, except for my own fault on pass 1 where the wheel spun, but was easily rectified.

On my 3rd pass ever down the track , I had some issues on the launch and had to back off getting it into second gear , shut off at 1000 foot and still went 10.0/122 even with the throttle being closed for well over 2 seconds of the run! It's kind of a relief to get the ride over and done with as that marks the end of a long road getting here, now the next long road is looming quickly.

The plan for the bike is to compete amongst Comp Bike if possible with a view to move up to SSB if the numbers work out. SSB has moved on majorly in recent times and having to run low 7.1's to even qualify will soon be a regular thing!

I'm exceptionally happy with being the NLR air clutch which has been developed and tuned by Brad O'Connor. Without this piece we would have had multiple issues with setup. These ranged from when we dyno'd the bike using the air clutch to going to a cold track late in October. This was never going to be easy yet the bike worked flawlessly without any spin or wheelie issues that weren't caused my myself drifting in the first pass getting out of the groove. This clutch was key to being able to go and do exactly what we wanted and needed, and went a lot faster to 60' than I could have ever imagined for the first 3 passes.

I would also like to thank every single person that has assisted in the build , assisted in guidance helping me to learn the riding of these animals, the offering of crew duties and people's help has been truly humbling and has blown me away the amount of people offering help.

Just some of the people who have assisted along the way and not limited to would be the whole Bowe family , Brad O'Connor , the whole hope family , Danny Cockerill , Steve 'Splinter' Nash , Ashley Parker for Awsome Powder Coating , Darren Scannell for outstanding paintwork as usual, and mostly my family for putting up with the months of weekends and evenings working away in the workshop making this happen.

Swift snippets.
4th November: We wish a Happy Birthday today to British drag racing pioneer Bob Gleadow, Supercharged Outlaw racer Adam Clayton, Comp Bike racer Chris Neary and former Wild Bunch and drag bike racer Martin Holgate. Have a great day all.

If you have received an e-mail about a post in our Jeff Bull Race Engines supported Swap Meet which resembles a scam, including lines about "paying via the fastest and secure way which is cheque", a "liable shipping agency that will come over to your home to pick up the item" and "an excess fund which will be included in the payment so you can give it to my shippers", then it would be appreciated if such e-mails are forwarded to report@phishing.gov.uk.

Outlaw Anglia season review.
3rd November: Many thanks to Renegade Outlaw Anglia co-ordinator Colin Millar for sending a review of the class's season and looking forward to 2022 with great anticipation:

The 2021 Outlaw Anglia season is at an end, it has made history and gave a lot of people enjoyment from both drivers, crew and fans, every year the class grows from strength to strength with its simple format of heads up racing and only a few simple rules which have been in place for all of its 29 year history.

We were all apprehensive at the early days of the season and very unsure how the calendar would shape up, but in the end we had a full 6 round championship which was probably much better than what we thought at the start of the year.

The calendar ended up with VW Breakout in May, Festival of Power in June and both Dragstalgia and Summer Nationals in July with Green Light Nationals in August and our final event of the year Hot Rod Drags in September.

After some Covid shuffling, we found ourselves running at VW Breakout with not a lot of notice but the guys stepped up and we still managed to field 19 cars, some great racing with confidence being built as a lot of the drivers had been out of the seat for quite a while, but early signs of great potential right across the board whether you were in the 11, 10, 9, 8 or 7 second club with Mick Taylor taking the number 1 spot with myself getting way to close to the wall and lifted to live another day.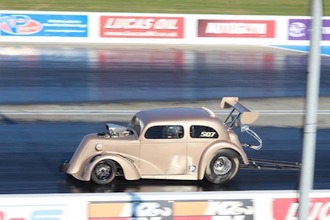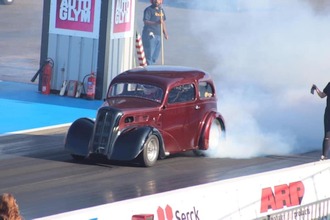 The next event was a very quiet Festival of Power Unlocked, well certainly for Outlaw Anglia with only 4 cars entered, but still some great numbers getting run in qualifying with three cars in the sevens and Ben Kennedy (above right) coming up the rear with a good 10 second run, Jedd Guy this time taking the honours with a nice 7.2 run and again myself having to lift as the car wanted to join Jedd in his lane.

After this event there were a number of discussions and a plan put in place to get the more of the class MSA certified to allow a better number of cars to be able to run in the licenced events, with the help of Mark Norton and Clive McCready (thanks very much guys) we managed to get a lot of cars inspected at the Hot Rod Drags and each car was given a list of activities they could undertake during the off season, so fingers crossed in 2022 we will see much better numbers for the MSA events.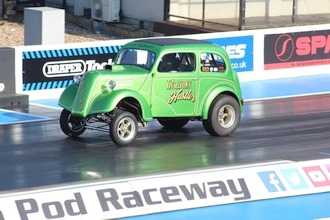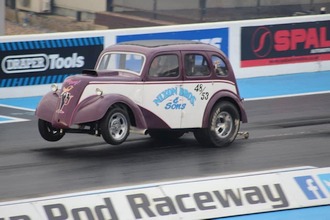 The most anticipated event of the year for Outlaw Anglia and many other classes and individuals is the now very famous Dragstalgia with Outlaw Anglia fielding a record breaking 31 cars and the world famous Ginner (below left) coming out to play, about time! Another family wedding for me kept me away, Lynn said come to the wedding or get divorced and go to Dragstalgia, tough call! I tried really hard to organise logistics with a plan in place to have my rig there Friday to run one qualifier Friday night, fly home, do the wedding and head back through the night to get there Sunday morning to run in the eliminations but in the end we couldn't make it all happen and as it turns out it rained Friday night and no qualifying was achieved, so it would have been all in vain lol!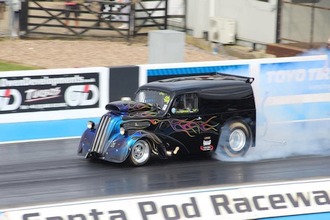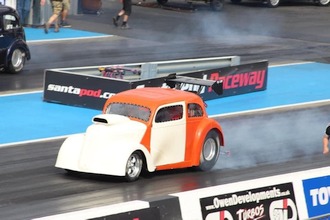 In the end we had a few casualties with 26 cars qualifying with some great races and some great numbers and it was sign of things to come with Jedd running a 7.01 on the final qualifier, it was great to see Al O' Connor back out doing what he does best, with Jedd taking the silverware, closely followed by the runner up Mick Taylor. I did manage to watch nearly all of it from a wee castle in Scotland, but did have to get pulled away when they carried out the ceremony!

Unfortunately a bit of a tumble top end for Rob Brindle put him back on the trailer but with a massive push and a new body and lots of help the guys rebuilt the car and reappeared in full race trim for the Hot Rod Drags (above right), great effort and well done boys. Into the semi finals and it was great to see Ben Rushforth up against Jedd Guy and it was a real close race with Mick Taylor in the other semi against Spencer Tidswell who unfortunately was a no show, yet again Jedd take the win with Mick Taylor following up the year.

Two weeks later and still in July we again go into an MSA event for Summer Nationals but again we've dropped back to four cars, not what we want nor what the fans want to see but our plan was well in place to change this for the better, making a change I lifted the silverware but not how I like to win as Jedd was unable to run his car in the final.

August came quick and we had slightly better numbers of a 6 car entry or Greenlight Nationals with some seriously quick numbers with four sevens one eight, unfortunately we didn't get finished and never got to run a final.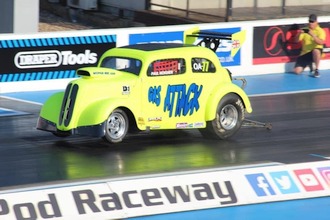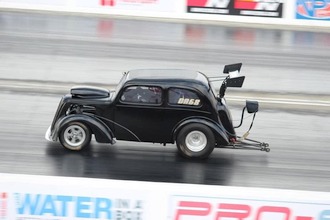 Onto the famous Hot Rod Drags where we are all aware this is the last event of the year where it's time to turn it up, as what have you got to lose and you've got the whole winter to fix it if you do blow it all up, a great 29 car field with Paul Hensher (above left) racing for the first time this season (great to see him back), we also had a new driver Wayne Power running the ex-Barry Crookston car (well done Wayne) (above right). Qualifying was fun and the atmosphere was electric in the Outlaw Anglia pits with what we remember it used to be when things were "normal", the usual characters kept us entertained and by close of play Saturday we had only one casualty with 28 cars qualified and we managed 6 cars taking part in the cracklefest with Kim Harrison so excited to take her car and be part of the show and at the same time celebrate her and Rob's anniversary. During the day history was made and I'm so made up for Jedd to run the fist ever 6 in OA, I said to him on the second qualifier come on, let's get down there first and put on a show, we certainly did that and also set up the fastest ever side by side Outlaw Anglia run.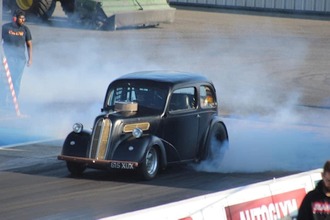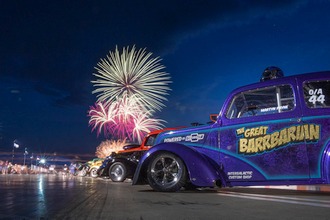 I didn't see anyone all weekend without a smile on their face its was just the best event ever, with some great results with both Ronnie Mercer and Phil Drewitt (above left) both making it into the semi finals on a 32 car ladder, pretty good going for a street car even if I do say so myself (well done lads).

Into the final and I would say it was the best race of my life alongside Jedd, that elusive 6 still awaits my time but upgrades for next season will get it in the bag (you have to believe that!)

A huge thanks to all the drivers crews and supporters without them there is no Outlaw Anglia and a huge shout out to Santa Pod and all the marshals who keep us safe.

Sometimes in life it's your time and this year it was Jedd Guy's time, taking the Outlaw Anglia Championship, taking the SPRC OA championship, setting both the new ET and MPH record for the class, not a bad achievement I have to say.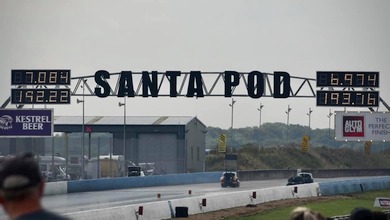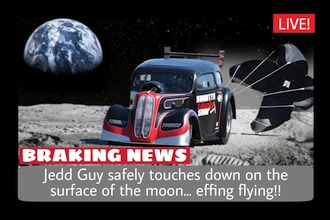 We're all looking forward to next season with Outlaw Anglia being 30 years young, we still have new cars being built and await final confirmation from Santa Pod on our calendar for 2022, but as soon as we have this you will be able to see this on our web site www.outlawanglia.co.uk as well on our Outlaw Anglia Drag Racing UK Facebook page; look out soon for our 30 year anniversary apparel and other tasty goods which will help Outlaw Anglia funds in helping the class progress. look after yourselves and have a great Christmas and New Years and fingers crossed we will see you soon at the track for lots more fun!

Media from the weekend.
3rd November: Our Kieran has posted to his Mk1Kieran Youtube channel video footage of the Flame & Thunder show from Santa Pod Raceway.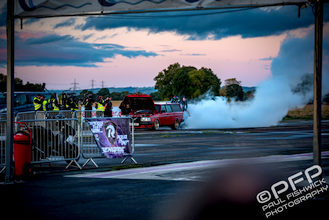 Kieran says: "Flame & Thunder marked the end of the 2021 Drag Racing season here in the UK with many racers putting on a show for a packed out Santa Pod Raceway. We were treated to a great variety of drag cars & bikes, jet cars and even the Slick Tricks Top Fueler made an appearance! Commiserations go to Andy and Team Twister who made contact with the wall early on in the day, I know they'll be back bigger and better than ever before!

"I was also testing out my new camera this event, big improvement in quality over my old one so enjoy the video! How long until Easter?" The video is now shown in 2160p resolution and both the picture and sound are awesome on a suitably large screen with broadband internet.

Also posting media, this time from the Melbourne Raceway Richard Smith has posted a gallery of photos from the Melbourne "Rock Up and Race" event to his Zenfolio site which incidentally has galleries of action going back more than a decade.

The Straightliners Facebook page has a number of photos posted by Paul Fishwick including the sad demise (pictured above) of the head gasket of one of the BBC crew's Volvo estate during filming for a reality TV show All Gassed Up which will be aired on BBC3 in the new year.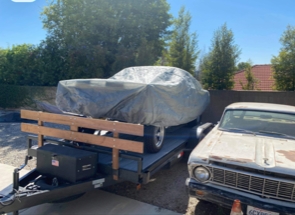 Spy picture.
3rd November: The picture shown came with the message "I thought it the right time to send a photo showing my car, on it's way from California to join the Gasser Circus in 2022. More news to follow when it finally lands, which could be around February as it's heading to Felixstowe."

We can only hope it will be unloaded on time. If you know more, or have a spy picture of your own to send, please contact us at editor@eurodragster.com.

Swift snippets.
3rd November: We've several birthdays to celebrate today. First is former Shakespeare County promoter and Obsession Motorsport head, now Super Gas crew and wife Tina Moore. Then a special birthday for longtime Super Gas racer Bob Molden who reaches 65 today. National Street Car Championship/Outlaw Street racer and lover of corn Ian Walley also celebrates, and from the Junior Dragster ranks, budding Junior Funny Car racer Kai Cooper has his birthday today. Have a great day all from Eurodragster.com.

Dual Fuel Racing's F&T.
1st November: Many thanks to Hutchinson & Dibley Sportsman ET racer Steve Mellors for sending his thoughts on Dual Fuel Racing's Flame & Thunder at Santa Pod Raceway last Saturday with a very brief Sunday before the track was closed due to bad weather:

What a weekend! Well, that was certianly the way to end a season - the mini tornado. A huge huge thankyou to Santa Pod Raceway for smashing this season out of the ball park, the character cars got HUGE attention and we could not have been happier.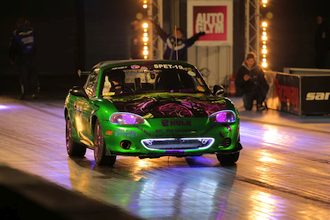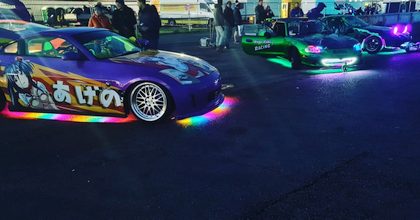 Carl got some blinding runs with Kuki the Tesla despite not the best conditions, then darkness fell, the fireworks went off and Hulk MX5 headed for the pairing lanes, into the burnout box we went, lighting up the car, followed by lighting up the tyres and a bit of a sideways launch and the starting beam being triggered by a cable tie under the car. We ran a 16.8.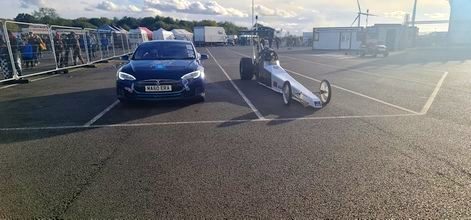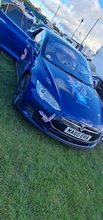 Dual Fuel Racing will return next year, we will be bringing Hulk MX5 back and we will be out to entertain to the best of our ability. Photos of the car are available from Blackett Photography, why not get a framed photo for that number one fan. Also don't forget to get yourself Dual Fuel and Hulk MX5 merch simply inbox us to order yours today. Check out our sponsors over at Printz4u, the number one place for customised clothing stickers & more, and if you want digital copies of Hulk MX5 to print yourselves at home, contact our team photographer Miss P Photography.

Flame & Thunder racer notes, media.
1st November: Thanks to those who have posted media and write-ups to social media from the Flame & Thunder at Santa Pod Raceway last Saturday:

Our good friend Callum Pudge was busy at work with his camera and posted 215 pictures to an album at Pudgeys Pictures Facebook page. Also posting were Santa Pod's own photographers Dave 'DJ' Jones and Scott Gay whose Flame & Thunder 21 gallery covers all of the diverse action of the event.

Some racers who have posted comments had some good stories to tell:

Modurstang Pro ET racer John Bean, whose Mustang was on nitrous for the first time, posted a picture from Blackett photography and said "I got my PB run on Saturday night, even got flames coming out of the exhaust. 9.333/148 with a soft launch and early gear change, roll on next year, a lot still to come from Shotgun."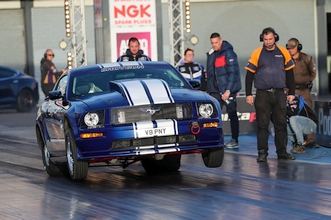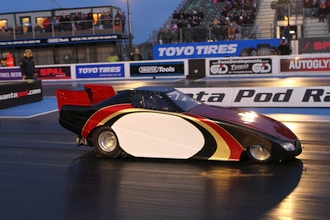 There were several Lucas Oil Junior Dragster racers present taking part in the RWYB and putting on match races. Harry Redshaw (wearing the no.1 number as 2021 Champion), Damion Redshaw, Jessica Bishop, Jacqueline Bartlett, Lola-Belle Kent, Mackenzie Love, and Freddie Taylor were joined by Thomas Cook Abbott, and Kai Cooper racing the Junior Funny Car, gaining a perfect 0.0004 RT in the process. Charlotte Cook Abbott took over the wheel from brother and championship runner-up Thomas who wrote "That was an amazing Flame and Thunder for the team. Charlotte drives The Tominator for the first time and smashes it! (Not literally - Editor).

Thomas Cook Abbott got to drive the Lil Hemi Hustler of Mike Couch. "Thank you so much for the opportunity. I ran it through to a 9.92 @ 136. Not bad for my first time, and a couple of moments where I sh*t myself, like just after I hit the throttle! I did make a rookie error by opening my visor when I thought the car was slow enough, to then get showered by fuel." We're sure we'll be seeing Thomas back on track soon in a quick car.

Third in the championship Freddie Taylor in the Outlaw Angria car lost a front wheel on his run in early afternoon however the car appeared undamaged and action resumed in a couple of minutes, but we suspect his team members will be playing "Three Wheels on my Wagon" on loop...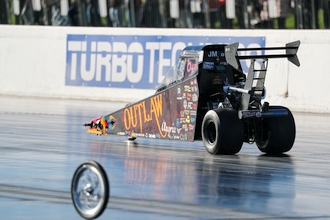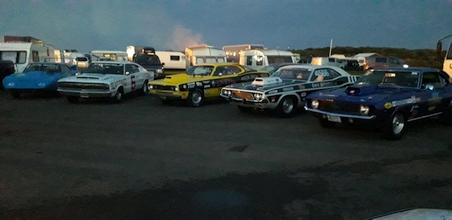 UK Nostalgia Superstock were represented by nine racers. Class organiser Don Scott said "A lovely Superstock showing at Flame and Thunder this year, thanks to all that made the journey and put on such a stunning display of classic US muscle. I'm sure the crowds and the Pod staff were suitably impressed. It was pretty much an all Mopar show in the Superstock pits this year, bar one." For the record, the group included Don, Adrian Portelli, Stuart Kiwi Thompson, Dave Billadeau, Chris Goodale (all in the above photo), also Jake Cawthorne, James Sweeney, John Davison, Guy King and Dan Williams.

FWD racer Sean Prout brought out his Papa Smurf K20 turbo Civic EP for a couple of test passes and on the second had a terminal of 144mph in 11 seconds, much more to come there, and a stunning wrap designed by 4Race Custom . Sean said "Thanks to Gordon Darby, Rich Hockley, and Wendell Brand for pulling a late one and getting the tracking finally sorted on the car."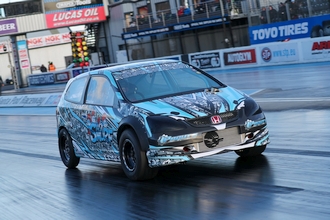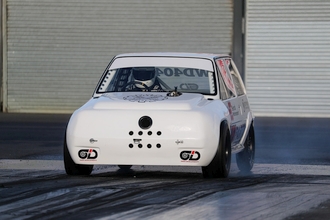 Fellow FWD racer Brad Morgan brought his 11s 1400cc Renault 5 BABS for its final outing of the year but experienced problems. He said "As expected, the gear box exploded. I managed to make it in to 3rd this time before it completely lost drive. I nursed the car off the line so as to at least try to run it out the back. 2nd gear felt awesome. Then it just felt like I had missed 3rd. Two more attempts at trying to select a gear that wasn't there was the end of the weekend / season for the car. Over the winter period we will be going to a VW gear box. This should more than cover any amount of power we could ever make with this engine and finally allow us to drive it as hard as we like with out fear of it breaking."

Straight To The Point vacancy.
1st November: Pro Mod racer in waiting Benito Chiarella has announced that a vacancy has arisen at his company:

Here at Straight To The Point Racing another position has become available. We are a small but growing business with currently 5 members of staff.

At Straight To The Point Racing we specialise in V8's, American and historic race cars. We cover a wide range of services: General race car maintenance and preparation, engine building, gearbox building, chassis building, axle building, bespoke exhaust, intercooler and radiator systems, trackside support, motorsport parts sales, restoration and much more.

Applicants do not need to have all knowledge on everything listed, as some duties can be taught in house, most importantly passion for what we do and everything motorsport related is key.

Main Job Role Duties:
Steel fabrication: Mig and steel Tig welding (alloy not required but would be good)
Body panel work and fabrication
Bespoke exhaust fabrication
Race car and american car maintenance work
Opportunity to come to race meetings and give track support and race preparation
The ideal candidate should:
Have experience with some of the duties listed
Have attention to detail
Be self motivated and organised
Have good communication skills
Most importantly must have a love for American and classic cars
If you would like to join our small but expanding enthusiastic team please email all your information and CV to tech@sttpr.com.

Swift snippets.
1st November: A very Happy Birthday to former Top Fuel racer and author Elizabeth Rowland, known during her racing career as Liz Burn. Have a great day Liz.

Trakbytes update.
1st November: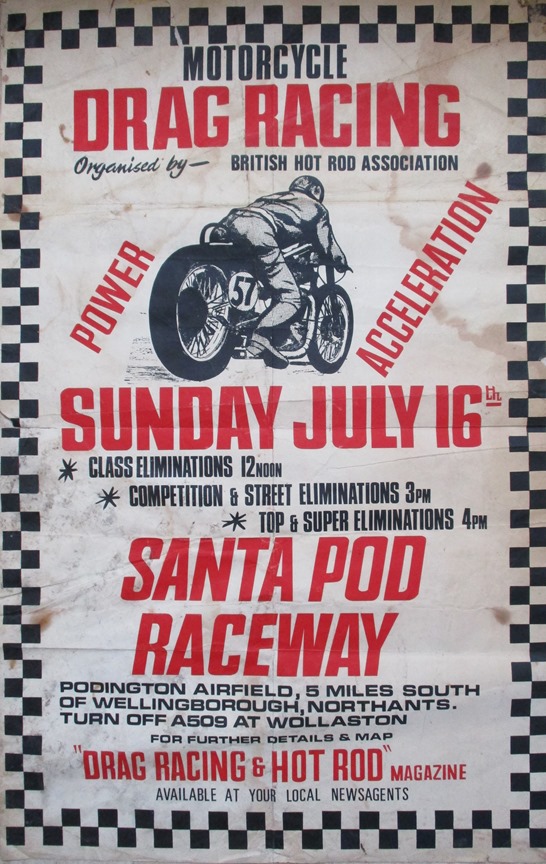 Webmaster Chris Dossett has announced that his excellent Trakbytes website has just been updated.He says:

"This time we have 30 new or updated entries. Among the names featured in the updates, which span the years 1963 to 1985, are; Allan Herridge, Dennis Priddle, Alf Hagon, Harold Bull, Doug Harler, Alan Blount, Mick Tickner, plus many more. Dave Dibley has supplied a wealth of NDRC information from 1978 and there are 73 new programme scans from the vast collection of Clive Rooms, plus the beginning of a series of posters supplied by Jerry Cookson (see right).

The unofficial Santa Pod strip records list has been updated with a couple of runs that slipped past me during the initial compilation (something I confidently predicted would happen...)

There's also a request for help on the "Help Us Find.." page from anyone who remembers a Dave Woodhead from Derby, who advertised the Jaguar Altered previously known as "De Judge" for sale in 1978. As always I encourage readers to submit any details or race reports that are missing, or provide corrections for anything contained in the archive that they feel may be wrong."

Flame & Thunder Show gallery, best times.
31st October: Many thanks to Julian for supplying photos for our Flame & Thunder Show gallery which you can see by clicking here or by clicking on the John Woolfe Racing-sponsored Event Coverage link at the top of any Eurodragster.com page. As mentioned in our preview, there was something for everyone and over 90 vehicles came along to make their final Santa Pod Raceway passes in 2021.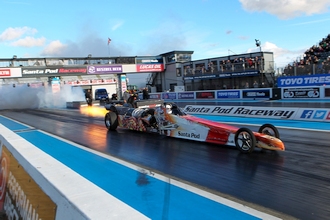 You can see complete timing data at ETSlips.co.uk thanks to the Santa Pod Raceway timing crew. Below we list the top quarter mile times of the day by vehicle:
Martin Hill (Fireforce 5 Jet Dragster - pictured right) 5.6576/163.04
Martin Hill (Fireforce 2 Jet Funny Car) 5.9837/219.96
Roger Goring (Firestorm Jet Funny Car) 6.0562/254.8
Julian Webb (Split Second Jet Dragster) 6.7283/233.82
Darren Peart (Ford Cortina Mk3 - pictured right) 7.7899/170.44
Ian Chrichlow (Suzuki Hayabusa 8.50 Bike) 8.0318/166.66
Chris Neary (Suzuki Hayabusa Comp Bike) 8.2694/167.91
Dean Robey (Thug Motorsport HRC Dragster) 8.9006/147.1
Aaron Windridge (Grim Reaper Model T) 9.0239/138.12
Phil Pratt (Satan's Lady Suzuki GSXR) 9.1108/147.2
Michael Gooding (HoBo Racing Suzuki TLR1000) 9.2759/145.23
Ahmed Jamshaid (Big Man Ting Performance Honda Civic) 9.3189/156.27
Ian Walley (Ford Cortina Mk2) 9.3308/146.76
John Bean (Shotgun Ford Mustang GT) 9.3335/148.18
Mike Couch (Lil' Hemi Hustler slingshot dragster) 9.4108/147.68
Luke Stevenson (Sechs Toy VW Pro Dragster) 9.5883/136.02
John Dalrymple (Full Tilt 33 Willys) 9.6504/136.49
Mark Haswell (Ford Anglia 100e - pictured right) 9.6636/139.84
Paul Dale (Ford Anglia 105e) 9.6753/141.59
Alan Morrison Jnr (Morrison Racing Suzuki Hayabusa) 9.6965/149.07
Don Scott (Plymouth Superbird NSS) 9.726/135.34
James Griffen (Po-Dunk Z28 Camaro) 9.7974/136.18
Dave Mahoney (Chevy Camaro) 9.808/141.58
Brad Head (Suzuki Hayabusa) 9.8133/138.97
There had been heavy rain in the morning however the Santa Pod Raceway track team did a great job of clearing the water away so that the run what ya brung could commence at 13:15. Top Fuel racer Susanne Callin brought out the Slick Tricks machine and made two passes, the quickest of which was early in the proceedings, recording a great 0.8664 to 60ft, off the throttle by before half track which she got to in 4.0316/127.57, recording a 1000' pass of 6.1051/101.90.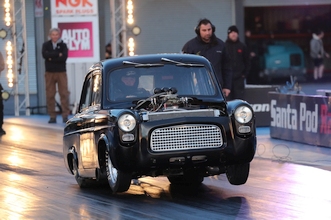 The sole incident of the day occured just after the start of racing when Supercharged Outlaws racer and Eurodragster.com/Twister Racing Perfect ET sponsor Andy 'Fadster' Hadfield drifted across from the right lane and made a hard hit sideways on the left wall at an estimated speed of more than 100mph. You can see a photo sequence of the incident in our gallery starting at this link. Fadster commented: "I am fine apart from a really sore neck and massive headache. Twister isn't quite so good. The new front axle is trash, both nearside wheels are done, the engine has moved forward about 2 inches and this has damaged the fuel pump. Hard to tell whether the chassis is OK but I hit the wall at + 100mph so it's likely to have suffered. Haven't checked the rear axle yet, lots of checking and measuring to do but I've got the whole winter to sort it."

Whilst most racers had appeared earlier in the year it was the first (and last) SPR outing of 2021 for a few. Mark Haswell with his 572ci Ford 100e ran a best of 9.663/139. Also making their first runs down the track with new or modified vehicles were Jonathan Hines with his Suzuki Hayabusa which we reported on in our 27th October update, and Ollie Hutchings-Smith whose All Couped Up competition coupe morphed into a dragster for this event and repaid him with a ten second timeslip.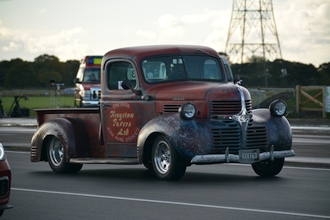 Melbourne Raceway gallery and results.
31st October: 'Rock up and Race' Run What Ya Brung at Melbourne Raceway took place on Saturday, with running limited due to rain and similar issues today. Former Editor Tog made the journey and posted a gallery and the best times from the 44 racers attending which you can see at this link supported by John Woolfe Racing.

Tog said "Thanks to Martyn Greathead of Straightliners for the results. Running hours were limited by heavy rain and then the requirements of the BBC TV crew filming an instalment of the coming BBC3 series All Gassed Up, of which drag racing's own Becky Evans is one presenter."

Pictured is Dave Jordan's Dodge 440ci Dodge pickup which ran 9.84/81.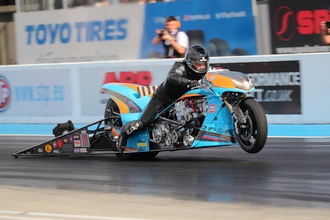 Fast Fil to sell Gulf Oil bike.
31st October: Top Fuel Bike racer and double European TFB champion Filippos Papafilippou has announced his iconic Gulf Oils sponsored bike, second quickest in the world is for sale and you can read the story at www.cycledrag.com.

Fast Fil has cited family commitments causing him to sell and take a break, with three daughters to get through university over the next 3-4 years. The bike is for sale complete including a spare carbon fibre body and enough parts to build a spare engine. We wish Fil best of luck for the future, thanks for extending the legend of this fantastic machine built by Ian King and his team, and hopefully to see him at the track at some time in the future.

Swift snippets.
31st October: Happy 70th Birthday today to former Top Fuel racer Pelle Lindelöw who will be travelling to the UK soon for his induction ceremony at the British Drag Racing Hall of Fame Gala on 20th November. Have a great day Pelle from all of us at Eurodragster.com.

Nitro Revival sponsor Geoff Stilwell who will be travelling to the US the moment the travel restrictions lift, kindly sent us video of the latest fire-up of his 7707 Lucas Oil Land Speed roadster which you can see at this link.

Congratulations to Malta Super Street Bike racer Simon Giordmaina who at a test run at Hal Far Raceway yesterday recorded a 7.201/206 pass to join the 200mph club. He said "Looks like the gremlins started to go away! Thanks to all the people who kept supporting and helping out when things did not look good."

Good luck and stay safe to expat Norwegian NHRA Top Alcohol Dragster racer Julie Nataas who has reached the semi final in the Dodge SRT NHRA Nationals at The Strip at Las Vegas Motor Speedway (the 1000th NHRA National Event), also to Russian FIA Pro Modified racer and NHRA rookie Dmitry Samorukov who qualified #11 with a 6.251. Thanks to Robin Jackson for pointing out that all four T/AD semi-finalists at Las Vegas today are women. You can follow their progress at Drag Race Central and via live streaming at NHRA.tv (subscription required).

Santa Pod Raceway announce 2022 calendar.
29th October: Santa Pod Raceway have announced their calendar for 2022 which you can see at this link. SPR's web site will be updated shortly with event details which are promised soon, including RWYB dates. We will publish further details as they become available. Tickets will be available on 1st December.

Flame & Thunder Show tomorrow.
29th October: Santa Pod Raceway hosts its last drag racing event of 2021 this weekend with the Flame & Thunder Show on Saturday and Run What Ya Brung on Sunday.

Traditionally this has been a well attended event with strong local support, however you can still buy tickets for this year's event by going to SPR's online ticket site. Tickets are only available online and not at the gate.

Headlining the on-track programme will be the Slick Tricks Top Fuel Dragster supported by Draper Tools, driven by FIA racer Susanne Callin. There will be Drag displays running throughout Saturday featuring cars and bikes from a variety of national Drag Racing classes. Eurodragster.com will be posting a gallery of the action, and we will publish a list of the quickest times. If you're not at the track you will be able to keep up with the action by listening to Nitro FM.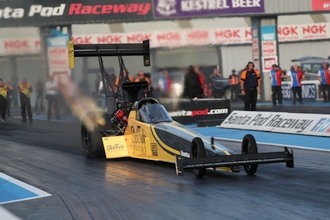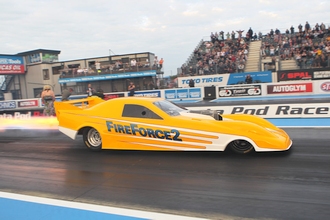 Thrust driven vehicles will be there aplenty. Martin Hill will be piloting the Fireforce 2 Jet Funny Car in its sole outing this year and the Fireforce 5 Jet Dragster will be making rapid passes down the quarter mile. Roger Goring will be running Firestorm, the state of the art Ford Mustang bodied Jet car that is one of only 3 centre drive Jet Funny Cars in the world and the only one outside of the USA. Julian Webb will be driving the Rolls-Royce Viper engined Split Second, and Perry Watkins will be driving the 1958 VW Pickup Oklahoma Willy - The Jet Bus with its Rolls Royce Viper 535 jet engine.

Off track, there will a spectacular firework display that will begin as the Fireforce Jet Car crosses the finish line, stunt displays from Terry Grant and Lee Bowyers, Team Maximum Lock's drift show, monster trucks, Titan The Robot (returning after a multi-year layoff), drift rides, helicopter pleasure rides and live band Boxeddy who will be playing on Saturday night. Add loads of stage and kids activities and there is something for everyone.

On-track action commences at 10am on Saturday with jets timetabled to run at various intervals from 11:05 and Susanne Callin's Top Fuel Dragster at 12:30 and 16:00, all appearances subject to weather and track conditions.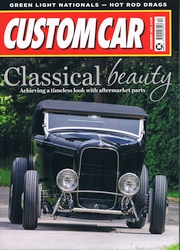 Custom Car features Blackbushe Reunion.
29th October: This month's Custom Car magazine has an article on the Eurodragster.com-sponsored Blackbushe Reunion that took place in July following a series of interviews by John Hunt of Surrey-based drag racing pioneers we published earlier in 2021. Keith Lee penned the article which is accompanied by historic and current photos. We're grateful for this coverage and look forward to the second series of interviews which are in preparation and will be published in the early months of 2022.

Also included in this must-buy issue of Custom Car are race reports from the STP Greenlight Nationals, 33rd NSRA Hot Rod Drags, car shows, hot rod builds and features galore. Custom Car is available at this link in digital or print format (all issues since May 2013 also available). Subscriptions are available at this link for the low annual price of £39 by direct debit, £56 via PayPal or credit/debit card and £78 to North America or Europe via PayPal or credit/debit.


Swift snippets.
29th October: A very Happy 70th Birthday to Santa Pod Raceway PR and British Drag Racing Hall of Fame director Robin Jackson. Have a great day Robin from all of us at Eurodragster.com and your colleagues at the BDRHoF. We also wish engine builder and Eurodragster.com sponsor Jeff and Belinda Bull of Jeff Bull Race Engines a Happy Anniversary for today.

Melbourne's season finale.
28th October: Eurodragster.com will be at the season ending 'Rock up and Race' Run What Ya Brung at Melbourne Raceway on 30th-31st October with former editor Tog taking pictures, and we will also post links to results.

You can arrive after 6pm on the Friday before racing and camp out. There is a weekend of Run What Ya Brung madness, car entry being just £50 per day and bikes just £40 per day for unlimited runs, free camping, spectators £10 per day (so if you're a camping spectator it's £10 per day-camping free). There's no weekend entertainment, just a final get together as we enter the festive season and Melbourne Raceway closes for a well earned break after an epic 2021 season.

In contrast to earlier events in the season, entry is using cash on the gate and no pre-booking is possible. In other words, just turn up and let's go racing for the last time of the year! All vehicles will have to pass scrutineering and you will need a crash helmet plus appropriate safety equipment. The BBC will be filming this event for a new programme called Speed, more details on this will be published as soon as we receive them.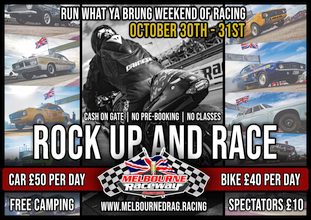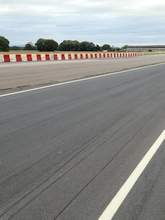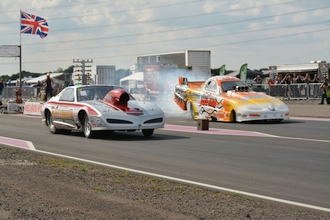 More improvements at Melbourne Raceway have been implemented in the form of the protection for the return road by a number of water filled barriers, which will be added to during next season.

Although there will be no Duck All Prep competition at the weekend, organiser and Eurodragster.com sponsor Lee Child has posted videos of competitions which took place at Melbourne Raceway on 18th-19th September and 9th-10th October which you can see on his Youtube channel at this link.

Jurby hosting events in 2022.
28th October: Jurby Motodrome opened to drag racing last weekend with the indefatigable Straightliners team operating their timing equipment on the quarter mile (albeit minus staging lights) as local racers took advantage of sunny and dry conditions to make runs at the Isle of Man track's Big Weekender. You can see a Facebook video of 11 minutes of the action on this Facebook video, with commentary by Straightliners chief Trevor Duckworth.

Included in the cars making runs were Hellzapoppin' (Pictured left below) with local racer and car builder Ian Merryweather acting as crew to his son Lee as driver and owner Peter Astell-Burt for a blast down the quarter mile track.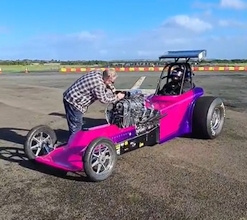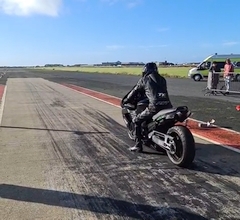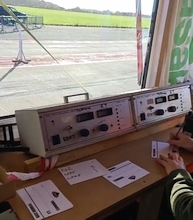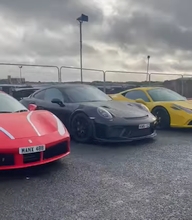 Jurby will have a round of the Straightliners championship in September 2022 with special boat transportation laid on to transport teams over. There will be new timing equipment provided by by Straightliners for local organisers SL Events Jurby to run drag Race RWYB type events at Jurby, to build interest in our sport on the island. It will also be used at the first Jurby drag race in 2022, which will coincide with the Isle of Man TT during the period 28th May-11th June. Both of these full on drag events will be run by Straightliners in conjunction with SL Events Jurby.

Swift snippets.
28th October: A huge (in proportion to his age) Happy Birthday to Nostalgia Funny Car racer Tony Betts, have a great day Tony from all of us at Eurodragster.com.

Eurodragster.com will be running its traditional Christmas Gift Mart earlier than usual in order to aid the order and delivery process (you know what we mean). If you have any products you would like to sell to Eurodragster.com readers, please forward details to editor@eurodragster.com. Previous gift marts have included t-shirts, calendars, mugs, prints, DVDs and even parts for race cars. The publication date for the Christmas Gift Mart will be Monday 15th November.

If you're looking for a slingshot dragster rolling chassis for sale, a great example has been listed on Ebay. Based near Doncaster, it's complete, only missing engine, has only done three runs and was built by Roy Wilding to SFI 2.6A (7.5 second) specs. Full specs are included in the advert and the asking price is £10,000.

Gerda as co-crew chief makes NHRA TF history.
28th October: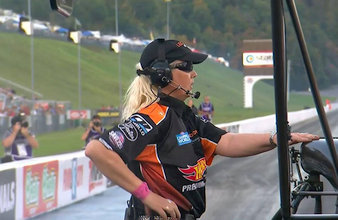 Thanks to Diane Kolb, PR for Lex Joon Racing for giving us an update on the role of Gerda Joon in husband Lex's NHRA Top Fuel team:

According to published reports, women who succeed in male-dominated careers are often seen negatively. Gerda Joon is an example of a woman who is determined, capable and willing to step into the traditionally male dominated role of co-crew chief on a top fuel dragster. She has already proven her worth by absorbing all the data possible and learning about the complexities involved with setting the right tune-up for various track conditions.

Lex knows it takes a strong team to win races and championships, a strong co-crew chief he found in his wife and long partner Gerda.

"I'm thrilled to announce Gerda Joon as a co-crew chief for Lex Joon Racing. I have worked with Gerda for many years setting records, winning races and a FIA Championship. I have seen her move up from an entry level crew member to one of the few current female co-crew chiefs in NHRA drag-racing. Over the last two years she went out of her way to help me and our part-time crew to climb the ladder building a team that's ready to be a force when real funding becomes available.

Lex and Gerda made the decision to leave their home and family in the Netherlands to move across the globe to the United States in pursuit of their American Dream. That was in 2013; they have been working as a team ever since to achieve that dream. You won't find Gerda at the nail shop or beauty parlor on a lazy Saturday afternoon. Instead, she'll be at the shop working side by side with Lex as they delve deeper into the mechanics of their top fuel dragster. Lex who has over 30 years of experience as a team owner and driver knows that team chemistry is a key element to be successful. "The most experienced teams don't always win; you need to find the right group of people that support each other.

"I was doing everything I could to support our program in any way possible, Gerda explains. This certainly wasn't the team role I planned to be in, not ever! I was actually terrified the first few times I had to squirt gasoline into the injectors but with some great support I've overcome that hurdle and am now adapting to my co-crew chief responsibilities. I also feel very blessed to have had teachers like Eric Lane, Lance Larsen and Rob Flynn, and of course my biggest mentor Lex."

Excerpt from start line interview with Joe Castello, NHRA staff announcer, on Sunday, October 17, 2021, at the NHRA Thunder Valley Nationals in Bristol, TN:

Joe Castello: You and Lex are working together to tune the car; that's kind of cool. A couple years ago you were just helping out and now you've taken over some of the tuning roles. What's that been like?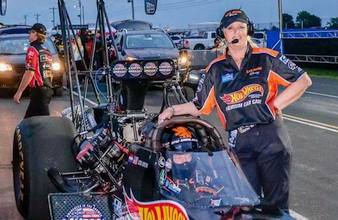 Gerda Joon: Stressful, but also very educated, and I think he is doing a great job because most of the calls come from him. I just am the person who puts in the numbers but it is very cool because I think we are the only husband and wife team out here that are running their own cars on a flustering budget instead of a shoestring budget. We work our butts off during the week, we put every penny we have in it, and we just pray to God, see how it goes and give it everything we have.

"It's great to have the support of the NHRA, our sponsors and our amazing fans. As a woman, I hope that I can inspire others to step outside their comfort zones and pursue roles that will offer them personal and professional pride. I am still learning but the experience is beyond what I ever imagined possible. Being supportive is one thing, stepping up when needed into a role that is as critical as a co-crew chief, well...it's just been crazy!" While funding has continued to be a challenge, Lex and Gerda have budgeted to attend as many races as possible.

"We don't have a trailer full of motors to just throw in there so we need to be smart about our decisions, smart about when we do and don't opt to make a run. One thing you should know by now is that we never quit, and we won't ever quit! My plan is to keep moving forward, to learn more, to listen to others who know more, and to get our car into the winner's circle. We know it will happen, we just have to take lots of steps to get there as a team! Remember "The Tortoise and the Hare fable…we are the tortoise and at the end of the day we will succeed!"

"I know I am in a male dominated role, but I plan to make a positive impact for our team and this sport. Whatever they say about negativity, I hope to turn that impression around…at least so far as being a female co-crew chief is concerned. This sport is all about family and this is an example of how we show our support for one another."

Lex Joon Racing looks forward to working with returning marketing partners as well as adding new partners for the 2022 NHRA Camping World Series Drag Racing Series. As announced, they have entered the NHRA Gatornationals in Gainesville, FL March 10-13. Additional entries will be announced in the future. #NEVERQUIT

Malta final round looking great.
27th October: The Malta Drag Racing Association web site has been relaunched with a totally different look and more functionality. Track hire can be booked, and photos and videos are included. Once implemented, racers will be able to book tickets for events (currently available at the track entrance), and advertise cars and parts for sale. Take a look at www.maltadragracing.com.

The next run what ya brung meeting is on Sunday 31st October, preceding the Finals on 11th-14th November for which we hear a large group of Brits will be attending, including announcer Luke Stevenson. Payment for entry at the gate is 5 euros on Thursday, and 10 euros a day on weekdays, Saturdays and Sundays, or a combined ticket for 25 euros which covers the whole weekend.

The full entry list will be published in the last few days leading up to the event however the MDRA have highlighted some of the cars attending what will be the biggest drag race in Malta in the last two years.

Malta Motorsport Federation President and 2017 FIA Top Fuel Champion Duncan Micallef will be making exhibition passes in his car. The world's quickest Escort Mk1s will be competing, the quickest 4cyl Mk1 Escort in the world from Lixxu Racing driven by Clint Fenech powered by a Cosworth YB (PB 7.053/193.08), Justin Ladmu and the Terminator rotary Escort Mk1 (PB 7.188/192), and Gary Camilleri's Zoqdi Racing rotary powered Mk1 (PB 7.18/188).

On the bike side there will be the Funny Bikes of Glen Borg (PB 6.538/329,68) and Franklyn Borg (6.908/302,73 PB at 2021's 2nd event) and Super Street Bike will feature Joseph Grima on Simon Giordmaina's SSB.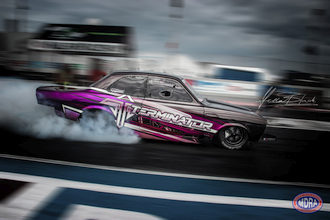 A jet dragster will be running for the second time after its May 2019 Hal Far début, with Martin Hill of FireForce Jet Funny Cars again driving the Nitro Lord jet dragster of Austrian engineer, racer, promoter and organiser Alexander Pilshöfer.

Many other spectacular race vehicles are expected to fill the 120 available spaces of what should be a great event.

The event will be observed in its entirety directly by FIA members, to issue a report on how to conduct an event at Hal Far.

Plans are in hand for upgrading Hal Far track as part of the redevelopment of the facility into an international motorsports race track as we reported on 28th September. Barriers will be replaced with new ones to comply with FIA regulations, and the MDRA will build a new Tower for equipment to be transferred from the existing one. The pit area will also be extended.

We will post links to media and results for the November event, and watch with interest continued developments in Maltese drag racing.

Laseur to retire.
27th October: We were sorry to learn that 2016 FIM-E Pro Stock Bike champion and more recently Super Twin racer Gert-Jan Lauseur from Almere, Netherlands, has announced his retirement from competitive drag bike riding:

"From 1996 onwards I have constantly engaged in drag racing, from street class, to Super Street. In 2006 I had my first wheelie bar motorcycle, in 2007 I was European champion in Top Gas! I drove throughout Europe from 2009 to 2016 for the FIM Pro Stock championship with the cherry on the cake the European championship in 2016! After that a few more years of riding in Super Twins with the last result in second place in the European championship in 2019! Unfortunately, forced by Corona, nothing has happened in the last two years and this has also made me realise how much time this sport takes me and my two crew member friends.

"In my shop it's only busier and busier, and I have to admit that I've been working with more fun in my shop for the last two years, now the pressure of work that this motorcycle sport requires is gone. It's difficult with a one-man motorcycle business to have to take leave during the busiest part of the season. It is also increasingly difficult for crewman Sander Nijssen to find the time for the sport.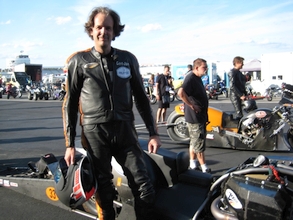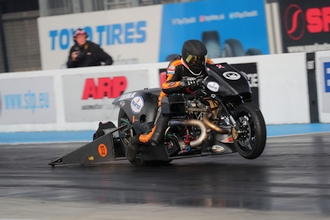 "I therefore decided to stop drag racing, which I did with great pleasure and passion almost 25 years! My thanks go to my crew and friends Patrick, Sander, Angie and Jeroen and my crew members who used to join, Appie, Joram, Federico and Rick. Mucho cudos for Max who was financially the biggest help from the start through thick and thin years!

"My thanks also go to my many sponsors that I have had for years, especially the Family Pels van Zodiac, Eurol Oil, Youngerius Amersfoort and Robarcko Almere. Apologies to my mom and dad who are terrified to this day if we went out for another week for a competition.

"If anyone is interested in my Supertwin 196 ci, I'm open to a suitable proposal. I have so many extra parts that you will be able to ride this super reliable Nitro Harley Supertwin for years to come. The frame has been made longer and the exhaust needs to be modified, the seat needs to be changed and the wheelie bar too." You can contact Gert-Jean via his web site. Update 28th October: Gert-Jan's bike has been sold to a racer in Scandinavia.

Weapon for Hines.
27th October: Former ET bike racer Jonathan Hines is making a big step up by buying the ex Knut Möller Super Street Bike and will be testing the machine at this weekend's Flame & Thunder Show. Jonathan said:

"A mate and I left home midnight last Saturday, after 36hours of travelling and collecting the bike later we were back home. We stopped once for fuel, other than that, we didn't stop at all.

"The bike is a Suzuki Hayabusa with Holley EFI management system, Garret GT35 turbo and a Rock Solid clutch. It has been at best 7.658/186 with more power to be had.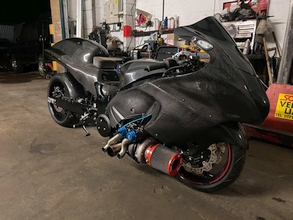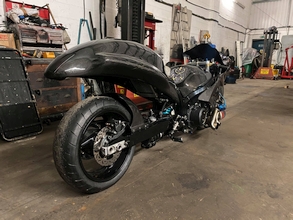 "I'm riding the bike for the first time at Flame & Thunder this weekend and on the Sunday run what ya brung, not going to be laying down amazing times, but I've got to get some bike time on it.

"I'm not sure whether I am going to be going Comp Bike or 8.50 Bike, with a view in the future to have a try at Super Street Bike. It is upto super street spec with full carbon body work.

"I'm looking for sponsors to go alongside my current sponsor Portable Power."

We wish Jonathan all the best for his testing this coming weekend.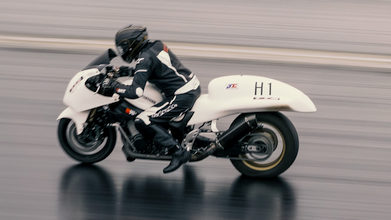 TTS Performance bike hits the eights.
27th October: Many thanks to TTS Performance owner Richard Albans for getting in touch. Richard, as we reported yesterday, ran into the eights on a bike he had not been on for four years. "I own TTS Performance, going on 40 years next year. I'm the UK importer for Rotrex Superchargers made in Denmark, very small high revving centrifugal units. I don't get much time to ride, but last weekend made the effort to get my bike out for the first time in 4 years.

"It's a forged gen 2 Busa motor running a C38-91 Rotrex, not the biggest but it's giving me 18pounds of boost and 500hp. As a result of the RWYB track conditions, we used some grip juice to get the traction needed. It was geared pretty high, going through the top end in 5th and my best was 8.8/179 (click on picture for FB video). I'm sure I could run 7's if I set the bike up for a prepped track, but will have to wait till next year now."

If you want to know more about TTS Performance an Rotrex Superchargers, please email sales@tts-performance.co.uk, call +44 (0)1327 858212 or check out our web site www.tts-performance.co.uk.

Santa Pod Raceway's October Saturday Night Special.
26th October: Thanks to Callum Pudge for publishing a large gallery from last weekend's Saturday Night Special at Santa Pod Raceway on Facebook which you can see at this link. There were some quick times and here is our list of some of the top times recorded:
Ian Crichlow (8.50 Bike) 8.477/156.88
Dean Robey (Super Pro ET dragster) 8.7272/146.67
Richard Albans (TTS Performance Tuning) 8.8298/175.68
Roberto Caira (Audi RS3) 8.9556/160.19
Brian Nixon (Outlaw Street Taz Racing Anglia 105e) 9.0769/151.65
Ahmed Jamshaid (Honda Civic) 9.3173/154.16
Sally Woolner (Outlaw Street Camaro) 9.3283/149.62
David Mahoney (Outlaw Street Camaro - pictured right) 9.5343/138.97
Michael Castle (Ford Cortina Mk5) 9.6455/141.13
Anna Sasiak (Suzuki Hayabusa turbo) 9.6628/151.09
Helder Pereira (FWD Seat Leon) 9.8631/144.82
Andy Cunningham (Outlaw Anglia) 9.822/133.72
We've gathered some comments from social media from racers who made runs: 8.50 Bike racer Ian Chrichlow has a new ride (pictured below left), built for SSB a few years back and raced a little in Comp Bike, but the bike hasn't been at the track for a few years, so after reporting yesterday that Craig Wright will be on Ian's usual 8.50 Bike next year, it's good to know Ian will still be in the saddle next year.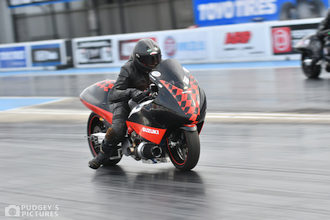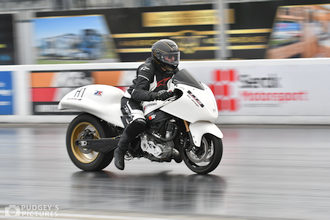 Another quick bike not out on track for four years was Richard from TTS Performance Tuning whose white supercharged Hayabusa (pictured above right) is a rolling demonstrator for TTS Performance Tuning's Rotrex centrifugal superchargers which the firm have developed for over 40 years. Richard ran his first eight, 8.82/175 so well done to him.

Audi RS3 racer Roberto Caira (pictured below left) represents Ecotune and came down from his Glasgow base, driving the RS3 450 miles to Santa Pod. He made six passes and running twice in the eights, his first eight, 8.9924/161.91 improving to 8.9556/160.19 under the SPR lights, the quickest RS3 runs ever. Then he drove the car home! Closer to home, Roberto set the track record at Crail earlier in the month by running a 9.250/165.40 on 10th October.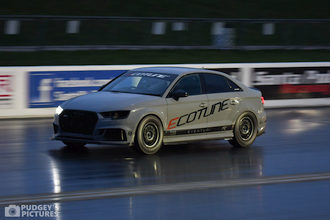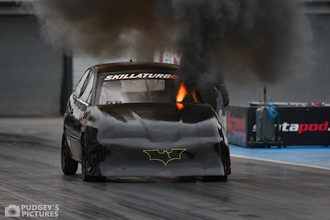 There were Front Wheel Drive racers present running low nines. Skillaturbo UK were well represented, with Helder Pereira running his 'Batmobile' Seat Ibiza (pictured above right) with Alvaro Silva into the 10s on his first day out in his TDI Seat Arosa.

FWD racer Ahmed Jamshaid of Big Man Ting Performance ran his Honda Civic and recorded 9.3173/154.16 coupled with a 157mph PB speed earlier on Saturday evening, with a new block installed at the end of September and run in at the JapShow Finale.

There were others trying out new parts or combinations, Super Pro racer Tom Atkinson tried nitrous for the first time on his Nova Wagon. "Interesting day playing with the gas for the first time, 50hp jets got it down to a 10.98@122.55 (its first ever 10) then stepped up to the 100 shot and smashed out a 10.67@125.95 backed up by a 10.68@125.81, couldn't believe it! We left the 150 jets in the box for next year..."

VW Pro racer Richie Webb brought a street legal VW Beetle with turbo, which stood up on its rear wheels twice, and after development looks as if it will be rapid.

As reported on 21st October, Outlaw Street held its final round at this event, and the quickest are listed above. Also running were Owen Forrest in his Nova, Michelle Wallington in her Subaru powered Beetle, Mark Wallington in his rebuilt '65 Falcon Wagon, Dez Brown in his MG Magnette, Pete Lane in his Barracuda and a couple of others.

Michelle Wallington (pictured below left with Mark's Falcon) said "Well that's a wrap on my first full season and wow what a year my 2021 season has been. I started the season running 25s with suspension & clutch issues, but over the season the bugs bugs have been worked through one at a time. I've raced at Santa Pod & Melbourne and totalled 81 runs this year! As of this weekend I finished on a high with yet another PB with my final PB for 2021 of 14.37 & 94.69mph. I can't thank everyone enough who's helped with 'lil blue along the journey this year.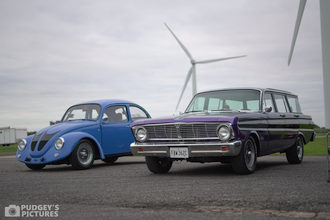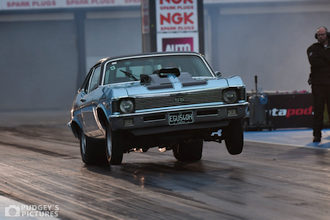 Owen Forrest brought two cars, his usual Chevy Nova II (pictured above right) and an Escort Mk1 driven by Cameron Smith. He said "What does it look like to achieve a goal after a year of trying: In possibly the most enjoyable and emotional end to my season's drag racing saw the Nova finally pull in a jaw dropping leap into a 9.82 pass at 134mph. The fastest and quickest pass yet, all motor, 99ron pump gas, road legal with a strong headwind. I'd have been overwhelmed with a 9.99 but this was amazing. The Escort broke the diff but still made a personal best of 10.25@128 on the motor alone and 10.11/125 with nitrous.

"Thank you to everyone who has helped along the way or followed the journey through social media. The final and fastest pass had me in tears, the effort put in with me and the team through the season, the immediate response was to naturally share my enjoyment with Dad, I think he would have been jumping up and down with the rest of the team on the start line. What a sport. Thanks to those who have inspired me or helped along the way, you're probably unaware of how much distraction i've needed this year since Dad's passing, he was my wingman. Special thanks to Adam Smith for trackside crew and all of our team / friends and everyone at work for the relentless withstanding of my obsession."

Images © Pudgeys Pictures.

Wheelie bars for Alex.
26th October: Second Coming Single Cab racer Alex 'Jesus' Leiserach came to the SPR Saturday Night Special last weekend to continue to test his new build Bay Window machine (see news on 23rd August) and pulled a huge wheelie in the process:

"Saturday started with driver error. I have moved the 2 step switch to the other side of the staging brake to cure an issue, but didn't pull it hard enough to actually engage it. This caused two issues, the clutch management wasn't activated, and it didn't sit on the 2 step so didn't build boost. There wasn't enough power on launch to slip the clutch, nor was the clutch management active to assist. A rookie mistake, but I definitely learnt from it. So a huge wheels-up launch and it ran a 1.48 60ft on the back wheels, this is very promising. Upon landing I was very glad of the Racetech 119 seat cushioning me!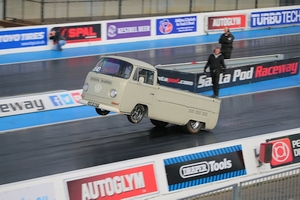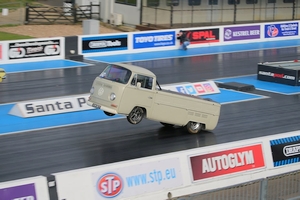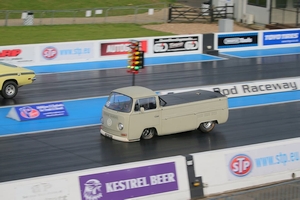 "It luckily only did cosmetic damage to the underside, although the landing was hard enough to drop both doors. Back to the pits, we readjusted the doors, gave everything a good check over and bolted on the wheelie bars. Second pass it shook pretty bad off the line but ran a 10.7/130, it had a crap 60ft due to tyre shake and the mph was down as we had it turned down in 3rd and 4th. It's only a RWYB track with a lot of cars with treaded tyres not helping the surface, we had decided to take it very cautiously. Ironically I really don't need the wheelie bars when everything is working, but they are a good safety net.

Third pass a quick bing boop (technical term - Editor) with the laptop and we adjusted a few things to help with the launch. Got all the way to the front of the queue but the starter motor decided it no longer is a starter motor and is now just a smelly paperweight. A few hours of driving around to collect a replacement and by the time we went to bed it had a fresh one.

Our fingers were crossed for Sunday with the weather and the track; the headwind was due to be a lot stronger so that was definitely be against us. Sadly after running around to collect, modify and then fit a suitable starter, the clutch release bearing failed on us Sunday first thing.

Lots learnt and its far better going into winter knowing what needs attention rather than wondering. We will be back stronger and faster, definitely glad I booked both days. Its going to be a long winter till we get to run again, but with the truck showing such promise and a few simple tweaks planned, we are really looking forward to the next season already.

'Racing is Life, Anything before or after is just Waiting.'

Images © Blackett Photography.

Swift snippets.
26th October: The Outlaw Anglia website has had a makeover with a photo slideshow on the front page and hover over updated car details for current drivers, of which there are 48. The address to go to for comprehensive information on the class is www.outlawanglia.co.uk.

Craig moves up.
25th October: Former triple SPRC Sportsman ET Champion Craig Wright has raced in various cars from low 8sec Dragsters in Super Pro ET to finishing 3rd in his rookie season in Super Comp.

Three seasons ago Craig made a big change by venturing into 9.50 Bike in 2019 with a borrowed bike from Ian Chrichlow. Although his drag racing experience was wholly in cars he got to grips with the 180hp Suzuki Hayabusa Gen1 (Gen 2 bodied) machine quickly and won his second event with it, the 2019 Springspeed Nationals. Having finished runner up in the 2019 points, Craig continued racing the bike during the 2020 Covid Cup and was runner up in that year too. This year a more complete racing programme took place and Craig was the winner at the Festival of Power, achieving runner up position for the third year in a row.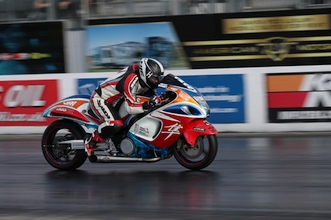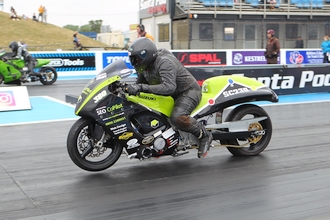 Craig is now about to embark on the next stage of his motorcycle drag racing career. He said "We felt it's time to start a new chapter and face a new challenge, then an offer was put to us. I will be on the Ian Chrichlow 8.50 Turbo'd Hayabusa for 2022 as we step up to the 8.50 class.

"We know this bike is mega and has even ran into the 7s at over 180mph, but is mainly a front running 8.50 bike. Crich won the National Finals this year on its only outing. I've just now got to get used to this 'Boost' thing that everyone's raving about!

"Huge thanks to Crich for coming up with this idea and giving us the chance, the bloke's off his rocker but an absolute' legend. 8.50 Bike is a seriously good class with some stellar riders, and actually looking to be quite a big field next season, so we cannot wait to mix it up with everyone! The team and bike will also have a fresh CW Motorsport look as well. Roll on 2022 Baby!"

Craig thanks Ian and Jay Roe and the Fossil Fuellers Drag Bike Team for sorting everything and giving him this opportunity. He also said he's looking for sponsors.

Spottedmotors into the nines.
25th October: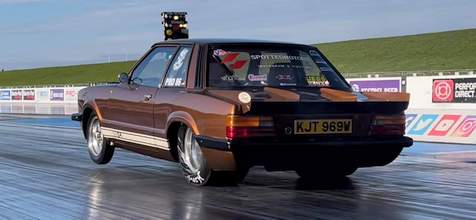 You may have come across the Youtube channel Spottedmotors which is presented by Dale Ackworth and Michael Castle. During the last four years Dale and Michael have posted a number of videos featuring buying, selling, modifying and racing their favourite cars. The channel has developed along the way, with narration added from 2018 and Dale restating his objectives for the channel in 2019.

Many cars have been featured including Michael's Ford Cortina Mk5 featured in the very first video posted, a race at Shakespeare County against a Ford P100. In February 2019, Dale and Michael went to Bill Inghams Speed Shop (co-incidentally located in Billingham), to reveal their dream to convert the Cortina to a full on drag car with a twin turbo 5.3ltr LS6 engine. Its previous 500ci Cadillac engine suffered an engine blow up in October 2020 which provided the trigger for installing the replacement.

A series of videos covered the stripping down and replacing of the engine with the LS6, including rebuilding the valve train. Along the way Dale and Michael crewed for David McCallan and his Chevy C10. They also took the Cortina to John Sleath Race Cars and discovered the car made 750hp on 10psi boost after some tweaks. The videos are presented in a light hearted manner with plenty of onboard footage so the viewer feels almost part of the team.

Fast forward to Santa Pod Raceway at the Saturday Night Special and RWYB held last weekend 23rd-24th October and the car, driven by Michael, ran well from the start. By the end of Sunday the car had made nine runs with a best of 9.645/141.13. With a race number of Pro 86, we hope Michael will be entered in Pro ET in 2022 and that we will be able to follow his and Dale's progress on Spottedmotors.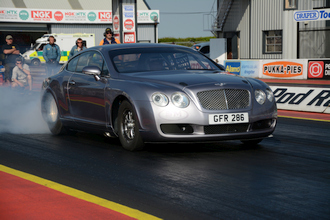 Street Eliminator Bentley for sale.
25th October: Thanks to Wayne Allman for spotting a For Sale advert for the legendary Street Eliminator Bentley on racecarsdirect.com. The car described as an "incredible piece of engineering, professionally built by Jon Webster at a cost of £300K+" will be sold "fully prepped by Jon Webster Engineering and ready to run".

The car as most drag racing fans know first competed in Topspeed Automotive Street Eliminator in 2014 driven by its first owner Steve Neimantas to best times of 7.301 and 208.10, then in 2016 Martin Smith of Extreme Racing bought and raced it until 2018, winning the Main Event that year, following which it has been in storage.

The car is being sold by current owner Academy Motorsport Ltd. Interested parties should contact Matt Nicoll-Jones on 07814705352 with a suitable offer.

Picture credit: Tog.

Swift snippets.
25th October: We send Happy Birthday greetings for today to Top Fuel racer Urs Erbacher who is 60 years young today, to Super Pro ET racer Joe Kellett, to former crew member for Peter Schöfer's TMD team Gittli Kürten, and to Giles & Hartley crew member Kirsty Giles. Have a great day from all of us at Eurodragster.com.

The Ain't No Saint Volvo P1800 of Lee Johnstone and family are the subject of a Hot Rod Magazine Car Profile article.

Samorukov licenses for NHRA.
23rd October: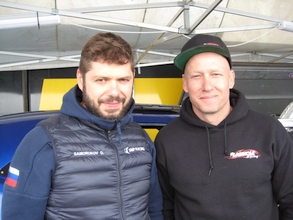 Adam Flamholc, crew chief for Russian Pro Modified racer Dmitry Samorukov (pictured right with Adam), has announced that Dmitry will be racing at the NHRA Vegas Nationals from 29th-31st October:

"Big news for Russian dragracing! My longtime friend Dmitry Samorukov just got his NHRA license and will run his SMP Racing Camaro at the NHRA Pro Mod final round next weekend!

"Me, Dmitry and the guys from the Russian Drag Racing Championship have worked together for six years now, racing in Russia and in the FIA European championship. NHRA have always been a dream for Dmitry, and now he will become the first Russian to race with NHRA!

Chris Duncan is doing some NHRA safety updates on the Camaro and will meet us in Tulsa, so we can get some testing in before we head out to Las Vegas."

Dmitry was born in 1976 and after coming second in the 24 Hours of Barcelona circuit race in 2012, took to drag racing in 2014, starting with the All Wheel Drive class and in 2015 becoming runner up in the Rear Wheel Drive class Russian championship in 2015. In 2016, Dmitry acquired a Dodge Viper and teamed up with Adam Flamholc who travelled from the US where he now resides to assist him in running it. The result was five Russian Drag Racing Championships in a row in the US class, the top category. He also raced in Finland at the 2016 Nitro Nationals, and at Tierp in the Scandinavian Internationals in Top Doorslammer.

In 2019, Dmitry competed in each round of the FIA European Drag Racing Championship and came 10th in his first full season, achieving best times of 5.846/ 245mph. Whilst the pandemic in 2020 prevented Dmitry from competing internationally in 2020, he scored his fifth RDRC title.

Good luck and stay safe to Dmitry as he prepares for NHRA competition.

Picture of Dmitry and Adam taken at 2019 FIA Main Event.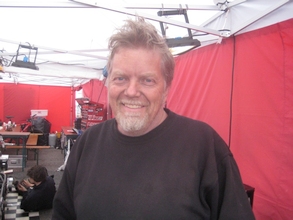 Hans Olav on the road to recovery.
23rd October: A couple of days ago, Super Twin racer Hans Olav Olstad was released from hospital after a long stay following his accident on 12th September at Gardermoen. He wrote:

"Finally I'm strong enough to sent an update on my situation. Right now I am healing faster then anybody can explain, however there have been massive injuries to my face, chest, shouler and lungs, together with lot of blood in the lung.

"Right after the huge explosion, the rescue team was by my side. The cylinder head hit my chest and face and demolished everything in the way. The rescue team did all what they could to save my life, and succeeded. I will never be able to give them enough credit or thanks for saving my life. A helicopter brought me to the best hospital in Norway, to stabilise my body for a huge operation. I was on the operating table for over eight hours to repair my sternum and put together all different bones in my face. The upper and lower jaw was totally separated from rest of the skull and were just in pieces. I was placed in breathing machines for one week, then the doctor told me there was no more danger to my life.

"My girlfriend Margrethe was by my side every day. She spoke to me, touched me, and the monitoring apparatus registered a reduced heart rate together with lower blod pressure. I was still in a coma although nobody can explain why this occured. Then, after 10 days in a coma, I woke up to my new life. At that time I could not speak and it was hard to communicate. I was mostly blinking with my eyes.

From that moment every small step forward have been a huge step for me. I'm now up and can walk small steps. I can talk again, eat mashed food, and drink by myself.

"Last week they remove all the steel in the mouth, 14 days earlier then planed, and I was able to swallow and talk properly without any pain.

Right now I have a overhwhelming desire to give the biggest credit to all my friends and helpers for all their warm words, and offers of all kinds of help. One of the biggest surprises was seeing a kid putting a sticker on his go cart that said "get well Hans Olav".

About the bike, almost everything is damaged, the frame is damaged, the complete engine with compressor damaged. The data logger and screen are damaged, mostly all the cables are damaged. It's impossible to say anything about the future of this bike. It needs years to put it back to a drivable condition. One thing is the cost, the other thing is all the parts neded.

But I will be at the track next year, mostly to help friends and their teams. Thank you all.

Picture taken at 2016 FIA Main Event.

Dakota's final cash day of 2021.
23rd October: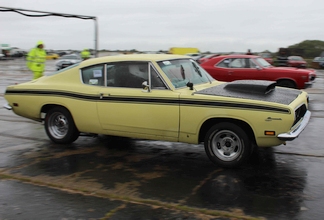 The final cash race day of 2021 at Dakota Raceway Southwest, Smeatharpe, Devon on Saturday 13th November has been announced by promoter and Eurodragster.com sponsor Lee Child:

"This is a great day out for any petrolhead, all are vehicles are welcome. There is a 1/4 mile drag strip for Run What Ya Brung where you can grudge race your friend. There is an 1/8th mile drag race for cash competition, Street Outlaw style. It's an excellent place to meet up, with coffee, cars, bikes and bacon butties.

"The 1/8th mile drag race competition will be run as duck-all prep, with 1/4 mile run what you brung and passenger rides as well. To enter, go to this link.

"In the no-time 1/8 mile drag race there is a chance to win £400 per category, first across the line wins. All categories will have the 16 car pairings decided from a out the hat selection until the final two race for the money. The categories of competition are:

Pro AWD: Modified, competition tyres, interior removed
Street AWD: Factory appearance, full interior
Pro Rear Wheel Drive: Modified, competition tyres, interior removed
Street Rear Wheel Drive: Factory appearance, full interior
Pro Front Wheel Drive: Modified, competition tyres, interior removed
Street Front Wheel Drive: Factory appearance, full interior

Based on a 16 car field, the winner gets £400 in each category. In the event of numbers in each category not being fulfilled, there will be a reduced prize fund, for example in a 4 car category £150 and 8 car category £200. In event of the category exceeding 16 cars, the prize will go up from £400. However Lee is looking for sponsor input to increase the prize funds "so be aware things are subject to change".

Lee has been keeping score and the leader in points is Pete Lane (Plymouth Barracuda - picture by Jerry Cookson) who has an almost 100% win record and the most wins outright in 2021 at Dakota. He is 50 points ahead of Graham Butler (rat rod) who is in turn 10 points ahead of Dave Mahoney (Chevy Camaro) and Audrius Bagdonavicius (Audi S2).

Entry fees: Entry to the 1/8 mile heads up drag race cash day with 1/4 mile test and tune is now open costing £100, including one crew ticket. Run What Ya Brung racers can enter for £55. Drifting is £75, or £45 in addition to other entry. Racers should enter online as there is pre entry only, no entry on the day.

If you get eliminated from the 1/8 mile no time drag race, you then can do timed 1/4 mile test runs at no extra charge. Passengers have a £35 additional charge, and the entry cost on the gate for spectators is £10 per person kids go free.

The Dakota drift team add: "For anyone that hasn't been to one of our events before we have a dedicated beginners' area away from the spectators as well as the main track which is fast, flows and still good for tandem drifting. Seat time is really good too. One of our tracks strong points is the space and freedom to practice higher speed entries at the top corner."

Click to enter at this link. The post code for Smeatharpe Airfield is EX14 9RF.

Swift snippets.
23rd October: We wish a Happy 60th Birthday today to Pro ET sabbatical-taker Paul Baynton and to our namesake, hot rod builder Simon Groves, also Happy Birthday to former Shakespeare County Raceway clerk of the course Osmond Maguire. Have a great day guys.

For those enjoying coverage of the Calfornia Hot Rod Reunion, the webcast of today's racing is at this link. You can also see the results of yesterday's qualifying in Nostalgia Funny Car and Top Fuel by going to Competition Plus.

Your editor was kindly invited by Dave Turner of the must-see Facebook Group UK & European drag racing photos to select five pictures to be voted on for this month's header poll. You can see, and vote on, the selection at this link. Thanks for the opportunity Dave.

Outlaw Street finale this weekend.
21st October: At this weekend's Run What Ya Brung and Saturday Night Special at Santa Pod Raceway (racing on Saturday planned to run to 8pm), the Outlaw Street series has its sixth and final round. The well-established series for street legal cars reached over 100 members in 2021 and held all its rounds at SPR.

Looking back at the rounds held this year, the delayed first round was at VW Breakout on 28th-30th May, and was followed by round 2 at Melbourne Raceway on the weekend of 19th-20th June. Round 3 was at the Mopar Euronationals on 30th July-1st August, however round 4 was split between 15th August (Das Auto Show), 3rd September (VW Action/Doorslammers) and 9th October (GTi Festival) due to the limited running possible at those events (points scored on the first date attended count). Round 5 was held at the NSRA Hot Rod Drags on 17th-19th September, with only pre-1973 cars being eligible to score points.

The points system is built on a combination of 3 factors, the quickest ET on the day, a racer's personal improvement from the last race meeting and attendance. This means that members don't have to run the fastest car to have a chance of winning a trophy across the season, as proven by the top 3 winners on many occasions over the past 11 years of Outlaw Street. Points from four of six rounds in the 2021 series count towards a racer's final score and decides the series winners, and the first round a racer attends is their 'dial in' round scoring zero points apart from 25 attendance points.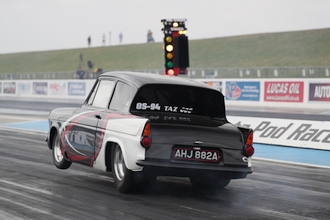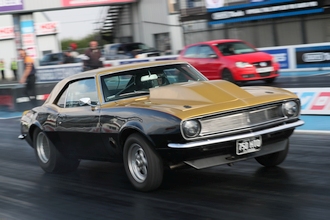 The six cars that have scored points in four rounds so far are Brian Nixon (Anglia 105e) (pictured above left), Dave Mahoney (Chevy Camaro) (pictured above right), Owen Forrest (Chevy Nova), Pete Lane (Plymouth Barracuda), Michelle Wallington (Beetle) and Nina Coombes (Lexus). Three other racers who are in with a chance of a trophy, having scored in three rounds are Sally Woolner (Chevy Camaro), Rob Leyman (Chevy C10 pickup), and George Ralph (Corvette C3).

Mark Wallington is the series organiser, using the Outlaw Street Facebook page being the main means of member communication and posting of media. You can see the latest Outlaw Street points at this link, or via our points standings page.

The series' 2021 Prize Night will be held at the Crown Lodge Hotel, Outwell, Wisbech on 13th-14th November.

Old School Stockers' Rule repeat champion.
21st October: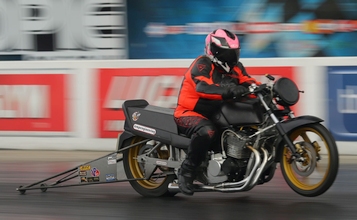 Old School Stockers, the group of small (8") tyre Nostalgia Pro Stock Bike racers, yesterday announced that Claire Rule (pictured right) is the 2021 Champion, winning the title for the second year in a row. Congratulations to Claire who has been riding these bikes since 1988, the last year of small tyre bikes. Claire engineered, machined and built her latest bike, based on a 1985 GSX1100EFE, in 2016-17 essentially as a copy of her first Pro Stock bike with some minor updates to make it suitable for modern track conditions. Aside from Old School Stockers, Claire's main business is conversions of Mazda MX5s, at her firm Crapengineering.

The championship was split between Melbourne Raceway and Santa Pod Raceway, with the first round at Melbourne on 22nd May, the second at the Retro Show on 21st June, then Dragstalgia on 9th-11th July. The group returned to Melbourne Raceway on 7th-8th August and its season finale was at the Straightliners event on 17th October. Riders in the series thanked Santa Pod Raceway and Melbourne Raceway for hosting rounds of racing.

Old School Stockers was adopted as the title for the series to correspond to their Facebook Group which is run by championship organiser Tyne Blight with assistance from Dan Blight who calculates championship points. The class's Facebook Group keeps an eye on the other nostalgia Pro Stock bikes running in Europe (currently a couple at Kjula Dragway) and also includes a copy of the 1985 ACU rules under 'Announcements'. The Group also contains some historic photos and memories from those who raced in the class back in the day.

Swift snippets.
21st October: Drag racing historian Nick Pettitt has uploaded to his Youtube page an hour's footage from round 4 of the 2001 Super Series at Avon Park Raceway which were shot by the late John Hutchinson. The video includes a fair proportion of pitside footage from which team members of yesteryear may be identified.

For those wishing to watch the NHRA California Hot Rod Reunion, which takes place this weekend, a stream will be on the Youtube channel DragRacer.tv from 22nd-24th October.

The entertaining series of video interviews filmed by Cindy Gibbs this week features Nitro Revival organiser Steve Gibbs interviewing Bill Schultz, who worked with Alan Jackson and Micke Kågered's TF teams in Europe, and 1971 NHRA Top Fuel Champion Gerry Glenn. You can see the video, on the Nitro Revival Group FB page, by clicking here.

Arthur Christy.
20th October: We were sadddened to hear of the passing of South African drag racing pioneer and AA/FD racer at Santa Pod in their 1971 International meeting Arthur Christy.

Arthur had a lifelong love of cars and drag racing. As well as creating South Africa's first drag strip, Rainbow Drag Strip, he built cars, the best known in the UK being his Hawaiian III which he transported over 5000 miles to race at Santa Pod. Despite it being a half century since his landmark visit to the UK, Arthur closely followed UK drag racing and was the subject of an interview feature we posted in 2016, and later in HOFtalk 11. In return, he kept in close touch with his UK friends and admirers. Arthur's nephew Wavell Vere wrote: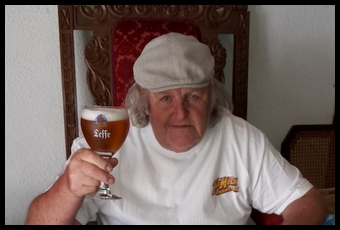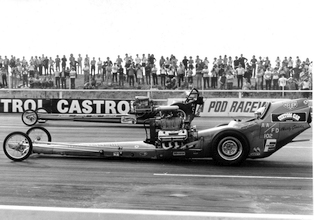 "For those that knew him, know that he was a mountain of a man, not only physically but also in character and had a huge heart.

"In his earlier years he was the South African drag racing champion, later he became one of the most well known engineers of his time, selling his machinery and innovations around the globe.

"He was known to many as friend, but to me he was my uncle Arth, a man who was a massive influence during my younger years growing up. Time spent with him was either around cars, one of his passions, shooting, hunting or running around the workshop and always laughing.

"I am sure it will be no surprise to many that he passed over listening to Frank Sinatra, music that everyone I am sure remembers blaring out of the pub at his house.

"Our thoughts are with his daughter Cat Christy and family, at this time." We add our deepest condolences to Arthur's family and friends.

Picture credits: Cat Christy, Roger Phillips.

Dal Denton remembered.
20th October: Many thanks to former Top Alcohol crew member and colour commentator Dave Alexander who has written in with his memories of Dal Denton.

"I was really sorry to read the report on the death of Dal Denton. He was a genuinely nice guy who would help anyone. I think he first appeared in Europe in the late 80s.

"Many years ago, when I was crewing for Steve Read (87 or 88 I think) we were racing at Mantorp Park and blew the engine in qualifying; dropped a rod and holed the block, it was toast. Lots of the other teams lent us parts, I remember that one of Peter Lantz's crew made a long round trip to fetch a block from their home workshop. It was late at night and we had a pile of assorted parts and an all-nighter in front us to build something that would race the next day.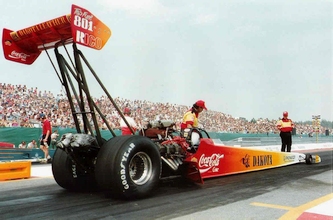 "Dal Denton was over as a 'hired gun' tuning for another team, Urs Erbacher I think, but when he had finished working on the car he was paid to tune he appeared in our pit and offered to help. He picked up the camshaft, looked at the lobes and the serial number then picked out the best combination from the parts we had and we set to work. He could have just had a beer and gone to bed but no. We had a problem and he pitched in without being asked or asking for anything in return. It wasn't just him, many other people helped us out with their time and that's one of the great things about drag racing, teams do that. "If I remember correctly, we went out in the first round, then the rebuilt engine was installed in the car of somebody else who had a problem with theirs for the semi-final. It really was a 'community engine' that weekend.

"My condolences to his family and many friends."

Picture credits: Chris Plunkett (Dal vs Todd Simpson), Jerry Cookson (Rico Anthes at 1993 NitrOlympX).

Straightliners at Santa Pod, champions.
20th October: Congratulations to the winners of the Straightliners championship following their final race of the year on Sunday at Santa Pod Raceway: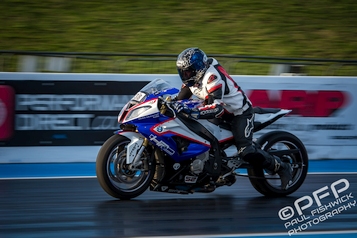 Car champions

Pro Extreme Car: Mark Flavell
Race ET: Nik Wilson
Street ET: Paul Smaile

Bike champions

Pro-Extreme: Mickey Blackburn
Class 6.00: Maxine Taylor
Class 6.50: Ashley Hodgson
Class 7.00: Daniel Leather
Class 7.50: Rob Kneeshaw
Wheelie Class:Jason King
Juniors: Jack Taylor
Nostalgic Pro Stock: Tyne Blight
Up to 750cc Racing Solo: Andy Higham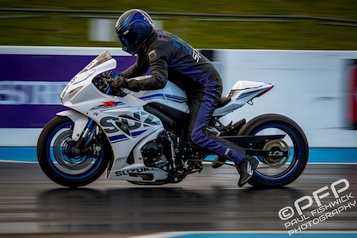 751cc to 1000cc Racing Solo: David Storrie - pictured right)
Unlimited cc Racing Solo and Classic Racing Solo: Mark Taylor
Sprint Legends: Colin Fallows
Classic Legends: Mick Varey

Scooter champions

Top Scooter (Silhouette): Eric Cope
Top Scooter (Modified): Russ Shea
Class 8.50: Dean St Leger-White
Class 9.00: Mike Pacey
Class 9.50: Gill Pacey
Class 10.00: Adrian Horrocks

The racing at Santa Pod was abbreviated due to morning rain, however riders were able to run qualifying passes during the afternoon. New Straightliners records were established in the following classes:

Nostalgic Pro Stock: Claire Rule (Suzuki GSX EFE 1428cc), 8.72/147
751cc to 1000cc Racing Solo: Pete Field (Suzuki GSXR 1000cc - pictured right), 9.23/152
Unlimited cc Racing Solo: Steve Everett (Hayabusa 1300cc), 9.53/143
Classic Legends: Mick Varey (Suzuki Katana '81), 11.28/121

Complete lists of ETs and speeds recorded on Sunday, including a sizeable RWYB bike contingent, are available at this link.

We were sorry to hear that 6.00 Bike Champion Maxine Taylor came off her bike at speed and was hospitalised with back injuries. We wish Maxine a speedy recovery and return to the track in 2022.

Straightliners Championship and Melbourne Raceway Cup points are available on the 2021 Straightliners results repository or via our points standings page. Thanks to Martyn Greathead for posting the results and points.

Photos: David Storrie, Pete Field © Paul Fishwick Photography

Swift snippets.
20th October: A Happy 21st Birthday to Ruaridh Hart for today. Dad Ian Hart says "Ruaridh was runner up in the SPRC Junior Dragster championship in 2016 and has crewed on Paul Brown's two-seater dragster, Andy Harrison's Super Gas Sierra and latterly has been working on the clutch for Rune Fjeld Motorsport cars, including Maja Udtian, Anti Horto and Ida Zetterström. From the little four year old that got dragged along to the track by his dad, Ruaridh has not missed an event since 2004 and now builds race cars and sells Docol tube through his company RH Weldfab." We all at Eurodragster.com wish Ruaridh Many Happy Returns.

Happy Birthday to Super Pro ET racer Peter Lane, have a great day Peter from all of us at Eurodragster.com.

Thanks to John Harding for letting us know that his captioned photos from the September 2021 Hot Rod Drags at Santa Pod can be viewed at his Facebook page, the galleries numbered as Part I - Thu/Fri, Part II - Sat, and Part III - Sun.

Photographer Becci Ellis has updated her Flickr page with a gallery from Melbourne Raceway's round 6 held on 9th-10th October. You can see Becci's pictures by clicking here.

Dal Denton.
19th October: We were very sorry to hear of the passing of US Funny Car and Top Fuel racer and crew chief Dal Denton, who raced and crewed in Europe in the early 1990s, at the early age of 60 after a long battle with cancer.

Dal started his career in his native Texas with a number of Top Alcohol Funny Cars in the 1980s of which the most well known was called 'Sudden Pleasure' which he built and drove in the All American Funny Car Circuit as well as NHRA and IHRA. In 1991 he came over to Europe with a Dodge Daytona alcohol FC called "Euro Drag School" which, after racing it at Santa Pod, sold it to budding Top Alcohol racer Urs Erbacher. Whilst in Europe, Dal met Leif Helander and was crew chief for him on his alcohol-fuelled Saab 9000 in 1993.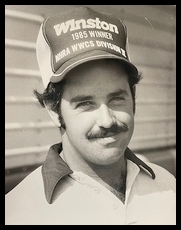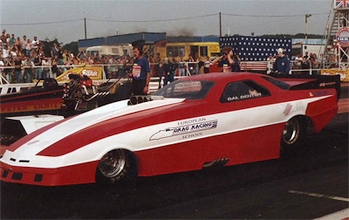 Between 1993 and 1995, Dal was crew chief for Rico Anthes whose Top Fueler was sponsored by Dakota, Pioneer and Coke. In 1994 and 1995, Dal drove a second car for Rico at the NitrOlympX, being the rebuilt car from Rico's blowover at the 1993 World Finals at Santa Pod Raceway. On returning to the US in 1996, Dal got into jet dragsters, building and driving cars for a few years, followed by his final drive, an AA/FA, again going under the name Sudden Pleasure.

In contrast to drag racing, Dal was also a world champion on his cutting horse, a western-style equestrian competition in which a horse and rider work together before a judge or panel of judges to demonstrate the horse's athleticism and ability to handle cattle.

John Wright commented "I was crew chief for Viveca Averstedt at the same time that Dal and Rico raced in Top Fuel. I remember the fun we had sitting on Sunday night with Dal, Tony Bryntesson, Dan Soderburg (Monica Oberg's husband and crew chief) and others, trying to pick each other's brains for information."

We send our condolences to Dal's family and friends.


Stilwell to test at El Mirage.
19th October: Many thanks to Nitro Revival sponsor Geoff Stilwell who has some great news about his next trip to the USA:

After more than 18 months of not being able to travel to the USA myself and Nick Davies will be making the journey in November to Los Angeles. The 7707 Team consisting of Geoff Stilwell (Team Owner), Nick Davies (Crew Chief), Mick Jenkins of Micks Paint who built the car, together with Landspeed Motor Specialists John Beck who holds a host of land speed records himself and Paul Bowman. We cannot of course forget Team Jester Tony Thacker. All of us will be heading up to the dry lakebed of El Mirage to take part in the final land race series of 2021 organised by the SCTA (Southern Californian Timing Association). This will be the first time we have actually really been able to run the car properly since it was built in 2019 due to bad weather and then the pandemic. I would add that during the time off we have not been idle and in addition to all the constant updates we also made a commercial for Lucas Oil.

As this is testing sadly we won't be able to run for any records at El Mirage, but this won't stop us trying to go as fast as we can. This event will enable us to get to grips with this totally new car and will give me valuable seat time in preparation for our attempt on resetting the class record at over 300+mph next August on the Bonneville Salt Flats, Utah.

I would like to take this opportunity to thank Lucas Oil both in the UK and USA for being a fantastic supporter of the team, Nick, Rob and Scotty at I.C.E. (Team Havoc) for taking time out to crew for me, Ron & Brian Hope of Rat Trap for all their support and help, Mick Jenkins and all the team at Mick's Paint for building me an amazing car and not forgetting John Beck of Vintage Hot Rods who has put together an incredible motor. I stand in awe and if anyone has seen the fire up video recently on Facebook they will know this is one exceptional car and of course Tony Thacker for looking after everything and being there whilst we have been stuck in the UK. We would not have been able to do what we are doing without Mick Jenkins and Tony so, special thanks guys.

For those interested in attending El Mirage the borders to the USA formally open on the 8th November. El Mirage is about 2 hours north of Los Angeles right near Victorville and there are plenty of Hotels nearby and camping is allowed on the lake bed. There will also be a live feed broadcast from the track and the link can be found at www.scta-bni.org.

Swift snippets.
19th October: Best wishes for a speedy recovery to Nostalgia Funny Car racer Tony Betts following a left hip replacement operation. See you back at the track before too long Tony.

VP Racing Fuels supports BDRHoF.
19th October: VP Racing Fuels, Inc., regarded worldwide as the leader in racing and performance fuel products, has committed to sponsor the British Drag Racing Hall of Fame Gala.

"VP Racing Fuels is excited to be part of this year's British Drag Racing Hall of Fame Gala," said Tom Davis, VP Racing Fuels' UK and European Business Development Manager. "VP has a long tradition of supporting drag racing in the UK and around the world, and this event is a premier addition to our involvement."

While the Hall of Fame salutes drag racing's past, it also seeks to foster the sport's present and future by recognizing each season's leading Junior Dragster and Junior Dragbike competitors. VP Racing Fuels will be a prominent supporter of this year's awards to the champion Junior racers of both 2020 and 2021.

Hall of Fame Honorary Chair Lesley Wright said, "We're equally excited that VP Racing Fuels has elected to support our Gala on its return after last year's Covid-enforced postponement. We recognize that VP is becoming an increasingly important contributor to drag racing in the UK, and we're grateful that the company has chosen to align itself with our continuing project to benefit the sport."

VP Racing Fuels joins the company of sponsors enabling the Hall of Fame to resume its annual Gala Awards Dinner after Covid-19 forced the cancellation of 2020's celebration. The Gala returns this year to the Oatlands Park Hotel in Weybridge, Surrey, on Saturday, November 20.

For more information about VP and its products for racers, enthusiasts, and general consumers, visit vpracingfuels.com.

BDRHoF Gala sold out.
18th October: The Directors of the British Drag Racing Hall of Fame have announced their 2021 Gala Dinner, to be held on 20th November at the Oatlands Park Hotel, Weybridge, is now completely sold out. Anyone who has made firm enquiries for tickets should contact Bev Bradbury at gala@britishdragracinghof.co.uk to finalise their booking and payment.

The Oatlands Park Hotel has also informed the BDRHoF that all their room accommodation for the Gala Dinner is fully booked. The Directors of BDRHoF have suggested as alternative hotels the Best Western Ship Hotel, the Hilton in Cobham (7 miles away) or The Brooklands Hotel (which has a two-night minimum stay).

The Directors look forward to welcoming those who have booked tickets at 5:30pm on 20th November for a Drinks Reception in La Terrazza Suite presented by Santa Pod Raceway.

SPRC Dinner Dance sold out.
18th October: Thanks to Yvonne Tramm of Santa Pod Racers Club for sending an update on the Clubs' Dinner Dance Trophy Presentation Evening on 29th January 2022 at the Mecure Centre Hotel Bedford (details in our news update on 27th September):

"Thank you for the amazing response to our Dinner Dance Trophy Night. Tickets are now completely sold out."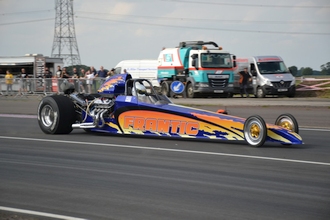 Melbourne Raceway to lengthen braking area.
17th October: Melbourne Raceway have announced a new funding appeal for lengthening the braking area from the current eighth mile racing surface.

Trevor Duckworth of Straightliners said "The next round of funding is going to be for the extra 200 meters of braking area. As we progress and we attract the faster cars and bikes we need to get this done over the winter. This is our priority and if we get the funding in, approximately £40,000, it's a big target I know, but we can and will do it." The additional braking area will bring the total length to 700 metres. Eighth mile racing will continue, however the extra braking area will allow quicker cars and bikes to run at the track.

The page you can go to in order to contribute is at this link. If you wish to donate by BACS the details are Sort Code 20-98-98, Account Number 13430782.

As of this morning over £7,000 has been raised in just over three days.

Pictured: Ant Harris's dragster © Tog.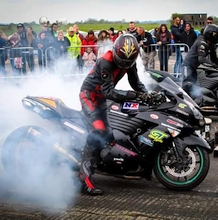 Spitfire Raceway's November event.
17th October: Eurodragster.com sponsor Lee Child of LA Racing Parts has announced the next event at Spitfire Raceway, Perranporth, Cornwall.

"There will be more VP Racing Fuels products for the top 6 on the drag strip Saturday 20th November. Also, it's way overdue, the bike record hasn't changed for a long time. Maybe it will be different at the next event on Saturday 20th November and the current record will be reset to under the 9.97/141 recorded by Mark 'Wolfy' Smith (pictured left) back in 2016.

"Drag or drift competitors can enter in advance by going online to the Spitfire Raceway web site at www.spitfireraceway.com. You can buy a spectator admission ticket for £10 (under 16s go free), and, if you have a crash helmet and full driving licence you can then go drifting or Run What You Brung drag racing once registered. £10 buys you one dragstrip run, £20 three runs and £35 unlimited runs. £60 buys you unlimited drifting. "Gates open at 8am, with track action 11am to 3pm. All vehicles have a safety check for drag racing and drifting, and drag strip riders and drivers meeting at race control 10.45am.

"Camping is £10 per night per head and kids go free. Pre enter the drag racing or drifting on line first then to book your camping by calling 01872 552856. If you have any roll over credits from previously cancelled events please email Kevin@perranporthairfield.com."

Spitfire Raceway is located at Perranporth and the postcode for your sat nav is TR5 0XS."

Ain't No Saint winner of Hot Wheels Legends UK tour.
16th October: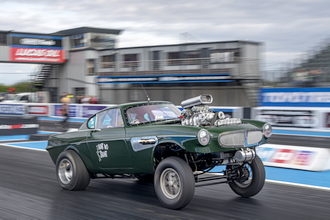 Congratulations to entrant Eleanor Jones and the Ain't No Saint Volvo P1800 team Lee Johnstone with wife Sue and daughters Eleanor, Sarah and Victoria, for winning the the Hot Wheels Legends UK tour and proceeding to the next round of the worldwide Hot Wheels Legends tour where the overall winner will have their custom-built car in with a chance of becoming immortalized as a Hot Wheels die cast sold around the world.

The distinguished judging panel, chaired by Car Throttle's Alex Kersten, were designer Ian Callum CBE FRSE, automotive photographer Amy Shore and podcaster/Youtuber Sam 'Seen Through Glass' Fane.

You can see the livestream of the selection and videos of the cars entered at this link including Ain't No Saint and Wayne Allman's Mental Breakdown VW Pickup which was highly commended by the panel.

The Volvo P1800 Gasser will contest in the Semi Finals of the competition on 4th November, with the chance of going onto the Global Final on 13th November. The global winning car will be immortalised as a Hot Wheels 1:64 scale die-cast for both children and collectors to enjoy. To learn more about the Hot Wheels Legends Tour visit www.hotwheels.mattel.com and follow #HotWheelsLegendsTour.

Image © Santa Pod Raceway.

US opening - too late for some.
16th October: With the disappointing announcement yesterday by the US Federal Government that entry of non-US citizens to the US has been delayed to 8th November, it seems that those planning to travel from Europe to the West Coast will be unable to attend Nitro Revival taking place on 6th-7th November. European visitors will also be unable to attend the California Hot Rod Reunion on 22nd-24th October, Dodge SRT Nationals at the Strip Las Vegas on 29th-31st October and SEMA Show at the Las Vegas Convention Center as a result of the the same delays.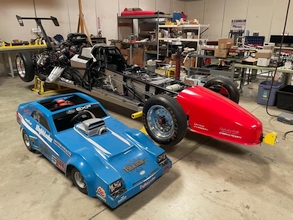 However, those with a later trip planned to Auto Club NHRA Finals on 11th-14th November or Man Cup World Finals on 18th-21st November are still advised to check with their airlines before finalising travel arrangements.

Our Nitro Revival sponsor Geoff Stilwell explains: "the Airline Assoc of Europe have been demanding a date and every country is running out of patience. To put it into context, any plane takes one month to ready if it has not been flown for the past year, due to safety checks. Plus, they have to submit to the FAA in the US the flight plans a minimum 30 days before the flight to get permission to enter US airspace. The US government say they want to open up the borders but until today have not actually said when. And where we have the phone app, in the US it is all done by paper."

We can only wish travellers to the US after 8th November a safe and trouble free journey. In the meantime, Geoff has released a photo of the latest addition to his US stable, a junior Ford EXP funny car in Blue Max livery.

Image © Tony Thacker.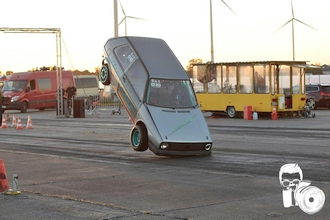 Zerbst Test & Tune media.
16th October: Last weekend the Hanau Auto Racing Association held a season ending test & tune at Zerbst Airport on 9th-10th October. The location had held test & tunes on 1st May, 26th-27th June, and a FWD Shootout on 17th July. Organising and track lessors AMC Dessau organised a race on 28th-29th August as well but sadly that was a rainout. So members' championship points were calculated on their performances at the ATD Clastres Dragway events.

You can see photos of the October Zerbst Test & Tune from Bob's Albums at this link. Harald Czekalla has posted photos of all the season at his Motografie web site.

And now for something completely different, there was a "Stoppie" competition involving FWD cars launching and then putting the anchors out sharpish around 60-100ft down track. You can see a Youtube video of this extraordinary competition (if that's the correct term) at this link.




ACU affiliation codes available.
14th October: Many thanks to to Santa Pod Racers Club Secretary Ian Marshall for letting us know that from 1st November ACU licence applications are being accepted on the ACU website:

Affiliation codes for ACU riders are now available from SPRC, please just email ir.marshall@btconnect.com and I will get the code to riders by return, please note you must be an SPRC Member to obtain the code.

Straightliners Round 9 at Santa Pod this weekend.
14th October: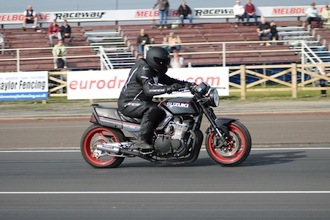 The final round of the Straightliners Championship will be held at Santa Pod Raceway this weekend 16th-17th October.

Championships will be decided for all the Straightliners car, bike and scooter classes as noted under Melbourne Cup Championship below, however the Straightliners Championship additionally has points awarded from Elvington on 25th July, Armstrong Raceway on 1st August and the Santa Pod finals. The best 8 out of these 9 rounds will count, with the final round at Santa Pod Raceway being a double points scoring round.

Car and bike/scooter entry is available at the Straightliners web site. Spectator tickets are available direct from the Santa Pod website and must be purchased in advance. Competitors must also have a Santa Pod ticket to gain entry on the day.

Photo © Mad Welshman: Mickey Blackburn, Pro-Extreme points leader

Melbourne Cup Championship points.
14th October: Congratulations to the winners of the Melbourne Cup Championship for the six races held at Melbourne Raceway during the year:

Cars

Pro Extreme Car: Pete Youhill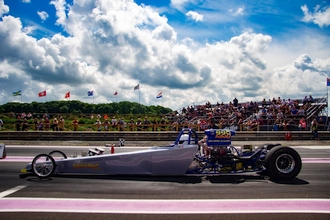 Race ET: Nik Wilson (photo right, courtesy Mark Nightingale of Image Village)
Street ET: Paul Smaile

Bikes

Pro-Extreme: Mickey Blackburn
Class 6.00: Maxine Taylor
Class 6.50: Ashley Hodgson
Class 7.00: Gilbert Cook
Class 7.50 and Sprint Legends: Colin Fallows
Wheelie Class:Jason King
Juniors: Jack Taylor
Nostalgic Pro Stock: Kevin Melling
Up to 750cc Racing Solo: Andy Higham
751cc to 1000cc Racing Solo: David Storrie
Unlimited cc Racing Solo and Classic Racing Solo: Mark Taylor

Scooters

Top Scooter (Silhouette): Eric Cope
Top Scooter (Modified) and Class 10.00: Adrian Horrocks
Class 8.50: Dean St Leger-White
Class 9.00: Mike Pacey
Class 9.50: Gill Pacey

Straightliners Championship and Melbourne Raceway Cup points are available on the Straightliners results repository or via our points standings page. Thanks to Martyn Greathead for posting the points.

Overseas racers at Man Cup Finals?
14th October: Back in September, the organisers of Man Cup in the USA announced they were excited to see changes in travel restrictions that will allow for foreign travel in time for the 45th annual FuelTech World Finals at South Georgia Motorsports Park on 18th-21st November, 2021. Foreigners will be allowed into the USA if they have proof of vaccination and a negative COVID-19 test.

Whilst three Top Fuel Bike teams from the UK (Gulf Oil, PBR Rocket III and Allan Davies) have confirmed they will not be attending, we wait to see if other European teams will make the journey.

Lex ready for Thunder Valley.
13th October: Since Lex Joon and wife Gerda emigrated to the United States in 2013, he has worked hard – and never quit – to get his performance to the level that won him an FIA Championship in 2005. Recent signs show the work is bearing fruit, and Lex is marketing his racing operation with renewed vigour as he heads towards Bristol Motor Speedway for this weekend's Thunder Valley Nationals.

After emigrating and establishing a company Lex Joon Racing, Inc. to work with US sponsor companies, Lex hired a well-known motorsports marketing agency to help find partners that would be interested in working with him as a proven Top Fuel winner in Europe.

After considerable work in gathering support and preparing the car, Lex ran a best of 4.069/232 at the 2018 US Nationals, which didn't qualify him for eliminations. He also failed to qualify for the Midwest Nationals or the Carolina Nationals.

In 2019 the team with experienced crew chief Lance Larsen raced in 11 events, 4 weeks in a row at Chicago, Topeka, Bristol (where he memorably defeated Leah Pruett in round one) and Norwalk. In 2020 however the pandemic reduced Lex's racing activity to just four races at his local track Indianapolis Raceway Park which hosted multiple events whilst travel was restricted.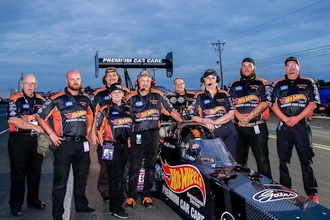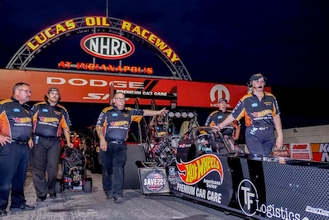 The team's 2021 campaign with Rob Flynn (previously with Kalitta Motorsports for six years and 15 years of NHRA nitro experience before that) as consultant tuner, and Lex himself and Gerda as co-crew chiefs, started at Indy, at which Lex was excited about the car's first run in 2021: "All preparations worked out as we had planned. The car left the starting line with an .854 sixty foot time and a 330 foot time of 2.18 sec running it full throttle for 2.02 seconds. This was a planned shut off run since there was no testing opportunity available before the NHRA US Nationals event as usual."

However rain after the strong launch prevented Lex from qualifying. He said "I'm puzzled and disappointed to learn this years #USnats qualifying is called due to rain and the teams that are not qualified have to deal with the fact they only had one chance to make it into the biggest NHRA race in the world."

Undeterred, Lex went on to St Louis, ran his quickest-ever qualifying run in his US campaign, 3.953/240.12, and said it "proved his car can run the numbers to qualify and go rounds at all tracks around the globe. The tune up we ran last weekend was really soft just to make it from A to B. To see it ran 3.03 sec with "only" 275mph to the 1/8 mile tells the story." Sadly the bump spot was 3.809 so Lex did not feature in eliminations.

"In Q1 we had a new set of rear Goodyear slicks mounted which need about two runs to create the desired traction. The first second of the run wheel spin was too high moving the front of the car to the right while the front wheels were up in the air. When I was able to make the correction the car was out of the groove moving over towards the centre line to the other side of the lane which got me out of the groove again. The right rear slick had more traction being in the groove and pushed me to the centre line. Tyre pressure, adjusting ignition timing and clutch settings will help to prevent this but more runs on the tyres will help to fix this issue for sure."

He also stepped up his promotion of his main sponsor. "You will see the Hot Wheels Premium Car Care logos on the car because I'm taking care of the global sales for this unique and one of a kind brand. This is for me to help create global awareness and drive sales for our partners like for example CoolDrive Auto Parts in Australia.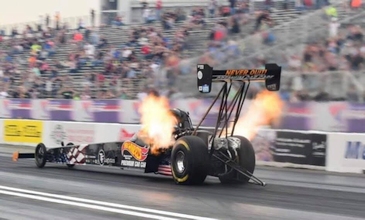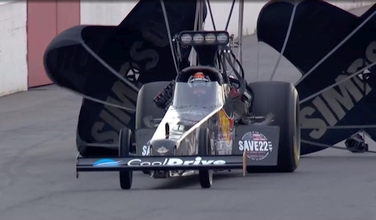 Lex has put a plan together for upcoming NHRA races to find the necessary funding to be able to continue his presence at track, work on the team's program, and also give his fans an opportunity to be part of his #NeverQuit team. The plan revolves around a new reality TV series titled Pursuit, designed to integrate existing lifestyle marketing (aligning teams and the NHRA) with a reality show alliance.

In addition the Lex Joon team sponsorship program now extends to fan opportunities. Lex said "We have received requests from our fans if there is a way to be part of our #NeverQuit LJR program like some other (independent) teams as opportunity occasionally provide. As you know our Fans are our #1 reason we NeverQuit and so we listened and came up with an opportunity with On top of the perks presented we are also going to give away some of the Hot Wheels Premium Car Care products. Winners will be randomly picked. This give away offer is valid for the USA with more countries to follow soon.

"When you want to treat yourself or maybe your partner with a cool present this is your chance. We have created an opportunity to add your name on our Top Fuel dragster for the upcoming NHRA race in Bristol Oct 15th-17th. On top of the perks presented we are looking to add two crew tickets to the Tier 2 package deal which will get you an experience of a lifetime. When you purchase or already have purchased the Tier 2 #FanDriven program costing $200, send us an email at info@lexjoonracing.com and explain us how you believe you can support us as part of our team during the Thunder Valley Nationals.

Lex acknowledges the support of NHRA, Gates Corporation, CP-Carillo Gates, Nitro Alley Graphix, INOX Lubricants, Start Imagining, SAVE22Veterans, ProThings clothing, Earp Machinery, TF Logistics, Premium Motorsports Products, CoolDrive Auto Products, Tom Knapp and Custom Floaters.

We wish Lex, Gerda and the whole Lex Joon Racing Team a successful Thunder Valley Nationals this weekend.

Swift snippets.
13th October: We send Happy Birthday greetings to Supercharged Outlaws racer Aaron Windridge and Super Pro ET racer Glenn Pallant for today, have a great day from all of us at Eurodragster.com. Also a belated Happy Birthday to British Drag Racing Hall of Fame member and UK Tech member and sometime Top Methanol dragster crewman Tim Read, hope you had a great day yesterday.

Photojournalist Steve Moxley has had his report on the STP Summer Nationals from Santa Pod Raceway published on Tim Hailey's Eat My Ink web site. You can read all the snippets and see some great photos by clicking on the link.

This weekend Serres Racing Circuit in Greece hosts the fourth race of this year's Greece Drag Racing Championship. The race will be organised by Serres organisers LENOE under the auspices of Greek Motorsport regulators OMAE where you can see an entry list.

Malta Drag Racing club have announced their November meeting will be extended to four days on 11th-14th November with a full day of practice on Thursday followed on Friday with two hour practice and then qualifying and eliminations from that point. There will be quite a few Brits travelling to Malta to join the party, but if you're watching the live stream you will be able to hear the commentary of European FWD organiser and VWDRC Chair and racer Luke Stevenson who will be guest announcer at the track. There will be a pre-event Run What Ya Brung on 30th October.

ACU final standings published.
12th October: Many thanks to Ian King for updating us on the latest ACU/UK Championship positions on the King Racing web site.

Ian would like to congratulate all the riders who competed in this Covid troubled year and thank all the staff and officials at Santa Pod Raceway, the SPRC and the ACU for their hard work in ensuring a thrilling and safe championship in 2021.

Special congratulations to the riders who achieved top 3 positions in their respective classes to win ACU Championship medals and in addition for those in the 'pro' classes their share of the ACU prize fund. The winners of their class will be awarded their trophies and medals alongside their peers from all British motorcycle sports at the ACU British Championship Gala Awards dinner in the new year:

Top Fuel Bike
Steve Woollatt: 1210 pts
Al Smith: 1150 pts
Neil Midgley: 910 pts

Funny Bike:
Stuart Crane: 2000 pts
Tony Clark: 1660 pts
Dave Peters: 1540 pts

Competition Bike:
Louis Davies: 2085 pts
Chris Neary: 1360 pts
Sean Mills: 975 pts

Super Street Bike:
Steve Venables: 2725
Alan Morrison Jr: 1990 pts
Stephen Mead: 1340 pts

Junior Drag Bike:
Hollie King: 1740 pts
Casey Holgate: 1640 pts
Meg Talbot: 1270 pts

The complete points tables and positions can be found by clicking here.

Melbourne Round 6 results.
12th October: Congratulations to the winners at Melbourne Raceway at Round 6 over the weekend: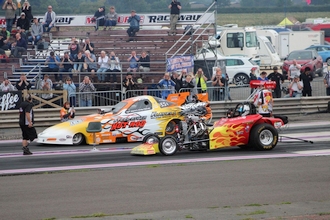 Duck All Prep

Super Pro Comp (Sunday): Andy Fadster 5.94/142 def. Lee Gallimore 5.87/122
Pro Rear Wheel Drive (Roll over from Duck All 1): Mark Flavell 5.06/145 def. Pete Youhill 5.76/128
(Saturday): Pel Norman 5.33/139 def. Ian Walley 6.73/118
(Sunday): Pel Norman 5.40/123 def. Ian Walley 6.31/120
Pro Small Tyre Rear Wheel Drive (Saturday): Lee Chiles 6.56/110 def. Dave Billadeau 6.65/110
(Sunday): Lee Chiles 6.57/110 def. Russ Pursley
Street Rear Wheel Drive (Saturday): Derek Beck 7.36/97 def. Peter Lane 7.86/91
(Sunday): Peter Lane 7.80/92 def. Derek Beck, broke
Street All Wheel Drive (Saturday): Steve Long 7.71/96, unopposed
Pro Front Wheel Drive (Saturday): Craig Brown 9.66/69, unopposed

UK Nostalgia Superstock

(Saturday): Dave Billadeau 6.61/110 def. Paul Smail 8.36/85
(Sunday): Lee Chiles 6.53/110 def. Andrew Bosomworth 6.73/107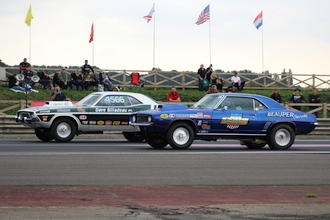 National Street Car Challenge

(Saturday): Russ Pursley 6.32/110 def. Ian Walley 6.57/118
(Sunday): Ian Walley 6.45/117 def. Martin Rawlinson 7.26/98

Bike eliminations

Pro-Extreme: Mickey Blackburn 8.58/106, unopposed
Class 6.00: Maxine Taylor 6.14/126 def. Pete Field 6.14/125
Class 6.50: Ashley Hodgson 6.75/108 def. Phillip Tomlinson 7.38/90
Class 7.00: Robert Mercer 7.19/104 def. Jamie Brooks 6.97/118
Class 7.50: Rob Kneeshaw 7.99/95 def. Colin Fallows 8.37/91
Wheelie Class: Daniel Leather 9.37/83 def. Jason King 12.91/33
Juniors (Handicap): Jack Taylor 12.19/52 def. William Mountford 14.41/40
Top Scooter (Silhouette): Eric Cope 8.24/85, unopposed
Class 9.00: Mike Pacey 9.46/76, unopposed
Class 9.50: Gill Pacey 10.51/72, unopposed
Up to 750cc Racing Solo: Andy Higham, unopposed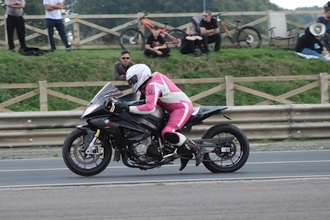 751 to 1000cc Racing Solo: David Storrie 6.34/126 def. Terry Mountford 13.67/90
Unlimited cc Racing Solo: Mark Taylor, unopposed
Sprint Legends (Handicap): Colin Fallows, unopposed
Classic Legends (Handicap): Mark Taylor 6.51/118 def. Mick Varey 7.31/102

Blessed with superb weather all weekend it was another meeting of personal bests, track records and nailbiting finals.

The track was in fine form all weekend with Mark Flavell proving that with an experienced crew dialling the Steel City Hot Rod in record breaking pace could be achieved with a new track record set at 5.03secs, a 4sec run the next goal for the team. Pel Norman, who had been fastest lowered his PB to a 5.33secs.

NSCC once again had a big field of cars putting on a great show running rounds on both days. Duck All Prep was along for the 2nd meeting running their various classes. UK Nostalgia Superstocks were along for the first time providing some excellent racing with their dial in based format notable among them being Lee Chiles with two perfect runs to his dial in.

Eurodragster.com Perfect ET sponsor Andy 'Fadster' Hadfield commented "I'd like to take the opportunity to thank the whole of the Straightliners / Melbourne Raceway crew. We had a fantastic weekend and developed our tune to nett a 5.45 @ 146 with plenty in reserve to get closer to that magical 4 second pass next year. Team Twister had an amazing time and the welcome from friends, old and new, was heart warming. I look forward to next season with renewed enthusiasm and hope to bring many more Supercharged Outlaws UK with me."

It was great to see Supercharged Outlaws racers Lee Gallimore back with his blown 'Red Mist' alky 23T altered after a gap of three years. He commented "What a fantastic weekend, big thanks to a great crew, Liam, John and Jock top job lads as always. Fantastic to see everybody again brilliant Saturday crack as always. Thanks to Trevor/ Lee and all the Straightliners team for a great track and weekend. Brilliant old school racing."

Commiserations to Tom Parry whose new build Ford Consul Mk1 (powered by a twin turbo LS) rolled on Saturday, a photo sequence of which you can see from this link onwards. Tom commented "I climbed out without a scratch, cage and harness did their job."

Winners of the £50 consistency awards kindly donated by jdcomps.co.uk for times achieved on Sunday up until 3pm were Andrew Bosomworth with three runs between 6.78 and 6.80 seconds in his Dodge Coronet 8.2 Ltr and Pete Field with six runs between 6.24 and 6.40 seconds on his Suzuki GSXR 1000cc.

Full official results from the event and previous Melbourne rounds in 2021 can be found at the Straightliners Melbourne Raceway 2021 results repository, courtesy Martyn Greathead. All Straightliners results and championship points from 1997 onwards can be found at this link.

The final Melbourne Raceway event of the season is on 30th-31st October, a RWYB meet with the BBC attending to film part of a drag racing documentary.

Photos courtesy and © Mad Welshman Photography

GTI Festival results.
11th October: Congratulations to James Rhodes (pictured right) who won the VWDRC Heads Up race which took place at Santa Pod Raceway yesterday. Here are the results of the race: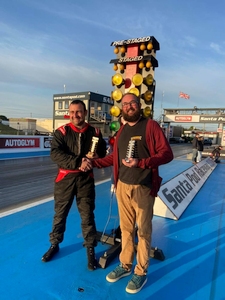 Qualifying
Paul Jackson (VW Lupo 1870cc) 9.7414/143.95
Jacob Bailey (VW Jetta 3200cc) 9.7508/153.17
Mike Whittaker (VW Caddy 3000cc) 9.8753/136.03
Paul Jordan (VW Polo 1800cc) 10.0157/143.97
Helder Pereira (Seat Ibiza 1900cc) 10.2781/130.16
James Rhodes (VW Lupo AWD 1984cc) 10.3198/136.46
Carl Goldsmith (VW Golf 1781cc) 10.3937/140.39
Jose Leite (VW Polo 2000cc) 10.4298/134.13
Chris Waterhouse (Audi S3 2500cc) 10.7569/128.81
Wayne Gill (VW Golf R 2000cc) 10.8955/126.17
Grant Parker (VW Golf AWD 2300cc) 11.0553/124.43
Chris Roylance (VW Golf 2000cc) 11.0993/119.95
Jamie Lockyer (VW Jetta) 11.1379/122.39
Marc Taylor (Seat Leon 1800cc) 11.3335/140.82
Ed Keech (VW Golf 2800cc) 11.4609/119.62
Ant Mincher (VW Golf 1800cc) 11.5744/133.23
Dave Lea (VW Golf 3200cc) 11.7485/118.26
Tom Herbert (VW Golf 2800cc) 12.4070/108.33
Bruce Kopasz (Porsche 2000cc) 12.5387/118.07
Oly Whitehouse (VW Beetle 2276cc) 13.0188/100.60
Becki Turnock (VW Beetle 2109cc) 13.0762/100.83
Ben Lomas (VW Golf) 13.7093/102.79
Daniel Walton (VW Lupo) 14.4499/92.75
Alex Day (VW Golf 1800cc) 16.3741/97.51
Ethan Lisle (VW Lupo 1000cc) 19.9710/65.75
Eliminations

Round 1
Carl Goldsmith 11.7099/100.99 def. Wayne Gill 11.0546/125.80
Mike Whittaker 10.1742/129.18 def. Marc Taylor 10.5452/142.93
Paul Jackson 11.5749/138.67 def. Ant Mincher 12.2047/119.80
Jamie Lockyer 11.5433/123.10 def. Paul Jordan 11.9788/104.25
James Rhodes 10.3380/136.58 def. Grant Parker 10.6109/127.94
Jose Leite 13.4895/129.04 def. Chris Waterhouse, NTR
Helder Pereira 9.8066/147.60 def. Chris Roylance 12.6063/110.84
Jacob Bailey 9.7888/153.11 def. Ed Keech 15.5180/57.61

Round 2
Jamie Lockyer 12.3092/95.50 def. Helder Pereira, no-show
Jacob Bailey 9.8878/151.12 def. Carl Goldsmith 10.6509/138.55
James Rhodes 10.1548/136.59 def. Mike Whittaker 10.7799/99.04
Paul Jackson 9.9986/144.88 def. Jose Leite 23.6019/43.30

Semi finals
James Rhodes 10.2931/135.64 def. Jacob Bailey 16.2200/64.13
Paul Jackson 9.9272/144.89 def. Jamie Lockyer 14.3037/117.93

Final
James Rhodes 10.2516/136.45 def. Paul Jackson 10.9274/145.30

With acknowledgements to Santa Pod Raceway timing crew.

Winner James Rhodes commented "What a way to end the season! New Pb for the Lupo - 10.15 @ 136 with a 1.41 60ft, getting ever closer to that 9 second pass and the 1.3 60ft, and to top it all off 1st place in the heads up competition! The Lupo performed great all weekend, it feels great to bring home a trophy, but even better that Hannah and Jacob were there to share it too!"

Runner-up Paul Jackson said "Wow, wow, wow! What a GTi that was! So many great runs and achievements this weekend, here's a few of my highlights: Firstly huge congratulations to James Rhodes for taking the Heads Up win, you absolutely smashed it mate! Jacob, 9.75 @ 153! Incredible, well done on cracking the 150! What an achievement. Becki for fastest Aircooled and Fastest lady! Bad luck with the car but at least Jay knows a thing or two about these engines. Ed Keech has not only built the engine, but also wired it and is mapping it himself, PB of 11.31 today, that 10 is just round the corner! Luis and the rest of the Portuguese engine replacement army! I'm absolutely amazed at all of your dedication, I had Jose E2, I saw the engine was out with 30 minutes to go and I said '100% that car will be on the start line' And it was. Alex Day, what a way to be be 16 years old and 11 days! Absolutely fantastic seeing you out racing. Bruce 'Mr Wheels Up' Kopasz - say no more. PB's for Jamie and Ben, the Cab is definitely getting there Ben and that 10 can't be far off Jamie! I had a pretty good day too. As always, a wicked weekend with the VWDRC family, can't wait to do it all over again."

You can see a gallery of the GTi Festival including Show N' Shine by going to Santa Pod Raceway's Facebook gallery of the event. Video of the event taken from the tower by commentator and VWDRC chair Luke Stevenson can be seen at the VWDRC Facebook page.

Melbourne Round 6 Saturday results, gallery.
11th October: Thanks to photographer The Mad Welshman for sending us photos from Saturday of the Melbourne Round 6 race at the weekend including Straightliners Championship, NSCC and Duck All Prep competitions.

You can see Mad's on- and off-track pictures by going to our Melbourne Round 6 gallery or by clicking on the John Woolfe Racing-sponsored Event Coverage link at the top of any Eurodragster.com page.

Mad commented "Melbourne Raceway had a great turnout and the track record broken again! We reached a huge milestone on our Flickr page early this week (10 million views!) so thanks to everyone who has viewed our photos".

Saturday results for the competitions held plus best times, courtesy of Martyn Greathead of Straightlines, can be seen at the following links:

We will report in more detail on action from Melbourne Raceway in tomorrow's update.

George Bebikan.
10th October: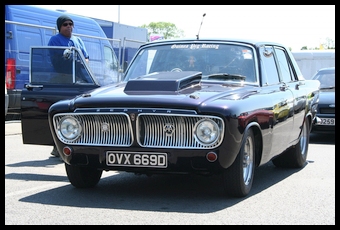 We were sad to hear of the passing of street car racer George Bebikian, known for his Ford Zephyr. George's son Kai writes:

"My Father, known to many as George, sadly passed away on Thursday morning after spending 10 months battling through a variety of illnesses in hospital. He was a veteran of Santa Pod Raceway first racing there back in the early eighties, he owned his distinctive Ford Zephyr for over 30 years and had taken it from a 14 second AMC powered street machine to a 9.2 second big block Chevy powered street demon. Dad was a font of knowledge on many subjects, he was always reading and researching. He freely offered his wisdom to many at the track, always willing to help others.

"He never raced in any pro class, preferring the casual structure of classes such as Street Machine SRS and Outlaw Street. Dad enjoyed these classes as he always maintained that the car was a true street car, driving it from London to Santa Pod to race.

"He will be sorely missed and the drag racing world is a poorer place for his passing. He passed away peacefully surrounded by his family who he loved very much."

We send our deepest condolences to George's family and friends.

Kjula Dragway ahead of the curve.
8th October: In Sweden, Kjula Dragway near Eskiltuna has run four Mälardalen races (named after the lake in southeast Sweden) on its quarter mile during 2021 despite crowd restrictions limiting spectator attendance to 600. During the season and since the final event on 18th-19th September, the organisation behind the Kjula have not been slow in promoting the track.

The track's web site says that it is a successor to Tullinge, located close to Stockholm, which was closed in 2006. Organisers Ronnie Palmsäter and Börje Thunmen located Eskiltuna Airport around 60 miles to the west, and initially ran hot rods and vintage drag racing vehicles. But the classes were later broadened to all classes of race cars. Nevertheless the track still positions itself as a gateway to the bigger classes in the sport and having fun is the main objective. The track acknowledges its debt to the local community in allowing its four events annually.

To improve space available for pits in 2021 the bold decision was taken to reverse the direction of the track, which also enabled the startline surface to be preserved rather than being completely removed annually as part of airport maintenance.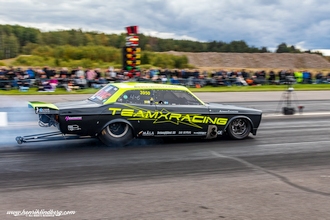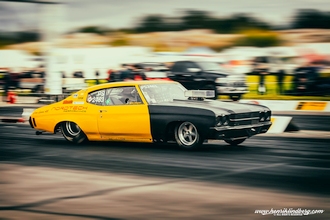 A record 179 competitors took to the track surface for the final 2021 round held on 19th-20th September. The quickest cars were to be found in 4to6 Pro where the top qualifier Tobias Johansson from Läckeby pretty much swept the board, qualifying #1 in a field of 19 cars and then winning four rounds of racing Tobias ran a best in qualifying of 7.3564/ 294.72 kph. Tobias races a chrome moly chassised and fibreglass bodied Volvo 142 (above left) with a 5 cylinder 2.4l Volvo engine with a turbo coupled to a Liberty gearbox.

In the large bracket race (ETs 9.00s to 12.99), there were 31 qualifiers including a certain Jimmy Ålund of multiple FIA Pro Stock championship fame, who qualified fourth and went out in round 2. Eventual winner was Viktor Olsson, who qualified #16 and kept ahead of all his competitors.

Fourteen Junior Dragsters entered with Marcus Andersson qualifying #1 and going on to win the race from Emile Eriksson. Pro Street (7.60 index) had Anna Knutes qualify #1 however in the final she was defeated on a holeshot by Peter Almqvist in a nitrous assisted BBC-engined Chevelle (above right).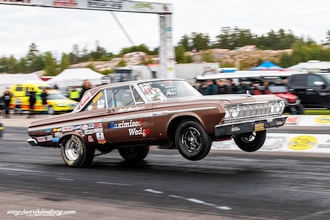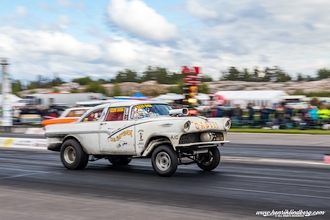 Street (8.60 index) was dominated by Lennart Hilander from Åland in a Chevy Vega, Real Street was won by Leif Näsman in a '80 Malibu, and in Stock/Super Stock the victor was Fredrik Frisberg in his Plymouth Sport Fury from 1964 (above left). In Vintage B Johan Carlsson was the winner with a 8.988/240.2 bye run in his blown SBC 5 window coupe, and in Vintage G Kjell Andersson (above right) won in his '56 Ford Crown Victoria when the nine second Nova of Stefan Flodell, which incidentally is up for sale for £19,500, didn't show.

Pro Comp Bike featured the Honda GreenBird (Kawasaki-bodied) of Peter Rundström and was won by Jens Karlsson on a Hayabusa (below left). Super Comp Bike (8.50 index) had Peter Östlund qualify #1 and then take the eight bike ladder on his Suzuki 1100 turbo (below right). A similar clean sweep of Super Gas Bike (9.50 index) occurred with Jesper Jerresten with a Suzuki GSX-R1216. The Gathojar class for street bikes was won by Kim Hilander on a Suzuki GSXR 1000 and Junior Drag Bike was a best of three between Moa Nilsson (Yamaha FZR 400) and Alfred Lagerlöf (Honda CBR 125) which Moa won two of three, running a best of 6.59/170.1 on the eighth (JB Pro has an index of 6.50).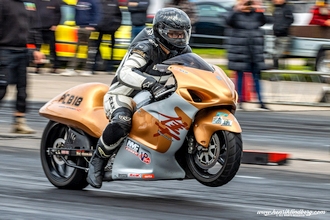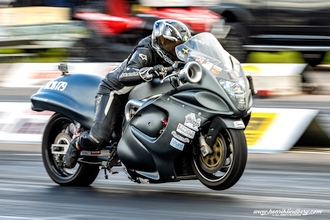 Since the race dates have been announced for the four races planned in 2022, on 28th-29th May, 18th-19th June, 6th-7th August and 17th-18th September. There was also a swap meet on 1st October, and the prize banquet is planned next Saturday 16th October. Kjula Raceway is looking forward to starting next season with as good a finish as they had in 2021 with many teams, a large audience (without restrictions next year) and many fast times. How much fun would that be?

You can see full results at www.dragracing.eu and a Facebook photo gallery by Henrik Lindberg at this link. Also posting a FB album from the event was Micke Falk.

Above photos courtesy and © Henrik Lindberg.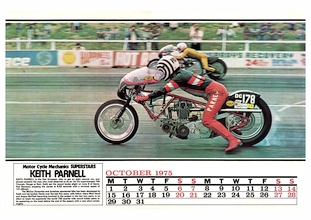 Happy 85th Keith Parnell!
8th October: The Storm Drag Bike team wish a Happy 85th Birthday to drag bike legend Keith Parnell:

On behalf of the team, Lorcan Parnell said "Keith ran the first 8 second quarter mile by a non-American rider in June 1975, and Motorcycle Mechanics magazine made him part of their pull-out centrespread calendar that year. He was also voted 9th overall in Motor Cycle News "man of the year" award, the highest I think any motorcycle drag racer has reached in that publication. He also set the FIM world record for a 750cc bike in the quarter mile at RAF Elvington."

All of us at Eurodragster.com join the Storm Drag Bike team in wishing Keith a very Happy Birthday.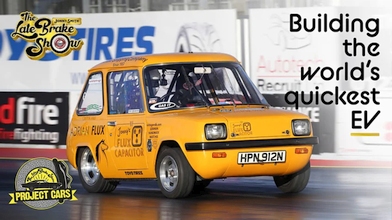 Whatever happened to the Flux Capacitor?
8th October: Many thanks to Julian for letting us know that on his awesome Youtube channel The Late Brake Show, Jonny Smith tells the back story of how in 2012 he built a drag racing version of an electric vehicle and came out with the Enfield 8000 aka the Flux Capcitor.

This fascinating video shows Jonny's inspirations for embarking on this extreme electric project car build - which became the world's quickest street legal EV. Starting with the least likely of base cars, a British electric city car from the 1970s and rebuilding it with almost 1000hp, with help from Eurodragster.com sponsor Jon Webster with Ollie and Sam Young from Black Current Racing.

This 'project cars' episode tells the retrospective story of why and how Jonny went about converting the 1974 Enfield 8000 ECC (Electric City Car) to become an extreme electric drag car, which went on to clinch the world record in 2016. 9 second quarter miles in a 9ft long car with no traction control or launch control. To find out what happened after this, you will need to see the end of the video.

You can see Jonny's video by clicking on this link. The original web site documenting the car and its build is still up at www.flux-capacitor.co.uk.

GTI Festival preview.
7th October: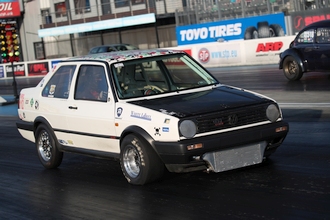 At Santa Pod Raceway this Sunday 10th October, the GTI Festival takes place. Back in April the GTI Spring Festival was cancelled, so this Sunday's event will try to pack two events into one. Entry remains £35 for Run What Ya Brung, £15 for adult spectators and £5 for children and you can enter before the day by going to this link.

The GTI Festival is for enthusiasts of all VAG marques, SEAT, Skoda, Audi and of course Volkswagen. The Volkswagen Group now includes Lamborghini, Bentley and Bugatti too.

Awards on the track include quickest VW, Audi, SEAT and Skoda, as well as a number of awards based on engine sizes - there are 12 ET awards in all. We will publish details of the awards next week.

The main competition on the track is VW Drag Racing Club Heads Up which has an entry of no less than 25 cars fighting for a place in a 16 car ladder. You can check out the previous rounds on the VWDRCTV YouTube channel by clicking on the links for round 1 and round 2.

The Show & Shine has a massive number of awards including Best of Show, Best Engineering, Best Paint, Best Engine and 18 more. And there are other attractions such as club displays, Dizzy Rascals autotests, and the Girlz N Dubz competition with its own special trophies.

The action begins at 09:30 on Sunday 10th October.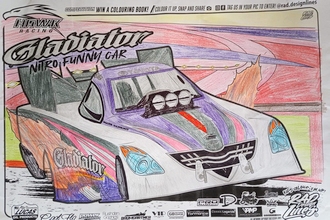 RAD Design Lines competition winner.
7th October: In our 7th September update we mentioned a colouring competition from Darren West of Power Race Graphics through his new brand RAD Design Lines. Darren writes:

We have our winner! Hawk Racing have picked the fantastic work of Scarlett Austin as the winner of our Gladiator / Hawk Racing colouring sheet competition. The RAD Design Lines 'Door Slammers' colouring book and special prize from the team at Hawk Racing are on the way!

RAD Design Lines colouring books are in the post to the runners up, and huge thanks to all the design stars for their amazing entries - we loved them all! Thanks also go to the Hawk Racing team for being great sports handing out the colouring sheets all weekend and showing the kids the beautiful Gladiator funny car.

Stay tuned in to the RAD Design Lines pages on social media for news of the next colouring book release which will be launched in time for Christmas!

Swift snippets.
7th October: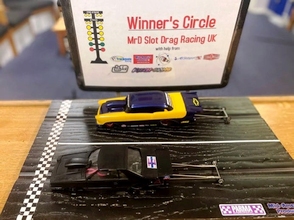 A reminder that MrD Slot Drag Racing returns to Brentwood this Sunday 10th October 2021 where there will be a full length (6 hours) event at Brentwood RC Raceway Unit K1 Frieze Hall Farm Coxtie Green Road Brentwood Essex CM14 5RE. Action will include MrD Crazy Horse and Outlaw Elimination races as well as the MrD Gasser Circus and starts at 11am with the first race around midday. (pictured: Winners Circle from 1st October meeting for Outlaw Round 2 - winner Matt Dudley Ford XP ET: 0.799, runner up Alec Quarman 57 Chevy Sportsman ET: 0.834. Photo: Steven Dudley.).

Videographer Terry Robbins has published two videos to Youtube of action from the 2021 Hot Rod Drags, filmed from the spectator banking. You can see Outlaw Anglia action at this link and Supercharged Outlaws at this link.

Photojournalist Steve Moxley has published his detailed report on ACU classes at the STP National Finals on the ACU web site which you can see by clicking on this link.

Funny Bike racer, and winner of the class in the National Finals, Dave Peters, has had his story documented in his local newspaper, The Mail based in Barrow-in-furness, and you can see an online version of the report by clicking here. In it, Dave reveals he has plans to bring the legendary Imperial Wizard built and ridden by the late Brian Johnson back to the track.

Dakota Raceway October rain event.
6th October: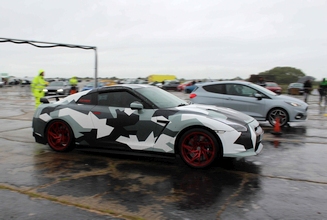 Last weekend at Dakota Raceway, despite soggy weather, racing still took place in the drag, draft and NSA motorcycle championship. It is hard to remember racing taking place in such appalling conditions for a long time, and well done to organiser and Eurodragster.com sponsor Lee Child for persisting despite the deluge that swamped the track. Lee said after the event "To every rain warrior that attended, you are totally and utterly hardcore, thank you."

Congratulations to the car winners of the drag racing that took place for trophies and cash. They are:

Rear Wheel Drive: Pete Lane (Plymouth Barracuda), runner up Ian Walley (Ford Cortina Mk2)
Front Wheel Drive: Jamie Cole (Mini), runner-up Mark Swanborough (Ford Fiesta)
All Weel Drive: Nick Martin (Mercedes), runner-up Nick Turner (Nissan GTR)

Other cars who braved the conditions included Marcus Chapman (Subaru Impreza STV AWD), Stephen Cherrett (Vauxhall Astra FWD), Kevin Headon (Pontiac GTO Le Mans RWD), Conor Jeffries (Ford Mustang RWD) and Connor Parsons (Ford Fiesta FWD).

The car racers were joined by a handful of bike racers who ran late morning, and although the event was the final round of the NSA Southern Championship, official confirmation of the results is awaited.

Bikes pictured are Pete Francois (Suzuki GT250 – 42), Andrew Langdon - Honda VT250 – 66), Peter Ford (Suzuki Bandit Hillclimb Spl – 160), Tony Lockwood (Norton ES2 - V168 ), Rob Bowyer (Suzuki TL1000 – 202) and Barry Curtis (red Kawasaki GPZ1000).

You can check out our gallery of pictures from Dakota Raceway taken by Jerry Cookson, Alison Jackson, Lee Child and Kerrie Lane by clicking here or by clicking on the John Woolfe Racing-sponsored Event Coverage link at the top of any Eurodragster.com page.

Mk1Kieran video update.
6th October: Kieran has posted two videos to his Mk1Kieran Youtube channel from last Sunday's Japshow Finale. Kieran reports: "As the show season comes to a close in the UK, the Jap Show Finale is one of the last big 'Lifestyle' events hosted by Santa Pod Raceway. Jap Show Finale has it all for any Japanese Car (or bike!) fan! You can expect to see Drag Racing, Drifting, Show & Shine and Stunts in the Live Action Arena. Here's some clips I got throughout the day of the RWYB Action on the Drag Strip. The Japshow Finale Shootout, where 20 racers raced heads up for a cash prize, will be in a separate video!"

Also posted by Kieran is the unfortunate incident where in Q1 of the Japshow Finale Shootout, Gary Gooding launched his 7 second Supra but it turned hard right with the wheels up in the air and hit the wall head on. Kieran said "Thankfully Gary was ok as he has all the right safety gear in the car and a well built chassis. The team suspect that water was up in the sills from the heavy rain the day before and went onto the rear tyres the moment it launched."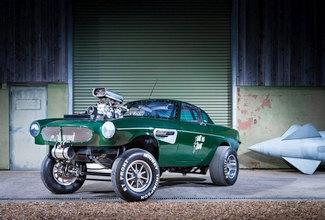 Ain't No Saint in Hot Wheels competition.
6th October: Co-creator of the unique Ain't No Saint Volvo P1800 gasser Lee Johnstone has entered the car, built in conjunction with Steve Wright, in the Hot Wheels collectors UK Legend Tour with this video around the construction of the car which is driven by Lee and daughters Eleanor, Sarah and Victoria.

Lee says "Regardless of our success (the prize is to have the car made into a Hot Wheels toy) it is a nice record of the build process". It shows how the idea of building a gasser based on this car, made famous by The Saint TV series, developed over time, and how various features such as the headers exiting through the wings came about.


Duck All Prep at Melbourne this weekend.
5th October: Sponsor Lee Child of LA Racing Parts writes that more prizes to be supplied by sponsors VP Racing Fuels will be up for grabs at the Duck All Prep 2 no-prep Race to be held this weekend, 9th-10th October at Melbourne Raceway:

"It will be a heads up drag race cash weekend, first to the finish line on 9th & 10th October. Entry includes run what you brung and two crew tickets Let's race again, get those entries coming to win, cash, trophies and sponsor products prize fund. We will be presenting fuel jugs, delux hoses, goody bags and Stay Cool product from VP Racing Fuels."

There will be the same categories raced at the previous Duck All Prep race in September:

Pro AWD: Modified, competition tyres, interior removed
Street AWD: Factory appearance, full interior
Pro Rear Wheel Drive: Modified, competition tyres, interior removed
Pro Small Tyre Rear Wheel Drive: Modified, competition tyres maximum height 30 inches maximum tread width 11 inches, interior removed.
Street Rear Wheel Drive: Factory appearance, full interior
Pro Front Wheel Drive: Modified, competition tyres, interior removed
Street Front Wheel Drive: Factory appearance, full interior
Super Pro Comp: Pure competition vehicles, altereds, rear engine dragsters, front engine dragsters and funny cars, where the driver is seated in a central position in the vehicle.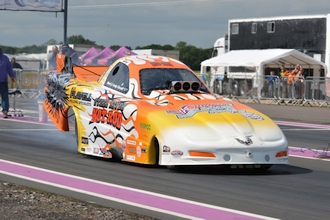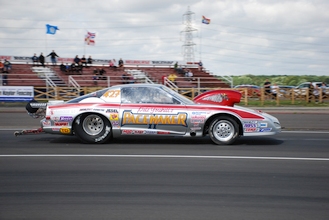 With two days of separate eliminations, one on Saturday and another on Sunday, the prizes give a driver a chance of winning £800 over the weekend, if they choose to run the whole weekend.

Based on a 16 car field, the winner gets £400 in each category. In the event of numbers in each category not being fulfilled, there will be a reduced prize fund, for example in a 4 car category £150 and 8 car category £200. In event of the category exceeding 16 cars, the prize will go up from £400. Entry fees: Fees include driver entry to the Duck All prep race with Run What Ya Brung included, plus two crew tickets and free camping. For the best deal, pre-enter, as entry will cost more on the day.

Driver entry for Duck All Prep on Saturday 9th or Sunday 10th is £115, weekend entry for both Saturday 9th and Sunday 10th is £200. You can arrive from 6pm on the Friday if you are racing the full weekend.

Weekend spectator tickets are £30, or £35 including camping, or day tickets may be bought for £15 per day, all tickets available on line or at the gate. Straightliners/Melbourne Raceway Championship advance racer tickets are £140 for the weekend or £80 per day for a driver with two crew, or £50 per day at the gate with £15 each for each driver and crew member.

Click to enter at this link.

All there is now to do is to get entered! Cars entered so far include Mark Flavell (Super Pro Comp), Craig Brown (Pro Front Wheel Drive), Lee Chiles (Pro Small Tyre RWD), Pete Youhill and Kris Thoburn (Pro RWD).

There will be live music on Saturday night, a firework display, auctions of memorabilia by Pauline Cox and a raffle of a £50 note kindly donated by NSS racer Bob Main. Supporting this final Melbourne Raceway event of the season will take the venue another step forward. Follow Duck all prep drag race competition Melbourne Raceway on Facebook.

Duck All Prep pre entry at a discounted price closes 6pm Friday, with entry on the day available after that time.

Final 2021 SPRC Championship standings.
4th October: Many thanks to Yvonne Tramm for forwarding the final points standings in the UK National Drag Racing Championhips and SPRC Club Championships after the National Finals. You can check out the UK and SPRC points on our points standing pages by clicking here, or by clicking the Points Standings link under News in the main menu above.

In addition to the National and Club champions announced on 27th September, we congratulate the SPRC Club drag bike champions, whose points are calculated on a different basis to the National ACU championship:

Banks Night Club Top Fuel Bike: Steve Woollatt
Taylors Trophy Super Street Bike: Steve Venables
Leeks Landscapes Funny Bike: Dave Peters
Suzukiperformancespares.co.uk Comp Bike: Louis Davies
Eurodragster.com Junior Drag Bike: Hollie King

Yvonne adds: "SPRC would like to congratulate all 2021 Winners and Runners up of their Championships and hope to see them at the Dinner Dance on 29 January 2022. Almost two thirds of the 300 tickets available have already been booked, so if you would like to attend to collect your trophy, please complete the form on the SPRC website and join us for the evening.

"Thank you for supporting the Club and the SPR track this season, and we look forward to seeing you all in 2022."

Japshow Finale Shootout results.
4th October: Congratulations to Mark Moseley who won the Japshow Finale Shootout which took place at Santa Pod Raceway yesterday. Here are the results of the race: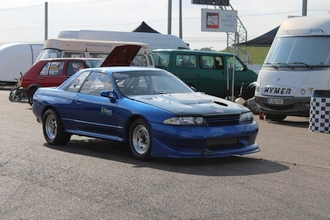 Qualifying
Mark Moseley (Nissan GTR32 3000cc) 8.8883/160.77
Jeff Ludgate (Nissan GTR 3000cc) 8.9680/152.60
Allan Duthie (Vauxhall Corsa 2000cc) 9.9393/153.12
Matt Davison (Honda Civic 1600cc) 10.0503/145.76
Adam Skinner (Fiat 126 2000cc) 10.0870/140.71
Terry Newton (Ford Escort van 2100cc) 10.0949/145.79
Ahmed Jamshaid (Honda Civic 2400cc) 10.1037/138.69
Jack Burn (Honda Civic 2000cc) 10.1856/145.22
Simon Durrans (Nissan GTR R33 2500cc) 10.1895/137.28
Craig Evans (Vauxhall Corsa 2000cc) 10.3807/137.71
Ali (Nissan GTR) 10.4212/177.81
Dougie Gemmell (Honda Civic 2200cc) 10.5761/131.33
Ian Milne (Vauxhall Corsa 2000cc) 10.9298/135.33
Sean Prout (Honda Civic 2000cc) 11.7844/127.22
Andy Nicholls (VW Scirocco 2000cc) 12.6545/106.17
Ant Mincher (VW Golf Mk1 1800cc) 18.5986/91.39
Darren Dewhurst (Vauxhall Corsa 2000cc) 19.5297/48.12
Ross Laird (Ford Fiesta 1600cc) 22.4490/121.24
Eliminations

Round 1
Dougie Gemmell 14.0436/121.55 def. Adam Skinner, no-show
Matt Davison 10.2714/139.88 def. Ian Milne 12.6139/134.12
Ahmed Jamshaid 10.1846/137.28 def. Craig Evans 11.1868/105.17
Allan Duthie 10.1259/155.76 def. Sean Prout 15.3469/58.04
Jack Burn 10.2286/143.50 def. Simon Durrans, no-show
Jeff Ludgate 14.5682/66.08 def. Andy Nicholls, no-show
Ali 8.0610/183.62 def. Terry Newton 10.3134/141.68
Mark Moseley 15.5306/54.74 def. Ant Mincher, no-show

Round 2
Allan Duthie 10.0340/154.17 def. Ali 10.9972/169.19
Matt Davison 10.0642/144.30 def. Dougie Gemmell 23.8107/41.86
Mark Moseley 8.8077/157.38 def. Jack Burn 10.2257/142.59
Jeff Ludgate 21.7379/65.80 def. Ahmed Jamshaid, no-show

Semi finals
Mark Moseley 9.5662/154.16 def. Matt Davison 10.0837/143.92
Jeff Ludgate 20.2659/71.74 def. Allan Duthie, no-show

Final
Mark Moseley 8.7251/156.28 def. Jeff Ludgate 9.3489/156.88

With acknowledgements to Santa Pod Raceway timing crew.

Both finalists were running engines prepared by Mark Moseley's Mark's Xtreme Engines. We were sorry to hear that Gary Gooding in his Toyota Supra suffered a head-on collision with the wall on the launch. Gary said "We think it was caused by water on the right rear tyre from the sills, there were huge amounts of rain the day before and the car sat in 4 inches of water overnight. An oversight on my part which won't happen again. Now I've got to work out how I'm going to fix it. I'm overwhelmed with all the well wishes and love after yesterdays events."

We will be posting a gallery of Kieran's photos from the event in the next day or two, in the meantime you can see the action by going to Santa Pod Raceway's recorded streamed video of the event, and their gallery of Show n' Shine winners at this link. Video of the event taken from the pit side grandstand can be seen at Stones Films Youtube channel.

Malta Round 3 media and results.
4th October: Congratulations to the winners at the October Malta Drag Racing Association Round 3 event at Hal Far Raceway: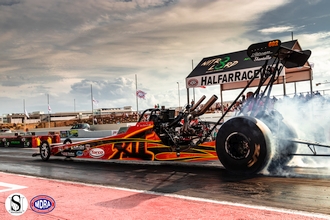 Open 6 class: Louis Vella
CA6 class: Anthony Vella
Dragster D4 and D5: Tyson Debono (pictured right © Samuel's Photography)
Open 2 class: Mark Farrugia
SM3 Class: Glenn Caruana Escort Class 2 and 3: Martin Scerri
Extreme 2 Class: Justin Muscat
Outlaw FWD Class: Paul Gatt
Junior Dragster: Luca Mangion Index Class 1: Anthony Vella
Index Class 2: Luke Spiteri
Index Class 3: Rudolph Cortis
Bracket 8.00-8.49: Justin Mizzi
Bracket 9.00-9.49: Victor Felice
Bracket 9.05-9.99: Glenn Caruana
Bracket 10.00-10.49: Catriel Dimech
Bracket 10.50-10.99: Luke Spiteri
Bracket 11.00-11.49: Stanley Muscat
Bracket 11.50-11.99: Warren Gauci
Bracket 12.00-12.49 Neil Caruana
M/Cycle Open Class and Outlaw M/C: Shawn Buttigieg
M/Cycle Index 8.5 and Bracket M/C 8.50-8.99: Leslie Said

You can see recorded video of the event at Motors MT, also video of individual races can be seen at the MDRA Secretary Konrad d'Anastasi's Youtube channel.

You can also see photos at the Facebook pages of DLP Photography and Samuel Mifsud at Samuel's Photography.

Swift snippets.
4th October: October 2nd saw the Golden Wedding Anniversary of Ron and Jenny Clark, founders of the Midland Drag Racing Association on March 13 1974.

In Ron's words, "I then went on to create Long Marston Raceway and thus became only the third person to establish a brand new dragstrip in the UK – the others being Ted Peddle (Podington Airfield 1965) and Steve Murty (Crossland Moor and later New York dragstrip in 1974). I never dreamed that we would ever reach this rare milestone when we attended my grandparent's 50th in December 1969." Ron and Jenny celebrated quietly on this special day. We wish a happy, if belated, Golden Wedding Anniversary to Ron and Jenny.

Photojournalist David Beitler has posted a report and photos from the Euro Finals Shootout from Santa Pod Raceway which you can see by clicking on this link.

Ian Warren.
3rd October: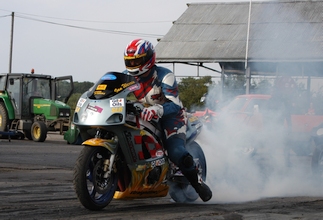 We were very sorry to hear from the Warren family that 9.90 and 10.90 Bike racer Ian Warren passed away on Friday. They wrote:

Ian Warren died on the 1st October after a long illness. After many visits to Santa Pod Raceway in the '70s as a spectator and after coming to the 1996 World Finals , Ian decided to start Drag racing.

Ian started racing in 1997 with a Suzuki GSXR named Shy-Tot in the 10.90 bike class and in 1998 Ian won the Super Series Championship and was Runner up in the Santa Pod Championship. Ian moved up to 9.90 bike in 1999 and after a accident at work in 2000, he returned to racing in 2002 and after qualifying No 1 at the National Finals Ian decided to retire from racing himself.

Ian carried on enjoying Drag racing through crewing for both his sons and then watching the racing at the track or through the Web casts when he could.

We send our deepest condolences to Ian's family and friends.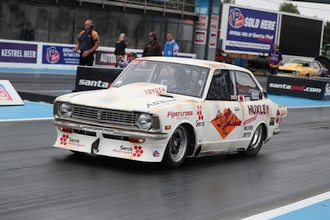 Can Do Marc thankful.
3rd October: Many thanks to Pro ET racer Marc Huxley of Huxley Motorsport for sending us his thoughts on his first full season in the class:

First of all, gotta say what a year it's been, getting back into the sport of drag racing as a racer. After completing the Can Do Corolla in April I never expected to get anywhere near my goal of top 10, especially in such a challenging class as Pro ET. the car has just been so good, and been improving every single round (apart from the Summer Nats). Building a car from scratch really tested my skills, and I learnt so much along the way. Getting advice from top chassis builder Wayne Allman really helped me believe I could do it and, look, I built a winning car. Making the podium at the Festival of Power really blew me away!

One of the best things that happened this year tho was letting my Dad loose in the car at Dragstaglia and it had to be done, considering it's a tribute car to the one he raced from 1982-1989. He drove it to its limit and did everything right, it really made me proud but his skill level is still unreal even at his age!

Pro ET has always been a welcoming class but, becoming a driver, it was nice to have the extra welcome and as a class it's all a team effort with great personalities. This year was extra special really, as not only was I racing alongside the Dark Horse Mustang with dad driving, we had Lee running a borrowed Chevy Nova to become a team of three which was just awesome!

I wanna say a huge thank you to my sponsors that have kept me on track. The main one was ASD Engines, Trevor and Steve Hirst I'd really be stuck without them and their skills. SERCK Motorsport for supporting me and helping with parts and custom work to go faster. Also Dave Gibbons and Tony Morris for their carb setup pushing me finally into the nines (well chuffed).

But I wanna say a special thanks to my team and friends Rich Dance, Andy (Spud), Matt Cutler, Tippers, Rich 'erm' Bell and my better half Rhiannon.

I can't wait to be back in the seat already, and hopefully have more new cars and faces to the class.

Oh, and was so good to see Straight Up playing as a band again in our pits at National Finals.

Swift snippets.
3rd October: We wish to congratulate British drag bike pioneer and member of the British Drag Racing Hall of Fame Alf Hagon a very Happy 90th Birthday. Have a great day Alf.

Also Happy Birthday to Super Pro ET racer Saskia Fensome Jell and to former 9.50 Bike racer Andy Haley, we hope you enjoy your special day.

UK Tech Committee meeting.
2nd October: Thanks to to Santa Pod Racers Club Secretary Ian Marshall for letting us know that The Drag Racing Technical Committee will be holding its annual meeting on 28th November 2021 at the Hilton Hotel Northampton.

If you wish to have an item added to the agenda and/or attend the meeting, could you please contact Ian at ir.marshall@btconnect.com before 19th November 2021.

Once there is a list of delegates, further details regarding start time and travel details to the hotel will be published on Eurodragster.com.

Sywell Classic report and gallery.
2nd October: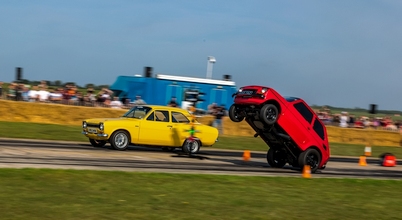 Thanks to event commentator Jerry Cookson and photographer Darren Skidmore for providing a report and photo gallery of the drag racing action at Sywell Pistons & Props which took place last Sunday 26th September. Jerry writes:

Sywell Airfield hosted a demo Street Car Shootout last Sunday, all the cars ran twice and all put on an exciting, colourful and smoky show which the crowd loved. There was lots of audience participation with many imaginary bets made and lost!

Organised by the Rodfathers UK, the Sywell Classic Pistons & Props was certainly a memorable one for its side-by-side rollin' & smokin' Ford Escort burnouts, '57 'Shoebox' duels, slammin' Pops and high flyin' Fiats from Taz Racing - bring on the next one. The Rodfathers UK would like to thank all the drivers and hard working marshals and helpers who, without them, the show wouldn't have been possible. Many thanks to my partner Ali for pairing up the cars to make for a great show, one of the best seen in a long time.

The track is all concrete and is just shy of an eighth. Once the sun came out and some rubber had been laid it would have made for some great No Prep racing as it was very tacky even though none of the teams were using any traction aids, just water burnouts. The tree was supplied again by Wayne and marshalled by members of the Shakespeare County Relics as were the two startline fire marshals, Andrew Willcox and Dave Bramley.

Although the date was moved so not to clash with the Goodwood Rival the attendance was quite busy on both days with lots watching the the drag racing more than the side-by-side sprint laps from the circuit cars that included an ex James Hunt Marlboro McLaren. Super karts and classic and modern bikes also took to the track for demo runs while the Two Brothers Stunt Team provided the tricks, smoke and rev limiter appeal for the bike fans!

Mark Pacey had his double engined tractor puller on display plus there were Spitfires and Messerschmidt's in mock dog fights, lots of car and bike clubs alongside a mouth watering collection of street rods and classic cars, all made possible by Mark & Louisa Ashman of the Rodfathers UK.

You can check out our gallery of Sywell Classic pictures from Darren Skidmore by clicking here or by clicking on the John Woolfe Racing-sponsored Event Coverage link at the top of any Eurodragster.com page.

Jerry kindly supplied a list of the racers taking part in the Sywell Classic:
| | |
| --- | --- |
| Ollie Finch (V8 Zodiac) | Ray Shortland (MK1 V8 Zephyr) |
| Mark Biggers (Turbo Mustang) | Kevin Dudley (2ltr Turbo Morris Minor) |
| Garth Wong Ford (100E LS8) | Steve (Triumph Herald with s/c 355) |
| Ty Strevett (Pro Street Ford Falcon) | Mark Bracking (Outlaw Anglia) |
| Ian Smith (Pro Street Moggy) | Garry Hill (Outlaw Anglia<)/font> |
| Steve Mitchell (Snow White 57 Chevy) | Den & Caz Reynolds (Corvette) |
| Chris "Boss Taz"Skinner (Fiat) | Adam "The Adonis" Skinner (Fiat) |
| Mick Sharpe (71 Dodge Dart "Detroit Hustle") | Kev " Firefighter"Preston (Pickup) |
| Darren Scannell "The Galaxies Fastest" (MK1 Escort) | Danny Wilson (MK1 Zephyr) |
| Warren Wilson (MK1 Zephyr) | John "The Adonis 1952" Dewey (Chevy |
| Paul Mags Taz 17 Escort (black & gold MK1 Escort) | Arron Windridge (Supercharged Outlaw. |
| Justin Woolner ('68 Camaro) | |

Jerry said "Sunday saw Arron Windridge really get up on the tyres to lay smoldering rubber across the startline with the small block powered Supercharged Outlaw Altered".

Other photo albums of the event can be seen by clicking on these links: Malta October event video and photos.
2nd October: MDRA Secretary Konrad D'Anastasi has uploaded video from yesterday's Hal Far practice session preceding this weekend's race which you can see at this link. Another early poster of media from the event is DLP Automotive Photography whose photos you can see at this link.

Live streaming video of the race can be seen at the Motors MT Facebook page which will be live after the commencement of racing on both Saturday and Sunday, 2nd and 3rd October.

NSRA Hot Rod Drags trophy winners.
1st October: Many thanks to Alan Martin from the National Street Rod Association for sending in a full list of trophy winners from the NSRA Hot Rod Drags held at Santa Pod Raceway on 17th-19th September, and some news for those attending the Classic Motor Show at the NEC on 12th-14th November.

The full list of trophy winners for the Hot Rod Drags is as follows:

NSRA Dirty Dozen:

Richard Tunstall, 27 Model T Roadster
Jacqui Kowalewsky, Fiat Topolino
Harley Peters, Model A Coupe
Johnny Best, 34 Roadster
Hayden Mommery, 56 Chrysler Window
Steve Taylor, 61 Mk11 Consul
Sally Woolner, 67 Camaro
Danny Wilson, Mk1 Zephyr
Kenzie Taylor, 100E Prefect (16 years old and first run!)
Laurence MacGillivray, 351 Cleveland Ford Pop
Lauren Moules, Willys Coupe
Colin Wood Jr, Hillman Husky

Most Friday Runs: Andrew Jackson, Triumph Herald Coupe. 10 runs.
Quickest Friday ET: Robin Read, Spirit of Le Patron Daimler Dragster, 6.6579 secs @201.65mph. (Also beating his one record for the fastest Britis engined Dragster over the weekend)
Quickest Outlaw Anglia: Jedd Guy, 6.8864 secs @ 193.85mph. (also taking the honours for the first 6 second Anglia in Europe over the weekend)
Quickest Wild Bunch: Alan Lloyd, Gonzo the Great Topolino, 7.979secs @ 160.75mph
Quickest Supercharged Outlaw: Tony Underhill, Willys Coupe, 7.05 secs @ 191mph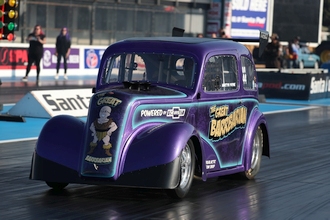 Gasser Circus Quickest Reaction Time: Lee Pike, Honky Tonkin' II. 0.000secs (a perfect reaction time)

Alan and other NSRA committee members will be attending the Classic Motor Show at the NEC. He said "One of the cars that will appear on the NSRA stand that weekend will be my co-conspirator in organising the Hot Rod Drags for the last 30 odd years, Martyn Payne and his 'Great Barrbarian' Outlaw Anglia (pictured right). All told, there will be five cars on the NSRA stand and Martyn's will be a first for the club to feature a race car."

As well as the NSRA stand, Santa Pod Raceway and Outlaw Anglia will be exhibiting and Modified 100e will be represented on the Ford 100e stand.

We will publish developments for the 2022 Hot Rod Drags and, we hope, Nostalgia Nationals as soon as we know more.

Gasser Circus Hot Rod Drags report.
1st October: Many thanks to Gasser Circus co-ordinator Nick Brooke Langham for a report on the class at the 2021 Hot Rod Drags at Santa Pod Raceway:

The Hot Rod Drags for the Gasser Circus marked the conclusion of our racing season, and it has so far been the event when the winner of the Championship finally emerges. This year it was set to repeat this well warn path, with 3 drivers and their Gassers still in contention. Billy Jones in his 'Grumpy Grizz' Willys Coupe, Jason Hollamby in his 'Jumpin Jalapeno' Falcon and sitting in the number one spot Nick Barnett in his B&G Racing Falcon. However, a cloud hung over the Gasser Circus as the news filtered out, that Dale Edmonds had passed away earlier in the week. Dale had been a regular in the Gasser pits, supporting and assisting his good friend Ray Turner with Ray's 'Green Onions' 55 Chevy. Dale is renowned in racing circles as he supplied and made so many fibreglass and carbon fibre panels for drag racers, he and his friendship will be sorely missed.

With 20 Gassers on site, Gassers fans were in for a treat with two 55 Chevys, two Austin Devons, an Austin Dorset, two Falcons, a 56 Chevy, two 57 Chevys an Austin Devon pickup, a Chevy Nova, a Morris Van, 33 Willys, 37 Willys, Willys pickup, two Ford Pops a Corvette Stingray and a Dodge Dart. At 9:15 Saturday morning the Gassers were at the end of the fire up road having the privilege of kicking off the weekend. It was a truly heart-warming sight, to look back and see 19 Gassers in the lanes, unfortunately for debutant Adam Kruczynski he was in the lanes but without his superb 55 Chevy 'Not so Mellow Yellow', having suffered clutch damage whilst testing the car on Friday's RWYB. Needless to say, he took on the racers mantle despite his setback and was helping other drivers with their Gassers.

First pair up were Tom Margesson in the 'Tinsel Town Hustler' Pop, he lined up against Katie Booth in her 'Mighty Mouse Pop'. The pair signalled their intentions when they both ripped off superb runs with Tom dialling 11:38 and running 11:3814 and Katie dialling 10:43 and stopping the clocks at 10:4376! Tom just taking number 1 qualifier a position he held onto throughout qualifying.

After the first round, most drivers appeared to be suffering the same issues, being slower than they expected. With 19 Gassers and a 16 car ladder, three were going to miss out on Sunday.

At 12:30 just ahead of the second round of qualifying one of the stalwarts of the Gasser Circus 'Roarin Rat' was inducted into the NSRA Hall of Fame. The legendary 57 Chevy now under not only the stewardship of Keith Bartlett, but being raced by Keith as he continues where Ken Brookes left off, racing in the Gasser Circus. With the presentations over, it was time for round two of qualifying.

At the conclusion of this Lee pike had a huge smile on his face as he had posted a perfect reaction time 0.0000 in his 'Honky Tonkin' 2 Chevy Nova. The 3 Gasser's not qualified were playing a dangerous game they were me in Nogbad the Bad, Paul Dominey in his 640 Austin Dorset and Martyn Hallam in his 33 Willys Hallam, Hallam & Couch.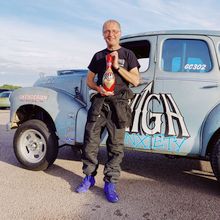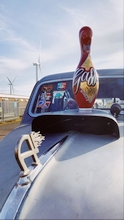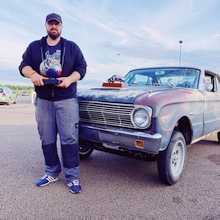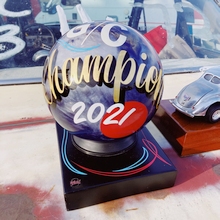 Pictures: Round winner Graham Barton, Round Winner Pin from Neil Melliard, Championship winner Nick Barnett, Championship Trophy Bowling Ball from Neill Melliard.

Final qualifying arrived and at its conclusion 2 of the 3 had made it into the final 16 leaving Paul Dominey in his 'Dorset' being first alternate sitting at number 17. Behind him was Brian Gibson in his 'Identity Crisis' Dodge and Simon Glen in his 'Straight Shooter' Austin Pickup.

Being first alternate paid dividends when Keith Bartlett in his 'Roarin Rat' 57 Chevy were not going to make eliminations. Paul Dominey was back in. Saturday night brought the Cracklefest and the Gasser Circus were well represented with 5 joining the line-up and along with the other racers they looked awesome. At the conclusion of the Crackle a miscommunication meant that the Gassers arrived at the end of the shutdown area expecting to use the return road, but they could go no further as concrete barriers blocked the way. The cars in the darkness slowly turned around and were soon safely back in their pits! Within these it was also our annual spoof awards, with many drivers, worried about what award they would pick up, some of these involved Chitty Chitty Bang Bang, Engine Slayer T shirts, Ker Plunk, a bottle of Guinness, braces, tinsel, a prop shaft and a giant dog!

Sunday arrived and so did a few rain showers which delayed proceedings somewhat, but finally track prep was sorted and Round 1 of Eliminations was good to go. This was where Nick Barnett could place a grip on the championship that would be very hard to dislodge. He was up against Tony Pearson who had a freshly built gearbox in his 'Guzzler' 56 Chevy. It bit too hard, too soon and lit the red handing the win to Nick and with that Nick secured the Gasser Circus Championship for 2021.

Ray Irish took on and beat Jason Pickett in his immaculate 'Cherry Bomb' 55. Graham Barton won against Steve Mathews in his 'Honky Tonkin' 57 Chevy, Sean Milson in his 'Ain't Misbehavin' van red lit against Paul Dominey and Katie Jane Booth in her Pop saw off the still smiling Lee Pike. The other Pop piloted by Tom Margesson took on Mick Allen in his 'Quick Buck' Corvette, Tom taking the win on a hole shot. Jason Hollamby took the win against Nervous Nick, Martyn Hallam took the win against Billy Jones. Although at first the win appeared to have gone to Billy, but a glitch with the timing system had incorrectly illuminated the win bulbs in his lane. Therefore, a few minutes after the run there was a swap of emotions in the pits as the news of the error was shared with the drivers. Billy took this in his stride, and Martyn was surprised but ready to move into the next round.

Second Round Eliminations

Jason Hollamby in 'Jumpin Jalapeno' was set to race Katie Jane Booth in 'The Mighty Mouse' Pop. Jason dialled 10.80 and Katie dialled 10.45. The cars left with green lights on the tree and they headed down the strip together at the top end Katie took the win moving to the semi-finals as Jason had broken out posting a 10.71!

Tom Margesson 'The Tinsel Town Hustler' and Graham Barton 'High Anxiety' came to the line, Tom with 11.50 on his Pop and Graham with 10.83 on his Austin. In another close race the gantry told the tale of two breakouts with Tom running 11.40 and Graham 11.79. Graham took the win as he broke out by the least. New Gasser Circus Champion Nick Barnett took on Martyn Hallam with the Champ dialling 11.72, Martyn dialled 11.37. Another side by side race followed with Martyn taking the win running perfectly to his dial in with 11.37. On the other side Nick had broken out with an 11.71.

Alternate Paul Dominey in his 640 Austin Dorset, was making the most of his opportunity but was now up against Ray Irish still bedding in his new blown Chevy Motor. Paul dialled 11.84 and ran 11.85, with Ray dialling 10.19 and running 10.22 Ray taking the win by virtue of his reaction time, with him posting a 0.07 to Pauls 0.25.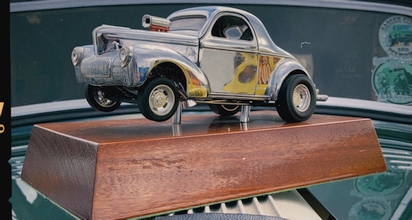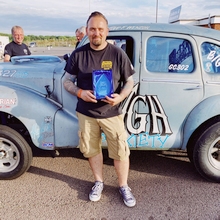 Pictured: Perpetual Gasser Circus award, Ray Irish and Graham Barton in the fire up road, Lee Pike with his NSRA Award for best reaction time with an 0.000.

Semi Finals had the pairings of Katie Jane Booth against Ray Irish and Graham Barton taking on Martyn Hallam in his 33 Willys, which put a smile on his face as since swapping from a Chevy 383 to a Hemi, he has not had the best of times, as he and his team sought to get it running right.

Katie lost out by the narrowest of margins to Ray as she broke out with a 10:44 on a 10:45 dial in, and Martyn's Hemi was running too well against Graham Barton in 'High Anxiety' with a breakout 11.33 on a 11.37 dial in.

Final

Both drivers were delighted to make their first final especially Ray as he had missed a few rounds whilst sorting out his new blown Chevy motor. Ironically the person in the other lane to Ray was not only a good friend, but it was due to Ray that he was there. A few years ago, Graham came along to crew for Ray and he was almost immediately hooked, saying he wanted to share in the racing and fun that everyone was having. This led to the internet and Racing Junk, where he spotted the High Anxiety Devon Gasser for sale. A couple of clicks later and the deal was done. The rest they say is history.

Both drivers were determined to continue that history and both did strong burnouts, before the edging to the line could begin, with both cars staged the tree activated, Graham had dialled in 10:79 and Ray 10:19.

The cars launched and were side by side, they maintained this along the quarter mile, with it so close neither driver was sure who had taken their maiden win. The gantry told the story of this superb drag race and befitting way to conclude the Gasser season, as Graham had run to his dial in with a 10:79 but Ray had broken out with a 10:19. Graham had taken his first win, back in the pits he was visibly stunned and Ray although disappointed was happy for his friend.

A few minutes later, the Gasser Circus gathered for the trophy presentations, the superb Round Winners pin and prize money from Neil Melliard to Graham, followed by the Championship trophies awarded to Nick Barnett & Hoch of the B&G Racing Team. The Championship Bowling Ball and prize money from Neil Melliard the ball the winner keeps and the Gasser Circus Trophy that the winner keeps for the year.

It was then time to pack the Circus up for another year, and begin to plan its return, when it looks like there will be a few more Gassers joining the growing ranks of those who want to pay tribute to the Gassers from the mid-60s.

Now as the days draw in and the leaves turn to brown before falling, we look back over the year, and it has been quite a journey for all racers, from the point of uncertainty if we will get to race, to the sheer joy and relief of driving up Airfield Road knowing Round 1 was moments away. To then be able to follow this up with another 4 weekends when the Circus came to town has been truly fantastic. This of course would not have happened had it not been for the superb dedication of the Santa Pod team, for which all racers are so grateful. It also wouldn't happen without the loyalty and support each team receives from family and friends, and our sponsors, Neil Melliard, the National Street Rod Association, Simon Prest and Renegade Fuels.

The Gasser Circus are now preparing and looking forward to 2022, when Gasser's will once again, thunder down the quartermile, 'Racing the Dream'.

Modified 100e Challenge expands for 2022.
1st October: Many thanks to Nigel Taylor for bringing us up to speed about the Modified 100e Challenge for 2022: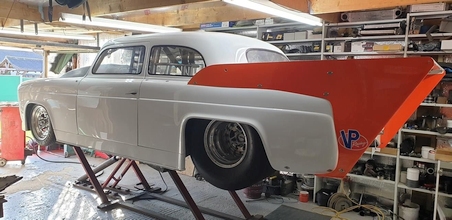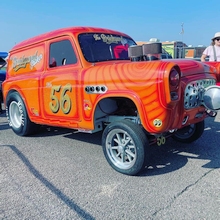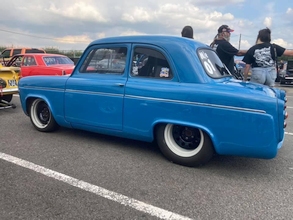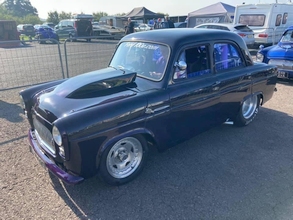 "The Modified 100e Challenge 2022 campaign is shaping up to be something special! There will be five rounds, dates to be confirmed, and a number of sponsors have already been signed up to whom massive thanks: Check out the Modified 100e Facebook page if you would like to get involved in the 2022 Challenge.

Pictured: Scott Collin's new car (the former Paula Atkin car), Dave Mott's Brickyard Shaker built by Zero3 Custom Creations, Scott Collins' current 100e which ran 10.2s at 130mph at the Hot Rod Drags, and Sharon Carver's 100e.


Earlier news