Super Series 4
Sunday (qualifying)

The latest updates are at the top. Click on your Browser's Reload button periodically to be sure of picking up the latest news. Click here to go back to the race update index.
We are still experiencing problems with dead phone lines here at Shakespeare County Raceway, so today's report is again abbreviated. Stay with us and we will bring you the highlights, apologies for the limited service but we hope that you will enjoy what we can bring you.
We had an enforced premature finish here at Shakespeare County Raceway after Smax Smith fireballed the Mainline Menace Fuel FC in the first run of this afternoon's Fuel FC qualifying session. It was a big fire followed by what sounded like either the fire bottles or the fuel tank exploding but the FAST crew were there very quickly indeed and hosed the car down. Smax wasted no time in getting out of the car, he was as ever quite OK and was last seen grinning out of one of the side windows of the ambulance taking him to the medical centre. His half-track speed, recorded just before the explosion, was 200 mph, and he went through the top end on fire at 6.39/195. Sharkman who has seen the damage says that there is a hole in the right-hand rocker cover and that everything on the car is pretty well toasted.
Clerk of the Course Richard Warburton said that he is very proud indeed of the FAST crew. "They are beyond awesome!", he said. "There was an engine fire and a fuel tank fire, and the crew were there and had both fires out almost before Smax had stopped rolling."
Sharkman had his digital camera trained on Smax and caught this dramatic picture, which shows you just how fearsome the fireball was: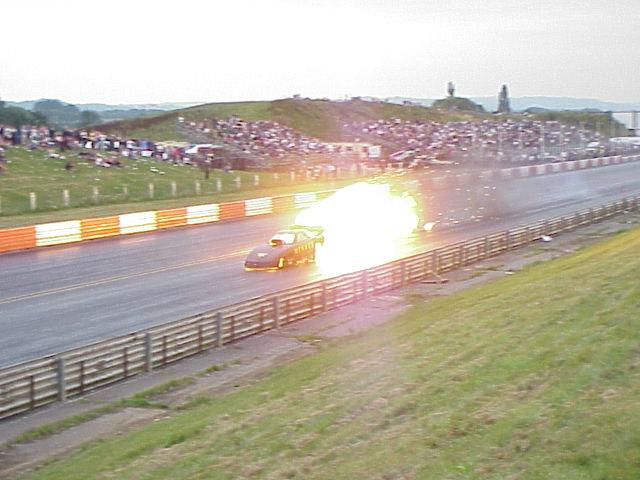 Because of a huge oildown and some rain earlier we were running over curfew anyway so Norm Wilding, John Spuffard and those who turned out for the second Top Methanol qualifying session were turned back.

First up in the first session of Top Methanol qualifying was Lyndsay Deuchar who didn't get a time yesterday, and he must wonder about his luck as he was shut off on the line after a glitch hit the timing system. He was pushed back to allow the clutch to cool, and then came back to record a very out-of-shape 6.516/163.64. He could only have missed the 990-foot marker by inches but he stayed in his lane.

Darryl Bradford and Doug Bond matched up next, and this was a very dramatic pass as Darryl Bradford hit what I think is the worst tyre shake I have ever seen, the rear end leaping about and parts shedding from the engine. Darryl recorded 17.728/32.38 and I would imagine that he has a fair-sized headache. Doug left strongly but backed off at half-track, clocking 7.769/141.07, his terminal speed the same as his half-track speed. The damage was appalling, the Lenco casing was split, two rods came out of the engine, the rear axle was bent and the chassis damaged. A very expensive run for the Canto team.

After one round, Steve Woollatt leads Top Fuel Bike qualifying at 6.785/200.89 with Ian King at 6.926/197.37.

The lead changed hands twice in CCSE qualifying during the final session. Jeff Meads took over the lead at 9.060/156.25 and then Steve Pateman took it back again at 8.928/166.67.

Tim Blakemore took over the lead in Funny Bike at 7.289/159.57, and Pro Stock Bike saw some great times and speeds with Dave Beck clocking 7.572/175.78, Nick Pepper 7.728/169.17, Chris Hope 7.757/166.05 and Martin Bishop into the sevens at 7.959/167.29.

One of the stars of the show today was France's Bertrand Dubet whose inhected-alcohol altered brought down the house in Super Pro ET qualifying. He pulled two huge wheelies but kept his foot in and recorded 7.544/175.10.

We will bring you the usual top two qualifiers in each class tomorrow, as the qualifying is being double-checked after a problem with the timing system.

10:30

Good morning and welcome to Shakespeare County Raceway on another beautiful summer morning. The sun is already warm and there is a gentle breeze, so we're set for another day's hot action.

At the time of writing we still have no phone lines in race control, but the tech crew are on the case and so we will hopefully be able to bring you more regular updates today. The tech crew have already had a bit of a weekend of it, as the local electricity supply failed a couple of times yesterday. There's not a lot that can be done about external influences such as this, but the critical systems here are protected by an uninterruptible power supply so no damage was done beyond the inconvenience.

Congratulations to Pro ET racer Bob Doyle who won Eurodragster's Perfect Light Award of £75 for a 0.500 light in qualifying yesterday. When we handed over the cheque, we asked Bob what he would spend the money on. "Me!" replied his wife, but after some discussion it was agreed that the money would probably go towards a new pair of slicks.

After qualifying finished yesterday, we went and had a chat with Norm Wilding about his return to Fuel FC in the UK. I asked him if the long burnout and Maltese half-pass were proving a point as we conjectured yesterday. "No", said Norm, "this car isn't near the other three so we have to put a show on! I love it and I get carried away. I said I'd only do a short burnout but when it came to it I thought 'sod it'". It looked as if the car was giving Norm a bit of a handful on his pass, which he confirmed. "It was shaking a bit, but you can always pull it back", said Norm. "I proved I could drive it because I had to drive it! I'm over the moon."

Norm told us how he and car owner Mark Hawkins hooked up. "We've been friends for a long time", he said. "We've kept in touch. One day Mark called and said that he had a problem with the car not going straight and asked if I could put in a few runs". Mark teold us that he was responsible for Norm running Fuel in the first place. "I've known Norm since the start", he said. "He was going to drive an alcohol funny car and I told him to put fuel in it. And in his first race he whipped us!". "I had just been to Frank Hawley's drag racing school", said Norm. "That was the best thing I ever did".

Mark and Norm are already looking to next season. "Norm is doing an excellent job", said Mark. "This deal will go on", said Norm. "Next year we're moving to direct drive. We're the only car left with a two-speed. Direct drive makes a big difference, the car feels more powerful. With the two-speed we have at the moment, it's like the old days when I ran 6.0s, but I think we should be able to get it into the fives. The track is beautiful, it has plenty of stick - it's almost too good! We'll put a bit of oomph in it tomorrow!".

Andy Bissett, Crew Chief of the Nemesis Top Methanol Dragster, was very pleased with Dave Wilson's 5.8-second pass in qualifying yesterday. "There's no damage at all", he said. "The bearings haven't moved, the whole engine is clean, and we're very happy with that!".

Sportsman ET racer Ian Jackson is currently second in the Super Series Championship but is scratching his head after a lightening programme went awry. "At the last race I was running consistent 14.6s", he said. "I went home and took out all the glass and changed it for lexan, stripped the doors and the wiring, and today it goes 14.9!". Ian and his team are clearly enjoying themselves, though, and are even talking of introducing another car to the Shoestring team in 2002.

Super Gas racer Dave Gadney is making his first appearance of the season with a lot of modifications on the car. Most noticeable is a new rear wing, but Dave tells us that there is more. "There's a new rear axle, new brakes, new tinwork, new just about everything!", said Dave. "Andy Robinson did the full works and I'm very grateful to him."

Funny Bike racer Dave Holland ran a new personal best of 7.54/173.08 during qualifying yesterday and is understandably very pleased. He has chosen the right time to be running fast times on the Titanium International-sponsored machine as he has a number of visitors this weekend. "We've got the MD of Titanium International, Linde Gases, representatives of Team Roberts Grand prix, Turbo Services, and Holdfeld F1 Components here this weekend", says Nigel Hoskison of TI, who has become a drag racing addict in the year since his first visit to Shakespeare County Raceway. One suspects that Dave will soon have a new nickname after US team owner and tuner Jay Regan's response in an E-Mail. When sent all of the settings for yesterday's PB, Jay replied "Those settings are soft! Is the rider a girl?". Your reporter suggested 'Davina' Holland and then quickly absented himself from the Titanium International pit.

Fellow FB racer Ken Cooper will be running on a hybrid engine today after suffering damage on yesterday's 7.3 pass. Yesterday Ken was running on the engine in use at Hockenheim, about which he was worried - with reason as it turned out. He has now put parts of the Hockenheim engine and parts of his spare engine together and hopes that that will last him the weekend. Ken's partner Helen Curran is very pleased indeed to have repeated her seven-second form on Paul Rose's Comp Bike yesterday.

Lee Baxendale will be riding another Paul Rose machine this weekend, a new Funny Bike which was finished at 5:00 yesterday afternoon. The bike will be running in Comp Bike today since FB has a big field and there is no guarantee that Lee will qualify, which means less chances for test runs.

The Watts family are having a busy weekend, running two Junior Dragsters. Tom is in the family car, and Charlotte is in a dragster on hire from the Lindley-Allen family. "We'll be running them both again at the European Finals", said dad Martin. Fellow JD racer Ricky Emms is studiously avoiding going below 8.90 in his Junior Modified dragster, a difficult feat in such a high-powered car. He is achieving that goal so far, having run a comfortable 9.00. Dad Chris tells us that the Emms family have taken the car out 38 for 38 weekends in a row, either testing or on display.

JD racer Adam Gleadow's dad Bob tells us that his other son Martin will be out on the track next year in an alcohol-burning flathead slingshot, which will be legal to run in Pro ET. The team have their eye on a certain Wild Bunch slingshot since, Bob tells us, it used to belong to Gleadow Racing many years ago.


Reports and pictures ©Eurodragster.com