CHRIS HAMPSON
5th May 1957 - 29th May 2000


Drag racing journalist and photographer Roger Gorringe writes: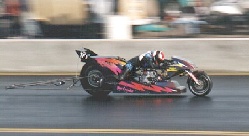 Chris Hampson the 43 year old Top Fuel Bike rider, sadly died as a result of injuries sustained in a top end mishap on the Bank Holiday Monday, during the first round of competition in the FIM Competition Bike series. No-one else was involved in the tragic accident.

Chris had been involved with Drag Racing for a long time. I first got to know him when he became a writer for me for Drag Racing News back in 1982, and he was still helping out with FIM Bike information for the Santa Pod programme until his untimely death. He always seemed a quiet, articulate man but with a fervent and passionate enthusiasm for the sport, especially the bikes. His journalistic talents included some top name national publications, including Motor Cycle News. During his time with Drag Racing News he started racing in the Street Bike class in 1984, moving up in 1986 to successfully campaign for many years, a Funny Bike, even doing a tour of Australia.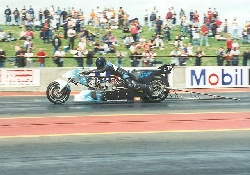 In 1998 he became involved with Phil Baimbridge and his Top Fuel Bike team, riding the ultimate two-wheel machine, a Top Fuel Bike. Chrisí best times on the bike were a 6.67 second e.t. and a 207 mph ticket.

To say this man will be sorely missed is an understatement; Drag Racing has lost at least two talents, a brave competitor and a resourceful writer. Many will express their sincere condolences to his family and numerous friends; I am a mere one of them.

Back to Eurodragster News