Click on any picture for a larger image. Full gallery at foot of page.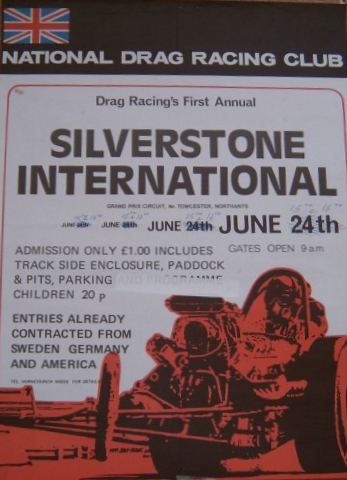 Event poster
On 24th June 1973 the NDRC held its first International drag race at Silverstone circuit. Entries from Sweden and Germany attended and the status of the event attracted media from the BBC and a film crew who released their documentary movie as 'Drag on a Summer's Day'. The film company that produced the film for Castrol was Barrie Hinchcliffe, a well known name in motorsports films for his coverage of World and British Rallies transmitted on ITV's World of Sport and the BBC Grandstand, as well as the early British Touring Car Championship races seen on BBC Grandstand. The film can be downloaded at this link for a mere £3.99 (32p in 1973 money!).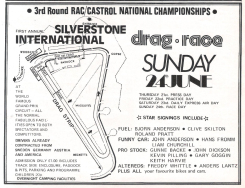 National Drag Racer advert
Jerry Cookson collection
Following negotiations with Silverstone Circuits Ltd the National Drag Racing Club secured a single day international meet to be run on the newly resurfaced Club Straight which had been tested in early January when Clive Skilton performed some test passes on the new tarmac with his Revolution III Top Fuel Dragster. Clive was reported to have said that the new surface for traction was the 'best in the country to his knowledge'. It was reported in National Drag Racer that Silverstone Circuits Ltd were very keen to introduce drag racing to its international events calendar provided this first event received a good response from both racers and spectators.
Following the Press and Practice Days the Silverstone Weekend got under way with the Daily Express Air Display on Saturday. Demonstration runs from Clive Skilton and Roland Pratt also took place. With all the press and TV ads, local press and radio interviews laid on by the NDRC, 8000 people turned out for the 24th June International; round 3 of the Castrol NDRC National Drag Racing Championship. General admission back then for a full days qualifying and eliminations was just £1 and 50p extra for a grandstand seat which if you were lucky enough to be seated in the Woodcote Corner stand then you had the perfect overview of looking straight down the strip as well as experiencing the burnout boxes!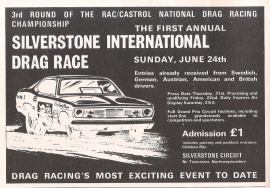 Hot Car magazine advert
Jerry Cookson collection
Amongst its UK stars the day attracted a couple of European and Swedish racers. Swede John Andersson with the Valkyrian rear engine dragster match raced Clive Skilton's Castrol backed Revolution 4 in a best of three, Anders Lantz won Top Street in his injected 427ci '33 Plymouth Roadster, Björn Anderson took the Top Competition trophy with his Second Invention Opel bodied Funny Car against Freddie Whittle's Shutdown, Gunne Back took his 'More Frighten Chicken Camaro to the runners up spot in Pro Stock and Germany's Willi Hestermann who drive his Rat motored Maffia Mouse Fiat Topolino to a semi-final finish. From Germany was Gisela Krux at the wheel of her Porsche powered VW Beetle and transplanted Americans John Willes who entered Pro Stock with the 330ci Heartbreaker Camaro, James Eury who got to the semi-finals of Top Street with the Janitor Camaro and Freeman Rodgers at the wheel of his 427ci Aardvark to win Senior Altered. Skilton won the best of three Top Fuel race with an off the trailer 6.77/211 mph and a best ever 6.61 at 217 mph which at the time was 1 mph off Allan Herridge's outright UK record.
The entry of over 170 was high for the period and the meeting ran quickly and smoothly, which was fortunate as the permit granted to NDRC was just for a single day.
Top Fuel Dragster
The traction of the Club Straight was good for the top fuel dragsters of Clive Skilton and and John Andersson from Sweden in his brand new Valkyrian RED who put on a great pair of match races.

Clive Skilton (Top Fuel)
Trevor Gardiner photo


John Andersson (Top Fuel)
John Rudling photo
Match race result
Race 1: Clive Skilton (Team Castrol Revolution IV Chrysler 392ci) 6.77/211 def. John Andersson (Valkyrian Chrysler 392ci) 7.72/180
Race 2: John Andersson 8.71/133 def. Clive Skilton 9.02
Race 3: Clive Skilton 6.617/217 def. John Andersson 8.713
At the time Clive's times in the third race, on a 80% nitro load, were very close to the UK records of 6.59 by Dennis Priddle and 218mph by Allan Herridge. In race two Clive suffered a broken fuel pump which slowed the car.

John Andersson (Top Fuel)
John Rudling photo


Clive Skilton (Top Fuel)
Jerry Cookson collection
---
Top Dragster
Eliminations (extracts)
Semi-finals
Ed Shaver (RED Chrysler 392ci) 9.23/148 def. John Whitmore (Drag N Fly Slingshot BMC 1304cc)
Ray Hoare (Saxon RED Chevy 305ci) 9.33/164 def. Mike Treutlin (Crescent Coupe Topolino Chevy 305ci)
Final
Ray Hoare 9.633/163 def Ed Shaver, no time, lost fire.
Ed Shaver was driving what would become the rear engine Vauxhall VX4/90 Funny Car, with the body still awaited at this race. The chassis was built by Mark Stratton, the early Hemi 392ci engine came from Mark's Metronome Bond Bug Fuel Altered. John Dickson described it as 'an overgrown go-kart'.

Ray Hoare (Top Dragster winner)
Pete Blake photo


Ed Shaver (Top Dragster)
John Rudling photo


Mike Treutlein (Top Dragster)
Pete Blake photo


John Whitmore (Top Dragster)
Mike Key photo
---
Senior Dragster
Eliminations (extracts)
Early rounds
Ken Cooper (Bazooka Slingshot Ford) def. Malcolm Olley DQ, red
Ken Cooper def. Jim Rowatt (RED, Chevy 305ci) DQ red
Final
John Rotherham (Avanti slingshot, Ford 1498cc) 12.649/106 def. Ken Cooper 13.119/105
---
Middle Dragster
Final
Gerry Cookson (Joker slingshot, BMC 1071cc) 12.363/105 def. Malcolm Locker (Midi Witch slingshot, Volvo 1780cc) 13.403/93
---
Junior Dragster
Early rounds
Ken Penfold (Go-Kart, Triumph 750cc) 11.88/110 def. Steve Martyn (Gemini I, Ford 1498cc)
Final
Ken Penfold 12.161/111 def. Geoff Masters (Worden slingshot, Ford 1498cc) 12.935/104
---
Pro Stock
Qualifying
Kevin Pilling (Satan's Toy '69 Camaro 454ci) 11.1
Gunne Back (More Frighten '72 Camaro 454ci) 11.3
Tony Dickson (Money Hungry '67 Camaro 427ci) 12.0
Keith Harvie (Firebrewed '68 Camaro) 12
Gary Goggin (Clunk Click '71 Camaro 427ci) DNQ

Kevin Pilling (Pro Stock)
Peter Quinn photo


Gunne Back (Pro Stock)
Peter Quinn photo
Eliminations
Semi-Finals
Kevin Pilling 13 def Tony Dickson 11.68 (DQ red, bodywork fouling beams)
Re-run: Kevin Pilling 11s def Tony Dickson 11.7
Gunne Back 11.2 def Keith Harvie broke (broken rod)
Final
Kevin Pilling 11.094 def. Gunne Back 10.991 (DQ red)
Gary Goggin, with a new engine fitted before the meet came back for an exhibition pass and ran 11.0/127 despite the 8100rpm limiter cutting the engine in first and second gears.

Tony Dickson (Pro Stock)
John Rudling photo


Keith Harvie (Pro Stock)
Dick Parnham photo
---
Top Competition
Qualifying
Björn Andersson (Second Invention Opel Manta Funny Car Chrysler 392ci) 8.74
Fred Whittle (Shutdown Bantam altered Chrysler 392ci) 9.0
Willi Hestermann (Maffia Mouse '54 Topolino Chevy 454ci) 9.3/123

Björn Andersson (Top Comp)
John Rudling photo


Fred Whittle (Top Comp)
John Rudling photo
Eliminations
Semi-Finals
Björn Andersson 8.78/150 def Dick Sharp (Dorset Horn Austin A35 Pontiac 421ci)
Fred Whittle 9.26/156 def Willi Hestermann 9.61/145
Final
Björn Andersson 8.548/174 def. Fred Whittle 9.074/161

Willi Hestermann (Top Comp)
Mike Key photo


Björn Andersson (Top Comp)
Pete Blake photo
---
Senior Comp
Final
Freeman Rogers (Aardvark Rochdale Bantam Ford 427ci) 11.150/123 def. Pete Smith (Hush Bloo Buick 396ci) 11.385/125
---
Middle Comp
Final
R Skinner (Midas Mist Falcon Caribbean Jaguar 3800cc) 12.166/114 def R. Fielding (Imagination 6 Topolino 1558cc) 12.302/105

Phil Carlyle & Ben Martin's Black Knight Viva (Senior Comp)
John Rudling photo


Mick Gleadow (Senior Comp)
Pete Blake photo

Oblivion (Senior Comp)
Pete Blake photo



Rick Fielding's Imagination VI (Middle Comp)
Mike Key photo
---
Junior Comp
Final
Cross Keys Team 15.798/84 def. G Conrad 16.589/82 DQ red
---
Top Street
Eliminations (extracts)
Cars to fall out early included Dick Smith's Chevelle (clutch), Mustapha Errol (Hemi Cuda)
Round one
Tony Rose (Plymouth 'Cuda 440ci) 12.98/111 def. John Wyles (Germany, Plymouth Roadrunner) 13.60/100
Semi-Finals
Jim Eury (Camaro) 12.7 def. Tony Rose
Final
Anders Lantz (Plymouth coupe, Chevy 454ci) 10.729/132 def. Jim Eury 12.666/109

Anders Lantz (Top Street)
John Rudling photo


James Eury (Top Street)
John Rudling photo
---
Senior Street
Eliminations (extracts)
Giselle Krux (VW Beetle Porsche engine) red-lit a 14s pass away
Final
Bob Oram (Red E Jaguar 3900cc) 12.961/108 def. Gerry Marshall (Thames TV Firenza 2200cc) 14.036
In the final, Bob Oram's rotor arm broke and Gerry Marshall characteristically waited patiently for Bob to fix it, then in the race, Gerry's second gear broke.

Gerry Marshall (Senior Street)
John Rudling photo


Super V 105E Anglia Street Altered
John Rudling photo
---
Middle Street
Final
Brian Bucknall (Lotus Super Seven 1558cc) 14.894/92 def. Dave Keay 15.494/89
---
Junior Street
Final
David Vizard (Hillman Avenger) 16.198/81 def. Robin Tallis (Mini 999cc) 16.188/83
---
Bikes
Top Bike
Eliminations (extracts)
Earlier rounds: Ray Baskerville 10.05 (second round), Duncan Hocking 10.06/128, Brian Chapman 10.40/132
Final
Jeff Byne (Hurricane Triumph 749cc) 10.55/128 def. Ray Baskerville (Triumph 1298cc) 13.16
---
Senior Bike
Eliminations (extracts)
Earlier rounds: Mick Butler (Super Cyclops Norton 1010cc) 10.41/137, 10.32/149
Final
Mick Butler 10.38/145 def. Brian Smith (Cheltenham Flyer Triumph 649cc) 13.46/66
---
Junior Bike
Final
Tony Marsh (Triumph 348cc) 12.01/113 def. Paul Rose (Aerial 249cc) 13.84/95
---
Street Bike
Final
Norman Hyde 12.56/111 def. Ray Elgar 12.89/104
---
Postlude
Andy Kitson remembered there were complaints from circuit racers who raced on the short circuit as shown, week in week out. "The bleach box was right on the braking and turn in point for Woodcote corner, and was left very slippery after a drag meeting, creating a safety issue. As Silverstone was/is owned by the British Racing Drivers Club, many members and committee members would race on that circuit regularly".
In addition, financial issues raised their head when the Silverstone management wanted to continue to organise events without the NDRC's involvement Alistair Barron has added "Drag Racing didn't generate enough revenue for BRDC and when NDRC looked at it later, the hire fee was far too high to be justified financially".


---

We thank drag racing historian and British Drag Racing Hall of Fame director Jerry Cookson who has kindly provided copies of the material used in this feature. We also thank all the original photographers, who have been credited where possible, and Nick Pettitt and Neil Baskerville who have kindly allowed us to reproduce material they have posted elsewhere.

Event programme (11 Mb pdf file)
Download from Duke Video of the production 'Drag on a Summer's day (£3.99 - link includes preview)
Onboard footage from Clive Skilton
Features and Interviews index
Back to News page
---