Click on any picture for a larger image. Full gallery at foot of page.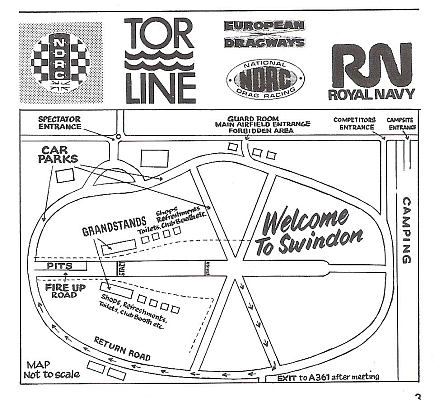 Map of RNAS Wroughton from programme
RAF Wroughton, opened in April 1940 and run by the Royal Naval Air Services , is about four miles south of Swindon and military aviation activity ceased in 1972. The National Drag Racing Club, eager to expand the sport across England, seized on the opportunity to use the venue and its first event held there was held in April 1973. After then there was one drag race event a year (two in 1974 after an April rainout) as well as motorcycle sprints, and the final drag race there was in June 1977.
NDRC obtained sponsorship support from the Royal Navy for holding a two day international event that was promoted by Clive Skilton's European Dragways. Tor Line had sponsored a European Funny Car Championship for the first time in 1975 and this greatly increased international participation.
The first round of the championship in Sweden having been rained off, there were three Swedish Funny Cars to race the five UK machines. Leif Dabach's Volvo P1800 (the team including Janne Carlsson and Borje Holmgren) had a 454cu in nitro burning Chevy engine and was named "Backfire" . Bjorn Andersson (with Tage Hammerman) also had a Chevy in their 'Manta Ray' Opel Manta replacing an early Hemi. These two teams had raced at Silverstone in June 1973. They were joined by Hans "Hazze" Fromm who was in his first year of supercharged flopper racing, having been in an unsupercharged car for the previous two years, his FGR-bodied Capri now sporting a 520ci Garlits-prepperd engine. The Canon Toyota of Roland Larsson and Ake Ryman was listed in the programme, however they pulled out at the last moment due to either a chassis problem or aerodynamic issues, depending on which report you read.
Representing the UK were Dennis Priddle, Clive Skilton, Roland Pratt and Liam Churchill's Funny Cars. The NDRC report regretted the non-appearance of the Santa Pod stable of cars.
The race was an early example of co-operation between British and Swedish officials. Olle Svenson joined Alan Wigmore in the NDRC's travelling commentary and timekeeping van.

Funny Car pits
Ken and Pete Robbins photo


Leif Dabach, sole Swede to get to the semis
Nick Pettitt photo


Hazze Fromm's Ragnorak Capri
Dick Parnham photo


Bjorn Andersson's Manta Ray
Dave Eady photo
Funny Car
Qualifying
Qualifying on Saturday was non too spectacular with many struggling with grip at mid track on a dusty surface or making half passes after much preparation work.
Clive Skilton (UK, Castrol Vauxhall Donovan 417ci) 7.5
Hazze Fromm (Sweden, Ragnarok Capri, Chrysler 520ci) 8.03
Liam Churchill (UK, The Sting Capri, Chrysler 392ci) 8.06
Bjorn Andersson (Sweden, Manta Ray Opel Manta, Chevy 454ci) 8.6
Leif Dabach (Sweden, Backfire Volvo, Chrysler 392ci) 9.04
Dennis Priddle (Avenger Donovan 417ci) 10
Roland Pratt 10 (UK, Revell's Hillbillies Avenger, Chrysler 392ci)
Eliminations
Round 1
Clive Skilton 7.90/139 bye
Dennis Priddle 8.23/190 def. Liam Churchill 8.35/150
Leif Dabach 8.73/154 def. Hazze Fromm broke (oil filter connection broke)
Roland Pratt 8.04/177 def. Bjorn Andersson Chevy 8.25/146
Semi-finals
Dennis Priddle 7.14/196 def. Clive Skilton 8.16/134
Roland Pratt 8.21/168 def. Leif Dabach 8.48/147
Final
Dennis Priddle 6.94/204 def. Clive Skilton 8.03/161
Roland Pratt's blower gasket blew during firing up; Clive Skilton was in the pairing lanes and ready to return under the break rule. The semi-final round between Priddle and Skilton was the first time the rivals had met in their Funny Cars, although Clive was suffering engine problems that continued into the final.
After the excitement of the final, Bjorn Andersson and Liam Churchill challenged each other to a Sweden v UK grudge race which Bjorn won.

Dennis Priddle, FC winner
Ken and Pete Robbins photo


Clive Skilton's Vauxhall
Dick Parnham photo


Roland Pratt's Avenger, new body in gelcoat after a fire
Solomon Dee photo


Clive Skilton and Dennis Priddle face off against one another
Solomon Dee photo
---
Top Fuel
A planned best of three between the two entrants (John Andersson's Valkyrian unable to make the journey) came to a premature halt when the crown wheel let go in Roz Prior's car, the former Mister Six. Trevor came out later and ran a 7.12/208.
Final:
Trevor Young (Revolution III, Chrysler 392ci) 7.22/202 def. Roz Prior (Revell's Fast Lady slingshot Chrysler 392ci) 8.46/118

Roz Prior's Miss Revell, the former Mr Six
Bob Massey photo


Roz Prior
Ken and Pete Robbins photo
---
Pro Comp
Five cars were present, Pat Cuss (Ratcatcher slingshot Chrysler 354ci ), Kevin Burrows (Malibu Express II RED Chevy 427ci), Peter Barnett (Vauxhall VX4/90 Funny Car Chrysler 392ci) Mike Hall (Shutdown Bantam altered Chrysler 392ci) and Jim Rowat's recently-completed car (Double or Quitz RED Chevy 454ci). All three dragsters were unblown on nitro.

Jim Rowat
Steve Hope photo (taken at Snetterton)


Mike Hall
Solomon Dee photo
Semi-finals:
Jim Rowat 8.65/164 def. Pat Cuss 9.2/167
Mike Hall def. Peter Barnett (DQ red lit)
Final:
Jim Rowat 24.99 def. Mike Hall, broke (lost transmission oil pressure)

Pete Barnett
Dave Eady photo


Pat Cuss
Colin Barlow photo


Kevin Burrows
Dick Parnham photo


Mike Hall v Kevin Burrows
Robin Pretty photo
---
Senior Dragster
Final: Russ Carpenter (Even More Trouble, Daimler 2500cc) 9.10/145 def. Keith Stacey (Whiskey Peddler, Ford 2993cc), broke (sheared blower drive)
---
Middle Dragster
Final: John Whitmore (Drag n' Fly slingshot, BLMC 1270cc) 11.25/120 def. Glen Read (Graduate slingshot, Ford 1998cc) 11.97/110
---
Junior Dragster
Final: Gerry Cookson (Joker, BLMC 1071cc) 11.17/128 def. Robert Harman (Mother's Ruin Triumph 748cc) 11.56
---
Senior Competition Altered
Qualifying (excerpt)
Anders Lantz (Ford 23T Chevy 427ci) 9.31
Clive Page (Panic Ford 23T Chevy 427ci) 9.8
Bengt Stafberg (Gas Rat II Chevy 396ci) 9.9
Semi Finals:

Anders Lantz 9.4 def. Bengt Stafberg 10.3
Clive Page 10.2 def. Vic Hammond Final:

Clive Page 9.68/141 def. Anders Lantz 11.08/121

Clive Page defeated Anders Lantz using a monster holeshot.

Clive Page (Senior Competition Altered)
Dick Parnham photo (taken at Long Marston)


Anders Lantz
Nick Pettitt photo
---
Middle Competition Altered
Semi-final
Svante Eriksson (Sweden, Jeep Chrysler 426ci) 10.3/140 def. Bob Messent (Stripteaser Minivan Jaguar 3800cc) 10.7
Final:
Svante Eriksson 10.37/140 def Bo Jonsson ('33 Plymouth Chevy 427ci) 10.51/129
Of the 13 British and 2 Swedish cars qualified, Bob Messent was the UK competitor to go furthest, being beaten by Svante Eriksson in the semi-final.

Svante Eriksson
Dick Parnham photo


Bo Jonsson
Nick Pettitt photo
---
Junior Competition Altered
Final: Peter Corley (Mini Jaguar) 13.50/104 def. Jon Annear (Uncle Scrumble 23T Ford 1300cc) 13.51/100
Swedish entry Bernt Fredriksson's Footbait 289ci Cortina was DQ'd for running into the reflectors on his burnout and Brian Munday's Optimist 23T Jaguar broke. Jon Annear's team members Cliff and Sharon Watts have documented the history of their car at scrumble.org; shortly after this race, Cliff and Sharon emigrated to the USA where they continue to live.

Jon Annear's Uncle Scrumble with Cliff and Sharon Watts
Jon Annear photo


Bernt Fredriksson
Dave Eady photo
---
Pro Stock
Final: Steve Osmond-Petrie (East Ridin' Chevy Camaro) def. Gary Goggin (Go-Go-Gone Camaro 427ci) broke (transmission)

Steve Osmond-Petrie (Pro Stock)
Dave Eady photo


Gary Goggin (Pro Stock)
Dave Eady photo
---
Top Street
Final: David Rose (Hemi-Cuda) 12.95/107 def. John Kirk (TVR) 13.61/104

Dave Rose
Dave Eady photo


Peter Svensson's Salt and Pepper (Top Street)
Nick Pettitt photo
Senior Street
Final: Peter Svensson (Volvo) 12.73/104 def. Steve Johnson (Motor Mouse II Rochdale) 14.23/89
---
Middle Street
Final: Ted Gilbert (Jaffa Cake Mini) def. Robin Tallis (Mini) (best two of three)
---
Junior Street
Final: Don Edwards def. Charles Topping (Morris Minor) (best two of three)
---
Production 1
Final: Martin Cowell def. David Waring (MG)
---
Production 2
Final: Chris Haslam (Mustang) def. Geoff Lunn
Two Production eliminations were run due to the large number of entries. Also, in a departure from previous practice, handicaps were based on qualifying times when racers had improved on the class record during qualifying.
---
Bike classes
In a field of 94 entries, one bike that would become legendary made its debut, John Hobbs' "Hobbitt". John put in a couple of exploratory runs on the double-Weslake powered machine, barely finished before the race. Sponsored by Motor Cycle, it was front page news, as this picture I captured of the occasion shows. The very next weekend he was racing in Sweden, before returning to take on American racer Danny Johnson at Santa Pod - where he re-established his position as Europe's quickest drag bike racer.
Top Bike
Final: Keith Parnell (McCoy Dynamics Rouge et Noir Triumph 750cc) 9.39/141 def. Phil Drake (The Gitanes Phantom Triumph 750cc) 10.01/140

Phil Drake (Top Bike runner-up)
Dick Parnham photo taken at Snetterton


John Hobbs' Hobbitt makes its debut, on cover of Motor Cycle
Keith Lee photo
---
Senior Bike
Final: Brian Chapman (Mighty Mouse Vincent 500cc) 11.01/123 def Jim Balchin (Double J BSA 340cc) 16.17/72
---
Middle Bike
Final: Steve Tidy (Shagrat Triumph 650cc) 12.15/103 def. John Healy (Stampede Triumph 650cc) 12.42/104
---
Junior Bike
Final: Paul Eastbury (Samurai Honda 500cc) 13.78/95 def. Richard Albans (Honda 327cc) 14.71/88
---

We thank drag racing historians British Drag Racing Hall of Fame director Jerry Cookson who has kindly provided the programme and NDRC race report used in this feature, Nick Pettitt for photos from British Drag Racing & Hot Rodding Archive site and Jon Spoard for photos from UK Drag Racing News and Nostalgia web site.

Event programme (43 Mb pdf file)
Youtube clip of event from Time Travel no.13 produced by Nick Pettitt from cine film by Ken Robbins
Winning Ain't Easy download (£3.99) with 10 minutes of coverage including interviews
Youtube clip from Winning Ain't Easy
Features and Interviews index
Back to News page
---