Click on any picture for a larger image. Full gallery at foot of page.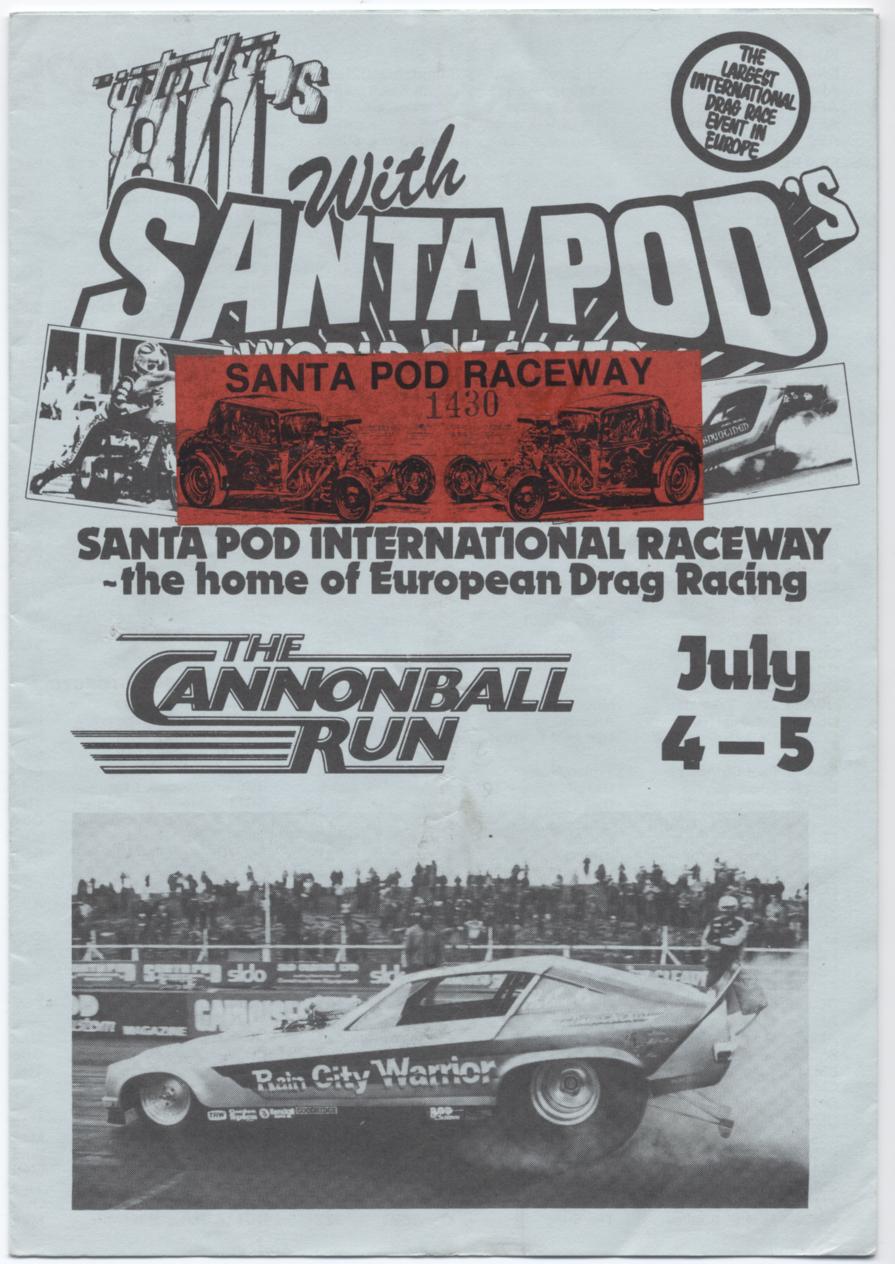 Programme cover
The first Cannonball Funny Car race took place on 4th-5th July 1981 at Santa Pod Raceway. The idea was to draw on the popularity of the 20th Century Fox movie The Cannonball Run and there was plenty of promotion of the movie going on. Also the track saw the popularity of Funny Cars from the Internationals held in previous years and wanted to capitalise on this.
In the movie the eponymous Cannonball Run road race started from a shopping centre in Connecticut and ended in a parking lot in Redondo Beach, California, over 3000 miles and less than 36 hours, away.
The Santa Pod version of the race, obviously, was rather different. Funny Cars had to run a mile in the quickest time, a mile meaning four quarter mile heats. The pairings for the first round were made by draw an hour before the race started, and from there on, the pairings were decided by ETs with the quickest running first in the second round and the aggregate slowest pair starting the third round. Time allowed between rounds would be strictly limited. The final round would consist of the two quickest cars from the preceding three rounds.

Bill Sherratt's Cannonball, the ex Don Prudhomme Arrow
Nick Pettitt photo


Cannonball v Gladiator
Nick Pettitt photo
In the first edition of the Cannonball, a system of bonuses were awarded depending on wins, fastest speed, coming in as a substitute. Penalties were also deducted for a red light, crossing the centre line, and taking out the finish line centre mirrors.

Houndog v Stardust
Nick Pettitt photo


Paul Manders' Time and Motion Mustang
Nick Pettitt photo
The Cannonball was run alongside a normal event with the usual sportsman classes. Here is a summary of what happened:
Funny Car Cannonball
Round One
Allan Herridge (Gladiator Trans Am 426ci) 7.07/203 def. Owen Hayward (SLDO Houndog Challenger 484ci) 7.04/207
Lee Anders Hasselstrom (SWE, Red Baron Nissan 280ZX 482ci) 8.54/89 def Chris Filsell (Satan's Sledge Arrow, 481ci) 10.75
Dave Stone (Stardust Mustang II) 7.25/183 def. Alan Bates 7.59/128
Bill Sherratt (Cannonball Arrow) 6.88/211 def. Paul Manders 8.75/163
Round Two
Allan Herridge 6.73/215 def. Bill Sherratt 7.08/202
Owen Hayward 6.96 def. Dave Stone 8.68
Lee Anders Hasselstrom 6.76/204 def. Paul Manders 9.25/131
Chris Filsell 8.93/162 v Andrew Hurdle (Scorpion Jet) 8.15/209
Aggregate times after two rounds were: Allan Herridge 13.5, Bill Sherratt 13.76 and Owen Hayward 13.9.
Round Three
Allan Herridge 6.46/218 def. Bill Sherratt 6.47
Owen Hayward 6.56/212 def. Paul Manders 11.34 Andrew Hurdle 9.91/201 red def. Chris Filsell DQ crossed centre line 9.39/129
Final
Bill Sherratt 6.60/218 def. Owen Hayward 8.26/172 (Allan Herridge broke)

Lee Anders Hasselström's Flygvapnet Nissan
Nick Pettitt photo


The un-named car of Chris Filsell, later Satan's Sledge
Nick Pettitt photo
In practice, Houndog's oil pipe split during the burnout and Bill Sherratt was unable to make his run as a result. Later, Bill's Cannonball entry broke a rod on the burnout putting even more oil down in the spectator lane. On a second pass, Houndog suffered a broken brake caliper and on reversing after the burnout the car, without brakes, hit the cars parked behind the start line, Owen Hayward desperately trying to stop the errant flopper. Gladiator also suffered major engine damage in practice and the crew worked to 3am to repair it.
Bootsie's engine in Gladiator exploded in the burnout for the final race and a fire had to be doused. Owen Hayward, in third place on aggregate times, was ready to substitute, however the oil-down from Bootsie's explosion had not been cleared, and Owen was forced to race on the edge of the track – and went up in smoke. Video of this dramatic race by announcer Keith Lee is on Keith's Youtube channel. The final aggregate times were Bill Sherratt who became the first Cannonball champion with 26.73 to Owen Hayward's 28.42. With all the excitement, close racing and controversy, Roy Phelps announced the Cannonball would be an annual event.

Stardust
Dick Parnham photo


Gladiator
Dick Parnham photo
---
Top Fuel/Top Alcohol combo
Qualifying
Tony Boden (Shazam TF dragster KB 484ci) 6.96/204
Brian Hazelton (Thunderbird Topolino Donovan 440ci) 7.21/186
Gerry Andrews (Hemi Hunter II TA dragster Chevy 481ci) 7.40/181
Jim Read (Le Patron TA dragster Donovan 428ci) Broke
Eliminations
Semi final Brian Hazelton 7.15/186 bye
Tony Boden 6.75/210 def. Gerry Andrews 6.98/197
Final
Tony Boden 6.75/209 def. Brian Hazelton 7.48/187
Third Place run
Gerry Andrews 6.80/199

Tony Boden's car which was the ex-Dennis Priddle Mr Six, winner in TF/TA combo. Dennis was in attendance overseeing Tony's operation.
Nick Pettitt photo


Gerry Andrews in Hemi Hunter II
Nick Pettitt photo
---
Top Modified (Rained-off final from Big Go)
Sylvia Hauser (Sunoco Dodge Challenger 440ci) 10.55/127 def Barry Potter (Palladin Lotus Elan 1898cc)
---
Super Comp
Eliminations (excerpts)
Round one
Sue Coles (Helzapoppin 23T Chevy 292) 9.04/152 def. Ray Feltell (Penetration dragster British Leyland 1293cc) 10.98/113
Semi finals
Sue Coles 8.73/151 def. Jean Tidswell (Jeans T 23T Chevy 362ci) 10.10/134
Final
Sue Coles 8.63/147 def. John Mills (Plymouth Roadrunner 440ci) 11.17/118

Sue Coles in Helzapoppin won Super Comp
Nick Pettitt photo


John Mills' Roadrunner, finalist in Super Comp
Nick Pettitt photo
---
Comp 1
Eliminations (excerpts)
Round 1
Keith Potter (The Devil '33 Plymouth coupe Chevy 427ci)9.44/137
Alan Loten def. Dave Gibbons (Rough Diamond 23T Chevy 331ci)
Russ Carpenter (Glacier Grenade Dragster Daimler 155ci) 8.77 def. John Tebbutt (Moonlight Bandit 23T Chrysler 383ci)
John Jeffries (Anarchy Chevy 350ci) def. Robert Harman (Lo-Litre dragster Puma Weslake 926cc)
Semi-finals
Keith Potter 9.40/138 def. Alan Loten (Paranoia Austin Ruby Jaguar 231ci) 10.41/127
Russ Carpenter 8.32/158
Final
Russ Carpenter 8.34/158 def. Keith Potter 9.52/134

Keith Potter's Devil 427ci, reappearing in white after a crash in 1980
Nick Pettitt photo


John Whitmore in the Daimler Hemi Nolan Drag-N-Fly
Nick Pettitt photo
---
Comp 2
Eliminations (excerpts)
Semi-final
Rick Fielding 11.36/109 def Phil Herrick
Final
Rick Fielding (Imagination dragster Triumph 1998cc) 11.77/102 def. Ray Watson (Torq Ot' North Anglia Chevy 327ci) 13.39/104
---
Top Modified
Qualifying Al O'Connor (Al's Gasser Pop Chevy 305ci) 10.13/131 Dave Collis (Frenzy Firenza Chevy 427ci) 10.22/134
Eliminations (excerpts)
Al O'Connor won first two rounds with times of 10.53/130 and 10.33/132
Semi-final
Sylvia Hauser 10.55/126 def Dave Collis
Final
Al O'Connor 10.24/132 def. Sylvia Hauser (broke)

Al O'Connor won Top Modified
Nick Pettitt photo


Sylvia Hauser against Dave Collis in Frenzy
Nick Pettitt photo
---
Bikes
Pro Fuel Bike
Qualifying (excerpts)
Jeff Byne (Hurricane JBS 1614cc) 8.61/165
Brian Chapman (Super Mouse Vincent 1100cc) 8.76/163
Jonny Munn (Hobbs's Hobbit Weslake 1698cc) 8.84/157
Pip Higham (Suzuperbike Suzuki 1190cc) 8.84/153
Eliminations (excerpts)
Semi final
Jeff Byne 8.59/156 def. Pip Higham 8.76/153 Jonny Munn 8.71/155 def. Brian Chapman 8.78/162
Final
Jonny Munn 8.76/158 v Jeff Byne 8.84/154
---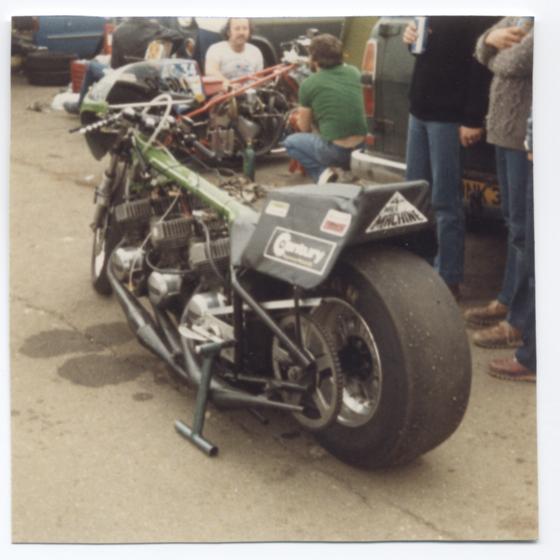 Eddy Lloyd's Freight Train triple Kawasaki
Paul Stubbings photo
Top Bike
Qualifying (excerpts)
John Clift (The Co-respondent Puma 844cc) 8.98/151
Mick Butler (Cyclops Weslake 996cc) 8.99/149
Eliminations (excerpts)
Round One
John Clift 8.82/156 def. Eddy Lloyd (Freight Train Kawasaki 2250cc) 9.25/149
Mick Butler 8.88/154 def. Steve Woollatt (The Dealer Kawasaki 1075cc) N/A
Semi-finals
John Clift 8.80/155 def. Peter Wood (Capella Triumph 498cc) N/A
Mick Butler 8.85/154 def. Terry Sidebottom (The Phantom Morgo-Triumph 750cc)
Final
John Clift 8.78/159 def. Mick Butler 9.49/106
---
Senior Bike
Eliminations (excerpts)
Semi final
Eamon Hurley 8.84/152 def. Phil Whiteley (The Candidate Triumph 650cc) 9.19/151
Final
Eamon Hurley (Concorde Rotary 1980cc) 9.18/150 def. Dave Houghton (Scouse Power Triumph 498cc) 9.70/145
---
Middle Bike
Eliminations (excerpts)
Final
Rod Pallant (Heavy Metal Buick 3500cc) 9.94/139 def. Tony Lewis (Pro Street Triumph 689cc) 10.30/132
---
Junior Bike
Eliminations (excerpts)
Final
Brian Simpson (Engineuity Kawasaki 1100cc) 11.93/122 def. Dave Knowler (Wild Dream Triumph 650cc) 11.85/111
---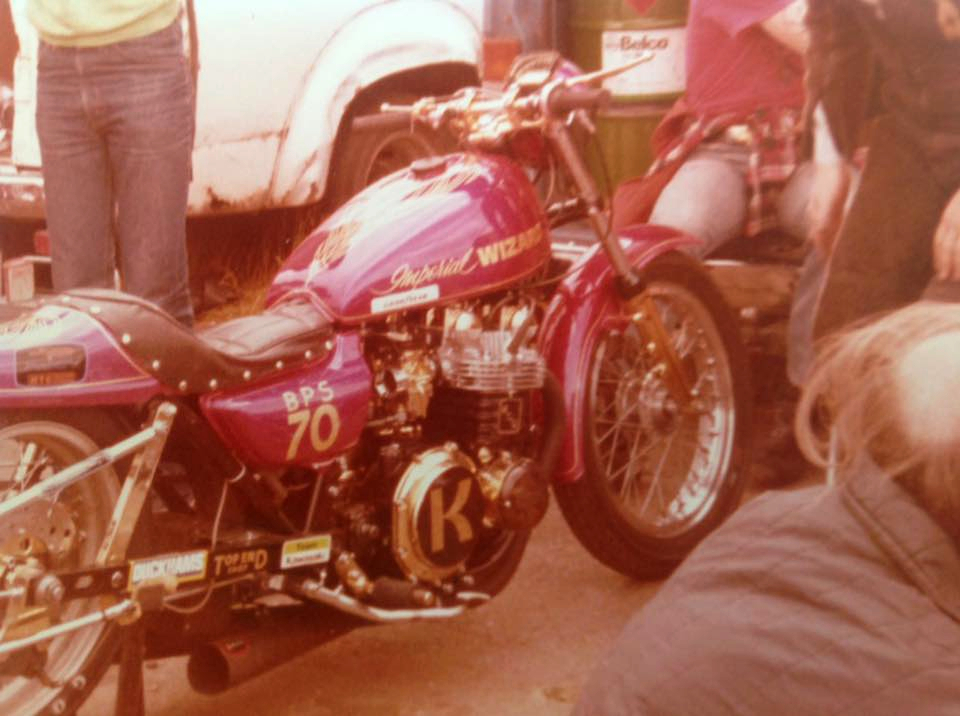 Brian Johnson Imperial Wizard
Paul Stubbings photo
Pro Stock Bike
Eliminations (excerpts)
Round one
Pip Higham (The Deuce Suzuki 1190cc) 9.57 bye
Semi final
Pip Higham 9.67 def Paul Andrews (Crusader MkII Kawasaki 1197cc) 9.47
Final
Pip Higham 9.60/138 def. Brian Johnson (Imperial Wizard Kawasaki 1265cc) 9.38/141 DQ red


---
Street Bike
Eliminations (excerpts)
Final
Martin Hill (Instyle Kawasaki 1085cc) 10.72/127 def. Peter Harrison (Kawasaki 1200cc) 12.33/105
---
We thank drag racing historian and British Drag Racing Hall of Fame director Jerry Cookson who has kindly provided copies of the material used in this feature.

Event programme (4 Mb pdf file)
Custom Car Report (8 Mb pdf file)
Features and Interviews index
Back to News page
---