Click on any picture for a larger image. Full gallery at foot of page.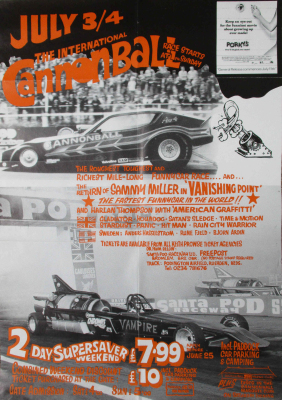 Event poster
The 1982 Cannonball was a success for reasons other than the spectacular Funny Car action on offer. This event was one of those special occasions when Sammy Miller broke track and European records, this time driving his Oxygen Rocket dragster. The event was incorrectly announced in the poster as 'The Return of Sammy Miller in Vanishing Point' as well as mentioning three Swedish Funny Cars, however only Lee Anders Hasselström actually appeared at the event, and Sammy eschewed Vanishing Point for Oxygen. Happily though, there was a field of eight Funny Cars thanks to Santa Pod Raceway promoting the development of such cars in the UK which helped maintain numbers.
The previous year's Cannonball had been in support of the eponymous film and 1982 also saw a film tie-in – to the teen sex comedy film Porky's described somewhat exaggeratedly in its own publicity as 'the funniest movie about growing up ever made'. Nevertheless, SPR offered a complimentary ticket for a special showing at the Granada in Bedford on the Saturday of the event - starting at 11:30pm. The event was also notable for a media initiative, Santa Pod Raceway publishing its own newspaper International Drag & Custom News, designed to promote the sport and custom shows around Europe. The minus points were that the track's timing system was exceptionally troublesome at this event, the results of several races being decided by emergency times or visual means, and the non-appearance of the 1981-winning Cannonball car and driver Bill Sherratt due to mechanical and crew woes.

Owen Hayward, Cannonball winner
Doug McDiarmid photo


Allan Herridge, Cannonball runner-up
Doug McDiarmid photo


Harlan Thompson, third place
Jerry Cookson photo


Dave Page, fourth place
Jerry Cookson photo
The Cannonball was run alongside a normal event with the usual sportsman classes. Here is a summary of what happened:
Funny Car Cannonball
Round One
Saturday practice was truncated by intermittent rain, so Chris Filsell took Satan's Sledge to a 7.69/183 pass and Gladiator driven by Allan Herridge recorded 9.93/142. The weather and traction on Sunday gradually improved, and eight cars lined up for the first round of racing, the competition being run on aggregate times and a complicated system of bonuses, as it had in the previous year. However when ETs were not recorded by the timing system in the first two rounds, the winner was given a time of 6.40 and loser 6.50 which further tightened up the competition.
Allan Herridge (Gladiator Pontiac Firebird Keith Black 426ci) 6.51/210 def. Dave Stone (Stardust Mustang Rodeck 481ci) 7.74/169
Tony Boden (Hit Man Omni KB 484ci) NT/182 def. Lee Anders Hasselström (Flygvapnet Datsun 280ZX KB 484ci) 8.97/100.5
Dave Page (Panic Monza KB 484ci) NT def. Harlan Thompson (Protector Dodge Omni KB 484ci) NT
Owen Hayward (SLDO Houndog Dodge Challenger KB 484ci) 7.98/175 def. Chris Filsell (Satans's Sledge Dodge Omni KB 484ci) shut off (oil leak)
Round Two
Allan Herridge NT, bye
Lee Anders Hasselström 6.73, bye
Dave Page 6.94/206 def. Tony Boden shut off (no reverse)
Owen Hayward NT def. Chris Filsell NT
Harlan Thompson NT def. Dave Stone NT

Round Three
Allan Herridge 6.42/215 def. Owen Hayward 6.30
Harlan Thompson 6.72/177 def. Dave Stone broke (shut off)
Dave Page 6.77/206 def. Dave Stone 7.06/194
Chris Filsell 7.04/204 def. Tony Boden 7.62/194
Lee Anders Hasselström 6.71/208 (bye)
Aggregate times after three rounds were: Owen Hayward 19.10, Allan Herridge 19.12, Harlan Thompson 19.62 and Dave Page 19.90.
Final
Owen Hayward NT def. Allan Herridge NT

Chris Filsell in Satan's Sledge
Unknown photographer


Lee Anders Hasselström's Flygvapnet Nissan
Dick Parnham photo

Dave Stone in Stardust
Jerry Cookson photo


Tony Boden in Hit Man
Jerry Cookson photo
---
Professional Drivers Elimination
Qualifying
Gerry Andrews (Hemi Hunter TA dragster Rodeck 481ci) 6.75/198
Steve Read (Le Patron TA dragster Donovan 417ci)7.15/194
Norm Wheeldon (Plan X TA dragster Chevy 359ci) 7.50/183
Tony Pearson (Maiden Warrior TFD KB 480ci) 9.88/147
Eliminations
Semi final Gerry Andrews 6.87/196 def. Norm Wheeldon broke (DNS)
Steve Read 7.35/192 def. Tony Pearson 9.51/106
Final
Steve Read 7.01/193.4 def. Gerry Andrews 6.85/196.4 DQ red light

Steve Read, winner of the Professional Drivers' Elimination.
Photos: Roger Gorringe & Ian Messenger – Copyright Drag Racing News archives


Norm Wheeldon's Plan X SBC slingshot
Jerry Cookson photo
---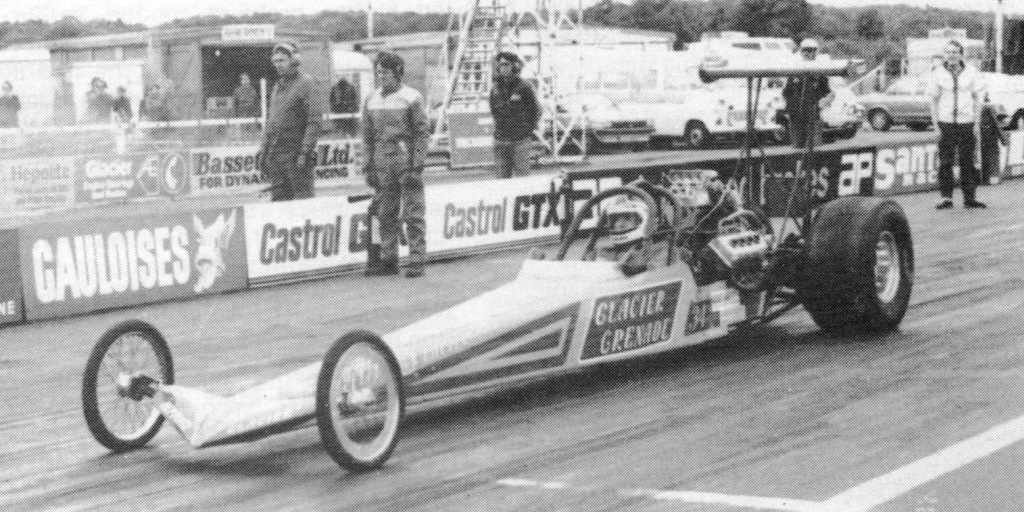 Russ Carpenter won Super Comp
Photo: Roger Gorringe & Ian Messenger – Copyright Drag Racing News archives
Super Comp
Top Qualifiers (against class index)
Steve Johnson (Motor Mouse dragster Ford Cosworth 206ci) 9.21/148
Bob West (Slick Willy Willys Chrysler 426ci) 9.17/141
Russ Carpenter (Glacier Grenade dragster Daimler 155ci) 8.07/152
Herb Andrews (Magnum Force 27T Chevy 331ci) 9.70/132
Brian Thomas (Paranoia Austin Ruby Jaguar 231ci) 10.44/128)
Eliminations (excerpts)
Round one
Steve Johnson 9.19/148 def. Herb Andrews 9.84/123
Russ Carpenter 7.86/134 def Geoff Martin (Oxford Builder Reliant Jaguar 231ci) 12.00/100
Semi finals
Steve Johnson 9.69/109 bye
Russ Carpenter 8.00/127 def Brian Thomas 10.66/125
Final
Russ Carpenter 8.19/129.3 def. Steve Johnson 14.69/53.9
---
Comp 1
Eliminations - Final
Malcolm Beken (Fusion dragster Chrysler BRM 116ci) 10.03/132.4 def. Dave Burfitt (Boss Cat Topolino Jaguar 231ci) 16.52/47.61

Malcolm Beken, Comp bracket I winner
Doug Diarmid photo


Phil Herrick, Comp bracket II winner
Jerry Cookson photo
Comp II
Eliminations - Final
Phil Herrick (Vicious Trait TR8 Rover 215ci) 12.16/111.2 def. Paul Cummings (Liquid Diamond 23T Jaguar 231ci) 11.67/121.5 DQ red light
---
Comp III
Eliminations - Final
Barry Giles (Tequila Sunrise 23T 231ci) 13.48/108.3 def. Steve Collins (dragster Ford 91ci) broke
---
John Woolfe Racing Top Modified
Qualifying
Ron Kiddell (Sweet Sixteen Firenza Lotus 120ci) 12.47
Al O'Connor (Al's Gasser Anglia Chevy 305ci) 9.67/131
Dave Warne (Mean as Hell Vega Panel Wagon Chevy 427)10.30/133
Sylvia Hauser (Dodge Challenger Chrysler 440ci) 10.42/125
Dave Mingay (Hellraiser '57 Chevy 427ci) 10.83/126
Richard Wloszek (Meanie Minor Morris Minor 1690cc) 12.84/105
Graham Barrs (Neon Star Mustang Ford 351ci) 11.12/124
Phil Turk (Rampage Camaro Chevy 467ci) 11.66/118
Eliminations (excerpts)
Round one
Richard Wloszek 13.03/101 def. Phil Turk 12.04/102
Sylvia Hauser 10.54/126 def. Graham Barr 11.00/143
Semi-finals
Richard Wloszek 13.14/100 def. Al O'Connor 10.27/134
Sylvia Hauser 10.45/126 def. Dave Mingay 11.05/124
Final
Sylvia Hauser 10.53/125.1 def. Richard Wloszek broke off line

Sylvia Hauser won Top Modified
Dick Parnham photo


Dave Mingay, Top Modified semi-finalist
Jerry Cookson photo
---
Modified 1
Eliminations - Final
Mick Cheley (Mr Shifter 27T Chrysler 383ci) 10.76/122.3 def. George Johnson (The Warrior Pontiac GTO 400ci) 12.34/106.8

Mick Cheley, Modified I winner
Jerry Cookson photo


Phil Evans, Production winner
Photo: Roger Gorringe & Ian Messenger – Copyright Drag Racing News archives
Production
Eliminations - Final
Phil Evans (Super Vogue Chrysler 109ci) 16.91/80.06 def. Steve Dunn (Tokyo Toy Celica Toyota 120ci) 16.17/83.68
---
Roadster
Eliminations - Final
Steve Green (Ford Cortina Rover 3528cc) 14.42 def. Bill Wootton (Red Wizard Pontiac 350ci) 17.57/78.43
---
Exhibition
There were three exhibition vehicles. Whilst the jet cars, Vampire driven by Kieran Westrom and Hellbender driven by Steve Horn, made demo runs, the main interest was whether Sammy Miller could break his world record time of 3.74 seconds.
The times he recorded got quicker and quicker, after a first run of 4.2 he ran 4.46/268, 4.06/284 and then, late on Sunday afternoon 3.81/331, the first ever three second run outside of the USA. Motoring News reported 'On deceleration from the last round he endured 9Gs, the strain clearly etched on his face as he later remarked 'I guess I could have stopped her without the chutes but I just didn't feel like trying it'.

Sammy Miller in Oxygen rocket dragster
Doug Diarmid photo


Sammy Miller in Oxygen rocket dragster
Jerry Cookson photo


Steve Horn and Kieron Westrom in Hellbender and Vampire
Dpug Diarmid photo


Steve Horn and Kieron Westrom in Hellbender and Vampire
Photo: Roger Gorringe & Ian Messenger – Copyright Drag Racing News archives
---
Bikes
Pro Fuel Bike
Qualifying
Rod Pallant (LA Hooker Kawasaki 2400cc) 8.25/154
John Hobbs (Hobbs's Hobbit Nourish Weslake 1700cc) 8.30/166
John Clift (The Co-Respondent Puma 844cc) 8.40/156
Steve Tong (Orient Express Kawasaki 1200cc) 8.61/159
Eliminations
Semi finals
John Clift 8.68/133 def Rod Pallant broke (chain)
John Hobbs 8.31/165 def Steve Tong 8.70/157
John Clift's bike suffered cylinder barrel damage on his run and was unable to make the final; John Hobbs was allowed to substitute for him.
Final
Steve Tong 8.83/160.5 def. John Hobbs 8.34/166.1 DQ red

Steve Tong, Pro-Fuel Bike winner
Photo: Roger Gorringe & Ian Messenger – Copyright Drag Racing News archives


John Clift, Pro-Fuel Bike semi-final winner
Photo: Roger Gorringe & Ian Messenger – Copyright Drag Racing News archives
---
Top Bike
Top qualifiers
Phil Brachtvogel (Quarter Scorcher Kawasaki 1200cc) 8.90/151
Tony Lewis (Second Vision Kawasaki 1075cc) 9.18/143
Phil Whiteley (The Candidate Morgo Triumph 650cc) 9.31/145
Peter Wood (Capella Triumph 498cc) 9.42/140
Peter Wood's crank broke on his qualifying run meaning he was unable to compete in eliminations.

Eliminations (excerpts)

Semi-finals

Tony Lewis 9.31/143 def Chris Russell (Eastern Magic Kawasaki 1015cc) 9.77/137

Final

Tony Lewis 9.24/144.0 def. Martin Hurll (The Probe Honda 998cc) 10.13/124.2
---
Senior Bike
Eliminations - final
Allan Nash (Grandad's Piece 1325cc Suzuki) 9.65/137 def. Brian Simpson (Enginuity Kawasaki 1105cc) 10.66/119
---
Middle Bike
Eliminations - final
Ray Law (Triumph 996cc) 9.43/145.3 def. Ton Pels (Double Dutch Puma Triumph 1600cc) 20.28/22.78 broke (belt)
---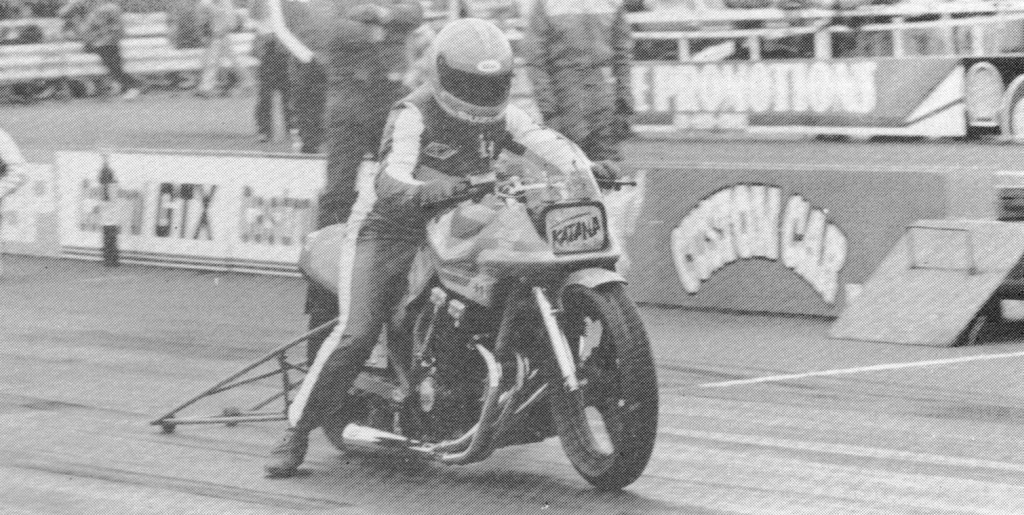 Pip Higham, Pro Stock Bike winner
Photo: Roger Gorringe & Ian Messenger – Copyright Drag Racing News archives
Pro Stock Bike
Top qualifiers
Mick Carter (Wizard Too Kawasaki 1265cc) 9.32/140
Brian Johnson (Imperial Wizard Kawasaki 1320cc) 9.33/140
Pip Higham (VBS Katana Suzuki 1260cc) 9.41/130
Geoff Stilwell (Cloud Nine Kawasaki 1265cc) 9.55/138
Eliminations (excerpts)
Round one
Geoff Stilwell 9.63/136 def. Paul Andrews (Crusader Kawasaki 1197cc) 9.93/138
Pip Higham 9.59/146 def. Rob van Ginneken (Suzuki 1325cc) 9.66/132
Semi final
Geoff Stilwell 9.64/134 def. Brian Johnson broke (clutch)
Pip Higham 9.11/146 def. Mick Carter 9.23/141
Final
Pip Higham 9.17/146.1 def. Geoff Stilwell 9.52/137.3


---
Street Bike
Top qualifiers
Jack Valentine (Vengeance) 10.51/131
Arthur O'Hare (Jackdaw Suzuki 1175cc) 10.61/129
Eliminations - final
Jack Valentine 11.05/129.00 def. Arthur O'Hare 18.29/52.68


---
We thank drag racing historian and British Drag Racing Hall of Fame director Jerry Cookson who has kindly provided copies of the material used in this feature.

Event programme (4 Mb pdf file)
Youtube video including racer interviews by Nick Pettitt (90 mins playlist)
Features and Interviews index
Back to News page
---