Click on any picture for a larger image. Full gallery at foot of page.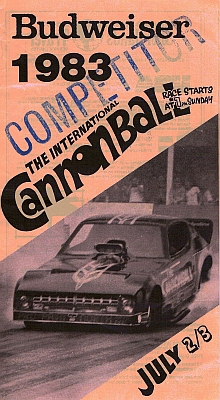 Programme cover
Santa Pod Raceway and organising club BDRA staged the third Cannonball on the weekend of 2nd-3rd July 1983. The event was sponsored by Budweiser and featured eight of Europe's top Funny Cars. The weather was scorching hot. Whilst the field overall was smaller than it had been for the previous two events, the quality of the entry was great and there were several outstanding performances. Jerry Cookson described it for Motoring News, "The roughest and toughest mile long Funny Car classic ever seen outside the United States".
Funny Car Cannonball
The Funny Cars comprised US visitor Harlan Thompson and Norwegian Rune Fjeld. These two made practice runs on Saturday prior to the competition on Sunday. Harlan's Dodge Omni sponsored by Dodge and titled 'Protector' ran 6.99/168 but damaged the block on the run. Rune had recently imported Al Bergler's Motown Shaker '82 Trans Am and in his third meeting with it ran a 7.49/161 in practice. Bootsie Herridge broke in a new pair of slicks with a spectacular 250 yard burnout and Bill Sherratt experienced an out of shape launch on Saturday.
In round one, Bill Sherratt's Cannonball suffered a blown engine in the lights and was sidelined for the day after recording low ET and top speed. In round 2, Owen Hayward suffered a spun main bearing which led Houndog to retire from the contest. Other racers had much between rounds work to do.
The Cannonball contest had the usual mixture of excitement, drama, and controversy, especially in the final round.

Gary Page, Cannonball winner
Roger Gorringe photo - Drag Racing News archives


Harlan Thompson, Cannonball runner-up
Dick Parnham photo


Tony Boden, Cannonball third place
Roger Gorringe photo - Drag Racing News archives


Rune Fjeld
Roger Gorringe photo - Drag Racing News archives
The Cannonball was run alongside a normal event with the usual sportsman classes. Here is a summary of what happened:
Round One
Bill Sherratt (Cannonball Plymouth Arrow KB 481ci) 6.49/220 def. Rune Fjeld (Motown Shaker '82 Trans Am) 6.65/206
Gary Page (Panic Chevy Monza KB 484ci) 6.66/207.9 def Chris Filsell (Grass Cutter Dodge Omni Milodon 481ci) 6.90/194.1
Owen Hayward (Houndog Challenger KB 484ci) 7.25/195 def. Allan Herridge (Gladiator '81 Trans Am KB 480ci) 9.24/157.4
Harlan Thompson (Protector Dodge Omni) 7.39/195 def. Tony Boden (Hit Man Dodge Omni KB 471ci) 7.60/124
Round Two
Gary Page 6.60/215 bye
Rune Fjeld 6.73/169 def. Chris Filsell 10.69/76
Harlan Thompson 6.80/202 def. Owen Hayward 6.92/202
Tony Boden 7.39/165 def Allan Herridge 11.00/87
Round Three
Harlan Thompson 8.09/174 def. Chris Filsell 7.83/137
Allan Herridge 6.96/201 bye
Gary Page 6.52/209 def. Rune Fjeld 10.54/91
Tony Boden 7.15/202 bye
Final
Gary Page 6.63/210 bye
Gary Page, who in the ex-Priddle 'Panic' Monza had the lowest accumulated ET of 19.76s should have faced Tony Boden (with an aggregate of 22.14) in the final, however Tony had his total penalised to 24.24 for being excessively late for the third round call, which meant Harlan Thompson had the second lowest overall ET of 23.28. Nevertheless, Tony Boden and Hit Man stood by in case either Gary or Harlan had trouble – which Harlan did, a blower belt shearing after reversing back following the burnout. However when Tony fired up he was unable to select forward gear, leaving Gary to solo for the well-deserved win.

Chris Filsell
Roger Gorringe photo - Drag Racing News archives


Allan Herridge
Roger Gorringe photo - Drag Racing News archives

Owen Hayward
Roger Gorringe photo - Drag Racing News archives


Bill Sherratt
Roger Gorringe photo - Drag Racing News archives
---
Top Fuel/Top Alcohol match race
Gerry Andrews (Hemi Hunter Pro Comp dragster Rodeck 481ci) def. Dennis Priddle (Top Fuel dragster KB 484ci) (DQ crossed centre line)
Gerry Andrews 6.91/187 def. Dennis Priddle 6.80/230
Yes, this was the infamous Tomorrow's World event where Dennis Priddle had rebodied his TF dragster with a computer aided designed and wind tunnel tested streamliner bodywork – without a rear wing. The car was impressive looking and made the front cover of the Radio Times. Dennis suffered tyre shake in the first race but 300ft out the car shot across the track, tipping on to two wheels and narrowly missing the rear of Gerry Andews. A superb piece of driving by Dennis had the car straightened up just before impact with the barrier. Whilst pundits declared the lack of a rear wing to be the cause, the team put it down to clutch settings and poorly fitted body panels.
Tomorrow's World presenter Maggie Philbin was due to drive the car next but her turn was postponed until Dennis had checked the car out with another full pass. His run, with tyre shake once again was narrowly defeated by Gerry Andrews, however Dennis's ET despite the traction issues was a 6.80/230.

Dennis Priddle
Dick Parnham photo


Maggie Philbin awaits the call
Roger Gorringe photo - Drag Racing News archives
---

Steve Johnson (Super Comp)
Roger Gorringe photo - Drag Racing News archives


Herb Andrews (Super Comp)
Roger Gorringe photo - Drag Racing News archives
Super Comp
Final from Big Go
Dave Gibbons (Rough Diamond D/CA 23T Chevy 331ci) 9.70/142 def. Russ Carpenter (Glacier Grenade C/D, Daimler 142ci) 8.62/143
Eliminations
Round one
Herb Andrews (Magnum Force D/CA '27T Chevy 331ci) 9.03/144 def. Geoff Martin (Oxford Builder E/CA Reliant Jaguar 231ci) 10.78/124
Steve Johnson (Motor Mouse E/D dragster Cosworth 207ci) 8.41/163 def. Tony Merry (Stripteaser F/CA Mini Jaguar 231ci) 10.97/119
Alan Loten (Paranoia E/CA '33 Plymouth Jaguar 231ci) 10.37/131 def. Ray Feltell (Penetration F/D dragster MG 78ci) broke
Lee Johnstone (Apple County Cannon E/CA Topolino Jaguar 232ci) 11.17/117 def. John Whitmore (Drag N Fly D/D dragster Daimler 255.4ci), broke (blower belt)
Semi finals
Steve Johnson 8.31/165 def. Alan Loten 10.34/128
Herb Andrews 8.97/147 def. Lee Johnstone 11.11/117
Final
Steve Johnson 8.45/164.2 def. Herb Andrews 8.95/143
---
Comp 1
Eliminations
Semi finals
Richard Dawson (Slingshot Jag) 10.37/128 def. Colin Banks (Vendetta C/CA Imp Chevy 427ci) 9.79/145
Roy Jaggar (Doodlebug F/CA VW Daimler 155ci) 11.20/119 def. Barry Giles (Tequila Sunrise G/CA 23T Jaguar 231ci) 12.33/112
Final
Roy Jaggar 12.21/90 def. Richard Dawson 10.38/130

Roy Jaggar (Comp 1)
Nick Pettitt photo (taken at '83 World Finals)


Richard Dawson (Comp 1)
Photographer unknown
Comp II
Eliminations
Semi finals
Bob Barr (Pandemonium C/CA Ford 429ci) def. Nick Lewin (Solex Power dragster Chevy 305ci) no-show.
Phil Norris (Highway Star Bantam Ford 183ci) def. Martin Maxwell (Raindance 23T Chevy 427) – broke, did not start
Final
Bob Barr 11.37/119 def. Phil Norris broke, did not start
---
Top Modified
Saturday Match Race
Round one
Al O'Connor (Al's Gasser C/M '48 Anglia Chevy 305ci) 9.72/133 def. Sylvia Hauser (Gabriel Red Ryder D/M Dodge Challenger 440ci) 10.26/129
Mick Cheley (Mr Shifter A/M 27T Chrysler 383ci) 10.63/123 def. Clive Mechaell (Acapulco Gold A/M Corvette 427ci) broke (rear end)
Tom Laffey (A/M Capri Chevy 427ci) 9.99 bye
Round two Al O'Connor 10.01/134 def. Tom Laffey 9.87/133
Sylvia Hauser 10.20/129 def. Mick Cheley 10.59/123
Sunday Eliminations
Round one
Sylvia Hauser 10.28/129 def. Tom Laffey 10.28/131
Ron Kiddell (Sweet Sixteen L/M Firenza Lotus 120ci) 15.81/65 def. Kenny Coleman (Stampede Maverick) 10.74/116 red
Graham Barrs (Neon Star Pinto Ford 351ci) 10.21/130 def. Mick Cheley 10.70/122
Al O'Connor 9.85/132 def. Dave Warne (Mean As Hell Vega) broke (rear end)
Semi-finals
Sylvia Hauser 10.30/130 def. Al O'Connor 9.78/134 red
Graham Barrs 10.07/133 def. Ron Kiddell 12.47/107
Final
Sylvia Hauser 10.27/130.3 def. Graham Barrs 10.06/136.2

Sylvia Hauser
Roger Gorringe photo - Drag Racing News archives


Graham Barrs
Dick Parnham photo


Mick Cheley
Jerry Cookson photo


Tom Laffey
Nick Pettitt photo
---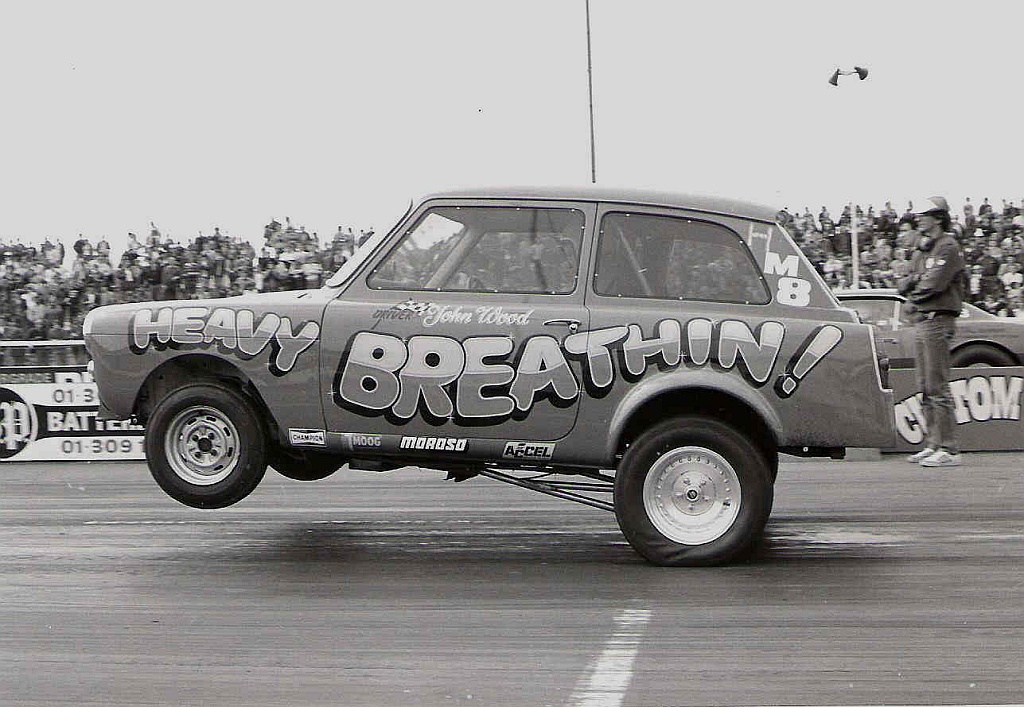 John Wood
Dick Parnham photo
Modified 1
Eliminations
Semi-finals Keith Rogers (Pogas P/M Anglia 105E 95ci) 15.89/84
John Wood (Heavy Breathin' A40) 13.30 def. Mike Francis (Shogun Capri) 14.07/99
Final
John Wood 13.18/101 def. Keith Rogers 15.35/86
Production
Eliminations
Semi-finals
Richard Eaton (Plymouth Roadrunner) 12.73/104 bye
Paul Martinek (Movin' On Mustang 289ci) 14.67/91 def. Steve Dunn (Tokyo Toy Toyota 120ci) 15.45/85
Final
Richard Eaton 12.64/109 def. Paul Martinek 14.73.92
---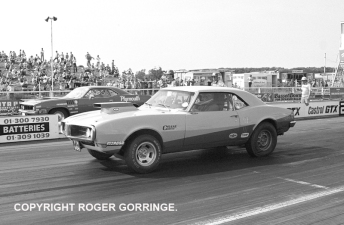 Pete White v Les Szabo
Roger Gorringe photo - Drag Racing News archives
Roadster
Eliminations
Semi-finals
Les Szabo (Barracuda 340ci) 13.47/97 def. Graham Arno (Dodge 440ci) 13.23/101
Pete White (Pete's Pontiac 400ci) 14.30/97 def. Chris Wick (Ford Australia Wagon) 14.30/97
Final
Pete White 14.28/88 def. Les Szabo 13.58/102


---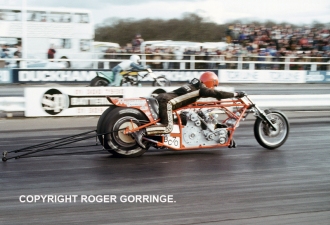 Brian Johnson
Roger Gorringe photo - Drag Racing News archives
Bikes
Pro Fuel Bike
Eliminations
Semi finals
Brian Johnson (Imperial Wizard, MCV 1198cc) 7.45/180.1 def. John Clift (The Co-Respondent Puma 920cc) 8.75/153
Graham Nash (Riceburner Kawasaki turbo 1425cc) 9.11/146 def. Jeff Byne broke, lost fire
Final
Brian Johnson 7.44/176.3 def. Graham Nash 8.62/135


---
Top Bike
Eliminations
Round 1
Phil Brachtvogel (Quarter Scorcher Kawasaki 1200cc) 9.15/149 def. Eamon Holmes (Concorde II Kawasaki 1200cc) 10.13/89
Dave Branch (Special Branch MG 1830cc) 10.63/101 def. Tony Lewis (Second Vision Kawasaki 1075cc) no-show
Dave Cross (Excalibur Kawasaki 1015cc) 9.57/140 def Jerry Speechley (The Roadbike Honda 1169cc) 18.31/47
Angus McPhail (Jade Warrior) 8.86/156 def. Terry Fisher (Triumph 986cc) 9.35/150
Semi-finals
Phil Brachtvogel 8.91/152 def. Dave Branch no-show
Dave Cross 9.18/144 def. Angus McPhail 9.08/141
Final
Dave Cross 9.27/145 def. Phil Brachtvogel no-show

Dave Branch
Roger Gorringe photo - Drag Racing News archives


Jim Challenger
Roger Gorringe photo - Drag Racing News archives
---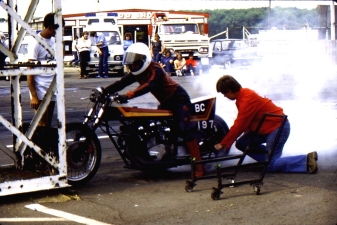 Brian Simpson
Jerry Cookson photo
Senior Bike
Eliminations - final
Allan Nash (Grandad's Piece 1325cc Suzuki) 9.65/137 def. Brian Simpson (Enginuity Kawasaki 1105cc) 10.66/119
---
Middle Bike
Eliminations - final
Brian Simpson (Enginuity Kawasaki 1015cc) 10.95/118 Gordon Diggens (Queezyrider Kawasaki 1200cc) broke on line
---
Pro Stock Bike
Eliminations
Round one
Mick Carter 9.12/142 bye
Paul Andrews (Crusader Kawasaki 1265cc) 9.77/121 bye
Geoff Stilwell (Cloud Nine Kawasaki Z1-R 1385cc) 9.37/139 bye
Andy Capper (Suzuki GSX) 9.24/141 def. Allan Nash 13.92/52
Semi final
Andy Capper 9.14/143 def. Geoff Stilwell 9.36/141
Paul Andrews 9.15/144 def. Mick Carter 10.42/93
Final
Paul Andrews 9.21/144 def. Andy Capper 9.64/141


Paul Andrews
Roger Gorringe photo - Drag Racing News archives


Andy Capper
Roger Gorringe photo - Drag Racing News archives
---
Street Bike
Eliminations
Semi final
Mick Beaumont (Nuthin' Fancy Suzuki GS1000 1176cc) def. Bob Durkin (Animal Kawasaki 1105cc)
Dave Alexander (Battlestar Kawasaki GPz 1230cc) def. Jack Valentine (Vengeance Suzuki 1192cc)
Final
Mick Beaumont 10.73/127 def. Dave Alexander 10.91/123


---
We thank drag racing historian and British Drag Racing Hall of Fame director Jerry Cookson who has kindly provided copies of the material used in this feature.

Event programme (4 Mb pdf file)
Youtube video excerpt from Time Travel 39 featuring Funny Cars (3' 34")
Youtube video of Tomorrow's World programme with Dennis Priddle's streamliner
Features and Interviews index
Back to News page
---