Click on any picture for a larger image. Full gallery at foot of page.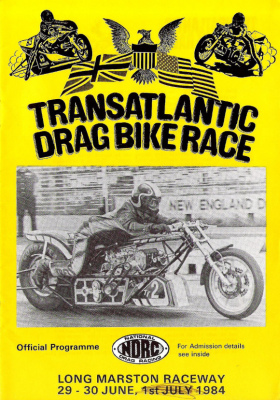 1984 programme cover
1983 race
After no race being held in 1982, the 1983 running of the Transatlantic Drag Bike race sadly became a victim to rain. There were American racers present however none had the impact of Bo O'Brochta from 1981.
The Superbike field was headed by Stefan Reisten from Sweden with a 7.43 on his Yamaha, the quickest bike time ever recorded in the UK (he had recently clocked a 7.30 in his native Sweden). He was followed by Jos Smit's 7.69, with fellow Dutchman Henk Vink at 8.32 and Swede Lennard Olofsson on 8.35. Rod Pallant banged the blower on a 8.50 and bump spot was a 8.61 by John Clift. A surprise non qualifier from the US was Jon Baugh who suffered a broken turbo on a 8.8 riding Jack O'Malley's pioneering Orient Express Funny Bike.

Jon Baugh on a practice run in 1983
Mike Farmer photo


Mike Keyte's and Jon Baugh's bikes
Mike Farmer photo
Harry Fitzpatrick qualified number one for Top Bike riding a 750cc Triumph.
Floridian Pro Stock veteran 'Superbike' Mike Keyte did qualify number one with a 9.12 but German rider Jorg Huesmann was not far behind at 9.14. Erik Bauer went 9.18 and Paul Andrews 9.20, with a bump spot of 9.37. In practice on Sunday morning Huesmann ran 9.04 and Andrews 9.12 setting up a potentially very exciting contest.

Superbike Mike Keyte (Pro Stock Bike)
Mike Farmer photo


Superbike Mike Keyte launches
Jerry Cookson collection
But with the track soaking after a lunchtime shower, NDRC officials called off the race at 2pm without a single elimination race being run. The announcers promised the race would return bigger and better in 1984. And it did.
1984 race
Super Bike
The coup by the NDRC of booking Elmer Trett for the 1984 TDBR was masterful. After many years racing Harleys he decided to switch to Yamaha in 1982. He had an engineering advantage by having a car engine specialist constructing the bottom end of the 1327cc Yamaha engine and placing it in a bullet-proof custom-built crankcase. The proof of this was clear, no broken engines in the entire 1983 season and an average terminal speed of 195.4mph over all the races he competed in in that year. He had a family crew, wife Jackie and daughters Gina and Kelly and they had won the Professional Mechanics of the Year at the National Motorcycle Racing Association of America. His best time in 1983 was a 7.16/201.34, a new strip record at Indianapolis Raceway Park.
To prepare for the 1984 Transatlantic Drag Bike Race Elmer had match raced Stefan Reisten the previous weekend at the Ultimate Street Bike championship run by Superbike magazine, also at Long Marston Raceway. At the 1984 Transatlantic Drag Bike Race, however, he faced a field of eight bikes.

Elmer Trett and Stefan Reisten in Superbike Final
Back Street Heroes photo


Elmer burning out
Pat Neal photo
Qualifying
Elmer Trett (US, Mountain Magic Kawasaki 1327cc) 7.38/190
Stefan Reisten (Sweden, Shark Magic Yamaha 1310cc) 7.50/190
Rod Pallant (UK, LA Hooker Kawasaki RPM Kawasaki 1327cc) 8.36/165
Henk Vink (Holland, Big Spender Kawasaki 1200cc) 8.41
Graham Nash (UK, The Riceburner Kawasaki 1385cc) 8.51/156
Eric Bauer (Holland, The Entertainer Kawasaki 1200cc) 8.70
Jan Janssen (Holland, Kawasaki 1260cc) 8.79
Dave Cross (UK, Excalibur MkII turbo Kawasaki 1200cc) 9.03/148
Rod Pallant received a special award for the best British rider's time of the meeting for his 8.36 in qualifying.

Eliminations (extracts)

Round 1

Elmer Trett 7.27/193 def. Graham Nash
Stefan Reisten 7.72/190 def. Eric Bauer 8.81
Henk Vink 8.36/153 def. Dave Cross

Semi-finals

Elmer Trett 7.24/196 def. Jan Janssen 8.85/150
Stefan Reisten 7.43/190 def. Henk Vink 11.67/167

Final

Elmer Trett 7.30/193 def. Stefan Reisten 12.32/64

Elmer joking in the pits
Alan Currans photo


Elmer's wife Jackie working on the bike
Alan Currans photo
Stefan Reisten's engine had suffered some burnt pistons in the semi-final forcing the team to replace them for the final. Pip Higham, writing for Superbike magazine, recalled 'Stefan tried to stage – he couldn't as the lights flashed off and on a dozen times. Then with his engine sounding sicker and sicker Stefan trailed way behind Elmer as the green light flashed on. Elmer's family leapt about, Stefan's wife turning a little dejectedly back to the pits. She'd missed her holiday, but they'd get him next time'. Certainly, no other rider came close in terms of performance – and Brian Johnson was racing in the US championships at the time and therefore unable to compete.
Sadly Elmer Trett who got his bike to a best of 6.06, lost his life in a racing accident at Indianapolis Raceway Park in 1996.

Stefan Reisten
Louise Fordham collection


Rod Pallant
Paul Garland photo


Graham Nash's Rice Burner
Jörg Karl Whosman capture


Jos Smit (1983)
Alan Currans photo
---
Pro Stock Bike (Class 1)
Andy Capper (UK, VBS Suzuki Suzuki 1260cc) qualified no.1 with 9.1s time, but red-lit in the semi final. Pip Higham (UK, VBS Katana Suzuki 1260cc) was in the no.8 bump spot as Paul Andrews (UK, Crusader Kawasaki 1327cc) failed to qualify for the quick eight with ignition problems.
Final: Joerg Huesmann (Germany, Speed Products Suzuki 1200cc) 9.31/146 def. Dirk Huesmann (Germany, Speed Products Suzuki 1260cc) 9.35/144
Pip Higham, writing for Superbike magazine, said 'Joerg's Speed Products catalogue is 120 pages long…In the final he just pipped (oops!) Dirk but then again Joerg would be foolish to let bro junior get too many good bits, now wouldn't he?'

Joerg Huesmann (Pro Stock bike 1)
Event programme


Paul Mayhew (Pro Stock) - Best Appearing Bike
Alan Currans photo
---
Pro Stock Bike (Class 2)
Final: Paul Andrews 9.34/123 def Tom Perry (UK, Trub Suzuki) 9.53/142 DQ red
As in 1981, the sheer number of entries in the class forced the organisers into having a second field of bikes. Paul Andrews ran a 9.09 in his semi-final. Other riders of note in Pro Stock were Nick Pepper (Suzuki GSX - out with gearbox problems), Paul Mayhew (UK, Highway Hawk Kawasaki 1385cc – Best Appearing Bike award), Al Ward (UK, The Beast 1285cc Suzuki), Alan 'Grandad' Nash (UK, Grandad's Place Suzuki GSX 1325cc) and Pip Higham himself, double entered again in Top Bike with his Kosman and his Suzuki Pro Stock Bike.

Les Barker (Pro Stock)
Back Street Heroes photo


Pascal Howart (France) (Pro Stock Bike)
Alan Currans photo
---
Top Bike
Final: Pip Higham (UK, Suzuperbike Suzuki turbo 1176cc) 8.78/152 def. John Lloyd (UK, Freight Train triple Kawasaki 2250cc) 9.71/132

John Lloyd Freight Train - triple Kawasakis
Event programme


Herman Zijlstra
Jörg Karl Whosman capture
---
Senior Bike
Final: Dany Dieudonné (France, La Licorne Kawasaki 1200cc) 9.79/126 def. Paul Willis (UK, Nocturnal Pleasure Kawasaki 1066cc) 10.90/126
Dany Dieudonné was seven times champion in France, and in 1986 acquired the legendary 'Big Spender IV' twin Kawasaki from Henk Vink
---
Middle Bike
Final: Final: Martin Newton (UK, Triton Triumph 750cc) 10.74/133 def. P Scott (UK Blow Pipe Kawasaki 1198cc) 10.86/128
Martin Newton had his fuel line break in the semi final and after rival Brian Smith red-lit, Martin had to push his bike to the finish and he accomplished an ET of 2m 45.6s for his trouble.
Junior Bike
Final: Dave Rogers (UK R.R. Special Rogers 550cc) 14.42/91 bye
---
Street Bike (Class 1)
Final: Alan Jackson (UK, Alacrity Kawasaki 1325cc) 10.13/138 def. Mick Beaumont (UK, Eliminator Suzuki 1325cc) 10.73/133
Mick Beaumont had earlier set a new track record of 9.88.
---
Street Bike (Class 2)
Final: Tony Middlehurst (UK, SuperBike Suzuki/VBS 1176cc) 10.49/135 def. Lee Marsden (UK, VM Suzuki Suzuki 998cc) 11.32/121
---
Exhibition
Henk Vink took his rocket-powered bike to a best time of 7.05/181 with the assistance of Sammy Miller. It was the quickest run outside of the US at the time. Henk would subsequently get his rocket bike times down to 6.56, a feat which undoubtedly would inspire Eric Teboul to take on the mantle of rocket bike rider.

Henk Vink promo picture
Jerry Cookson collection


Henk Vink with Sammy Miller standing to the right
Jerry Cookson collection
---

We thank drag racing historian and British Drag Racing Hall of Fame director Jerry Cookson who has kindly provided copies of the material used in this feature.

1983 Event programme (7 Mb pdf file)
1984 Event programme (8 Mb pdf file)
Jörg Karl Whosman's footage from the 1984 event Part 1
Jörg Karl Whosman's footage from the 1984 event Part 2
Features and Interviews index
Back to News page
---