Click on any picture for a larger image. Full gallery at foot of page.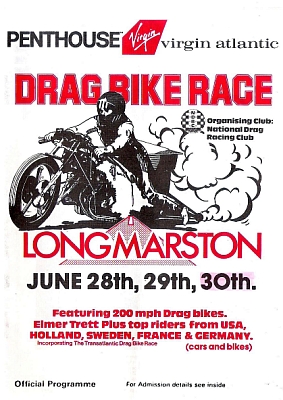 1985 programme cover
For the 1985 running of the race previously known as the Transatlantic Drag Bike Race, organising club the National Drag Racing Club obtained sponsorship. The two companies that lent their names to the title of the race were Penthouse magazine and Virgin Atlantic airlines.
The field was headed by US legend Elmer Trett, there to defend his 1984 title (when he had run a track record of 7.24/197), with riders from Holland, Sweden, France and Germany hoping to win against him. Elmer's presence was enough to inspire many racers to personal bests. The Top Fuel Bike field was the quickest seen in Europe with five runners getting into the seven second bracket. Brian Johnson raced at this event for the first time, having been in the USA during the 1984 event and racing in Pro Stock in the 1981 debut event.
As well as around 80 bikes, there were cars racing at the event with four Pro Comp runners topping the car bill.
The Motor Cycle Weekly report summarised the event: "The meeting enjoyed good weather and an enthusiastic crowd and generated an atmosphere rarely seen in this country."
Top Fuel Bike
Elmer arrived with his family crew wife Jackie and daughters Gina and Kelly over a week before the race. The weekend before the Drag Bike Race was a round of the Superbike magazine sponsored Ultimate Streetbike Championship where Elmer set up and ran some demo passes to get a feel for track conditions.

Elmer stages with a look of intent
Trevor Gardiner photo


Elmer in thoughtful mood
Trevor Gardiner photo

Elmer burns out before a pass
Jerry Cookson photo


Elmer Trett receives trophy
Chris Johnson collection
Qualifying
Stefan Reisten (SWE, Shark Magic Yamaha 1310cc), 7.696/178
Lennart Olofsson (SWE, Kawasaki) 7.699/180
Brian Johnson (GB, Kawasaki 1327cc) 7.734/179
Elmer Trett (USA, Mountain Magic Kawasaki 1327cc) 7.872/132
Angus McPhail (GB, Jade Warrior, McCoy 1973cc) 7.920/167
Jonny Munn (GB, The Hobbitt, Nourish Weslake 1700cc) 8.196/166
Ton Pels (Holland, Puma Triumph 1600cc) 8.287/154
Dave Cross (UK, Excalibur MkII turbo Kawasaki 1200cc) 8.341/165
DNQ
Eamon Hurley (GB, Concorde III NSU Rotary) 8.375/165
Graham Nash (GB, The Rice Burner Suzuki 1385cc) 8.700/158
Henk Vink (Holland, Big Spender Kawasaki 1200cc) 8.812/154
Elmer Trett suffered a cracks in his cylinder head and crank on his qualifying run and Rod Pallant drove back to London to collect a replacement crank, which he supplied in exchange for Elmer's damaged engine; Elmer completed work on his bike in the early hours of Sunday morning.
Eliminations
Round 1
Stefan Reisten 7.857/179 def. Angus McPhail 8.473/161
Brian Johnson 7.607/157 def Ton Pels 8.276/161
Lennart Olofsson 10.850/117 def. Jonny Munn, broke (coupling gear) Elmer Trett 7.479/191 def. Dave Cross. 17.155
Stefan Reisten was suffering injection problems. Brian Johnson's crank broke in his defeat of Ton Pels who was reinstated under the break rule
Semi-finals
Ton Pels 8.132/155 def. Stefan Reisten, 10.162/74 (primary belt broke)
Elmer Trett 7.621/160 def. Lennart Olofsson 8.163/176
In his defeat of Lennart Olofsson, Elmer's cylinder head suffered damage and the final was delayed after he was allowed the time to replace it with a spare.
Final
Elmer Trett 7.315/NS def. Ton Pels 8.632/138
It was Elmer's second win at this event after his 1984 debut victory. Ton Pels rode his luck after being reinstated and then Stefan Reisten suffering damage in the semi final. Of course Ton went on to become a legend in Super Twin racing in Europe, running his team for over 40 years.

Ton Pels was the runner up
Alan Currans photo


#2 qualifier and semi finalisr Lennart Oloffson
Jerry Cookson photo

Angus McPhail on the 7 second Jade Warrior
Trevor Gardiner photo


Jonny Munn on The Hobbitt
Jerry Cookson photo


Dave Cross qualified 8th
Jerry Cookson photo


A nitro bike engine goes bang
Jerry Cookson photo
---
Pro Stock Bike
Pro Stock was round one of the European Championship which attracted a huge field.
Qualifying
Dirk Huesmann (Germany, Suzuki) 8.818/147
Jack Valentine (GB, Suzuki 1425cc) 8.956/139
Mark Clutton (GB, Kawasaki) 8.967/149
Nick Pepper 8.982
Rob van Ginneken (Holland, Suzuki Katana 1325cc) 8.999/139
Rob Janssen 9.029/134
Joerg Huesmann 9.689/145
Harry Slagger 9.107/145
Andy Capper 9.134/147

Mark Clutton v Rob van Ginneken
Rob van Ginneken collection


Runner up Jack Valentine
Jerry Cookson photo

Semi finalist Rob Janssen
Jerry Cookson photo


Andy Capper, 1st alternate in PSB
Jerry Cookson photo
Eliminations
Round 1 (excerpts)
Dirk Huesmann 9.657/142 def. Andy Capper, broke (stalled)
Quickest run of the round was Jack Valentine's 8.999/149 and the fastest was Mark Clutton who reached 154mph in his defeat of Alan Jackson.
Round 2
Rob van Ginneken 8.928/150 def. Dirk Huesmann 10.33
Mark Clutton 8.929/148 def. Joerg Huesmann 9.447/149
Jack Valentine 9.135/147 def. Harry Slagger 9.425/149
Rob Janssen 9.000/146 def. Nick Pepper 9.264/142
Semi-finals
Rob van Ginneken 8.938/136 def. Mark Clutton 9.252/147
Jack Valentine 9.089/140 def. Rob Janssen 9.156/143
Final
Rob van Ginneken 8.938/136 def. Jack Valentine 9.252/147

Luc Michel Fairchaud didn't qualify
Jerry Cookson photo


Joerg Huesmann v Andy Capper
Jerry Cookson photo
---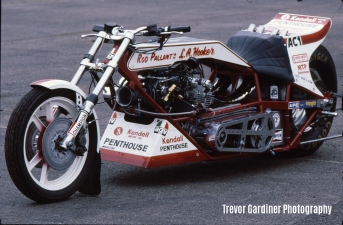 Rod Pallant's bike, repainted for its Penthouse sponsorship
Trevor Gardiner photo
Top Bike
Eliminations - Final:
Henk Vink (Holland, Big Spender Kawasaki 1200cc) 8.938/136 def. Barry Eastman (GB, Tokyo Express 1000cc turbo Honda) 9.080/153
Top Bike comprised #9-#16 bike qualifiers. In earlier rounds, Henk had run 8.105/160 and 7.991/174
---
Senior Bike
Eliminations - Final:
Paul Rose (GB, Pitsville Express Yamaha 1500cc) 10.004/NS def. T Lewis (GB, Second Vision Kawasaki 1075cc) 10.041/100
---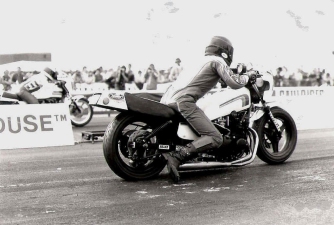 Alan Jones (Street Bike)
Jerry Cookson photo
Middle Bike
Eliminations - Final:
A Dougharty (GB, Bootlegger Norton 820cc) 10.387/128 def. P Scott (Blow Pipe Kawasaki 903cc) 11.162/127
---
Street Bike
Eliminations - Final:
Steve Berry (GB, Kawasaki 1290cc) 9.871/133 def. Steve Howe (GB, Ugly Duckling Suzuki 1238cc) 10.043/137




---
Gas Bike
Eliminations - Final:
Glynn Robinson (GB, Warlord Kawasaki 1325cc) 9.863/128 def. John Davies (Wales, Taffasuki Suzuki 738cc) 10.355/119
---
Exhibition

Henk Vink brought back his rocket bike
Trevor Gardiner photo


Henk Vink launching the rocket bike
Trevor Gardiner photo
---
Car classes
Pro Comp
Qualifying:
Dave Wilson (GB, Krypton AA/DA KB 426ci) 6.630/195
Steve Read (GB, Readspeed AA/DA) 7.564/199
Doug Bond (GB, Shoestring AA/DA Donovan 417ci)
Lesley Prior (GB, Solarport Chevy Vega BB/FC, Chrysler 484ci)
Eliminations:
Semi-finals
Dave Wilson 6.764/188 def. Lesley Prior 10.305/132 Steve Read 6.892/199 def. Doug Bond 10.829/76
Final:
Dave Wilson 6.462/188 def. Steve Read 7.340/198
Dave Wilson's time in the final round was the quickest outside the USA for a blown alky-burning Dragster, utilising a new clutch system.

Dave Wilson, Pro Comp Winner
Jerry Cookson photo


Doug Bond in Shoestring
Jerry Cookson photo

Doug Bond
Jerry Cookson photo


Lesley Prior in her Alky Funny Car
Jerry Cookson photo
---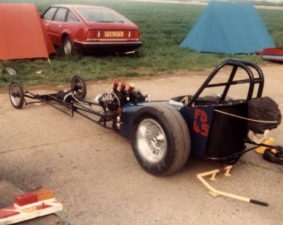 Steve Blencow in the ex-Dave Miller 'Spirit' slingshot
Nick Pettitt photo (taken in May 1985)
Super Comp
Eliminations - Final Steve Johnson (GB, Motor Mouse dragster, Cosworth 207ci) 20.575/42 def. Pete Mack (Plum Tuckered altered, Ford ) no-show
---
Senior Comp
Eliminations - Final
Steve Blencowe (GB. Radical Ride dragster, Leyland 79ci) 11.849/108 def. Brian Howells dragster (GB, Snowman Ford 97ci) 13.852/100
---
Modified
Eliminations - Final
Tom Laffey (Laffey Capri III, Chevy 409ci) 10.722/137 def. Stephen Clifton (Hot Tomato II,) 14.337/57

Tom Laffey (Top Modified winner)
Jerry Cookson photo


Steve Clifton (Top Modified runner-up)
Jerry Cookson collection
---
Shadow Racing Street Car Championship
Elimination 1
Final
Brian Huxley (Toyota SBC) 12.541/103 def. Gordon Appleton (Pontiac Transam 452ci nitrous) 12.000/108
In previous rounds, Brian had defeated Dave Baldwin and Tim Hines, whilst Gordon won against Rich Little and Martin Holden
Elimination 2
Final
Chris Rawlins (GB, Three Time Loser Ford Mustang 351ci) 15.065/93 def. Andy Robinson (GB, Street Elite Racing, Rover Ford 351ci) 17.059/85
Andy Robinson was driving his Rover tow car whilst his Monza race car was awaiting its third set of half shafts that season. Current Championship leader Zane Llewellyn was defeated by John Mulligan
---

We thank drag racing historian and British Drag Racing Hall of Fame director Jerry Cookson who has kindly provided copies of the material used in this feature.

1985 Event programme (14 Mb pdf file)
Features and Interviews index
Back to News page
---