Click on any picture for a larger image.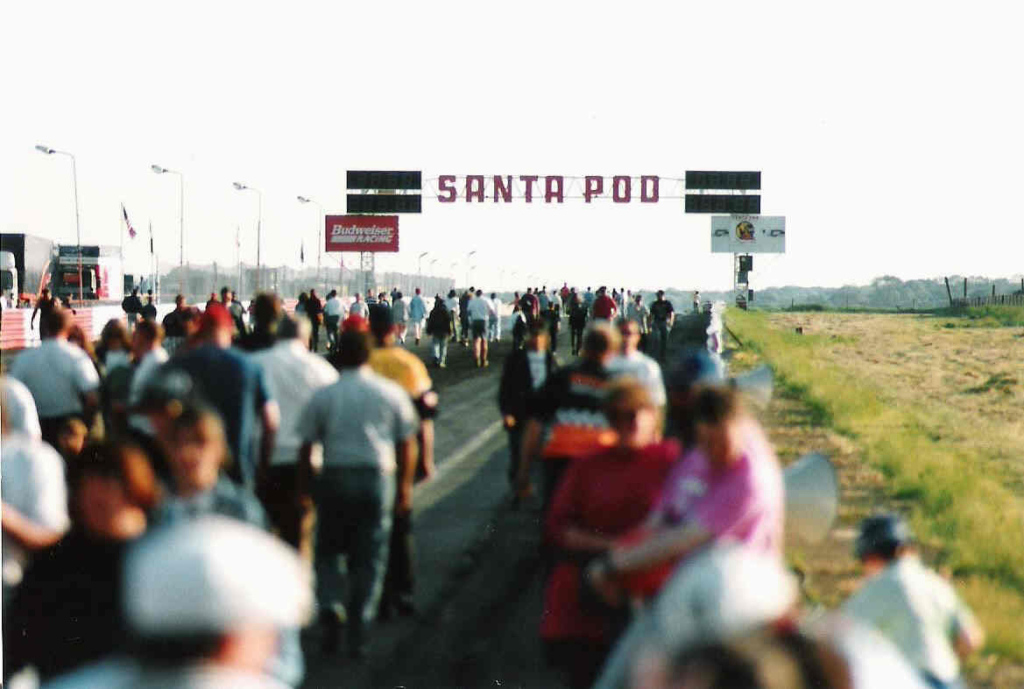 Track walk after event stopped
Adam Gredzinski photo
Although the weather for the 1994 Main Event was mainly good, with just an odd shower on Sunday. But the surface of rubber and traction compound which had built up over years without having been scraped away, broke up at "an alarming rate" in the words of reporter Roger Gorringe. "It created a dangerous surface, likened to running on marbles, that eliminations were stopped after only the first round". So the meeting came to an abrupt end in front of a capacity crowd.
Top Fuel
Qualifying
Rico Anthes 6.07/165
Viveca Averstedt 6.36/145
Tony Bryntesson 6.68/130
Peter Lantz 9.97/71
Liv Berstad 13.54/40

Rico Anthes, Top Fuel no.1 qualifier
Dick Parnham photo


Vivica Averstedt, Top Fuel no.2 qualifier
Eric Sawyer photo


Peter Lantz with track problem
Mark Gredzinski photo
In test runs on Saturday, Tony Bryntesson had a great 60ft time of 0.971s, but then Liv Berstad and Rico Anthes went up in smoke from the start.
In the single qualifying session on Sunday, Liv Berstad continued with an excess of clutch bite causing her to go up in smoke. Rico Anthes had a broken blower belt at the 1000 ft mark and crew chief Dal Denton remarked "We broke everything except a rod". Tony Bryntesson, with Glen Mikres as crew chief, suffered a broken oil line while Peter Lantz went up in smoke. Peter was running with a new injector scoop he designed which was claimed by crew chief Morgan Svensson to increase air flow by 15% and had NHRA certification.
Eliminations
Round 1
Peter Lantz 0.567 RT, 7.681/150.27 def. Tony Bryntesson 0.536 RT, 13.268/63.89
Liv Berstad 0.566 RT, 5.520/261.52 def. Viveca Averstedt 0.592 RT, 5.814/195.68
Rico Anthes 0.663 RT, 10.911/73.76 bye

The match-up between Peter Lantz and Tony Bryntesson was a pedalfest, 'raining track debris down the whole racetrack', as Roger Gorringe described it. The following race between Liv Berstad (after her clutch had been adjusted) and Viveca Averstedt produced some respectable times, but only because they were both careful to run in the tyre tracks of the previous pairing. Viveca smoked some pistons with consequent head damage.

Viveca Averstedt
Mark Gredzinski photo


Viveca Averstedt
Mark Gredzinski photo


'The Chicken Hat' as it was known helped give 9psi more boost


Peter Lantz with the new injector hat

---
Top Alcohol
Qualifying (no times or speeds available)
Rob Turner
Barry Sheavills
Dave Wilson
Craig Lowes
Ken McCormack
Doug Bond
Lindsay Deuchar
Paul Jackson
Mick Moore (1st Alternate)
Frank Bennett (2nd Alternate)
Andy Hill (3rd Alternate)

Rob Turner, Top Alcohol no.1 qualifier
Eric Sawyer photo


Barry Sheavills, Top Alcohol no.2 qualifier
Mark Gredzinski photo


Dave Wilson, Top Alcohol no.3 qualifier
Eric Sawyer photo
The 1994 Main Event was the third round of the RAC Torco Oils UK Championship. Frank Bennett got his Topolino in as an alternate when Craig Lowes' dragster suffered a starting line fire from a loose hose, without serious damage resulting.

Ken McCormack, Top Alcohol no.5 qualifier
Eric Sawyer photo


Ken McCormack
Eric Sawyer photo


Doug Bond, Top Alcohol no.6 qualifier
Mark Gredzinski photo
Eliminations
Round 1
Rob Turner 0.963 RT, 6.599/214.50 def. Paul Jackson, broke on burnout
Frank Bennett 0.630 RT, 6.220/203.38 def. Ken McCormack 0.557 RT, 7.873/147.76 DQ crossed outer line
Barry Sheavills 0.648 RT,6.415/220.17def. Lindsay Deuchar 0.645 RT, 7.217/160.33
Dave Wilson 0.579 RT, 6.806/187.20 def. Doug Bond 0.647 RT, 7.533/151.73

Lindsay Deuchar, Top Alcohol no.7 qualifier
Mark Gredzinski photo


Paul Jackson, Top Alcohol no.8 qualifier
Mark Gredzinski photo

Frank Bennett, Top Alcohol no.9 qualifier
Mark Gredzinski photo


Frank Bennett
Mark Gredzinski photo
---
Super Gas sponsored by Kingston Medical Gasses
1994 was the tenth anniversary of the introduction of Super Gas to the UK and the Main Event had the largest field for over a year, Lesley Digby (now Lesley Wright) wrote in her report from the event. Dave Clarkson was new to the class in his "Rat Infested" Ford Escort XR3i powered by a 427 c.i. Big Block Chevy. Also George Chiarella, known over the last couple of decades for his '37 Ford Coupe, had moved up to the class from Modified ET (10.00-11.50 bracket), his Opel Manta using the 'Straight to the Point" moniker.
There were two qualifying sessions on the Saturday and Sunday of the three day event. In session two Mark Flavell's Performance Unlimited Monza blew its own door off , becoming detached at the hinge with the lock still intact. Help from Luke Ramage, Peter Lane and his own crew enabled Mark to be ready for his first round match-up with Al O'Connor, which Al won.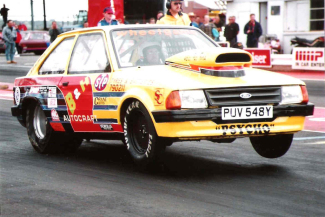 Phil Drewitt, Super Gas no.2 qualifier
Dick Parnham photo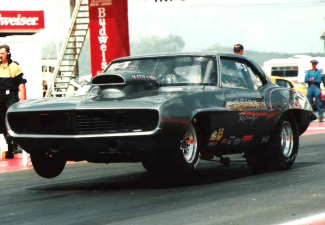 Terry Gibbs, Super Gas no.8 qualifier
Dick Parnham photo
Qualifying
Alex Nicol 9.929/130.02
Phil Drewitt 9.935/137.56
Martin Harris Jnr 9.943/134.08
Al O'Connor 9.955/120.98
Peter Lane 9.967/127.82
Gordon Appleton 9.968/129.56
Tim Adam 9.969/137.26
Terry Gibbs 9.973/131.06
Brian Pateman 9.980/131.35
Trevor Graves 9.988/141.44
Ray White 10.000/109.22
Bill MacDermid 10.009/116.08
Paul Watson 10.024/133.13
Frank Mason 10.045/133.47
Jim McGhee 10.080/103.62
Mark Flavell 10.081/128.12
Jason Savory 10.161/136.36
Pete White 10.173/127.49
Dave Clarkson 10.219/131.95
Paul Letchford 10.391/129.42
George Chiarella 10.485/126.07
Simon Oxberry 10.580/126.11
Mark Anderson 10.607/126.09
Nick Davies 10.724/124.71
Eliminations
Round 1
Trevor Graves 0.522 RT, 9.976/134.14 def. Simon Oxberry 0.508 RT, 10.563/127.06
Al O'Connor 0.475 RT 10.003/116.06 def. Mark Flavell 0.475 RT 10.098/126.12
Brian Pateman 0.475 RT, 10.319/106.42 def. George Chiarella 0.969 RT, 10.682/124.33
Jason Savory 0.492 RT, 10.223/130.97 def. Peter Lane 0.765 RT, 10.421/104.30
Mark Anderson 0.848 RT, 10.013/130.91 def. Ray White 0.643 RT, 9.871/118.39 breakout
Alex Nicol 0.330 RT, 9.877/130.24 def. Paul Watson 0.048 RT, 10.102/131.52
Tim Adam 0.546 RT, 10.476/122.48 def. Dave Clarkson 0.573 RT, 10.468/127.35
Pete White 0.524 RT, 10.044/132.16 def. Gordon Appleton 0.715 RT, 9.821/133.96
Martin Harris Jnr 0.520 RT, 9.962/133.86 def. Jim McGhee 0.589 RT, 9.885/123.40 breakout
Terry Gibbs 0.578 RT, 10.637/95.14 def. Paul Letchford 1.150 RT, 10.445/128.67
Phil Drewitt 0.697 RT, 9.979/131.71 def, Frank Mason 0.529 RT, 10.173/131.94
Nick Davies 0.475 RT 9.923/129.99 def. Bill MacDermid 0.483 RT, 9.982/111.14

Round one happened early on Bank Holiday Monday morning, but it was a long time before the class got called to the second round after Top Fuel and Top Alcohol had run their first (and only) round. During the lunch break, Ray White had run a perfect 9.90 in a demo race against a Porsche Carrera for TV.
Lesley described the crews "standing at the startline in amazement at what was unfolding before them" at the commencement of round two. "Commentators often say "…tearing up the track" and that's precisely what happened. Despite much hard work by the clean-up crew, the RAC/MSA steward declared that the surface would not support further racing and the event was abandoned. Tim Adam and Alex Nicol were still waiting in line after all this time and along with many other racers agreed to try to put on some kind of burnout and launch show for the crowd who had patiently waited. The result of Alex's VP Racing Fuels Camaro crossing the centreline was enough to put a halt to any further crowd pleasing show and the track was closed".
---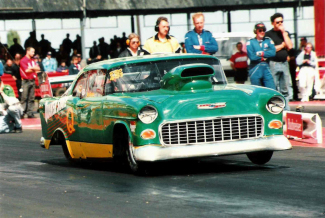 Henry Joosten, Super Pro ET
Dick Parnham photo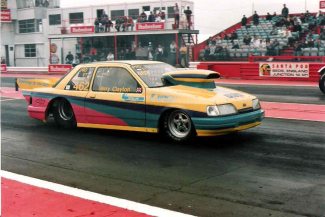 Jerry Clayton, Pro ET no.1 qualifier
Mark Gredzinski photo
IHRA/UK National Championship
Super Pro ET
The three qualifiers were Steve Johnson (7.655), Martyn Jones and Mick Kemp.


Pro ET
First round winners: Jerry Clayton (8.804 no.1 qualifier, Sierra), Steve Warner (8.894 no. 2 qualifier, dragster), Ian Giles (9.097 no.3 qualifier, dragster), Rob Emmett (T altered), Ivan Birch ('34 Plymouth coupe) and Chris Worsell (dragster).


Modified ET
Second round winners: Steve Brown (10.005 no.1 qualifier, Pinto), Ray Barrow (10.025 no.3 qualifier, Vega), Trevor Capewell (Topolino), Fay Fischer (T altered), Tony Guy ('32 Model B).


Super ET
First round winners: Stuart Crees (11.67 no.1 qualifier, Monza), Lorraine Payne (11.694 no.2 qualifier, Challenger), Graham Jones (11.982 no.3 qualifier, Mustang), Richard Sawatzki, Jon Evans, Dave Day, Dave Worron.


Street ET
Second round winners: Mark Watkins (Mazda RX7), Glen Rees (Camaro), Carla Pittau (Camaro)



---
Funny Car and Exhibition

John Spuffard, Funny Car
Eric Sawyer photo


Sammy Miller, Rocket Funny Car
Dick Parnham photo


Sammy Miller
Dick Parnham photo
The 1994 Main Event was notable for the reappearance of Sammy Miller and his Vanishing Point Rocket Mustang Funny Car. He had been at the Easter Thunderball but atrocious weather conditions including snow, hail and high winds had prevented him running. Previous to that, his last appearance had been eight years previously in 1986. Sammy being back at Santa Pod in 1994 was driven by two main factors. 1994 was the tenth anniversary of his famous 3.58 second pass, the quickest run in history. Also Sammy had obtained a new supply of hydrogen peroxide fuel after it had become almost unobtainable in the US or UK. Whilst the track problems precluded a full run, Sammy as usual was happy to meet the fans and have his photo taken.

Sammy Miller
Dick Parnham photo


Sammy Miller
Mark Gredzinski photo


Sammy Miller
Adam Gredzinki photo

Sammy Miller
Adam Gredzinki photo


Sammy Miller
Eric Sawyer photo
---
Top Fuel Bike
Qualifying
Steve Woollatt 7.000/194.90
Adam Hewitt 7.178/185.77
Phil Baimbridge 7.735/180.32
Werner Bruckle 8.770/135.42
Jules Boag 9.262/164.65
---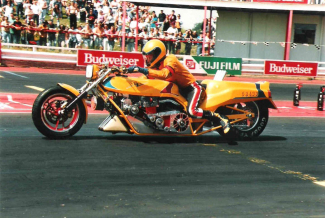 Bob Brooks
Eric Sawyer photo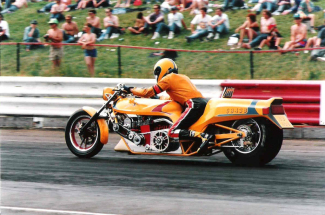 Bob Brooks
Eric Sawyer photo
Competition Bike
Qualifying
Chris Hall 7.809/170.0
Mike Beaumont 8.014/184.4
Barry Eastman 8.333/155.48
Tim Blakemore 8.713/140.42
Chris Golding 8.756/159.0
Stephen French 9.546/136.52
Gary Atkinson 9.702/141.07
Augy Harrison 10.120/153.3
Ken Thorne 10.218/127.3
Robert Brooks 10.672/137.59
Mark Stiles 13.292/73.28
Ray Law 16.538/98.23
Neil Diggens 16.555/100.00
Dave Branch 16.600/100.00
Eliminations
Round 1
Dave Branch 0.616 RT, 19.881/131.65 def. Chris Hall 0.551 RT, broke
Tim Blakemore 0.944 RT, 9.163/150.55 def. Mark Stiles, broke
Robert Brooks 1.041 RT, 8.696/145.11 def. Chris Golding 0.784 RT, 8.968/130.76
Mike Beaumont 1.017 RT, 8.145/159.59 def. Neil Diggens 1.503 RT, 13.652/102.03
Augy Harrison 0.560 RT, 8.160/162.49 def. Gary Atkinson 0.763 RT, 9.907/138.24
Barry Eastman 0.734 RT, 10.297/134.48 def. Ray Law 0.765 RT, 12.607/109.41
Stephen French 0.678 RT, 9.358/140.36 def. Ken Thorne 0.764 RT, broke

---
Pro Stock Bike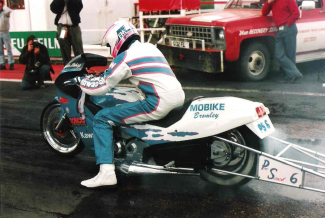 Martin Bishop
Mark Gredzinski photo
Qualifying
Len Paget 7.988/178.11
Paul Willis 8.113/163.93
Dave Beck 8.167/165.39
Ceri Visick 8.244/160.78
Graham Dance 8.730/153.04
Martin Bishop 8.758/133.04
Mark Clutton 8.876/159.70
Paul King 9.460/124.59
Ray Debben 9.983/134.97 (1st Alternate)
Eliminations
Round 1

Len Paget 0.574 RT, 8.128/159.08 bye
Martin Bishop 0.616 RT, 8.623/149.72 def. Graham Dance 0.709 RT, 8.685/153.90
Paul Willis 0.625 RT, 8.166/161.40 def. Ray Debben 0.661 RT, 9.993/126.96
Dave Beck 0.711 RT, 8.130/166.39 def. Paul King 0.676 RT, 9.602/136.19
Ceri Visick 0.941 RT, 8.224/160.83 def. Mark Clutton broke
---
Super Street Bike
No.1 qualifier was Dave Turner, his brother Roger was no.2 qualifier. Mark Watkins ran a 8.9s pass on his Terminator II based on a Brian Emery chassis with bodywork by Dave Turner. Colin Hall had brought a new road-legal Suzuki GSXR 1260cc bike and qualified mid-field with a 9.12.


---

We thank drag racing historian and British Drag Racing Hall of Fame director Jerry Cookson who has kindly provided copies of the material used in this feature.
Event programme (14 Mb pdf file)
Broadcast video of event
Features and Interviews index
Back to News page


---