General
Home Page
Add a web site
Jeff Bull Swap Meet
Send a News Item
Site Search by Hauser Racing
2019 FIA/FIM Championships schedule
SPRC Perpetual Awards vote
News, Coverage, Features
Latest News
John Woolfe Racing Event Coverage
OCS Paint Points Standings
Features, Interviews, Tributes
Racer Blogs Derek 10/04
WRE/Nimbus Webcam
LA Racing Parts Links
Racers' web sites
Associations, Clubs
Race calendars
Results, Reports, Info
Pictures, Video
Performance Parts, Merchandise
Sponsors
Tracks, Shows
Information
Timing Data
European and UK Bests
Champions' Champions
Editor's Diary archive
Eurodragster.com FAQ





















Mafe Rotherham.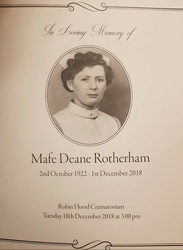 19th December: Our deepest sympathies to the family and friends of Mafe Rotherham, whose funeral took place yesterday. Paul Jackson writes:

Today we sadly said goodbye to a great lady.

Mrs Rotherham, as she was known by all, was the Club Secretary for the Midland Drag Racing Association in the sport's earlier years. A larger-than-life character and a true free spirit. She was a big car enthusiast, a natural organiser and she fulfilled her rôle within the sport extremely well.

There are many involved in the sport who could write a tribute better than mine, testament to which were some of the faces who attended her funeral stretching from drag bikes to Fuel Altered pilots, Top Fuel owners and everything in between.

I was that young kid in the pits who remembers that smartly-dressed lady with a smile behind the wheel of that three-wheeled Morgan.

Rest in Peace Mrs Rotherham x

Thank you for all you did for our sport x

2019 Doorslammers entry open.
18th December: James Forster of Santa Pod Raceway says that entry is now open for The Doorslammers which takes place on 17th-19th May 2019:

There have been a couple of tweaks to the rules in some classes (notably a change to the tyre ruling in True Street) but fundamentally the popular format will remain the same. There has also been an increase to the already impressive prize fund. Following the massive number of entries in the 4 Cylinder and FWD classes we've thrown another £2.5K into each of those pots taking the total prize pot to a staggering £80k.

The first couple of entries are already in, so please keep them coming and we look forward to the event being even bigger and better in 2019!

Please note that although you're welcome to send entries through and pay via PayPal, we won't be able to process them until after the festive period, on Wednesday 2nd January, so don't panic if you don't receive an instant response.

Entry forms, details and rules can be found at www.santapod.co.uk/doorslammers.php.

Swift snippets.
18th December: If you want to know what you're letting yourself in for vis-a-vis The Doorslammers, or if you would like to get hold of nine other great drag racing DVDs in time for Christmas, then 15:00 UK time this Thursday (20th) is the deadline to get your orders in to Zeon TV. You can check out our review of this year's season and event DVDs on last Friday's news update, or you can order your DVDs at www.quartermilehigh.com.

Wall art marks Tudor Rose 50th.
17th December: Further to last week's fiftieth anniversary of Eurodragster.com sponsor John Woolfe Racing, Dave Riswick of JWR tells us that he has been involved in marking another fiftieth, this time the anniversary of Rex Sluggett's European speed record in the Tudor Rose slingshot, and that you can help with the car's restoration:

Early on in this year Rex Sluggett contacted me to ask if I could help him to find a suitable artist to do a painting of Tudor Rose, as it was coming up to the fiftieth year since he broke the European speed record in the car: 182.82 mph on 6th October 1968. Rex always wanted a nice picture of the car and after all these years he felt it needed to be done.

After thinking about it for some time I remembered Rick Goodale, one of the founding fathers of the BHRA, the first editor of  Kool Kams, and a contributor to the drag racing magazines of the day. Rick ran a successful illustration business in London, and remembering that he did paintings I managed to track him down in Bournemouth running an upmarket Bed and Breakfast.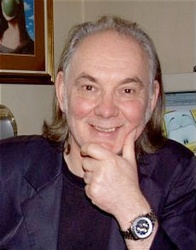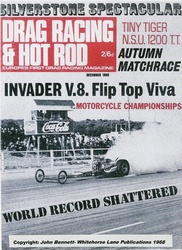 Rick doesn't paint any more, but did put me onto another well-known artist by the name of Terry Pastor up Norfolk way. Terry (above left) is well-known for producing album covers including David Bowie's Ziggy Stardust and book covers including books by Arthur C Clarke and Len Deighton.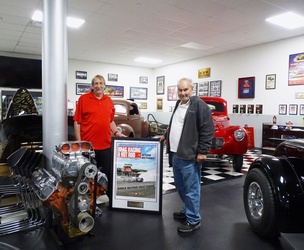 Terry produced us a beautifully-presented piece of wall art  based on the December 1968 Issue of Drag Racing & Hot Rod magazine, illustrating Tudor Rose. The master copy was presented to Rex earlier in the year and holds pride of place on Rex's office wall at his home in Long Beach, California.

The wall art is 61 cm x 80 cm including the white surround. We are making it available as a limited-edition fund-raiser for the restoration of Tudor Rose at £200 all in, individually numbered and hand signed by the artist. For the full story, and to order your copy, visit the John Woolfe Racing web site at www.woolfe.com.

SPRC Perpetual Awards vote 1.
16th December: Santa Pod Racers Club and Eurodragster.com are again teaming up to give Eurodragster.com readers the chance of input to the SPRC Perpetual Awards, which will be presented at the SPRC Dinner Dance and Trophy presentation in February 2019.

For several of the 2018 season awards, a shortlist has been decided upon for which votes can be submitted by E-Mail. Nominations are now also being accepted for the Alex Brachtvogel Memorial Trophy. The votes of Eurodragster.com readers will be taken into consideration when the SPRC Committee decides upon their winners.

This week's category is Most Promising Newcomer. Nominees for SPRC Most Promising Newcomer have impressed whilst contesting their first full season or making their on-track début in 2018.

The SPRC Committee's shortlist, in alphabetical order, is as follows:

James Cross, 9.50 Bike
Vote for James Cross

Casey Holgate, Junior Drag Bike
Vote for Casey Holgate

Tom Kaye, Lucas Oil Junior Dragster
Vote for Tom Kaye

Ben Newsome, Modurstang Pro ET
Vote for Ben Newsome

Frankie Taylor, Lucas Oil Junior Dragster
Vote for Frankie Taylor

Neill Watkins, UK Nostalgia Superstock and Modurstang Pro ET
Vote for Neill Watkins

To place your vote, either use the links above or go to the official Perpetual Awards voting page which you can view by clicking here or by clicking on the SPRC Perpetual Awards vote link on the left-hand side of any Eurodragster.com page.
©Eurodragster.com
The Alex Brachtvogel Memorial Trophy, for which nominations are also now being taken, was first awarded to Santa Pod Racers Club's late Chief Marshal, Alex Brachtvogel, in 2001 to mark his outstanding contribution to Santa Pod Raceway and the sport as a whole. After Alex's death the trophy was named in his memory and continues to be awarded for contribution to drag racing. There is no shortlist for the Alex Brachtvogel award. Nominations are invited from Eurodragster.com readers for racers, race officials, track and safety crews, club officials, media, or anyone else who has contributed to the sport. Last year the trophy was awarded to Andy Marrs of SPRC's timing crew. Again see the official page for more details or E-Mail your nomination to ar@eurodragster.com specifying SPRC Alex Brachtvogel Memorial Trophy nomination as the subject and your nomination in the body of the E-Mail.

For each of the Awards, one vote per E-Mail address per nominee will be accepted: multiple votes for the same nominee from the same E-Mail address will all be disqualified. Please note that blatant attempts at organising mass votes - for example asking workmates, forum members or Facebook friends to vote en masse - are easily identified and all such votes will be disallowed as they have been in previous years. Concerted attempts at vote-rigging will result in the nominee being removed from the shortlist whether or not that nominee knows what was going on. We know all the dodges so it's just not worth trying. If in any doubt about what constitutes canvassing then please drop us a line at ar@eurodragster.com.

Additionally, if anyone should have issues with the content of any of the shortlists then please contact SPRC direct rather than E-Mailing Eurodragster.com or commenting on social media. E-Mails to Eurodragster.com regarding the content of the shortlists will receive neither a reply nor any other acknowledgement.

The next voting category, to be posted next weekend, will be Best Appearing Car.

Perpetual Award trophy return.
16th December: Further to the above, current holders of the SPRC Perpetual Awards are asked to return their trophies as soon as convenient.

Trophies can either be returned to Santa Pod Racers Club or handed in at Santa Pod Raceway's office. To arrange return to SPRC please call Ian Marshall on 01933 313625 (outside the UK +44 1933 313625) or E-Mail ian.marshall@btconnect.com.

Zeon TV DVDs review.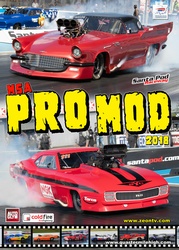 14th December: This year, there are no less than ten Zeon TV DVDs covering UK drag racing and we are grateful to Helen Todd and Dave Coleman of Zeon for supplying review copies. Simon writes:

We'll start with the four-class oriented DVDs and then go through the six DVDs covering events in their order.

The Pro Modified DVD is covers each of the five rounds of the Championship in which racing took place at Santa Pod Raceway. The DVD is indexed for qualifying and eliminations separately for each round. A wide variety of camera angles is utilised including the top end cameras on the gantry, Eurodragster.com's Webster Race Engineering/Nimbus Motorsport webcam, pit footage and in-car shots from Eurodragster.com sponsor Andy Robinson's Camaro. Most drivers are interviewed at each Championship round. There is also a build-up feature about ICE Automotive's new turbo Firebird. This DVD is a very complete account of a Championship year which had its highs - new track records and PBs - and lows - Andy Robinson's devastating but thankfully non-injury crash in the last race of the Championship. Commentary is by Darryl Bradford.

Super Street Bike as a class has its second DVD this year, and it covers all four of the races held at Santa Pod Raceway in two Championships, the FIM-E Super Street Bike Cup (which also has rounds in Germany and Hungary) and the UK-based ACU Championship. The rounds held were at the FIA/FIM Main Event, SPRC Summernationals, FIA/FIM European Finals and UK National Finals, fields being large for each round and exceptionally so for the two European Championship rounds. There is a wide variety of interviews too, as each round attracts an international field of racers. This DVD is a must for Super Street Bike racers, fans and anyone who loves close racing and surprise wheelies. Commentary is by Bryn Lucas.

Nostalgia Superstock and Hardcore Street showcases two stock-bodied Doorslammer classes of UK drag racing, with the five rounds of UK Nostalgia Superstock held at SPR including both 'lifestyle' and MSA Championships. Four Topspeed Automotive Street Eliminator rounds are also included. Car count in UK Nostalgia Superstock has increased whereas Street Eliminator has suffered some attrition between 2017 and 2018, as well as new and returning entrants during the season. Commentary is by Colin Theobald, who incidentally would be eligible to race in both of these classes with his Camaro Bruce, and Paul Venners. Here are over two hours of great track action.

The Wild Bunch covers four of the five class Championship rounds held in 2018: the NSRA Nostalgia Nationals, SPRC Summernationals, Dragstalgia and the UK National Finals. Car counts were high at the two lifestyle events and competition was intense at both these and the two MSA Championship rounds. There is also coverage of the Slingshot Showdown at Dragstalgia. Much detail and lists of special awards at each race is supplied by class organiser Claire Meaddows. Colin Theobald is the commentator, and there are also interviews with Steve Bingham, who describes the provenance of the historic chassis for the Sneaky Blinder Topolino, and Chris Manning in the Villain slingshot. This is a wonderful presentation of the UK's original Nostalgia class.

The NSRA Nostalgia Nationals DVD, which also covers the Hot Rod Supernationals held at Old Warden in August, is indexed between Show and Shine, Superstock, Run What You Brung, cruising, eliminations, Wild Bunch and finals. Despite the Nostalgia tag, there are actually many cars at this race which aren't at Dragstalgia, due to the hot rodding theme. Interviews include Tri Chevy Shootout racers Steve Murphy with his '55 Nomad and Rob Smallworth, Ross Norris with his '32 five window, and Hannah Thomas from NSRA. Classes running include UK Nostalgia Superstock, Wild Bunch, Gasser Circus, Outlaw Anglia, Supercharged Outlaws and a healthy field of Run What You Brung. Knowledgeable commentary is provided by Graham Beckwith. This DVD is an hour and thirty seven minutes of hot rodding show and go.

The Doorslammers was one of the most exciting events, being new and attracting a diverse and quick field of door cars. On-line betting with Red Zone Sports and a big prize fund attracted a lot of radical machinery. Zeon's presentation is superb, and the sheer number of interviews with runners in every class is impressive. It's a great chance to catch up with classes which are not usually seen in traditional Championship racing such as Front Wheel Drive, and racers loved running alongside vehicles which they wouldn't normally meet. It was also the first meeting at which Pro Mods ran on the new SPR track, and there was some heart-in-the-mouth action. Commentated by Colin Theobald, this DVD is a wonderful record of a tremendous début event, for whose econd running we can't wait for in 2019.

The FIA/FIM Main Event DVD is the first Zeon DVD covering an FIA/FIM race in its entirety. It concentrates on the FIA and FIM classes, with great action and many in-depth interviews with top racers. As it's the first event of the year with little testing before, it's fascinating how the racers face their set-up issues during a Championship race, with some wild action the result. There were plenty of PBs as well. This DVD gets the viewer much closer to the upper echelons of the sport and is highly recommended, even if the viewer has seen the Web TV coverage on YouTube, because of the off-track coverage and start line close-ups.

Dragstalgia is perenially popular for close nostalgia racing, the social interaction, and the sheer variety of cars and bikes competing. Action from all three days is included, with the usual classes and Nostalgia Pro Stock Bike. There was another Swedish Invasion and Kjell Andersson and Stefan Flodel show their enthusiasm for their Gassers and the event as a whole, then giving some amazing burnouts. Pike Murray talks about the development of the Willys Wars, which has expanded enormously over the years with over sixty cars registered. The camera position at the top end only adds to the spectacle. The historic NSA bikes are described by Dave Clee and Chris Illman, which adds a new dimension to the coverage. Other interviews include Jim Usher, Matthew Wright, Bob Glassup, Troy Martin and Doc Stinger. And with coverage of the Funny Car parade, fire burnout and Cacklefest, this is a comprehensive survey of a wonderful event.

The Mopar EuroNationals, celebrating its 25th Anniversary in 2018, is one of the longest-running annual Zeon DVDs having first come out in 2004. Graham Beckwith is, as ever, commentator (Thanks for the plug, Graham - Pit Reporter). Race coverage includes RWYB, UK Nostalgia Superstock, Gasser Circus and Pro Modified but the Mopar Euronats has a strong lifestyle segment with the Show'n'Shine, cruise, and burnout competition. Plenty of Mopars run at the event, and other makes are also allowed on the track. The Cruise is a largely Mopar domain though. Despite Sunday being rained out for racing, the burnout competition was still run, and there was enough footage to fill a one hour thirty minute DVD. Here's to the next twenty five years, crew!

The FIA/FIM European Finals DVD is in the same format as the FIA/FIM Main Event, concentrating on the Pro car classes and bike classes. So no Sportsman racing, but some very close Championship finals took place at this event, and interviews with the main contenders has them reflect on their season. On track, the tight editing of the racing makes for a high adrenaline experience, ideal to keep one awake after all that turkey on Christmas day. At one hour fifty three minutes, this is a superb record of a wonderful season of drag racing. Commentary is by Colin Theobald.

One thing apparent on all of these DVDs is how smart Santa Pod Raceway looks, with its new concrete surface and tidy spectator areas and gantry. All the racing is from SPR due, of course, to the unfortunate closure of the much-loved Shakespeare County Raceway. As well as David and Helen, Cameron Rennie, Callum Pudge and Gladston M should be congratulated on their camera work, and David and Joe Oksien for excellent interviews. The production is, as ever, excellent with full qualifying lists and points standings after each race.

You can purchase any or all of these superb Zeon DVDs for £14.95 each plus £1.50 postage per order to the UK and £1.75 to anywhere else in the world. All DVDs are region free and in PAL format, which means you can watch them on a computer anywhere and on a TV that can display 625 lines at 50 Hz. Various deals are available for the purchase of multiple titles. You can view trailers and order on-line at www.quartermilehigh.com

Important UK crash helmet update.
13th December: Santa Pod Racers Club Secretary Ian Marshall has been in touch with a very important message for UK racers (or those who come to compete in the UK) about Snell 2005 and SFI crash helmets:

As of 31st December 2018 Snell 2005 and SFI 31.1A and 31.2A crash helmets will no longer be legal in any class for UK drag racing.

Would racers please check their current crash helmets, as helmets marked Snell 2005  or SFI 31.1A and 31.2A  will not be accepted during the 2019 season and beyond.

The only exception to the above rule is for Snell K2005 helmets which are still legal for Junior Stock Dragster only.

If you have any queries then please call Ian on 01933 313625 (outside the UK +44 1933 313625) or E-Mail ian.marshall@btconnect.com.

Happy 50th John Woolfe Racing!
12th December: In the third instalment of his history of Eurodragster.com sponsor John Woolfe Racing, Dave Riswick writes that today (Wednesday) is the company's 50th anniversary:

12th December 1968-12th December 2018

As we look back, much water has gone under the bridge and memories of fifty years ago have somewhat faded. However, an abundance of photographs, notes and articles, preserved in the John Woolfe Racing Archives, bring back into focus the true history of the day.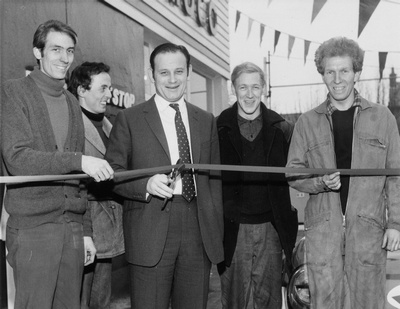 In this interesting Grand Opening Day press photo, taken by the Hunts Post, we see pictured from left to right the 24-year-old American import Dave Riswick, one of John's associates, David Knowles (who is believed to be responsible for creating the famous John Woolfe Racing wolf head logo pictured below), and the man himself John Woolfe, cutting the ribbon with an appropriate pair of tin snips. To John's left is his chief mechanic, Mike Treutlein, well known owner and future driver of Pete Millar's dragster, Chicken Coupe, followed by Colin Saunders, mechanic and reluctant driver of Mark Stratton's twin Chevy V8 dragster Hustler II.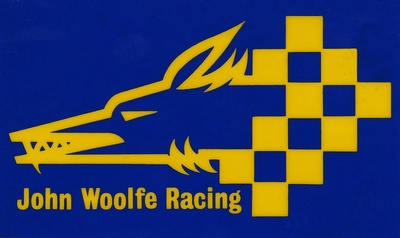 Just a week after the Grand Opening, John's wedding ceremony was held at Claridge's in London where he married Jane Burton of the tailoring family. To mark the occasion, John arranged to whisk the bride away in his '68 Le Mans entry Chevron F-1 powered B12 .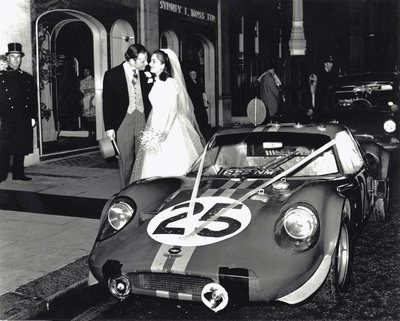 Earlier on in this Grand Opening year John realised that he had many race vehicles to transport and when he was invited to Silverstone Circuit to do a feature for Motor agazine, he arrived in fine style with his newly-acquired Fiat Race Transporter. Later this provided a grand viewing platform for the team and friends when it made its début at Santa Pod Raceway.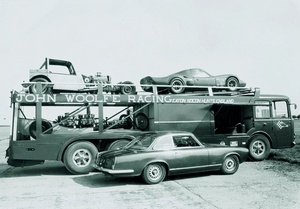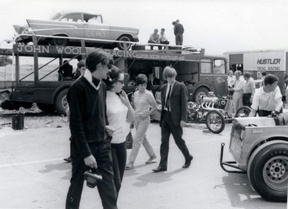 John Woolfe was convinced that drag racing would take hold in a big way in the UK and was keen to contribute. However as already covered in Chapter II, John lost his life while competing in the 1969 Le Mans 24-hour race. At that crossroad of time, little did one know where one would end up. John Woolfe was a striver and his inspiration set the pace for the next 50 years.

Swift snippets.
12th December: Our good buddy Remco Scheelings is continuing his series of Features on the Drag Racing Europe Blog. Remco's latest victim is Pro Modified new boy Per Magnusson and you can check out Remco's Feature by clicking here.

Another award for VP.
12th December: Eurodragster.com sponsor VP Racing Fuels, recognised around the world for performance fuels and chemicals, has been awarded the coveted PRI Global Media Award for its new Stay FrostyRace Ready Coolant.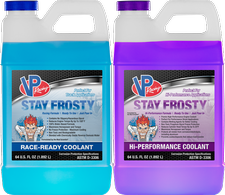 Motorsports journalists from the United Kingdom and Canada, tasked with identifying and discovering what new products are likely to succeed in their home countries, selected Stay Frosty.

"The journalists who make up the PRI Global panel are highly respected" said Bruce Hendel, VP's Vice President, North America Sales - Race Fuels and Consumer Products. "Their opinions really matter because they know their markets. With the help of this endorsement there's an even stronger probability Stay Frosty will do well in North America and overseas. With the extensive distribution network we have in place it will be very easy for racers and enthusiasts to keep cool and Stay Frosty when it counts."

The PRI Global Media Award is the second prestigious award VP and Stay Frosty have received for 2019. In November, the Specialty Equipment Manufacturers' Association panel of international media voted Stay Frosty one of the best new products at the SEMA Show.

For more information about VP and its products for racers, enthusiasts, and general consumers visit vpracingfuels.com.

Swift snippets.

11th December: If you are considering getting your local race fan a copy of Keith Lee's excellent book Mister Six: The Story of Drag Racing Legend Dennis Priddle for Christmas - and we get the idea that there are as many excited adults than children this particular festive season - then it is worth getting your order in very soon to allow in-time delivery. You can order at mistersix.co.uk, and for our review of the book check out our news update of 27th November.

Our review will be posted here very shortly but, similarly, it is worth getting in your orders in for Zeon TV's superb Season Review DVDs. DVDs are £14.95 apiece plus £1.50 P+P but some great offers are available if buying more than one. You can check out trailers and order your DVDs at www.quartermilehigh.com

The annual vote for the 2018 SPRC Perpetual Awards will be starting here on Eurodragster.com very soon.

Malta puts out the red carpet.
9th December: Two weeks taking in all that Malta has to offer, with four days' racing in the middle, testing of the newly rebuilt Helzapoppin', a new PB with Banzai and the warmest welcome you could possibly wish for from all the people of Malta and the 300+ UK fans who made the trip over... UK blown-alcohol altered racer Ian Merryweather says that the only downside was terminal damage to Banzais (t)rusty old 392 Hemi block:

On Friday 26th October the cars were loaded into the truck and trailer, boarded the Isle of Man to Heysham Ferry and sailed over for us to pack into a container bound for Malta. It is possible to fit two twelve-foot cars into a twenty-foot container. With the container arriving in Malta earlier than expected on 14th November, which was three days before the teams were due to touch down on the island, the Malta Drag Racing Association at Hal Far Raceway kindly sorted out placing the container unit in our pit area and secured it so it was ready for our arrival. On Saturday 17th the Banzai and Helzapoppin' teams rendezvoused at Gatwick en route to Malta.

Team Banzai consisted of myself, Selena and Lee Merryweather. Team Helzapoppin' consisted of owner Peter Astell-Burt, driver Roy Wilding and crewman Ashley Phipps. Special Guest Tom Dickie, a good friend of Peter's, also make the trip. Tom, for those of you who follow the Manx Grand Prix and TT racers, will know him as a past winner. After arriving at the seven-bedroom eighteenth-century country house Casa San Rocco in Ghaxaq (ten minutes from the track), kindly booked by Peter, we quickly unpacked and headed off to check the container. All was well so we drifted off to the track bar.

On Sunday 18th we were invited to take part in the MDRA Test and Tune event. However, as we would have to fully pack away after the one-day event we decided to spectate. It was an ideal time to stand back and get familiar with how the MDRA operated the track. We were impressed by how it was all run. The first eighth is all-new concrete for this year, however after their experiences at earlier events we were advised by many racers to be careful. More on that later.

The overall size of the facility is quite small with only one side to view the racing, a tight paddock area and one cafe-bar. However, as we were to find out through the meeting, it all works well. Notably entry to the event and the quality and price of the refreshments were both very reasonable.

The spare days to kill before we unloaded and set up the pit, which was scheduled for Wednesday, were spent on retail therapy, museums, pubs and restaurants not necessarily in that order!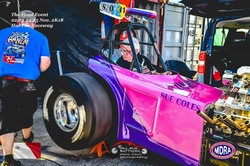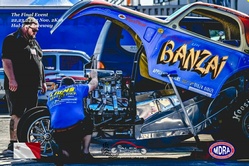 Unloading began on Wednesday by which time the team increased by a further two with the arrival of Helzapoppin's engine builder Kenny and Bev Coleman from EDA. Kenny would also look after "his" engine for Helzapoppin' during the event.

Thursday 22nd November, Test Day at Hal Far: Signed on, scrutineered and with the cars ready for action we lined up side-by-side for our first experience of Hal Far, which was also the first run for Helzapoppin' after its rebuild. An eighth-mile checkout pass for Helzapoppin' with "A Roy named Sue" at the wheel went to plan, however after a hard launch from Banzai the car veered sharply right! After snaking down the track a low nine-second quarter was recorded. It felt good to get our first run out of the way. With a change of lanes for both cars, Helzapoppin' launching in second gear ran the eighth in 5.41/111 before taking it easy to the quarter mile. Banzai was on a better run than the first with an 8.48/164 but still fighting for grip. After completing the first day of racing at Hal Far, the general opinion was that the track was as good if not better than Shakey ever was.

Friday 23rd November, Open 6 qualifying: As very different cars from what is normally seen at Hal Far we were in the Open class, up against six-second rear-engined dragsters so we didn't really stand much chance of winning. However we were there to put on a show and enjoy ourselves which is exactly what we did. We were having a blast! Roy at the wheel of Helzapoppin' was getting to grips with the car with it running quicker every run. There was a problem with a slight weep from the rear main seal but as the car has a full belly pan any oil was easily contained. Banzai on the other hand just could not get a handle on the launch. Picking the wheels up and carrying them past sixty feet was good for the crowd but the pull to the right each time left no option but to lift.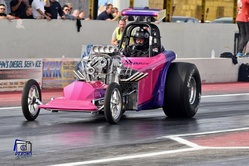 Saturday 24th November, Qualifying then the start of eliminations late in the day: With Banzai up against J Aquilina in his six-second dragster we did not expect to move into the next round, however his red light gave us the win. Banzai with a great launch, PBs of 1.22 to sixty and 5.09/136 to the eighth, it finally looked likely to be running the seven for which the team have been looking. However at two-thirds the engine began to smoke from the right bank so I lifted early to a new PB 8.01/159. Back in the pits the problem was looking serious as the block wsa found to be cracked by a core plug. With the pan off there appeared to be no internal cracking so the team decided to clean and patch up the outer block with liquid metal in a vain attempt to continue racing. Helzapoppin' had also moved into the Sunday's eliminations.


Sunday 25th November, Open 6 semi-finals: Helzapoppin' was up against Banzai. With a patched up 392 against the EDA-built Donovan there was really only going to be one winner. Both cars left well but instant smoke from the wounded Hemi gave me no option but to pull Banzai off the racing surface, coasting through to the finish in sixteen seconds. There was to be a twist in the tail as "A Roy named Sue" redlit putting Banzai into the final against another six-second dragster, the Borg Brothers who also run an EDA engine!

The final would be a bye run for the Borg Brothers as the damaged block in Banzai ended our dream. With everything packed back into the container the teams partied with the locals, said their goodbyes and headed off back for a well-earned rest.

What a blast! The whole two-week trip lived up to all expectations with PBs, oodles of track time, meeting new friends and plenty of sunshine. The teams would like to say a huge thank you to Charlie Camilleri, Reuben Micallef, and all the MDRA members as well as a special Thank You to Jamie Felice whose help before, during and after the event was invaluable. We are indeed very grateful.

Will we be back next year? Too right we will, if we can find the funds.

It so happens that today (Sunday) is Ian's birthday so a very Happy Birthday to him. Have a great day Ian.

Swift snippets.
9th December: Our good buddy Remco Scheelings is continuing his series of Features on the 2018 European and EDRS Champions on the Drag Racing Europe Blog. Remco's latest victim is EDRS Pro Nordic MC Super Gas Bike Champion Jami Oksanen and you can check out Remco's Feature by clicking here.

We would like to say a big Happy Birthday and Grattis to our good, albeit fired, buddy Christer Abrahamson. Have a great day Christer.

2019 Dragstalgia entry open.
7th December: Santa Pod Raceway are pleased to announce that entry is now open for invited classes at Dragstalgia on 12th-14th July 2019, and that applications are also open for the Custom Car Invitational at that event.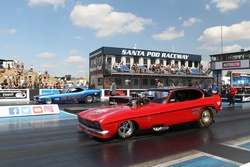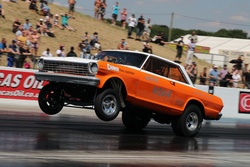 However, racers should note that there is quite a significant change to the entry procedure: entrants are now required to submit an entry form, which can be found at www.dragstalgia.co.uk. This also applies to any other events at which Santa Pod run non-permit classes; the forms can be found on each of the relevant event web sites.

Applications are also open for the Custom Car Invitational. As in previous years, there is an application process in place for the class and so entries won't be processed for this section of the event until applications have closed on Monday 3rd June 2019. Spaces are limited in this section so unfortunately not everyone can be accommodated. Santa Pod will be offering places to those applicants with vehicles best suited to the event as selected by the team at Custom Car magazine.

To enter, to apply for the Custom Car Invitational, or to find out more, visit www.dragstalgia.co.uk.

"We look forward to hearing from you!", says James Forster.

Anita collects her trophy.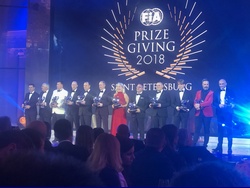 7th December: Many thanks to Lars Pettersson of the FIA Drag Racing Commission for sending us this picture of 2018 FIA European Top Fuel Dragster Champion Anita Mäkelä collecting her Championship trophy at the FIA Gala in St Petersburg. Eagle-eyed viewers may spot UK Comp Eliminator racer Kev Perkins also apparently in the line-up. Congratulations again Anita.

Silencing for UK Junior Dragsters, FCs.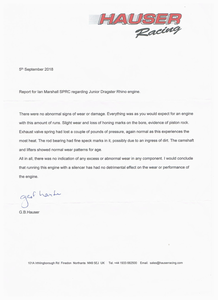 6th December: For several years the UK Drag Racing Tech Committee have been discussing Junior Dragster noise limits, and after two years of testing the Committee have taken the decision to mandate exhaust silencers or mufflers on all Junior Modified and Junior Modified Advanced Dragsters and Funny Cars. Santa Pod Racers Club Secretary Ian Marshall writes:

This regulation comes into force from 1st January 2019 and requires all Junior Modified and Junior Modified Advanced Dragsters and Funny Cars to meet the 113 dB noise limit. Junior Stocks will not require silencers at present, however if a team are running a methanol-fuelled engine - effectively a de-tuned JM or JMA engine - to run in Junior Stock then they must also meet the 113 dB requirement.

Many Junior teams will have noted that Holley Marshall has been testing a JAC Race Exhaust item during 2018 to help us to simplify the transition to silenced engines. During testing it was found that the silencer required little or no change to the car's set-up, although this does not preclude small changes to your own combination. We saw a reduction in ET of only nine hundredths of a second over the eighth, but with increased consistency over the first 330 feet and no detriment whatsoever to the running of the engine.

The engine was freshened by Hauser Race Cars at the beginning of this season, and then re-checked, again by Hauser Race Cars, at mid-season. At the mid-season check there was no indication of any problem; the power levels and consistency of the car have continued to prove this right through the final test session at the end-of-year Flame and Thunder Show.

Click here or click on the picture at right for the report compiled by Geof Hauser on the condition of the engine during the mid-season check.

We would recommend that Junior teams use a silencer of all-stainless steel construction, with stainless wadding. In early testing we used a fibreglass-filled silencer, but this failed due to the methanol causing a chemical reaction which hardened the fibreglass. The company which we used was:

JAC Race Exhausts
Unit 7
Plot 1
Wigwam Lane
Hucknall
Nottinghamshire NG15 7SZ

Tel. 01159 635 556 or 07812 191122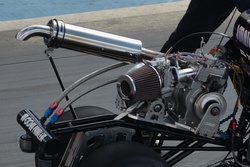 The person to whom to talk at JAC is a Wayne Jackson (not the Super Pro dad). If you get in touch with JAC and tell them that you are looking for a Junior Dragster silencer similar to that used by Santa Pod Racers Club then they should understand.

The silencer costs around £115 plus postage, and comes with a rear clamp. We suggest a support bracket to the rear of the exhaust to carry the weight of the silencer, rather than rely upon the four exhaust manifold bolts to take all of the weight. You will need to cut down your existing exhaust to slip fit the silencer over the current shortened exhaust, and make sure that you make allowances for your EGT sensor to be retained on the exhaust. You will also need a turn-down (part of the exhaust), and you will need to know the outside diameter measurement of your existing cut-down exhaust, over which the silencer will fit.

Finally, although the JAC option is the route down which we chose to go, there is by no means a requirement to use JAC's silencer to the exclusion of others. The JAC silencer is a very good piece of equipment, but if you have an alternative silencer which meets the decibel requirement then you can of course take your own route to achieve the same results.

Overseas racers competing in the UK will be expected to meet the new requirements, as UK racers would be expected to do overseas.

If you have any questions then please call me at the Santa Pod Racers Club office on 01933 313625 (outside the UK +44 1933 313625) and I will endeavour to help with technical questions.

2019 FIA calendar confirmed.
5th December: Many thanks to Lars Pettersson of the FIA Drag Racing Commission for confirming the calendar for the 2019 FIA European Drag Racing Championships, after ratification by the World Motorsports Council:

24th-27th May: FIA/FIM Main Event, Santa Pod Raceway, UK
6th-9th June: Tierp Internationals, Tierp Arena, Sweden
5th-7th July: FHRA Nitro Nationals, Kauhava, Finland
16th-18th August: NitrOlympX, Hockenheim, Germany
22nd-25th August: Scandinavian Internationals, Tierp Arena, Sweden
5th-9th September: FIA/FIM European Finals, Santa Pod Raceway, UK

Lars also tells us that there are changes to safety standards which will be detailed on the next Regulations update on the FIA web site.

The provisional 2019 FIM European Drag Bike Championships calendar can be checked out by clicking here or by clicking on the 2019 FIA/FIM Championships calendar on the left-hand side of any Eurodragster.com page.

Zeon TV 2018 DVDs now on sale.
5th December: Well in time for Christmas, our good friends Helen and David at Zeon TV have released this year's Season Review DVDs. As can be seen below there are no less than ten Reviews this year including both FIA/FIM European Championship events and the spectacularly-popular and -successful RedZone Sports-sponsored Doorslammers. Eurodragster.com is as ever well-represented both with pictures on front and rear covers and with the use of footage from our Webster Race Engineering/Nimbus Motorsport webcam.

DVDs are £14.95 apiece plus £1.50 P+P but some great offers are available if buying more than one.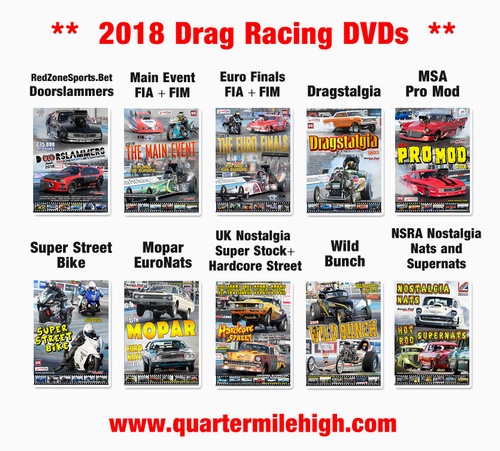 We will post the usual review in due course but as ever the Zeon TV name guarantees quality so there is no real need to wait to order your copies at www.quartermilehigh.com where trailers of some DVDs are also available for your viewing pleasure.

Nicholson seeks Pro Mod crew.
3rd December: UK Pro Modified racer Wayne Nicholson is looking for an additional team member.

"Ideally you would live within easy travel distance to our base in West Yorkshire, two minutes from J40 of the M1", says Wayne. "We are a largely family-based team competing in the MSA British Drag Racing Championship, six or seven race events a year all at Santa Pod.

"Hard work and a definite team ethic are what are required, previous experience would help but mechanical experience is essential. Working at the track and in between events is required, unfortunately this isn't a paid role but you will be fed and watered with free admission to the events with many laughs along the way helping a team and seeing the results, and a beer or two on an evening.

"If you are coming for a free burger and a T-Shirt then this isn't for you.  Pro Mod Racing is hard work, but when it's good it's great."

If you are interested then you can find Wayne's contact details under Drivers/Crew required on our Jeff Bull Race Engines-sponsored Swap Meet.

Web site updates.
3rd December: The Mad Welshman has updated his Flickr site with pictures from the 13th October Run What You Brung at Santa Pod Raceway, which featured the final round of Outlaw Street. You can take a look at www.flickr.com/photos/the_madwelshman.

Swift snippets.
1st December: Jeanette and Eurodragster.com sponsor Jon Webster asked us to say a big Happy 30th Birthday for today (Saturday) to their daughter Shelby Webster. "We are so proud of all Shelby has done and all that she is, a lovely person", they say. Seconded; have a lovely day Shelby.

Wild Bunch honour 2018 winners.

30th November: Claire Meaddows writes that the UK's Wild Bunch racers held their 23rd Anniversary Prize Presentation at Drayton Manor Park last Saturday and that a brilliant night was enjoyed by all:

Many thanks to our long-standing MC Barry Bohannon who did a fantastic job as always, calling the winners and great ad-libs adding to the occasion. All the various Series winners were presented with their awards, with the 2018 Wild Bunch Series win going to Phil James with the Rampage Funny Car, his first ever win of this Series. Many Congratulations to Phil and the team! The Spirit of Nostalgia Challenge Series winner this year was also Phil with Rampage. He also won the Springbridge MSA Challenge Series Cup, held over the three MSA events at which the Wild Bunch compete. This was Phil's third victory in this Series, which is sponsored by Springbridge Direct Ltd to whom many thanks for the Series sponsorship and also the sponsorship of some of this season's event prize funds and trophies. Phil also won the Roy Wilding Nostalgia Race Cars Series, and thanks very much to Roy for putting up prize money for the top four winners of this Series. Many congratulations to Phil on the clean sweep, and to all those who finished in the top four and top ten the Wild Bunch.

The Wild Bunch would like to thank Bob Hawkins of Springbridge and Roy Wilding for their longstanding and ongoing support, and our host of other event trophy and prize money sponsors this season: MJC Property Solutions, Fieldcraft Fabrication, Wiz Training, Sutton Soda Blasting, Team Paranoia, DASH Racing, Team East, Team Ratcatcher Resurrection, and Didier and Francoise Canicave.

Various presentations made during the evening including to Secretary Lynne Coulsell, Website author Ed Yates, and Race Co-ordinator, Treasurer and GM Claire Meaddows and for all their hard work. Presents were given to all the lovely ladies attending. Flowers were given to Claire, kindly donated by Mark Coulsell of Team Limited Funz. Other special presentations included Chris Schreier to thank him for all his hard work, Team Daddy Cool, for Family Achievement during a fantastic Dragstalgia, plus an award for Superstar Début for their fabulous driver Dr Faye Hern, all running in tribute to the dearly-loved and missed Sag Southworth.   There were also commemorative awards for the Coulsell and Cassisi families of Team Limited Funz Racing to celebrate their best-ever season ever with the Ballbreaker slingshot, and a special Wild Bunch Pioneer award given to Bob Hawkins for his début on nitro.

In addition, the winners of the Wild Bunch Special Merit awards were announced:

Big Bang Trophy - Steve and Lesley Field with Black Pig Too
Quickest time by a British-engined dragster (sponsored by Martin Holgate) – Pete Huckle and The Jagster, 10.287
Fastest speed - Bob Hawkins with Time Traveller II, a Wild Bunch Speed Record of 211.01 mph
Quickest ET - Bob Hawkins   in Time Traveller II, 6.929 (backed up by a much quicker 6.624)
Best Newcomer - Pete Huckle with The Jagster
Best Dragster/Radical - James Auld inLittle Fauss
Best Altered -  Mick Hillier in Texas Ranger
Best Slingshot - Paul Bambrick in American Pie
Best Turned Out - Team Dragster Inc with The Villain
Best Achiever - Phil James and Rampage
Perseverance Award - Mark and Philippa Turton with Bitchcraft
Derek and Brenda Annable Trophy - Mike Lacey and Karen Stevens
C & C Sportsperson  - Keith Crampton in Soul Town Shaker
Crew of the Year - Mark Turton for Bitchcraft
Scottie Durrant Above and Beyond Award  – Bob Hawkins with Time Traveller II
Personal Achievement (Daddy Cool Sag Award) - Team Limited Funz with Ballbreaker
Crazy Chris Showmanship Award – Chris Manning and Dragster Inc with The Villain

The greatest accolade of the evening was as always, the Don Garlits Spirit of Drag Racing shield, the most prestigious award in the Wild Bunch, which represents sportsmanship, achievement, perseverance, commitment, presentation and a host of other attributes.  This was awarded to Phil James and the whole of Team Rampage.  The whole team are enthusiastic, committed and dedicated to drag racing and the Wild Bunch. They all demonstrate the true spirit of this award and the family spirit of the club. Big congratulations to the whole team, a very well-deserved win The shield was presented by last year's winners, Team Daddy Cool with Elaine Southworth pictured here with Phil and Rampage crewman Matt Lisley.  Many congratulations also to Phil's brother Mike and sister Alison, who unfortunately couldn't be at the presentation evening but who are very much part of the team's success. Well done also to son Carl, who often gives tuning advice and support from Malaysia, and to Phil's lovely wife Anna, who is a constant source of support. It was a very popular win, and Phil gave a lovely speech afterwards thanking his team, and the whole of the Wild Bunch for their support and encouragement.

Many thanks to Helen and David of Zeon TV for providing the fantastic Season Review DVD which was showing in the background, capturing so many highlights and special moments of the season. We also held a raffle to raise funds for the Club, so many thanks to all who donated prizes. The night was rounded out with champagne for some, dancing, and many hugs and cheers all round.

Many congratulations to all our winners. We can't wait until 2019 to be back out at the drags for the twenty fourth year of the Wild Bunch!

Full info will be posted in due course on the Wild Bunch web site at www.the-wild-bunch.co.uk.

Best wishes for a Merry Christmas and a Happy, dry, safe and quick New Year to all racers and teams, marshals and officials, track and safety crews, photographers, media, promoters, managers and of course the Eurodragster.com staff, who work so hard at Santa Pod Raceway and behind the scenes for this sport of drag racing which we all love so much. Thanks everyone for everything you do!  See you all at the drags next season!

Swift snippets.
30th November: As thoughts continue to turn towards Christmas and gifts for the race fan in your life, artist Paul Whitehouse has been in touch to offer prints and of course commissions. For details and prices of prints or paintings please contact Paul via www.paulwhitehouseart.com or call 07432 564110.



Our good buddy Remco Scheelings is continuing his series of Features on the 2018 European and EDRS Champions on the Drag Racing Europe Blog. Remco's latest victim is EDRS Pro Nordic MC Super Street Bike Champion Mathias Bohlin and you can check out Remco's Feature by clicking here.

Also on the Drag Racing Europe Blog, our good friend Lena Perés has posted Features about the EDRS Prizegiving and about Swedish Comp Eliminator racer Stig Olsson's recent US racing venture.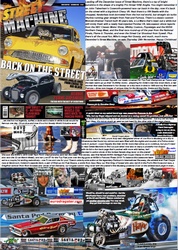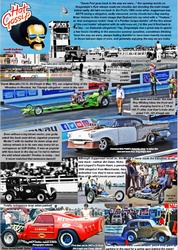 Thanks to Mike Collins for sending us the usual preview of his column in the latest issue of Street Machine magazine, plus bonus material exclusively for Eurodragster.com readers. Click on the images above for the PDF downloads.

Santa Pod confirm Autosport date.
28th November: Santa Pod Raceway are pleased to confirm their annual attendance at Autosport International at the NEC, Birmingham on 10th–13th January 2019.

Santa Pod will be joined on stand once again by Lucas Oil Products UK who will have representatives on hand to explain the company's extensive range of automotive lubricants, treatments, additives and ancillary products, with a selection of products on sale. Representing Lucas Oil on the stand will be the Ford Capri-bodied Nostalgia Funny Car of veteran racer Bob Glassup.



Centrepiece of the stand will be the Santa Pod-branded FireForce 3, the world's fastest Jet Funny Car. Owner-driver Martin Hill and his crew will be on hand to explain the intricacies of the Pratt and Whitney J60 jet engine. And as an appropriate coincidence, Martin Hill will be celebrating thirty years of the FireForce brand with FireForce 1 first débuting in 1989.

You will be able to find the Santa Pod Raceway stand in Hall 2, stand 2680 which is the show's new location for 2019 and which is on the Piazza side of the NEC. Santa Pod Raceway and Lucas Oil UK will particularly welcome media visitors interested to learn more about Santa Pod's special brand of motorsport. Thursday and Friday are trade-only days and Saturday and Sunday are open to the public.

Swift snippets.
28th November: We were sorry to hear from Dave Jones of the death of Lorna Barter after a long illness. "Not many will know Lorna's name but will remember her whizzing around the pits on her electric trike", says Dave. A memorial Facebook page Raise a Glass for Lorna is now on-line. Our deepest sympathies to Lorna's family and friends.

The UK's Venom Nostalgia Funny Car team are looking for an additional team member for 2019. Ideally the skilled mechanic would live around the Benfleet or Basildon areas and be available on Saturdays throughout the year with additional sessions prior to race events. No specific drag racing experience is necessary but a good working knowledge of engines, transmissions and vehicle components is essential. If you are interested then please check out Drivers/Crew required on our Jeff Bull Race Engines-sponsored Swap Meet.

Mister Six book review.

27th November: If you have a short attention span then take our word for it and go straight to mistersix.co.uk to order your copy of Mister Six: The Story of Drag Racing Legend Dennis Priddle, because it's brilliant. If not, then read on.

If you attended, or if you read our report of, the recent British Drag Racing Hall of Fame Bench Race then you will know that UK legend Dennis Priddle was reluctant to become the subject of a book. Not only has he always come across as modest, but throughout his career Dennis preferred to remain a private person. Never unapproachable - legions of fans can attest to that - just private, and that's not an easy thing to do when you consider that driving a Fuel car makes you public property to some degree. Your News Editor long ago reached the conclusion that when they were handing out egos Dennis must have left the queue and nipped off for a pee or something just at the right/wrong moment, because to at least one fan of long standing he simply does not appear to have an ego. It is not within my purview to suggest who might have taken the double helping of ego on that day. Ultimately Dennis was swayed towards approval by the wishes of his wife and daughter, and by proxy his grandchildren, and by the chance to pay tribute to those who helped him. That eventual acceptance must have been as much music to Keith Lee's ears as the book's announcement and the identity of its author were to all of ours.

Dennis has at least received due credit, with induction into both the International and British Drag Racing Halls of Fame and indelible entries in UK and European history books, but Keith is one of a small but select group who have served the sport in various capacities for as long as one can remember but who have not received as much acclaim as they deserve, regardless of whether they seek it (which Keith certainly does not). You cannot be a fan of racing in the UK or Europe without having read something written by Keith or seen his photographs. If you like your nostalgia then open one of your old magazines and some of Keith's work will likely be looking back at you. If you are sufficiently advanced in years then you will have attended races at which Keith could be heard commentating, and of course at Dragstalgia every year he is a welcome visiting expert commenting upon and simultaneously photographing a contingent of bike legends in whose organisation he is involved. Having been around the sport since the Drag Fests, having known Dennis forever, having been there during the classic Skilton, Herridge and other rivalries, and having such a high reputation for his photo-journalism, there was no-one more qualified than Keith to write this biography.

Everything, but everything is in this book from Dennis' childhood through his racing career - every car and bike, every crew member, associate and sponsor, every race, every country and of course Tomorrow's World - and what he has been up to since. The effort which Keith put into his research, and the effort which his wife Annie put into fact-checking and proof-reading, are evident on every page. Bear in mind, too, that when Dennis was racing there was no internet for instant reports and results, and that some of what is available on the web now about that period was written retrospectively and/or with post-event wisdom and has to be read as such. So you either had to be there or wait for magazines or journals which eventually arrived some time after an event. This makes Keith's race-by-race account of Dennis' career even more impressive. There is so much more besides, though, including workshop, war and travel stories, kitchen detail and opinions from Dennis' crew, contemporaries and friends. That the book often reads like a print version of a Hall of Fame Bench Race is no bad thing and is, I think, exactly what a lot of nostalgia fans wanted.

In his opening comments Keith makes it clear that the intention was not hagiography but warts and all, and it is equally clear that Dennis agreed, but upon reading the book it quickly struck Your News Editor that there is little reason to believe that Dennis kissed very many toads anyway. Laugh-out-loud and what most of us would consider merely typically-riotous racing stories abound, but even where there is controversy Keith has gone to great lengths to establish the facts.

With so much information in the book, a fair bit of it necessarily technical, one could be forgiven for fearing that the text might be heavy-going but in fact Keith's writing style is conversational, informative, interesting and so easy to read that the reader runs a serious risk of suddenly noticing that it is getting light again outside.

As things stand the book is only on sale for delivery to the UK but it has to be said that it has huge hit potential with racing fans elsewhere on the planet (at time of writing a copy is destined for Finland via Rogerham Mansions) since even if you don't happen to be able to read English then you would still feel that you had had more than your money's worth courtesy of the sheer number and quality of on- and off-track and behind-the-scenes pictures, both colour and black and white, featured on every page. What also helps is the beauty of the vehicles which Dennis campaigned and the photographs stand as a tribute both to Dennis and his team who built them, and to those who painted them: be prepared, for example, to catch your breath at the double-page spread of cars painted by Jeff Glasser. Some pictures, such as the definitive shot of Mr Revell on the front cover which still makes Your News Editor gasp in admiration, are instantly recognisable from use in years gone by but Keith has gone deep into the archives to bring us previously-unseen photographs which are a revelation (Your News Editor didn't know about the Avenger Funny Car in yellow), Dennis himself took some of the pictures and supplied others, and other photographers have allowed the use of their work, Roger Phillips' works of art being a notable example. As if the photographs are not enough there are also line drawings, chassis blueprints and other technical illustrations.

With Dennis' life covered in such detail and in so many chapters it is not easy to pick a personal highlight, but one of several chapters vying for favourite is that tracing the history, current location or fate of Dennis' own race cars and those which he built for others. We are all aware of, and grateful for, the continued use of a Monza body of Dennis' on Phil James' Championship-winning Wild Bunch car but it is fascinating, and in a few cases heart-breaking, to read an authoritative account of the continued life, or not, of the rest of Dennis' kit. This includes the location – by Eurodragster.com's own Simon – and restoration of Mister Six but the book is sufficiently up-to-date to include details and a rendering of the recloaking of Paul Harris' Nostalgia Funny Car with a Monza body sporting a Darren West-designed paint scheme inspired by the colours of the car which Dennis built for Olavi Knuutinen (see our news update of 17th November for more).

With Christmas approaching, Mister Six: The Story of Drag Racing Legend Dennis Priddle would be the obvious present for the race fan in your life, if not for the fact that making someone wait another few weeks for this excellent book would constitute mental cruelty. Christmas or not, £30 including UK delivery is a gift for several thousand words and hundreds of pictures and a thoroughly enjoyable read which does not just Dennis, but UK and European drag racing, proud. You can order your copy at mistersix.co.uk. Orders are currently only accepted for delivery in the UK but there is nothing to stop you ordering a copy to send overseas yourself.

How proud can a dad be?
26th November: The answer is "Very", says Team Dark Horse patriarch and no mean racer himself Brian Huxley:


An awesome first race at the Festival of Power where my son Marc entered my 1964 Mercury Comet in Hutchinson & Dibley Sportsman ET. I bought this car from Pennsylvania in 2016, already set up for Super Stock but it had never been down the quarter mile since being built some years ago. So we went into competition with this unknown vehicle and the story went like this: in qualifying dialled in 15.70 and ran 14.08. Marc was not used to a stick shift on the wrong side, also the LSD was only working now and again plus we were on a new track. Marc won the meeting and took the trophy and money, how pleased could we be? I went into Modurstang Pro ET qualifying in the Dark Horse Mustang with a dial-in of 9.45 and ran a 9.63 on the new track so we were pleased with that. But Pro ET was cancelled so that was that.

Next time out it was Lee's turn at Rockingham for the No Prep race. No lights just a torch start and we got to the final against Ian Brown's son Harrison in the Thatadoo Camaro and Lee won that one.


The next meeting was the new Doorslammers on 19th-20th May and what a brilliant meeting that was with lots of wicked door slammer cars entered. Lee did his job again and ploughed through in the Mustang to take the £5000 win in OCS Group Big Bracket 2. We were ecstatic and I must say at this point that the photo which Kirstie took of the team celebrating on the start line was absolutely brilliant, thanks Kirstie. We all celebrated on the way home with a slap up meal at McDonalds.

Our next meeting was the FIA Main Event with Lee in the Terry Gibbs Super Gas Shootout and myself in Pro ET. I got through two rounds and went out in the third round, Lee not so good but we tried. At the SPRC Summernationals I got through two rounds in Pro ET before being taken out by Bob Molden, who got me by a few inches. Next up was Hockenheim in very warm weather. Lee qualified seventh and did very well but got taken out by the eventual winner Will Clark. We got a third place trophy though then we were runner-up at the last No Prep race at Rockingham.

At the FIA European Finals in September I qualified number one in Super Gas with a 9.903, which made my day, but it didn't last long and I finished up number three. I got through two rounds before the Morrice boys turned up in the other lane and that was my day over. Lee on the other hand was on fire in Pro ET, cutting good lights when he needed to. Lee got through to the final against the Browns' Camaro and it was a good close race against a well-established racing family, but Lee took the win.

The last race was the UK National Finals where alas Lee went out in the third round but he won us enough points to get the runners-up in the UK National Pro ET Championship.

So what can I say, all in all a great season with a great team. All thanks to Andy Walker and Tim Hines and to Lee for some awesome driving. Thanks also to our sponsors ETB Tyres Worcester, Sneddons Roofing Worcs, Bradfords Building Supplies Worcs, CARS Car Sales Worcs, Aldley Builders Worcs and Forbes and Andrews.

Cam Auto Stick with Jordan.
24th November: UK former Junior Dragster racer Jordan Payne has announced that CAM Auto Developments Ltd, who have supported the Sticky Situation Racing Team for ten years, will be continuing their support in 2019 as Jordan makes his début in the Sticky Situation Racing Corvette:

Thanks to Cam Auto Developments Ltd, the Corvette's Lifeline fire extinguisher has been serviced and we have now fitted the Goodridge hoses and fittings needed to complete the motor in its new single carb configuration. We hope to be testing the engine on the ICE Automotive dyno within the next few weeks.



I had a lovely meal with Ian and Anita of CAMs, discussing the future of my racing and their future support, and discovered that 2019 will be CAM Auto's thirtieth year of trading. Congratulations to the entire CAM Auto Developments team!

If you are looking for new extinguishers for next season, need your existing extinguishers serviced, or want to plumb your car with the latest Goodridge Hoses visit www.camauto.com. To read more about Jordan and his progress with the Corvette visit the Sticky Situation Racing Facebook page.

Swift snippets.

24th November: Further to Thursday's news item, a gallery of Julian's pictures from the British Drag Racing Hall of Fame Gala is now available in association with Lucas Oil Products. You can check it out by clicking here or by clicking on the Features, Interviews, Tributes link on the left-hand side of any Eurodragster.com page.

It's getting towards that time when one's thoughts turn to Christmas presents for race fans and John Arnold has been in touch offering T-Shirts and Hoodies featuring the Top Fuel design at right. The screen-printed design comes on black Gildan heavyweight shirts available in sizes S-2XL. T-Shirts are £13 and Hoodies £25, both post-free, and you can order at outlawdragclothing@gmail.com.

Santa Pod Raceway are offering 50% discount on 2019 Festival of Power tickets until midnight on Monday. You can get your discounted FoP tickets at www.eticketing.co.uk/santapodraceway.

We would like to say a big Happy 70th Birthday to FIA Drag Racing Commission and UK Tech Committee member and incoming Motorsports UK Speed Event Committee Chair Phil Evans. Have a great day Phil.

Also on the subject of the FIA Drag Racing Commission, best wishes for a long and happy retirement to NHRA's Graham Light who oversaw his last event at Pomona a couple of weeks back. You can read more on Competition Plus by clicking here.

BDRHoF do the honours.
22nd November: The thirteenth annual British Drag Racing Hall of Fame Gala Awards Dinner, sponsored by Lucas Oil Products, was held last Saturday at the Oatlands Park Hotel, Weybridge, Surrey, and enjoyed by more than two hundred attendees. New inductees to the Hall of Fame from the sport in the UK were joined by a group of ten UK and Swedish drag racing legends in an entertaining Bench Racing session. The Gala is one of the leading motorsport presentation events in the world and the BDRHoF would like to thank everyone who made it possible.

The evening, compered by writer and former NHRA Motorsports Museum Director Tony Thacker, included the induction of five new members of the Hall of Fame, presentation of the Lucas Oil Global Achievement Award and two Lucas Oil media awards for lifetime achievement in drag racing photo-journalism, and special surprise presentation for a drag racing legend who created and has run the legendary Pure Hell Fuel Altered for over fifty years.

The Lucas Oil Global Achievement Award, presented for global impact in the world of drag racing, was awarded to the SFI Foundation in recognition for raising safety standards in drag racing and motorsports in general. The SFI standards applied to drag racing and other forms of motorsport have undoubtedly saved lives. Accepting the award on behalf of the SFI Foundation from Motorsport UK's Cheryl Lynch was SFI Foundation vice-president Jennifer Faye.



A BDRHoF/Lucas Oil Products special trophy went to Rich Guasco who debuted the first Pure Hell fuel altered in 1964 driven by the late Dale Emery who was a special guest at last year's gala. Rich's award joins his Roadster Show Hall of Fame, San Francisco Roadster and Custom Motorcycle Hall of Fame and membership of the International Drag Racing Hall of Fame from 2011.

The two BDRHoF/Lucas Oil Products media awards for lifetime achievement in drag racing photo-journalism were presented by BDRHoF sponsor Geoff Stilwell to Roger Gorringe and Andy Willsheer, who between them have more than ninety years combined of reporting on the sport and have been visiting the US for over forty years apiece.



The 2018 inductees to the British Drag Racing Hall of Fame were:

Pioneer UK dragster racer Gerry Cookson, wife Joan with son, former drag racing magazine editor and Shakespeare County Raceway promoter, Jeremy Cookson'

Santa Pod and Motorsports UK International Speed timekeeper and former Jet Dragster racer Steve Horn, presented by Santa Pod Racing Operations Manager Darren Prentice;



European Top Fuel Dragster tuner and racer, and 1994 European Top Fuel Association Champion Peter Lantz, presented by SPRC director Ian Marshall with SPR CEO Keith Bartlett.

Pioneering visitors to the US Nationals in 1970, innovative motorcycle drag racers Team Pegasus, presented by fellow legendary bike racer John Hobbs;



Nine-time UK Pro Modified Champion and car constructor for over twenty five years Andy Robinson, presented by UK Top Fuel and Funny Car legend Dennis Priddle.

Trophies were sponsored by the Santa Pod Racers Club.

The Gala day also included the fourth Bench Racing Session, sponsored by US Automotive/Custom Car Magazine with British Top Fuel and Funny Car racers entertaining a packed audience with tales of their on and off-track exploits back in the day. The session, which marked the publication of Keith Lee's book Mister Six: The Story of Drag Racing Legend Dennis Priddle was introduced by Graham Beckwith, former Santa Pod Raceway and York Raceway announcer. Racers present were Gary Page, Barry Sheavills, Pelle Lindelöw, Andy Craddock, Steve Read, Brian Savidge, Stu Bradbury, Dennis Priddle, Roy Phelps and Geof Hauser.

The event would not have been possible without practical help and support from title sponsor Lucas Oil Products, major sponsors US Automotive and Santa Pod Racers Club, and event sponsors Beech Underwriting Agencies, BUA Motorsport, Kelsey Publishing, DialAFlight, National Street Rod Association, Rat Trap Racing, Straightliners, Atlantic Fluid Tech, Chair Office, Santa Pod Raceway and Prop Portfolio. Thanks also to Shakespeare County Relics and Eurodragster.com for their support.

Pictures by Julian Hunt, Eurodragster.com

Swift snippets.
22nd November: We would like to wish all of our friends in the United States of America a very Happy Thanksgiving.

Swift snippets.
20th November: Thanks to Keith Furness for letting us know that Andy Willsheer's pictures of the British Drag Racing Hall of Fame Bench Race and Presentation are now available for viewing and ordering on Photobox by clicking here.

Our good buddy Remco Scheelings is continuing his series of Features on the 2018 European and EDRS Champions on the Drag Racing Europe Blog. Remco's latest victims are FIA European Top Fuel Dragster Champion Anita Mäkelä, EDRS Pro Nordic MC Super Comp Bike Champion Peter Östlund, and FIA European Top Methanol Champion Dennis Habermann.

The news about the appalling theft of the Stardust Funny Car chassis has made it on to the BBC News site local to Santa Pod Raceway. Unusually for the BBC they have somehow managed to restrain themselves from blaming President Trump or Brexit. You can check it out by clicking here and for more about the theft, including what to do if you know anything, check out last Wednesday's news update.

Hall of Fame Bench Race report.
19th November: The Bench Race at yesterday's British Drag Racing Hall of Fame Gala served as the official launch of Keith Lee's excellent new book Mister Six: The Story of Drag Racing Legend Dennis Priddle and as well as Dennis himself the Bench Race panel comprised those who were there at the time and so had an association with him either on- or off-track: Gary Page, Barry Sheavills, Pelle Lindelöw, Andy Craddock, Steve Read, Brian Savidge, Stu Bradbury, Roy Phelps and Eurodragster.com sponsor Geof Hauser.



MC Graham Beckwith opened proceedings by asking Dennis on his thoughts about being the subject of a book. "I'm immensely proud", said Dennis. "I didn't want to do it but I was put under pressure by my wife and my daughter. My daughter put me seriously under pressure - she said I owe it to my grandchildren. It has been a long road; I can't believe the effort which Keith and Annie have put in. Annie put in so much time checking that the facts were right. Keith made a list of all the things he wanted to ask me and over two years he asked me each question half a dozen times to check that I gave the right answers.

"I have tried to be honest and thank those I should thank. I have always tried to be a private person, if I was a miserable bastard people would steer clear of me and it worked!

"It's a chance to remember the people who helped me along the way who are no longer with us and we remember them today."



Geof Hauser, who worked with Clive Skilton, said that Dennis and Clive were the best of friends off the track but had a good rivalry on it. "It was fifty per cent circus and fifty per cent racing", said Dennis. "We were in the entertainment business. Clive and I had an unwritten rule not to overdo it, to set limits to our nitro loads so that it didn't spiral".

"It cost us way more to race than it did in the US", said Geof. "Every box which came from the US was like Christmas, parts to carry on the battle."

Roy Phelps mentioned old suspicions that races were fixed. "I can assure everybody that when they get side-by-side it's competition", he said. "We seem to have drifted away from the core of racing - the best thing we could do is to get rid of timing equipment. It's first to the line! The tension has been lost. The commentator used to control the crowd but now it's the anticipation of the ETs. It's who crossed the line first!"



Andy Craddock said that there weren't many Fuel cars when he and the Frontline team started. "Dennis' cars were always immaculate and he was always there with good advice", he said. "I watched Dennis and Clive race and them in my twenties I had the opportunity to race against them and it was mind-blowing."

Graham asked Brian if Dennis had been a hard taskmaster. "No", he said, "but I look back on it and it seems it was every other weekend. I had a marriage break down over it but I look back on it with great fondness."



Graham then asked the panel how Dennis had inspired them. "When you first go up to Santa Pod you aspire to racing a Fuel car", said Gary Page. We bought cars off Dennis and we were in awe of him. Rune has learnt from Dennis, he's a miserable bugger! Dennis and Clive and Bootsie were the leading lights. You can only aspire to be anywhere near Dennis."

"When I first started Dennis and Clive were there and that's who you wanted to be!", said Barry Sheavills. "His cars were beautiful with their workmanship and engineering. Dennis was my inspiration. I was able to buy one of his chassis and the engineering was superb. This book launch could not be better for someone in European drag racing..."

"Tor Line have a lot to answer for!" interjected Dennis.

"...I always aspired to be a Junior Dennis Priddle. If you started in the Junior ranks then you looked at who you wanted to be and that was Dennis."



"I don't want to go on without mentioning Bootsie", said Dennis. "Some of our races were phenomenal. We ran at a Firework meeting ans the instruction was "Put a show on". Go hard off the line and then click it off. That wasn't going to happen! I got sideways and got off it then Bootsie was back on the throttle. When we got to the other end we were in hysterics. Bob Phelps told us "If you do that again you're not coming back here again!"

"I rest my case!", said Roy. "There's a lot goes on behind the scenes which nobody knows about."

Steve Read said that Dennis' and Clive's duels inspired so many people when he started going racing. "I got introduced to Prid when Dad bought the Quartermaster", he said. "I have raced on my own dollar and that is mentored by Dennis - he proved you don't have to have a lot of money. We had a lot of laughs, Dennis taught me what you could and couldn't do and the most important thing was never give up. I'm proud to be his friend and to have crewed for him."



Pelle Lindelöw said that he was Dennis' favourite Scandinavian driver. "I liked the way you prepared the car and your ethos", said Dennis. "Dennis had a different way of qualifying", said Pelle. "That was when you qualified first and I screwed up!", said Dennis. "It was going to be Harlan Thompson or I who ran the first five and we qualified together. We had a new clutch pack in the car. I did the burnout, came back and I screwed up - I didn't put it in low gear. It didn't do the new clutch a lot of good. I ran 6.8 and Pelle ran 6.0 and I had him in the first round. We looked at the clutch and we would have given up but the deal with the promoter was that if I didn't do what I said I wouldn't get paid. So we put it back together and ran a five! Pelle's little daughter who must have been about seven went and picked a posy of flowers and after the race she gave them to me and said "I picked these to give to you because I thought you'd lose!". "She is now forty one", said Pelle.

"It was good fun", Pelle added. "We considered Santa Pod our home track because we had been there so often. It was as close to America as you could come. When we were talking about marking fifty years of racing in Sweden at Tierp I wrote to Dennis and said we'd like to celebrate it. The next day he replied that he had booked the flights and booked the hotel! People really enjoyed it, and now they want to know about next year for the fifty one-year celebration!"

"On occasion I wondered why I was standing between the cars on the start line", said Stu Bradbury. "You'd get bits flying and some of them hit you, but I wouldn't have been anywhere else. Most of my memories are what went on after a race. I remember run-ins with Tony Nancy and Jack Bynum who had a cracked block and blamed me for it! So many things went on". Graham asked Stu if he had ever had a go on the track. "I had a go a couple of times", he said. I had a go in the John Woolfe Racing Scout. Dave Riswick lent me his helmet and it was round the side of my head at half track and all the way round at the finish. I couldn't see but I didn't want to go into the corn field because Ernie Braddick would charge us for it. There are a lot of characters, some with us and some not, and they just made the sport."



Dennis was asked from the floor what the "Boat story" was. "The first time we went to Sweden in 1968 it took two nights on the boat", he said. "The next year we went from Hamburg. They had problems in Sweden with moonshine and it got a but raucous at Anderstorp and they banned spectators at drag races for a number of years. The next time we went with Tor Line and we had assisted passage. This boat was much quicker, carried about eighteen hundred people like a mini cruise liner. A trip to Sweden was an adventure, the majority of us got off the boat out of our brains!

"My boys were volunteers but I wouldn't have them sleeping in tents or eating in greasy spoons. On the boat they were introduced to smorgasbord. You would not believe how much marinated salmon one person could eat. We'd go in when the smorgasbord opened and stay until they threw us out!

Graham asked Roy to describe his behind-the-scenes work. "I was there from day one", said Roy. "In 1982 Santa Pod went bust and I was challenged to bring it back to viability. At that time I had to deal with governing bodies and I had to learn to be a politician. You had people telling you what you could do. The RAC were a hindrance, backed by the FIA who were a hindrance, the NHRA were not interested and it was a long time before they came over here. It was a constant battle, the number of times I was on the phone and I was told we would lose our track licence."

Andy was asked from the floor about mismatching wheels on his Pro Fuel Dragster. "We were using a unit on an industrial estate", he said. "It was empty on Sundays. One day we started the car up on the ground, Steve Clark told me to blip it. The road was concrete so it had good grip so off I went down the road. At the end of the road there was a T-junction, I hit the kerb which knocked my foot on the the throttle and I went through the fence."


Geof explained how he ended up working with Clive Skilton. "I first got interested when I was working as a paper boy delivering Hot Rod and Car Craft and seeing the cars", he said. "When I was fifteen I went to stay with relatives in Canada. I hitched a hundred and twenty miles to my first drag race. I knew about Santa Pod but I was fifteen and had no way of getting there, but in 1969 I went on a Lambretta. I was also into making models and I would customise Airfix kits with big wheels. I wanted to get involved and I started to help Alan Wigmore. We would race at different airfields. Alan took me for a ride in Itzaviva, I was sitting on the floor hanging on to the roll cage whilst he drove down the road.

"Phil Cornish and I grew up together, he knew the Beadle brothers and Don was crewing with Clive. I got involved with working on the car."

Roy said to Geof that magazines did it for him too. "My dad used to go to London and come back with armfuls of magazines", he said. "They inspired me to build my Plymouth pick-up."

Graham asked each panel member whom they would take for a ride in a Two Seat Dragster. "Someone from Formula 1", said Barry, "because they think that's the ultimate. I'd want them to experience what we experience."

"I don't think they look down on us", said Dennis. "We put on a show in Luxembourg for Goodyear and I met Denny Hulme and John Watson. Denny would only get in my car if he had the rotor arm out of the mag. He said "You're not starting that thing with me in it!". I'd like to put Prince Charles in a car to prove to him that you can live without being married to someone who looks like a horse."

"We had a match race between a Formula 2 racer and Lee Anders Hasselström", said Pelle. "We had a press conference then at Mantorp the Formula 2 car started eight hundred metres back in the pits, a flag man flagged Lee Anders as he came past and Lee Anders caught the Formula 2 car in ten metres."

"I would take my son Tom to show him what his old man used to do", said Andy. "I wouldn't mind being taken for a ride myself in a modern Top Fuel car."

"Anyone who sits in a Top Fueller as a passenger must have less brains than anyone who wants to drive one!", said Dennis.

Steve said that he would take his wife Heather, aka The Banker. "You can't describe it and I would like her to know what it is like", he said.

"It would be me!" said Brian. "I have a 1932 Roadster which I run in Run What You Brung and I would love to take my grandson."


Stu agreed that he would take the passenger seat himself. "I would love to have a go just one time", he said. "Having seen what these guys do it's something I'd love to do. But I've had my fun and those days are gone. There is no place on Earth like being between two Fuel cars. You have to experience that if you can."

"I have driven the things and I have worked on the things but it's still a buzz every time I go on the start line", said Gary. "There are lots of people who have been disrespectful who I'd put in a car, or Mark Hawkins who owns the Funny Car so that he knew what it was like."

"I remember sitting in a Fuel car looking at the two bearings on the back of the blower", said Dennis. "You look either side. The most phenomenal buzz you can have is to do a proper burnout in a Funny Car with handfuls of lock. The sheer joy of doing a burnout, the motor going through absolute torture and it's under your right foot."

"We were asked to do a race at Surfer's Paradise", said Steve. "Everyone was trying to make their cars hook up, we left out set-up on ninety per cent nitro. I did a 150-metre burnout, backed up and did it again. I trashed a set of tyres down to the canvas but people realised the power of the cars". "Sod the racing, just do burnouts!", said Dennis.

Dennis was asked about the first Six and in the course of his reply got on to one of the subjects about whom we all wanted to hear. "I wouldn't have said I knew it was a six", he said. "Sometimes you can tell you've done a good run or the car's working.

"People ask how difficult the car was to drive. I felt that in my day you could put anyone in the car and that if they did what you told them then they would run close to you in a few runs. Well, I put Maggie Philbin in the car and I proved categorically that you couldn't do it. I told her that the car had 2000 horsepower and she said "I've got an 1800 Escort". I was convinced that you had to get in it, stomp it, count to six and pull the chute but I proved that wrong. We must have screws loose, what makes you want to get in one of these things?

"I have had some trouble in my time with boy racers. They say to me "How fast have you been then?" and I tell them two hundred and fifty miles an hour - but a hundred miles an hour in a second and they just can't compute it. Someone said "If you understand then no explanation is necessary. If you don't understand then no explanation is possible"."

Graham asked the panel members for a favourite story. "Vic Hammond, you had to walk away from him because your sides were hurting from laughing", said Gary. "He worked in film and told us that he was on a set and two people came running past. "What's the matter?", he asked and the reply was that two lions had escaped from a set. "Which direction?" he said and the reply was "Well they ain't f*****g chasing it!". Tony Boden would never take cigars off us because we always set him up with exploding cigars. We were in a restaurant and loaded one up and persuaded the governor to give it to him. The powder was a long way down and it took a time but it went off and went all over his face and we were all rolling on the floor."

"Going to Sweden was non-stop laughter", said Barry, "but one story from here was that we used to stay in the Nag's Head. We stayed there a lot and I got to know the landlord and landlady and they used to let me use their room. The crew were all in one room and I was in a double which was nice but there was no toilet. One night the crew put a wardrobe in front of my bedroom door, I got up to go to the toilet, waled out of my bedroom and walked straight into the wardrobe. The door shut behind me!"

"I was strapped in behind the start line waiting to run and I was watching Liv Berstad in front of me", said Pelle. "She went through the finish line and I pulled my chute! That's how deep you concentrated."

"I was in the car and I could hear a rattle behind me", said Andy. "I tried to communicate it to Steve Clark but in the end I had to shut it down. There's no sign language for "There's a rattle behind me"!"

"We raced at Le Mans and we travelled with the Stones", said Steve. "We had CB radios. Dennis Stone radio'd "Do you want tea?". "I said yes and twenty tea bags came out of his window and flew back towards us. On another occasion we got back to the hotel after a race and Prid decided to have a party, in my room. There was no music but Dennis' C30 had good speakers. We couldn't hear the music so we drove it through the box hedges to get it closer. I told them "I'm a tree surgeon, I'll fix them". In the morning we were fast asleep and there was banging on the door. The carpet, which had been white, was black because people had bits of track on the bottom of their shoes, the walls and celing were red from wine. We tried to do a bunk but Prid got caught and had to pay out of his prize money. We chipped in for him and he ended up with more!"

"Dennis' 6.04 was a major highlight", said Brian, "and Roy gave us Garlits' car to run Dennis' motor, that was a privilege. Dennis was on the show circuit in Germany and Barry and I would take turns to go out there. Dennis broke a blower belt and did some damage so I had to take some parts, I got to customs and had to explain. Where we did the burnout was unauthorised". "They cut off a padlock to get in!", said Dennis. "They just didn't understand. They wanted us to to a burnout in one street and there was a drainage ditch across it."

"I drove Liam Churchill's Funny Car when he had a back problem", said Geof. "I qualified with a 7.3 and I was racing against Dennis in the first round. I was on the start line beside Dennis and suddenly I couldn't hear my engine. I thought my engine had stopped, I could only hear Dennis' engine because his exhausts were pointing straight at me. I beat Dennis but I touched the centre line. I thought "I hope no-one saw that!" but unfortunately they did so Dennis won the race and went on to win the event."


Roy told of an invitation to take eight cars to Bologna in Italy. "We stopped for a comfort break in the Alps", he said. "Daddy Stone had everything to make a cup of tea in his van. He said "This tea doesn't taste right". We had to tell him "We're on top of a mountain, water boils at a different temperature"."

"Bob and Roy Phelps built the toilets at Santa Pod", said Stu. "When one filled up they would dig another. One night we had a drink and music and then our guitarist disappeared. We went looking for him and we could hear his voice: "Help, help". We went into the men's toilets, he wasn't in there but we could still hear him. We went in the ladies' and we found him in the pit. He went in there to be sick, his false teeth fell out and went into the pit, he leaned in to get them and he went in with them. I don't know if he found his teeth and if he did I don't know if he put them back in."

"We raced at Le Mans, the most phenomenal place I ever raced", said Dennis in closing. "Sixth thousand people, hanging off every lamp post. We were staying in a hotel and asked the manager for a proper French restaurant. He organised cabs, we drove for miles and pulled up outside a galvanised metal shed. One end was partitioned off with formica tables. But we had a superb meal and with racers there it was getting a bit raucous. There was a wedding there and the bride came in and said "You are having so much fun, can we spend some time with you?". That's one of the more savoury stories I can tell."

For more Priddle-isms you can order your copy of Mister Six: The Story of Drag Racing Legend Dennis Priddle at www.mistersix.co.uk. A review will appear here on Eurodragster.com shortly but believe us Keith Lee has done a great job so it's not really necessary to wait.

Editor's note: A big Thank You to Andy Thetford for cashing in his pension then selling his wife to buy Your Reporter two pots of tea.

A return for Mister Six.
17th November: Today's British Drag Racing Hall of Fame Bench Racing session was kicked off in fine style, as it provided a fitting venue for the official announcement by Keith Lee regarding the return of a legendary name to the Nostalgia Funny Car class. We are pleased to release the details here on Eurodragster.com simultaneously for those not attending the event.


When Paul Harris imported the Chi-Town Hustler, which appeared at Dragstalgia, it was only a part of his plan to go racing in this exciting class. Paul's real intentions can at last be revealed.

Since the appearance of the car at Dragstalgia, what has been going on in the background will both surprise and delight Nostalgia fans, as it will result in a return of the Mister Six name on the front of a sleek black Monza, which will act as a fitting tribute to legendary racer Dennis Priddle and evoke memories of him competing in the Olavi Knuutinen Funny Car. The bulk of the major conversion work to mount the new body has been painstakingly carried out by Dennis and long-term crewman Brian Savidge. Paul himself is very much looking forward to familiarising himself with driving the machine in 2019.

The reason that Keith's biography on Mister Six has been kept under wraps until the launch date is that it had been timed to coincide with the revelation of the super renderings of the new car, produced by Darren West of Power Race Graphics. The final chapter of the book contains more details of the new entry, which embodies the very best aspects of this much-loved iconic race car from the golden age of the Seventies.

King back in the hot seat.

16th November: Following their success in securing an outstanding eleventh FIM European Top Fuel Bike Championship with new rider Filippos Papafilippou from Greece, the Gulf Oil Dragracing team round off their season with a return to the US with former rider Ian King in the hot seat for this weekend's MFC World Finals.

Once again, longtime team backers John and Dea Morgan Racing from Palm Desert California have joined Gulf Oil to activate the trip to South Georgia Motorsports Park in South Georgia with additional support from Joe Koenig of Trim Tex.

Following the decision to ship his operation to the US, Ian said "Our team have enjoyed a great year with Filippos 'Fast Fil' Papafilippou exceeding all expectations to run deep in the five-second zone in his very first races and securing his first and my team's eleventh FIM European Championship. But it is strange for me as Team Principal to watch another rider on the bike I conceived and raced so successfully for the last few years and so I am blessed to have the chance to ride it in anger again this year. I am very much looking forward to this race, we have such good friends in our class, fans across the world and awesome sponsors and we hope that we can perform well at the event. We would like to thank Fast Fil, Gulf Oil, John and Deanna Morgan, Joe Koenig, Scott and Michelle Perri Roethemeier, Andrew 'H' Smith and Jay Regan of MFC alongside our fantastic technical partners who have stepped up again to make it happen."

For more information on the Gulf Oil Dragracing team please visit their web site at www.gulfoildragracing.com, their Facebook page, and their YouTube Channel at www.youtube.com/kingracingpuma. For more information about Gulf Oil International please visit their web site at www.gulfoilltd.com.

The Gulf Oil Dragracing team uses and endorses exclusively Gulf Oil greases and lubricants in their history making machine. The team is extremely proud to be supported by many leaders in their chosen markets in their participation in the 2018 FIM European Championship:

APE - The world's most innovative manufacturer of aftermarket parts for drag bikes
Barnsdale Leisure - The UK's Premier Knaus Caravan dealer
Cometic Gaskets - The premier manufacturer of racing gaskets
Gates - The world's most trusted name in drive belts, hoses and hydraulics
Goodridge - The original and the best in fluid transfer systems
Grand Prix Originals - The brand for drive and lifestyle, past and present
Graphite Additive Manufacturing - A leader in 3D printed technologies and rapid prototyping
Gulf Oil International - The world's most iconic brand in automotive fuels and lubricants
H Craft Customs - Race car preparation, roll cages, fabrication and custom projects
Hotrod Hangar- Home of the world renowned custom artist Knud Tiroch
Hyperpro - The leading producer of progressive suspension products for motor bikes
JE Pistons - The world's premier manufacturer of high performance forged pistons
John and Dea Morgan Racing - The creators of the world's most advanced New Age Funny Bike
Kibblewhite Precision Machining, Inc -The highest quality valve train components on the market
Mickey Thompson Tyres - Simply the best drag race tyres in the world
MRE - Leaders in trackside support for drag race components and air shifting systems
MTC Engineering - Manufacturer of clutches for the fastest motorcycles in the world
NitroShutter - Europe's leading drag racing photo-journalists
NCT Engineering - Manufacturer of the world's leading non contact torque sensors for motorsport
NGK Spark Plugs UK - The world's number one spark plug manufacturer
Pär Willen - Master webmeister and proprietor of HarleyDrags.com
Scott Perri Trucking - Logistics solutions par excellence
Portable Shade - The best custom branded collapsible canopies available
Pro Alloy Motorsport - UK's leader in fabrication of alloy racing tanks, intercoolers and radiators
The UK's largest importer and stockist of Thule RV products -
Trim-Tex - The premier manufacturer of vinyl drywall beads and accessories
Tryka LED - The UK's cutting edge LED lighting manufacturer
Van Es mobility - The leading manufacturer of telematic products for management of moving objects
Vanson Leathers - The most iconic brand in motorsport leather goods
Web Camshafts Inc - Simply the company for Top Fuel Bike camshafts
Worldwide Bearings - The world's leading supplier of ceramic bearings for racing
Zodiac - Europe's largest supplier of performance and aftermarket HD parts

Swift snippets.
16th November: Next with a 2019 calendar are AF Photography whose first run has sold out but who would be willing to print a second batch if demand was sufficient. The calendar is A3 and contains forty five images of Volkswagen Drag Racing Club race cars. It sells for £8 plus £2.95 P+P and you can order by E-Mailing missfitracing@gmail.com.



After four years of testing with Swamp Rat 37 and reaching an electrc dragster World Record of 185.60 mph in 7.25 Seconds, Don Garlits has decided that it will take a lighter Swamp Rat to reach the magic 200 mph. The new Swamp Rat will weigh in at least eight hundred pounds lighter than the old car. Built entirely in the Garlits facility by Chris Bumpus under the direction of Big Daddy himself, the new car resembles one of Garlits' earlier Swamp Rats. Don said "Why do I need a chassis that harnesses ten thousand horsepower when I only have a thousand?". Testing begins today.

Our good buddy Remco Scheelings has started a series of Features on the 2018 European and EDRS Champions on the Drag Racing Europe Blog. So far you can catch up with FIA European Pro Stock Champion Bengt Ljungdahl, EDRS Pro Nordic MC Top Fuel Motorcycle Champion Thomas Pettersson, and FIA European Pro Modified Champion Jimmy Ålund.

VP Racing Fuels win at SEMA.
16th November: Eurodragster.com sponsor VP Racing Fuels' Stay Frosty Race Ready Coolant was one of fourteen new products voted best by SEMA's panel of international media in Las Vegas recently.


"VP is recognised around the world as the leader in liquid technology and we're accustomed to helping competitors win races, Championships, and extend engine life" said Alan Cerwick, VP Racing Fuels President and CEO. "In receiving this prestigious award it shows consumers and resellers that we continue to be on the forefront of developing products the market needs. Our R&D team worked hard all year, as they always do, and this award is not just for Stay Frosty but for them as well."

Overheating an automotive or motorcycle engine will not only ruin an outing but can cause significant, costly damage. The technology employed in Stay Frosty High Performance and Stay Frosty Race Ready Coolant is aimed at helping engines stay healthy, and in race engines can reduce temperatures by as much as 100°F. An added bonus - since there's no glycol, means track surfaces won't get slippery if there's a spill or leak.

"VP has an unrelenting desire to improve, to make something better" said Bruce Hendel, VP's Vice President, North America Sales – Race Fuels & Consumer Products. "Our new Stay Frosty and Classic Lubricant lines are just a few of the many new products customers can count on to power and protect their passions."

For more information about VP and its products for racers, enthusiasts, and general consumers visit www.vpracingfuels.com.

Stardust chassis stolen from Santa Pod.
14th November: The chassis of the Don Schumacher's iconic Stardust Funny Car, which raced at Santa Pod in the 1970s, has been stolen from Santa Pod Raceway. The chassis was on display with the Stardust body at Dragstalgia this summer prior to a complete restoration by top Swedish restorer Janne Johansson, due to start this year.


Trakbak Racing CEO Keith Bartlett commented "It's a devastating blow, at Dragstalgia I announced the fact that we were sending the car to Sweden for a full restoration at huge expense by the best in the business, for the sole reason of bringing this piece of Santa Pod history back to life."

The chassis was kept in a storage unit and was replaced after Dragstalgia, the thieves passed over several more saleable items and targeted the chassis specifically. "I'm sorry to say that I believe that the culprit comes from within the sport, which is the part that sickens me!", continued Keith. "It has affected all my staff at SPR as it will many fans. I had planned for Stardust to take pride of place in our future museum development but now the anticipation has fallen flat. We cannot continue with the restoration if the heart of the car has gone."

Keith has posted a reward of £5,000 for information leading to the whereabouts or safe return of the chassis. "My prime concern now is to get the chassis back so we can continue with the restoration", he says. "I hope that by posting a reward, information will be forthcoming. Drag racing is a fairly small community and someone knows."

Anyone with information should contact Santa Pod directly at info@santapod.com or call Bedfordshire Police on 101 quoting crime reference 40/37089/18.

A tricky season.
12th November: 2018 UK National Pro ET Champion Paul Brown says that the 2018 season has not been easy for the whole of the Paul Brown Motorsports team:


This is the toughest season we've had to date to claim the National Championship and our third title, including one in Super Comp, in seven years. In 2016, after losing my Shorty dragster in a top end crash, I found myself back in a normal-sized dragster. Last winter a lot of time, effort and money was invested into the dragster to give us a chance of running an eight-second pass and a more consistent car to run a full National Championship.

With Easter weekend being a write off due to the weather and only four qualifying meetings left we knew that we could not afford to make many mistakes. There was always someone very close behind chasing us in the points. We knew we had to qualify well and go rounds. The standard of racing was tough to beat. This was shown through incredible lights in the other lane that I had to fight my way past throughout the season.

At the FIA/FIM Main Event the weather finally held off for me to qualify well and go through the rounds. I met last year's Champions early on and managed to take the win, losing to my nemesis Keith Herbert in the final. We were double-classing this year and were over the moon when I ran 8.86 for a PB in in Super Pro ET.

The SPRC Summernationals was a solid performance both in qualifying and eliminations, going out to Leigh Morris in the last eight. Work pressures were taking their toll on me mentally but after grabbing voluntary redundancy I was lucky to find a new and better job within a few days. My head was back in the game and I went back into the racing season with renewed confidence and was ready for the challenge.

At the FIA/FIM European Finals with the weather and ever-improving track the car just wanted to run eight-second passes so it proved to be a challenge to get the car dialled in on the 9.00 Pro ET index. But at the fifth time of asking and with a lot of luck, a lift and coasting, I found myself in the number one spot which I held onto. Just before eliminations started, we sprung a water leak in the warm up. The weather gods were on our side, which allowed us enough time to fix it. We made it all the way to the semi-finals where we faced Lee Huxley. This was a key race for both of us and Lee hit a perfect light and took the win plus the event. Meanwhile in Super Pro EY I took the Eurodragster.com/Bad Habit Taving Perfect Light Award with a 0.0000 RT.


At the UK National Finals we opted out of Super Pro ET, in which we had made some very respectable and consistent runs in the eights in previous events, to concentrate on the Pro ET Championship. We ran at the Test Day to get some much-needed data on the dragster and were happy with the runs. On the Saturday the fuel pump packed up but thanks to Mike Lacey and Karen Stevens for lending me a spare so that I could continue the weekend. With the rain taking out qualifying, I just needed two win lights but only managed the one when Ben Newsome smashed a 0.007 light to my own respectable light. Then we had the long, gruelling wait to see how the rest of the event panned out. At this time, two out of three people in with a chance were already out and it was down to Dave Cherrett's win in a very close race to confirm that the Championship was ours with only 210 points to spare. People around us in the grandstand, where we were watching, thought we looked very odd cheering at the race, but they didn't understand what that race meant for us.

A special thank you goes to my dad Dave Brown. During the last nine years he has been a key feature in our quest to get the maximum performance and consistency out of the three dragsters which I have owned. He is also famous for his paper laptop on which he spends hours juggling the numbers and dialling me in so close for every run that I can confidently concentrate on the racing side of things when I get on the start line. I am lucky to have such a great team: Lee Stapleton with his calm and efficient manner especially when all around him are losing their heads, Super Gas racer Andy Harrison who has solved a number of head-scratching problems over the years, Zoe Sparrow and the Harrison family for their support, Lesley Brown for the catering, and last but not least our rookie crew member Ruaridh Hart who has been a dedicated and enthusiastic member of the team all season. Ruaridh also impressed us at a recent Run What You Brung when I taught him to drive the dragster and he gained his Pro ET licence with confidence and ability.

My Championship-winning dragster is for sale, please see the Swap Meet for details. This is a fantastic car for anyone starting out in drag racing. My team would be happy to assist at the track for a couple of race meetings and if needed I would be willing to give some coaching and help the new owner to obtain their race licence.

Swift snippets.
12th November: Photo-journalist Keith Lee got in touch to let us to let us know that he is now in possession of the first run (Won't be the last - Ed) of his book Mister Six: The Story of Drag Racing Legend Dennis Priddle which has its official launch at this Saturday's (17th) British Drag Racing Hall of Fame Bench Race. You can order your copy at www.mistersix.co.uk or of course turn up at the Bench Race at 12:00 midday this Saturday at the Oatlands Park Hotel in Weybridge.



Job Heezen tells us that he and all the usual suspects of the FIM Europe Drag Racing Commission (above right) met at the weekend to discuss rules, dates and other matters pertaining to the 2019 FIM Europe Drag Bike Championships. Job has promised us a report which we shall post as soon as we receive it.

2018 ACU UK Funny Bike Champion Lorcan Parnell says that the official web site of The Storm Drag Bike team has been updated with reports, pictures and videos of the 2019 season. You can take a look at www.stormdragbike.com.

Our good friend, photo-journalist Steve Moxley has had FIA/FIM European Finals reports posted on the ACU web site at www.acu.org.uk and on the Eat My Ink web site at www.eatmyink.com.

No news update yesterday so we were unable to say a big Happy Birthday to Tog's niece Jennipher Rogers Knight, once the world's coolest two-, three- and four-year-old and still not doing too badly at twenty six. Hope you had a lovely day Jenn. A big Happy Birthday for today (Monday) to Adam Bentley of SPRC's timing crew. Have a great day Adam.

On the subject of birthdays, a big Thank You from Tog for all of the E-Mails, phone calls and postings on his birthday last Wednesday and for the cheering-on during Saturday's Birthday Day Trip to Pizzeria Torino in Tierp.

Editor's note: You weren't imagining it, there was a news item about Don Garlits here on Eurodragster.com News on Saturday (10th) but, for reasons which we still do not entirely understand, we were asked to remove it. See News FAQ 15.

Shaking it on the salt.
12th November: If you were tuned in to Eurodragster.com News in August you will remember that Geoff Stilwell, CEO and Managing Director of Beech Underwriting Agencies Ltd, drove his supercharged and injected 492 ci Modified Rear Engine Roadster to a new land speed record of 258.679 mph, achieving a top speed of 265.626 mph at Speed Week at the Bonneville Salt Flats:


With daytime temperatures in the sun exceeding 120&edg; F this was an extraordinary feat. The Salt Shaker team had not even started the specially-built engine prior to arriving at Speed Week. Unforeseen minor problems meant that the team had to work right up to putting the race car in the trailer before the nine hundred-mile journey from Los Angeles to Wendover, the nearest town to the Bonneville Salt Flats. The engine, prepared by noted engine builders Bill Schultz and Spark Perry, sounded amazing when it was started up prior to the first run down the salt.

At 3:00 pm the day before the car ran over 251 mph average between the second and third mile markers which was enough to qualify to attempt the record and put it in the pound ready for the back-up run the following morning. With the car in the pound the team had just four hours to service it and make it ready for the following day.

The whole team had to be with the car at 5:30 am to make the final preparations for the run. At 6.15 am the engine roared into life and was thoroughly warmed through. With the clock ticking at precisely 7:00 am the car was taken to the start line with all the other vehicles attempting various records. The 7707 Salt Shaker Team were the last to run. At 8.08 am the car, with Geoff driving, entered the record books with an astonishing speed average of 265.626 mph between the second and third mile giving an overall average speed of 258.679 mph and a new world record for the class.


Geoff Stilwell said "This could not have happened without my fantastic team of Bill Schultz, Sparky Perry, Bob (AKA Floyd Lippencotte) and Sharon Muravez, Tony Betts, Al Teague and Carl Olson. My thanks go to all the volunteers of the Southern Californian Timing Association, the tech crews and the medics for making this a wonderful sport to be involved in. In addition I need to thank Lucas Oil Products for supporting this project with their products and Ed Iskenderian of Isky Cams for his support, guidance, and providing me with many engine components enabling me to pursue this class record. There are so many people who have given their time to assist the 7707 team and that includes Clay Millican, Doug and Whitney Stringer, Joe and Gigi Schubeck, Steve and Gloria Gibbs, Marvin and Patricia Graham, Butch at S&S Engineering of Irwindale, Los Angeles, Eric Hansen of Stage V Engine Components, Hilborn Fuel Injection and Allan Bridges of Simpson Safety Equipment. A huge thank you goes to Sharon Muravez (team mum) for all her time and patience with all of the team and for co-ordinating this project which has taken up so much time.

"Finally, finally another huge thank you goes to out to Bobby Tuggey at Dial a Flight (01732 593050) for handling all my flight arrangements and those of various members of the team over the past few years.

"The last thank you goes to everyone in the UK and the USA for all their support. The number of Brits who turned up at Bonneville was incredible with more and more coming each day to say hello. Thanks for making the journey.

"The target for 2019 is 300 mph, see you on the salt."

Ray Iddings is making a documentary about Geoff's exploits and we will bring you the link to that when it is released.

Kuhns honoured by Lucas Oil Award.
7th November: SFI Foundation President Arnie Kuhns says that he is proud and honored that the British Drag Racing Hall of Fame have decided to present SFI Foundation Inc with this year's Lucas Oil Global Achievement Award at the Gala on Saturday week (17th).

"Our Foundation has similar awards from many USA-based sanctioning bodies, but this represents the first from a non-domestic source", says Arnie. "Thanks for the fine honour and I trust that you will have a good evening."

Unfortunately Arnie will be unable to attend due to health (Get well soon Arnie - Ed) but Jennifer Faye, to whom the SFI Foundation are currently turning over duties, will attend to accept the Award on the Foundation's behalf. "Jen has been to Santa Pod many times and is very active within the FIA Drag Racing Commission so is well-versed with the requirements of international drag racing", says Arnie.

The British Drag Racing Hall of Fame Gala Dinner and Presentation takes place at the Oatlands Park Hotel in Weybridge. The Gala Dinner itself is fully-booked, but the midday Bench Race and launch of Keith Lee's book Mister Six: The Story of Drag Racing Legend Dennis Priddle are open to all with seats available on a first-come first-served basis.

Swift snippets.
7th November: Kirstie, Julian and Simon would like to wish Eurodragster.com News Editor, Race Reporter and Photographer Tog a very Happy Birthday for today (Wednesday). Have a great day buddy, and many happy returns.

Classic drag racing this weekend.
6th November: Drag racing will be well-representd at this weekend's Lancaster Insurance Classic Motor Show at the NEC in Birmingham.

Santa Pod Raceway will again be co-sharing a stand with Lucas Oil Products UK. The stand will feature the Roarin' Rat Gasser and the FireForce 5 Jet Dragster. Martin, Richard and Julian of the FireForce team will be on hand to talk to visitors together with the Santa Pod team who will also be on hand with 2019 calendars and event flyers. You will be able to find Santa Pod Raceway's stand at 2-660 in Hall 2.

Drag racing will also be represented by the Outlaw Anglias who are in their second year at the Classic. Last year's display featured race cars and video footage and drew a lot of interest, and you will be able to find this year's exhibition on stand 5-130.

The Lancaster Insurance Classic Motor Show takes place at the NEC from Friday to Sunday (9th-11th).

Feature: SEMA Show gallery II.

4th November: The latest in our occasional series of Features presented in association with Lucas Oil Products is a second gallery of pictures from last week's SEMA Show kindly sent to us by our good friend Lena Perés.

You can check out Lena's SEMA Show pictures by clicking here or by clicking on the Features, Interviews, Tributes link on the left-hand side of any Eurodragster.com page.

Web site updates.
4th November: The Mad Welshman has updated his Flickr site with pictures from the NSRA Hot Rod Drags at Santa Pod Raceway. You can take a look at www.flickr.com/photos/the_madwelshman.

Will Ven recognise his bike?
2nd November: 2018 ACU UK Super Street Bike Champion Steve Venables is packing his suitcase ready to head to Valdosta to compete in two races over four days: the DME All Star Shootout race and the Man Cup Finals:


The bike is already at DME's headquarters in North Carolina, thanks to Chris Johnson of Spectrum Cargo, and is having a couple of up dates and new paintwork - even I don't know what is going to look like!

The plan is to test on the Wednesday to get the bike set up for the first qualifier of the DME Shootout on the Thursday afternoon. The competition is going to be tough with riders now in the 6.6s and over 226 mph. My goal is to try to get in to the 6.8s.

This trip would not have been possible without the help and assistance of DME Racing and the support I've had from Dimey and Andy of DME Racing, Lee of Owen Developments, Mark of Horsepower Factory, Marvic Wheels, Protec Fuel Systems, Cometic Gaskets, Nimbus Motorsport, Suzuki GB, ARP Fasteners and Arrow Precision.

Helzapoppin' for the Med.

2nd November: If you were tuned in to Eurodragster.com News on 27th September you will recall that we posted a spy picture with no words, although if you had looked closely with your spy glass, part of the iconic car's name was on the Whengparts blower belt guard. Ian Merryweather has been in touch to i.d. the car as the returning Helzapoppin' of Sue and Dave Coles renown.

The car, owned by Peter Astel-Burt, has been rebuilt by Ian and long time buddy Steven 'Jack' Russell. Roy Wilding built the new chassis, EDA built the 1050hp Hilborn injected 6-71 blown Donovan and Andy Frost put together a Powerglide. Ian writes:

The build began February this year when the chassis arrived on the Isle of Man with the intention of making a deadline of 30th October. Why, you may ask? Well that's "When the boat comes in"... sorry, it's my ex-pat Durham links kicking in. The boat in question is Malta-bound for the MDRA November Finals at Hal Far Raceway on 22nd-25th November where the Manx Drag Racing Association is taking on the Malta Drag Racing Association. To be honest we are just running exhibition runs as there are no other Supercharged Outlaw altereds of similar stature on Malta.

The car was completed on 14th October ready to be tested as soon as driver Roy Wilding returned from Bakersfield. On 24th October Roy and Kenny Coleman of EDA arrived on the Isle of Man for a one-day test session originally booked for Jurby Dragstrip. However due to a minor issue the local private industrial estate was instead treated to some sweet-smelling methanol and burning rubber. A couple of niggly issues were resolved, with a few other small mods to be sorted and taken over to Malta to fit to the car when the circus arrives in town. These consist of longer linkage on the throttle, small wiring loom alteration, larger breathers on the puke tank and modification to the shifter reverse lock-out due to Roy's capacious crotch getting in the way! After the brief test the group were happy with what was achieved, so the car was loaded into the trailer ready for its first trip off-island.

As well as completing the Helzapoppin' build, the 392 in my Banzai Topolino has been freshened after a small crack was detected at the Hot Rod Drags. Thanks to Andy Mapes for the excellent, speedy block work. After sailing over to Heysham on 26th October Helzapoppin and Banzai were taken to Kidds Transport to be loaded into the container bound for Malta. The cars will arrive on 14th November with the group flying out on 16th November.



So as pointed out by Colin Millar we are now watching the container's progress via their web site! We are looking forward to two weeks of Maltese sunshine with four days of drag racing to break up the relaxation!



We'll keep you posted.

ATD Champions, looking to 2019.
1st November: Many thanks to Elodie Dubois for passing us a report of the end of the Association Trophée Dragster season in France:



The race is held every two years at Vichy Airport and is organised by ATD together with the RCS bike Championship. The weather was brillant, with sunshine, and racing from 09:00 to 21:00. Racers had the opportunity to make nine qualifying runs all day Saturday and Sunday morning and we then moved to eliminations. Lots of spectators showed up to watch the racing and a great time was had by all.



Most importantly we would like to thank the racers, spectators and everybody who helped us to organise this event.

The results were as follow:

Junior Dragster
Winner: H Lajoux
Finalist: L McDonald
Semi-finalist: L Billault

Street Run ET
Winner: F Peeters
Finalist: J Jacot
Semi-finalist: E Goldet

Pro ET
Winner: D Billault
Finalist  P Jouis
Semi-finalists: O Mounier, S Caruso

Super Pro ET
Winner: G Lacombe
Finalist: S Jacquot
Semi-finalists: F Dubois, P Dubois

At the same time we held our ATD trophy presentation. The ATD Champions are:

Junior Dragster
Champion: H Lajoux
Runner-up: L McDonald
3rd: M Rygol

Street Run ET
Champion: S West
Runner-up: J Jacot
3rd: A.Mancusi

Pro ET
Champion: B Isnel
Runner-up: M Weikum
3rd: S.Caruso

Super Pro ET
Champion: M Steinneger
Runner-up: F.Dubois
3rd: F Aschenbrenner

We would also like to congratulate our Driver of the Year, who won the most, B Isnel (Pro ET).

Our 2019 calendar at Clastres Dragway is as follows:

22nd-23rd June: 8th European Dragster
27th-28th July: 9th European Dragster
14th-15th September: 10th European Dragster

Feature: SEMA Show gallery.

1st November: The latest in our occasional series of Features presented in association with Lucas Oil Products, and the last stop on his Western Swing, is Simon's gallery from the SEMA Show in Las Vegas.

You can check out Simon's SEMA Show pictures by clicking here or by clicking on the Features, Interviews, Tributes link on the left-hand side of any Eurodragster.com page.

Swift snippets.
1st November: We would like to say a big Happy Birthday with hugs to UK Pro Comp legend Liz Rowland. Have a lovely day, Liz. No news update yesterday so we were unable to wish a Happy Birthday and grattis to Swedish Top Fuel legend Pelle Lindelöw. Hope you had a great day Pelle.

NHRA Vegas pit notes, gallery.
30th October: Simon has been in touch with pit notes from the weekend's NHRA Toyota Nationals:

Jonnie Lindberg is at the end of his second season with Jim Head Racing as a hired driver. We spoke to him on the day before the event started.

How different is your life now? It's a lot different with so much work for the team to do on a nitro Funny Car. It's a full-time rôle. The team budget is much bigger as well, because of all the parts a nitro car goes through. I was hired as a driver, but Jim selected me because I could work on the car. Jim's workshop is in Ohio. I do some welding and understand the tune-up so I have some input, even though I don't have the final say. This can sometimes be frustrating because before I joined the team I was used to making all the calls, now I don't do the final adjustments. It's also a big improvement not being on the road the whole time – I now fly into races. I've gone from winning back-to-back Championships to being the underdog which can be frustrating. But who can be sad at driving a Funny Car for a living?

Who is the Crew Chief on the team? Jim is the head Crew Chief and Dave Leahy is the co-Crew Chief. I make suggestions and have ideas and Dave brought me up to speed with running a nitro car – he is a good teacher. The arrangement is old school, I don't have a contract. But Jim says as long as he is still racing, I will be driving. I have a green card and am going to the naturalisation interview soon.



What is it like to drive a nitro Funny Car? The Alcohol Funny Car was actually a handful, but with a nitro car you have to be prepared for anything. It can smoke the tyres 800 feet down the track for instance. Also Reaction Time is a big issue because you leave the line from idle. This is down to the mechanical set-up and also your mind reacting. I have more pressure on myself as a driver, because if I mess up the team will put me under pressure. My record so far is in terms of round wins, six in eighteen competitive rounds. Of these six round wins, four were down to me pedalling the car, which I'm proud of.

Sum up your 2018 year? It's been a bit of a struggle to be honest. It started with the crash with John Force at Phoenix. We didn't qualify at Gainesville due to gremlins with the new car. Then when the change in track prep was initiated (adding 10% methanol to the formula and reducing the amount of glue), it affected our settings and we were on a learning curve which was easier for multi car teams to surmount. So at Houston on the differing track prep we were happy with eighth. On the new track prep the car is definitely more touchy and finicky and not so consistent.

What are your plans for 2019? I will still be racing with Jim next year but we will be doing a reduced number of races, sixteen rather than the full season of twenty four. We will be starting with Gainesville and missing the Western Swing. So I can come to European races more! This season we only went to Finland, and I was helping Micke Larsson mainly, and also Johnny Oksa and Janne Ahonen. We haven't decided on the dates yet, but it will be tuning help that I will be doing. I also plan to continue to help US Top Alcohol Funny Car racers. This season I have worked with Jay Payne and Bryan Hough. Also I am renting out my TAFC – Gary Pritchett, Leah Pritchett's husband, drove it at the US Nationals and I hope to do more of these types of deal next year.

How did your Hot Rod Drag Week entry with Richie Crampton come about? Richie built the car with my help. We then thought about the engine combination and we thought it would be fun to have a full on-alcohol engine in it. So we contacted Noonan Engineering and they made a special block and heads that could have coolant going through them. We even had a screw blower on it and all the engine spec at the track was the same as a TAFC. When we drove it on the street we removed the blower belt and mechanical fuel pump and used EFI throttle bodies that were mounted under the blower for road use. We were happy with a 6.93/207 as the car weighed 3600 lbs and only the engine hood was fibreglass. We went to Atlanta and then drove 130 miles to Charlotte and then took it back home. We plan to run it next year as Hot Rod Drags is a great event.

Do your family attend your races? My parents have been with me at five races this year, and Johan, who has a young family now, has been able to get to two races. It's great to have all their support.


Ulf Leanders has been racing in the US since 2013 when he contested both Las Vegas autumn races (National and Divisional). After running eight races in 2014, the team expanded to ten or eleven races per year since. Ulf said "We do races around the US, including back to back races at the same venue. This year we did the Winternationals, two at Gainesville, Charlotte, Atlanta, Norwalk, Indianapolis and will finish with both Las Vegas races and the Finals. Our clutch guys are working in Sweden and are self sufficient while the race team is away.

"We have made good sales of the Leanders Clutch with Pro Stock, blown-alcohol Pro Mod and Top Alcohol Funny Car being our main customer base. Virtually all the Pro Stock teams have bought the clutch, although they may not be using it. We only know if they use it if they contact us for spares.

"We have now developed an eight-inch, four-disc version of the clutch for blown-alcohol Pro Mod applications, and one of the teams will be testing it after this event. This is in contrast to the eleven-inch, three-disc clutch which Alcohol Funny Car teams use. Although there is a trend in Pro Mod for more teams to use convertors, we expect there will be a swing back to clutch use.

"We have a new car this year, based on a McKinney chassis and Camaro body. The Camaro is now used by most teams, and although we are Mopar fans, the Camaro is superior aerodynamically. We won here last year and so are optimistic. The conditions are also remarkably consistent throughout the event."


Rob Turner, former FIA and UK Top Methanol Dragster Champion, went the Funny Car route in 2010 and raced in the UK FIA rounds until 2013. The team, with brother Steve as Crew Chief and partners Carmel and Vicky, then made their US TAFC début in 2015 at the Las Vegas autumn Divisional race. In 2016 and 2017 they ran a five-race programme involving all four Las Vegas races and the Pomona final. In 2018 they are running just the last three TAFC races of the year, the two Las Vegas events and Pomona.

Rob said "We are running the same car as we did in 2015. This is our first race with our new Leanders clutch as it has become the clutch of choice in the class. So we are trying to find a baseline. The clutch performance can affect the car's stability down the track so I have had to pedal on each of our three runs, which hurt our performance. On top of that we had some bugs arising from not racing the spring events – we had fuel leaks as a result of O-rings drying out, and had to cure those. As a result, we didn't make it for Q1. But it felt good to get back in the driving seat."

With only three qualifying sessions, and missing the first session, Rob carded a 7.01 in the second session which temporarily put him in the field until he was bumped later in the session, and a subsequent 6.178/235.02 was not quick enough for the 5.915 bump spot for the sixteen-car field. However the team had a stroke of luck when Hunter Jones couldn't make the call and the team ran in round one, losing to John Lombardo Jr with a 6.759/152.28.


Julie Nataas is racing in Top Alcohol Dragster in a Randy Meyer A/Fuel car and, after licensing in Charlotte in 2017, ran four races last year and will have run twelve this year when the season is done. Julie said "I like racing at Pomona because my Dad Thomas raced there when he was in Top Fuel Dragster. The car is great and I have qualified number one at Pomona, Las Vegas and Oklahoma. Next year I plan to run almost a full season now I have graduated in Marketing and Business Entrepreneurship from Antioch University, Santa Barbara. I am awaiting a work visa to get employment in the USA."

Julie's family is involved in her racing efforts with major sponsorship from dad Thomas' company Oslo Tapet & Gulvbelegg, and she is delighted that brother and former Junior Dragster racer Kevin will be attending this weekend, the first time he has visited in 2018, and his first time at the track in quite a few years.

In round one, Julie beat Alan Bradshaw. Then in the first ever all-Norwegian race in NHRA history, she defeated Fred Hanssen with a 5.321/271.02. In the semis a 5.310/273.94 overcame Jackie Fricke. In the final she was up against 2017 Champion Joey Severance, who had the advantage of a supercharged engine with the ability to compensate for the 4,400 foot adjusted altitude, unlike Julie's A/Fuel car. Julie ran a 5.369/271.95 but Joey won the class with a 5.266/275.28.


Fred Hanssen started racing in the US in February 2013 after winning the FIA Championship in 2011 and has run autumn races at Las Vegas and Pomona since then. In 2017 and 2018 this has expanded into a eight-race schedule. Fred said "We are planning on running more races next year but need to sort out some car gremlins first". Fred suffered an air leakage from a brand-new bell housing which caused the car to jump into stage and affected the sixty foot time. "A 5.383 was slower than an expected low 5.3 which is down to a 0.99 sixty foot time", said Fred. His speed was 270.70 mph.

He continued "We also suffered damage at Indy when the back axle came off in the second qualifier. I have had the same team for the last three years. I am based in Las Vegas when over in the US with thanks to Jean and Erryl Sharron, but go back to Europe between races but have sold my fishing boat business. I will be involved in racing in Europe in the future as my daughter Celina has bought the Funny Car raced by Birgitte Bremnes. She's going to start driving it in Super Comp with a suitable engine in 2019. Celina has always been into Funny Cars as she was in a Junior Funny Car in her last year in Juniors. In the future she hopes to step up through the classes. The car will have a new wrap too which Celina designed and will be produced and applied by Gatorwrap in California.

In eliminations, Fred beat Chris Demke in round one with a 5.374/269.83 and then a 5.427/269.83 (identical speed to round one) was not enough for Julie Nataas' 5.321 in round two.

Swedish slingshot racer Stig Olsson whom we saw at the Slingshot Showdown at Dragstalgia in 2018 has bought a Neil & Parks slingshot to drive in the US. The A/DA dragster is powered by an alcohol-burning twin-carburettor engine. After overcoming a number of new-car bugs, Stig went 6.779 on a 7.16 index to go twentieth but went out in round one with a new best of 6.640/206. Stig is looking to keep the car in the US and run several meetings in 2019 with his Swedish crew.



Swedish Pro Stock guru and Stock Eliminator racer Markus Svensson ran a 10.394 on a 11.13 index in his A/S '69 Camaro in qualifying and then got the A/S class win with a 10.343/128.27. He said "I store the car in the US and come over for meetings outside the European season."


You can check out Simon's NHRA Toyota Nationals gallery, which is presented in association with Lucas Oil Products, by clicking here or by clicking on the Features, Interviews, Tributes link on the left-hand side of any Eurodragster.com page.

Swift snippets.
30th October: Thanks to Ian King for letting us know that the final points standings in the 2018 ACU UK Drag Bike Championships are now available on the King Racing web site at www.kingracing.com.

Many thanks also to our good buddy Andy Marrs for sending us the official timing data from Saturday's Flame and Thunder Show and Sunday's brief RWYB at Santa Pod Raceway. You can check it out by clicking here or by clicking on the Timing Data link on the left-hand side of any Eurodragster.com page.

A big Thank You to the more than five thousand visitors from around the planet who tuned in to our Webster Race Engineering/Nimbus Motorsport webcast of Saturday's Flame and Thunder Show at Santa Pod Raceway. As things stand that was our last webcast of 2018 so a big Thank You to Maikel Gloudemans of our streaming supplier Doyousee.me for another season of excellent and ever-reliable service, to 1320 Online for listing our broadcasts, and to those who shared the link during the season.

We would like to say a big Happy Birthday for today (Tuesday) to Sandie Gibb. Have a lovely day Sandie.



Thanks to Mike Collins for sending us the usual preview of his column in the latest issue of Street Machine magazine, plus bonus material exclusively for Eurodragster.com readers. Click on the images above for the PDF downloads.

Orders open for Priddle biography.
29th October: Keith Lee has been in touch with the great news that orders are now being accepted for his book Mister Six: The Story of Drag Racing Legend Dennis Priddle:



Last Wednesday was a special day in the progress of the book, as Keith went along to see the first pages being printed, after nearly two years spent working on the project, and came away very happy with the quality of the production. He now has a confirmed delivery date for the completed books, which will be in good time, ready for the launch date of 17th November at the Bench Racing session to be held on the day of the British Drag Racing Hall of Fame gala.



For more information, and to order a copy for UK delivery, visit the Keith Lee Images site at www.mistersix.co.uk. Payment will be via a secure PayPal button, which also allows payment by any credit or debit card - a PayPal account is not required. Dispatch of orders will commence on 19th November, and will be in order of payment receipt.

Swift snippets.
29th October: We would like to say a big Happy Birthday to our good friend and MSA Drag Racing Championship PR Robin Jackson. Have a great day Robin.

Flame and Thunder Show gallery.
28th October: What started as an enjoyable and promising Flame and Thunder Show at Santa Pod Raceway yesterday was spoiled by the weather as rain set in just after the lunch break and only really let up this morning (Sunday). A number of PBs were set on what was a very high-quality track before the rain came.

After the track crew did their usual excellent job this morning, twenty seven pairs ran in today's RWYB before rain returned forcing officials to call a halt to the 2018 season.

You can check out our Flame and Thunder Show gallery, which is presented in association with John Woolfe Racing, by clicking here or by clicking on the John Woolfe Racing Event Coverage link on the left-hand side of any Eurodragster.com page.

This weekend was the last of this year's Event Coverage. From Kirstie, Simon, Julian, Tog and off-track photographer Diana a big Thank You to all of our readers for their support this season, to Dave Riswick at John Woolfe Racing, Jon Webster at Webster Race Engineering and Steve Clark at Nimbus Motorsport for their sponsorship, to the racers for giving us so much to report upon, to the management, staff and race officials at all of the tracks for the ready provision of facilities, information and other practical help, and to Track Announcers around Europe for putting up with Your Race Reporter's jokes.

Swift snippets.
25th October: Our good buddy, photo-journalist Steve Moxley has had reports and pictures of both Redline Rumble bike rounds posted on the ACU web site at www.acu.org.uk.

Supertwin world record holder Jaska Salakari and Fuel Express Oy have become the official Racepak dealer in Finland for Eurodragster.com sponsor Post & Dros Performance Parts BV, the European importer of all Racepak and MSD products and many other major engine parts and motorsport suppliers. The deal also includes trackside support at major Finnish drag race events. You can read more on the Drag Racing Europe Blog by clicking here.

We have quite a long birthday list today (Wednesday). Happy Birthday and hugs to Kirsty Giles, a manly handshake to Super Pro ET racer Joe Kellett, and back to the hugs for our good friend Deborah Marrs. Finally, Happy Birthday to Top Fuel Dragster racer Urs Erbacher. Have a great day all.

Fuelin' Around launches at SEMA.
25th October: Fuelin' Around, the much-anticipated book by motorsports veteran Jim Kelly, will launch at the SEMA Show in Las Vegas next week.


"People say I've had a really interesting life and wanted to know more" said Jim, whose début Found in Time received five-star reviews and an unreserved recommendation from the Midwest Book Review.  "Fuelin' Around is funny, fast-paced, sad, exciting, and humbling. We've all had our ups and downs but at least by reading this everyone can rest assured that if a dreamer like me can succeed then there's hope. Luck has played a very big part in my life so it's only fitting that we're going to launch in Vegas."

Jim, who got his first writing and photography credits in Super Stock, Car Craft, and Hot Rod magazines, drove to Pomona from San Antonio in 1978 to deliver drums of race fuel for a Texan named Steve Burns to an up-and-coming racer, Warren Johnson. He then landed his dream job as the PR Director for Darrell Waltrip and the Gatorade 88 NASCAR racing team. From there, when an opportunity opened at a young Eurodragster.com sponsor VP Racing Fuels, Jim went all in and spent nearly thirty years helping to build the business.

Fuelin' Around chronicles the many entertaining, thought-provoking, and heart-breaking moments of Jim's personal and professional life as he reveals a behind-the-scenes look at how VP waged an epic David versus Goliath war against the giants of the industry.

Eurodragster.com News Editor Tog describes Fuelin' Around as "A story of the American Dream of success courtesy of hard work and dedication. I read the entire book in two sittings and only put it down at the first sitting because it was two in the morning and the alarm was set for five. Fascinating and enjoyable stories, I laughed out loud more than once". John DiBartolomeo of Drag Racing Edge magazine commented "A page-turner you're going to attempt to read in one shot and, if not, it's going to keep you coming back."

Fuelin' Around is now available on Amazon, Kindle, Barnes and Noble, and at book signings which will include the UK. For more information visit www.jkkelly.com and stay tuned to Eurodragster.com News for a review and more.

CHRR notes and gallery.
23rd October: During the NHRA Motorsports Museum California Hot Rod Reunion, which was as usual attended by a large contingent of British racers and fans, Simon had the opportunity to talk to a few Europeans involved in the racing and presentations.


7.0 Pro racer Joacim Ljungberg, originally from Helsingborg in Sweden, has been crewing and racing since 1990 and was involved with a Pro Comp dragster team which attended Avon Park when it was managed by Blacktop Racing, with Pamela Österberg driving. He said "I went to Orlando in 1994 and then crewed in the Nordic Pro Stock Cup. In 2000 I started driving and ran a methanol Funny Car in Comp Eliminator and attended the 2004 FIA Euro Finals; I had set the Swedish record and wanted the European record but just missed it.

"I sold the funny car to a British racer and then after a few years in Top Doorslammer bought from Jonnie Lindberg the methanol Funny Car which Urs Erbacher and Freddy Fagerström had won all their Championships with. I raced it in Pro Comp in Sweden for three years but sadly the class didn't grow like the organisers wanted and I decided to come to America.

"I shipped the car out in July 2018 and stored it at a friend's house in Gardena and joined the California Independent Funny Car Association. My first race with the car as a '96 Firebird was the Governors Cup in Sacramento which had a large field of cars and I qualified fourth out of eleven and went to the semi-finals. I then got an 27T altered body which I can use for Nostalgia races. Thanks go to Bullet Fabrication and Kent design for the wing and the turtle tail on the altered.

"The car has a brand new BBC engine with Brodix heads, PRP rods and 14-71 Littlefield blower with Enderle hat and injection. This should enable me to be competitive in the CIFCA and 7.0 Pro at Famoso Raceway". The new combination definitely has power as testified by a 6.703/204 that gave him a breakout loss in round one.

Joacim said he has met many people who have helped him in his dream of racing regularly and competitively in the US, and they have helped him to keep costs down, even if it involved him and wife Anette living in a motor home for a few weeks. He also thanks his team. "They were with me for a long time in Sweden, and we're all loving being in this crazy drag racing community."


On Sunday there was a special ceremony including the Drag Cartoons Pete Millar award "In recognition of the spirit of drag racing's heritage (and what we think is just plain cool!)". This went to Swedish Nostalgia Slingshot racer, pin striper, and motorsports engineering teacher Tommy Nygaard who has set up international partnership with the Rim of the World High School in Lake Arrowhead. A group of motorsport engineering students from the school attended the CHRR and received the award, proudly displaying the Swedish flag.

Pete Millar's widow Orah Mae, pictured alongside daughter Robin, said "It's so great that we have people from all over the world coming to CHRR, and a nostalgia racer like Tommy Nygaard spreading the word in US schools is very special to us."


You can check out Simon's CHRR gallery, which is presented in association with Lucas Oil Products, by clicking here or by clicking on the Features, Interviews, Tributes link on the left-hand side of any Eurodragster.com page.

Full CHRR results and reports can be found on the Competition Plus web site at www.competitionplus.com.

Swift snippets.
23rd October: Thanks to MSA Championship PR Robin Jackson for letting us know that the official Pro Modified race report and accompanying data from the UK National Finals are now available on the MSA British Drag Racing Championship web site at  www.msadragracing.co.uk.

CHRR replays.
22nd October: If you did not spend the last three days tuned in to the coverage of the NHRA California Hot Rod Reunion then replays of the live feed are available on YouTube as follows:

Friday: www.youtube.com/watch?v=oINhN6EW1kc
Saturday: www.youtube.com/watch?v=6Zb8VFOFveE
Sunday: www.youtube.com/watch?v=i8itZUW2mrI

Our own Simon attended the event and plans to post a gallery and some notes very shortly.

Swift snippets.
22nd October: Remco Scheelings writes that Sweden's Ida Zetterström is the luckiest girl in the world, or at least in the world of drag racing. Only a few weeks after she finished her second season in Super Street Bike and reset her Personal Best to 7.36 seconds, Ida has announced her ride for the 2019 EDRS Pro Nordic Motorcycle Championship: Lucky 13, a bike capable of running 6.8 seconds! And as Ida can't wait until 2019 she will travel to the USA to take part in the Man Cup Finals at Valdosta. You can read more on the Drag Racing Europe Blog by clicking here.



This very good-looking piece of kit is Graham Sykes' new Force of Nature steam rocket-powered bike. The environmentally-friendly bike is expected to be able to reach 250 mph in six seconds and recently underwent successful towing and other tests at Elvington. You can stay in touch on the project's Facebook page.

It arrived over the weekend whilst Your News Editor was otherwise engaged but Ian Hart asked us to wish a very Happy 18th Birthday to his son, former Junior Dragster racer and soon-to-be Wild Bunch racer Ruaridh Hart. Hope you had a great day Ruaridh. We would like to add a very Happy 70th Birthday for yesterday (Sunday) to Les Downey of Eurodragster.com sponsor Lucas Oil Products. Hope you had an excellent day Les. On to today and on to two wheels and a very Happy Birthday to FIM Europe Drag Racing Commission member Job Heezen and to Top Fuel Bike racer Rikard Gustafsson. Have a great day both.

ACU licence forms.
18th October: Santa Pod Racers Club Secretary Ian Marshall had been in touch to inform bike racers that ACU licence application forms will be available from 22nd October.

"Please note that you will require your ACU affiliation code prior to applying for the licence", says Ian. "This is available from the SPRC now, but please request by E-Mail at ir.marshall@btconnect.com."

UK Tech Committee meeting.
18th October: Thanks also to Ian Marshall for letting us know that the UK Tech committee will meet on Wednesday 14th November at the Hilton Hotel at Junction 15 of the M1 in Northampton.

The meeting will commence at 7:00 pm. If you have any items for the agenda, or if you would like to attend the meeting, then please contact Ian at ir.marshall@btconnect.com.

SPRC office closure.
18th October: Finally Ian Marshall tells us that the Santa Pod Racers Club office will be closed from tomorrow (Friday 19th), to reopen on Monday week (29th).

"I realise that this is bad timing in the light of the above announcements", says Ian, "but please E-Mail the Club as detailed above and Affiliation applications and Tech Committee items will be dealt with promptly on 29th."

Flame, Thunder and Outlaws.

18th October: Andy Fadster tells us that the UK's Supercharged Outlaws will be going mob-handed to next week's Flame and Thunder Show at Santa Pod Raceway:

Ten teams are entered to provide entertainment at our final meet of the year. In attendance will be our Champion for 2018, Aaron Windridge in The Thing. This is Aaron's inaugural year with a full season under his belt and not only did he win the Championship but he has numerous seven-second passes under his belt.

All are welcome to come and visit our pits and get to know the friendliest bunch of racers around, chat about the cars or even get involved in a group which goes from strength to strength.

2019 looks to be an exciting year for the Supercharged Outlaws with several overseas events planned in France, The Netherlands and the Isle of Man. We are expecting five new teams to join our ranks and the excitement is growing for next season even when this season is barely over.

A massive Thank You to all our teams on continually making the huge effort to attend the events and to support the group, especially those who make regular trips from overseas. Finally, congratulations again to our 2018 Champs, Team Thing.

UK distributor for VP Racing Fuels.
18th October: Eurodragster.com sponsor VP Racing Fuels has announced a United Kingdon distribution and marketing partnership with Race Fuel Ltd.

"Our partnership with Race Fuel Ltd is designed to provide fuel services to virtually any UK motorsport programme – land or water, two wheels or four, including driven and remote control" said Peter Coleman, VP Racing Fuels Business Development Consultant, Europe.  "We've worked hard with the Race Fuel Ltd team to create an infrastructure which will expand our dealer network, as well as increase fuel availability, for our racing customers throughout the UK and Ireland. We're delighted to have found a professional organisation worthy of VP's stature, to represent us in the UK and Ireland."

With a passion for motorsport and logistics expertise, Race Fuel Ltd is uniquely positioned to cater for just-in-time fuel deliveries with immediate next-day, pre-race transfers and flexible delivery options. Race Fuel will provide a complete end-to-end solution for VP Racing Fuels, encompassing fuel import and storage, as well as promotions and marketing support. 

"VP Racing Fuels is well known as the world leader in race fuel technology, with winning formulations in every series" added Race Fuel Ltd. "The brand's portfolio is huge and the VP team has already provided us with brilliant technical support to help us provide the best possible fuel to racers. We will be working together to further develop the VP Racing Fuels' presence in racing, rallying, sprint, endurance, motorcycle, indeed, all areas of motorsport."

You can find the Race Fuel Ltd web site at www.racefuel.online.

In addition to the new relationship with Race Fuel Ltd, VP Racing Fuels also has products available for purchase at major race venues, including Santa Pod Raeway and Mallory Park. VP Consumer Products are also available from Oldhall Performance.

Robinson the seventh.
17th October: The UK's quickest Pro Modified racer and Eurodragster.com sponsor Andy Robinson finished his thirtieth year of Pro Modified racing by taking the 2018 MSA Championship, bringing his total to seven titles.

Day one of the UK National Finals was completely washed out by persistent rain, however this did not mean that the Anger Management team were quiet. Whilst preparing to warm up the engine, a problem was found with the engine block which resulted in an engine change to the spare, a job which kept the crew working until late in the evening.



Sunday looked to be a busy day to complete the event as one-shot qualifying would set the ladder for the three rounds of eliminations. Nine Pro Mods were entered which would result in one team not making eliminations. The conditions were tricky, and with no data for the track that weekend, the wrong set up could easily result in a DNQ. Luckily Andy kept his Championship hopes alive and nipped into the number one position by two thousandths of a second with a 6.225 over Bobby Wallace's 6.227.

In eliminations the Anger Management Camaro progressed through round one with an improved 6.12 win, which tied up Andy's seventh Championship, also overtaking Rob Turner for the most MSA Championships held, a big achievement upon which Andy has had his eyes for a while.



Now concentrating on winning the meeting, Andy progressed through the semi-final to meet Chris Issacs in the final round. By this time the evening was closing in causing cold and dark conditions. Unfortunately, whilst pedalling through tyre shake Andy's Camaro hit the right barrier, which in turn caused a dramatic high-speed top end crash. Andy exited the car himself and walked to the ambulance, and was released by the medical centre shortly afterwards.

Crew Chief Luke Robinson said "Firstly we'd like to say a huge thank you to the Santa Pod safety crew, the medical team and all members of staff for all they did following the accident on Sunday night. We would also like to say thank you for all the messages, calls and E-Mails of genuine care and concern which we have received from the drag racing community. It is heart-warming to say the least and makes us proud to be part of such a tight-knit family!

"The Anger Management team will be back soon as time allows. We're figuring out a plan at the moment and we'll release more details soon. Despite this setback the 2018 season has been a very successful year for us, and now we're even more determined to come back out with a better and faster car. We're not done yet!

"We would like to thank our sponsors and performance partners NGK Spark Plugs UK, Torco Oils, Nimbus Motorsport, PAC Racing Springs, Aurora Rod Ends, Weld Racing, Brown and Miller Racing Solutions, Victory 1 Valves, Mike Janis Superchargers, Noonan Race Engineering, EZ Motorsports, Hoosier Tyre UK, PRS and Manton Rocker Arms. A huge thanks to the Anger Management crew without whom none of this would be possible!"

For more information on the Anger Management Pro Mod Drag Racing Team, please visit our Facebook page, and for more on the MSA Pro Modified Championship please visit www.msadragracing.co.uk.

Classic Anglias.
17th October: Further to yesterday's news item from Santa Pod Raceway, UK Outlaw Anglia racer Colin Millar writes that his class will also be exhibiting at November's Lancaster Insurance Classic Motor Show at the NEC in Birmingham:

This will be our second year exhibiting. Last year we had lots of interest in the class and we found that a lot of people who had never actually seen a drag racer were drawn in and asked lots of questions. Rob Stone and Barry Woodford put in the effort with an Outlaw Anglia gazebo and the 25th Anniversary DVD playing in the background which certainly drew crowds watching from start to the finish, again with lots of questions afterwards.

If you are in the area then the Outlaw Anglias would be really pleased to see you on stand 5-130.

Twins close out the Challenge.
16th October: Robbie Dobbie writes that the final round of the NAST SuperTwins 25th Anniversary Challenge Cup takes place at Santa Pod Raceway this Saturday (20th):

We have over sixteen riders signed up for the day with five twin-cylinder bike racers in with a chance of collecting the £500 winner or £250 runner-up and trophies.

After a wet Round 2 Andy Ball is currently leading on his 250cc Yamaha, despite split fuel hoses on his qualifying run, with Ian Chrichlow (leaving the Hayabusa in the garage) a very close second on a Honda 250! Chris Mott is forsaking his Busa for Yvonne's street Harley, Peter Harrison on his Ducati after a frustrating season and myself on the Honda SP1 will be keeping them busy on the day.  Ian Turburville should also be making an appearance on his old Harley, recently bought from NAST racer Terry Green.

More details about the Challenge Cup can be found on our web site at www.supertwins.co.uk of search for ET Bike on Facebook.

We would like to send best wishes for the future to Colin Felstead (S/Street 165) who has just got married in Ohio; his SuperTwin member dad is hoping to ride this Saturday if not too jet-lagged. Finaly we wholeheartedly wish a full recovery to Giselle Moor who is making slow progress in Sheffield following an operation after her tumble at the Redline Rumble in August.

Help offered, sought.
16th October: Michael McDonald is looking for a crew place on a race team, preferably a Fuel, Top Methanol or Pro Mod team. If you are looking for crew then you can contact Michael on 07706 616961 or at mcdonald_m3@hotmail.com.

Eugene Smith, who will be racing a new car in 2019, is seeking storage space for a race car trailer/transporter in Grays, Essex, or the surrounding area."The trailer/transporter is used for the moving of race car only, not for business use", says Eugene. "We are novice racers so any help is welcome". If you can help then you can contact Eugene on 07507 844967 or at eugene.gearhead@googlemail.com.

Another Classic for Santa Pod.
16th October: Donna Finnegan writes that Santa Pod Raceway will be exhibiting at next month's Lancaster Insurance Classic Motor Show at the NEC in Birmingham:

Santa Pod Raceway will again be co-sharing the stand with Lucas Oil Products UK. The Lucas Oil team will be available to answer all your motoring lubricant, additive and car care questions as well as having an array of motoring products for sale on the stand.

Santa Pod Raceway will unveil the latest addition to its roster of historic drag racing hardware with Roarin' Rat on static display.  Originally a Small Block 1957 Chevy, it was transformed into a high-riding, supercharged, rat-motored drag strip demon in 1978. Roarin' Rat will join the line-up of key acquisitions for Santa Pod's forthcoming museum project. Martin Hill's FireForce 5 Jet Dragster will also be on static display for the first time. Visitors to the stand will be able to get up close to the Pratt & Whitney J60 jet engine which has powered FireForce 5 to eight 300+ mph passes this yeat alone, and to chat with Martin, Richard and Julian from the FireForce team.

The Santa Pod team will also be on hand with fresh-off-the-printer 2019 calendars and key event flyers.

The Lancaster Insurance Classic Motor Show takes place from 9th-11th November and you will be able to find Santa Pod Raceway's stand at 2-660 in Hall 2.

AHRF Director attends HoF Gala.
16th October: British Drag Racing Hall of Fame Chair Stu Bradbury writes that American Hot Rod Foundation Director David Steele is to attend the BDRHoF Gala in Weybridge on Saturday 17th November:


David grew up in Buffalo, New York, the son of a factory worker at Chevrolet's Tonawanda plant who restored, raced, and collected classic US Automobiles. While working as a professional musician during the 1990s and 2000s, David began to seek out and interview early hot rodders and racers in the cities and towns which he toured. A chance 1996 encounter with early rodder, racer, and engine builder Tommy Sparks introduced David to fellow pioneers and the American Hot Rod Foundation. Tommy mentored him on high-level restoration and maintenance.

David is also a freelance automotive journalist, has judged national-concours-level shows, and as a musician has made many appearances on prime-time TV.

Stu tells us that the Gala Dinner is now fully-booked but that if you wish to be placed on a waiting list for cancellations then please E-Mail him at stuart@britishdragracinghof.co.uk. The lunchtime Bench Race is turn-up-on-the-day.

Junior racers honoured.

15th October: Eire's own Junior Dragster team McDonald Motorsport organised a trophy presentation for the class at last weekend's UK National Finals at Santa Pod Raceway. As well as trophies, money, vouchers and prizes were donated by Halfscale Dragsters Inc, McDonald Motorsport, Kevin Howlett, DJM Construction, Limited Funz Racing, Banshee Racing and Sticky Situation Racing.

The new Halfscale Dragsters Incorporated Cup was presented to Caitlin Wilson (right) to honour the whole family of herself, Morgan, Rachel and Duncan. This season the Eurodragster.com staff were asked to select the winner and we chose the Wilsons as a perfect example of what a family operation is about. They visibly enjoy their racing, are always smiling and set a good example to others, for example showing respect to the team in the other lane - we have seen Duncan rushing to help with a remote starter when an opponent's car has problems. Caitlin and Morgan are what us oldies would call well-brought-up and they make perfect role models for other girls thinking of getting into racing. In addition we never met anyone who doesn't like Rachel and Duncan. An example of the team's dedication to the sport is that they attended the Dare 2 Be Different day to help to introduce the sport to a new audience.

Congratulations to all of the trophy winners (in order of presentation):

Leaver's Cup: Ruaridh Hart
Best Newcomer: Lara Bartlett
Best Junior Stock: Archie Wray
Best Junior Modified: Harley Coulsell
Best Junior Modified Advanced: Lottie Bradford
Improved Junior Stock: Jacqueline Callin Bartlett
Improved Junior Modified: Daniel Weir and Freddie Taylor
Improved Junior Modified Advanced: Tom Kay and Frankie Taylor
Most Motivated Junior Stock: Meka Jo Gadney and Richard Willcox
Most Motivated Junior Modified: Harry Redshaw and Harley Jay Darby
Most Motivated Junior Modified Advanced: Holley Marshall and Skye Collier
Most Consistent Junior Modified: Luke Mugridge
Most Consistent Junior Modified Advanced: Matthew Dowdy and Jordan Payne
Most Enthusiastic Junior Stock: Kimmy Willcox
Most Enthusiastic Junior Modified: Sam Fairhurst
Most Enthusiastic Junior Modified Advanced: Frankie Fordham, Thaliah Gibb and Katie Ellis
Best Reaction Time Junior Stock: Liam McDonald
Best Reaction Time Junior Modified Advanced: Jack Gooding
Future Star of Tomorrow: Kaitlan Deevey and Thomas Cook-Abbott
Junior Dragster Cup in memory of Anita Board: Joe Holland-Villa
Best Junior Dragster Crew: Graham McDonald
Halfscale Dragsters Incorporated Cup: Caitlin Wilson for the whole team

The Best Crew trophy, which was won by Graham McDonald, was voted for by his fellow Junior Dragster racers and families.

Junior Dragster racers and parents please note that the official presentation pictures are available for free download from a private gallery whose link is available by E-Mailing tog@eurodragster.com.

Bench race and book.
14th October: Keith Lee has been in touch with more details about the Bench Racing session at the British Drag Racing Hall of Fame Gala on Saturday 17th November, which also features the launch of his biography of Dennis Priddle:



The venue is the Oatlands Park Hotel, 146 Oatlands Drive, Weybridge KT13 9HB. Thanks to sponsorship from US Automotive, and also Custom Car magazine publisher Kelsey Media, the Bench Racing session will take place at 12:00 noon on a first-come, first-seated basis. It will feature well-known names from the European drag racing scene who all have some connection with Dennis Priddle, which will ensure it develops into a memorable session.

The current line-up for the Bench Racing session, to be chaired by Graham Beckwith, is:
Dennis Priddle, former Top Fuel Dragster and Funny Car Champion
Barry Sheavills, Top Methanol and Top Fuel Dragster Champion
Roy Phelps, former owner and promoter of Santa Pod Raceway
Stuart Bradbury, former Santa Pod Chief Starter and Chair of the BDRHoF
Andy Craddock, former Top Fuel Dragster racer and Dennis' competitor from the 1980s
Geof Hauser, crewman for Dennis' main 1970s competitor Clive Skilton
Pelle Lindelöw, former Top Fuel Dragster Champion, and regular visitor from Sweden to the UK between 1982-2001
Gary Page, former Pro Comp Champion and Top Fuel Dragster and Funny Car racer from 1970s to 2010s
Steve Read, Top Methanol Champion and, following emigration to Australia, Top Fuel Champion
Brian 'Star' Savidge, longtime crew member with Dennis.
Copies of Mister Six: The Story of Drag Racing Legend Dennis Priddle will be available at that time, and following the bench race there will be a legends' book-signing session with the subject of the book, who will be joined by the assembled drag racing personalities. It will provide a unique opportunity to personalise copies of the book on this special occasion.

Books sales otherwise will be via mail order only, and will be £30 including post and packing, which will currently only be available to UK addresses. No books will be delivered prior to the official launch, due to time-sensitive information contained within it. The ordering procedure will be in place to accept orders by Monday 29th October; information on ordering will be available by that date on my Keith Lee Images web site via the very appropriate web link www.mistersix.co.uk. Alternately, you can E-Mail me direct on sales@keithleeimages.co.uk with your name, plus current delivery address, and I will send an invoice back to you. Payment will be via a secure Paypal link, which also allows payment by any credit or debit card - a Paypal account is not required. Dispatch will be in order of confirmed payment receipt.

Keith has just posted the latest Mister Six book Blog update over on the Acceleration Archive web site containting more detail on the book launch plans and updated details on how the book can be purchased when it becomes available in the near future. The Blog can be found at www.theaccelerationarchive.co.uk.

When the dream became reality.
14th October: The UK's newest Super Pro ET racer, former UK National Junior Dragster Champion Nick Mugridge, has been in touch with the story of his entry to the class:


The year had been going really well. I purchased Luke a new 8.90 engine from our longtime engine partners Craws Racing who supplied all of my engines in Junior Dragster, whilst Dad was finally making positive steps with our Camaro in Comp Eliminator, which is the first time we've entered the Camaro in official competition since Super Mod had been merged into Comp. As we were running both cars for the whole season my duties this year were split between making sure that both cars were ready for every round, in the case of the Junior Dragster I was now in full control of its maintenance. 

The summer break rolled in and nothing in particular was going on for us since neither car needed any major work during the break. I was scrolling through the classifieds on my pad one morning when I stopped on an ad I'd seen before but had been changed. Ian Powell was selling his dragster turnkey but had now changed it to include a rolling price. It was in my budget so I dropped Ian a message. After a phone call to talk about the Dad and I made the trek down to Cornwall to visit and view the car. Obviously we had seen the car before at the track but not in any detail, as you're usually working on your own car all weekend. A deal was done and I finally had my own dragster, complete less engine but we did a deal on the Powerglide and converter as well. 

At the end of August we were at the Junior Fun Day having a great time and also displaying my dragster. The day got even better when our friend Matt Wright came by. He had brought Stevie's Junior Dragster and I was involved in helping her gain her licence. Matt said he had a proposition for me, that if I helped him to build up the 580ci engine which used to be in the Rolls Royce then I could use it to gain my licence this year!

Knowing that the National Finals was the only race left which would allow me enough time to pull it off I agreed. This led up to incredibly long days for about five weeks, in the garage 'til past midnight every day. Parts which I needed to install the engine were ordered and we went through the entire car. We also made the decision to swap out the Hurst shifter, install my new Biondo shifter and wire in its auto shift function to it easier to drive for my licencing runs.

The weekend before National Finals was D-Day. We arrived at Matt's with one of my best buddies Ricky, who also crews on the Camaro, and we spent two incredibly long days building the engine. It fought us all weekend, trying to scupper our chances of making the event. Matt was back and forth to Jeff Bull Race Engines that week having the rotating assembly rebalanced to getting crank bearings whilst Ricky and I made a journey to meet up with Steve Large who very kindly loaned us a couple of rockers to replace those which were damaged a few years ago. 


Much of our relief, on the Tuesday night before the Finals the engine was in the chassis and the dragster breathed life once more. We loaded up all three race cars which was a challenge in itself and we were off. 

We arrived at the track Thursday and set everything up for Friday's test day. We made adjustments on the Friday morning and towed down for the first hit. I wasn't nearly as nervous as I thought I'd be, getting suited up and climbing into the dragster brought back fond memories of my Junior days. Being strapped in I had zero doubts; I was feeling extremely comfortable.

The first run was the a burnout and sixty foot. I pulled into the water box and on the signal lit the tyres up and drove out once I felt the tires grow. It was amazing! I'd been dreaming of doing that for eleven years before this the event and it was all worth it. I bought the revs up on the foot brake, into stage and launched to sixty feet then lifted. I looked at the board and I had pulled a 0.038 light, not bad for a first try! We came back and serviced the engine, changing the oil to check that the new pistons and rings were okay then went back up for the second run which would be a half pass.

I'd been given the OK to use the transbrake this time, which was fun for me. Burnout completed, a bit better this time. The second amber lit up and I stood on the gas , the engine didn't like that and took a bit to stall the converter so instead of trying to cut a light, I waited a bit to allow the car to stall but I ended up letting go of the button before it was fully stalled anyway. I accelerated on and I then heard the auto-shift bang seconnd gear when my shift light flashed so I knew that the system worked great. I lifted just past the eighth mile, 5.42/128 which was great! I had to abort my third run as when I went into the burnout the engine died and wouldn't re-fire. Back in the pits we found the distributor drive belt had moved which meant I couldn't start up as it was out of phase, a simple fix which was a relief. 

Due to the weather on Saturday I couldn't qualify for eliminations as I missed my final licence run on Friday. A quick visit to Race Control and Carole kindly allowed me to tag on the back of E1 to finish my licence, so thank you Carole for that opportunity.


I pulled round after everyone had run their races and completed the burnout, pulled it into pre-stage, this time I stalled the converter on the brake before nudging into stage and hit the throttle on the second bulb. The engine stalled perfectly this time and I went for the light, but as the transbrake button is faster than using my foot I went -0.060 red. Flying down the track I felt the front end moving a little in the back half but nothing out of control. Through the top end I pulled the chute and drove into it which I will work on next time; as soon as it opened up the rear end lifted up which caused me to go into a fair bounce for quite a way. I hung on until it settled down which gave me so much elation, I knew I'd done enough and I got really excited in the shutdown area ending my weekend with an 8.35/159. It was the best feeling in the world.

There are a lot of people whom I need to thank for their help and hours put in to making this deal happen, without them I would never have made it. Firstly Matt, Danielle, Stevie, Summer and Jenson Wright, without them this would never have happened. I can't thank you enough for putting your trust in me with one of your engines, it means the world. And congratulations Stevie on the Junior Dragster licence! The other person who showed faith in me was John Tebenham. JT has been a family friend since before I can remember. Even as a kid in Junior Dragster I would always run to the fences to catch JT run in his Probe, sometimes made easier when I could hear the Thunderbirds theme tune playing throughout the track. Through JT's sponsorship I was able to bring the dragster to the track and he will be backing me in the dragster at Easter next year as well, I couldn't be more thankful and of course I'll be around if he needs help with the Pop or his new Pro Modified Vette. 

And of course thank you to Mum and Dad, who have supported my efforts to get back out, and to Dad for working all those hours to get my dragster to the track, we were all tired by the time we got there but then got a second wind.  Thank you also to Jeff Bull, Steve Large, Andy Hone, Ferrea Racing Components, Steve Clark at Nimbus Motorsport, Eurodragster.com for excellent coverage (Thanks! You're welcone - Ed) and the Super Pro ET Club who have all made me feel very welcome already. 

I am very much looking forward to 2019.

A Get Well.
14th October: Jim Broome writes that race fan Richard (TopNitro) Stirling has been admitted to hospital following a breakdown in his health, eight years after a similar episode: This came about following the organisation of a secret party for his wife who has just celebrated a significant birthday to be followed by a get-together for many of his acquaintances which both had to be shelved at the last moment.

Richard is due to be in hospital for at least another week and is channelling his energies into writing a book to include many of his drag racing anecdotes and pictures. He believes that this could be a mammoth task but is also potentially therapeutic. Richard would be pleased to hear from any of his acquaintances to relieve some of his boredom and can be contacted on his usual mobile phone number. Alternatively he can be visited at Ward 35, The Radbourne Unit, Royal Derby Hospital DE22 3WQ. Visiting hours are 14:30-16:30 and 18:30-20:30.

As usual for Richard he was more concerned for Andy Robinson's health than he was for his own and he wishes to send Andy his best wishes.

Three points to two grand.
12th October: Darren Prentice of Santa Pod Raceway writes that £2000 was raised for Bloodwise at the UK National Finals courtesy of the new darts tournament and a generous donation:

Due to the wet weather earlier in the year, and the poor ground conditions, it became very apparent that our annual Staff v Racers charity football match wasn't going to go ahead. Several alternative suggestions were bandied around as we still wanted to find a fun way to raise money for our supporting charity Bloodwise. Following a chance conversation, Donna Finnegan gained a contact from a local guy who plays in the Professional Dart Championship. The PDC guys were keen to get involved, especially as it was for charity. So the scene was set and we started to put the wheels in motion.


After what was a dismal day of rain which curtailed racing on Saturday, everything was put into place for the darts match in Fuelers Bar. True to her word, Donna's guest turned up and we were graced to have the presence of PDC's James Richardson along with his agent Mark Wastell. We couldn't believe our luck when we realised we had the James Richardson, who is one of the top fifty ranked players in the world. James joined the PDC tour in 2011 then in 2012 caused one of the biggest upsets in the PDC history by defeating the world number one Raymond Van Barneveld 3-0 in the first round of the 2012 Championship. James started the night with a great talk and then went over the dart board and threw throw some arrows to kick the whole evening off. He then very generously donated a set of his personal darts for the winning team.

The format on the night was sixteen names drawn out of a hat to decided who was going to be paired with whom (Remember, Andy Thetford was number two - Ed). We then played a knock out game in the elimination-style ladder which we all know so well. In between rounds we had grudge-style call-outs with the loser putting money into the Bloodwise collection pot.

When we got down to the sharp end of things we had Darren Law and Ethan Lisle taking on Andy Thetford and our very own Angie (Top End) Daly. It looked as if Darren and Ethan were going to walk away with it at one point, with Darren hitting a very impressive 140. However they stumbled when trying to hit the doubles to finish the game, which let Angie and Andy back in. Andy then probably produced the best three darts of the evening to kill off the game and claim the victory spoils.

A big Thank You to all the players who took the time out to come down and play darts and give over their hard-earned money. We had many people say how great the darts set-up looked and this is down to the Woodpecker Pub in Raunds for the back boards, to Lloyd Grey for the trussing and lighting rig and Stuart Curtis for helping with set up. A big thank you as well to Paul Savage and his team from Fuelers Bar for looking after us so well.

We had loads of help on the night but it just could not have happened without the drive and help of Craig Wright and Sam Innes - thank you boys, you were great as ever. Every now and then we get a shining star coming through in our sport and Colin Theobald you were as ever you where a true star on the night and your commentary made the whole evening. Thank Yous must also go to Santa Pod Raceway for allowing us to take over Fuelers Bar on Saturday night, to Funny Car pilot Steve Ashdown for donating a canvas print of the Undertaker Funny Car which raised £130, to John Tebenham for your generous donation and we all look forward to seeing him back on the track next season.

We also ran the Name the Ale Contest in conjunction with Pot Belly Breweries: the winner gets to name an ale and design the pump badge to be launched at Dragstalgia next season. The winner will be announced soon.

£2000 is a great effort so thank you very much to everyone who donated.

UK National Finals snippets.
12th October: Many thanks to our good buddy and timing guru Andy Marrs for passing us the official UK National Finals timing data, which you can check out by clicking here or by clicking on the Timing Data link on the left-hand side of any Eurodragster.com page.

Thanks also to Marrs for forwarding an updated table of European Bests, now containing Steve Woollatt's ACU UK Top Fuel Bike ET record set at the UK National Finals. You can check it out by clicking here or by clicking on the European and UK Bests link on the left-hand side of any Eurodragster.com page.

Congratulations to Lucas Oil Junior Dragster racers Thomas Cook-Abbott and Luke Mugridge who have now officially won the Bob's Photo Finish Award, posted by longtime Eurodragster.com supporter Bob Roberts, for their finish line margin of 0.0005 seconds or 0.69 inches in E1 on Sunday. Thomas and Luke will each receive £50 from Bob to whom many thanks for his continued support.

Lucky, good, and lucky.

12th October: They sometimes say that it's better to be lucky than good, and whilst the UK's Isaacs and Tramm Pro Mod team has shown flashes of good now and again they certainly haven't been lucky – but that all changed at the National Finals, writes driver and Eurodragster.com sponsor Chris Isaacs:

After life getting in the way of running before the European Finals we made significant progress at the race in Comp Eliminator, seemingly getting to the bottom of the tyre shake issues which have haunted us for what seems like eternity! As such we came into the National Finals with a degree of confidence we hadn't felt for some time.

One-shot qualifying was always likely to make things interesting though it didn't mix things up as much as I thought it might, but in any case we qualified and were to face Kev Slyfield in the first round. Come the time and, as Jimmy Young might have said, orft we jolly well went, and lo and behold we were just about keeping up with one of the top British Pro Mod runners – I could just see the nose of Kev's T-Bird in the corner of my eye all the way down through the eighth mile and it was looking to be quite a tight finish. Then we began to drift towards the centre line, I tried to stay with it but eventually decided to be kind to the SPRC timing crew and not take out their thousand foot reflectors. The pedal job cost us around three or four car lengths and that's how we stayed through the finish.

"Well that was OK", I thought, "we gave it a reasonable shot". I congratulated Kev and we chatted about the run and whom he would race in the next round. Then our respective crews arrived and told us that Kev had redlit. Neither of us had noticed! Kev had left first by nine hundredths but had suffered some shake so we were eight hundredts quicker to sixty feet, and both of us just thought it was a good, tight race. Unlucky for Kev who had missed the tree by a measly hundredth of a second but – hurrah and huzzah – some good luck for us at last. So it was Bobby Wallace we faced in the semi-finals, fresh from him clinching number two in the MSA Championship.

Well, I don't know where I was looking when the lights ran, or maybe an ice cream truck sounded its bell as I went into stage – anyway Bobby, one of the best leavers in the class, welded me to the Tree and proceeded to pull away at a puzzlingly vast rate of knots. Then suddenly he wasn't pulling away, we were catching him, and we had enough track left to go in front and take the win light. At the top end Bobby revealed that he had broken the Lenco transmission as he had had no drive when he shifted into third gear, leaving him coasting. Unlucky for Bobby but, would you believe it, two lucky breaks in a row for us.


However all was not well with the Duster and it was running, in Spencer's words, "Like a sack of s**t". A look at the data back ain the pits showed that for some reason we were running the world's first five-cylinder Pro Mod, and that clearly wasn't going to be enough for Andy Robinson in the final. Two of the dead cylinders turned out to be just duff spark plugs but we had broken number five intake rocker arm, and time was running out to beat the dew point of the track. Fortunately the rocker had sheared cleanly into two pieces, and both the rocker arm pieces and the valve lash cap were still lying in the cylinder head. Equally luckily, when we fitted to two halves of rocker arm together they lined up perfectly with no missing bits that may otherwise have been floating somewhere, and we had all the spares to fix it. So we all set to and got the work done.

So to the final and the first time I'd run Pro Mod in the dark. The Duster left the line nicely, and all the way past the eighth mile mark I could hear Andy's engine but couldn't see him, so I knew it was close. Somewhere around a thousand feet I couldn't hear Andy's engine any more, and after legging it through the finish line saw my win light come on. A small celebration ensued inside the car. It was only when I stopped at the top end and the safety crew came rushing over to check if I was OK that I learned of Andy's huge accident just behind me. It seemed an age but in what was actually quite a short time word came through that Andy was A-OK and we all breathed a sigh of relief. He had escaped a big crash without injury and we hadn't collided in a two-car accident... and so maybe this was the luckiest round of all.

At this point Spencer and I would like to do the Oscar thing and thank a whole bunch of people. Our crew of Vince Pinhorn and Rachel and George Georgiou for all their work; Andy, John and Paul Przybyl for their help; Jeff Bull for building our engine and pitching in to help us make the final; all the rest of the Tramm family for their support; and last but not least my wife Rosie who has made a welcome return to the track this year and looked after us all in fine style – thank you honey!

We managed to accomplish quite a lot in the two meetings we did this year – eight straight passes without tyre shake, consistent and fairly decent sixty foot times, and some round wins. Perhaps most significantly, for us at least, the Duster became the first turbo car to win an MSA Pro Mod event, and it always will be. I don't really do pride, but I admit to being a little bit proud of that!

Électrique Stephan.

12th October: After a successful start to the 2017 UK National Sportsman ET Championship season with victory at the Festival of Power, the UK's Steve West was all set to run his electric Nissan Leaf again in 2018 until excluded by a new rule banning electric cars. Steve didn't give in, though, and found not just a welcome but a title across the English Channel:

I was shown that I could take part in the French equivalent class of Street Run, so this year I went to France for three events in ATD Street Run. There were thirty nine cars at the first event at Rivanazzano in Italy but I didn't attend this one as at that point I hadn't decided whether to race in France. The second event was at Clastres, quite a large motorsport park with all sorts of car and bike events taking place . The weekend was also an American car weekend - American cars are really quite big in France. The people there were really welcoming even though I turned up with a car that is decidedly not American or V8! 

The weather was hot and dry all weekend but with quite a strong headwind.  The night time temperatures were really low compared to what we get in the UK -  I needed to remember more blankets for the next visit! There were fifteen entrants and another two drivers from the UK, Clive Dandridge with his Mustang and Chris Redshaw with his MGF.  As it was only my second event and my first outside the UK I was rather nervous but happy to qualify second by a very narrow margin: there was hardly anything between first and second.  After seven qualifying runs Saturday and then two on Sunday I did well in eliminations and progressed to the final where I met the top qualifier and won as my opponent was off his dial-in. I was quite surprised to win what was only my second event.

The organisation at Clastres was first rate! There was some really good racing and the event ran smoothly after a major oil down from the first car on track Saturday.

The third event was again at Clastres and this time there were bikes there as well. We had a storm on the Friday night so the organisers had their work cut out to prepare the track, repair the timing gear and get everything ready.  Many of the competitors also had a lot to do due to smashed awnings and water in engines.  Fortunately nearly everyone managed to get to the start line. The weather cleared up on the Saturday, a few cloudy bits made us worry but the weather ended up hot all weekend and the extra blankets were not needed. This time there were only two UK entrants, myself and Chris Redshaw, also crewing for his son Harry in Junior Dragster. We again had seven qualifying runs on the Saturday, I managed to qualify first and Chris was an incredibly close second: 0.00012 of a second! We had some really close racing and I got to race another electric car, a full rally-prepared Renault Zoe capable of running sub-fourteen quarter mile. The Zoe was running a slower ET, catching the other driver up fast and then hopping past at the finish to try and take the win.  Unfortunately for him when we raced I was right on my dial-in so he broke out! I managed to get to the final again and beat my opponent when he broke out. 

I was unsure about going to the third event, at Vichy Airport, but when I saw I was doing so well in the Championship - second at that point - I had to go and try to win.  Vichy is a way south of Paris so a long way for me...  others have a longer drive but I was using my 1989 Landrover to tow my car and it feels much further when you are stuck at lower speeds! The weather for the weekend was fantastic and the evening entertainment was a lot of fun with a mostly-impromptu band being put together. This time I was the only UK entrant in my class but met more great people from all over.


Vichy is a working airport.  They close Thursday night through to Monday for the event so the track has to be prepped and then the prep removed after.  Quite a few cars had issues with grip, and very changeable winds made it very hard for me. This time I had a really hard time, I only managed to qualify fourth and progressed to the semi-finals where I somehow managed a 0.3 reaction time which was enough to knock me out.

I was pleased to find that I had done enough with the place to take the overall Street Run Championship. I was really pleased to win a Championship in my first season, I think quite a few people were disappointed as I won it using my Nissan Leaf Electric, but the ATD Street Run Champion for 2018 is a 2011 Japanese electric car.

All the events at which I raced were amazingly well-run. The ATD Staff were amazing, looking after everyone from when they arrived to when they left. They are very welcoming to new drivers and do their best to include you even with language barriers.  I found some things they do a little difficult, such as signing for your ET twenty minutes or more before you run, but you get used to it.  They also don't do any heads-up classes, all events are ET. It's a shame that there are so few events in France but they do not have the purpose-built venues like Santa Pod and even though Clastres is a motorsport park, they don't get to put on drag races very often. But it's definitely worth going to race in France just for the experience!

Web site updates.

12th October: Our good friend Chris Eyre has updated his web site with a small gallery from the weekend's UK National Finals, which you can check out by clicking here or by clicking on the picture at right.

The Mad Welshman has updated his Flickr site with pictures from No Prep 3 at Rockingham Drag Strip and VW Action at Santa Pod Raceway. You can take a look at www.flickr.com/photos/the_madwelshman.

2019 SPRC Dinner Dance.
10th October: Santa Pod Racers Club are pleased to announce that their 2019 Dinner Dance Trophy Evening will take place on Saturday 2nd February 2019 at the De Vere Staverton Park Hotel, Daventry Road, Staverton, Daventry, NN11 6JT (map).

The event will present Champions and runners-up in the 2018 UK National Drag Racing Championship, MSA British Drag Racing Championship, Santa Pod Racers Club Championship (for Pro Modified, Comp Eliminator and the bike classes not covered in the UK National Championship) and SPRC Perpetual Award winners.

The arrangements are as follow:

Proceedings will start prompt at 6:00 pm; please be seated by 5.45 pm. There will be trophy presentations to the 2018 SPRC Champions and runners-up followed by a charity game with proceeds going to Bloodwise. Any latecomers will be able to collect their trophies after the first set of presentations.

Dinner will be served at 6.45 pm.

After dinner, the 2018 UK National Champions and runners-up will be presented with their trophies, followed by the 2018 MSA British Drag Racing Championship, and finally the 2018 SPRC Perpetual Award winners.

Tickets for the Dinner Dance are £37.50 per adult and £20 for under-twelves, which includes a three course meal plus tea/coffee and mints. The main meal for children will be chicken nuggets and chips followed by ice cream; please choose a starter for your child and please also specify on the booking form that it is for a child.

If you have any special dietary requirements then please inform Yvonne at trammyd5@gmail.com and she will include them on the menu selection list for the hotel. Please do not approach the hotel yourself regarding special dietary requests.

You can download the booking form (PDF) by clicking here. If you wish to pay direct to the SPRC bank account please contact Yvonne Tramm for bank details at trammyd5@gmail.com. Please note that SPRC are unable to take payments using American Express cards. Booking forms should be sent to Yvonne Tramm at the address specified on the form and not to the SPRC office.

SPRC have negotiated a preferential rate for rooms in the hotel. These are £79 for a single room and £89 for a double or a twin room, including breakfast on Sunday morning. To book your room, please call the hotel on 01327 220676 quoting reference SANT020219. Please do not try to book your room on-line as the electronic reservations system has been told that the entire hotel is booked for that evening, so your attempt at reservation will fail. Please note that SPRC have block-booked a number of rooms which will be available until 31st December after which date any rooms not taken up will be put into general availability and the preferential rate will cease.

If you have any queries about the Dinner Dance then please contact Yvonne Tramm, not the SPRC office, at trammyd5@gmail.com.

UK National, SPRC points posted.
10th October: Many thanks to Yvonne Tramm and our own Simon for posting the final points standings in the UK National Drag Racing and Santa Pod Racers Club Championships.

You can check out the UK and SPRC points on our OCS Paint-sponsored Points Standings page which you can reach by clicking here or by clicking on the OCS Paint Points Standings link on the left-hand side of any Eurodragster.com page.

Swift snippets.
10th October: Big Bruv Bob Tucker asked us to say a big Happy 60th Birthday to Ray Tucker and congratulations on his new sponsorship from the Department of Work and Pensions. Have a great day Ray.

SPR's calendar expands.
10th October: Further to last Friday's snippet, Santa Pod Raceway's 2019 calendar adds exciting new events to its roster of familiar favourites. More than fifty events are featured in 2019's February-to-November season.

Two new fixtures join the Championship drag racing schedule, the Springspeed Nationals in May and August's Green Light Nationals. These raise the number of Santa Pod's National and International Championship races to seven, with individual Championship classes also competing at other events. The Festival of Power launches the Championship season as usual over 2019's late-April Easter weekend and Santa Pod's two FIA/FIM European Championship races take place on their traditional May and September dates. Historic drag racing will be highlighted by a quartet of events headed by Dragstalgia in July and accompanied by the VHRA Vintage Nationals (April) and the National Street Rod Association's Nostalgia Nationals (May) and Hot Rod Drags (September).

On the festival and enthusiast front, the 2019 calendar features a brand-new event in June for fans of all German car brands, Das Auto Show, which will complement Santa Pod's regular array of Volkswagen and BMW events headed by July's Bug Jam 33. Other freshly-minted enthusiast events include May's Vauxhall Show and July's Ford Show, while there'll be a second opportunity to enjoy the spirit of April's Fast Show with the launch of The Fast Show Reloaded in late June.

Santa Pod's complete 2019 calendar is now available on-line at www.santapod.co.uk/calendar2019.php and includes full event and ticketing information. Ticket sales open on 1st November. The print edition of the 2019 calendar will be launched from Santa Pod's stand 2-660 at the Classic Motor Show on 9th-11th November.

2018 UK Champions.
8th October: Congratulations to the 2018 Champions in the UK:

MSA British Drag Racing Championship (Pro Modified): Andy Robinson
SPRC Competition Eliminator: Andy Hone
Super Comp: Stuart Doignie
Terry Gibbs Super Gas Shootout: Stuart Doignie
Super Street: Dave Cherrett
Gearhead Garage Super Pro ET: Brad Jackson
Modurstang Pro ET: Team Paul Brown Motorsport
Hutchinson & Dibley Sportsman ET: Felicity Gibbs
Topspeed Automotive Street Eliminator: Joe Stevens
Lucas Oil Junior Dragster: Caitlin Wilson
Wild Bunch MSA: Phil James
Outlaw Anglia: Colin Millar
VWDRC VW Pro: Paul Bargate
VWDRC VW Sportsman: Polly Judge

ACU Top Fuel Bike: Steve Woollatt
ACU Funny Bike: Lorcan Parnell
ACU Super Street Bike: Steve Venables
ACU Comp Bike: Margot Schmidt
ACU Supertwin Top Gas: Michael Gooding
ACU Junior Drag Bike: Blade Dummer
9.50 Bike: Richard Sawatzki
8.50 Bike: Jake Mechaell
ET Bike: Phil Pratt

UK National Finals results.
8th October: The weekend's UK National Finals at Santa Pod Raceway was contested in its entirety yesterday after rain prevented any wheels from turning on Saturday. For the first time in a very long time emergency qualifying arrangments had to be used for UK National Championship classes. Congratulations to the winners:

MSA Pro Modified: Chris Isaacs 6.5975/222.56 def. Andy Robinson no time DQ
Comp Eliminator: Andy Hone 7.3133/185.71 def. Kev Perkins 7.5970/177.13
Gearhead Garage Super Pro ET: Billy Gane (8.49) 8.5026/145.73 def. Brian Pateman (8.77) 8.7431/156.27 DQ b/o
Modurstang Pro ET: James Oliver (9.74) 9.7589/136.80 def. Leigh Morris (10.90) 109760/118.04 DQ red
Hutchinson & Dibley Sportsman ET: Dan Holloway (15.90) 15.8997/83.94 def. Andy Dibley (13.48) 133.4766/102.78 DQ red
Super Comp: Stu Doignie 11.5182/72.76 def. Leah Kellett 8.9075/161.89 DQ red
Terry Gibbs Super Gas Shootout: Stuart Doginie 10.4834/119.00 def. Collin Morrice 10.4685/148.58
Lucas Oil Junior Dragster: Joe Holland-Villa (8.14) 8.1148/79.65 def. Daniel Weir (9.48) 9.2653/68.42 DQ b/o
Topspeed Automotive Street Eliminator: Joe Stevens 11.1930/107.68 def. Nigel Hale 11.4505/123.40
Wild Bunch: Callum Swinchatt (10.00) 9.4789/139.07 def. Philippa Turton (14.40) 13.7336/95.08 DQ b/o
VW Pro: Jacob Bailey (10.80) 108284/114.75 def. Abi Tether (12.90) 12.8813/105.78
VW Sportsman: Lee Chisholm-Brown (16.80) 16.6963/76.80 def. Russ Weir (17.75) 19.1419/60.84 DQ red
Nostalgia Super Stock: Pete Wiseman (10.90) 10.9076/123.72 def. James Oliver (9.75) 10.7008/99.83 DQ red
Outlaw Flat Four: Udo Becker 11.9024/105.52 def. Phil West 19.0549/52.96

ACU Top Fuel Bike: Steve Woollatt 6.1721/223.36 def. Allan Davies 15.1086/52.52
ACU Funny Bike: Kars van den Belt 7.2544/188.96 def. Phil Crossley 7.6595/171.75
ACU Super Street Bike: Steve Venables 7.1487/204.31 def. Robert Nilsson 7.4990/179.97
ACU Comp Bike: Margot Schmidt 7.6316/183.60 def. Sean Mills 7.5245/193.85 DQ blue line
9.50 Bike: Richard Sawatzki 9.3096/146.25 def. James Cross 9.4958/132.49 DQ red
8.50 Bike: Jay Roe 8.6207/151.60 def. Josh Stubbins 9.0222/151.57
ACU Junior Drag Bike: Blade Dummer (8.80) 9.7741/74.68 def. Casey Holgate (13.88) 13.8377/45.44 DQ b/o
ET Bike: Gary Hester (10.50) 10.7502/112.89 def. Michael Gooding (9.40) 9.8564/141.18

Subject to official ratification the following record was set:

ACU Top Fuel Bike ET: 6.147 seconds, Steve Woollatt

Congratulations also to Lucas Oil Junior Dragster racers Joe Holland-Villa and Thomas Cook-Abbott who won the two Eurodragster.com/Bad Habit Racing Perfect Light Awards of £50 apiece, and to Modurstang Pro ET racer Lee Huxley who won the Eurodragster.com/Vitesse Labelling Products Perfect ET Award of £50. The Bob's Photo Finish Award, posted by longtime Eurodragster.com supporter Bob Roberts, has provisionally been won by Lucas Oil Junior Dragster racers Thomas Cook-Abbott and Luke Mugridge whose finish line margin was 0.0005 seconds or 0.69 inches although the race was decided upon a red light. We will double-check with the official timing data before confirming the winners.

The MSA Pro Modified final was marred by a hideous crash involving Eurodragster.com sponsor Andy Robinson whose Camaro got airborne after hitting the guardrail. To everyone's relief Andy got himself out of the car and walked to the ambulance, testament to the construction skills and standards of Andy Robinson Race Cars and, of course, to SFI specs. 9.50 Bike racer Dave Bowe was taken to hospital with a dislocated shoulder after a top end crash and Funny Bike racer Dave Buttery took a spill after getting into a huge tankslapper, however we understand that his injuries were minor.

You can check out our John Woolfe Racing-sponsored reports, results and galleries by clicking here or by clicking on the John Woolfe Racing Event Coverage link on the left-hand side of any Eurodragster.com page.

Please join Tog in a big Thank You to Simon for working out Championship standings in real time under considerable pressure yesterday, and to Julian and Diana for their hard work on the galleries.

UK National Finals bike scrutineering.
5th October: Further to Monday's news item, SPRC Club Secretary Ian Marshall has informed us that today's (Friday's) bike scrutineering for the UK National Finals commences at 17:00. There is no specific scrutineering order today.

All other times are as advised on Monday.

Swift snippets.
5th October: As we went to post Santa Pod Raceway published their 2019 calendar. We are expecting more details from SPR about the new calendar but in the meantime you can take a look at www.santapod.com.

Thanks to Lena Perés for letting us know that this year's EDRS Banquet takes place at 19:00 on Saturday 24th November at the Sunlight Hotel and Conference Centre in Nyköping. Bookings must be made by 30th October. For more information click here or click on the image below left.



First with the 2019 calendars is photographer Matt Woods. Matt's calendar, which will be a limited edition, is A4 and features twelve of his favourite images - "It was really hard to choose just twelve!", says Matt. "The calendar would make a great Christmas present for the drag racing fan in your life. The calendar is £10 plus £1.99 for UK postage or £4.75 p+p air mail to the USA". To order yours contact Matt via his web site at www.mattwoodsphotography.com.

The best of weekends.

5th October: The NSRA Hot Rod Drags has always been a favourite for UK Wild Bunch team Limited Funz Racing whether racing themselves or just soaking up the atmosphere, but Lynne Coulsell writes that the 2018 edition turned out to be one which the team won't forget for a long time:

BallBreaker had been put to bed for the season after Dragstalgia as we had gone through three fuel pumps this year and we weren't sure why. Someone came up with the bright idea of trying a belt-driven fuel pump so we woke her back up and fitted it. We had some good runs with this new set-up at the Redline Rumble and Steve tried a number of things to see what would work best for us. We even managed a cheeky little PB of 8.38, over our best of 8.39 from earlier in the year at the Nostalgia Nationals. All happy, we packed up and waited for our favourite event of the year, Hot Rod Drags.

We were all set up on Friday night ready to see what BallBreaker would do for us on Saturday. Steve and Mark had fitted a high-speed lean-out the weekend before so we weren't sure what would happen. First run out on the Saturday, after a rather long wait in the usual HRDs queue, and we saw 8.2/157 come up on the boards as BallBreaker went through the finish line! Apologies to anyone whom Steve, Anna and I may have deafened as we left the start line, but we were a little bit excited!

We couldn't poker face our excitement to Mark when we went to collect him from the bottom end and we arrived with hazard lights flashing and horns hooting! He knew that it was a good run but was stunned when we told him what it was. Finally he'd beaten Steve's previous best speed of 157.22 mph with a 157.39, about which he was equally as chuffed as the 8.23! No more teasing Mark about that one now, Colin Theobald! Back to the pits and our fab Wild Bunch racers had lined up to welcome us back clapping and cheering and even had a silver blow-up crown for Mark – it made the whole experience extra special.


We made another run later in the day, which was an 8.41 as the car decided to go a little sideways and we all looked ridiculously disappointed. Final run of the day and we bagged another PB of 8.22. Another great reception from the Bunch back in the pits and it was time to get ready to Crackle. Harley was excited too as Marras Rob and Hayley had offered him their Tot Rod to join in the Cracklefest, thanks to them for putting a smile on his face and to Phillipa Turton for the loan of a firesuit and helmet as we realised he didn't have his with him. Sadly Ian Coulsell couldn't make it with his beautiful 1949 Chevy truck in matching BallBreaker livery so no push start down the old fire up road for us but Mark wasn't going to be outdone by anyone and his was the last engine to shut off at the end of the Cracklefest before the fantastic fireworks began.

The girls went down to watch the band in the marquee and Steve and Mark milled around in the pits with a couple of beers, still smiling from ear to ear about what a great day it had been. Steve's final question before we turned in for the night was "Are we going for points or a PB in the morning?". Mark looked at me, I looked at Mark, we both looked at Steve and collectively decided that as we never go for points, and as it was our last meeting of the year, another PB would be nice.

Sunday morning arrived and we gave the lovely Claire Meaddows a dial-in of 8.22 as we thought "Why not!". BallBreaker, usually fairly inconsistent bless her, decided to play ball and although we didn't hit another 8.22 we didn't think we'd done too badly. Everyone was still smiling and we started to pack up and reflect on a great HRD's. We all gathered round where Claire was going to deliver the WB prize presentation ready to congratulate the winners. Spot prizes first and Mark was delighted to receive the Drivers' Choice award for the weekend, which is voted by the other WB racers. Claire started to read out the top four in the traditional reverse order:

4. Pete Huckle in the Jagster – at this point Steve, Mark, Anna and I usually switch off a little bit as fourth is the highest we've ever managed!
3. Phil James in Rampage
2. James Auld in Little Fauss - everyone was delighted for James as it was the highest he'd ever achieved...

...First place, and with a weekend of PB's too... Mark Coulsell in BallBreaker!


Mark Coulsell speechless, now that doesn't happen very often, as those who know him well will vouch! Steve and Anna remained sitting on the floor and were applauding like someone else had just won and I stood there in total disbelief at what had just happened! We were absolutely gobsmacked but obviously over the moon! Eight years of blood, sweat, tears, far too many ££££ to mention, more laughs than a comedy club and we'd finally bagged ourselves a first place, and to do it at Hot Rod Drags was the icing on the cake.

Thank you Santa Pod for giving us a Hot Rod Drags which we thought we wouldn't feel again after Shakey, to everyone there for giving us an amazing track to race on and keeping us all safe, Colin Theobald for the great commentary (how did you have a voice left after this one flying solo for most of the weekend) and Eurodragster.com, as always, for the great coverage and galleries for us all to look back on (Thanks! You're welcome - Ed). We're all still buzzin'!

Finally Mark would like to say to Steve Cassisi "A massive thank you for tuning a race car which has achieved times which I thought I would only even dream of. Marra Chief you are the best and I'm so proud of what you have achieved since we all decided to build BallBreaker back in 2006."

How you can get Mister Six.
3rd October: Keith Lee is proud to report that progress on his book Mister Six - The Story of Drag Racing Legend Dennis Priddle is somehow right on track for its planned launch during the day of the British Drag Racing Hall of Fame Gala on 17th November:



The writing and layout stages have just hit completion point - almost simultaneously, as it has turned out, due to the addition of some late news. It is now a case of getting proofs approved, prior to actually initiating the final act of having the books printed.

With regard to availability, the limited-edition hardback book will be available to purchase on-line, for shipping following the launch date. I will be taking books along to the launch event, and these will be available to purchase on the day. It will be on sale at a price of £25, but please note that I will not be able to accept credit card payments. It will be a great opportunity to get it signed by a number of racing greats who will be at the Bench Race at that time.

The web site is currently being worked upon. Fittingly, in the circumstances, the web site can be accessed via the very appropriate link www.mistersix.co.uk.

I plan to start accepting orders for the book on-line by the end of October. Price will be £30 including signed delivery, and I will be able to accept Paypal and major credit card payments. Please note that currently I will only be able to accept and ship orders to UK addresses.

There will be an exclusive preview of the book in the upcoming November issue of Custom Car magazine, which is due out this Friday. The magazine's owner Kelsey Media have joined US Automotive in sponsoring the Bench Race session, which will feature well-known drag racing personalities from the UK, Sweden and Australia who all have a connection with Dennis Priddle. It promises to be an entertaining session!

The finalised book details are: Large format, sewn binding hardcover book, with an 11 inch x 8.5 inch silk finish page size. Page count is 208 (a significant number in the Priddle story), and it is filled with well over 300 colour and black and white pictures. More important than the pictures, this is the story of a very memorable drag racer, and the word total in this account runs to some 100,000 words in recounting the life and times of Dennis Priddle.

Currently there are just a few tickets still available for the evening's Hall of Fame Gala. To book a seat, contact Stu Bradbury by E-Mail at stuart@britishdragracinghof.co.uk.

There is a Facebook group, Mr. Six - the Dennis Priddle story at www.facebook.com/groups/398554693879332, and I will be updating the Mister Six Blog over on the Acceleration Archive shortly.

Arrows for Bloodwise.
3rd October: Darren Prentice of Santa Pod Raceway writes that the usual football match will not be the focus of fundraising for Bloodwise at this weekend's UK National Finals due to a rutted playing area. However, the alternative will allow you to get to the point of raising funds for this very worthy cause in memory of Paula Marshall:

We think that we have come up with a good alternative with which everyone can get involved, and that is darts in the area of Fuelers bar. There will be plenty of activities to keep you amused including a live band in the main bar area. We will have three dart boards to amuse everyone on the night and to get through the activities.



We have two main games in mind. The first is 501 in the lowest number of darts, which will be £5 a go and we will offer a good prize to the winner.

The second is a pairs knock-out tournament style 301, normal dart rules at £10 per team. Again the winning pair will pick up a nice prize and if we get chance a few grudge matches can be thrown together. I mean who wouldn't want to see Steve Ashdown v Liam Jones throwing down at the oche  or David Left lane Warren taking on Ian Right lane Marshall - let's make them happen, money talks.

There will be other activities for you to have a go at such as table tennis and air hockey if you fancy challenging one of your crew. Also we will again be doing Name the Ale again to win the right to have an ale in your name and to design the pump badge which will go on sale at Dragstalgia in 2019.

If you're interested then just come down to Fuelers bar on Saturday night, or if you have a team to enter then get hold of Craig Wright or Sam Innes on Facebook.

Two of the dart boards are already sponsored but if you are interested in sponsoring the third then please E-Mail me an offer at darren@santapod.com. You can also write for any other information.

£250 on offer at UK National Finals.
2nd October: This weekend's UK National Finals at Santa Pod Raceway is the final event in the 2018 Eurodragster.com Perfect Awards Scheme and also features the second Bob's Photo Finish Award of the season. To celebrate the end of a long and busy season Cath and Tig Napier are posting two Eurodragster.com/Bad Habit Racing Perfect Light Awards to add to Al Platt's Eurodragster.com/Vitesse Labelling Products Perfect ET Award and Bob Roberts' award for the closest finish. All of this adds up to a whopping total of £250 on offer from Eurodragster.com and our sponsors this weekend.


Two Eurodragster.com/Bad Habit Racing Perfect Light Awards, each of £50, will be on offer after the Award was won by Gearhead Garage Super Pro ET racer Paul Brown at the FIA/FIM European Finals. The money will be paid in cash to the first two racers to record a Reaction Time of 0.000 seconds during qualifying or eliminations, but will only be awarded for the first two Perfect Lights of the event. The Perfect Light Award is presented in association with Cath and Tig Napier of Modurstang Pro ET team Bad Habit Racing.

Decals are not mandatory for the Perfect Light Award but we would appreciate it if Eurodragster.com decals are carried. Eurodragster.com decals will be available in the Signing On office or from the Eurodragster.com office in Race Control (entry via Spectator Bank side stairs only).



The Eurodragster.com/Vitesse Labelling Products Perfect ET Award has been reset to £50 after it was won by Gearhead Garage Super Pro ET racer Joe Kellett at the FIA/FIM European Finals. The money will be paid in cash to the first racer to run +0.000 on index or dial-in during qualifying or eliminations. The Perfect ET Award will be available this weekend in Gearhead Garage Super Pro ET, Modurstang Pro ET, Hutchinson & Dibley Sportsman ET, Super Comp, Terry Gibbs Super Gas Shootout, Super Street, Lucas Oil Junior Dragster (eliminations only), VW Pro, VW Sportsman, the Wild Bunch, Nostalgia Super Stock, 8.50 Bike, 9.50 Bike, Junior Drag Bike and ET Bike, but will only be awarded for the first Perfect ET of the event.

To be eligible to win the Award, decals (right) must be carried, clearly visible, one on each side of the vehicle. If a Perfect ET is recorded without decals then there will be no argument, we will not pay out and the money will be awarded to the next racer to record a Perfect ET. Decals will be available in Signing On from this Friday.

For more information about the services which Vitesse Labelling Products can provide please see Al Platt in the Modurstang Pro ET pits or visit www.vitesse-labelling.co.uk.

Bob's Photo Finish Award, which is presented in association with longtime Eurodragster.com supporter Bob Roberts, will award £50 each to the racers involved in the closest race of eliminations at this weekend's event. The first Bob's Photo Finish Award was posted at the SPRC Summernationals and was won by FIM Europe Junior Drag Bike Cup Champion Meggie Talbot and Blade Dummer in a semi-final race which was decided in Meggie's favour by 0.26 inches (0.0002 seconds).

The closest race will be decided upon distance rather than time since, for example, 0.001 seconds at 230 mph is further than 0.002 seconds at 110 mph. For this reason the official timing data will need to be consulted so the winners will be announced here on Eurodragster.com as soon as possible after the event and the winners will then be contacted for their preferred method of payment.

Bob's Photo Finish Award is open to all classes during eliminations only and although Eurodragster.com decals are not mandatory we would appreciate if it they are carried. Eurodragster.com decals are available in Signing On.

UK National Finals racer update.
1st October: Many thanks to Ian Marshall for forwarding us details of the arrangements for this weekend's UK National Finals at Santa Pod Raceway:

Friday 5th October
08:00 Gates open for the duration of the event
10:00 Signing On office opens
10:00 Car scrutineering commences, no specific order
17:00 Bike scrutineering commences, no specific order

Saturday 6th October
07:00 Signing On office opens
07:00 Car scrutineering commences: sign-on/scrutineering details
07:00 Bike scrutineering commences: sign-on/scrutineering details
09:30 Track opens for qualifying and eliminations

Sunday 7th October
07:30 Signing On office opens
07:30 Car scrutineering opens
07:30 Bike scrutineering opens
09:30 Track opens for qualifying and eliminations

The provisional running orders are now available and can be checked out by clicking here or by clicking on the John Woolfe Racing Event Coverage link on the left-hand side of any Eurodragster.com page. Please note as ever that running orders are subject to change due to weather or track conditions or for any other reason deemed necessary by race officials.

No race vehicle motors are to be fired up before 09:00 or after 20:00 on any day of the event including Friday's Alltorque Test Day. Before 09:00 vehicles should be pushed or towed to Scrutineering, not driven or ridden. Non-observation of curfew will result in exclusion from the event.

Junior Dragster and Junior Drag Bike racers please remember the rule about pushing vehicles back to the pits once through the arch beside Scrutineering.

Only race officials and SPR staff are allowed in Race Control whilst racing is underway. Should racers wish to raise any matter with race officials then please do not visit Race Control; please firstly see the Race Secretary who is based in Signing On.

Colour commentators are requested to come to Commentary only when their class is at the head of the lanes, to vacate Commentary as soon as their class has run, and not to bring guests to Commentary with them.

At the request of SPR management the Eurodragster.com office at the Bankside end of Race Control is similarly out of bounds during racing except to Eurodragster.com staff, Zeon TV crew and racers or crew collecting Eurodragster.com Perfect Award money.

2018 UK Championship outcomes.
1st October: This weekend's UK National Finals at Santa Pod Raceway is the final round of all UK National Championship car and ACU Drag Bike classes, as well as MSA British Drag Racing Championship (Pro Modified) and other classes. Simon, who with Yvonne Tramm co-ordinates the UK National Championship points, has provided the following analysis of Championship outcomes:

In MSA Pro Modified, Eurodragster.com sponsor Andy Robinson has a lead of 34 points over Jimmy Ålund, and a lead of 52 points over Michel Tooren, neither of whom are attending. Andy's closest rival is therefore Kev Slyfield whom he leads by 61 points. Kev would have to win the event and Andy qualify poorly to win the Championship, but if Kev wins one round he will achieve runner-up spot. Bobby Wallace is just three points behind Kev and could also, mathematically, overtake Andy if he suffers a nightmare weekend.

Andy Hone leads the SPRC Competition Eliminator Championship by 470 points over Robin Orthodoxou, with 590 points available. Andy needs only to qualify fourth or better to secure the Championship.

In Super Comp Stuart Doignie, who is going for his unprecedented fourth and a consecutive, Championship, leads Leah Kellett by 240 points. 480 points are available so Stuart will need to qualify top and go one round, or simply go two rounds, to secure the Championship. Leah needs to qualify top and win the event to get the title. Running a perfect ET could affect the outcome too, as this is awarded 50 points.

The Terry Gibbs Super Gas Shootout 2018 is a three-way battle (can a shootout ever be three-way?) with Simon Gough ahead of three-time Champ Stuart Doignie by 40 points, which is less than one round of racing. Team Morrice Boys Racing are another 200 points back. Of Simon and Stuart, whoever goes two rounds more than the other in the race, regardless of qualifying, will secure the title. Team Morrice Boys Racing will have to win the race and rely on the others going out in round one to win the Championship.

In Super Street, congratulations to Dave Cherrett who has won the Championship with a 450 points margin over Leigh Morris.

Gearhead Garage UK Super Pro ET is between Brad Jackson, who is 160 points ahead of Team Pryzm, who are in turn 80 points ahead of Scott Hauser. Brad will need to qualify well and go two rounds further than Team Przym - Paul Przybyl being the driver at this event - to secure the title, whereas Paul will need to qualify better than Brad and win the event. Scott will need to go three rounds ahead of Brad and Paul and qualify better than either. So it will be another fascinating three-way battle.

Modurstang Pro ET is led by Paul Brown who is 310 points ahead of Team Dark Horse - Lee Huxley driving at this event - who are 30 points ahead of Bob Molden, with Team Thatadoo a further 80 points back. With a field of twenty six cars, qualifying will be important. If Paul qualifies better than the others then he will only need to win two rounds of racing to secure the title. But if Lee qualifies top and Paul qualifies worse than ninth, then the race could go down to the wire.

Hutchinson & Dibley Sportsman ET is led by Felicity Gibbs who has a 550 point advantage over our Eurodragster.com colleague Kirstie Tramm. Kirstie's team-mate and class sponsor Andy Dibley is 230 points further back. Felicity needs 400 points to secure the Championship so qualifying top and winning one round of racing, or qualifying last and winning three rounds of racing, would suffice. To achieve the Championship Kirstie would need to qualify at the top and go to the final round, with Felicity going out round one and qualifying thirteenth or lower. Andy could get runner-up spot if he goes a couple of rounds further than Kirstie and qualifies more than three places higher.

In Lucas Oil Junior Dragster Caitlin Wilson attained the points lead by virtue of winning the European Finals and is 400 points ahead of Matthew Dowdy. Previous Champion Jordan Payne is another 60 points further back. Caitlin can secure the Championship by qualifying first and going two rounds, or going four rounds with a qualifying position in the top sixteen. To win the Championship Matthew would have to win the event and qualify near the top with Caitlin going out early.

Topspeed Automotive Street Eliminator is led by Joe Stevens, who is 80 points ahead of Andy Bond. Martin Smith in third place 220 points further back is out of the running and we hope to see him back soon. Whoever qualifies ahead of the other and goes furthest will win the title.

UK Nostalgia Super Stock (MSA events) is led by Amy Watkins who has a margin of 140 over her brother Tom and Guy King who are in joint second place. With a healthy entry of sixteen, any of these three could win. Thanks to Ethan Lisle for sharing the points, and for passing on the below news item.

VW Pro is led by Paul Bargate who has a 290 point advantage over Sam Chisholm Brown with Adrian Solly another 60 points further back. Paul will have to go two rounds further and ten qualifying positions higher than Sam to secure the title. Adrian would need to qualify better and go one round further than Sam to gain second position, however Sam is part of the three-car Team Mulisha - will team strategy aid his cause?

In VW Sportsman Polly Judge leads Jon Crawford by 330 points with Paul Day another 280 points further back in third. Polly will need to win three rounds of racing if she qualifies in the top half of the field to secure the Championship, whereas Jon will need to win the race, qualify in the top half of the field and have Polly go out in round one to take the title.

The Wild Bunch run several Championships, however the one relevant for the UK National Finals is the Springbridge MSA Points Challenge. Phil James has a margin of 250 points over second-placed Darryl Howells, and qualifying second and taking runner-up will secure him the title. Darryl would need to qualify at the top, win the event and have Phil go out in round two to take the Championship.

The Outlaw Anglia title has been won by Colin Millar for the second season in succession and congratulations to him.

ACU Top Fuel Bike is led by Steve Woollatt with a margin of 160 points over Allan Davies. Steve will need to qualify in the top two and win one round of racing (with points for low ET and top speed) to secure the Championship. Allan will need to qualify well, win the event and set points for Low ET and top speed with Steve losing in round one to take the title.

In ACU Funny Bike, Lorcan Parnell has an unassailable lead of 970 points over Dave Peters and congratulations to Lorcan and Team Storm on winning their first Championship. Dale Leeks is 90 points behind Dave and will therefore need to qualify better and go one round further to take runner-up.

ACU Comp Bike has a bumper entry of eighteen for the UK National Finals including eight from the Netherlands. Double Redline Rumble winner Erik Jennes has a 100 point advantage over Margot Schmidt (both from the Netherlands) and Sean Mills is a further 95 points back. Erik will need to qualify better and go one round further than Margot to secure his Championship. Margot will need to qualify better and go two rounds further than Erik, and Sean will need to win the event and have Erik and Margot go out in round one to take the title.

ACU Super Street Bike is led by Steve Venables over team-mate Graham Balchin by 210 points, with Rick Stubbins a further 90 points back. The title has only had one competitive round so far, the SPRC Summernationals. So with fifteen bikes entered and four rounds of elimination in prospect, if one of the leaders has a problem and loses in the first round, the potential is there for any of these three to win the title.

In 8.50 Bike Jake Mechaell has a 550 point lead over Ian Chrichlow and will need only to qualify well or get a round further than Ian to secure the Championship.

In 9.50 Bike David Bowe has a 320 point lead over Rick Sawatzki who in turn has a 520 point advantage over Brett Cordelle. David will need to qualify better than tenth and go three rounds to secure the title, whereas Rick will need to win the event and have David qualify poorly and go out before the final round to take the Championship.

The SPRC Supertwin Top Gas title has gone to Michael Gooding; congratulations to him.

The ET Bike title has again gone to Phil Pratt; congratulations to him. Runner-up spot is a tight battle between Dave Grundy, Jasmine Cordelle, Paul Adams and Gary Hester all of whom are within a points margin of 120.

ACU Junior Drag Bike is led by Liam Holgate who is 110 points ahead of Meggie Talbot with Casey Holgate a further 110 points behind. Liam will need to qualify better and go a round ahead of Meggie to secure the title - but the converse is also true.

The post-FIA/FIM European Finals UK National and SPRC Championship standings are now available on our OCS Paint-sponsored Points Standings page by clicking here or by clicking on the OCS Paint Points Standings link on the left-hand side of any Eurodragster.com page. ACU UK Drag Bike Championship points are available on the King Racing web site at www.kingracing.com.

Eurodragster.com will be covering the UK National Finals, as well as Friday's All Torque Test Day, in association with John Woolfe Racing, with Webster Race Engineering / Nimbus Motorsport webcast on all three days. You can check out our UK National Finals Event Index, which includes a link to the updated final official entry list, by clicking here or by clicking on the John Woolfe Racing Event Coverage link on the left-hand side of any Eurodragster.com page.

A season of growth.
1st October: UK Nostalgia Superstock Chair Don Scott has plenty of reasons to feel good about the class as it approaches this year's final round:

We have seen numbers building meeting by meeting over this year, and many of the Lifestyle event cars have been made MSA-legal, so we are very happy to announce that the UK National Finals has a sixteen-car field of leaf-sprung muscle battling it out for the 2018 Championship.

With the Big Bang round earlier in the year being missed, the MSA UK Nostalgia Superstock Championship was cut down to just two rounds. The first round of the two was the SPRC Summernationals at which we saw some really close racing. The event win was taken by Amy Watkins in her Pontiac Firebird, racing brother Tom Watkins in the semi-final and going on the take the win against Guy King in the final.

All eleven cars from the first round are back with the addition of another five cars, for some of whom this will be their first time running MSA regulations.  This is very promising for the growth of the class. We cannot wait to see how the Championship pans out and how the numbers increase further for the 2019 Championship.


Earlier news