Part 4 – 1992-93 – The Packman Years
1992: Tim's recovery
A major development in the sport in 1992 was the multi-year sponsorship of major events at Santa Pod Raceway by Budweiser with more money for the Top Fuel, Funny Car and Top Alcohol racers who saw their field sizes and performance reach new heights. Unfortunately Pro Modified were a little left out in the cold for financial support, although welcome promotional support came from Custom Car backing the series.
At Avon Park, new promoter Brian Burrows saw the future in big bracket races, the Goodguys Shootout. There seemed to be little room for class action such as Pro Modified who were relegated to a support fixture at the Hot Rod Drags in September.
The rule-book looked the same as 1990 and 1991 – because 1992 was the third year of a moratorium on rule changes, designed to create stability and keep costs down.

Andy Robinson with Budweiser advertising in SPR start area
Colin Donisthorpe photo


Tim Cook launches at season opener in front of new VIP block
Colin Donisthorpe photo
Car-wise, many of the field were concentrating on refining their existing combinations. The top five from 1991, Messrs Cook, Warne, Packman, Robinson and Mingay, had the same cars, albeit with refreshed engines and other new goodies. 1990/91 champion Tim Cook had crew chief Rob Loaring build a 615ci engine to replace the 582ci previously used.
Dave Pollen had bought Graham Barrs' Mustang III, installing an ex-Tim Cook 540ci engine and auto gearbox (unique for the class then), and Mick Cheley had acquired Ray Simpson's Calibra, both promising cars that hadn't quite reached their potential with Ray opting to join Andy Robinson's crew in 1992. Bernie Hepworth and Colin Taylor (Ford Thunderbird) persisted with their existing cars, both with somewhat uncompetitive performance, Bernie leaving the class to go Super Pro mid-season.
Tim Hines limited his appearances whilst Graham Ellis was building an early Willys coupe. Jim and Charlie Draper planned a new Vauxhall Calibra to be built by Jon Webster's J.M.W. Performance Construction workshop, to be powered by the 500ci engine from the team's fuel Funny Car which had suffered a transmission explosion in 1990 causing Charlie serious leg injuries.
---
18th-20th April, Santa Pod Raceway, Easter Thunderball
An attendance bonus of 300 points was insufficient to attract more than seven cars, many of which were dialling into the tricky track conditions. Dave Pollen suffered a misfire, Dave Mingay's chute refused to deploy. Two cars, Alan Packman and Dave Mingay's had on-board computers. Dave Warne suffered two broken main bearing caps on his final qualifying pass and was a no-show for eliminations.
Andy Robinson had borrowed customer Tim Hines' car as Tim had injured his back and although the car didn't have the performance of his own Sierra, Andy qualified it and earned the bonus points.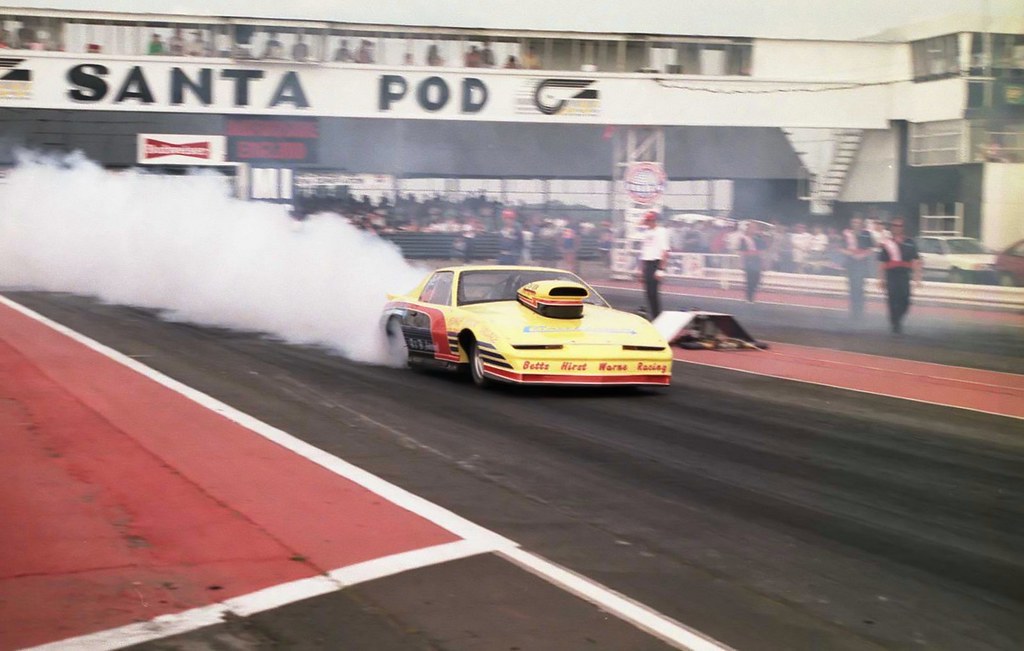 Dave Warne qualified 2nd at Easter, under the Betts Hirst Warne Racing banner
Colin Donisthorpe photo
Qualifying
Alan Packman (Ford Scorpio 596ci) 7.36/191
Dave Warne (B&H Autokraft/Warne Racing Pontiac Trans Am 632ci) 7.56/174
Tim Cook (55 Chevy 615ci) 7.69/177
Dave Mingay (Hellraiser III Vauxhall Calibra) 7.74/182
Dave Pollen (Pollen Count III Ford Mustang) 8.58/158
Andy Robinson (Ford Sierra 468ci) 9.05/130
Bernie Hepworth (Rover 800 Fastback) 9.41/133
Dave Warne's second qualifying attempt slowed to a 7.91/172, the reason becoming clear when on removing the oil pan, main bearing problems and a cracked main bearing cap became visible. On reassembling the engine, the main bearing cap literally fell into two pieces in son Paul's hands, sidelining Dave for the remainder of the event.
Alan Packman's new fibreglass lightweight door came off following a trip across the centre line on a 8.06/177 pass, causing it damage. On Dave Mingay's last pass of Saturday after an 8.06/174, the chute became detached from the rear of the car, damaging the wheelie bars in the process, the same issue occurring on his best qualifying pass at over 180mph.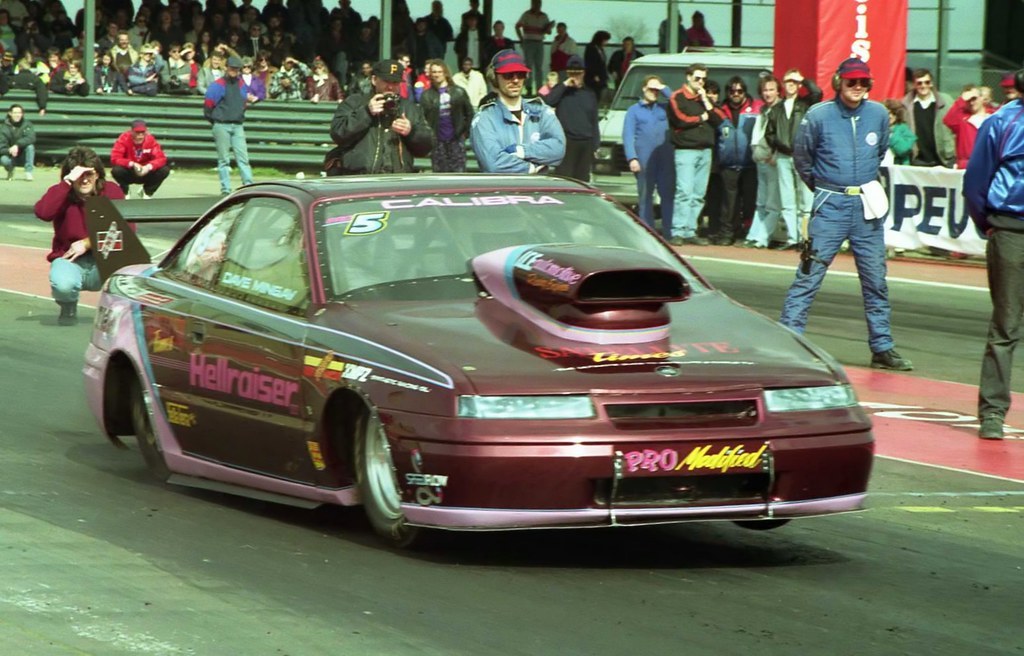 Dave Mingay at Easter 1992
Colin Donisthorpe photo
Tim Cook had to weld a ring gear into the transmission, necessitating a borrowed welding kit and hooking it up to a generator at the end of the track with a late Sunday practice run showing a promising 7.36/179. Dave Pollen was chasing a persistent misfire.
Eliminations
Round one
Alan Packman 7.38/190 bye
Bernie Hepworth broke (ignition) v Dave Warne, no-show (engine)
Dave Mingay 7.50/189 def. Dave Pollen 8.09/169 DQ red (PB)
Tim Cook 7.452/179 def. Andy Robinson 8.65/157
Semi Finals
Alan Packman 7.577/182 def. Dave Mingay 7.995/177
Tim Cook 7.73/186 bye
Final
Alan Packman (RT 0.549) 7.935/140 def. Tim Cook (RT 0.655) 10.07/189
Tim Cook suffered a giant wheelstand, amplified in the 1-2 shift and was forced to lift. In the other lane, Alan Packman's chute shook itself out at half track and he dragged it to his first victory of the season.
---
3rd-4th May, York Raceway, Open Nationals
This was the first visit of the PMRA to York Raceway. In his Cook Report written for Custom Car, Tim Cook remarked that the startline of the track showed good grip considering not many quick cars had raced on it, and the undulation of the track was 'hardly noticeable'. Tim went on to discuss the importance of recognising the efforts of the crew and the financial support of sponsors.
Sadly the results didn't hit any of the publications we had to hand.
---
23rd-25th May Santa Pod Raceway, Main Event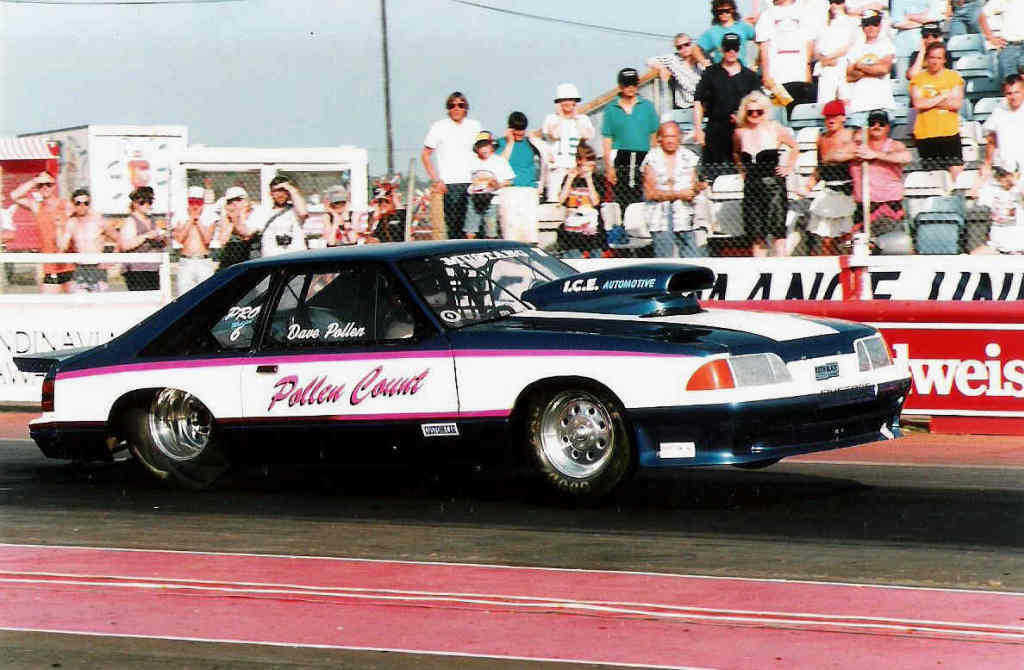 Dave Pollen 1992 with Keith Black engine
Eric Sawyer photo
Dave Pollen had conquered his misfire by this event and whilst Andy Robinson's Sierra was not up to the previous season's seven second performance, he managed a win here. Both Alan Packman and Dave Mingay suffered engine problems, Alan's smoking its way to a first round bye and not returning for the semi final. Dave Warne had damage on his new engine, a torched cylinder head putting him out of competition after his second qualifying attempt. Dave Mingay was qualified last with horrendous tyre shake.
Qualifying
Alan Packman 7.13/197
Tim Cook 7.27/192.45
Dave Warne 7.59
Dave Pollen 7.71/177
Andy Robinson
Colin Taylor
Dave Mingay
Eliminations
Round one
Dave Pollen 7.79/177.95 def. Dave Mingay 8.36/144.12
Alan Packman 8.92/186 bye
Tim Cook 7.20/194.12 bye
Andy Robinson 8.68/153 def. Colin Taylor 9.02/173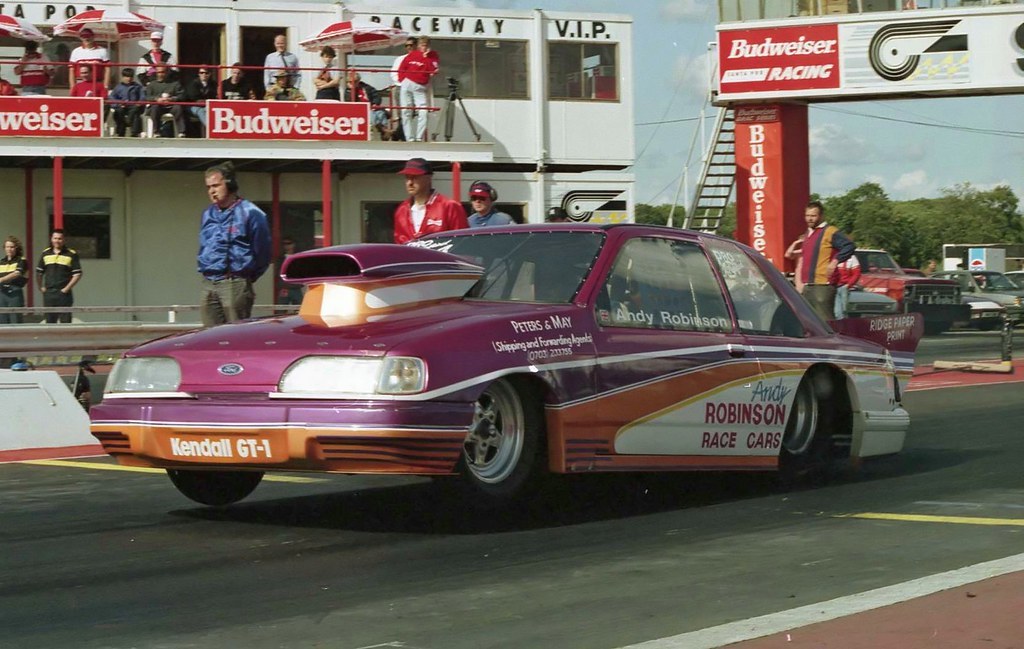 Andy Robinson 1992
Colin Donisthorpe photo
Semi Finals
Dave Pollen 7.64/178 def. Tim Cook 7.73/186 DQ crossed outer line
Andy Robinson 8.13/166 def. Alan Packman, no-show (engine)
Final
Dave Pollen 7.66/178 def. Andy Robinson 8.28/165
In round one, Alan Packman suffered burnt pistons, slowing him on his bye run and putting him out of the show for the remainder of the event.
Dave Mingay had a new engine and data logger in his Calibra, however regaining his seven second performance from 1991 proved difficult. In round one, his third gear shift lever came away in his hand, at the same time smashing the switch for the second nitrous stage and despite grabbing fourth gear lever was not able to recover and slowed to a 8.36/144.12.
Tim Cook's handling issues persisted in the semi final with the car wanting to wheelie so much Tim had to lift and then becoming unsettled and crossing the outer line.
Bjorn Cronqvist brought his IHRA-legal Corvette to Santa Pod only to be allegedly told at the gate that he was not allowed to race in Pro Modified, and that he would only be admitted as a spectator, not even as an exhibition vehicle. The dispute arose when it had become clear at the previous year's World Finals that Bjorn's 'Vette was outside the PMRA rules. Bjorn had wanted to race on a permanent track, as he had done in the US where he visited in order to buy the car; however there were no such tracks in Sweden (even Mantorp Park was only used rarely).
Undeterred, Bjorn made the drive to Avon Park, which was running an American Car Weekend for street cars and bikes. On arrival, the track staff agreed to spray the surface, even 200ft beyond the finish line. Despite suffering some damage on a skywards launch, Bjorn ran a best of 7.70/202, peddling the car down the track.
---
13th-14th June, Santa Pod Raceway, Gary's Picnic
Colin Taylor, matched against Mick Cheley's new Calibra suffered a stuck throttle and lost control near half track. Colin tried to release the throttle, the car veered to the right and left and went into Mick's lane. It dug in at the lights causing the car to flip on its roof before landing right side up, with a dented roof and near side front corner. Colin was uninjured and was able to return to the track at the Cannonball.
---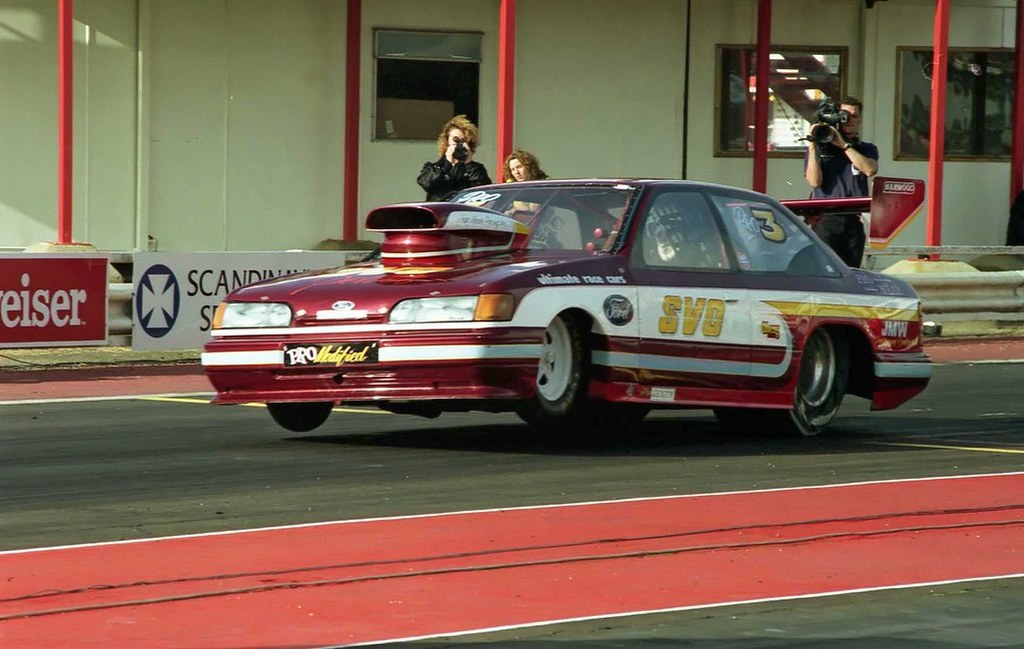 Alan Packman 1992
Colin Donisthorpe photo
20th-21st June, Santa Pod Raceway. Bug Jam
The field was small again following Colin Taylor's accident at Gary's Picnic, and Andy Robinson was unable to attend. However Mick Cheley brought his Calibra and Dave Mingay and Dave Warne had fresh engines, making six cars with Dave Pollen, Alan Packman and Tim Cook.
The track was not prepared before qualifying and Tim Cook experienced tyre shake on his three qualifying attempts. The problem became acute on the third run and Tim lost control of the car which got loose, rolled over on its roof and slid up the track before rolling again three times and ending up on its wheels, Tim fortunately emerging completely unhurt.
Eliminations
Round one
Byes for Alan Packman (7.45), Dave Warne and Dave Pollen
Mick Cheley 8.01 def. Dave Mingay 8.41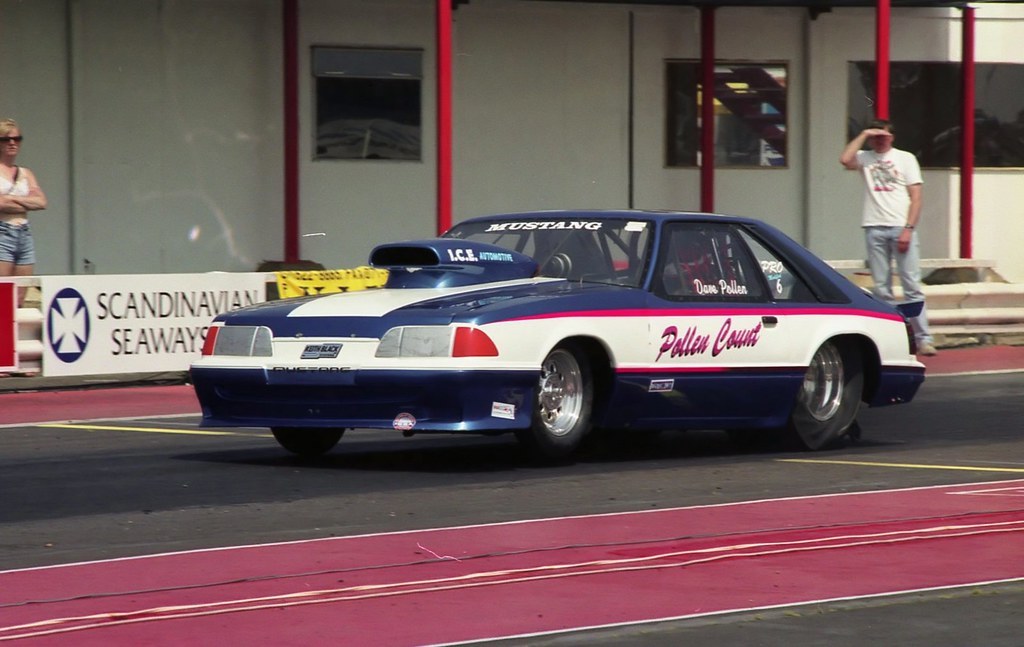 Dave Pollen 1992
Colin Donisthorpe
Semi Finals
Alan Packman 7.70 def. Mick Cheley (DQ stage foul)
Dave Pollen 7.82 def. Dave Warne (DQ stage foul)
Final
Alan Packman 7.62/187 def. Dave Pollen 7.77/179
Tim Cook remarked that with the Cannonball two weeks away the team were down but not out and hoped to be there with something.
The 'something' turned out to be a Volvo 760! Rob Loaring recalled "We were in the middle of a points championship and we needed a car. After a few phone calls we were cleared to collect Jimmy Karlsson's Volvo from his shop in Sweden. We pushed the Chevy into the trailer, dropped it back home and Tim got on a plane. We had the Volvo back home by the Thursday after the crash. We'd already pulled the running gear from the '55 and in about ten days we were good to go".
---
3rd-5th July Santa Pod Raceway, Cannonball
Tim Cook was hoping to run the borrowed Volvo for the first time after a 36 hour boat ride from Gothenburg to Hull and a long drive back to his Essex base. On the team's way to the track, they were stopped by the police for having an overweight trailer, enlisting the help of Danny Cockerill who transported the car separately after it had been unloaded.
Constant rain on Saturday and Sunday morning meant that all the planned action had to be crammed into the Sunday afternoon. As the star attraction of the meeting was the Cannonball Funny Car competition, it meant that, after a few checkout passes earlier, Pro Modified were cancelled as well as round three of the British Top Alcohol Championship.
---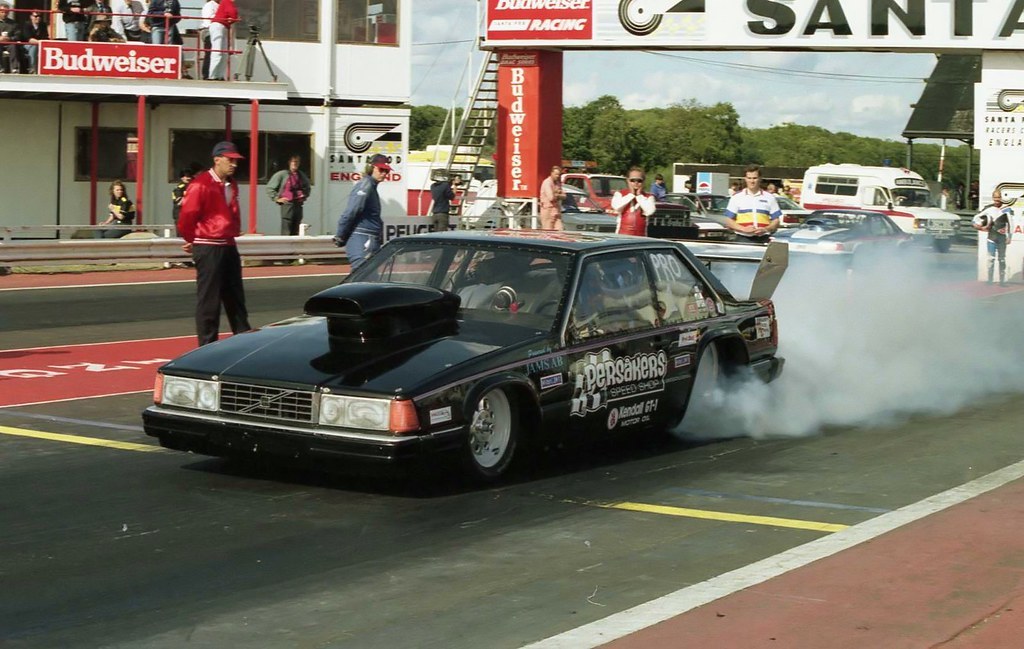 Tim Cook in borrowed Volvo 1992
Colin Donisthorpe photo
17th-19th July, Santa Pod Raceway, Beetle Bash
Again running on a marginal track, of the eight cars present only Alan Packman had been able to run to form.
Qualifying
Alan Packman
Dave Warne 7.72/184.44
Dave Mingay 7.77/176.55
Bernie Hepworth 7.85/177.47
Andy Robinson 7.95/171
Tim Cook 7.99/165
Mick Cheley 8.02/174.92
Dave Pollen
Eliminations
Round one
Alan Packman 7.29/192.10 def. Dave Pollen 7.74/174.54
Andy Robinson 7.88/168.89 def. Bernie Hepworth 7.96/173.07
Dave Warne 8.03/175.66 def. Mick Cheley 8.05/174.02
Tim Cook 8.05/153.12 def. Dave Mingay 8.20/170.46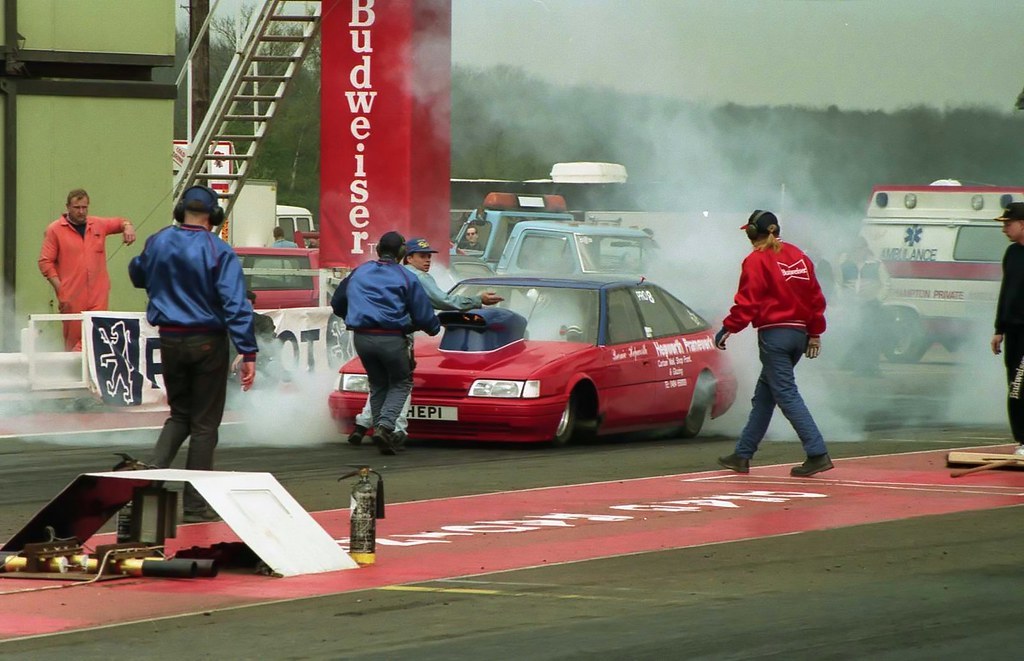 Bernie Hepworth ran the Rover 800's best ever 7.85
Colin Donisthorpe photo
Semi Finals
Alan Packman 7.32/191.65 def. Andy Robinson 8.71/150.70
Tim Cook 7.87/171.02 def. Dave Warne 8.60/166.09
Final
Alan Packman 7.31/191.65 def. Tim Cook DQ red
Tim Cook was delighted that after the hard work getting the Volvo from Sweden and fitting the running gear from the '55 Chevy, the team had got the car to run in the sevens and become runner up. Tim still had a mathematical chance of gaining the championship however the Packman steamroller was gathering pace…






---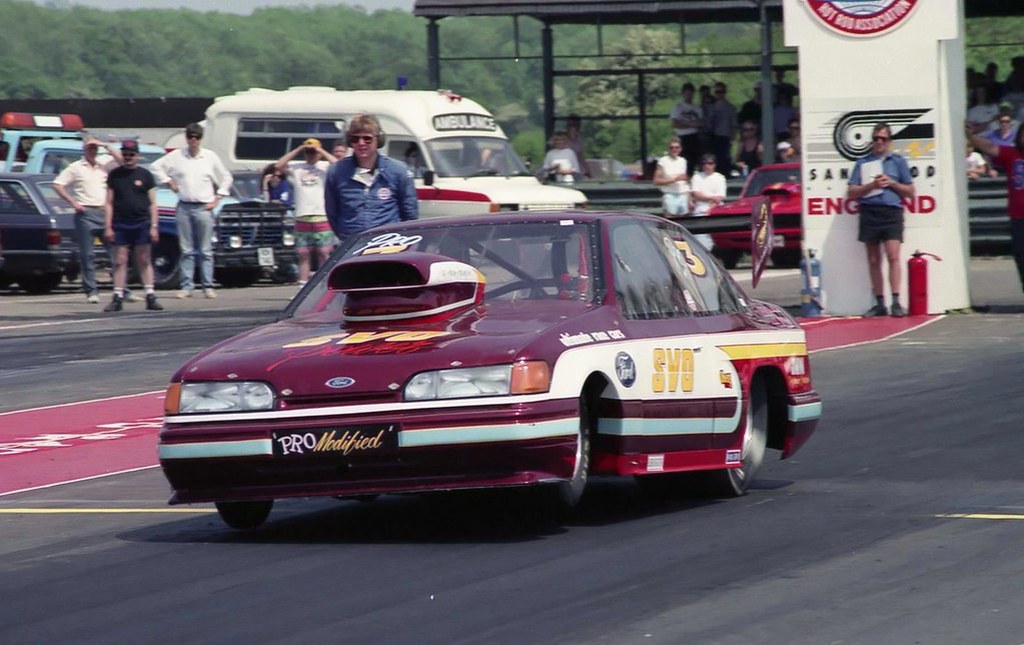 Alan Packman 1992
Colin Donisthorpe photo
29th-31st August, Santa Pod Raceway, Summer Nationals
Seven cars were entered and performances were back to expectation with good traction despite blustery weather. Three qualifying sessions were held, pretty much the standard for the class.
Qualifying
Alan Packman 7.22/192
Dave Mingay 7.24 (PB)
Dave Warne 7.26
Dave Pollen 7.76
Tim Cook 7.94/168
Andy Robinson 7.95
Colin Taylor
Eliminations
Round one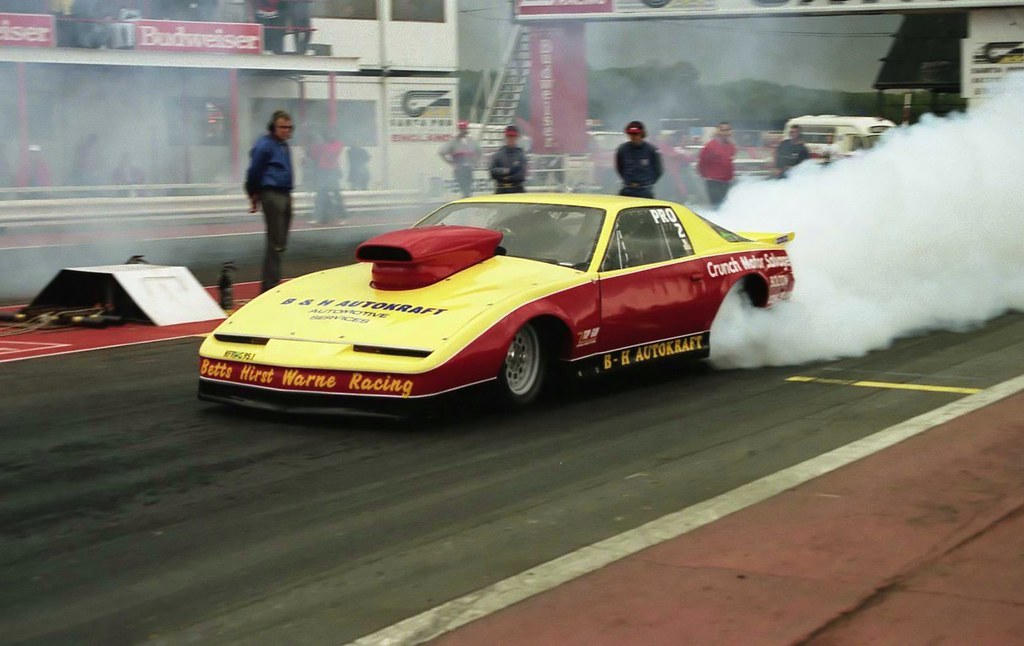 Dave Warne 1992
Colin Donisthorpe photo
Tim Cook 7.41/186 def. Dave Pollen 7.60/181 (PB)
Dave Warne 7.31/189 def. Andy Robinson 8.06/165
Dave Mingay 7.56/184 def. Colin Taylor no-show
Alan Packman 7.26/190 bye
Semi Finals
Alan Packman (RT 0.503) 7.22/190 def. Tim Cook (RT 0.510) 7.26/187
Dave Warne 7.26/192 def. Dave Mingay 8.57/138
Final
Alan Packman 7.18/192 def. Dave Warne 7.32/194
Tim Cook had struggled with his nitrous system working in the pits but not on track during qualifying. With some help from John Atkinson he rewired the system between qualifying and eliminations resulting in a big pickup in performance from the borrowed Volvo. In the semi final, which Tim saw as make-or-break for his driving career, he got close to defeating Alan Packman
Alan Packman's 7.18 in the final was a new record but did not last for long.
---
5th-6th September Avon Park Raceway, 4th annual Hot Rod Drags
Andy Robinson co-ordinated the entry for this event, the sole round at Avon Park in 1992. The racing surface produced record times, with Alan Packman running back-to-back 7.154 and 7.133, both at 198mph terminal speeds.
Dave Warne had a fresh 632ci Dart/Chevy two stage nitrous engine imported from the US where it had run regular 6.8s. Returning after a break was Tim Hines with his Sierra, backed by Malvern Tyres.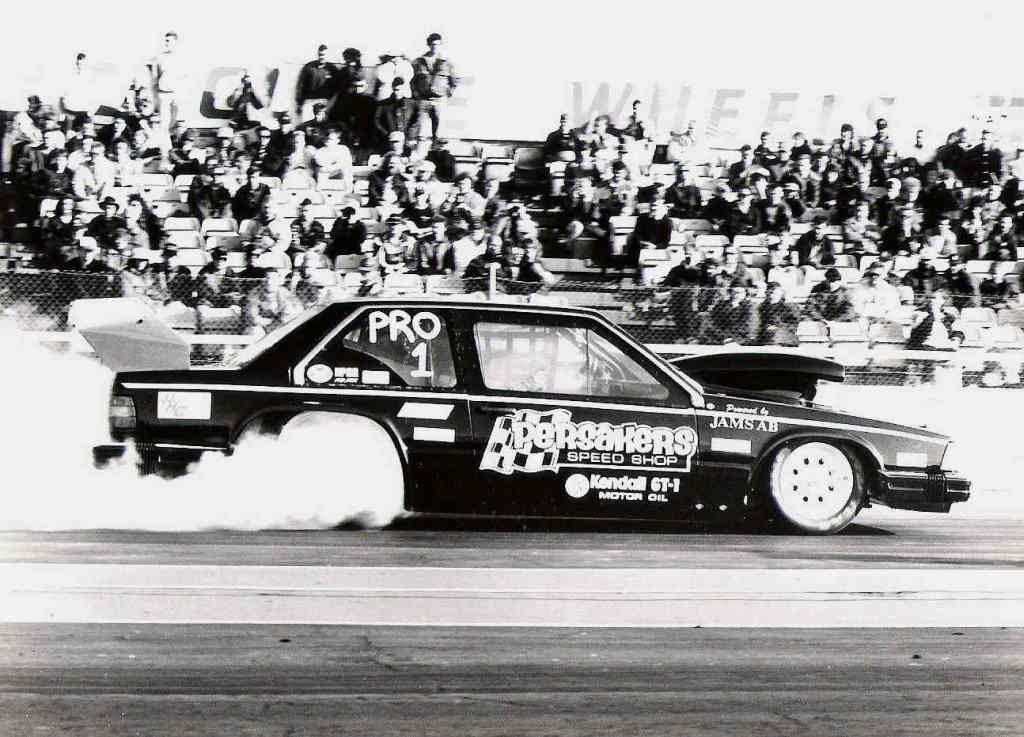 Tim Cook at Santa Pod Raceway 1992
Dick Parnham photo
Qualifying
Alan Packman 7.133/198
Tim Cook 7.144/196
Dave Warne 7.202/200.20
Dave Mingay 7.203
Dave Pollen 7.60/182
Andy Robinson 7.78
Tim Hines 8.52
Dave Warne's 200.20 was generally regarded as genuine although the PMRA ignored speed records for points in view of some of the questionable speeds run previously.
Eliminations
Round one
Alan Packman 7.236 bye
Dave Mingay 7.262/192 def. Dave Pollen 7.701/183
Tim Cook 7.140/193 def. Tim Hines 9.370/149
Dave Warne (RT 0.248) 7.428/195 def. Andy Robinson (RT 0.017) 8.256/152
Semi Finals
Alan Packman (RT 0.168) 7.239/194.39 def. Dave Mingay (RT 0.015) 7.559/153
Tim Cook (RT 0.126) 7.093/201.09 def. Dave Warne (RT 0.226) 7.467/196.23
Final
Alan Packman 7.252/194.01 def. Tim Cook 8.026/170.06
Tim Cook came away with the records despite having a malfunction in his nitrous system and losing the final to Alan Packman. The speed record was now a genuine 201.09mph with the first ET recorded in the 7.0s.
---
18th-20th September, Santa Pod Raceway World Finals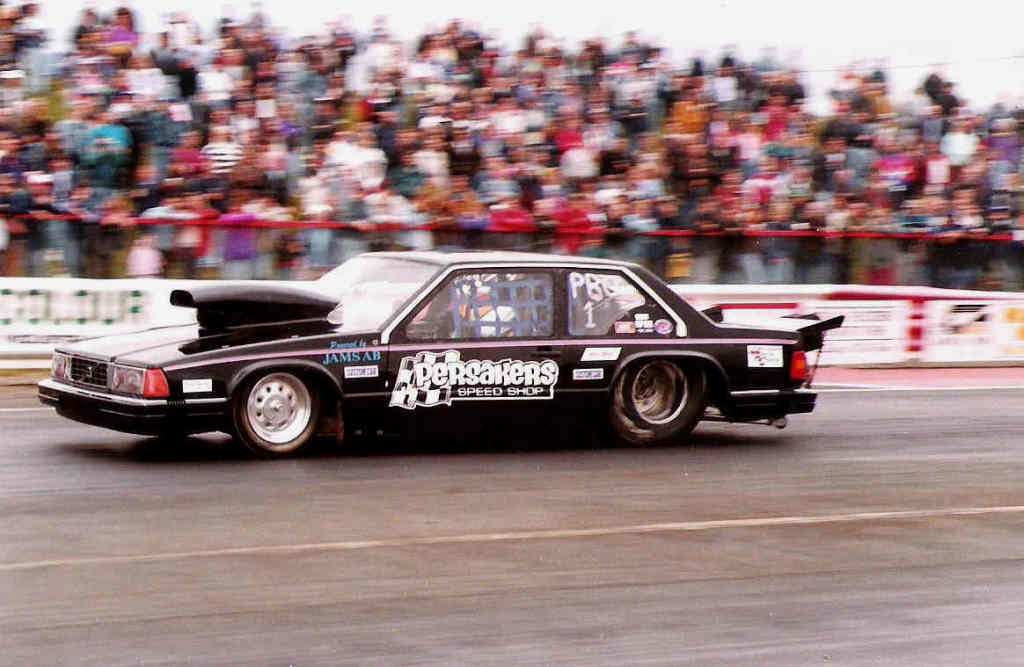 Tim Cook at World Finals 1992
Colin Donisthorpe photo
Alan Packman again proceeded to dominate the event, which was cut short by a 5pm shower on Sunday preventing any of the finals from being run. Regular racers were joined by Swedish racer Jari Konola's Pro Stock Chrysler LeBaron.
Qualifying
Alan Packman 7.19/193.7
Dave Mingay 7.24/191
Dave Warne 7.28/188
Tim Cook 7.34/186
Dave Pollen 7.64/180
Andy Robinson 7.86/173
Mick Cheley 7.89/176
Colin Taylor
Jari Konola 9.76/165
Jari Konola had huge clutch problems, coming only ninth in qualifying however Colin Taylor didn't show for eliminations which gave Jari as alternate another chance.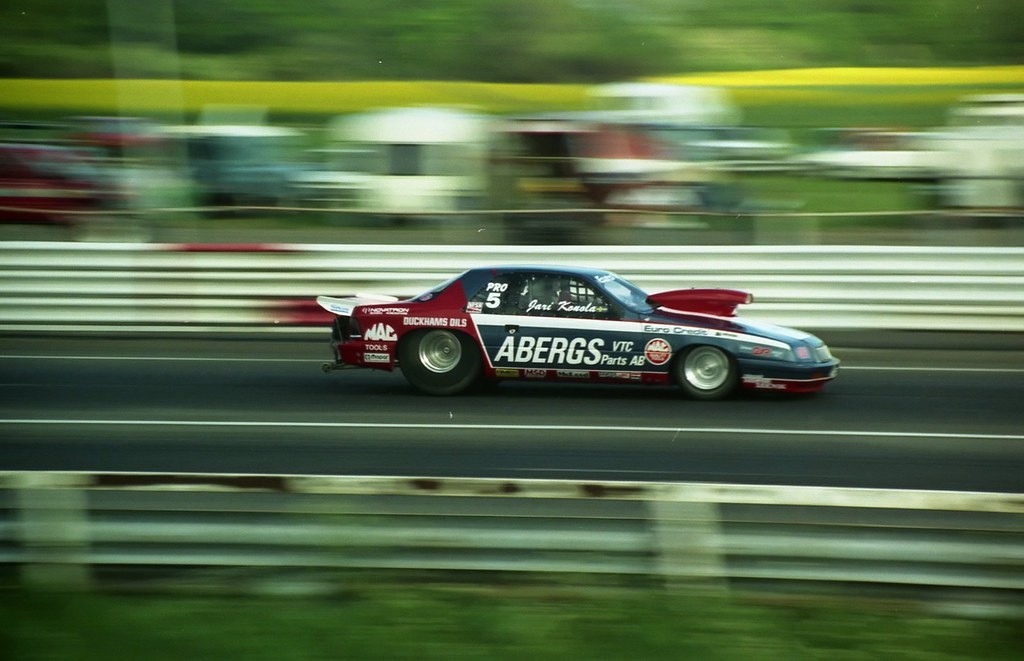 Jari Konola 1992
Colin Donisthorpe photo
Eliminations
Round one
Dave Mingay 7.24/194 def.Mick Cheley 7.89/171
Dave Warne 7.95/174 def. Andy Robinson 8.24/168
Dave Pollen 7.56/182 def. Tim Cook DQ crossed outside line
Alan Packman 7.24/197.50 def. Jari Konola 7.69/179
Semi Finals
Alan Packman 7.40/191 def. Dave Pollen 7.55 DQ red
Dave Warne 7.14/195 def. Dave Mingay 7.30/191
The rained off final was Alan Packman vs Dave Warne, but Alan had done enough to be awarded the 1992 Championship. The final was run at the following weekend's International Doorslammer race
Final
Alan Packman 7.38/189 def. Dave Warne 7.47/189
---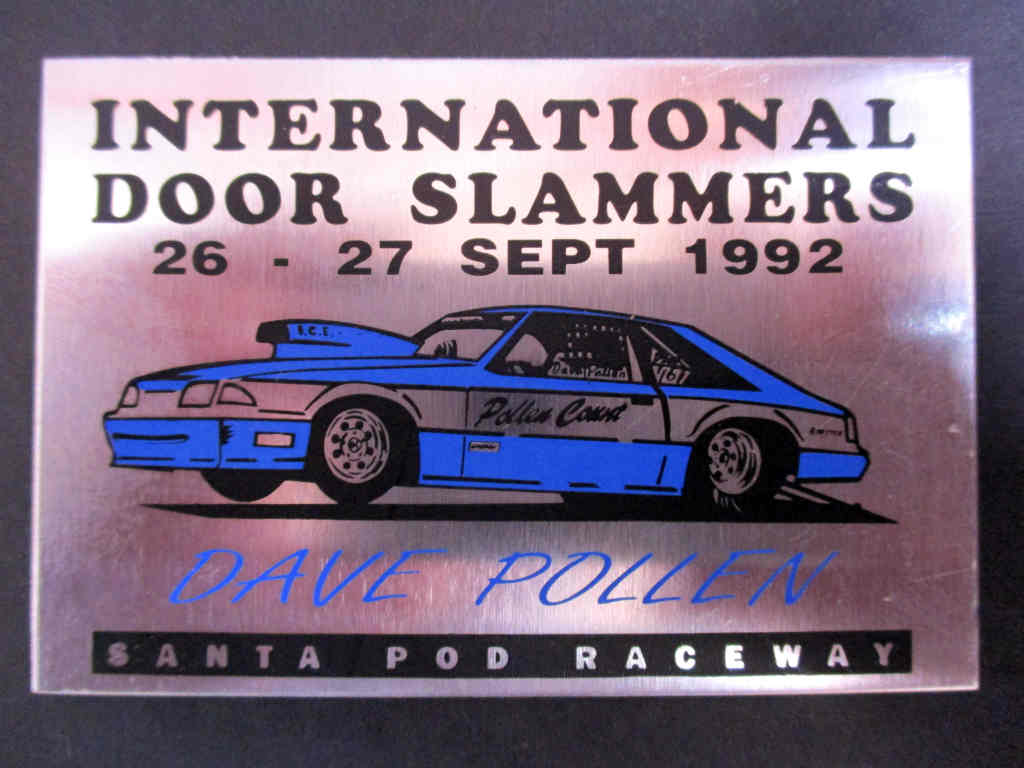 Doorslammers metal dash plaque 1992
Jerry Cookson collection
26th-27th September, Santa Pod Raceway, International Doorslammers
In those far off days, Tim Cook commented that the track suffered at this event with patchy glue and rubber accumulated from the previous weekend's World Finals peeling off in chunks, something that would be considered unthinkable today. The result in 1992, even after fitting new tyres in Tim's case, was tyre shake and handling problems.

Qualifying
Alan Packman 7.34/194
Tim Cook 7.40/177
Dave Warne 7.46/186
Dave Mingay 7.79/184
Andy Robinson 7.97/127
Dave Pollen 8.00/172
Colin Taylor 9.08/150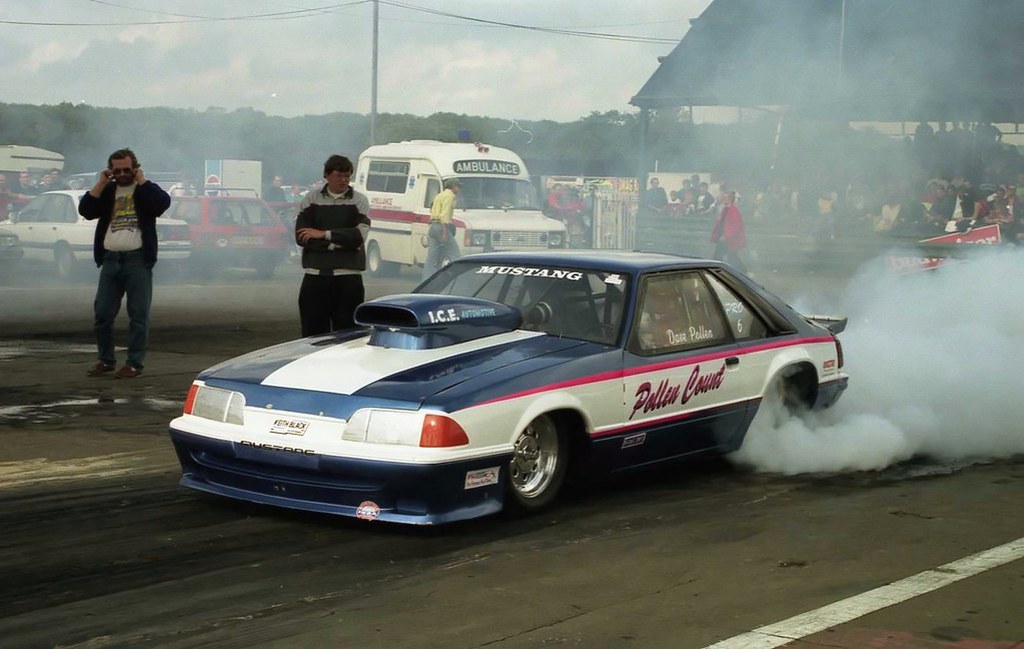 Dave Pollen 1992
Colin Donisthorpe photo
Eliminations
Round one
Alan Packman 7.89/191
Dave Pollen 7.59/182 def. Dave Mingay 7.66/179
Tim Cook 7.24/189.10 def. Colin Taylor 9.03/154.50
Dave Warne 7.67/178 def. Andy Robinson 12.81
Semi Finals
Alan Packman 7.49/189 def. Dave Pollen 7.56/183
Dave Warne 7.64/183 def. Tim Cook, lifted
Final
Alan Packman 7.46/187 def. Dave Warne 7.60/181


---
Championship
Alan Packman had led the championship for most of the season with consistent performances later in the season, however Tim Cook with his crash and then using a borrowed car felt that second place was a creditable achievement. Dave Pollen came third after a late charge following a new engine.
Dave Warne dropped to fourth from second in 1991 with engine damage mid-season only resolved by buying a new Gene Fulton unit. Dave Mingay retained fifth position, with tyre shake problems plaguing him in the first half of the season after his previous year's engine issues had been sorted. Andy Robinson dropped from fourth to sixth, his relatively small engine giving him a big handicap against others who had 600ci engines.
The last few positions in the championship were occupied by Mick Cheley, Bernie Hepworth, Colin Taylor, Tim Hines and Jari Konola. Of these, Mick Cheley remained with the class, whilst Bernie Hepworth raced an alcohol funny car, Tim Hines retired from racing and Colin Taylor donated his car to Andy Robinson for 1993.
---
1993: hunt for the sixes
The class showed a change of direction with the end of the three year rules moratorium after the 1992 season. To allow the class to develop, a decision was taken to look at the rules with a view to bringing them into line with current Pro Modified rules applying in the US, which were followed in Sweden. In a few years time more Swedish competitors would visit the UK to race, however many remained reluctant.
A technical team was formed consisting of chassis constructors Geof Hauser, Jon Webster and Andy Robinson under the direction of Tim Cook. Clive Bond of Ultimate Race Cars and Alan Packman stepped back from the committee. Alan was still in the thick of the action, however Tim was working on raising sponsorship support and accordingly had the role of overseeing new contingency funding through 'Real Racing Management'. Crane Cams became the class's contingency sponsor for 1993. Tim continued to write his monthly Cook Report for Custom Car, although he took a year out from the sport for financial reasons, which eventually became a retirement from racing.
Bernie Hepworth had left the class to go Top Alcohol Funny Car racing. The Rover 820 Fastback was also lost to UK Pro Mod as Bernie had concluded a deal with Knut Soderqvist over winter 1992, who promptly sold the car to the Borg brothers, made the trip to Malta to set the car up with its original BBC engine, and drive the car at Hal Far Raceway where it remained afterwards.

Tony Rose 1993
Colin Donisthorpe photo


Andy Robinson drove Colin Taylor's Thunderbird
Colin Donisthorpe photo
Whilst Tim Cook and his Volvo were missing from the ranks, a promising new entrant joined the class, Tony Rose. Tony had previously run Super Gas in a '37 Ford (coming third in the 1992 Championship) but now imported a car that would see much service over a period of almost 30 years: the Jerry Bickel-built Oldsmobile Cutlass with 613ci Olds/Donovan nitrous engine. The main sponsor was Tony's firm Target Audio. Tony's crew chief was Rob Loaring of I.C.E. Automotive, who had previously won two championships with Tim Cook.
Glen Dumont joined the class in a Camaro gen 2 built by Geoff Owen. Graham Ellis returned briefly to the fray whilst Outlaw Anglia star Danny Cockerill made a guest appearance mid-season.
There were also reports of a car being built by Andy Robinson for Super Gas racer Gordon Appleton, and the Toyota Supra of Bert Englefield being joined by an identical model being built by Hauser Race Cars for Steve Rawlings. However none of these cars would appear during 1993 for the usual reasons of budget and time.
---
9th-12th April, Santa Pod Raceway, Easter Thunderball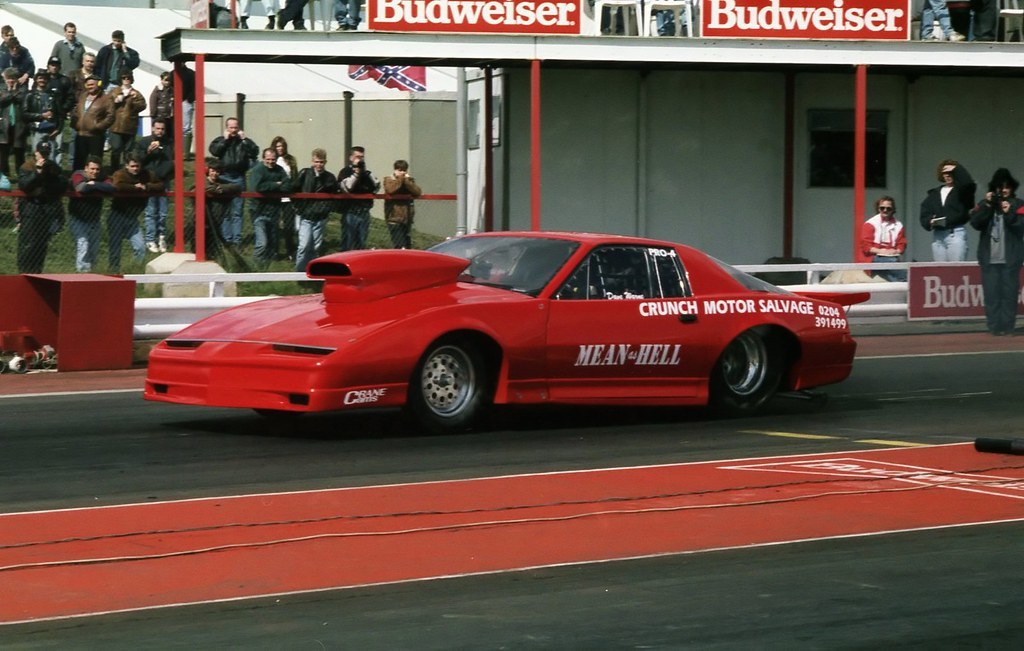 Dave Warne 1993
Colin Donisthorpe photo
With cars being finished, the size of the field was reduced to four qualifiers, however an increase in car count was anticipated later in the year, as had become usual. The track surface was difficult with rain and wind ruining plans for preparation in the week before the event.
Qualifying
Alan Packman 7.400/188.71
Dave Warne 7.536/185.12
Dave Mingay 7.752/175.18
Dave Rose 14.063/82.54
Eliminations
Semi Finals
Alan Packman (RT 0.548) 7.627/185.83 def. Tony Rose (RT 0.635) 9.609/111.53
Dave Warne (RT 0.533) 8.003/181.86 def. Dave Mingay (RT 0.492) 8.336/158.08
Final
Dave Warne (RT 0.543) 7.554/190.30 def. Alan Packman (RT 0.574) 7.676/181.45
---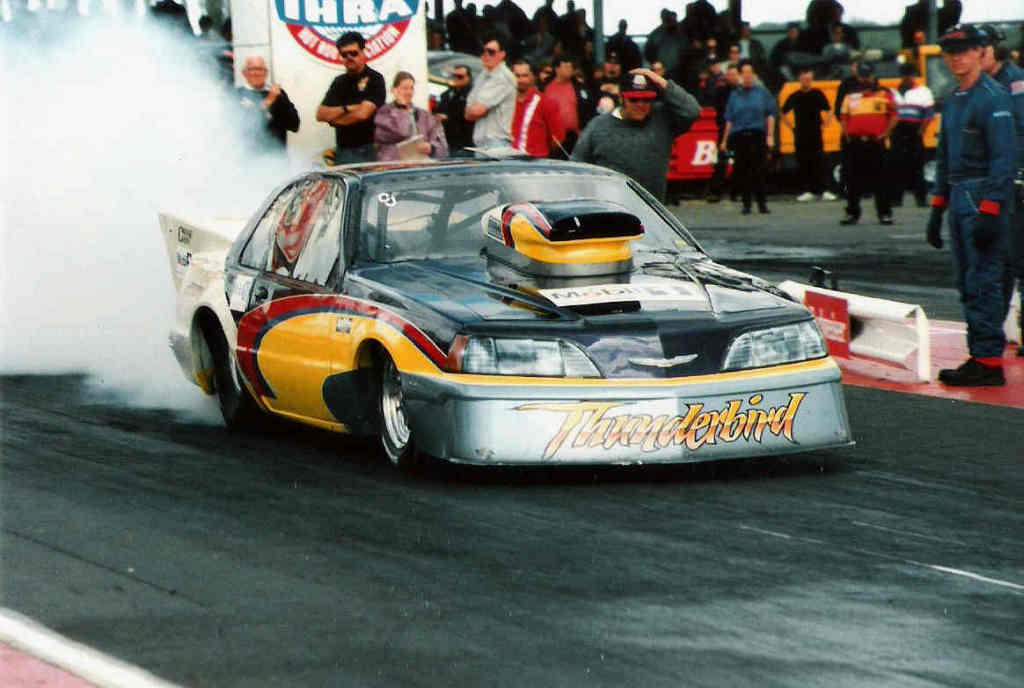 Andy Robinson 1993
Dick Parnham photo
29th-31st May, Santa Pod Raceway, Main Event
Track conditions were much better than they had been at Easter and reportedly the best for several years.
Colin Taylor had lent his Thunderbird to Andy Robinson who was considering selling his Sierra. Andy had not sat in the Thunderbird prior to the meeting and commenced with a checkout pass of 10.08/146 which was enough for Andy to know what needed to be done. He spent the rained out Sunday working on a couple of chassis modifications, together with some tweaks to the 515ci engine. The result, after the nitrous had been switched on for eliminations, was the car's first seven and a race win.
Qualifying
Alan Packman 7.242/194.63
Tony Rose 7.646/180.90
Dave Warne 7.793/186.94
Dave Mingay 7.818/179.79
Glen Dumont 9.639/123.44
Andy Robinson 10.081/141.10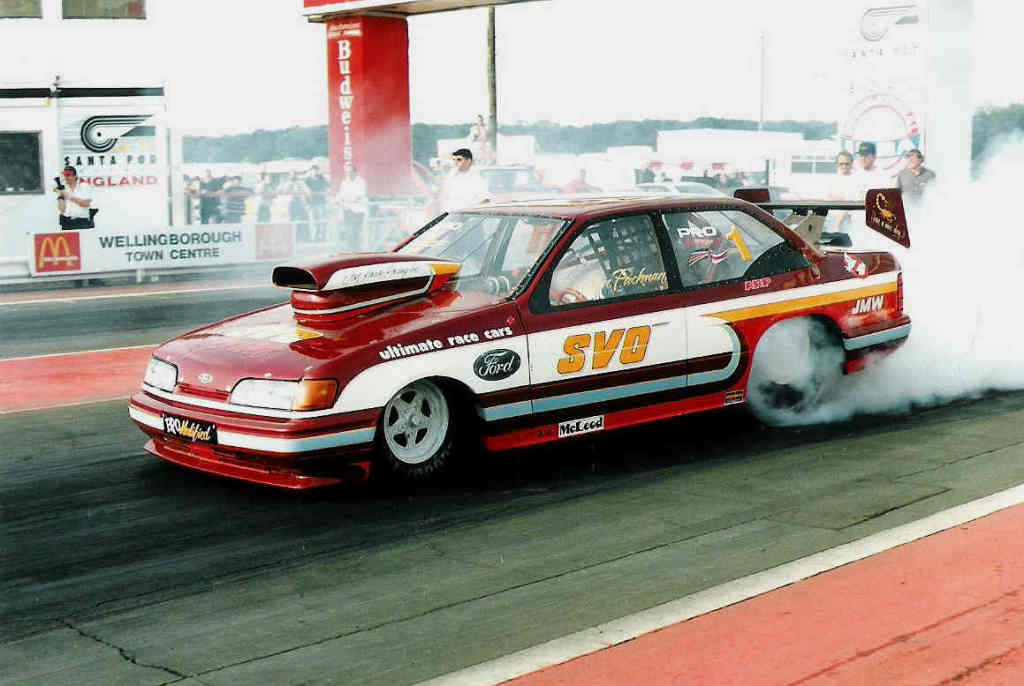 Alan Packman 1993
Jerry Cookson photo
Eliminations
Round one
Byes for Alan Packman 7.213/193.75 and Tony Rose 8.613/176.37
Andy Robinson (RT 0.707) 7.840/174.95 def. Dave Mingay (RT 0.577) 9.311/171
Dave Warne (RT 0.051) 8.028/189.42 def. Glen Dumont DQ stage foul
Semi Finals
Andy Robinson (RT 1.084) 7.796/176.16 def. Alan Packman no-show (starter motor)
Dave Warne (RT 0.534) 7.409/188.88 def. Tony Rose (RT 0.696) 7.646/177.90
Final
Andy Robinson (RT 0.512) 8.022/168.33 def. Dave Warne (RT 1.664) 7.394/193.69
Dave Warne complained of nitrous feed problems in his semi-final winning run but kept ahead of Tony Rose, who was not running nitrous yet. In the final, Dave's revs dropped and he stayed on the line for 1.6s regaining them, whilst Andy Robinson, slowed by fuel pressure regulators, kept the lead over the charge of Dave's Firebird.
---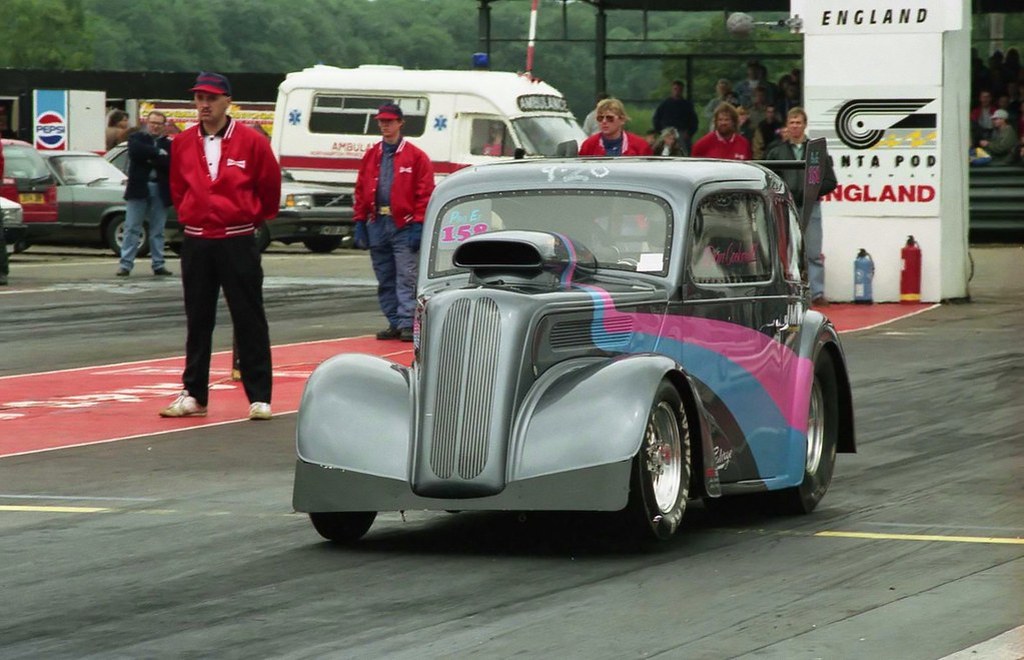 Danny Cockerill 1993
Colin Donisthorpe photo
19th-20th June, Santa Pod Raceway, Bug Jam
Santa Pod Raceway had committed to preparing the track fully for all race meetings, and so the PMRA were full of anticipation for this race, with three new entrants.
Qualifying
Alan Packman
Dave Warne
Dave Mingay
Glen Dumont
Danny Cockerill
Graham Ellis
Steve Hall's 1970 Mustang was due to be the eighth car in the field, however on his first qualifying pass in the brand new car the throttle jammed wide open, Steve lost control and the car hit the barrier at half track, destroying the right hand side of the car and putting Steve out for the rest of the year.
Eliminations
Round one
Alan Packman 7.22/188.73 bye
Dave Mingay 7.72/176 def. Danny Cockerill 8.82/136.47

Graham Ellis 1993
Mark Gredzinski photo


Steve Hall's Bug Jam incident in 1993
Mark Gredzinski
Semi Finals
Tony Rose 7.99/161.29 def. Dave Warne broke (engine)
Alan Packman 7.30/188.28 def. Dave Mingay 8.8
Final
Alan Packman def. Tony Rose DQ, stage foul
---
3rd-4th July, Santa Pod Raceway Cannonball
Seven teams signed on at the Cannonball. Dave Warne's Trans Am was missing - following Bug Jam, the engine problems experienced were found to be more serious than first expected and a stock pile of new parts were still awaited.
Whilst testing at Avon Park, Tony Rose had run a 7.05 raising expectations about the first six second pass for a UK Pro Mod, but at SPR he could go no better than third.
Mick Cheley's Hauser Race Cars-built Calibra (with a 498ci engine, a single four barrel carburettor and automatic transmission) was at this race for the first time in 1993.
Qualifying
Alan Packman 7.319/192.20
Dave Mingay 7.384/187.66
Tony Rose 7.384/185.25
Andy Robinson 7.792/179.54
Mick Cheley 8.878/158.37
Graham Ellis 9.093/146.35
Glen Dumont 9.712/114.35
Eliminations
Round one
Dave Mingay (RT 1.066) 7.367/188.39 def. Glen Dumont DQ stage foul
Alan Packman (RT 0.543) 7.282/192.70 bye
Mick Cheley (RT 0.534) 9.544/105.45 def. Andy Robinson broke
Tony Rose (RT 0.550) 7.411/183.27 def. Graham Ellis (RT 0.545) 9.039/150.21
Semi Finals
Tony Rose (RT 0.580) 7.056/197.37 def. Dave Mingay (RT 0.454) 7.425/188.35
Alan Packman (RT 0.521) 7.300/195.16 def. Mick Cheley (RT 0.577) 7.895/174.66
Final
Alan Packman (RT 0.480) 7.410/192.71 def, Tony Rose (RT 0.842) 7.066/196.59
Tony's 7.056/197.37 semi final pass was backed up in the final for a new British ET and speed record. Although Alan Packman had won the race on a substantial holeshot (margin of victory 18 thousandths), he had problems. "I'd put some more power into it, it rattled the tyres so bad, I couldn't see where I was going, hence I couldn't find the chute pull". He narrowly avoided going off the end of the track.
---
17th-18th July Santa Pod Raceway Beetle Bash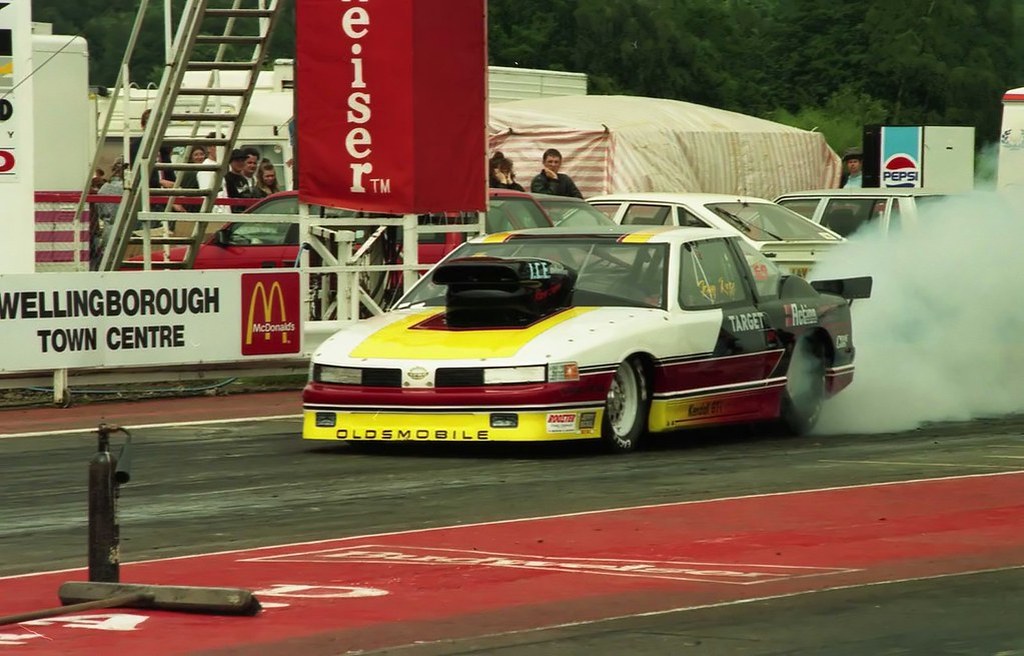 Tony Rose 1993
Colin Donisthorpe photo
Following on from two 7.0s passes at Avon Park and Santa Pod, the Target Audio/Action Performance/Kendall Oils backed Oldsmobile Cutlass of Tony Rose hit the sixes for the first time with stunning runs of 6.981/201.13 and 6.978/195.62. In his rookie season of Pro Mod, Tony had achieved what other teams had been seriously aiming at for three years.
Qualifying
Tony Rose 6.978/195.62
Alan Packman 7.268/194.94
Dave Mingay 7.44/184.56
Mick Cheley 7.81/174.06
Eliminations
Semi Finals
Tony Rose 7.15/189.58 def. Mick Cheley 8.48/130.33
Alan Packman 7.82/138.83 def. Dave Mingay, broke (electrical)
Final
Alan Packman 9s def. Tony Rose (broke, engine)
---
28th-30th August, Santa Pod Raceway, Summer Nationals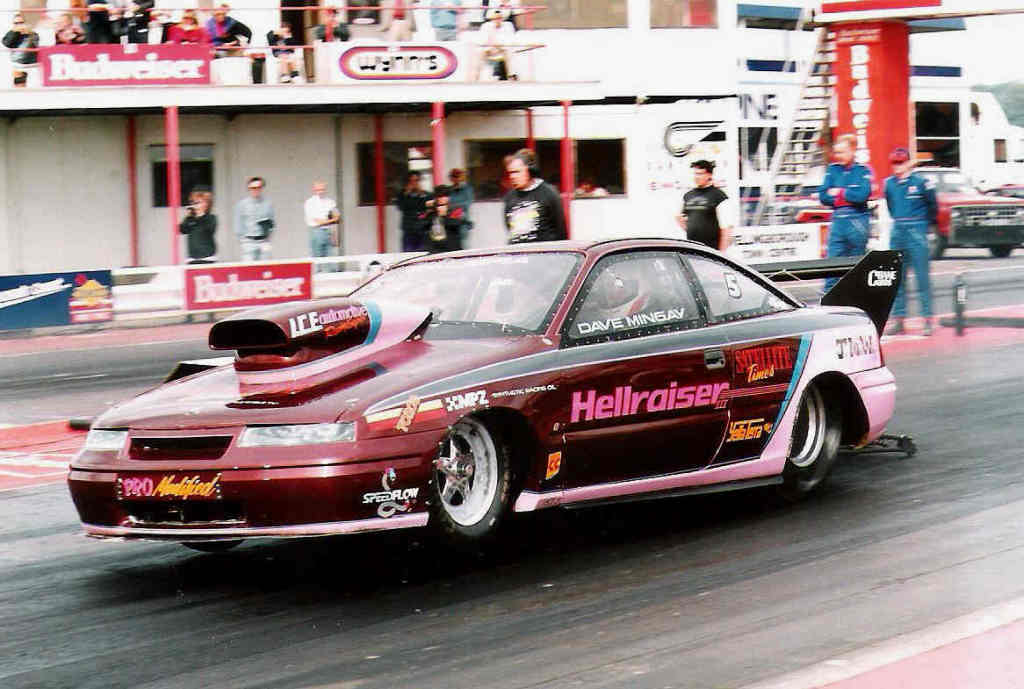 Dave Mingay 1993
Eric Sawyer photo
Qualifying
Tony Rose 7.101/188.18
Dave Mingay 7.122/195.97
Alan Packman 7.226/194.51
Dave Pollen 7.499/184.14
Glen Dumont 8.707/156.71
Andy Robinson 8.969/136.86
In qualifying Dave Mingay ran a new PB of 7.122 however this melted several pistons. He said "I'm stumped. I've been racing for 15 years now and I don't know what's causing this. It's not the same cylinders each time and sometimes it won't happen for weeks but it keeps creeping back. The computer's telling me there's nothing wrong. I just have to rebuild it".
Meanwhile Tony Rose had suffered a tail off in performance and had replaced all his solenoids to see if it helped – it didn't.
The field was reduced to five cars for this race by mechanical problems, with the first round featuring three solo passes and one side by side race, between Dave Pollen in his Mustang and Andy Robinson in Colin Taylor's Thunderbird.
Eliminations
Round one
Byes for Dave Mingay 8.379/124.34, Tony Rose 7.331/186.20 and Alan Packman 7.155/195.90
Dave Pollen (RT 0.591) 7.467/186.23 def. Andy Robinson (RT 0.082) 9.231/144.13 DQ red
Semi Finals
Alan Packman (RT 0.538) 7.138/195.89 def. Tony Rose (RT 0.491) 7.299/181.88
Dave Mingay (RT 0.535) 7.240/193.09 def. Dave Pollen (RT 0.353) 8.899/113.29 DQ red
Final
Dave Mingay (RT 0.559) 7.184/194.81 def. Alan Packman (RT 0.577) 7.711/148.70
This was Dave Mingay's first win for some time.
---

Tony Rose 1993
Colin Donisthorpe photo
17th-19th September, Santa Pod Raceway, World Finals
The field of Pro Mod cars was eight-strong. Alan Packman led the 1993 points from the first event and won his second consecutive championship at the World Finals. Alan sealed his hold on the championship simply by staging his Ford Scorpio in round one. However it wasn't to be his event.
A full eight car field included Jari Konola who had returned with hopes of running more competitively than in 1992.
Qualifying
Tony Rose 6.973/199.47
Alan Packman 7.109/194.97
Dave Warne 7.163/197.75
Dave Mingay 7.167/196.23
Jari Konola 7.458/183.58
Dave Pollen 7.528/183.90
Mick Cheley 7.787/175.39
Glen Dumont 8.539/156.60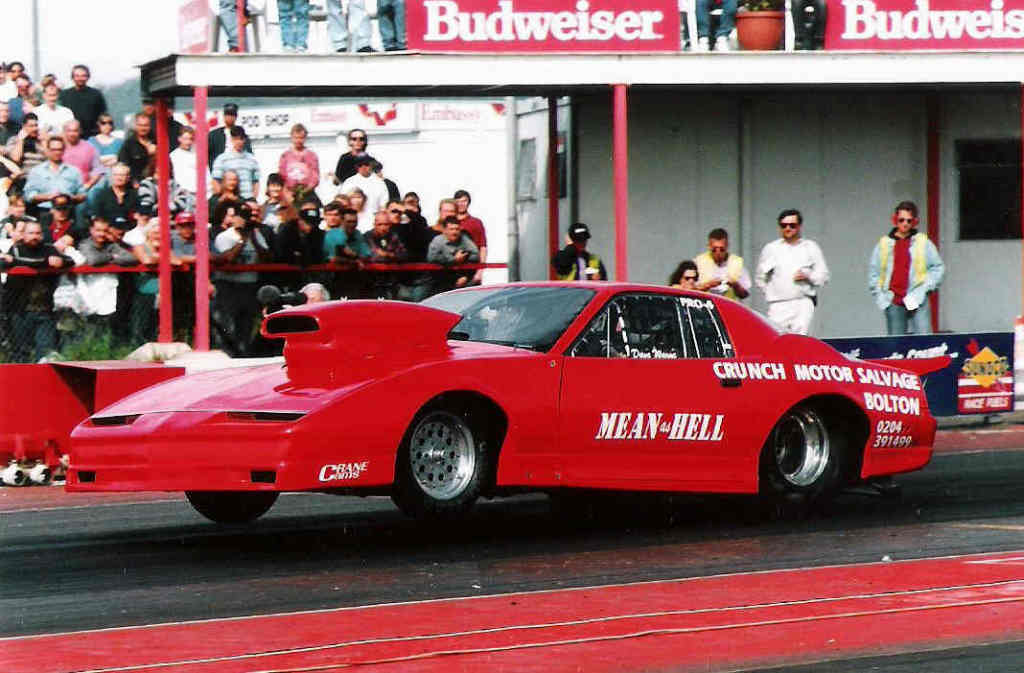 Dave Warne 1993
Eric Sawyer photo
Eliminations
Round one
Tony Rose (RT 0.513) 6.920/199.88 def. Glen Dumont (RT 0.891) 8.597/155.66
Dave Mingay (RT 0.580) 7.219/192.40 def. Jari Konola (RT 0.581) 14.394/83.95
Alan Packman (RT 0.525) 7.136/193.91 def. Mick Cheley (RT 0.543) 11.349/73.78
Dave Warne (RT 0.550) 7.206/195.42 def. Dave Pollen (RT 0.660) 7.541/184.93
Semi finals
Tony Rose (RT 0.500) 6.973/198.56 def. Dave Mingay (RT 0.452) 9.669/95.17
Dave Warne (RT 0.521) 7.309/190.03 def. Alan Packman (RT 0.881) 7.179/193.56
Final
Tony Rose (RT 0.467) 6.964/199.66 def. Dave Warne (RT 0.535) 7.292/194.28
Dave Warne returned with a freshened engine in his Pontiac Trans Am and defeated Dave Pollen in round one and a snoozing Alan Packman in round two to reach the final. Tony Rose in the Oldsmobile Cutlass banged out a series of six second passes all at a tad under 200mph, the best being a first round trouncing of Glen Dumont at 6.92/199.88 and also defeating a shut down Dave Mingay. It was apparent that Dave Warne would have to do something special to win, but even his valiant 7.29 pass couldn't overcome a 6.96 from Tony Rose. So Tony won the battle, but Alan again won the war.
---
Although the above were official rounds, the Pro Mods did run some races at Avon Park Raceway in 1993.
In July at the Goodguys UK Super Pro Shootout for dragsters, altereds and doorslammers, four Pro Modified cars entered the 14 strong field. Dave Mingay was sixth with 7.233, Alan Packman eighth with 7.608, Mick Cheley ninth with 7.815 and Andy Robinson twelfth with 8.754. The top of the field was occupied by Top Alcohol Dragsters who then dominated eliminations, run heads-up.
In round one the Pro Mod Scorpio of Alan Packman, who qualified #8 was against the #9 qualified Calibra of Mick Cheley. Other competitors had been worried about the different start line procedures of the Pro Mod cars with static burnouts and nitrous purges. In the event, the concern was Mick Cheley's who remarked "I had to wait while Alan played with his nitrous". Alan ran a 7.554/164 to Mick's 9.724/95 to get into round two, where he met #1 qualifier Dave Wilson who ran his best time at APR to date of 6.21/222 to defeat Alan's 7.646/147.
Other Pro Mods went out in round #1 with Dave Mingay running a 7.761/155 against Doug Bond's 6.947/193 and Andy Robinson getting crossed up against Robin Read's 6.959/184 with his 2.5 litre nitro burning Daimler Hemi dragster.
At the fifth annual Hot Rod Drags (11th-12th September), the sole round at APR that year, Alan Packman won the round after beating Tim Cook. Alan was top qualifier at 7.13/197.18 mph. The final went 7.25/194.01 to 8.02/170. Sadly no other record of the event is available, we would be interested to know if anyone has some.
At the Goodguys Night of Fire (October 16th-17th) Alan Packman ran some test passes in his Scorpio and the changes he had made were evidently effective, his best time being a 7.01/203.

Alan Packman burns out at Avon Park 1993
Tony Smith photo


Graham Ellis in front of a packed grandstand at Avon Park Raceway
Mark Gredzinski photo
1993 Championship
The clear winner by a big margin was Alan Packman in his Ford Scorpio; although he struggled to equal his 1992 performance, he won three events and was always a threat. Tony Rose gave the best performance by a rookie since Tim Cook in 1989, and by halfway through the season had demonstrated his superior performance in the Oldsmobile Cutlass. Dave Mingay had been consistent in performance and hitting the 7.1s, to earn third position and won an event in 1993. He was ahead of Dave Warne who had engine problems in the early part of the season and only recovered to the 7.2s after a fresh engine in the Euro Finals. The remainder in the points, Mick Cheley, Andy Robinson, Glen Dumont, Graham Ellis, Dave Pollen and Danny Cockerill all missed rounds and were never in the hunt. The issue of small fields would remain for some years to come.
---
Car focus: Tony Rose's Oldsmobile Cutlass
Having run a '37 Ford (previously owned by film actress Lana Turner) in Super Gas, Tony decided in 1991 he wanted to step up. Along with Rob Loaring of I.C.E. Automotive, Tony got in touch with famed US builder Jerry Bickel and went to Missouri in 1992 to see the car. It was a 1989 model built to IHRA Pro Stock spec, but run in the Quick Rod 9.90 index class with a Sonny Leonard 509ci engine, Powerglide and Mark Williams rear end. Having made the deal with owner Bob Raham, they trailered the car to Jerry Bickel's shop for changes to be carried out. The rear quarters were modified for larger tyres, a front mounted fuel cell was installed, and mounts for a Lenco transmission and Lakewood clutch can were fitted.

Tony with Lenco shift levers
Norman Hodson photo


615ci engine on display, split Dominators atop the hand-made inlet manifold
Norman Hodson photo
The 615ci engine was assembled at I.C.E. Automotive in Southend with a Olds/Donovan block, Dart heads and split 1150 Dominator carbs. Many internals were chosen after Rob's experience building engines for Tim Cook. C-16 racing gas went into the engine with a dual fogger nitrous system aiding the power output. Advice was sought by famed US racer and builder Tim McAmis including fuel cell location with manual pumps.
The intention was to avoid the car being too sensitive to the rpm level when changing gear which had unsettled Tim's car on some tracks. Forty dyno pulls in two days showed power levels of 1120hp and torque of 865 lb/ft.
Tony gradually worked his way up the performance ladder with the car, getting used to the different controls, the clutch and Lenco combination especially, and running without nitrous at the start. By mid 1993 he had acclimatised and with the tuning input of Rob, Tony hit the first UK Pro Modified six second run on July 17th 1993.
Next time...
In part 5 we look at 1994 and 1995, thin times for the class in terms of racing, but new cars for the stalwarts.