60s Ford Anglias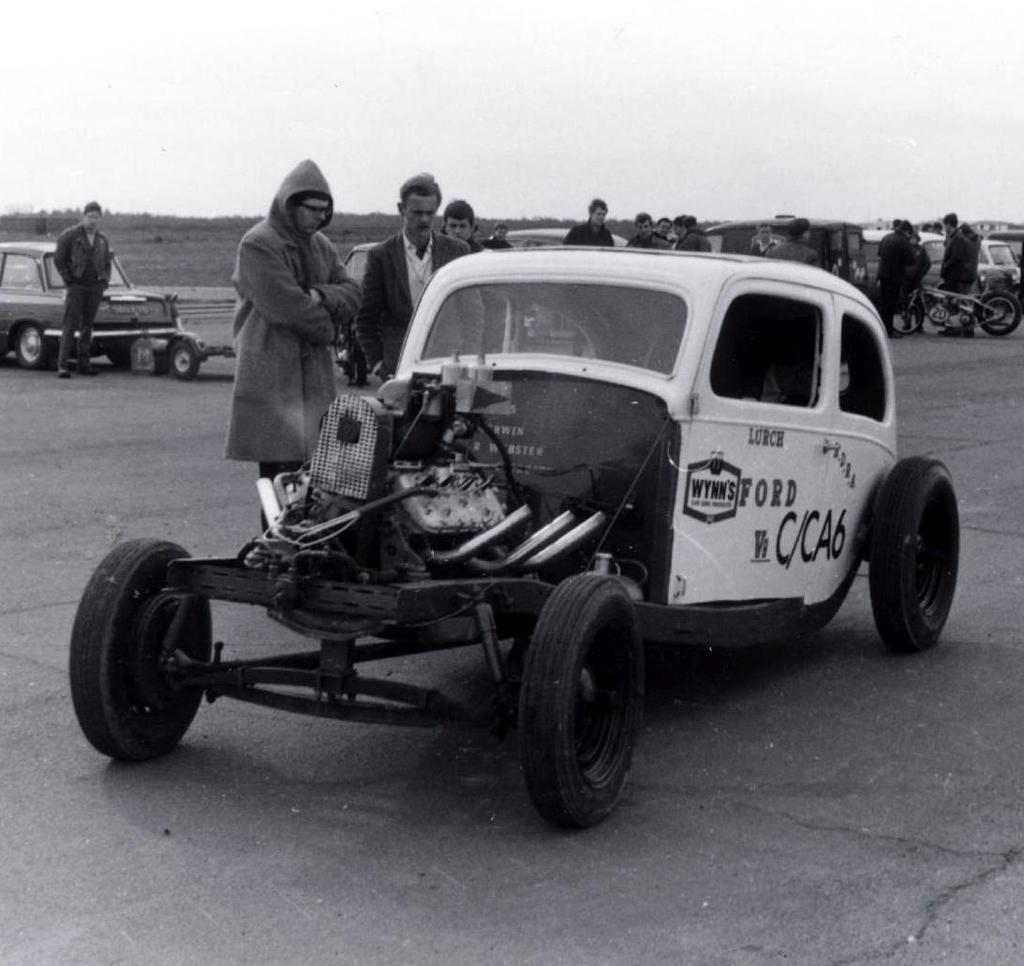 As told exclusively to

Introduction: In this part of 'Ford Anglias of Yesteryear' we take a look at some of the Anglias for which we have been unable to find and make contact with the original Pioneers who built and raced them, or where they have unfortunately passed away. Some of those already published we've managed to contact due to the great help of Mick Gleadow who was able to find their details from an ancestral site that he subscribes to.
For all the stories so far published special thanks go to John Hunt for doing the initial interviews with each Pioneer, travelling 100s of miles all over the UK, Nick Pettitt for his research and editorial work, Clive Rooms for his behind-the-scenes endless research, Chris Dossett for his work on one particular story which is to be published in the next few weeks and Simon Groves for the final layouts and for publishing the stories on Eurodragster.
Nick and Clive have found as much information as they can about the remaining Anglias that raced in the 1960s and we have a work in progress on two more Ford Anglias of Yesteryear stories still to be published. As it's been over 50 years since they raced, we don't feel it matters if it takes a few more weeks to complete them. A couple of those featured here we did speak to but they preferred not to go back to the past which we fully respect and therefore have not covered their own personal stories. Should anyone reading this know of or is able find out the whereabouts of anyone mentioned in this part we'd be very pleased to hear from you.
The sit up and beg Ford Popular or Anglia has been part of the modified car scene in this country since the 50s. Back then the way to go was take off and throw away the body, then fit a fibreglass sports body to the Pop chassis creating a special. There were many companies selling bodies for specials and tuning specialists like Aquaplane who could supply speed equipment to hop up the 1172cc sidevalve engine but it was still a bit of a sheep in wolves' clothing! Meanwhile in America, V8s were being shoehorned into our diminutive Ford Anglias and they were being raced, pounding the Drag Strips from California to New York. When Drag Racing hit the UK the Ford Pop became the obvious choice for aspiring Drag Racers who had seen them in the American Hot Rod magazines. Ford Pops were plentiful and cheap and once stripped out could be fitted with a Jag six or V8 without too much bother.
In 1965 George Eastman, a GI from RAF Upper Hayford and Mark Stratton had fitted a 3.4 Jag in an Anglia and entered it for the International Dragfest at Blackbushe. With George being from the US and Mark from England they decided to call it the Anglo-American Anglia. It was entered in the Saloon Car 2501-5000cc Class and George was down to drive. Unfortunately, it never made it out of the pits as the scrutineer was not impressed by its lack of front brakes, a definite no-no according to the strict RAC rules at the time.
| | |
| --- | --- |
| George Eastman was number 153 but never left the pits | A rare shot saved by Ron Fisher from a magazine report at the time |
The Anglia was sold on and the following year saw Mark Stratton and the Anglo-American Team debut their Chevy powered 1934 BSA Scout. Mark later went on to build a series of cars into the 70s with Hustler Racing and John Woolfe Racing.
The last meeting of 1966 at Santa Pod saw Alan Sherwin along with John Grosby and Ray Webster, debut their Pop bodied Altered known as The Lurch. The Pop body was mounted to a Ford Pilot chassis and Alan sat just ahead of the rear axle under a roll bar. The Pilot axles, brakes and wheels were all retained, as was the flathead V8 with the addition of twin Solex carbs on a home-made manifold, electric fuel pumps and zoomie headers.

Alan Sherwin's Flathead Pop 1966.
Brian Sparrow pic



Twin Solex carbs on a home-made manifold.
Brian Sparrow pic



Alan chose a wet day to debut his car.
Brian Sparrow pic

Alan was back out in 1967. The Lurch now sported a large Wade blower atop the flathead fed by two SUs. He'd also given the car a nose bleed rake by fitting a large spacer above the front leaf spring.

In '67 it was blown.
Brian Sparrow pic



Warming up.
Brian Sparrow pic



The wild cartoon like rake was helped by a block above the front spring.
Brian Sparrow pic


Solo run.
John Smith pic



The Lurchers were on the firewall.
Dave East pic



Busy in the pits.
Bill Correia pic

The Lurch can be seen in this 1967 Youtube video.
For 1968 Alan built a Jag engined Altered using a 1959 Bond 3-wheeler body and went on to campaign a series of Jag powered T Altereds throughout the 70s.
But the Lurch lived on in 1968 when Vern Foale and Mike Lintern snapped it up. They repainted the white body and red chassis all black, fitted blue perspex windows and renamed it Sidewinder. The front end was lowered and they cut large lightening holes in the chassis in an effort to reduce the ETs. They also had the flathead freshened up at Ambica Engineering and fitted Allard heads to raise the compression. Despite all this it never set the strip alight and Vern and Mike stopped racing in 1970.

Sidewinder.
Brian Sparrow pic



Allard heads.
Brian Sparrow pic


Liberally drilled chassis.
Dave East pic



At Blackbushe 1970.
Brian Sparrow pic

Anglia fans were in for a treat in 1966 when Larry Arnold showed us how it was done bringing over the Lawman Anglia to Santa Pod as part of the US Masters Commando Drag Racing Team. Powered by an injected 327 Chevy it ran several wheelstanding 10 second passes and looked good too in Candy apple red paint with blue plexiglass windows. It had Mag wheels up front, chrome wheels with huge M&H slicks protruding out the rear wings and made good use of the wheelie bars out back.

Lawman Anglia over from the States.
Ron Fisher pic



Hillborn injected 327 Chevy looked the part behind a Moon tank.
Brian Sparrow pic


M&H slicks and wheelie bars.
Brian Sparrow pic



Wheels up launch.
Brian Sutton pic

Lawman Anglia Video
Peter Price went the small engine route with his Popular Altered Jagular in 1967. He fitted a Jag but it was a four-cylinder 1775cc motor such as those fitted to the Triumph 1800 and SS Jags.
He only ran it like that for one year then disappeared for two years reappearing with the car in 1970 fitted with a 3.4 straight six, renamed Hallucination.

Jagular 1967.
Brian Sparrow pic



Back out in 1970 with two more cylinders.
Dave East pic



Sunny Santa Pod.
Unknown photog

Another 3.4 straight six Jag powered Pop appeared in 1967. Run by Roy Dennard and Brian Sutton, it was painted bright orange and called Disturbance. It ran without front bodywork and had the stock front axle fitted with 13-inch wheels. Later in the year a straight tube axle was fitted along with a Moon style fuel tank. The following year they put it up for sale.

Set back Jag.
Brian Sparrow pic



Small wheels lowered the front.
Brian Sparrow pic



In the garage and up for sale.
Brian Sutton pic

1967 saw Ed Gurney and Pete Smith at the drags with their Ford Pop known as Hushabye. They elected to be different and junked the Pop chassis, mounting the body sans front wings on a 1938 Hillman chassis and fitted a well set-back 322 Buick V8 and Mercury rear end. Front end was the original Hillman beam axle on parallel leaf springs.

First time out.
Brian Sparrow pic



Skinny crossplies soon made way for fat racing rubber.
Ken Robbins pic



Taking on Juggernaut in the rain.
Keith Stacey pic

There are two ways to go faster, increase horsepower or decrease weight. Ed and Pete went for the latter, cheaper option putting their Pop on a strict diet. By 1968 the grille and bonnet had gone, along with the roof, just leaving the windscreen. They also replaced the heavy I beam axle with a straight tube. Later that year more bodywork was removed as the doors and windscreen went and the firewall was moved back. In 1969, what was left of the Pop body was replaced by an AC body.

Plastic beer keg was the fuel tank.
Unknown photog



well set-back Buick motor.
Brian Sparrow pic


Roofless.
Brian Sparrow pic



Doorless.
Brian Sparrow pic

USAF Serviceman Don Davies was well known for the big '66 Pontiac 2+2 stocker he ran at Santa Pod in 1967. For 1968 he decided to build a Street Altered Pop using 400 cubes of Pontiac power packed with go-faster goodies.

Don Davies' Street Altered Pop.
Mick Gleadow pic



Don's Pontiac on the right.
Unknown photog

Don gave it a name in 1969 and had The Bandit sign written on the doors. To speed up his getaway a Hurst line-lock was fitted and out back hung a huge pair of cheater slicks. Then in 1970 he took it back with him to the States.

400 Pontiac with all the goodies.
Dave East pic



Fairfield Halls Croydon Show.
Unknown photog



Blasting down Silverstone's pit straight.
DR&HR mag

Another Street Altered Pop appeared in 1967. It was the ex-Ballamy circuit racing Ford Pop now fitted with Cortina GT power and run by Martin Brooks.

Ex-Ballamy Pop.
Unknown photog



More used to circuits than drags.
Dave East pic



Cortina GT powered.
Brian Sparrow pic

Another circuit racing Pop turned up at Santa Pod when Nick Lees towed in to Santa Pod with Mike Berman's 1648 Ford powered Berpop at the last race of 1968 in December, and it was chilly. He returned home with the Junior Competition Eliminator title having shut down Mick Hill's Jag powered Anglia, Bob Fisher's Ford Falcon and Mike Bennion's 292 Ford powered Morris Minor in the final with a 15.23/90mph to 15.64/92mph. You can see Berbop and Good Vibrations in this Youtube video.
Russ Ward built and ran a Street Altered 3.4 Jag powered Pop which sat low on an Austin chassis. It was street legal and Russ ran it at the Drags during 1969 and 1970.

Nick Lees cleaned up Junior Comp with Berpop in '68.
DR&HR mag



Russ Ward's street legal Jag/Pop.
Dave East pic



Promote Street Racing.
Andy Brough pic


Russ ran 14sec ET's at just under the ton.
Dave East pic



A trio of SU's.
Ken Robbins pic



A stock looking Pop heads down the Santa Pod blacktop. On the doors it reads Super/Stock/Pop.
Unknown photog

The '70s and '80s saw more and more Pops running at Drag Strips all over the UK and in the early '90s Bob Nixon formed the Outlaw Anglia Class which has gone from strength to strength running times and speeds unimaginable in the '60s...
Event records for Anglia racers Alan Sherwin, Don Davis and Ed Gurney click here (pdf format). Thanks to Clive Rooms for information.
---
Gallery: click on any thumbnail for a large image.

Feature ©Eurodragster.com

Back to pioneers index

Back to News page


---