Stories of UK drag racing pioneers
Dante Duce and Mickey Thompson at
1963 Brighton Speed Trials - John Wood photo
Surrey pioneers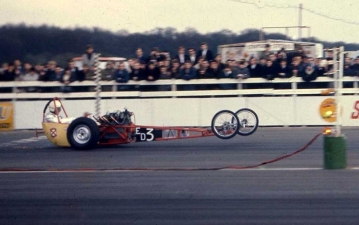 Derek Metcalf, Wombat / Strip Star (published 8th, 15th and 22nd February 2021)
Quote from Derek: "As as result of John Hunt contacting us, our recollections of the early days of UK drag racing were put down on paper, John visited us and was a great help; his memory for detailed corrections was a great assistance and it was very rewarding to see our experiences on screen with photographs. It made us realise that we did actually participate in those early days; if he had not been so helpful and accommodating we would not have had those memories rekindled".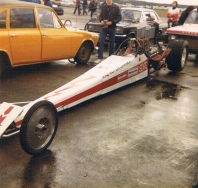 Bill Haynes, Quarter Horse Racing (published 1st and 8th March 2021)
Quote from Bill: "It has been fabulous having my story told . It has been done so well and I donated all my items but know that all would have been returned if required. It has been done with great responsibility and honesty. I am proud to have been connected with it. Bill."




Mick Wheeler, Scorpion (published 15th March 2021)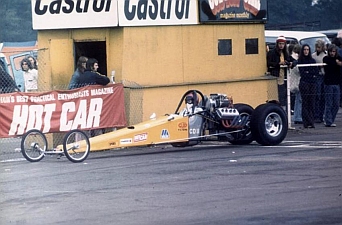 Tony Anderson, Trouble / More Trouble / Even More Trouble (published 22nd and 29th March 2021)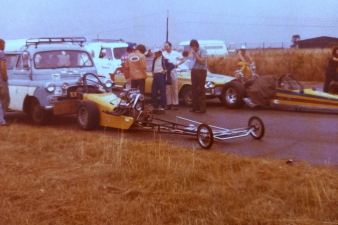 Keith Stacey, Whiskey Peddler (published 5th April 2021)
Quote from Keith: "Thanks John, I was a bit sceptical about it at first,especially trying to remember what I was doing 45 to 50 years ago.As it happens I am more than pleased with the end result and both Lyn and myself are looking forward to meeting the other guys again. I had no problem lending the slides out to you and the nice thing is they are now on my computer".


John Smith, mechanic and crew (published 12th April 2021)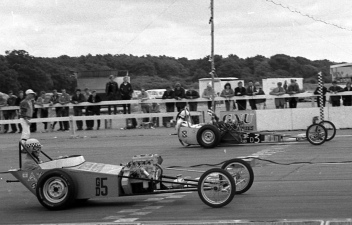 Quote from John: "Just a quick note to thank you for all your time and effort in getting the 'Drag Racing Pioneers' stories put together and published on Eurodragster website. I had no idea that anyone would be interested after all this time until you phoned me. I am glad that all the magazines that I had hoarded since the 60's have now found a good home and thanks for returning all the photo's and slides so promptly. Nick Pettitt has done a brilliant job in reproducing these for the article together with all the notations. Putting details of the short time that I was involved down on paper certainly brought back a lot of fond and some forgotten memories not only of the Drag Racing at 'The Pod' but also great times spent with Bill, Keith and Richard and also Derek and Pam and Tony.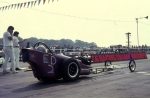 Richard & Martin Jarman, Strip Star / Hepolite Hustler (published 19th April 2021)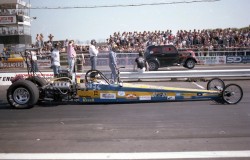 Russ Carpenter, Trouble, More Trouble, Even More Trouble, Glacier Grenade (published November 2014)


Preface:

Former drag racer and event organiser John Hunt has contacted pioneers of UK drag racing, acquired their stories and transcribed them for Eurodragster.com to publish with original photos. The inspiration for people to become involved was the visits of U.S. racers Dante Duce and Mickey Thompson in 1963 (see above photos) and the Drag Fests in 1964 and 1965. The accounts are exclusive to Eurodragster.com and told in the original words of the racers, have been accompanied by photos and images from their collections. Eurodragster.com thanks racers for providing their stories, and John Hunt and Nick Pettitt for help with editing and proof reading the feature and making archive images available.

John Hunt writes: "I'm interested in all classes of cars and motorcycles. I would welcome hearing from anyone who would be prepared to assist the writing of others stories from the other classes? If anyone has memorabilia available to pass on to the group of drag racing historians please get in touch with me or Eurodragster.com.

If you would like to contact Eurodragster.com directly then send an E-Mail to editor@eurodragster.com.

Acknowledgements

The above links go to UK drag racing history sites without which it would have not been possible to publish the pioneers' stories. We're also grateful for the help of Clive Rooms who has been a tremendous help for dates, results, times and speeds.

Stories © original author and Eurodragster.com