The Gleadow family's story and history
- by brothers Brian, Mick and Bob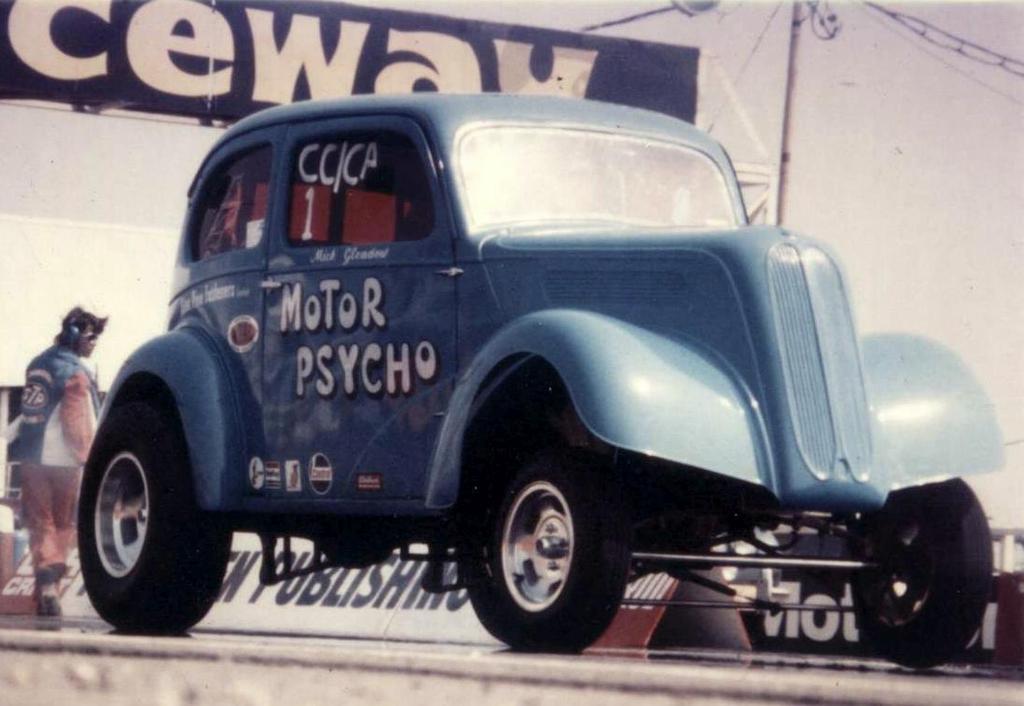 As told exclusively to

Brian Mick and Bob Gleadow first got into drag racing seeing an early meet at RAF Chelveston, becoming mobile caterers for some early British events in the sport. Their first car was a Ford Pop which started with a flathead Ford engine, later upgraded to an Olds V8 and named Mangler. Learning more about mechanics and obtaining often hard to get parts, the brothers upgraded the car comprehensively including a strong roll cage and fibreglass body parts with new engine pieces. In 1970 the car was renamed Motor Psycho and was run until the end of 1973, with a new engine in that year, before selling it to Al O'Connor as the original Al's Gasser.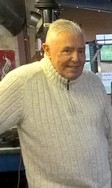 Brian Gleadow
Brian begins: I'm 77, born 8th May 1944 in Letchworth going to Grange junior school, then Norton Road secondary School. Leaving at 15 with zero qualification I became an apprentice motor mechanic qualifying in 1965. I worked as a trainee on BMC cars then going onto Borg Warner working on experimental automatic transmissions for nine years.
I first saw drag racing at RAF Chelveston, one of the six rounds of the 1964 Dragfest and was totally hooked after the experience. It all started for me when Dad brought this business called Beano bars which was a Trojan van selling Hotdogs, teas and coffee. I got co-opted into driving the van to some of the Karting and Motorcycle events.
He got to speak with Gerry Belton of the BDRA, one of two clubs organising drag racing, the other was the BHRA. This was how our father started mobile catering for the practice day events at Graveley and where I met Ken Cooper in 1965 with his Flathead powered dragster with a full width rear axle, being so keen to get out racing and not narrowing it before.
For me it was the cars of George Montgomery and K S Pitman I remember seeing at Chelveston. These started off the building of Altereds in the UK, everyone thinking they could get hold of old cars, stuff in a V8 engine and go out and run 9 or 10 seconds like the Americans, whereas it took several years before these performances were reached.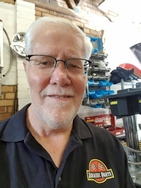 Mick Gleadow
Mick continues: I'm 73, born 1948 in Letchworth Hertfordshire, going to the same schools as Brian and Bob. My introduction to drag racing was through my father who had a mobile catering business where he attended Karting and Motorcycle scrambling events. He brought a Beano Bars catering van with contracts to attend car club events. Events included Gravely practice days in 1963, organised by the Thames Estuary Automobile Club who I believe organised some of the first drag racing events in the UK.
This was my first experience of drag racing, also going to RAF Debden and RAF Duxford that year and the first Big Go meeting in 1964 where you could not start your engine before 10am. I was only 15 then and didn't have my Ariel MC combination so I must have been taken by Dad or Brian.
The Thames Estuary Automobile Club was involved with the organising of the 1964 Dragfest at RAF Chelveston. Dad was asked to take his catering wagon along and we had a Marquee either side of the track. Happy days which turned out to be a license to print money for my dad and we all went along to help out and got extra pocket money! By then I had started work in local government, which became my life long career.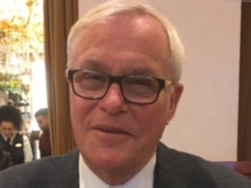 Bob Gleadow
Bob next: I'm the youngest of the three at only 71. I left school at 16 and became a trainee accountant which I really hated, so I got a job in a garage and have been in the motor trade all my life. Going to school together with Brian and Mick, working with Dad and his catering business. At the 1964 Chelveston Dragfest I had the pleasure of serving Don Garlits and Tommy Ivo hot dogs.
I'm here today 50 years later having just debuted a new Fuel Altered, and why am I still doing it? I really don't know!! We have all dropped out of racing at different times during this period of over 50 years for various reasons, mostly financial. I remember when my daughter was born, I was off collecting the dragster chassis on the roof of my car. Coming back to 1964 and my first experience of seeing drag racing. It was George Montgomery and his '33 Willys Gasser, that was the car which did it for me.
Brian, Mick and Bob talk about their first race car: Inspired by Johnny Loper's 'Little Hoss' Anglia A/Gasser featured in Hot Rod Magazine at the time, we bought a Ford Popular minus engine and gearbox from a scrapyard in Gamlingay, Cambridgeshire.
| | |
| --- | --- |
| Johnny Loper's Little Hoss Anglia. Unknown photographer | The Pop takes shape outside the Council lockup |
This was our starting point and we towed it with Dad's Bedford Dormobile bread delivery van to Letchworth some 20 miles away, then to Dad's Bakery in Baldock. He had a garage on the other side of the wall to the bakery ovens which helped to warm the garage. The car spent some time there before we had to rent a Council lockup on the Grange estate, Letchworth. We stripped out all the old Ford Pop bits and added our own parts.
We had a 3.6 litre Ford Flathead V8 engine from a Ford Pilot with the 3-speed gearbox, using aluminium cylinder heads from Sydney Allard with 3 Stromberg carburettors. We bolted an Austin Westminster back axle straight to the chassis, not being in a position to fit suspension at the time. We discovered the Westminster axle looked like an American one as it had an aluminium centre section and was big and strong. In all our years of racing these kinds of cars at that level, we only broke one differential and that was in the dragster with the Flathead engine but this was later on in the late 70s/early 80s.
| | | |
| --- | --- | --- |
| Flathead V8 power | First meet July 1967 | Attention in the pits |
We debuted the car mid-season 1967 with Brian doing the driving, we ran at 3 meetings. The car had no name initially, only the race number C/CA18 on the doors and boot. With a respectable best time of 17.33 it was not too far off our rivals' time of two seconds quicker which had Jag engines or OHV V8s.
For 1968 we replaced the Flathead with a 324ci Oldsmobile V8 and named the car 'The Mangler' after Danny Ongais's Fuel dragster. We cut the rear wings to radius them so we could fit widened wheels, initially fitted with big street treaded rear tyres, then with treaded circuit racing wet tyres bought from Pete Atkins at Watford Motor Accessories. He got a deal from someone and they were only £12.
We still used the Westminster axle and instead of narrowing it we widened the wheels inwards. The car sat slightly nose down by accident, although most people said it looked really mean. We had no electric power; everything was done manually by hand drills, files and hacksaws and was very cold in winter. We raced at eight meetings in 1968.
| | | |
| --- | --- | --- |
| Olds power for 1968 | Moon discs were tried for a while. Brian Sparrow pic | Next to the Church brother's Gold Rush. unknown photographer |
We didn't run the car in 1969 but spent the year further modifying it. A fiberglass mould was borrowed from the 'Good Vibrations' team. Buying the materials from FGR and with their invaluable help, Mick made a replacement bonnet and front wings all in one mould, replacing the steel ones. Brian stayed out of this, too messy for him, Bob organised the materials and paint, still being an organiser today. We also got fiberglass doors and boot lid supplied from Jerry Jackson.
Alan Herridge made a chrome straight tube front axle fitted with Anglia spindles and Vauxhall Velox wheels which raised the front end. Realising we needed to spend some money to upgrade the engine, we had the Oldsmobile bored out, using Jahns pistons and balanced by Brabhams and a reground camshaft. Allan Herridge made a shatterproof steel flywheel. After initially using the Oldsmobile manifold with a Carter AFB, Allan sold us his homemade manifold originally fitted to his Pulsation Cadillac dragster, using six Stromberg Carburettors running on straight methanol.
Also from Allan was a Moon aluminium front cover, Titan aircraft fuel pump and a number of other parts. We mounted an early Oldsmobile rear axle on Vauxhall coil springs with a Watts type linkage to locate it. Rear tyres were 9.00 x 15in rock hard Firestone Smoker Slicks, originally fitted to Dean Moon's Mooneyes dragster that came over to the UK in 1963.
We fitted a Hydra Matic 4 speed transmission with cast iron casing which was very heavy, but supplied at no cost to us, from John Dodd, well known for his Rolls Royce Merlin engined street car. A new NASCAR style roll cage was made by a mate in a local garage workshop where we knew the owners. This same roll cage was still fitted when Al O'Connor crashed the car in 1978; it most probably saved his life.
| | | |
| --- | --- | --- |
| Fibreglass doors, boot and one-piece front | Straight tube axle | Firestone Smoker Slicks |
In 1970 Steve Warner joined the team. He was a very capable mechanic and fabricator being a Ford trained mechanic and working at the local Ford dealers Gates where Bob also worked. We changed the name to 'Motor Psycho' after Bob Dylan's song 'Motorpsycho Nightmare'. Utility Paint and Panel of Stotfield, Bedfordshire resprayed it Ford Aubergine while John Collier did the lettering and it was finished off with dark green perspex windows. We debuted it at Martlesham Heath in May 1970 staying in the British Bulldog pub in Ipswich. On the Saturday we couldn't start the engine and discovered the timing was 180 degrees out but it was soon sorted.
Alan Wigmore of the NDRC asked us to put posters all around the sides of our push car and to drive round Ipswich to promote the event. We did this for about 2 hours using a lot of petrol.
On Sunday we found a cracked cylinder head and had to withdraw from the race which was very disappointing. We'd previously had the cylinder heads milled to raise the compression ratio and using flat top pistons we believed it was at 12-1. Apart from raising the compression ratio, the theory was that with using flat top pistons the fuel mixture was a much more even flow. We had just a little too much milled off the cylinder head which caused the problem.
There was an American base nearby and a lot of service men came to the meet, asking us why we were not racing but getting some very nice comments from them on the appearance of the car.
| | | |
| --- | --- | --- |
| Motor Psycho debut Martlesham Heath May 1970 | Lots of caster on the straight tube | Watts type linkage on the Olds axle |
We quickly discovered the Hydra Matic was not suitable. With his background in automatics Brian realised it was not going to work as we did not have enough stall speed in the converter. We didn't have the technical knowledge or the money to improve the line pressure in the transmission or the governor speeds to control the speed of the gear shift. Not only was it very heavy, it had a fluid flywheel, not a converter. The blades inside needed to be precisely machined by using a kit which you could buy at the time from B&M Hydro, a company in America, but we could not afford this.
We all remember returning the Hydra Matic to John Dodd because it did not work. He was a nice genuine bloke but not at that time experienced in drag racing requirements. Due to the trials and tribulations of the Hydra Matic we only raced at three meetings in 1970.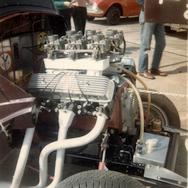 Ex-Herridge six carb manifold
We fitted a Jaguar 4 speed gearbox before the 1971 season after seeing that Brian Gibson used one quite successfully in 'Wild Thing' We had a steel bell housing made by Allan Herridge with Schiefer Rev-Loc clutch bought from Gary Goggin. Using 2nd, 3rd and 4th gears the car started to run quicker, as we all gained experience with the new set up. Also, the reground camshaft never really worked properly leading to other problems with the valves and springs so we replaced that with a Moon Eliminator cam and the car really started to perform.
On its first run after the modifications, it clocked a 13.45, within a second of our rivals, Good Vibrations, which was also Olds powered.
| | |
| --- | --- |
| Taking on Invader | Blast off |
Brian stopped driving early in 1971 and did more of the wrenching and push car driving. He was getting married in 1972 and his intended wasn't too keen on him continuing to drive. At the end of the season, he left the team altogether to crew on Ken Coopers flathead dragster but became involved again in 1979 working with the others on the 'Vintage Tin' slingshot. He drove Motor Psycho a few times at the start of 1971 and on one of his last drives at Blackbushe Brian recalled where their dad had done the catering back in 1964.
| | |
| --- | --- |
| Next to Kev Pilling's Pure Seven. Ron Fisher pic | Blackbushe 1970. John Smith pic |
During 1971 Steve Warner started driving the car. He took to driving straight away, being fearless, enjoying the excitement and challenge of driving, he clocked a best of 12.83/104. Unfortunately, he liked his drink and after being successful at an event, he and Bernie Couper, a colleague of Brian's at the garage where he worked, went to the pub in Steve's 105E Ford van and after four or five pints drove home, was stopped by the police and was over the limit. Brian received a call, could he go pick them up.
Steve lost his driving license which meant he couldn't hold an MSA competition license so could no longer drive the car, we were all so disappointed. We'd had a successful run in 1971 entering five meetings and losing only to Colin Mullen's Invader at the July International meeting at Santa Pod and to Dennis Stone in the final of Senior Competition at Blackbushe in August.
| | |
| --- | --- |
| Smokin | Another smoky take off. Peter Quinn pic |
1972 saw another paint job, this time pale blue, by Alexander Coachworks in Hitchin, Hertfordshire and John Collier did the signwriting again. New fibreglass sills and wider rear wings were bought from Pat Cuss at Fibreglass Applications and the perspex windows were now red. Mick took over as the driver. Before he first drove the car, he was petrified not knowing what was going to happen. Brian remembers well before Mick's first race in the fire up road he was out looking at the car every few minutes. Bob said he still does!
Mick replied: When you first drop the clutch, you think the sky is going to fall in but it doesn't of course. Being set up with loads of castor the car basically wants to go straight, providing you don't have too much wheel spin and once you've overcome this then you're fine, just a bit daunting to start with. Mick achieved a best of 11.88 at Blackbushe and still has the timing ticket!
Bob drove the push car mainly, also during these years he organised the logistics and support needed by the team. He admits to not putting a spanner to the car.
To get better times, Kelly Springfield slicks had been fitted and after doing a burn out which were just then becoming the norm, we misjudged the increased traction, and Mick pulled a huge wheelie. A few things got bent which we didn't notice until we fired it up next time and the throttle stuck open sending a conrod out the side of the engine block and that was the end for our beautiful Olds engine. We sold the Oldsmobile heads and other engine parts to Peter Lane and Ray Tucker for their Earspliten Loudenboomer Topolino, a year later. We raced at six meetings in 1972.
| | |
| --- | --- |
| Standing tall | Blackbushe 1972 |
| | |
| --- | --- |
| Mick reaches for the sky | Bob, Mick and Steve Warner with Bob's fiancé at the time Kate behind |
During this time Mick hung around Clive Skilton's Top Fuel car with Don Beadle and during the evening used to pop round to the workshop in Hitchin, Herts, where the car was based to see Don working on it. He remembers that once the car wasn't finished until about 8 pm on Saturday night to run at Fulbeck the day after. Don was too tired to drive the tow van and box trailer so Mick had to drive it, arriving at Fulbeck at about midnight. After the race meeting on the Sunday, Clive was generous enough to buy the whole crew a meal on the way back and Mick got a lift in Clive's Mercedes instead of the van! At this time Mick was also on the NDRC Committee so had meetings to attend in the evenings – a hectic time!
In 1973 Mick ran the car solo with help from a school friend, Paul Ross and Bob sometimes came along. Inflation was going mad at this time and Mick's trade union negotiated a pay increase. Due to this he ended up with a huge amount in back pay, enough to buy a Traco 302 Chevrolet Formula 5000 engine from America through the Beadle brothers and a dual Holley Cross-Ram inlet manifold from Cliff Jones 'Opus One'. He also replaced the steel wheels with a shiny set of slot mags from Woolfrace and fitted a new one-piece fiberglass front end from Pat Cuss.
We had sponsorship from Castrol of £500, which was a good deal and a lot of money back then which actually covered the cost of the engine. We never really got it fully sorted and had issues with running the right spark plugs apart from at one practice meeting where it really took off but no time was given. After racing at five meetings Mick decided he had spent enough money on racing and wanted to see American drag racing, by going on the NDRC trip to the Supernationals and the Manufacturers Funny Car Meeting at Orange County so sold the car to Al O'Connor at the end of 1973 as a going concern. Al debuted the car in 1974 with new paint and new name 'Al's Gasser'
| | |
| --- | --- |
| New look for 1973 | Taking on the Swedish Jeep |
| | |
| --- | --- |
| Cross-Ram manifold on the Chevy. Unknown photographer | In 1974 it became Al's Gasser. Graham Fermor pic |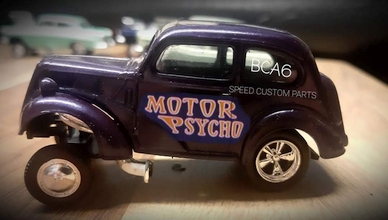 Model of Motor Psycho made by David Green of West Bromwich
Bob said they would love to build another Motor Psycho Ford Pop. (Bob's first retirement project??!!).
Brian worked for Ron Gammon the leading MG dealer in Baldock Herts for 10 years. During his time there he prepared a Healy 3000 for the Peking to Paris Rally, sponsored by Cadburys. Once we'd finished the car, the first thing happened was Cadbury put their name all over it. It did finish the race although being a sports car and very low to the ground it lost the exhaust system encountering so many different surfaces.
As a group of drag racers with all the engineering we did between us which was quite sophisticated at the time we were fortunate to have a garage in Letchworth town centre with power and some heating where we all congregated. With a mobile grocery business next door, we had chocolate Garibaldi biscuits and cans of coke on a Sunday morning after the night before!
---
Gallery: click on any thumbnail for a large image.

Feature ©Eurodragster.com

Back to Pioneers index

Back to News page


---