The Gleadow family's story and history
- by brothers Brian, Mick and Bob. Part 6 - TAD 1997 to Super Pro 2007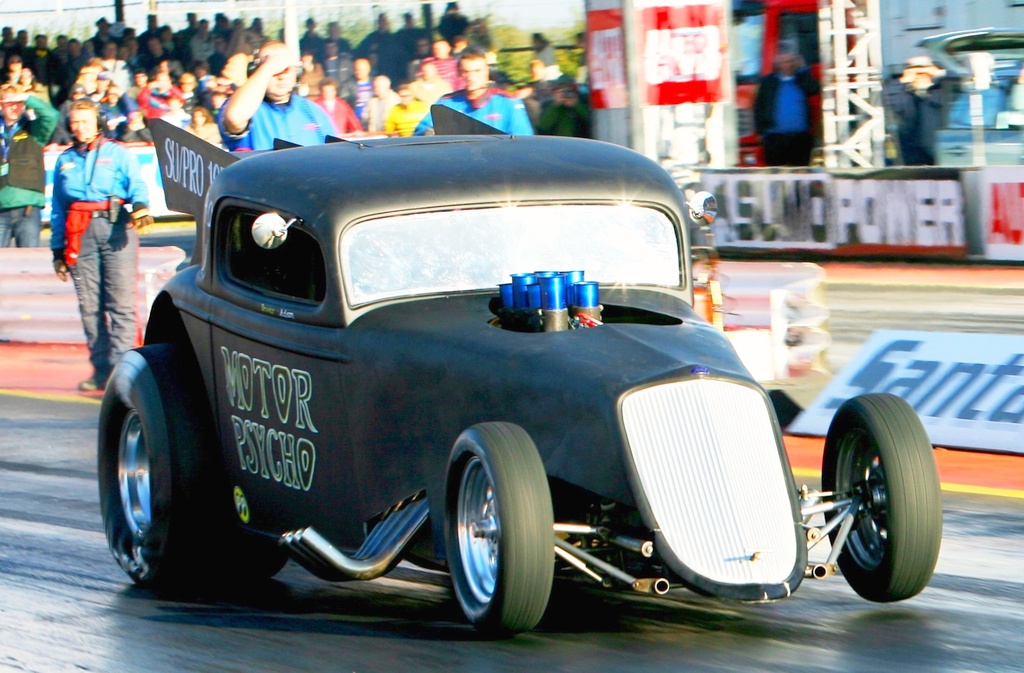 As told exclusively to

Introduction: In 1997 Fay Fischer joined the team as driver of the Top Methanol Dragster, staying for two years with a new car in 1998. Dave Wilson took over the driving seat and the team ran the FIA tour in 1999. At the end of the year Bob stepped down from the TMD team, at which point son Adam was wanting to start racing in Junior Dragster...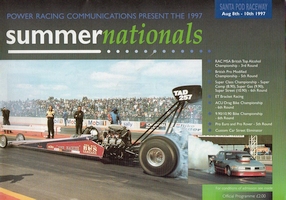 Fay in Time Machine 5 on the cover of the 1997 Santa Pod Summer Nationals program ©Power Racing Communications
Time Machine 5
For the 1997 season as Mick had stepped away from drag racing, long time friend and Super Pro racer Fay Fischer came on-board to drive the TAD, bringing with her sponsorship from The Big Bus Company, whose sight-seeing buses could be seen all over London. Fay spent the season getting accustomed to driving a blown alcohol car with a clutch, running a best of 6.47@210mph.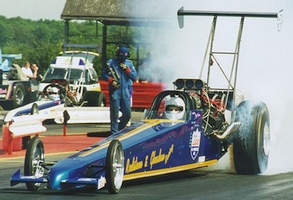 Fay burning out in Time Machine 6 before setting a new PB and becoming the quickest female drag racer in the UK © Andy Rogers (Tog)
Time Machine 6
1998 saw the aging Le Patron chassis sold to Martin Canto, driven initially by Andy Frost then by future Top Fuel driver and SPR commentator/TV presenter and long time friend of the team, Darryl Bradford. A new arrival for the Redstone & Gleadow team was a much more up to date car from the Leppannen brothers in Finland that had only done a couple of runs before being parked and came complete with their Fat Head Hemi and hi-helix blower. At the Summer Nationals Fay broke Roz Prior's long standing record for the quickest female racer in the UK with a 6.33@214mph.
The team headed to Hockenheim and ran well with a 6.38 slowing to 206mph as the burst panel went long before the finish line, unfortunately low entries meant it was elected to run a 4 car field, and controversially the team were held from going to collect Fay from the top end while other classes were run, this didn't leave enough time to turn the car round for the next session and rain moved in stopping any chance to improve on the qualifying time to make the field. The Night Show in pouring rain was something only Hockenheim could provide!
This year also saw the start of a 20 year relationship with Lucas Oil when we became the first team in Europe to receive backing from Forrest & Charlotte Lucas as they developed their now world conquering oil empire. Long time spectator Andy Bisset turned crew-man joined us this year, and has since gone on to work with Dave Wilson for many years before moving to America and working for John Force Racing, eventually becoming car chief for Ashley's Funny Car. Fay finished 3rd in the MSA TMD championship in 1998.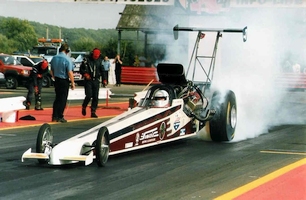 Dave Wilson in Nemesis at the 1999 Euro Finals ©Dick Parnham
Nemesis
For 1999 Fay had decided to take a step back from racing to concentrate on her business, SpeedFlow. The team partnered with Dave Wilson to drive the re-named Nemesis car, and to keep up with the rapidly developing TMD class a Whipple Screw supercharger and new fuel system was purchased from top NHRA TAD racer Bill Reichert. The step up in performance was instant, running the team's first 5 in round 1 against Lex Joon at the Easter Thunderball with a 5.99@221mph.
Taking on the whole FIA championship tour was a big task, with Darren, Martin and Andy on the road with the rig most of the summer. Bill Reichert flew in to assist at Alastaro, qualifying number 1 with a 5.87@238mph but unfortunately damage in the semis ended that event. At Gardermoen everything ran like clockwork, improving to a best of 5.82 running consistently and taking the team's first ever victory in TMD in the final over Kari Eskelinen. The Euro Finals unfortunately ended in a final round loss after horrific tyre shake broke the rear end against Jarmo Roivas, however a new PB was set in the semis with a holeshot win over European Record Holder Eero Kilpelainen 5.78@236 over 5.74@246. The time and work required to run the FIA tour while running a business led to Bob stepping away from the team at the end of the season - but that didn't keep him away from the track for long.
Adam Gleadow, Bob's son, takes up the story, discovering Junior Dragsters at Santa Pod, aged 11:
Growing up in a racing family I always wanted to race, from watching NHRA season reviews wanting to be like John Force and Al Hofmann, to watching John Spuffard and Gary Page battling in AA/FC over here. Clive Mechaell used to let me stand on his trailer against the fence to watch the racing, seeing Clive in the California Kid AA/FA do monster smokey burnouts and wild runs I had decided a Fuel Altered was what I wanted from a very young age!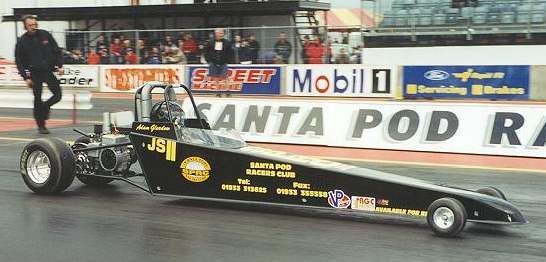 Adam licensing in the SPRC rental junior
Time Machine 7
Junior Dragster had started in England in 1999, walking round the pits at the Euro Finals, I noticed the SPRC rental junior and mentioned it to Dad, at this time he was getting out of Top Methanol racing, so much for retiring (again!)
March 2000 at a typically cold RWYB I made my licensing passes under the guidance of Ian Marshall, then onto the Easter Thunderball in the SPRC car again, running the fastest the car had ever run, before red lighting in round 1.
At the event we did a deal to buy Phil Cook's rolling chassis and an engine from Paul Lindley-Allen, bringing back the Time Machine name last used on the TAD in 1998, a season getting used to racing and learning how to bracket race the car ran in the mid 11s. During this year I met Joe Bond who was also racing Juniors, we've been best friends ever since!
Time Machine 8
Come 2001 and Paul was retiring from Juniors, so his car was bought complete, a great looking nicely proportioned car built by Stockholm Rod & Race. Early season testing had the car running well in the mid 9s@65mph, not too bad at the age of 12! This year brought a lot more success, immediately going rounds in eliminations at the Thunderball with a runner up at The Main Event to Nick Mugridge and winning my first event at the Cannonball over Ricky Emms.
I was also the first English junior racer to race abroad, making the trip to Hockenheim, thanks to help with international licensing and logistics by the late John Ledster and Paula Marshall. A victory over future TMD champion Dennis Habermann in the semi finals with a new PB of 9.11 and first time over 70mph, resulted in another final round, coming in runner up to Markus Habermann.
| | |
| --- | --- |
| In the staging lane at Hockenheim ©Gleadow family archives | Racing Phil Cook - Unknown photographer |
Hockenheim always seems to throw up a memorable story, this time while towing up a seemingly perpetual hill through Germany the radiator in Dad's Dodge Voyager decided now was an opportune moment to burst. Raiding a service station for all of their chemical metal, Santa Pod pit marshall Steve Silvester who was on the trip with us woke from his slumber and with Martin set to repairing the wounded radiator. After a questionable offer of a tow from a Polish trucker who was going completely the opposite direction, and the English trucker who was heading for Calais with no brakes, we resumed our journey and made it to the track.
I finished off the season 5th in the national championship and 2nd in the SPRC series behind Phil Cook.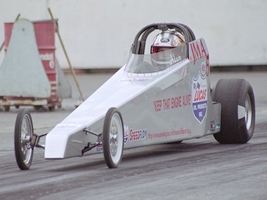 Time Machine 8 at Shakespeare County Raceway ©Eurodragster.com
2002 was to be my last season in junior dragster, the highlights being a few more runner up finishes, a number 1 qualifier at the Summer Nationals and another trip to Hockenheim with Steve, and this time with Joe Bond as well. No drama on the journey this year, however, on the Wednesday night Tom Watts who had also come with us was sleep walking, fell and landed knee first on my thumb crushing it against the floor. After a trip to the hospital and having Wolf Man Jack's German brother rip the split nail off we headed out to the local water park, apparently you aren't meant to have four people go down a slide at the same time, achtung. The problem the next day was fitting a glove over my heavily swollen thumb, Gary Page came to the rescue with a spare SFI-20 top fuel glove, thanks again Gary! Unfortunately both Joe and I went out in round 1, ironically running spot on each other's dial-ins.
Still a very enjoyable weekend, particularly memorable was getting the majority of the crowd on its feet chanting Fast Freddy's name after another 1/8th mile burnout in his world famous '66 C10 pro mod pickup.
I finished 5th in the national championship again and 5th in the SPRC series.
In 2003 Joe was still racing juniors, and we all fancied a Scandinavian adventure so, again with Steve we took off! This time with the luxury of a motorhome, Dad's 80s square body Chevy. Germany again became the nemesis of a road trip! The mechanical fuel pump failed on the A1 heading towards Denmark. With the aid of some petrol in a Fairy Liquid bottle, and a fire extinguisher primed and ready (Freiburger & Finnegan would be proud) we limped the camper off at the next junction, wondering how exactly we were going to get out of this one, before smartphones! As luck would have it (and what are the chances?) 5 minutes away was an American car specialist/service shop! Steve unhooked the trailer and towed the camper in. The cheerful owner, in his finest Miami Vice outfit informed us he didn't have a fuel pump, but his supplier in Hamburg did. So Steve set off, returning way under the owner's estimated journey time. After fitting a nice set of stainless wide mirrors to the motorhome to fill the time waiting, and the new fuel pump installed, potentially leaving our mark on his new block paved forecourt, we were off again. Driving through the night arriving at Mantorp in the early hours to catch some sleep, except for Dad who will never drink Red Bull again.
Time Machine 9
Around the same time, we purchased a blown alcohol Small Block Chevy T bucket altered, unfortunately after further inspection the chassis was not suitable for our needs and the rolling chassis moved on to a friend of Smax Smith.
For the new car we were extremely happy to have Darren Galloway back with us, he joined the TAD team in 1997 with Fay and stayed working with Dave Wilson for a few years before joining John Wright's Wildside Top Fuel team in. Darren is one of drag racing's unsung heroes, hard working, fiercely loyal and endlessly resourceful. I owe a lot to him and we all consider him family.
Doug Ripley had mentioned that Ralph & Laurie Craig were looking to sell their Super Pro model T altered, a really nice car built and raced originally by Doug, fitted with a Hairy Glass model T body. He fitted the Small Block/Powerglide and Martin took the helm, after initial teething problems, a weekend at Shakespeare County Raceway with help from Norm Wheeldon got everything ironed out, only for the Powerglide to decide to suffer catastrophic failure.
After this we decided that the Small Block also did not fit the bill for what we were looking to achieve and it was moved on, supercharger and injection parts going to Lee Cohen's Pop and some of the SBC parts to Dave Grabham.
The 489ci Big Block Chevy on Kinsler methanol injection originally fitted to the car, along with the TH400 was purchased from Ralph & Laurie.
Motor Psycho II
After much pursuasion Clive Mechaell's old '34 Ford body was bought from from Bob Glassup and we decided to bring back the Motor Psycho name used on the family's Pop in the late 60s.
In 2005 I made my first licensing passes in the car with a methanol injected BBC. Initially full bodied then the more familiar version with exposed engine. The matte black with gold Halibrand/American Racing mag wheels was one of my favourite looks! My first launch for nearly 3 years had a .022 reaction time! Running through 2005/06 with a best of 9.2, match racing John Everett at the Flame & Thunder in the dark was the highlight. Bracket racing was never really where I wanted to be and superchargers were very much on my radar!
| | | |
| --- | --- | --- |
| 2005 one of the first outings for Motor Psycho II, Flame & Thunder at Santa Pod © Peter Donaldson | Easter Thunderball 2006 with the modified bodywork and ultra-cool gold, vintage magnesium wheels © Blazing Wheels | Flame & Thunder 2006 match racing John Everett in 'The Alien' at night © Dom Romney |
---
Gallery: click on any thumbnail for a large image.

Feature ©Eurodragster.com

Back to blog index

Back to News page


---