John and Richard Wright's story and history - Part 2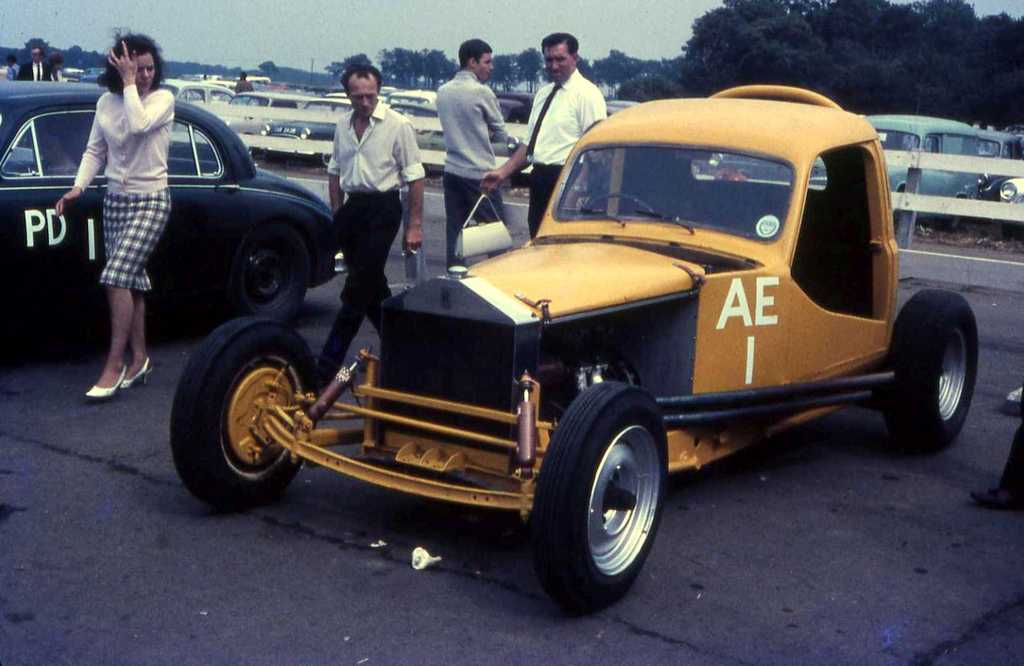 As told exclusively to

John built his first hot rod based on an Austin A40 cab 60 years ago, having studied US hot rodding magazines for some years, his brother Richard following suit with a Cadillac engined Fiat Topolino. The brothers attended the first Big Go at Duxford in May 1964, after which more builds took place, one based on a Studebaker, another by Richard a self made Ford T-bucket. John brought his hot rod to Santa Pod in 1966, racing in the altered category until 1969, but he still owns his original hot rod with its Jaguar engine.
I started building my Hot Rod, having all the parts from the scrapyard to choose from, 60 years ago.
I used to drive into town passing a rubbish dump in Weston Hills. On top of the rubbish pile sat an Austin A40 truck cab. I thought I'd like to sit in that cab with a Jaguar engine in front. I bought the cab for 10/- that's 50p in today's money. I thought the quickest way to make a Hot Rod with a Jaguar engine would be to buy a MK 7 Jaguar in good running condition, take the body off and chop the chassis off both ends. I didn't want the leaf springs pointing out the back and I had a Ford V8 Pilot so thought I'd weld the transverse springs from it to each end of the Jaguar chassis with the Pilot beam axle up front which is true Hot Rod style and that's how it started. It took about two years to get it roadworthy.
Before it all started, I used to buy the American Hot Rod magazines which I still have. Drooled over them and thought I've got to have one of these Hot Rods one day. Not being able to afford one I had to make one and seeing that cab on top of the rubbish tip then buying the MK 7 Jaguar was the quickest way to build a Hot Rod having so much already in place not leaving me so much to do.
Fitting the Rolls Royce grill and radiator came from snobbishness. I brought two 1935 Rolls Royce radiators in immaculate condition. There's a complete one still in my workshop. Then the other one I cut in half. I paid £5 each out of the scrapyard, they're worth £500 today. That week I'd spent my £10, I had no more money on me. I knew if I bought a radiator, one day I would need a bonnet. He had six aluminium Rolls Royce bonnets complete there for £1 each but I couldn't afford it. The car I'm building in my workshop now I paid £250 to get one bonnet about five or six years ago.
The radiator I cut a foot off the bottom, took it to the radiator company who took out the old honeycomb core. They welded a brand-new TK Bedford core in that Rolls radiator. I don't know how they did it to get all the water ways to work and everything. It's still there in my workshop, it was beautifully done.
The wheels I had to have reversed and of course all those things cost a lot. All Ford V8's have the studs a long way apart on the hubs. When I turned my Jaguar wheel inside out and offered them up to the studs, I could see that if I drilled the five holes exactly in the right place on the rim, I'd be able to bolt it on. We drilled the five holes oversized, put them over the studs, put a thick washer and nut on and tightened them up. Because the holes were oversized, I was able to spin the wheel then tap it till it ran true then fully tighten up the nuts. Then we welded the washers on and I had wheels that fitted perfectly on the studs. The reverse wheel looked alright; they've been down Santa Pod a few times now.
| | |
| --- | --- |
| Clive Lingard letter 1963 | Clive was BHRA Northern Division Sec |
My brother Richard started building his Hot Rod just after me. He used a modified Allard chassis with a Cadillac V8 engine, Model A grill and Fiat 500 body. The Cadillac engine came from Ron Peers, a stock car driver. He later took that body off and put the truck cab on which I did not like and then we put that ugly bucket body on which was even worse. Such a shame my brother took the Fiat body off, it looked beautiful on the road with mudguards, lights and everything. He was nine years younger than me; he was good at building cars too.
| | |
| --- | --- |
| Newspaper cutting | Richard's Cadillac/Fiat Hot Rod |
There's my first Hot Rod when I built it at the British Hot Rod Association's second Hot Rod and Custom Car Show at Hyde Park underground, London, Easter 1964. I received the award for best welding which I'm proud of. She was only half built there or at least into a roller.
| | | |
| --- | --- | --- |
| BHRA Show poster | John's Hot Rod at the show | Jag power |
Richard and I were at Duxford for the BHRA's first Big Go in May 1964. It was completely empty as were the hangers. I took the Hot Rod on the back of the bus as this was before I got it registered for the road. As it was unfinished and I had no cover on the propshaft they wouldn't let me run but Richard clocked a 14.84 and won the over 2000cc Dragster Eliminator.

John at the first Big Go at Duxford.
Paul Hicks pic



Being unfinished John didn't race.
Paul Hicks pic


Richard was there with his Fiat Hot Rod.
Paul Hicks pic



He took the over 2000cc Dragster win.
Paul Hicks pic



Results sheet

I rang the taxation office in Boston, and I said look I've built a Hot Rod and I want to register it on the road. He said drive it up, we'll keep you covered but bring a hammer and dot punch set. I got up there and they gave me a chassis number and watched me dot punch it on. I wanted to call it a Rolls Jaguar, he said we'd need to take a photograph for our records so we then know what a Rolls Jaguar looks like. Then he gave me my log book, saying that's £5. It was registered in 1964 so I must have started building it in 1962.
| | |
| --- | --- |
| Taxed and on the road | From Kool Kams magazine |
That's at my mother's house in Holbeach taken from the bedroom window.
Richard had six motorbike silencers, three out of each side and when we were in London, unknown, with traffic on each side he just blipped it up and the dust on each side came up and the people were furious. Look at that picture you can see there, they are just motorcycle silencers, straight out.
| | |
| --- | --- |
| Pickup body and loud motorcycle exhaust | Studillac |
There's my Cadillac powered Studebaker. Only 12 of these were made in the world and I had the only one in England, and what did I do, I broke it up. I've still got the engine, the pistons are ¼ inch bigger than standard. I collected this car from Enfield, it was the most powerful car I had driven.
I took the Studebaker to Duxford for the BHRA's second Big Go in June 1965 and blew the head gasket. Richard was there with the bucket body fitted to his Hot Rod and got into the final of the over 3000cc Dragster class against Nobby Hills' Houndog Dragster. They both left the line together but the Hot Rod started misfiring at halftrack letting Houndog take the win.
| | | |
| --- | --- | --- |
| At Duxford '65 | A peek under the louvred hood | British Drag Racing mag |

Richard at Duxford.
Martin Clark pic



taking on a Jag.
Martin Clark pic


steel T bucket body was made from the roof section off some unsuspecting '30s car out of the scrapyard.
Brian Sparrow pic



Cadillac motor connected to an Oldsmobile automatic box and rear axle.
Bruce Eggleton pic

When I went to Duxford in 1964, I had stub exhaust pipes on my Hot Rod which made a noise with flames coming out but I couldn't get any performance. They say with a standard camshaft you've got to have seven foot long 1 7/8th inch diameter pipes measured from the exhaust valve to the end, which I did and it all went as smooth as anything, I couldn't believe it. When I put full race camshafts in you don't need exhaust pipes at all. It's the camshafts and the timing of all the valves that make a difference, I learnt all that from other drag racers. That's one thing I liked about drag racing, they'd come and help you and tell you how to improve.
I ran the Hot Rod at Santa Pod in 1966 in the new Altered Class.
| | |
| --- | --- |
| At Santa Pod 1966 | Taking on Mark Stratton's Chevy powered BSA |
| | |
| --- | --- |
| Saloon and Altered | Large fuel tank |
That's my Jaguar saloon in 1966. In 1968 it got the record for C/Production and held the record for 3 years. I have a BDR&HRA certificate.
| | |
| --- | --- |
| Production Jaguar saloon | Certificate |
For 1967 I modified the Hot Rod, taking all the weight off the front end, fitting a little Ford Pop axle and lengthened the chassis. Now it was called 'Kool Kams' after the BHRA magazine. This was the first magazine in the UK about Hot Rods and Drag Racing. I was asked by Peter Bartlett if I would like to call my car Kool Kams to keep the name going as the magazine name was changing.
| | | |
| --- | --- | --- |
| Rebuilt for '67 | Longer chassis and Ford Pop front axle | Solid mounted rear axle |
It started out as AE/1 then when Santa Pod got more cars there were of course more classes and in 1967 it changed to CCA/15. My brother Richard was with me some of the time. He had a Model B Ford with a Mercury engine and used to push-start me.
| | |
| --- | --- |
| Richard's Model B push car | On the line against Bill McGrath's Jag powered Triumph roadster, Gloink |
I used my Leyland 600 Royal Tiger bus to transport the car with the caravan on the back.
| | |
| --- | --- |
| John's bus in the pits | Kool Kams on the back, towing the caravan |
I was invited to the first night race at Santa Pod, half the records were broken at that meeting because all the vehicles ran better with damp air than dry air, it proved it because they had accurate timing equipment. Also, the Americans were there. We put ice around the petrol tank, my theory was the colder petrol should explode better than warmer petrol.
| | |
| --- | --- |
| 1967 August Championship report in Motor | Kool Kams and Stagecoach in grease gun ad |
| | |
| --- | --- |
| Autocar pic | Start & Speed Swedish mag |
I wasn't at the track when EJ Potter had his accident on his Chevy V8 bike, hitting the barrier then going across the track hitting the other side. I think I know what was wrong there because I used to help him wheel it out of the pits to the start line but never saw him go down track, I was always covered in tyre smoke all the time. That tyre only lasted three runs, I used to sweep up the trail of rubber crumbs. The thing that stuck in my mind was the frame was inch square tubing for a powerful Chevy V8 engine. He would keep it on the kickstand on the starting line with a 15-inch car tyre, rev it right up then kicked away the stand. Thinking of the strain on that little frame I reckon it cracked and could have been the reason for the accident. Thankfully he survived only injuring his foot. The American pickers program found his bike's 'Widowmaker and Bloody Mary' and showed them in an episode.
| | |
| --- | --- |
| EJ Potter's Chevy bike. Brian Sparrow pic | Smokin' Ron Fisher pic |
I only raced in short sleeves with no gloves. At some events I ran both the Hot Rod and the Jaguar saloon. I would race Mark Stratton many times and beat him on one occasion in the wet as he spun his tyres. I did look to build a car with a jet engine but realised I didn't know enough about them.
| | |
| --- | --- |
| Racing Gloink in shirt sleeves and no gloves. Dave East pic | Another matchup with Gloink |
Later in 1967 and '68 I fitted Isky cams and had the exhaust pipes all sticking out the top.
| | | |
| --- | --- | --- |
| Taking on Harold Bull. Ron Fisher pic | Getting the jump on Mark Stratton's 427 Hustler | Mark smokes 'em |
I raced the car at Santa Pod for four years. Then it got too expensive, you had to get there early, you couldn't leave until the race meeting had finished and all the rest of it. It took all the pleasure out of it. Another reason I stopped racing was money came into the sport and it became too serious for me.
Kool Kams reappeared in 1975 run by a team from RAF Wittering. They got it up and running again with another Jag engine calling it De Judge.
| | | |
| --- | --- | --- |
| Peterborough Evening Telegraph | De Judge at Santa Pod | Poacher II, the Jag powered flip-top Mini altered of John Chester in 1969. Andy Brough pic |
I had seen a drag racing car in a showroom in Spalding some 50 years ago, I remember the name Poacher. I put out an advert a few years back to see if I could locate it. I had only one reply from someone on facebook saying they owned the car but had long since sold it, there were no other details given.
I actually bought this dragster from somebody local; it's got a Buick V8 and rack and pinion steering, it was a cheap outfit. I hung it up inside my workshop roof and he came back a year later asking to buy it back. He offered me a profit so I sold it.
| | |
| --- | --- |
| John's dragster | Now run by James Auld with the Wild Bunch |
I wouldn't sell my Hot Rod to anybody, it's still in my workshop today. It's jacked up at the moment, we're putting an E Type independent rear on it. I have the original Jaguar racing engine, which has had everything done to it and it's very valuable. I want £14,000 for it. I used to drive that at 6000 rpm. Old Jaguar engines don't like it over 4000 rpm, they start to cough and splutter. I've taken that old long stroke engine to 6500 rpm but I felt nervous doing it. The other problem was I had a manual gearbox in it, having to change twice in 13 seconds. The dragsters had automatic's and just kept on going. We didn't have an independent rear in those days but now I'm fixing it with a Jaguar E Type independent rear axle, engine and automatic transmission.
I want to get it done so I can go out and drive it every day, but I wouldn't sell it to anybody. We've rebodied it as well, we got a 1927 Citroen 4 door saloon body chopped in half and everybody who's looked at it including me thinks it's a Model A Ford, it's identical. I found out Citroen had permission from America to replicate a Ford Model A body. I've lowered the roof six inches; my son didn't like it up high. The only thing that's from the original car is the radiator and front axle. The old chassis was scrapped, it was only a Mk7 Jaguar, it was cut about too much to continue to use. When I put the Citroen body on, it didn't fit the chassis so I had to make a curved chassis to fit the body. It sat there for 20 to 30 years before I started to remodel it.
| | |
| --- | --- |
| John's Hot Rod as it is now with the original front axle and Rolls radiator | the original race engine |
| | | |
| --- | --- | --- |
| ...and helmet | Front shocks and hub | Fuel tank, still with part of the race number and one of the mud guards |
Link to video taken in 2022 of fire up of the original Jaguar engine from John's Kool Kams altered.
Chris Dossett who runs the Trackbytes website said "Recently my father-in-law dropped into conversation that he and his twin brother used to crew for John Wright with his Kool Kams altered. He just never thought to mention it before, despite knowing of my interest in the sport! He has promised to hunt out any old photos he can find, but knowing him as well as I do (or thought I did), I'm not holding my breath. Funny how you can know someone for so long without knowing much about them. John is still living in this area and is a bit of a well known local character."
Competition record of John and Richard Wright, compiled by Clive Rooms
1964: At the 17th May 1964 Big Go at Duxford, there was an R N Wright Cadillac Fiat and a J H P Wright Jaguar Hot Rod (non starter) entered. Richard won the dragster class elimination.
1965: Both John and Richard were entered at the June 6th Duxford Big Go. In D/Dragster, Richard beat Jeff Theobald in the semi but lost out to Nobby Hills in Houndog II in the final. John's fastest time was 17.72/73 and Richard's was 14.92/99.
1966: April 11th (1st SPR meeting), J Wright Dodge Plymouth;
May 29th Big Go, J Wright Rolls Jaguar 3781cc and Jaguar 3442cc;
June 4th/5th & 11th/12th SR US Masters, J Wright Rolls Royce Hot Rod Jaguar 3781cc. On the first weekend, there were only 4 Altereds entered and Mark Stratton BSA Scout beat John in the semi. John's best time was 17.77.
July 31st, John Wright Rolls Jaguar 3800cc (won his class, best time 16.21) and John Wright Jaguar 3442cc (won his class, best time 17.93)
Aug 28th/29th, John Wright Jaguar 3781cc
Oct 2nd, John Wright Austin Jaguar 3781cc
1967: June 17th/18th & 24th/25th US Commando visit; July 23rd; Aug 27th/28th; Sept 24th; Oct 22nd.
1968: June 2nd/3rd, John Wright, Kool Kams, Austin Jaguar 3781cc. John ran 13.72/100; July 7th; Aug 4th; Sept 1st/2nd; Oct 6th; Nov 3rd, John was beaten by Tony Ellison driving Stagecoach.
---
Gallery: click on any thumbnail for a large image, right click to open in new tab.

Feature ©Eurodragster.com

Link for John Wright's parts for sale on Facebook

Back to pioneers index

Back to News page


---