The Gleadow family's story and history
. Part 7 - NFAA 2007 onwards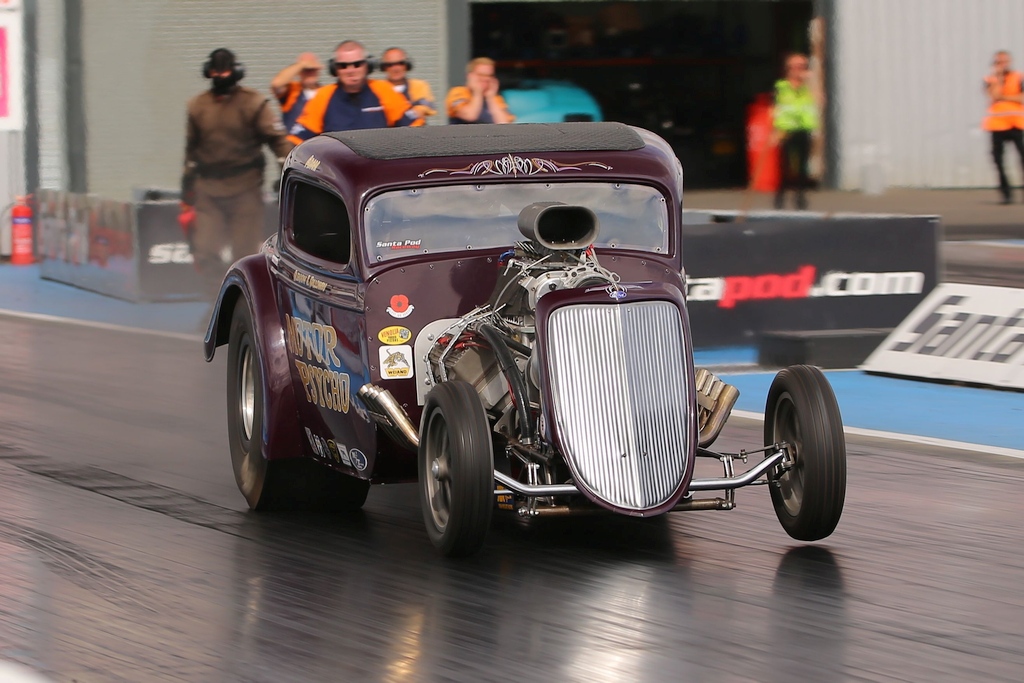 As told exclusively to

Introduction: Adam Gleadow, Bob's son, takes up the story, buying a chassis and building a blown alky altered to run in the Nostalgia Fuel Altered Association. The car won awards, ran in the sevens and in 2011 was a fire burnout star which led to it being featured in media outside the sport. A number of setbacks ensued - losing a body and suffering engine damage in 2012, with more mechanical woes in 2015. A full rebuild utilising the drivetrain from the late Ollie Burns' The Mob altered took a few years until Motor Psycho IV emerged in 2020 and made its first test passes in 2021.
Adam Gleadow in 2021.
Adam writes:I'm 34, born 19th August 1987. Growing up at the track with my Dad, Uncle Mick, Aunt Cath and cousin Stewart, it's all I've ever known and all I ever wanted to do. Most of my earliest memories are at the track starting with the Rover T bucket (probably a decidedly influential part of my love for altereds).
Away from the track, I spent most spare moments match racing my Matchbox/Hot Wheels cars or watching and rewatching Diamond P NHRA season reviews, the voices of Steve Evans and Dave McClelland imprinted on my memories, to the extent that tapes wore and Kenny Bernstein's car turned a fetching shade of pink.
Two breeds of car were always my focus, nitro funny cars and fuel altereds (on the rare occasions they were seen in this country at the time). John Spuffard and Gary Page were my heroes here, with John Force and Al Hoffman on the NHRA circuit. Clive Mechaell used to let me, then aged about 7, stand on his trailer to hang over the fence and watch the racing, watching him run the California Kid with monster smokey burnouts and wild sideways passes. I wanted to drive a fuel altered.
I graduated from university with a 2:1 BEng Performance Car Technology degree, and a desire to build engines. Firstly I worked with Dave Powell at Performance Unlimited, who I owe a huge amount of gratitude to for giving me a chance, and teaching me everything I still rely on now. A few other jobs through years including Historic Circuit Racing, building an engine for the pre-War class winner at the 2014 Classic Le Mans 24 was a huge highlight, after being awake for 40 hours straight. I now build engines for a range of vintage/classic British vehicles from the 1900s to 1960s, including Pebble Beach Concourse d'Elegance class winning Rolls Royce & Bentleys.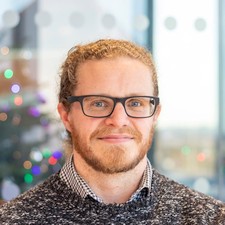 Martin Gleadow in 2021.
Martin Gleadow, Adam's brother, writes: Being born into a family so deeply involved in the automotive world it is no surprise I grew up with a mechanical fascination and I have been around Drag Racing for as long as I can remember. There's a picture of me sat in the slingshot in our garage at home, but my memories of the sport really start when we ran a Model T in Competition Altered and travelling to various tracks with it in the trailer behind a trusty Transit.
The years in Pro ET gave me an insight into all sorts of different engines and cars, and stepping up to Top Alcohol when I was a teenager gave me some very unique opportunities. I was an avid reader of National Dragster when it arrived at our house, and to be a part of that while mingling with racers from all over Europe gave me an appreciation for how Europe and America differ. The highlight of this must have been the chance to take the car to Hockenheim, Mantorp Park and Gardermoen, riding in the artic at a time when my friends were just starting to learn to drive.
Things took a break when I went to University until Adam found Junior Dragster and we carried on as we always had in the sport, and after this I toyed with the idea of driving, but discovered I enjoy being a part of making something happen and then watching it more - plus Adam does a great job in the car. I really can't wait until Motor Psycho on nitro hits the track again. I have discovered a love for the nostalgia side of the sport, and that one test launch was enough to keep the excitement going for weeks but now I am hungry for more.
Motor Psycho III
In 2007 Lawrie Gatehouse's NFAA was in full swing. At the end of the year the opportunity arose to acquire a brand new chassis, originally destined for nostalgia funny car from Rob & Nick at ICE, coupled with the ex-Outrage 511ci blown alcohol Rodeck Chevy from Doug Ripley, the '34 Ford body from the previous car and Strange 9½ rear end from Gordon Smith's Shockwave AA/FC. The next couple of years were spent putting the car together with Bill Felstead while I gained experience crewing with Joe Bond on his Nuthin Fancy BB/FA Topolino.
The new car debuted and started shake down runs in late 2009, changes to gearing and drivetrain with a Lenco CS2 transmission from Dave Wilson's 5.3 second TMD replacing the dated B&J for 2010 made things come together, getting more comfortable with the car and gradually getting faster throughout the season. Cumulating with my first 7 second 1/4 mile pass at the National Finals, against Joe as the sun was going down on Saturday evening, a 7.60@173mph, with the supercharger sneezing at 1000ft, a pretty emphatic way to break into the 7s from a previous PB of 8.2.
We were honoured at the annual Awards Evening to be awarded Best Appearing Car and Best Appearing Team.
| | |
| --- | --- |
| National Finals 2010, first time in the 7s © Julian Hunt | Easter Thunderball 2011, getting the hang of a long smokey burnout, one of my favourite pictures of the car © Darren Skidmore |
2011 brought more of the same, solidly running 7s and getting a runner up at the Easter Thunderball with the NFAA a sadly missed class that a lot of fun was had racing in.
Mid-way through the year I was contacted to be featured in FHM magazine for a section they did on '5 guys under 30 with cool cars'. Around this time I became friends with Chris Shutes and he has now become a vital part of the team. You cannot over emphasize how important a good crew is and I'm very lucky to have Dad, Darren, Martin and Chris on board and dedicated.
Finishing the NFAA season in 3rd place was testament to the progression we had been making.
Highlight of the year being asked to take part in the fire burnouts which had just been brought back for the first time in decades, to close out the season at the Flame & Thunder. Something slightly surreal about Darren setting fire to the car with me sat inside! Before pulling a 150ft rolling burnout, some amazing photos and memories were made, immortalised in Dom Romney's photo which was then used by the rock band 'Godsmack' on the cover of their album '1000hp'.
| | | |
| --- | --- | --- |
| Featured in September 2011 edition of FHM magazine | Flame & Thunder 2011, a bucket list item ticked off! Return of the fire burnouts © Nitro Burners | Motor Psycho III on the cover of Godsmack's '1000hp' album, getting to number 3 on the US album charts and selling over 200,000 copies worldwide! Famous photo © Dom Romney |
For 2012, a revamped look for Motor Psycho with a stunning House of Kolor candy purple and Roth Flake metalflake paint job by sponsors Custom Exotics, unfortunately after only 4 passes, at the Summer Nationals a body catch failed and the body took flight, making some more spectacular photos but unfortunately badly damaging the body. After a few phone calls Dad & Mick's old T body last used in 1991 was found and purchased from the late John Powis' widow. A 10 day thrash ensued as Chris & I cut the body in four pieces to widen and stretch it to fit in time for Dragstalgia, a quick coat of matte black with a roller in our friend Joe's parents garage on Thursday night and the car made it to the Pod on Friday for Dragstalgia. A new vantage point for me out in the open for the first time with an engine in front. Our hard work was rewarded with a new PB of 7.46@189mph and a runner up finish in the final. Running out the season with the T body before a con-rod failed in qualifying at the Euro Finals, sidelining us while repairs to the crank/block took place.
| | |
| --- | --- |
| Easter Thunderball 2012 with stunning new paint from Custom Exotics © Dom Romney | Summer Nationals 2012 prior to the body going into orbit © Julian Hunt |
| | |
| --- | --- |
| A very surreal moment, hitting high gear and about to get ready on the chute lever, then it got very bright © Drag Racing Confidential | Two weeks after lift off, at Dragstalgia with a thrash to modify, fit and paint the old T body |
Great chute shot from the Easter Thunderball 2014 © Julian Hunt
In 2014 the hastily modified T was replaced with an ex-Wendy Baker, Pat Cuss-built Bantam body, the planned paint job never made it onto the car as it was decided the '34 Ford had to make a comeback! Running again with the NFAA, another PB came along with a 7.42. Over the winter a move to a new workshop nearer home was made, making between event maintenance and repairing the '34 possible; it had been cut in half to store in the top of the artic trailer.
With the repaired body and associated changes to remove the decklid wing a new look was decided on, for a more period looking altered. Bill Felstead removed the front overhang and A-arms, shortening the wheelbase from 125" to 118" and fitting a drop tube axle/torsion bar.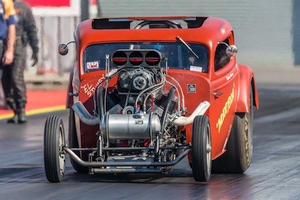 Summer Nationals 2015 with a temporary red-oxide primer paint job after repairing the '34 Ford body and shortening the chassis © Julian Hunt
2015 was a year suffering engine damage, with pulled rocker studs in the heads and a melted piston from a cracked injector. Plans were made for the ultimate goal, nitro. We had been in talks with Ollie Burn about The Mob for a while as he was no longer in a position to run the car. Things came together at the right time and in April 2016 we took ownership of the complete car. With Ollie's blessing the engine/drivetrain was fitted into the existing car and the rolling chassis sold on, now reunited with former driver Mickey Moore thanks to Robin Read.
Motor Psycho IV
This was the first time I had built a full car, quite the under-taking. Drawing on everything I'd learnt over the years with Dad, Darren & Martin, from Doug Bond & Martyn Hannis while crewing for Joe, and my day job as an engine builder.
I've been fortunate to have some great people who have been very generous with their time/advice. In particular I'd like to thank Lawrie Gatehouse, Nick Davies, Rob Loaring, Ollie Burn, John Wright and Paul Stubbings.
It has also been made much easier by the wealth of parts accessibility, information and communication through the internet. Fuel altered racers Randy Bradford, Dan Pettinato, Bryan Hall, Dave Benjamin and Shawn Van Horn were also massively influential and helpful. I can't imagine the challenges involved building a car 40+ years ago!
What started as an engine swap turned into a full blown rebuild of everything, front to back, top to bottom the whole car was updated and improved. Chris and I have made/machined many new parts ourselves, working with a limited budget and the ethos, don't buy what you can make. I'm very proud of the work we've all put in, the end result is exactly the image I had in my head years ago.
The engine was fitted with all new internals, all systems overhauled and freshened. As always this took longer than planned but in the summer of 2019 the 417 Donovan Hemi came to life again for the first time in 7 years. A trip to the Pod in October had the engine running on nitro for the first time, under the watchful eye of John Wright. Unfortunately it was curtailed by a failed oil pump seal.
2020 and early 2021 was wiped out by Covid but in August it finally came together and I made my first test pass with the car as a Fuel Altered, everything went perfectly to plan with gentle drifting burnout and soft, controlled 150ft launch. Everything has been gone through and checked ready to make progress testing properly and get up to speed in 2022. We're looking forward to getting back into some competitive racing and making a trip up to the newly revitalised Melbourne Raceway.
| | |
| --- | --- |
| After a long build/wait this was an awesome moment. | Finally getting to do a burnout and launch in a AA/Fuel Altered. RWYB August 14th 2021 at Santa Pod. © Blackett Photography |
---
Gallery: click on any thumbnail for a large image.

Feature ©Eurodragster.com

Back to blog index

Back to News page


---