The Gleadow family's story and history
- by brothers Brian, Mick and Bob. Part 4: Mick's Circuit Racing and Karting 1998 - 2006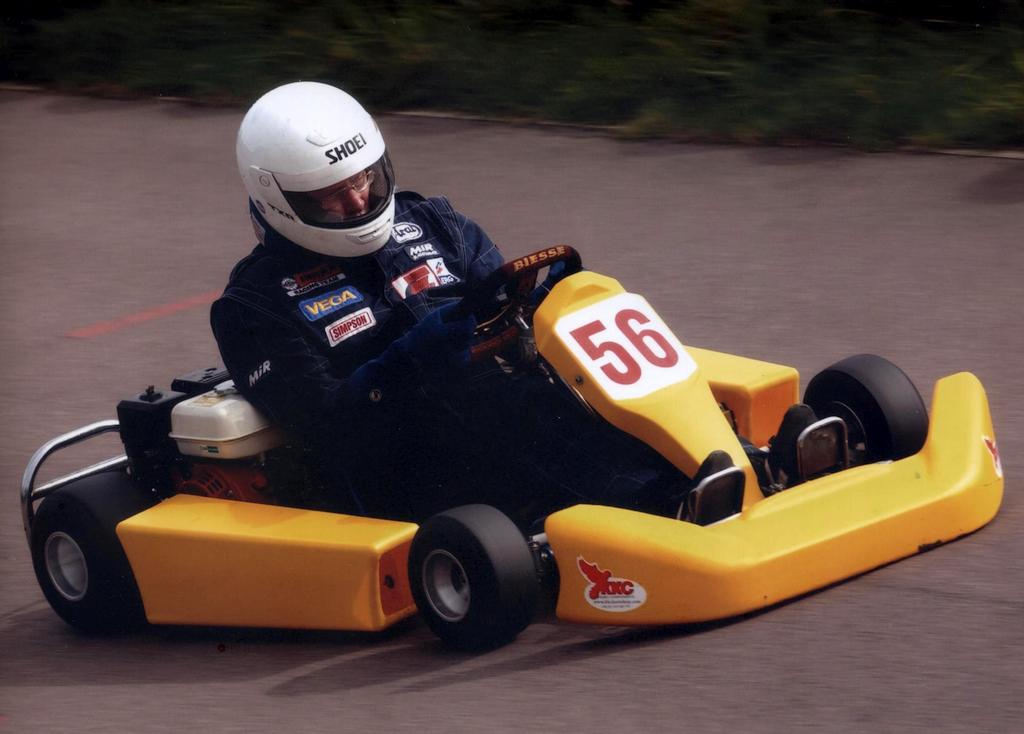 As told exclusively to

Introduction: Mick Gleadow left Top Alcohol drag racing at the end of 1997, and went circuit racing,  buying and restoring a Formula 750 car, making his debut in October 2000. After a couple of years racing at many of England's circuits, Mick sold his car and ran his son Stewart in TKM Karting for a couple of years after which he joined the karting fray. At the end of 2006, Mick decided to sell his kart and return to his drag racing roots. 
After finishing with Top Alcohol racing at the end of 1997, the question facing me was what next? I was torn between staying in drag racing and running my own car or going into circuit racing, or hill climbing but I thought that circuit racing would give more track time and so improve as a driver, bearing in mind that I wasn't used to going round corners with my foot down! I did in fact look at a couple of drag race cars for sale but felt that circuit racing would be the way to go and this was the time to do it.
I can blame Don Beadle, Clive Skilton's mechanic, for how this started because, working as an engine builder for Nicolson McLaren, in 1974 he took me to the British Grand Prix at Brands Hatch and I got a behind the scenes look at F1. I was amazed at the high dollar rigs that the teams had, which hadn't then made their way into drag racing. Most of these (then) tiny F1 cars were powered by Cosworth DFVs and Ferraris of course and it was incredible how fast they were cornering, absolutely on the limit as well. The sound of 20 plus DFVs and Ferraris was truly gorgeous and something which still blows me away (at Historic Meetings these days). I got more and more interested in circuit racing over the years and regularly went to circuit meetings as a spectator.
F750 restoration nearly finished
So, at the end of 1997 I looked at Formula Ford (too expensive), Formula Vee (some serious racers in FV) and then Formula 750, with the 750 Motor Club. F750 is a single seater sports racing car, bit like a ¾ scale Mallock, powered by an OHV Reliant engine, from which knowledgeable builders and tuners can extract 65 bhp, which works out at about 75 bhp per litre, not a bad state of tune on a single choke carburettor. Tony Densham was a F750 racer so that gave it a bit of pedigree for me. So in 1998 I looked around and bought a DNC Mk 6 (built by David Newman of camshaft fame) from a young couple in the Midlands. It had been used at Hillclimbs and was a bit of a shed, but it was cheap!
During 1998, '99 and most of 2000 I was working on the F750, doing a nut and bolt restoration, having a new 850 Reliant built by the legendary Dick Harvey, making fiberglass side pods and having a new paint job, care of brother Bob and gaining my ARDS license at Donington Park.
I made my circuit racing debut in October 2000 at Oulton Park, never even having driven it before, and ending up last, hey ho!
In 2001 I raced at Donington Park, Silverstone and Snetterton; Donington was the highlight as the headline race was Thoroughbred Grand Prix, with McLarens, Tyrell's, Arrows, Shadows and Ferrari F1 cars – the only time in my life to race at an F1 meeting!!
| | |
| --- | --- |
| Brian crewing for me | |
One of the things I liked about circuit racing was that if it rained you just put on your wet tyres, tweaked the suspension settings and off you go, no sitting around in the pits. At Silverstone I did a wet race and I got the wettest I had ever been, I put my crash helmet in the airing cupboard and it took a week to dry out!
In 2002 I raced at Silverstone and did some testing at Cadwell Park and Mallory Park. By now I was slowly moving up the grid and really enjoying the racing but began to realise that I needed a lot more time in the car as the improvements needed to come from me, not the car. However, race entry fees, for 15 minutes qualifying and a 10-lap race were going sky high and beyond what I could afford then, as well as not giving me the track time I needed. Also, the cockpit was physically a bit too small for me, so I wasn't comfortable in the car either, no matter what I tried with the seating position. So at the end of 2002 I sold the car; the guy that bought it said he knew it would be a good car as it had been built by a drag racer, a nice compliment.
So what did I take from circuit racing? Skill wise it's very difficult to be very good; it's not for the fainthearted; cars bobbing and weaving around you is totally different to going side by side with a car in another lane; particularly in a wet race when cars are spinning off in front of you; I learned a few car preparation tricks but most importantly racing on the circuits was an itch which had to be scratched, otherwise I would have regretted not doing it!
In 2002 and for a couple of years afterwards I ran my son in TKM Karting, we had a Tony Kart, a chassis always used by Michael Schumacher. Stewart was second in the club championship 2 years running, so pretty decent.
Then he wanted to stop to do all the teenage stuff, so I thought – I'm going to do this! I decided on a twin engine Pro Kart as pretty affordable and giving lots of track time at the local Karting tracks. I bought a 1997 Bowman, a nice uncomplicated chassis and then after that a 2002 7Kart which was more sophisticated with more chassis tweaks possible. Pro Karts use 2 Honda GX160 four stroke engines; I had to smile when I thought that in drag racing these power racers' generators! Mind you the serious Karters had their engines blue printed for more power, had spare blue printed engines, new tyres for every meeting, spending up to £20K a year racing 15 years ago!
I raced each month right through to the end of 2006, much more competitive than on the circuits and steady mid field and good in the wet races. I really loved karting, loads of track time, good bunch of people, made up of old geezers like me, teenage sensations (so quick!), guys and girls and younger guys. It was very friendly, people would lend you whatever you needed, even a complete engine! The racing ethos was just like drag racing, and the people as well – racing is racing!
Enjoyable though it was it was physically really hard and after a race meeting I was aching all over and had a few bruises so I decided to sell the kart and go back to drag racing, by now I was nearly 60. I absolutely enjoyed circuit racing and karting but decided to go back to my roots, although I sometimes entertain thoughts of Historic F750, but no, it's not going to happen!!
---
Gallery: click on any thumbnail for a large image.

Feature ©Eurodragster.com

Back to pioneers index

Back to News page


---