Pat and Chris Church's story and history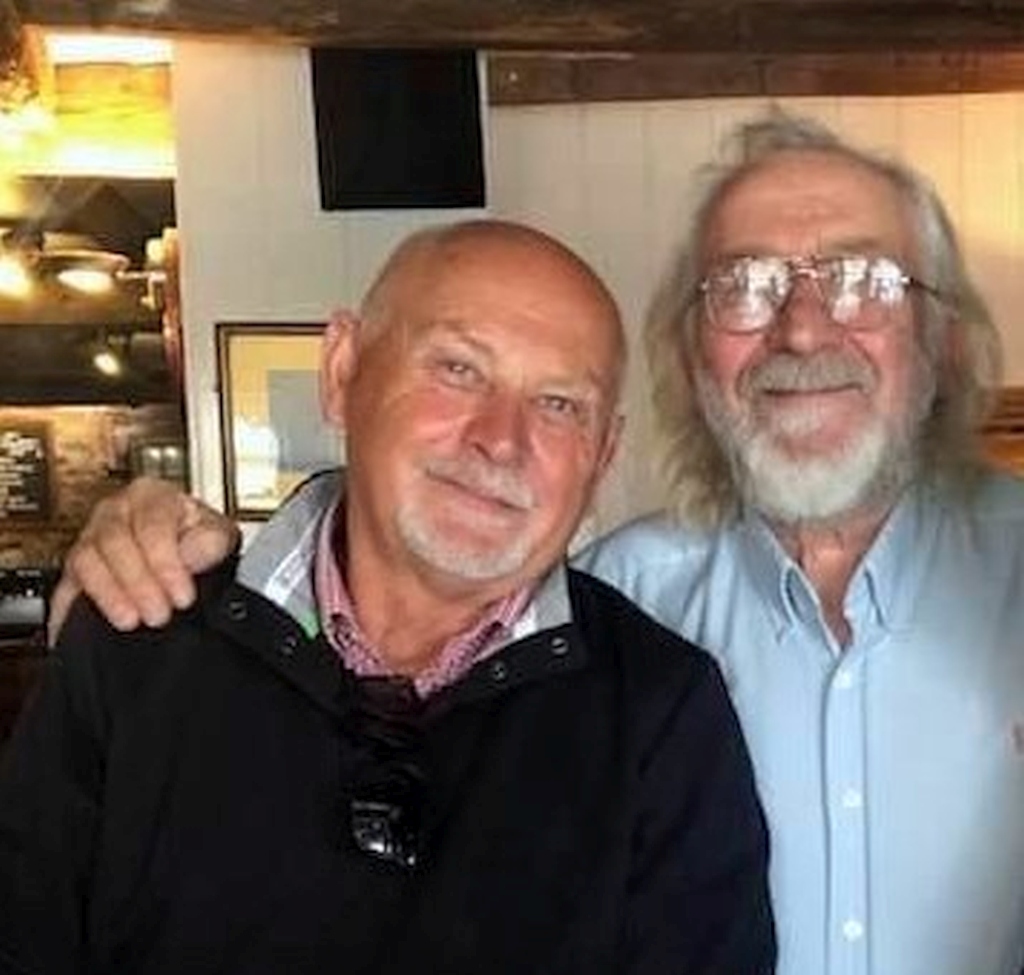 As told exclusively to

Pat Church and brother Chris got interested in hot rods as teenagers, Pat buying a Ford Model B after leaving school. Pat learned engine building at his first day job and, after attending the 1964 Drag Festival at Blackbushe, built his Gold Rush Pop. Pat and Chris campaigned Gold Rush with the support of their father from 1967 to 1969. After stopping racing, they sold the Pop to Barry Treacy who rebuilt it to the iconic Mister T hot rod.
I was born in 1948 and Chris was born on Christmas Day 1946.
My father got me interested in cars and how they worked. He bought me a book on mechanics and I remember, at a very young age, not being able to get my head around how a clutch worked. Dad then turned up with a 1927 Austin 7 Chummy and said to me "play with that and you'll understand how it works". That was my introduction to the internal combustion engine. It was the 1950s, I was around 9 or 10 years old and being so young I didn't take the car apart, I just looked closely at it as it was all pretty alien to me at that age.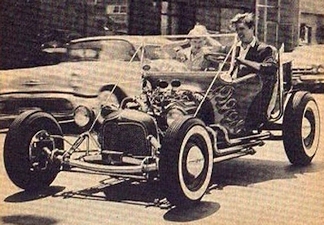 Kookie's T bucket
When I was around 13 or 14, I was browsing in a second-hand bookshop where I spotted a Hot Rod magazine with a '26 T Tub Tourer on the front cover. It was bright red with a group of Californian guys and gals standing beside it. Something just went 'ding' and the grey matter started to whirl, I want one! Then the American TV program '77 Sunset Strip' began airing in Britain. It featured a cool guy named Kookie who drove a T bucket. This really got me interested in Hot Rodding.
After I'd left school, a friend turned up out of the blue one day and said, "I've got this old car, are you interested in taking a look?" It was only a mile away so I agreed, and on opening up the garage door I saw it was a fenderless '32 Model B Deuce 3-window coupe with a flathead V8. It had been modified with a Z'd chassis and channelled body. He thought it was an ex-stock car although it didn't have the heavy iron girder bumper bars front and back which was the custom. "Oh yeh, I'll buy it". In my school days I did a paper round, plus at weekends and summer holidays I worked with the local Mr Softy ice cream van, so I had managed to save some shillings. I think from memory I paid £50 for it, that'll probably shock, but it was the sixties.
Martin Hill's Olds powered Model A at Santa Pod. Ken Robbins pic
I parked it on the drive at home. It looked like what is now called a Rat Rod. It needed to be dismantled, chromed and painted, that being the trend in the day. I wasn't trained, didn't have a clue and no driving licence. I didn't actually do anything with it apart from admire it, and dream, "one day". Somehow Martin Hill from Worthing, of Olds powered Model A Sedan fame, got to hear of it and paid me a visit. He gave me an offer I couldn't refuse and off it went. Martin apparently returned it to stock, fully fendered.
Unfortunately, our mother died when I was 15, so we became an all-male household. Dad and my two brothers were all very car orientated, we had lots of parties, film shows etc (It was the sixties!). Chris is 17 months older than me, so he was always first at getting his licences. He got himself a scooter, then a Triumph tiger cub, passed his test and bought a Triumph Speed twin.
I followed, purchasing a Norton Jubilee, a fully panelled cruiser 250 twin, and turned it into a 'Cafe Racer.' We removed all the panelling and fitted clip-on bars, rear set foot rests and megaphone exhaust. Later I upgraded to a Triumph 110 with Steib side car. Then we progressed onto cars and Chris got a Ford 107E Anglia van. The van got lowered and Lotus 5½ J rims and a 1340 Ford classic engine was fitted along with a Shorrocks supercharger from Allards. It was a street sleeper and we had some fun seeing off many sports cars. Unfortunately, it caught fire whilst working on it in the drive. The spanner bridged the starter solenoid with the fuel pump fitting as I was tightening. Whoosh! Then the fuel line was feeding the fire (silly boy leaving the battery connected - live & learn). The Fire brigade turned up to put it out. An insurance claim saw it written off. I must have purchased the wreck as I ended up with it and Chris bought a 105E saloon, which got the treatment, Lotus wheels, lowered,1500 engine, twin 40 DCOE's cam etc.
After leaving school I worked for a motor engineering company, building a variety of Ford engines. (We used to pour white metal into the rods in those days and hone them round). That taught me respect for machinery; it would break your wrist if you got impatient.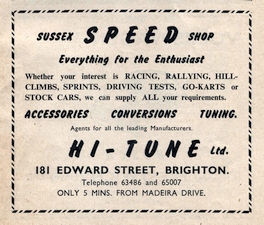 Hi-Tune Ltd
I then got a job at Hi-Tune Ltd, a local speed shop which had a Weber Carburettor agency, selling Weber carb & manifolds kits, gas flowed heads, camshafts, and Corbeau seats all that kind of stuff. The owner was an ex-Formula Junior racer. I had in fact written to him when I was at school asking for a job, wanting to leap straight away into the competition world. He turned me down at the time, but then, out of the blue, he contacted me asking if I wanted a job looking after the speed shop sales and bookings for his self-drive vans and mini bus company, which turned out to be handy later on. He was a member of the Sussex Car Club which I joined. I attended many of the events with my modified Hillman Imp including an overnight rally that I remember very well.
Still wanting a Hot Rod, I brought a 1955 Chevy locally, a 6-pot manual. After a week it started to smoke so I took off to the local scrap yard where I found a small block Chevy engine and Powerglide. The guys there proceeded to load them into the boot of my Chevy from a digger bucket. I didn't have a garage or the equipment to do an engine swap, so that's where they stayed. Must have looked like a low rider, cruising around with it back-end down! I then sold the '55 Chevy keeping the small block and Powerglide for a future project.
| | |
| --- | --- |
| Sydney Allard checks out Mickey Thompson's dragster at Brighton. Brian Sparrow pic | Mooneyes at Brighton. Bill Munro pic |
In 1963 at the local Brighton Speed Trials Mooneyes and Mickey Thompson's dragster attended and put on quite a show. Subsequently we went to the Blackbushe Dragfest in 1964. It was that transition of looking at the Hot Rod magazines, being inspired by what we saw but realising it was all in America, then suddenly it's over here. I don't think anyone in the UK in the mid-sixties thought it would catch on to become as popular as it is today.
Later on I acquired a garage with power, down a driveway at the rear of someone's garden, an ideal place to build a Drag Pop! I'd found a Pop with no engine & box. The plan was to put the small block and Powerglide in the Pop as a Comp Altered to go racing with a friend called Pete.
In the pub one evening a drinking partner asked if I would like to buy a TVR Griffith which had been totalled. Knowing it was Ford 289 powered and 4-speed gearbox I was interested. He wanted £180 - sounds nothing today, but was a lot of money in those days. I couldn't afford this, so I asked my brother Chris if he wanted to be involved in drag racing with me and go half each to buy the TVR. He did. We drove to the St Albans body shop and in the yard, all covered up, was this heap, which was the badly broken up TVR. Being fibreglass, it had not survived the 130 mph roll over at all well, but fortunately the engine and gearbox were fine. We removed the engine and box and managed to sell the rest of the car for £110, this was in 1966. (The car reappeared at Brighton Speed Trials some 20 years later!)
I think we sold the Chevy engine to Les Field who fitted it in his drag bike and possibly later it went to Mick Saunders for his first 'Animal' Altered. Both Les and Mick came from the Brighton area, Mick having a pet shop just three doors up from Brighton Speed & Custom.
| | |
| --- | --- |
| Les Field's Chevy powered bike. Unknown photog | Mick Saunders' Animal. Ken Sweeney pic |
Chris and I built the car ourselves. Chris was better at fabricating and welding, so I became the engine builder. We kept the original front axle, split the wishbone, had no front brakes and fitted later Ford 4-stud hubs onto the E93A stub axles. We picked up a Ford Zephyr rear axle for some reason fitted with leaf springs. Chris worked for the local Ford dealers in the parts department at the time, so got a lot of parts from there at staff price. We used a single Girling brake cylinder for a hand brake. On the rear we had Firestone racing tyres which came from Willment Racing. Front tyres were Dunlop racing tyres, real skinny, and we put them on 15" Hillman Minx wheels which fitted the Ford hubs.
The 289 was treated to 12.5 to 1 pistons, 320deg cam and solid lifters, from John Woolfe Racing. We gas flowed the heads, fitted twin AFB's & manifold from a GT40 from Willment Racing, added a lightened flywheel and balanced the total assembly. As dad was a plumber, we used copper for the exhaust pipes. We had copper pipe and a bending machine to hand so we could make our own, all pretty much back yard stuff.
The all-supportive father came home one day with a two-tone pink Dodge Coronet fitted with a tow bar, so he towed 'Gold Rush' to Santa Pod for our first meeting in 1967. This was the only event dad and our step-mum came to and they stayed in a hotel while we all camped at the strip. We hadn't visited Santa Pod before; it was our debut meeting and this was the first time we'd fired it up. We hadn't joined the club or entered, we just turned up and said we wanted to race, we probably joined later.
| | |
| --- | --- |
| On the line with Clive Lingard. Unknown photog | They leave together. John Smith pic |
My boss, being an ex-Formula Junior racer, let us borrow a minibus fitted with a tow bar when we went racing. Eight to ten of us would go to Santa Pod for the weekend. We would go straight down the Nags Head in Wollaston once the tents were up. When it shut at 11 o'clock (The law in those days) we'd go around the back, across the car park where there was a nightclub upstairs till the early hours. In the morning back at the Pod, engines would fire up. Being a bit hung-over it didn't feel so great, but the sound of V8's soon resolved that.
Video link: 1967 film by the Church brothers.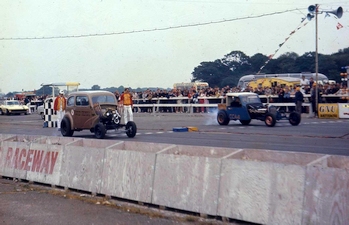 Taking on Mark Stratton's Hustler. Brian Sutton pic
However, we did get to do some racing, Chris and I would drive on alternate runs. The car wasn't legal half the time and the scrutineer wasn't impressed pointing out "you have no roll bar and the chassis is not boxed". He had to explain to us the meaning of the word 'mandatory', we thought it meant optional. We were extremely naive then, just youngsters looking to have some fun.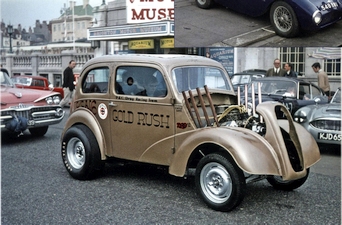 Brighton Speed Trials 1967 with their dad's Dodge Coronet with improvised buffer for push starting.
From Tony Gardiner's book 'The Brighton National Speed Trials in the 1960s, 1970s & 1980s'
We also took the car to Ford Aerodrome with the Sussex car club and the 1967 Brighton Speed Trials but there we were not allowed to enter. The Chairman said we could do demos, just launch it to show what it could do. I drove the first demo, launched it, gave it a burst and then slowed down. I did this with another couple of launches over the Kilo distance. The talk came back to the pits "why does he keep shutting it down then starting again?" The crowd didn't understand we'd been restricted to demo launches only. So, Chris decides he isn't having any of it. He gets in and takes it all the way, flat out, the full Kilo distance doing more speed than we could ever do at Santa Pod. After the run Chris said it was banging, shaking and chattering at the top end and the doors had come open. He was pulling 7,000 rpm in top gear; he must have been doing 140 to 150mph.
| | | |
| --- | --- | --- |
| One-piece fibreglass front end and wheel well exit headers for 1968. Ron Fisher pic | Working for a Mini Bus Hire Company had its advantages. John Smith pic | Getting the jump on Hemini. Dave East pic |
In June 1968 we were at Romney Sands near Greatstone in Kent for the BDR & HRA's Saturday night Beach Party and Sunday Rod and Custom Show. Then later that year we went up to Silverstone for some demo runs during a BRDC Gold Leaf Clubman's meeting. There were about 12 Drag Racing cars there including Don Davis and his newly painted Pontiac powered Pop 'The Bandit' and the 'Good Vibrations' Olds powered Pop. Also there, Tony Densham with Commuter doing smoky runs down the pit straight.
| | | |
| --- | --- | --- |
| BDR&HRA Beach Party Greatstone | Gold Rush was there along with a bunch of dragsters and hot rods. Maurice Takoor pic | At Silverstone with Shutdown, The Bandit, Good Vibrations and Invader. John Dickson pic |
To be honest in hindsight it was probably a wrong move buying the 289 Ford, although it was the latest thing and considerably lighter than the Chevy. Chevy parts were more readily available, cheaper and could rev higher, although we did pull 7,000 rpm from the Ford on stock rods with HP bolts without throwing them out. Also, the Powerglide, suitably modified, would have been a better bet in hindsight than the 4-speed, T10 manual gearbox.
Being a short wheelbase car with a flexi stock chassis was no fun, it got squirrelly on every gear change. That said we were fortunate with the 289, getting used parts from Willment Racing, Kingston, the company that developed the GT40 for Le Mans.
Later, from the same source we got a Tecalemit Jackson fuel injection system with throttle bodies fitted to a Lotus manifold. It looked great, worked much like the Hilborn system, so we fitted it and tested it locally on a long section of local of public road on the downs which went somewhere/nowhere? We took the car there one evening, unloaded it and blasted the car down the very narrow road. Seemed reasonable, ran a bit rich, but we thought we could sort that out given some time at the Pod where it was legal.
We took it to Santa Pod behind Chris and Frankie's newly acquired ex-embassy '56 Chevy 4 door pillar less coupe, but the Pop wouldn't fire and started locking the rear wheels up. Something was badly wrong. When we took the motor apart it must have hydrolocked from having so much fuel in it. The result was a bent con-rod.
One of our pals was an artist, Bob Lazell, who did a great job of the Gold Rush lettering on the doors, like it was on a plank of wood attached Wild West style.
| | |
| --- | --- |
| Bob Lazell's lettering. Pat Church pic | Zodiac powered Thames transporter. Pat Church pic |
We were so lucky with that car. One time it broke the differential, changing from 2nd to 3rd near the top end - we hardly ever shifted into top. As I shifted it broke, pulling the car sideways through the timing lights but Chris got the bollocking from Phelps for it.
Another hairy moment was when a prop shaft UJ mount broke. Fortunately, it was the rear one, the prop shaft slid out of the box onto the ground then shot up in the air. It would have been a different story if it was the front one that broke, a lot more serious and without a roll bar, not a lot of fun, but we never did fit one. Boy we were lucky with that car, young and foolish comes to mind.
Our best time was 12.6 seconds and 118 mph, this was when the double 'A' fuelers were running low 8s. Dave Riswick of John Woolfe Racing knew we were losing time on the launch and offered to donate a set of slicks if we purchased some low gears or vice versa. We were running a stock Ford Fairlane Estate axle by then, which was probably a 9" axle in the mid 3 to 1 ratio. That was the end of my '57 Fairlane Country Squire Estate that was waiting for an engine and box.
We showed the car at the Drag Racing '69 Show held in Fairfield Halls, Croydon in January 1969, parking Gold Rush outside on the pavement to attract the public.
| | | |
| --- | --- | --- |
| Show Guide | Parked up outside the show. Vic Heffer pic | Tecalemit Jackson fuel injection. Dave East pic |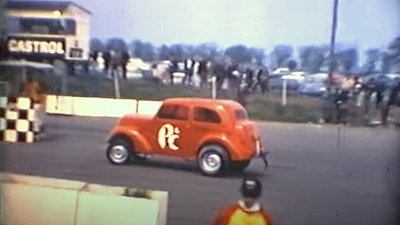 New paint job for 1969. Alan Dear pic
I don't remember completely why but after the show we remodelled it. It was sprayed red and had 'P&C' on the doors. We put it up for sale that year for £500 - cheap as chips - but nobody wanted it as a drag car. In fact, when the Cobra thing kicked off, people would have paid that just for the '65 engine that was all sorted with a 4-speed T10.
There was a combination of reasons why we stopped racing in 1969. We'd had a lot of weekends rained out, the 'support gang' got smaller, several breakages in the few years we raced and Chris had diverted his attention to building his Model T. My attention was on getting a living and I continued with the garage servicing cars, surfing weekends to Newquay in my VW Split screen Devonette and doing what young men do!!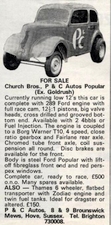 Up for sale
Around this time dad decided to sell the house and we all had to go our separate ways. I moved to "Surfers Lodge", Longcroft, a large house full of surfers in Shoreham. But that's another story!
We eventually sold Gold Rush, but not as one piece. The 289 engine and gearbox were sold and shoe horned into a MGB which was owned by an Irishman that worked for my younger brother Phil who owned a body shop at the time.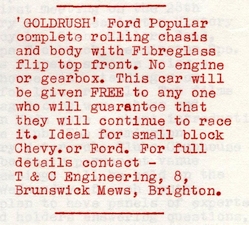 Rolling chassis for free!!
Barry Treacy had the rolling shell; he'd bought half a dozen Chrysler 273 crate engines. Barry rebuilt it as a street rod, fitting one of his 273s, a Daimler rear axle and independent Triumph front end. He had it out in 1971 with a white paint job and 'Mister T' on the doors. The following year he had an Ed Wimble trick paint job done in signal orange with brown fogging covered in blue and red murano pearl and 30 coats of lacquer.
| | | |
| --- | --- | --- |
| Gold Rush becomes Mister T. Soloman Dee pic | Ed Wimble was let loose on it with his spray gun. Ken Robbins pic | VW Beetle rear wings. Richard Steadman pic |
Goldrush was entered at SPR on the following dates with Pat driving in 1967 and 68 and Chris in 1969.
1967: 27th/28th Aug, 24th Sept, 22nd October
1968: 2nd/3rd June, 15th/16th June, 7th July, 4th Aug, 17th Aug, 1st/2nd Sept
1969: 25th/26th May
---
Gallery: click on any thumbnail for a large image.

Feature ©Eurodragster.com

Back to pioneers index

Back to News page


---