Essex Drag Racing Pioneers - Mick Wheeler


As told exclusively to

Preface: Mick Wheeler first encountered drag racing at the 1964 Dragfest at RAF Chelveston. Initially teaming up with Colin Dunster and two others in his native Essex, the team ran a Jag engined Ford Model Y called 'Juggernaut' in 1966, before Mick decided to build his own Hillman Imp-engined dragster. Mick raced the car from 1967-9 before leaving the sport and selling it to John Rotheram who raced it in 1970 and 1971; after a time, John sold it to a lady called Rosemary Crick who in 1973 hit the safety fence coming down the fire-up road, unfortunately fracturing a leg and cheekbone, which sadly was also the end of the car.
Eurodragster.com thanks Mick for providing his story and John Hunt and Nick Pettitt for help with editing and proof reading the feature and making archive images available.
---
I was born in East Essex in good time to remember World War 2 and how it affected our area. I left Technical School to take up an apprenticeship as a toolmaker with the Hoffmann Manufacturing Co who made ball and roller bearings. I was promoted to Research and Development Dept before National Service in the Royal Army Service Corps, then back to Hoffmanns for another five years, before moving to Pollard Bearings as a trouble-shooter. Then to Plesseys as a draughtsman in the Development Unit where, in the prototype workshop, several dragster-shaped pieces seemed to appear, and the plating shop also proved useful.
On then to Standard Telephone and Cables to get involved with installing the machinery for mechanised letter-sorting by post-code etc. Soon after that I sold the dragster with no plans, or sufficient funds to build anything else, when I got my head turned by a pretty girl and ended-up buying a near derelict Victorian semi. In the process of installing central heating etc I got a taste for it and one year later set up in partnership with an old friend to install and maintain mainly domestic heating in our very rural area, making a lot of friends and valued customers on the way.
When I was about 68 I wound the business down to enjoy a lazy life and doing some of the things that self-employment and a large family made little time for.
Back in 1964, the motoring press gave notice of a series of meetings called 'Dragfests' to be run at various venues throughout the UK, where a team of American drag racers would show us Limeys just how to accelerate over a ¼ mile from a standing start. We went to the meeting at RAF Chelveston Sunday June 21st 1964, somewhere in the Midlands and were blown away by what we saw. The speed, the noise, the smoke, and the whole razzmatazz was just amazing. We came away from there knowing that we wanted to get involved. The British Drag Racing & Hot Rod Association (BDR&HRA) had just been formed so we joined to find more about drag racing.
One of the then members of our gang was Colin Dunster from Althorne. Not really in our league, public school and all that and now a solicitor, but he latched onto us and bought his round which was important. Having seen what the Yanks called then 'Altered' Class, saloon cars with different engines it was agreed that this was a class that we might tackle. My teammates in this project were a Radio Technician, a Civil Servant and a solicitor. So the engineering side of the project was going to fall heavily on me.





Correspondence with John Bennett over Juggernaut
Mick Wheeler collection




We managed to buy a £100 Ford Y Model for the price of a pint of Guinness in the Huntsman and Hounds of course where we also learned of a strange man in Steeple Stone who had taken the engine out of his MK V11 Jaguar and put in a diesel taxi engine. We found the Jag engine in several pieces scattered around Thomas's small holding and in exchange for not a lot of money took it all back to Peter's garage in Mill Road Burnham. I don't remember Colin getting much involved in the actual construction of the car, perhaps just as well as I already had my work cut out explaining the engineering side to the two others. In those early days there were no build rules for British dragsters, so we built to the American specs as far as possible, which turned out to be far too heavy for the amount of power we had available. We narrowed the Ford front axle assembly and used the Jaguar back axle on a completely new robust rear suspension system. The engine was stripped and reassembled, it showed little wear and installed a beefed up front chassis. The driver would sit in the back of the vehicle, so the steering had to be altered too. The front brakes were cable operated and the rear ones hydraulic and it took a while to devise a system to couple them together but I wasn't too worried as the car was designed for going, not stopping.

Juggernaut's tow car was an Armstrong Siddeley
Mick Wheeler photo


Juggernaut was originally blue
Ron Fisher photo
We also had to build a trailer to carry the beast about. When it was all complete we fired it up, it seemed to run quite well, but we had nowhere to try it out. So we took it to the weighbridge in Asheldham and put on the pretext of getting it weighed. Then had a runabout in the pit to check it out as far as we could. Off then to Santa Pod in Northamptonshire for the real thing. The Pod was quite new then and together with all the other amateur builders, felt a bit like pioneers in this new sport. I had always wanted a car that would frighten me with its power and hoped that our concoction would do it. Our first event with race number AD5 was the 4th/5th June 1966, US Masters meeting; we ran 17.34, 17.07 then a best of 13.92. Also we attended June 11th-12th, US Commandos visit meeting then 14th August 1966.
I was a bit disappointed as it was quite drivable and the only frightening bit was when we put the brakes on, it was just as likely to turn left or right or go straight on. In fact poor Pete ended up in the cabbage field at the end of the strip on several occasions, too frightened to brake hard. Mike Wells did not drive, so on one practice day at the Pod we sneaked him into the car low down beside me and I hope, gave him an interesting ride. As for us I know he never asked for another ride. The car 'Juggernaut' went quite well but was not quick enough, it needed less weight and more power. We tried a coat of bright red paint instead of the RAF blue, but it didn't seem to go any faster.

Juggernaut on the SPR start line in front of the old control tower
Ron Fisher photo


Juggernaut was repainted red late in '66
Mick Wheeler photo
We'd all learned a bit from building it and decided to sell it and build a new one for the next season. The others wanted to build another 'Altered' but I wanted a pure dragster, no body work, just the basic requirements, so we went our separate ways. They built an Austin Ruby Bodied, jaguar engined car and spent some money on having the engine modified, they named it 'Stagecoach' and it went quite well. I realised that on my own I couldn't afford to build anything big. no V8's etc so decided to investigate the smaller classes of dragster, settling on the 1 litre G class. Everyone else in all classes of dragster had slavishly followed the American layout of engine midships and the pilot behind the axle. The Coventry Climax divided Hillman Imp engine and transaxle fitted the bill and I bought one from a crashed car in Croydon.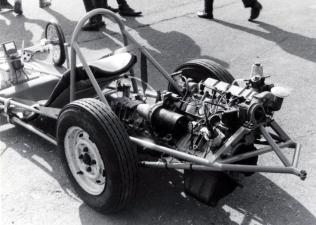 Scorpion Hillman Imp engine
Brian Sparrow photo
I got my drawing board out again and 'Scorpion' was designed round the Imp lump at the back and this lump in front at the controls. The cost of the work project meant that there wasn't any money left for modifying the engine much, so for the first season I ran it in standard form. However I knew that the engine would take a lot to tune so for the next season set about improving it. The works Hillman Imps were run by one Alan Fraser down in Kent so I took the car down there, in the back of my Fordson van to see what was on offer. He said that he liked the idea and was happy to sell me an engine, not quite what I had in mind. There was no way I could afford to buy one.
I therefore got in touch with Des O'Dell who was the Rootes Group competition manager. He was prepared to let me have a used full race engine at scrap price, much nearer my budget. I was up there in no time, the engine was from Mary Smiths works Monte Carlo Rally cars, but was all in bits.They couldn't find a camshaft or crankshaft for it, but I was happy to buy my own cam more suitable for drag racing, if they could find me a crankshaft. They found me a brand new nitrided, blueprinted crank and told me to tell the security man on the gate it was just a scrap one, along with the rest of the engine. It was beautiful, head all gas flowed, con-rods all polished, shot peened and bored out to 998cc, bigger than the 875cc of the standard Imp.
They wouldn't let me have the weber from the rally car, that suited me as I ran the car on methanol and may well have had trouble with the webers. I had seen Wal Phillips injectors on grass track motorbikes running on methanol and liked their simplicity. Luckily I was covering London as a rep at the time, so could pop into see Wal in his town shop, in New Kent Road when necessary. He was very helpful and we ended up with four of his injectors, 42mm and gobbling up fuel at an alarming rate. Wal Phillips was very helpful about jet sizes, setting up, timing etc and when the whole thing was in time it was a real little screamer. If I had made alterations to the engine which I wanted to test before going all the way to Santa Pod, we, John Norden and I would take it down to Bradwell Airfield and give it a short run there. On one occasion when I'd made some changes, it was too late to take it down to Bradwell, so we managed to fire it up in the garden at Downside. My poor Mum near had a heart attack, she had no idea what a screamer it was and rushed out of the house insisting it should be switched off, so it was, Mum knows best.

Scorpion staging
Mick Wheeler collection


Scorpion in pairing lanes
Mick Wheeler collection
The following weekend I was refueling the van at Latchingdon garage when a local farmer, Harry Cowell from East Newlands showed an interest in 'Scorpion'. He asked if I had been running it the other evening about 7 on Tuesday , he had heard it from his home in St Lawrence, no wonder poor Mum thought it was loud, it's exactly four miles away in a straight line. It was fun to build and to race it and made it more worthwhile as it held the class record for my last season at Santa Pod. Sometimes when we were racing there my old army friend John Shayler would show up, he only lived a couple of fields away and found it unnecessary to queue up.
Mick's first event with the 'Scorpion' dragster G/D4, was at Santa Pod 27th March 1967. Then 23rd April, 28th-29th May, 17th-18th June, 24th-25th June, 23rd July (winner with 15.41 at 82.85mph). 1968 dates were April 15th, then ten more events through to November. 1969 was his last year, racing at Santa Pod 6th-7th April, Mike was winner in the Handicapped Division Eliminator at 12.71/103 mph. Then 4th May, 24th-26th May with his last meeting July 5th-6th.
---
Gallery: click on any thumbnail for a large image.

Feature ©Eurodragster.com
---
Back to blog index
Back to News page
---