John Wright's story and history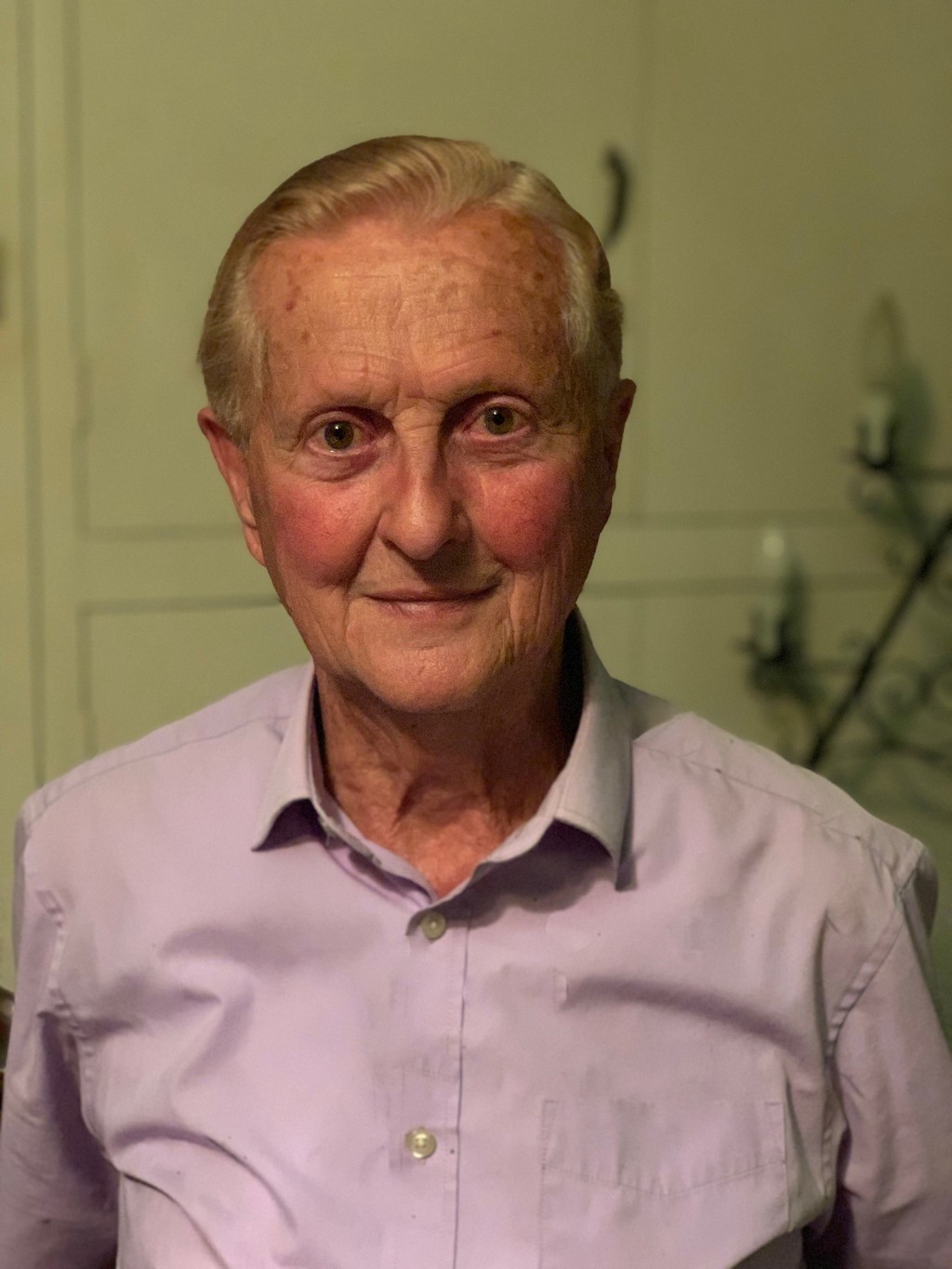 As told exclusively to

John Wright, brought up in a farming family, was encouraged by his father to become mechanically minded from an early age and became a collector of vehicles as space on the farm allowed for storage of many diverse and sometimes extremely rare cars, which John was able to practise his modifying skills on. Later, he sold a Rolls Royce which became the basis of Chitty Chitty Bang Bang. He also got a flavour for American cars and hot rodding which would prove invaluable when he discovered drag racing.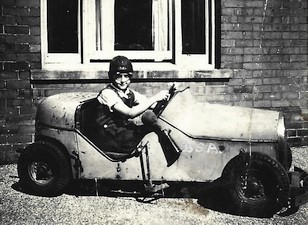 (1) BSA sidevalve motorcycle engine in rear with fluid flywheel drive
I was born in 1936 into a Lincolnshire farming family. I'm the oldest of three brothers. My family home is two miles up the road from where I live now, my next brother lives there. I was 18 before going into the Army. My Dad bought this house for me when I came out in 1956. He was helping the chap put new buildings up and got the first offer to buy it at a good price.
That's how I got started. My Dad got me a bumper car from a fairground ride in Hunstanton in Norfolk (2). It was originally electrically powered so he fitted in the rear a 350cc BSA motorcycle engine. I drove it round the tennis court tearing all the ground up.
Later on, Dad brought me this. We had a famous Speedway track in the village, Bell End Speedway. At the last 2 or 3 meetings held there were these Skirrow cars, 4-wheel drive. Only 17 were made and my dad brought me one with no engine, it would have been a V twin JAP running on dope and everything. I put in a Douglas motorcycle engine (3-5).
| | | |
| --- | --- | --- |
| (3) 350cc Douglas engined Skirrow. January 1953 | (4) Skirrow | (5) Skirrow |
Here's some pictures from Bell End Speedway when those midget cars came down (6-8). It was only two of our farm fields from our house, so I used to walk there.
| | | |
| --- | --- | --- |
| (6) Bell End Speedway | (7) Bell End Speedway | (8) Bell End Speedway |
All these motorcycles were mine; I used to buy them and paint them up. (9) That's me dressed up to go out on one. I was just crazy about motorbikes. (10) This is me on one of mine in Cyprus. (11) This is me on a Norton I had to ride with a tin helmet on. I rode to the post office to collect the post for the Royal Warwickshire camp bouncing all over the road, flat out it only did 55mph. (12) That was my Excelsior. I got told off by the Police in Spalding for making too much noise with those exhausts. That bike was a vicious thing.
| | |
| --- | --- |
| (9) Dressed up to go out | (10) In Cyprus |
| | |
| --- | --- |
| (11) Norton | (12) Excelsior |
To buy my first car we went to Camden Motors and saw HED21, a Bugatti 35B (13). This was up for sale for £275, but my father wouldn't buy it for me. He said with no proper seating or hood you couldn't take girlfriends out. Today that's a million-pound car.
| | |
| --- | --- |
| (13) Bugatti 35B | (15) Lagonda Rapide |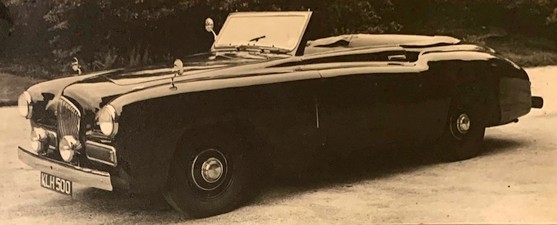 (14) 1950 Healey Sportsmobile
All these cars my father owned; one was a 1950 Healey Sportsmobile (14) only 70 were made. The Lagonda Rapide (15) was one of only 20 made. Bought unseen in 1945 for £300, it was sent from the Lake District to Spalding by train. Dad had to run it on bald tyres as new ones were not available. It was sold for £1000.
Look at that, it's a 1927 Belgian Minerver (16-17), one of the biggest cars ever made, that's in our farm yard, a straight 8 sleeve valve engine, it was for sale for £40. I wanted it but only had £20 and Dad wouldn't loan the other £20, it got broken up.
| | |
| --- | --- |
| (16) 1927 Belgian Minerver | (17)1927 Belgian Minerver |
That old Clyno was found in Norfolk behind a pile of wood (18). And here it is all done up (19). I put a more modern Ford engine in it.
| | |
| --- | --- |
| (18) Clyno as found | (19) After restoration |
That's a very rare Humber convertible (20) with an aluminium body given to me by an Aunty. I sold it to a lady in London. Only 21 SS 90's (21) were made. This was a rough one from a local farmer, he wouldn't sell it to anyone but I had a Jaguar engine for £60 that he was desperate for. I said I won't sell but I'll swap it for your SS 2-seater, so we did. A chap in Canada bid me £950 for it so I sold it and it's just been sold in America only half rebuilt and with the wrong engine, it fetched £140,000.00.
| | |
| --- | --- |
| (20) Humber | (21) SS 90 |
These are 2 Rolls Royces. I drove the Phantom II, the one on the right (23), for a year. It had a Gardner diesel engine in it that cost me £70. The one on the left is a Phantom 1 (22), older than that with 21inch wheels, that was £150. Alan Mann Racing, who built Chitty Chitty Bang Bang wanted a big chassis and engine, so they bought that car from me. When they came up here, they left me a photograph of Chitty they had just built. They said you're the first one we'll offer it to before it goes on the market at £12,000.00. That was too much for a homemade car, I didn't have that much anyway. It was sold five years ago for half a million pounds and went to America and it's come back here now. That cost me £70 that I brought from a friend who told me only the other day he only paid £50 back then.
| | |
| --- | --- |
| (22) Phantom 1 | (23) Phantom II |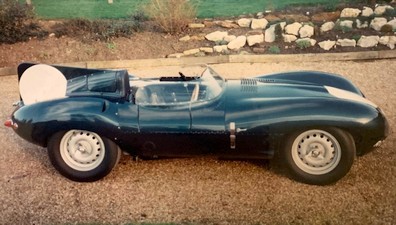 (24) Lynx D Type
I also bought a 1935 20/25 Rolls Royce , with a year's MOT, at auction for a maiden bid of £15, because it was a hearse in nice order. I sold an E Type Jaguar for £400 to a friend, a week later he was being silly trying to overtake someone and had to go in the dyke, damaging the front corner. The wheel was alright. I was too embarrassed to offer him £100 having just sold it to him for £400. His friend phoned me and asked if the car was worth £20 to me and £5 for delivery, yes, I said. This was 60 years ago. A friend spent £70,000.00 to have it rebuilt as a Lynx D Type (24) but it's worth £200,000.00 today.
These are my American cars; I was crazy about American cars. Look at that, 7 JON on my Pontiac (25). I let that go with that number on it and my Cadillac was YMJ 1 (26). YMJ 1 has recently been advertised by Registration Transfers for £11 thousand. I'm tempted to call them to ask how they acquired that registration number. That was another Cadillac I had, that's drag racing there (27), not me but someone else with it, I don't know where.
| | |
| --- | --- |
| (25) Pontiac | (26) Cadillac |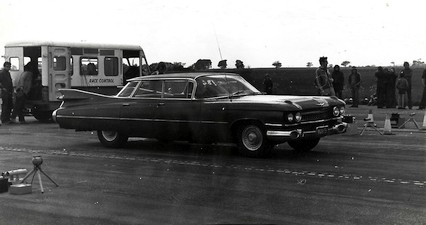 (27) Cadillac drag racing
From a gypsy who sold carpet ends in the area I brought NLU3, the Buick 8 (28), for £50. This is another Buick 8 (29). It was covered by salt water in a flood on the Lincolnshire coast. I bought it in Waterbeach, Cambridgeshire. All the paint was gone and it was covered in a film of rust. You can see that I had started to paint the roof cream. This is my first American car, an old Chrysler (30), I put 5 chromium plated stars down each side of the mudguards. I was driving downtown and a chap shouted out there goes the sheriff to his friend and walked straight into a lamp post.
| | | |
| --- | --- | --- |
| (28) Buick 8 | (29) Buick 8 | (30) Chrysler |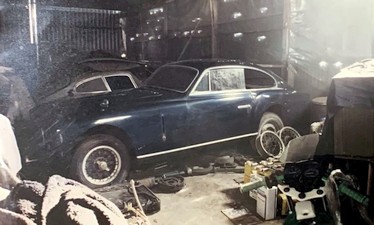 (31) 1952 Ferrari
Seeing that Ferrari there, that's the 149th Ferrari made in 1952 (31), it was an immaculate one with no engine or gearbox, I got it for £150.00. The deal with a local Ferrari Dealer was a £100 Mini, £50 cash. I still have the Borani aluminium spare wheel which is worth over £1000 today. I wanted to put a Rover V8 in it and keep it. My wife took a call from a guy offering me £17,000 for it, what do I say? So, I sold it.
George Brough was a famous rally driver racing in the Alpine Trials in Europe, he built big motorcycles using the name Rolls Royce with the permission from the company. He also built a one-of-a-kind race car for himself (32-33) which my dad bought from him at the end of the war. He went to the first Silverstone race meeting in it in October 1948. He sold it at a loss, I found it 20 years later, I got it on a deal for £10 because it was covered in mud and grass. The old boys who owned it did grass track racing. I drove it back home. It's worth £100,000 today. It was rebuilt and had a Hudson engine and chassis, supercharged.
| | |
| --- | --- |
| (32) George Brough car | (33) George Brough car |
In this photo (34) is a Maserati 3500 GT upside down on the road outside Spalding on Cowbit Bank. My friend had just rebuilt the engine and I got this for £100. I turned it over the other way up, cleaned it up and drove it up and down my airfield. A perfect condition one sells for £2 million today.
| | |
| --- | --- |
| (34) Maserati 3500 GT | (35) Bus pickup |
This all happened because I had a scrapyard with cars everywhere, 1500 cars on 5 acres, we had so many cars that are worth a fortune today. We should have never done it, ridiculous what we had gone through. We were a farming family but I just wanted a scrapyard. I would acquire a lot of cars for free just to be taken away. I collected for free a pre-war Jaguar SS and a MK 5 from South London, both in my bus, but nobody was interested in them. We cut down the bus to make it into a pickup (35).
We needed more room to expand the Airfield (36-40), you can see the planes in the aerial photos, so we started to clear out the scrapyard. This was brought on by environmental health reasons which started to come into force.
| | | |
| --- | --- | --- |
| (39) | (40) | (41) Nash Healey FHC |
Above right is my dad's one and only Nash Healey FHC (41), with 4 litre non-supercharged 6-cylinder engine, which raced at Le Mans in 1951. It was the first car to race at Le Mans with overdrive and could reach 140mph. Paying £375 for that and that's all he could get for it when he sold it.
That's John Dodd with his Merlin engined car (42). Now that was the best shape body he did, with a Merlin engine in it, quite a car.
| | |
| --- | --- |
| (42) John Dodd at Santa Pod | (43) Caterpillar V8 powered car |
Just to divert a bit, I helped a friend of mine to build this (43). It had a Caterpillar V8 engine, twin overhead cam with 18 gears and cruised at 80-85mph down the motorway and weighed 5 tons. That's my wife and I outside our house. As soon as it had an MOT, he came here to take me in it for its first trip. He kept a spare half shaft under the bonnet, as with that much power it would break a half shaft easily.
As well as my Hot Rod, and other projects, I'm rebuilding one of these in my workshop at the moment. It's a Facel Vega (44-45). I'm building mine on a Mercedes SEC chassis. I have too many projects and I'll never get them all done. I have so many ideas I'd like to do even now at 85 I'm still very active. I live for my workshop. I've got to be near, but could also live in my workshop. It's untidy when you see it, but I'm a one-man band that's the trouble. I cannot get everything done. I get a few helpers at times. I'm building aircraft hangers all the time; I've built 10 bays already. We have about 50 aircraft based here and I've built everything, I'm putting up another one at the moment. It's getting a bit much for me, I'm not so good going up 20 feet with a welder, not like I used to.
| | |
| --- | --- |
| (44) Facel Vega project | (45) Facel Vega project |
Oh dear, we're not onto drag racing yet. Am I boring you?...
---
Gallery: click on any thumbnail for a large image.

Feature ©Eurodragster.com

Link for John Wright's parts for sale on Facebook

Back to pioneers index

Back to News page


---