Surrey Drag Racing Pioneers - Richard and Martin Jarman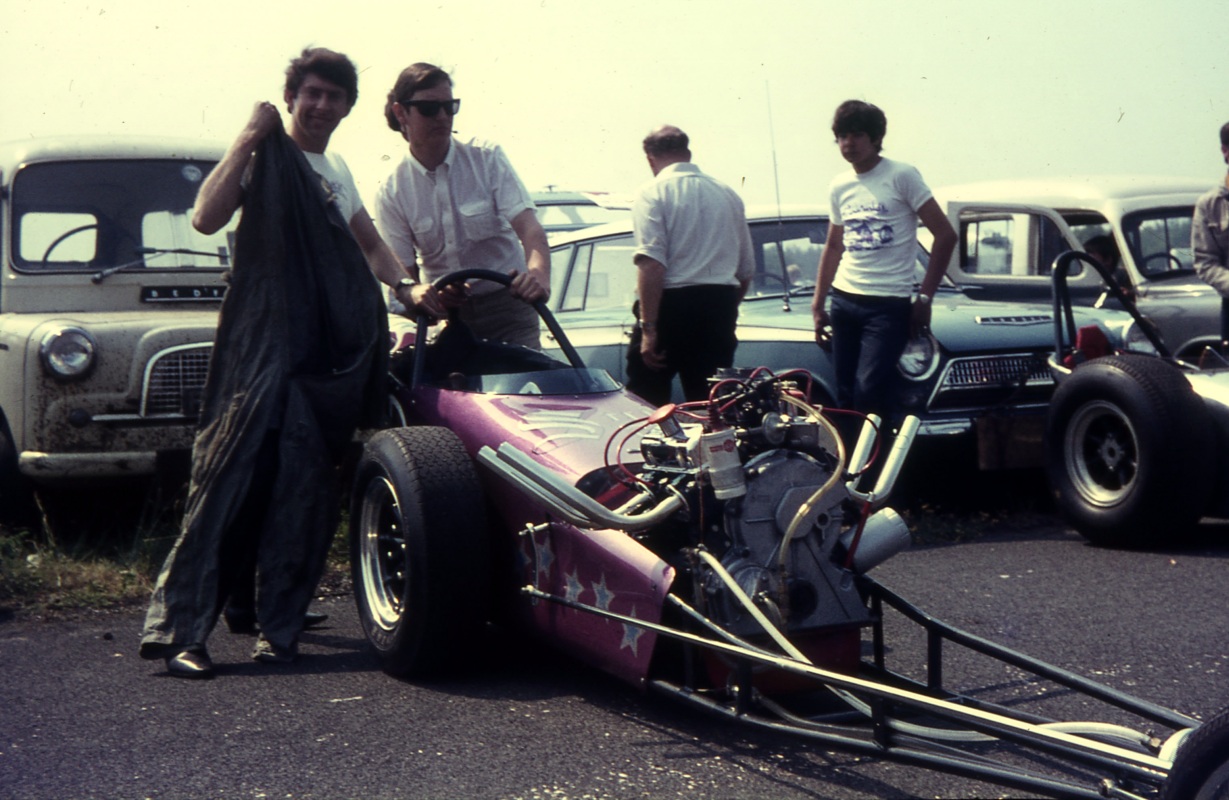 As told exclusively to

Preface: Richard Jarman was first involved by watching the sport at Santa Pod, buying the Harold Bull-built Strip Star dragster from Derek Metcalf in 1969. Richard first ran the car with a 2-litre Ford V4 engine; with the involvement of his brother Martin, the engine was changed to a 3-litre V6 and times came down, with sponsorship coming on board. After running Strip Star for 14 years, Strip Star 2 came along in 1983, the chassis having been built by Tony Anderson and times reducing to mid eights.
---
I (Richard) started a panel beating and spray painting career, working for Martin King's business in Clandon, Surrey. This is how I met John Smith at a gig in Cranleigh in 1966. I was at this time restoring an Austin Healey 3 litre sports car. John introduced me to Bill Haynes and Keith Stacey. Bill's drag racing career was from 1965 to 1977, Keith Stacey's 1964 to 1976. John Smith, although not a racer, did from 1965 help Bill. Tony Anderson also attended meetings with Keith, Tony's career was 1964 to 1975. Russ and Sue Carpenter became involved in 1969, crewing until buying Tony's third car 'Even More Trouble' in 1975. Russ's story is already available on a separate page which you can see by clicking here.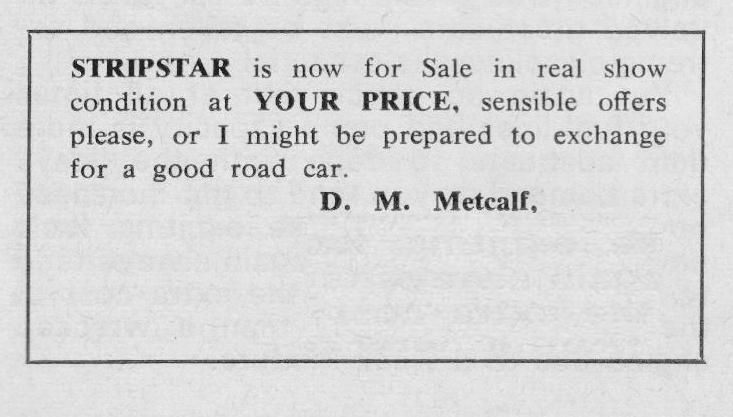 Advert from Drag Racing and Hot Rod magazine
I first saw drag racing in 1968 at Santa Pod Raceway. The June 1969 copy of the Drag Racing and Hot Rod magazine had a for sale advert for Derek Metcalf's dragster Strip Star. It was Derek's second FED, this one with Harold Bull chassis, V4 Ford 2 litre supercharged engine, the sale also including a van which the car fitted into. I purchased the dragster and van from Derek after his time in drag racing from 1963 to 1969 had come to an end. My first event was 5th October 1969 at Santa Pod. In 1970 I attended nine events at Santa Pod and one at Blackbushe 7th June winning in Junior Dragster, running a 12.75. On 30th/31st August I ran a 13.78, then in September ran 12.7 and 12.45/104mph in the Middle Dragster final, beating John Rotherham in Scorpion. In 1971, I raced at three events at Santa Pod, also one each at Blackbushe and North Luffenham, campaigning the dragster at my last event for almost two years, at Santa Pod, on 10th October 1971. I was by then running times similar to what Derek had done.

Strip Star V4 launching at Santa Pod, 1970
John Smith photo


At 1970 Custom Car Trophy Dragfest at Blackbushe
John Smith photo
I did not race again with 'Strip Star' ED2 until until 19th August 1973 at Blackbushe then 2nd-4th November 1973 at Santa Pod. Then in 1974, I entered four events at Santa Pod, two at Silverstone, one each at Long Marston and the first event held at Snetterton. In 1975 I started a repairs and spray painting business called Shere Coachworks at Farncombe. I would paint two of Bill's dragsters. I entered two events at Santa Pod, three at Snetterton and Blackbushe and one at Wroughton, winning against Ken Thorpe, the new driver in Pub Crawler 12.65/100mph at Blackbushe 13th April. I ran several induction setups with the V4 in Strip Star from 1969-1975 including a single carb, fuel injection and also I ran it blown and injected.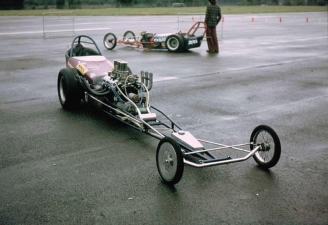 Strip Star had a V6 by 1977
Alan Currans photo
My brother Martin became involved with me after my last race of 1975, Blackbushe on 5th October. We decided to build a V6 Ford 3 litre injected engine and extend the chassis at the same time. After having kept the dragster at Farncombe before this time, we used Martin's garage at his house in Raymond Crescent, Guildford Surrey. We used the Ford 2.5 litre bowled pistons, keeping the standard V6 crankshaft and taking 100 thou of the top of the pistons to raise the compression ratio to 17 to 1. We used fully floating pistons using teflon button end caps, and made copper head gaskets with O rings, installed a Piper camshaft, using the all fibre timing wheel gear driven by the crankshaft. A Tecalemit and Jackson Injection system was purchased from Blackburns at Chiddingfold, Surrey. Running just methanol, we added Propylene Oxide recommended by Peter Billinton of G Max Fuels, this kept the engine clean. The valves would quite often touch the pistons without doing any damage.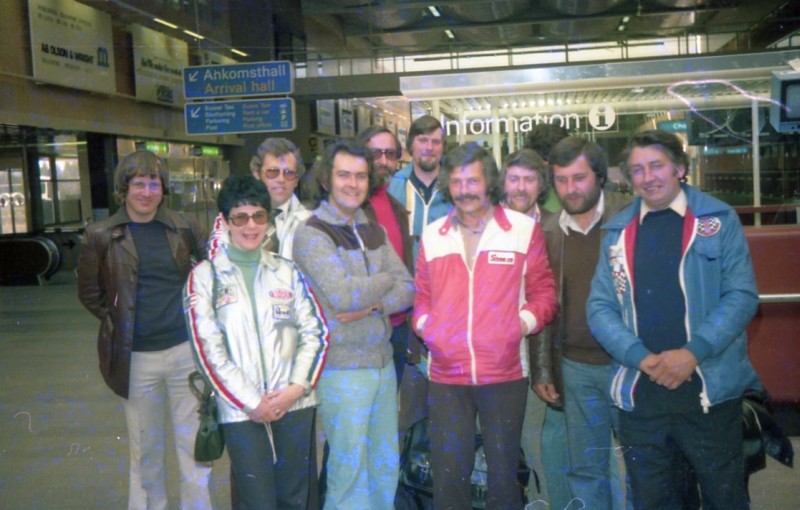 In Sweden - from left: Steve Murty, Brian and Rani Taylor, Dennis Priddle, Russ Carpenter, Jim Read, Edwin McKnight and Martin and Richard Jarman
Russ Carpenter collection
In 1976, John Hunt saw our dragster on the trailer on the road outside Martin's house. John lived only a five minute walk from Martin's. He ended up going round to the garage many times during the next five years, coming with us to meetings at Blackbushe, Santa Pod, Snetterton, Wroughton and York Raceway. We offered John a drive on the back roads at Snetterton; being too nervous about something might happen he declined. I would drive at Santa Pod, Martin would drive at NDRC events. In 1976 we attended just six events at Santa Pod, setting up the new combination. In 1977 on 17th April at Blackbushe Martin won against John Whitmore, running 11.34/112mph. On 15th May we went to Mantorp Park, Sweden with a group of racers (see photo) Although being knocked out early we ran a personal best of 10.80. I drove six events at Santa Pod then Martin ran two more at Blackbushe, one at Snetterton and one at Wroughton. Martin won the NDRC Middle dragster Championship that year. I repainted the dragster in yellow and red during the off season. Martin acquired sponsorship from Hepolite & Glacier pistons and bearings for 1978, renaming the dragster 'Hepolite Hustler'.
In 1978 our first meeting was also the first meeting at Radlett on 1st May. With another crown wheel and pinion fitted, I wanted to try the car around the back roads. I pulled a big wheelie straight away, bending the front axle enough to not to be able to enter the competition. I seem to remember the meeting was rained off not long after we headed home. After this, we extended the chassis and fitted a wheelie bar. Back out on 21st May at Blackbushe, Martin was runner up to Ken Penfold, then 3rd/4th June at Snetterton, Martin was runner up to Steve Collins, August 13th runner up to John Whitmore, then 9th/10th Snetterton, winning against Ken Penfold Blackbushe and on 24th September runner up to John Whitmore. I drove at four Santa Pod events. Martin won the NDRC Middle dragster Championship in 1978, his second in a row.

Hepolite Hustler in pits
Richard Jarman collection


Engine damage on Hepolite Hustler
Richard Jarman collection
In 1979 with the new livery and name, we entered one event at both Santa Pod and Blackbushe. Then the key event of the year was myself, Martin, John and Russ Carpenter, attending 10th June at York Raceway. Russ had also obtained sponsorship from Hepolite & Glacier pistons and bearings. The names of the two cars reflected this, Russ's CD34 called the Glacier Grenade, the Jarmans MD53 still named Hepolite Hustler The Hepolite factory was at Bradford, not far from York Raceway. After both cars raced at the weekend with the presence of the Hepolite personnel with promotional vans, on Monday we both drove to the factory being treated like VIP's. Russ and Martin fired up the cars, both driving them on a tarmac car park which was not very long. Russ tried a burnout then a blast, very narrowly missing a row of shipping containers at the far end; it was very close. Continuing to enter some more events at Santa Pod, at the 5th/7th May event I won in Comp bracket 1. Martin drove two events at Snetterton and one at Blackbushe. On 15th September at Santa Pod we ran our best time of 10.04 at 131 mph, finishing off the season with a best of 10.01 before the engine block broke, leaving the crankshaft still bolted in place, at Santa Pod on 13th/14th October. We believe at the time this was a record for a normally aspirated 3 litre engine. [The rolling chassis went to Germany.]
Before the demise of the engine in Strip Star, we had started to build Strip Star 2, using a Tony Anderson RED chassis built with two others in 1978, one beccoming the Beautiful Noise dragster owned by Barry Miller and later John Newman and the other one for John Hunt, which I later painted for him as 'Golddigger'.

Blackbushe August 1983
Nick Pettitt photo


Left to right: John Hunt, Martin Hunt, Maureen, Kevin, Martin Jarman, Richard Jarman.
John Hunt collection
I had acquired a Ford Cosworth V6 GAA 211ci 3,400cc, naturally aspirated engine and many spare parts, running it on petrol. I built another slider clutch using a Ford C4 auto gearbox and Austin Westminster rear axle from Russ's dragster. The body panels were made by Dennis Priddle, then painted by myself. During the construction period, I sold the Shere Coachworks business to Bell and Colvill of Clandon in 1980, buying the business back in 1982, moving to Dorking in 1988 renaming the business B & C Coachworks. Martin worked for Dennis's in Guildford, working on the motor mowers produced there. Then, the Surrey County Council looked after the range of mowers and tractor grass cutters that they owned.

Richard Jarman 1983 first time out Santa Pod RWYB
John Hunt collection


Earls Court Motor Show 1987
Richard Jarman collection
Our first meeting with Strip Star 2 in 1983 was at Long Marston on 27th-29th August and Blackbushe on 2nd October. In 1984 we attended Blackbushe 20th May, 12th August, 30th September, the last event to take place at Blackbushe after it had been used for drag racing for 20 years ever since the Dragfest in 1964. Then we were at three events at Santa Pod 7th/8th and 29th July, 25th-27th August. In 1985 we attended four events at Santa Pod 25th-27 May, 6th/7th and 27th/28th July, lastly 20th-22nd September. The best time we ran was 8.6 at 159mph. We attended a number of school fetes and two motor shows with Strip Star 2, one at Earls Court, another at Woking. At the Surrey County Show, with John, we joined the parade through Guildford town with dragsters on trailers, ending up at Stoke Park where we displayed them. We attended our last event at North Weald in 1986. Then the car sat garaged at Chiddingfold for many years, before I sold the engine and transmission to someone in Sweden. The rolling chassis eventually was sold but ended up with the guy who had first wanted to buy it, who I believe installed a Chevrolet engine.
What happened to Strip Star 2?
We followed up a post in ukdrn.co.uk where Johnny Hall explained he had acquired Strip Star 2 to convert to a nitro SBC/shorty Powerglide combination. The Cosworth engine had been sold to Sweden. Johnny put a new 7.50 cds steel saftey cell and cage into it, added 2" to the wheelbase and made it a two piece bolt together car, retaining the old Austin Westminster C Series rear axle. The plan was with the fuel small block motor in it and some streamliner bodywork, Johnny intended to do demo fire ups to try and get some sponsorship for an attempt at the wheel driven UK land speed record, still held by Commuter. Sadly sponsorship was not forthcoming and Johnny sold it on to Mark Hobbs, a friend of the guy for whom he built the Judgemental altered.
---
Gallery: click on any thumbnail for a large image.

Feature ©Eurodragster.com
---
Back to blog index
Back to News page
---