Stuart Jago's story and history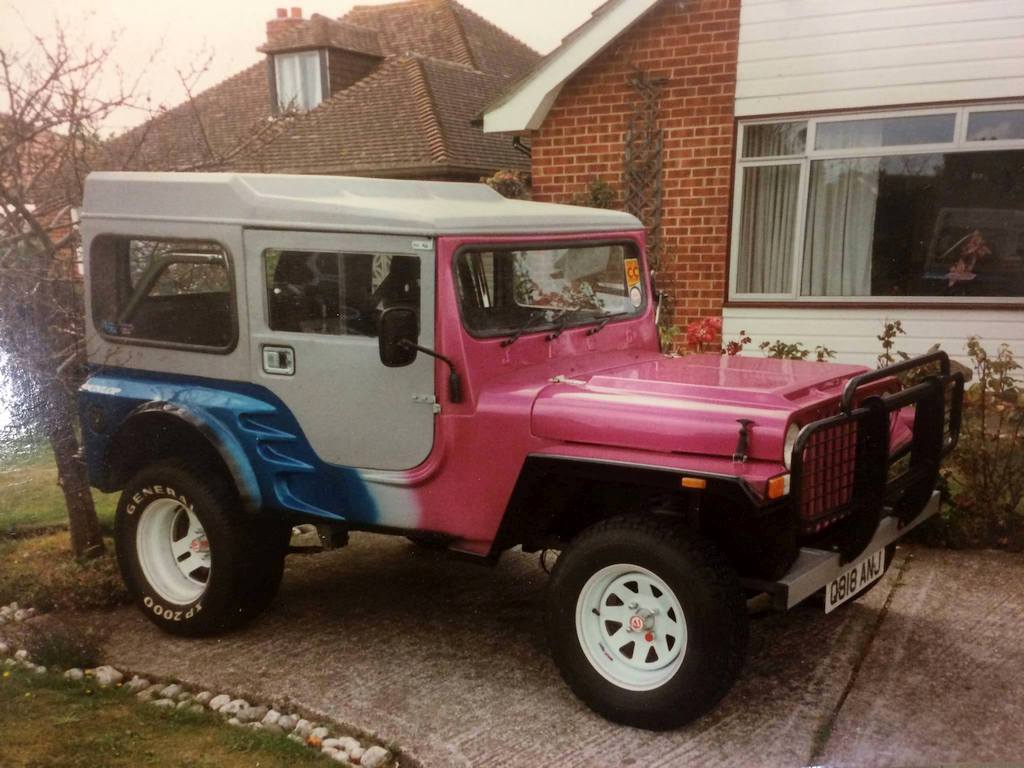 As told exclusively to

Stuart Jago grew up in the 1970s and 1970s, quickly becoming interested in custom painting. As a schoolboy he acquired a lot of skills in building and painting cars, setting up his own business at a young age, later acquiring his own workshop. At the start of 2021 Stuart moved into Dad Geoff's workshop where he works to build and paint cars using the original Model B and Jago Geep moulds, and in his spare time Stuart helps Geoff on his a 1958 Chevy Longbed Fleetside pickup project, an 80th birthday present.
I was born in September 1973. At 9 years old I started racing BMX bikes and wanted to change the colour of my bike as I did not want a standard bike, I wanted to be able to stand out from the crowd. Dad had a spray gun and happily showed me how to use it, saying that's the basics boy, off you go, 40 years later I am still custom painting to this day. Soon I was painting friends' bikes. Then a few years later I got into off-road Motocross racing and did the same thing again but this time with helmets and bikes, moving into custom painting, this is when I decided to set up S. Jago Designs Custom Painting at the age of 13. This carried on through school and then I went to college for three years completing a panel beating and spraying course having already learnt a lot about this, it was just a case of going through the motions for those three years to gain my qualifications which I passed with distinction.
I built my first Jago Geep where that spray booth is now. I have photos, I was 15 years old. I used to bunk off school occasionally to build my experience in the area that I knew I wanted to work within, tinkering, building and custom painting. I'd cut all the steel, put it in the chassis jig and tack weld it in then one of Dads employees would weld it up.
I started working for some different high end body repair shops building up my experience in a working environment, after 10 years I decided to set up my own workshop myself which continues to this day.
Through all my years of custom painting helmets I went on to sponsor a few of the School Boy riders, with some going on to become professional riders, others became international riders as well. I'm still sponsoring many riders today in all sorts of disciplines and a few race teams. They've been all over the world such as America and Romania for Red Bull Romaniacs and Monster Energy Supercross.
I have also had the honour of painting helmets for Motocross legends like Ron Lechien and Ricky Johnson who are both American Motocross and Supercross champions. One of the teams that I have sponsored have gone on to win the indoor UK Arena Cross championship 4 times in a row. I have painted helmets for riders in the Dakar rally also Go Kart drivers and even an Olympic downhill skier.
I am now at the point where 50% of my work is custom paint work, the rest accident and repair work then I find what time I can to do my own projects. I have built plenty of cars and bikes over the years and they have been shown in many magazines myself having won car of the year with one magazine in 1996.
The old Jago workshop was knocked down in 1985 and a new one built on the same site. I was in my previous workshop for 12 years but since the beginning of 2021 I've been in the Jago workshop which I have remodelled to suit the requirements of the work I carry out. (We go upstairs) I will have a couple of jigs up here doing tig welding, assembly, prototype stuff bringing the Jago Geep back but Mazda MX5 based which is very similar to the MK 2 Escort layout which is what was used back in the early days as a donor vehicle. It is rear wheel drive and there are so many of them available also there are many performance parts you can buy. They handle well and are reliable so I shall be making a new chassis, I still have some bodies which I will alter and make new moulds so that they fit the chassis, it will still be based on the original Jago Geep but for a new generation. There would be a number of engines that could be used in the new Jago Geep and I am hoping to move forward and produce an electric Geep one day.
We still have an original 1971 Jago Geep body kit which we acquired back from a family in Cornwall whose father passed away and had not done anything to the body at all. The body next to the Geep is a 1932 Model B Roadster out of the original mould.
In 1996 I built a MK4 Escort Cabriolet which I won everything with. It was called Mint Sauce due to its colour; it was in Fast Car magazine. The company who made the original body kit took photos of my car at this show to use for their adverts as mine was made better than theirs.
The next project was a real Escort Cosworth. I bought a damaged one which was cheaper. I was working at a high-end body shop and used their facilities and jigged it back to its original spec.
This is my VW transporter that I am customizing. It's a drop side but will be just a flatbed to carry bikes. I also do other conversion work with vehicles.
The first body on the roof outside is a 1952 Chevy COE with a bullnose bonnet and stepside wings. That's planned to go onto a 1999 Daf 45 150 chassis with a Cummings engine in it. I shall mid-engine it behind the cab with a Winnebago front suspension, that's over there and is all independent so I can get rid of the beam axle. The other body on the roof I just picked up because it's a one year only 1956 F100 cab which I have ideas for but that's down the pipeline in the queue. These are all personal projects.
| | |
| --- | --- |
| | |
For Dad's 80th birthday I thought it a nice idea to get him a truck which came from Jim Horn in Scotland who is an importer of American vehicles, Dad hope's to be involved in restoring this 1958 Chevy long bed Fleetside with a big back window. There are not many of these in that spec and we will keep it original. Many others have had a foot and a half taken out to make a short bed back in the day. We've got a Mercedes ML55 AMG engine, manual gearbox, 9-inch axle and 4 link which will take 800 HP and a Mustang clip independent front end all to be fitted.
Video Gallery: Click here. Nick Pettitt writes: "In December 2021 John Hunt and I visited Geoff Jago at his Man Cave to interview him for these Pioneer Stories. While there, I did this video of his wall and had a look at Jago One before going to see what Stuart Jago is up to now at S. Jago Designs on the site of the original Rodding Scene in Chichester."
---
Gallery: click on any thumbnail for a large image.

Feature ©Eurodragster.com

S. Jago Designs Facebook page

Other parts to Geoff Jago's story:
Part 1
Part 2
Part 3

Back to pioneers index

Back to News page

---