Geof Jago's story and history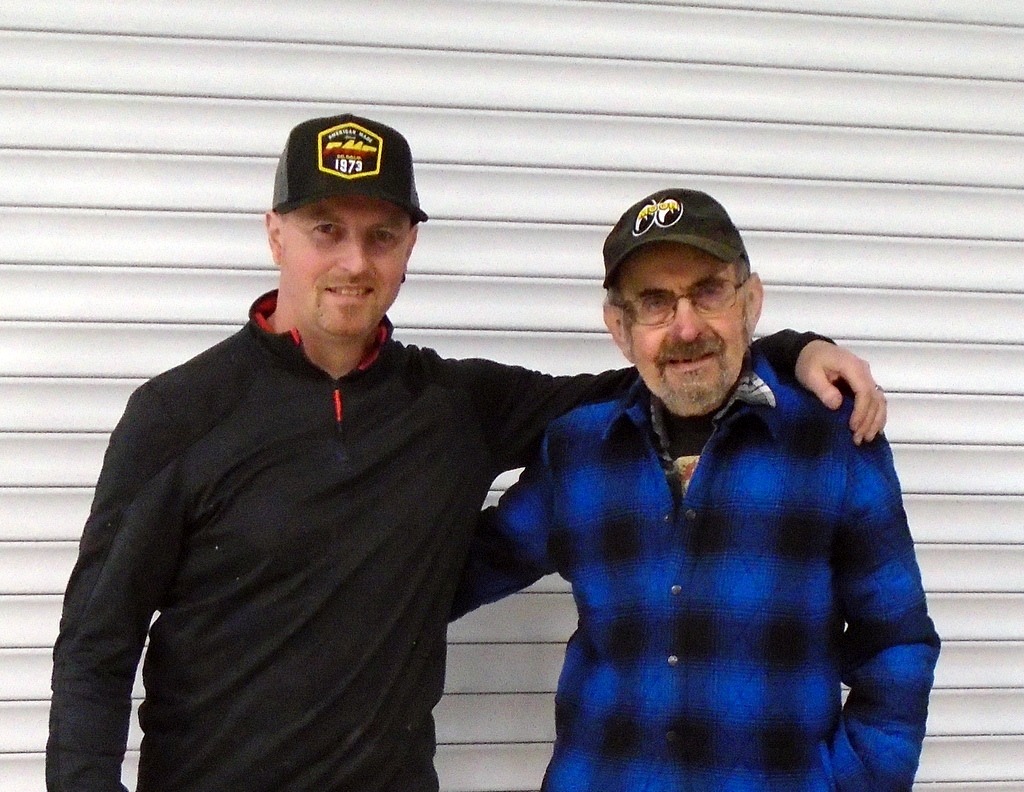 Geoff with son Stuart in December 2021.




As told exclusively to

Geoff Jago left school at 15 and, after a year in the Portsmouth docks, gained an apprenticeship at a local garage in Portchester. During his nine years there he got interested in American cars and hot rods, starting by customising his dad's Ford Consul Mk1. After leaving the garage he set up his own business doing car repairs and bodywork. Getting into hot rodding, he was the first importer of metalflake and created his first custom, Jago One, from a Ford Thames van which won a prize at the UK's first custom car show organised by the British Hot Rod Association. Although his early customs were on British cars, his introduction to fibreglass got him thinking about Ford Model Ts.
I was born October 4th 1936 now aged 85. I was always interested in things with wheels on and remember my first pedal car. It wasn't long before I removed the fenders and the bumpers. I cut out letters and louvers from paper and stuck them on the side calling it a racing car. You could say that was my first custom job.
Anyhow later on, obviously I went to school which I wasn't very interested in. I was always the young guy looking out of the window wishing school would end so that I could go home and carry on building my go kart. I was never really very academic but always interested in woodwork and metalwork things like that and I was pretty good at technical drawing.
When I left school at 15 there wasn't a lot of work offered to me. As an unacademic kid I was in the bottom of the class. The only job I got was at Her Majesty's dockyard in Portsmouth as an apprentice torpedo fitter which did not please me all because I was more interested in motor vehicles and wanted to get into the motor trade. But I didn't regret being at the dockyard, albeit for only about a year, as they taught me a lot of things, using hand tools correctly and all that sort of thing, I started learning a few new skills.
My dad could see I wasn't very happy. I didn't really want to work on torpedoes and stuff like that which are basically 30-foot pipes that blow the sh*t out of everything, I didn't like that very much. I'd rather create than destroy. Luckily my dad spoke to the local garage owner who he knew, he said there were no vacancies at the moment but would keep it in mind. Fortunately, and to my delight, after about a fortnight he was able to give me an apprenticeship at Hayter's Garage at Portchester where our family also lived for 30 years.
| | |
| --- | --- |
| Hayter's | A young Geoff with his future fiance Ann |
So, there I was, at the age of 16 in shiny white overalls, standing with my sandwich box on a Monday morning waiting to start work and that's how I got my start in the motor trade. I became friends with a nice guy who was about 10 years older than me called Fred Mountain. He became my mentor and taught me just about everything about the motor trade.
I worked at Hayter's for almost nine years. I'd always had the ambition of having my own workshop. Someone gave me an American Hot Rod magazine and I remember on the front cover was a purple '55 Chevy Belair Custom. This was the start of my interest in Hot Rods and I began buying American magazines. Another front cover I remember had two red and white Mercury'Fs one a race car the other a street car. I wish I had them now along with all the other American publications I had collected. I thought this is the way to go but of course Hot Rods were never heard of in this country in the mid '50s. I thought it could be done if I used as many English parts as possible. Obviously in those days there was no internet and stuff was difficult to import from America. You couldn't do it like you can today.
| | |
| --- | --- |
| January 1957 Hot Rod Magazine | July 1957 Hot Rod Magazine |
When I was still in Hayter's I thought I'd like to do some customising, so I semi-customised my Dad's Mk 1 Ford Consul. I sprayed the wheels cherry red with chrome trim rings, four-bar spinners in the hub caps and white-walled the tyres. Then I added all the accessories available at the time including swivelling screen pillar lamps, extra chrome trim on the sides, mud flaps with reflectors, chrome headlamp hoods, dummy Buick portholes and a pair of chrome whip aerials. I hopped it up with a Raymond Mays exhaust manifold and ported and polished the head.
| | |
| --- | --- |
| Geoff started to customise his dad's Ford Consul | Geoff's drawing of the finished custom. |
I then wanted to do a full custom job and after a talk with my dad he agreed. Despite the car being fairly new he had faith in me to do a good job. I made some tail fins on the back coming from the middle of the rear side doors using ¾" tube to get the shape then filling them in with sheet metal. To finish it off I fitted PA Vauxhall Cresta oval rear lights, the biggest and flashiest lights around at the time, mounted horizontally with the boot lid reworked to fit around them.
Towards the end of the '50s Hayter's garage had a panel and body shop in a different department up the road a couple of miles. The procedure then was that the mechanics were sent up there occasionally to take an engine out or front suspension off a damaged car so that the panel beaters could repair it. Then when it was repaired the car had to come back to Portchester to be sprayed, like the engine bay or different parts of it then go back again. We'd then be sent back again to put all the mechanical parts back on which wasn't a very efficient way of doing it. So, I suggested that maybe I could go up there as a resident mechanic.
I went up there for a couple of years and all seemed to be going well. My idea was I could also learn panel beating and spraying so if I ever did decide to start up on my own, I'd be able to do that too. If there was a gap in between the mechanical work and there wasn't anything to do I would help them with a bit of panel beating. I ended up stripping some of the cars and if it wasn't too major, I'd be repairing it and spraying the engine bay. But sometimes the atmosphere wasn't all that good. There were a couple of guys complaining because of what I was doing. I trod on a few toes and they were saying I was poaching their work.
I was a fitter and they were panel beaters. The painter had a moan because I was painting when it should have gone back to him to be done. In the end, it seems strange to say, but with all my efforts that must have saved them a hell of a lot of money, they gave me the sack. They rigged up some kind of a story that a car I'd worked on wasn't working properly, the brakes didn't work right so the foreman sacked me. I learned later that it was because of people complaining about me but didn't want to say anything to my face. If they had done so we could have had a chat and sorted something out.
Anyway, to cut a long story short I left, but prior to actually leaving I'd already negotiated my new rented building in West Street Portchester. I now needed to concrete the floor, do a few repairs on the roof, put a new window in and build a little office. I was going to leave in about a fortnight in any case, so it didn't make any difference to me and gave me extra time to get on with the building work. I had already by this time bought a lot of the tools and equipment for my workshop and made my own compressor.
| | | |
| --- | --- | --- |
| Geoff's Stock Car at Ringwood | From Stock Car Racing News May 1960 | Geoff still has the inlet manifold he made |
Around about this time I did my Stock Car building and racing, only winning a couple of races but I had a lot of fun doing it. The Stock Car was an original 1937 Ford V8 Woody. I didn't realise at the time the value of it being a rare Woody, all I wanted was the metalwork and V8 engine. So, the Wooden back was taken off and a Humber Super Snipe body welded on with Ford Consul doors, making it look more modern as well. It was difficult to get in and out so I put an escape hatch in the roof. I then made a manifold for the flathead with two Strombergs and chrome exhausts. I raced for only a couple of years and then when I started my own business, I just didn't have time for it and was more interested in getting my own business going with the idea of building Hot Rods.
The first jobs I got were just simple ones repairing accident damage on cars and some mechanical repairs. Fortunately, word got around and the customers started coming. My very first job I can remember was on a taxi that had a rear fender dented and half ripped off. I repaired it, put it back together again and spray it all up. The biggest kick I got was being paid money for something I had done. It worked out that even though my hourly rate was less than Hayter's, I could make as much money in a couple of days as I would have been paid at Hayter's for a whole week.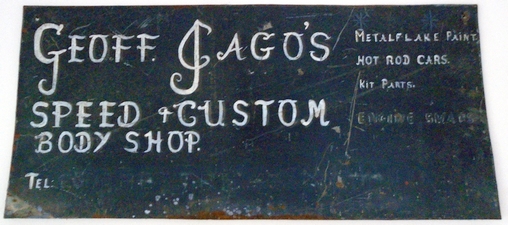 The original shop sign put up in August 1960
(Geoff pointed at a sign on the wall) That's my first sign trading as Geoff Jago, a mate of mine did it in 1960, screwed on the door of the old workshop and I kept it.
Things were going really well, so I then started to think about Hot Rodding. I became the first person to import Metalflake paint into this country. I'd seen it in Hot Rod magazine and it proved to be really popular.

| | | |
| --- | --- | --- |
| From Hot Rod Magazine Feb 1961 | From Hot Rod Magazine Feb 1961 | Metalflake ad |
By 1963 I had a couple of guys working for me and we decided we needed a run-around van. I was at a company in Bursledon who we did business with for radiator jobs. I saw they had a Thames van for sale so I bought it for £17.50. My idea was to tidy up the van and paint it in Metalflake but then one evening as I was looking at it, working out a custom paint job, I thought it would be better if I built it into a custom pick up. Although it was based on my own work and ideas it looked similar to George Barris's 'Ala Kart'. I cut the roof and back off and built '59 Chevy style gull wing fins, custom grille and nerf bars. I made cycle type front fenders and used a Lanchester windscreen then painted it in royal blue, gold and white Metalflake. That was our first Custom and became known as Jago One.
| | | |
| --- | --- | --- |
| April 1965 Drag Racing magazine | April 1965 Drag Racing magazine | April 1965 Drag Racing magazine |
Jago One picked up the Best All Round Entry Trophy at its first show in London's Hyde Park underground car park, organized by the British Hot Rod Association, Easter 1964. There were five Customs, four Hot Rods, four Dragsters and a few Classics and Bikes at the two-day show.
| | |
| --- | --- |
| BHRA Hyde Park Show poster | Jago One at the show. Unknown photog |
| | |
| --- | --- |
| Vic Outen's Zephyr behind Jago One. Unknown photog | Brian Coole's '34 Ford Sedan. Unknown photog |
| | |
| --- | --- |
| Mike Butler's red Model Y. Paul Hicks pic | John Wright's Rolls Jaguar. John Wright pic |
| | |
| --- | --- |
| Simon Conroy's 1936 Mercedes Roadster. Unknown photog | Mickey Thompson's dragster. Paul Hicks pic |
The following year I took Jago One up to Woburn Abbey, again organised by the BHRA, this time an outdoor show.
| | |
| --- | --- |
| Jago One at Woburn Abbey 1965 Bob Rothwell pic | Woburn Abbey Bob Rothwell pic |
From Drag Racing & Hot Rod magazine November 1967
I did custom work on several cars but most were not that radical, mainly dual headlights, continental kits, tail fins, fender skirts and Metalflake paint jobs. I also did engine swaps including fitting a straight six Zephyr engine into a 105E Anglia.
One I customised was a Vauxhall PA Cresta, altering the hood, putting in dual headlights, a Continental kit on the back and fender skirts. I painted it copper Metalflake on top and regular white under the waist line. I was going to build a custom grille but the guy ran out of money. I probably didn't charge him enough for the job as it was.
| | |
| --- | --- |
| Custom PA Cresta | From Drag Racing & Hot Rod magazine March 1967 |
| | |
| --- | --- |
| Geoff made the cover of Car Mechanics in '67 | Continental Kit |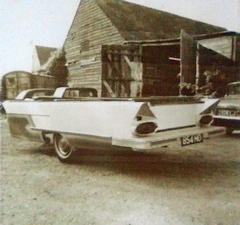 Customcraft Trailer
I also built trailers, building three of them in the end. They looked like American cars at the back with tail fins a bit like a Ranchero or El Camino and I fitted PA Cresta oval tail lights similar to what I had done on my dad's Consul. I called them Customcraft Trailers and I was selling them but didn't make much money because frankly they took much more time than I could ask for. They were all aluminium over wood. Glass fibre was becoming very popular at the time and had I made them out of that I might have been able to do them a lot cheaper.
But what I really wanted was to produce something that all Hot Rodders knew, and that was the Ford Model T...




---
Gallery: click on any thumbnail for a large image.

Feature ©Eurodragster.com

Back to pioneer index

Back to News page


---