Geoff Jago's story and history - part 3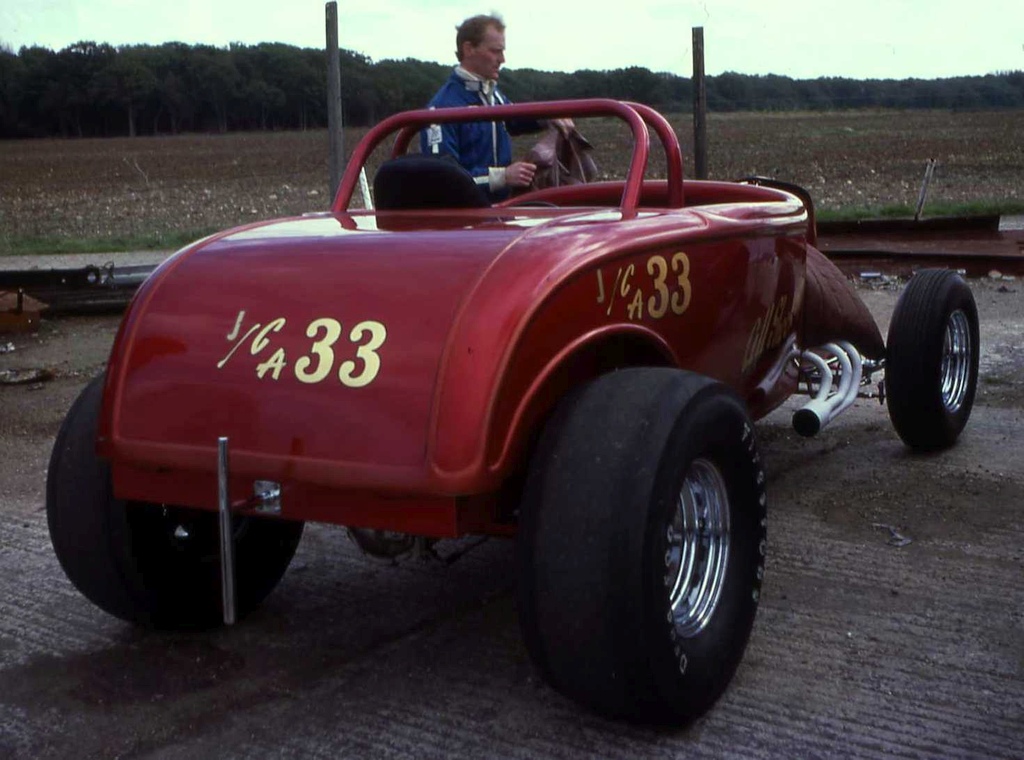 As told exclusively to

In this part, Geoff tells the story about the unlikely components for his Big Moose wrecker he built in 1967, then how he developed the body and chassis for a Ford Model B with several configurations and a strong chassis for a Ford Pop. After his father died in 1968 he was able to move to new premises in Chichester, which were named The Rodding Scene. In the 70s he produced the Jago Jeep and worked to build chassis for the Panther sports GT car. Geoff's son Stuart got involved with building rods and became a paint specialist, eventually taking over Geoff's workshop whilst Geoff found and restored his first rod Jago One.
I had an old Land Rover; it was a wrecker with a Harvey Frost crane on it. I'd already modified it with twin wheels on the back, and I'd made up wider wings to cover them with wire mesh grilles in the front of each wing. Then this guy came to me one day and said would I like a '57 Chevy. I mean what do you say? It had no engine in it just a body and chassis. The guy had had it for years in his drive, he was going to put a diesel engine in it to make it more economical, but his wife was giving him terminal bollockings to get rid of it.
So, the '57 body went on the Land Rover chassis which I lengthened three feet. It was a 4 door Belair. I cut the back and welded the rear doors up, making it more like an El Camino kind of, you know. I added marker lights on the roof and big mirrors and air horns. I customized all the front, put a new grill on it, took the chevrons off the hood and put in little air scoops. Paint was gold metalflake with red candy over the top and it had the Harvey Frost hand crane in the back. That was now our wrecker, and we called it Big Moose.
| | | |
| --- | --- | --- |
| Custom grille. Brian Sparrow photo | Big Moose the Jago wrecker. Brian Sparrow photo | Gold Metalflake and Red Candy. Unknown photog |
During this same period, I started work on the Model Bs, I managed to get from someone a Model B Roadster sedan type thing, not quite sure what it was. It had fixed screen pillars but was a convertible. We took the windscreen pillars off and made it into the Roadster body, which was pretty near, 99% the same as the American one. The Roadster was the first Model B we produced.
| | | |
| --- | --- | --- |
| unused Jago roadster body. | originally made from a Cabriolet body. | Model B grille in Geoff's Man Cave. |
| | | |
| --- | --- | --- |
| Tony Puttick's roadster. Ken Robbins photo | Tony Romano's roadster. Dave Dick photo | Brian Lucas's roadster. Dave Dick photo |
Later we did the 5-window Coupe, Sedan and a Panel Van similar to the Sedan but with the rear side windows filled in and an opening door at the back and we also did a Truck Cab. Somehow and I don't recall how we managed to get hold of the top off a 5-window Coupe, just the roof part. We already had the Roadster so we put the top on that and took a mould off it making a Coupe.
| | |
| --- | --- |
| Rob Whitwell's Coupe. Dave Dick photo | Gary Baber's Truck. Dave Dick photo |
| | |
| --- | --- |
| Kim Leonard's Panel Van. Tony Whitehouse photo | Steve Dennish's Sedan. Tony Whitehouse photo |
I made the chassis for them and used the same dropped axles with Transit spindles and springs as we did for the Ts, it was all standard for the Bs and the Ts. We built a few complete cars but mostly they were sold as bodies and chassis, axles and odds and sods for people to make up themselves.
Later we built chassis for Ford Pops. These were much stronger than the original chassis and came with brackets for the front and rear suspension.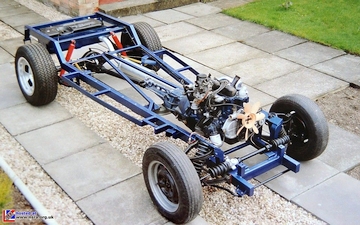 JagoPop chassis. NSRA photo
In 1968 my dad passed away and my mum, who's a Scottish lady, decided she'd like to end her days in Scotland with family up there. I wasn't going to move because I had all my stuff down here. So, to cut a long story short we sold the house and my dear old Mum gave me half the money to help me buy a new place.
This was when Richard Park helped out. He had a company called Custom City and had some of his American Custom goodies on display in my workshop. He said why don't we have a business together and find another building. He wanted to do it over in Chichester and I didn't mind where it was. I had no more ties, my girlfriend at the time didn't want to go to Chichester, so we broke up.
| | |
| --- | --- |
| DR&HR article 1969 | DR&HR article 1969 |
| | |
| --- | --- |
| DR&HR article 1969 | Jago One looking a bit dusty in Richard Park's Custom City showroom. Unknown photog |
We founded the Rodding Scene in 1969 at a site that was originally a cement works in Quarry Lane, Chichester, which is actually where Stuart my son is now. (Geoff pointed to a picture on the wall) That's the old building, that's long gone now, a developer built the front bit on again. Prices were reasonable back then and we got the whole site for £9,000, now it's worth £400,000. Richard and I had £3,000 each then we borrowed £3,000 getting a mortgage. Going on five years Richard decided he wanted to sell his half and sold the front half of the property getting £65,000 for a £4,500 investment. He gave me first refusal on the sale but I couldn't afford it.
| | |
| --- | --- |
| 1977 | 1979 |
| | |
| --- | --- |
| 1980 | 1981 |
So, I carried on with things and at that time Jeeps were the big thing. A lot of people were saying, well we like Hot Rods but a lot of them didn't have the capability to build and finish one off. They wanted a DIY kit of some sort, something American looking that you could just bolt together and that's when I thought of the Jeeps. I was very lucky to be able to find a Jeep body, someone I knew had one and basically gave it to me. It was in a blackberry bush in a bad state, he said if you can get it out you can have it. It was all beat up. I had to reskin the sides, getting rid of all the rivets and dents so I could make a fiberglass shell.
The first shell wasn't very good so I improved it making another one to take some decent moulds off. I had to make the fenders but I did have a grill. I wanted to make it more practical to be used every day as a run-around, this was in 1972. I built nearly 2000 of them, 1800 where kits and some were completely built. The body and chassis kit only needed bolting together, no welding required. The donor car was a Ford Anglia 105E for the first few then it was the Ford Escort. All the parts were just bolted onto the corresponding places on our chassis which came with instructions. Then it was a case of just bolting the body on the chassis.
| | | |
| --- | --- | --- |
| Jago Jeep | Jago Jeep | modified 4WD Jago Jeep |
| | |
| --- | --- |
| It didn't take long for a Hot Rodder to get hold of one! | Geoff jumps for joy at the 20th anniversary of the Jago Jeep |
I then thought it would be a good idea to have a lightweight 4-wheel drive Jeep. I did actually build one prototype. I'd negotiated with Vauxhall to supply engines and gearboxes. I was going to use the HA van and all the mechanical bits. Negotiations were quite far ahead, having agreed prices also looking for a bigger premises to set up a production line and what happened, the bloody Japs had done it hadn't they with their Suzuki. So, I was about a year behind, had I been a bit further forward I might have got the market. I couldn't compete with the Japanese imports so I had to drop it regrettably. This was the 1980's. I suppose the prototype I'd built is probably not around now. It was all different colour panels as I used all my spare and reject ones for it.
I also built the chassis frames for the Panther car. It was a Jaguar based thing using straight six and V12 engines. There was the Roadster and then the DeVille which was massive, weighing a couple of tons. Bob Jankel came to me in 1972, originally looking to use my Model B chassis but they were not suitable for what he wanted to do. So, I designed and built all the chassis for them using six by three channel for the main chassis frame. The company lasted till 1982, then they went bust after making at least 1000 cars. Word was he took an order from an Arab somewhere who ordered a lot of these cars, a lot of money, and half way through the bloke cancelled it. I thought well that couldn't have been a very good watertight deal, should have been all signed up so if you order them, you bloody well take them. But anyhow it didn't work out that way and left us with some chassis already made and undelivered which owed us money too. Eventually I got rid of them to individual customers. Somebody might come along and say can you build us a chassis and I'd say well as it happens, I've got these ones here and are they any good, some were, some weren't but eventually I sold them, probably for what I built them for but at least I got my money back.
| | |
| --- | --- |
| | |
I even worked on a double-decker bus. My brother-in-law Ian was a bus driver most of his life and he decided to buy one when he retired. I did some work for him, helping him restore it.
In later years we built propellers and other parts for a company in Ashford, Kent that made big radio-controlled drones, with a 10-foot wingspan. They were used for target practice for the armies abroad. Shooting them down was too costly so they came up with a system that recognised a hit but without actually hitting the target so as to not destroy it but still demonstrated a hit. We also made the fiberglass fuselage for them. It was about six to eight foot long and launched off a ramp like the V1s did in World War II.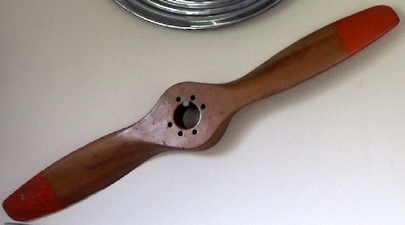 Geoff still has this propeller on his wall
I did build a number of one-off chassis while continuing with the Jeep. With the whole kit car thing going flat at one point about 20 years ago and business just faded away. Fortunately, my son Stuart took on the business and premises doing new things while continuing to turn out bodies from our moulds. Unfortunately, we later sold them thinking we would not use them again. Chris Pattison had them from me then later he sold them to a guy who had a fire in his workshop and all the moulds were lost.
We could always get another car and take a mould from it if we wanted to. We were offered not long back a Model B Panel Van which was a project no longer required. Stuart has tried contacting the guy but he doesn't return his calls. We want to restore it to what we had before as our company van, having it sign written in our company name.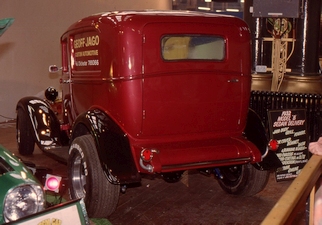 Company panel van on display at the 1980 National Custom Car Show. Roy Thomas pic
Stuart had started to get involved with the business at the workshop while he was still at school. He built his own Jeep when he was a teenager. I made sure he started learning to make everything, cutting all the parts for the chassis and setting them up in the jig, then tag welding them and then I would finish off the welding. I spoke to the local garage just as my dad did for me asking if they wanted an apprentice at Everyman's Garage near the Rolls Royce factory. The owner who I knew well said as it for you Geoff then yes, I'll take on Stuart straight from school. He learnt a lot there and also went to college in Worthing.
He then worked at a couple of other panel beating companies but they all fell through so he came and worked for me. We lived briefly in Gosport where Stuart was born then moved to Bracklesham Bay in 1973. He continued at the workshop and still is today, doing more specialised paint work than I did, using two pack paints which I didn't have in my day.
| | |
| --- | --- |
| Corgi made 1000 Jago Automotive Escort vans in 1985 to commemorate 25 years in the component car industry | |
I now have glaucoma therefore I'm unable to drive otherwise I'd still be at the workshop. It's affected my welding as well. If I strike an ark, rather than it light up the work so you can see what you're doing, it just dazzles me.
I'd not heard about Jago One for about 15 years, then someone said do you want to buy it back? Thing was, they wanted a lot of money for it. I did eventually buy it in a horrible red paint job. We have redone most of the front end and we plan to take it down to the workshop and finish it there using the new paint booth. It will be resprayed it in the gold and blue metal flake as it was originally. It still has the original Ford 10 sidevalve engine which we've had fully reconditioned ready to go.
| | |
| --- | --- |
| Jago One late 90s. Nick Pettitt pic | Apart from the paint it hadn't changed much since 1964. Nick Pettitt pic |
When I lost my wife five years ago, I didn't really like living in the bungalow on my own much and that's the reason I gave it to my son Stuart, it's his inheritance in any case, I said you might as well have it now, don't have to wait for me to kick the bucket and I've got this lovely little place. (Geoff's Man Cave at the back of the bungalow) So, for me and Hickory Tom, it's ideal and if I do need something they're only a shout away so it works out pretty good. The same with the workshop too, I'm not physically able anymore, with my eyesight, and I'm not as nimble any more. As the song goes, 'I'm not the man I used to be'. So, I gave him the workshop as well and he's refurbed the whole lot. He's got the cars and spray booth on the bottom floor and up top he's got the motorcycles and a bar; he's making a good job of it all.
| | |
| --- | --- |
| Geoff in his Man Cave | Being the first to import Metalflake into the UK Geoff had to have a Metalflake loo! |
Video Gallery: Click here. Nick Pettitt writes: "In December 2021 John Hunt and I visited Geoff Jago at his Man Cave to interview him for these Pioneer Stories. While there, I did this video of his wall and had a look at Jago One before going to see what Stuart Jago is up to now at S. Jago Designs on the site of the original Rodding Scene in Chichester.
---
Gallery: click on any thumbnail for a large image.

Feature ©Eurodragster.com

Back to pioneers index

Back to News page


---