Gerald Cookson's story and history: Part 2 - Berkeley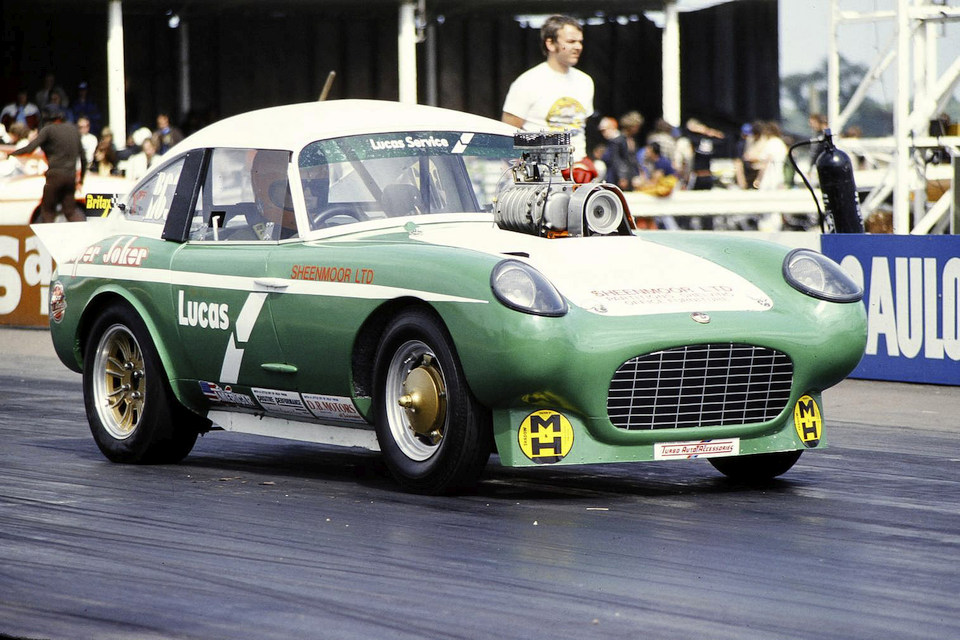 As told exclusively to

At the end of the 1970s Gerald bought a Berkeley sports car which he radically modified, building a chassis for it and installing a Lotus twin cam engine. He later lengthed it and installed an 'A' series engine, running it in Modified. Gerald recalled the twelve second car as being a bit twitchy and it became quite a handful when son Jerry had a go...
The opportunity came up to buy quite cheaply a Berkeley sports car, which I still have today with the original log book. It's been through 6 or 7 owners. I started off making a square tube chassis and grafted that into the Berkeley body shell because at that point I had a Lotus twin cam engine to put into it. The first version of the Berkeley was supercharged. I made a steel scattershield, bellhousing and again grafted an MG Midget gearbox and back axle. So basically, I'd changed a motorcycle engined front wheel drive micro car into a rear-wheel-drive racing car. At that point I also had an Ashley Sports Car hard top which I cut and shut and grafted to the Berkeley to create a GT car. That ran as a Street Modified from 1980/81.
| | | |
| --- | --- | --- |
| The Berkeley build begins | New square tube chassis | Will it fit? |
| | |
| --- | --- |
| Taking shape | Roll bar fitted |
| | |
| --- | --- |
| Nearly done | Blown Lotus twin cam was a snug fit |
The Berkeley had a short wheelbase just short of 6 feet which made for a bit of a twitchy ride particularly with the Lotus twin cam and supercharger at the front. We ran that for quite a few years, managing to do some good times, mostly in the 12s. The Modified class seemed to change year by year, changing the way they classed the car. I ran it with the twin cam for 2 or 3 years then I took a year out. It started to get extremely twitchy so I thought I'd better have a look at it and sold the Lotus twin cam engine and supercharger.
| | | |
| --- | --- | --- |
| Racing John Spuffard in his Midnight Warrior Mustang | | |
| | | |
| --- | --- | --- |
| Keith Lee pic | | On show at Stoneleigh Park |
| | | |
| --- | --- | --- |
| On show at Stoneleigh Park | On show at Bingley Hall | |
I got somebody to do a bit of work on the Berkeley bodywork. We managed to extend the wheelbase, moving the front wheel arches forward and rear ones backwards. We got the wheelbase to about 6 foot 6 inches. We also grafted on a better windscreen surround, disposing of the original quiet heavy Berkeley one and carried out some body work then repainted it Porsche Guardsman red with gold lettering.
I built a 1098cc 'A' series engine with full race camshaft, heavily modified cylinder heads and I acquired another 750cc ex aircraft cabin blower for the 'A' series engine which I again coupled to an MG Midget gearbox, with a twin plate full race clutch added. The internals of the MG gearbox were changed for straight cut gears which were much stronger, and the back axle stayed the same. I ran that for quite a few years.
| | |
| --- | --- |
| Mr and Mrs Cookson with the rebuilt Berkeley | |
Video Long Marston 1984... Click here.
With the 1098cc engine I think we got down to 12 seconds. By that time, I'd discovered why it was being so twitchy. I'd learnt a lot more about front suspension and what I had on the original version of the Berkeley was a Hillman Imp rack and pinion steering. The original Hillman Imp had swing axle front suspension so everything was pivoted from the centre of the car whereas the Berkeley suspension was double wishbones so what was happening was when the suspension moved up and down it was doing all sorts of peculiar things with the angles of the wheels, the tow in and toe out, and that's what caused it to be so twitchy.
| | | |
| --- | --- | --- |
| | | Blown 1098cc 'A' series engine |
I always had the feeling it was going to swap ends and it did once on Jerry as he drove it in one event and was not quite prepared for what was about to happen at a race at Long Marston.
Jerry... The next thing I knew was I had Bruno of FAST tapping on the window saying are you alright? I'd gotten well into the grass...
Jerry added... Steve Rains of Street Rod Developments in Selly Oak, Birmingham did the body modifications. He also did the original mould for the Clifton brother's Opel GT, the Wayne County replica, and also did the body for Alan Morgan, (Captain Morgan), the ex-policeman, who had the Captivation Opel GT that ran for a short period. He took part of the mould, the wind screen surround, from the Opel GT and grafted it onto the Berkeley. The Clifton brothers Trevor and Steve ran the Hot Tomato red C-Cab. Steve Rains is sadly no longer with us. His son has Steve's original Model T and has been seen at Shakey at a few Hot Rod Drag events.
| | |
| --- | --- |
| The Clifton brother's C-Cab 'Hot Tomato' Nick Pettitt pic | The Clifton brother's Opel GT 'Hot Tomato II' |
| | |
| --- | --- |
| Alan Morgan's 'Captivation' Opel GT. Nick Pettitt pic | Steve Rains' T Bucket |
Gerry continues... I joined the Berkeley enthusiasts club, but I think they were a bit shocked to begin with, but they did start to embraced it and thought it was a good little concept car. Berkeley cars came from the guy who ran Berkeley Caravans, he wanted to be able to keep his workforce active during the winter months so the Berkeley car was sort of a winter project for his workforce. Actually, it was designed by Lorrie Bond. He did the Bond Mini car and many other devices. There were 3 and 4 wheeled versions and a number of them have ended up in America, some at Bonneville as record breaking cars. Not many were built, it was a short production run. They had 2 serious fires at the factory and that finished them off. Berkeley were developing a virtually full-size front engined, rear wheel drive sports car. I think that's where I got the idea from to change mine having got the information that they were developing this full-size sports car with all Ford components but the fire finished the organization off and they only built two. I think one got outside the factory and the other one was scrapped.
---
Gallery: click on any thumbnail for a large image.

Feature ©Eurodragster.com

Back to pioneers index

Back to News page


---