The Gleadow family's story and history
- by brothers Brian, Mick and Bob. Part 2 - Slingshot Dragsters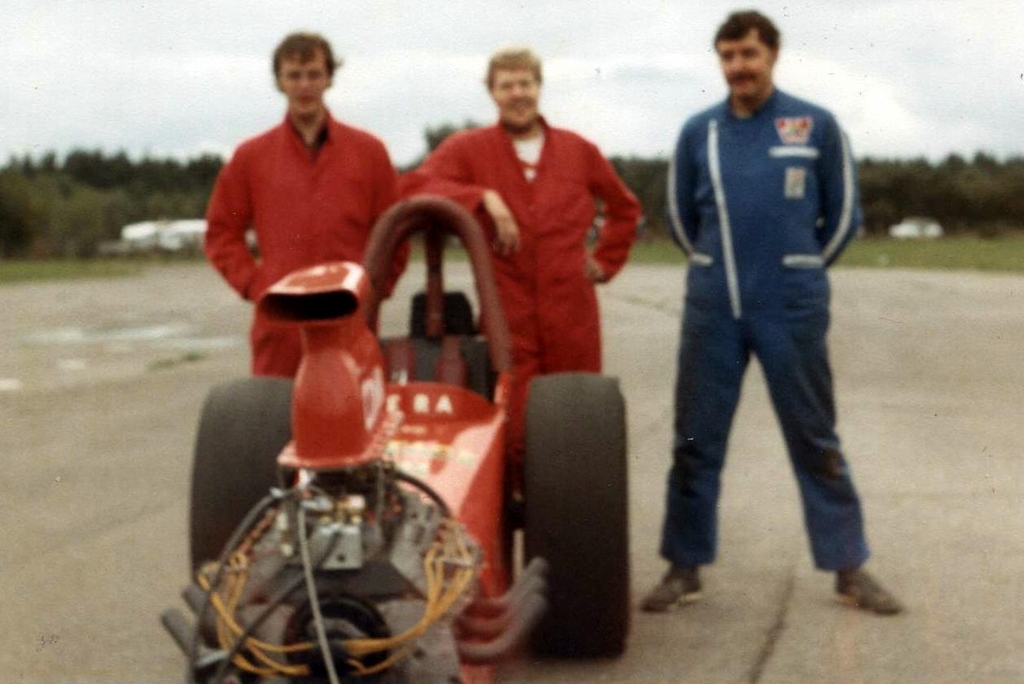 As told exclusively to

Introduction: Always running on a tight budget, the brothers got interested in running flathead-engined slingshots, contacting other like-minded racers. They separately bought cars in 1973/4 but both were sold as unfinished projects, buying one back in 1978 when they decided to get back into racing together. 'Vintage Tin' came out for the first time in 1979 and ran until 1984 when the engine was replaced by a Rover V8 and the car renamed 'Time Machine'.
After selling 'Motor Psycho', Mick started looking for more affordable and fun racing and got interested in running a Flathead engined dragster inspired by the Beadle brothers' 'Gravedigger'. Also, the use of the Flathead engine was becoming popular again with the British Flathead Racers Association being formed with 6 to 8 cars running. He thought it would be good to be part of a decent class at a more affordable level. Mick went to America with Tony and Don Beadle on an NDRC trip visiting the Supernationals in California. The Beadle brothers were serious Flathead racers meeting a lot of serious racers out there, including McClusky and Jordan and Joe Monaghan of the United Flathead Racers Association, buying lots of parts including intake manifolds and cylinder heads and bringing them back as hand luggage, which we could do back then. Mick missed Bob's wedding, which he thinks he's been forgiven for.
| | | |
| --- | --- | --- |
| The Beadle brother's 'Gravedigger'. Dave Dick pic | BFRA Newsletter | BFRA Newsletter |
In 1973 Mick bought a slingshot chassis, from Martin Rowatt 'Double or Quitz', as he was going rear engined. Mick was living in Harrow in 1974/75 so didn't see much of Brian or Bob. He intended to fit a flathead and started building up the dragster in a workshop in Barnet rented from Liam Churchill of 'Euro Sting' fame, while still giving a bit too much priority to his social life, burning the candle at both ends, financially as well! Too much time in The Mitre in Barnet High Street! During that time Mick teamed up with Steve Clarke (Nimbus Motorsport) and Mike O'Connell and produced a sponsorship proposal to run a Junior Fuel dragster using his chassis, but without success. Then Mick met Cath in 1974 and shortly after sold everything, getting married in 1975.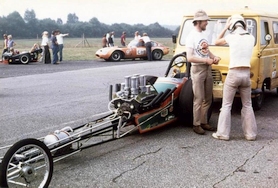 Martin Rowatt's 'Double or Quitz' unknown photographer
Meanwhile Brian also bought a slingshot dragster from Tony Whitehouse in 1974 as an uncompleted project. The back half of the chassis and bodywork were the ex-'Weekend Warrior' car while a new front half had been made up by Tony and his syndicate. It was also setup for a Flathead motor, Borg Warner 35 autobox and had an ex-Benbow and Fullerton front axle and Harold Bull hubs. Brian remembers during his time at Borg Warner in the late 60s early 70s working on a prototype Borg Warner 35 fitted to a Nissan 4.0 litre V8 engine which was in a big heavy car producing 250 bhp, which worked really well but never went into production. Brian intended getting the dragster up and running but having a garage with no electric power and lack of money ended up selling the unfinished slingshot to Roy Green who got it finished and had it out on the strip by Sept 1976, calling it 'Resurrection'.
| | | |
| --- | --- | --- |
| The slingshot from Tony Whitehouse. Tony Whitehouse pic | Roy Green's Resurrection. Dave Dick pic | Flatheads forever! 'Resurrection', Andy Swaffield's '4th Dimension' Ken Cooper's 'Blast from the Past' and the 'BB and G' car. Unknown photographer |
We had no more drag racing activity until 1978. By now the three of us were married and we decided to build another dragster, staying with the Flathead engine. Mick had called Brian asking if he was interested and yes of course was the reply. Roy Green had his 'Resurrection' chassis up for sale so we met him in the garden of the Old George at Ickleford and bought back the chassis with body panels, front end but no back axle. We used another Westminster axle with a 3.9 to 1 ratio crown wheel and pinion supplied and narrowed by Russ Carpenter, keeping the drum brakes and fitting Woolfrace wheels.
| | |
| --- | --- |
| Narrowed Westminster axle in place | Flathead fitted |
We acquired an American Ford 239 cu in Flathead block with 3 and ¾ inch crankshaft from Wally Wheatly of Nordian Exports in Matching Green, Essex. The warehouse was on part of an American airbase. Wally had brought a huge stock of army surplus Ford engines and parts from the pre-war and post-war period. One example was a completely restored, rebuilt and dyno tested engine destined for Egypt for a WWII army truck for £300. The British Flathead Racers Association would visit the warehouse on a Saturday morning once a year to buy the spare parts needed for the next season's racing, and then go to a local pub of course!
| | |
| --- | --- |
| Painted and ready to go | Name on the top panel |
| Sharp heads | Driver's view |
We called the dragster 'Vintage Tin' debuting at the last NDRC meet of 1979 at Blackbushe 30th September. Brian remembers this well as the Christmas tree stopped working and there were flag starts which Bob really enjoyed.
| | | |
| --- | --- | --- |
| Flag start at Blackbushe | On the rollers at Santa Pod | Brian looks happy |
We tried various intake manifold set ups, 4 carb then to 3 carb and got to consistent low 12s. We then rebuilt the engine using a Mercury 4in crankshaft offset ground to 4 and ⅛ inch giving us 296 cu in. This was radical in Europe and only Ken Cooper, Blakemore, Brownridge and Guzowski (BB and G) and Tony Beadle had this outside of America. We played around with different cylinder heads and carburettors running on methanol and used a Ford Transit gearbox for which Brian made a gear selector and gate to use only 2nd, 3rd and top.
The British Flathead Racers Association was set up by Tony Beadle in the late1970s and Tony and racers such as Ken Cooper, Roy Green, Nick Anscombe, Andy Swaffield, Brownridge, Blakemore and Guzowski (BB&G) and others had their own separate eliminator. This was the obvious place for Vintage Tin and so from 1979 up to 1984 it's where we regularly raced. There was good, friendly rivalry and always help from other teams. The main motivation for each team was to get their own car running quicker and to have fun! After Tony went on to another project, Mick took on producing the BFRA newsletter and hosted a couple of AGMs. He also inherited a stock of BFRA Round Winners trophies which he handed over to Ken and Bradley Cooper about 5 years ago! You never know!
| | | |
| --- | --- | --- |
| Updated regs meant 5-point roll cage | Smokin'. Dick Parnham pic | Mick checks it over |
In 1983 Bob acquired a £100 sponsorship from Inmont, a paint company he dealt with for his work. We bought a manifold, Holley single 4-barrel 750 double pumper and Scintilla Vertex Magneto from John Woolfe Racing. Andy Swaffield ran a Flathead Dragster called 4th Dimension with the BFRA and he made 4 sets of cylinder heads. We used one set to replace the really old Sharp heads which we were having so much trouble with. New cylinder heads were not available from America at the time. Ken Cooper always said Weiand heads were the best ones to use for gas flow. Also, we fitted Nitrous Oxide for 1983. This was the best set up we had for 'Vintage Tin' to date which really worked well. Brian shared the driving and mechanical duties with Mick alternating driving between them at the eight to nine events each season continuing until 1983 when the engine blew up after running an 11.78! and Brian left the team, to focus on life!
| | |
| --- | --- |
| Nitrous bottle fitted | Snorkel scoop on the Holley |
For 1984 we fitted a 3.5 Rover V8 engine and Borg Warner automatic transmission using the torque converter from the Rover 2000. This was the hot set up at the time having a higher stall speed on the bigger engine. Bob decided to paint the car in Blue, painting being his speciality, making it look like a new car and we renamed it 'Time Machine'. Mick built the engine for this and takes credit for its first run in 1984 of 10.47. He'd learnt how to run the fuel system with Nitrous Oxide during 1983, making it really perform well. With Brian off the scene Mick did the driving for two seasons when Bob again sprayed the car purple. The dragster was kept at both Mick's and Bob's places during the period.
| | | |
| --- | --- | --- |
| Rover V8 power | Now called 'Time Machine' | At Santa Pod |
| | |
| --- | --- |
| Another new paint job | At North Weald |
Mick says: We all got along very well in what we all did best which really worked well. At one event at Long Marston, Bob wanted to have a drive in 'Vintage Tin' but only doing a burnout he said that's not for me. Bob stayed with what he preferred to do, towing the dragster around the events and running the logistic support for the team continuing to do so today.
Mick worked in local government when he left school but remembers his time at school doing metalwork classes which really served him well with fabricating parts for all the cars they built. He is self-taught with the mechanics and learnt a lot from Steve Warner including not to rush jobs. Brian agrees and had the same background and experiences but feels this is lost on today's generation, going on to compliment Mick saying if he still had a garage, he would have Mick working for him. It all worked so well and still does right up until today.
Pete and Rob Brown in Tamworth now have the Vintage Tin Chassis with a Chevy engine running as 'Wrathchild' in the Wild Bunch.
---
Gallery: click on any thumbnail for a large image.

Feature ©Eurodragster.com

Back to blog index

Back to News page


---