Ford Anglias of Yesteryear - Derek Benbow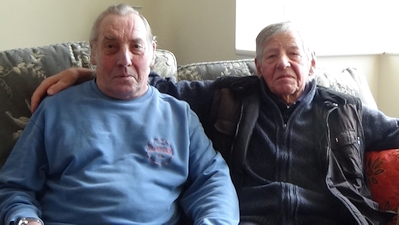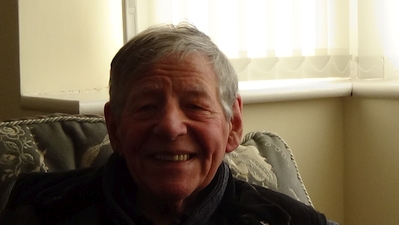 As told exclusively to

Preface: John Fullerton was located early on but we had no leads at the time on the whereabouts of his partner Derek Benbow. Then Mick Gleadow who uses an ancestral website, working with very little information, managed to find a current address for Derek. John went to visit and it turned out to be correct. John Hunt then met up with Derek Benbow and John Fullerton at John's house in Tamworth on Saturday January 29th 2022 to get Derek's side of the story. He also brought along a pack of photos, unseen for 50 years.
Derek begins: I was born in 1947, now age 74. I grew up in Sutton Coldfield where I went to school. When I left, I went straight into an apprenticeship at Cincinnati Milling Machine Company. I first met John in the HME division of Cincinnati which was the power press division. We were both working on the same section building a coin press. I said to him one day do you want to come and watch the motorcycle racing because I was keen on that. He said I'll come and watch that provided you'll come to Santa Pod. I said, Santa Pod? what hell is Santa Pod? He said it's Drag Racing. Anyway, we went to Mallory Park and that was alright, then we went to Santa Pod a few weeks later and I was just absolutely blown away by it.
They had the Lawman Anglia which was an American car, an old sit up and beg Ford Anglia and EJ Potter with his Chevy powered motorbike, that was a mind-boggling thing 'The Michigan Madman'. He'd jack it up on the start line, rev it up to maximum and then just drop the stand and he used to be on both sides of the track, absolute lunatic. On the way home we talked about it, I said to John I wouldn't mind having a crack at that, he said yes ok. I don't think he thought I was serious to be honest. I had a motorcycle license but not a car license at the time.
| | |
| --- | --- |
| Derek's first taste of Drag Racing. Autocar report | The Michigan Madman blew his mind. Autocar report |
I saw this advert in the local newspaper for a Ford Anglia, went and had a look and brought it. I went to see John and said I've got our Anglia from Penns Lane. We rented a lockup garage not far from where I lived. I think people thought we were lunatics. It got to the stage where we needed more room, fortunately there was another garage next door available so we rented that one as well.
John: We had the body in one and the chassis in the other.
Derek: for any welding or anything else that needed power we would push it down the road into my parent's garden and weld away. We would blow the fuse and my old man would come out making moaning noises at us.
| | | |
| --- | --- | --- |
| Just needed the name on the doors and it was ready to go | Wide axle put the wheels out in the breeze | Derek and John's office |
John: It was downhill to the house so we had to tow it back to the garage of course. What the police would have thought had they seen us, I don't know.
Derek: John managed to get an engine from this guy called Tony Froome who was a stock car driver. This was a 303ci Oldsmobile which we stripped down. To be honest with you John was the one, I didn't know what I was doing with cars, he was the brains behind it if you like.
| | | |
| --- | --- | --- |
| Laying a little rubber | Chromed 'n' painted 303 Olds from Tony Froome | They rented two of these garages to build it |
John: It was good fun and happy days.
Derek: you soon learn, and so we ran that for not quite a full year. We quickly decided it was too heavy.
John: At that time Tony had two engines, the Oldsmobile and a DeSoto, we went for the Oldsmobile because it was more complete having the carburettor on it. But in reality, we should have gone for the Desoto because it was a Chrysler Hemi engine and had more potential. It was a total lack of knowledge at the time. Probably not a 392ci, it was a much earlier version. Then we bought a T body from Geoff Jago and a 322ci Buick engine. I think that came from Pete Atkins at Watford Motor Accessories and a Cad/LaSalle gearbox. I remember fitting that gearbox to it. We got a Chevy axle from the local scrapyard in Fradley. I remember going there, there were two cars on top of the Chevy. I asked the guy if he could forklift the two off top and give us half a chance. He wouldn't do it, saying if you want it, you'll find a way. So, we did and with a struggle we jacked up 3 cars to take out the axle.
Derek: we narrowed that axle ourselves and built all the chassis. It was our first T bodied car and had the wider body, it had no wheel wells or anything in it.
| | |
| --- | --- |
| First version of Turtle T with 322 Buick | Jago T body and turtle deck |
John: I couldn't remember much about it, I haven't a single picture of it.
Derek opens his pack of photographs: These are over 50 years old and have been up in the loft. These are the two lockups, That's the first body before we cut it in half.
John: We took on Whistler in the final, we got £10, 10 shillings, don't remember if we won or not. This doesn't sound like a lot of money but for me it was two weeks wages back then. I can't remember which one it was but one T bodied car went to the show in Jersey. It was taken from Santa Pod on its trailer, and someone towed it over. Was it organized by Santa Pod? It came back two or three weeks later.
| | |
| --- | --- |
| Turtle T version two went to Jersey in '69 | Drag Racing & Hot Rod magazine feature |
John: These are the pics of the last version of the T but a few things were changed like the injection and a few other things. It might have been at that time we rebuilt the engine although I'm not completely sure.
| | | |
| --- | --- | --- |
| Tee Total with narrowed body and Pontiac power | Moon tank and Herridge axle | Driver's view |
Derek: The rebuild on the Pontiac with lots of money spent was for the dragster not the T. In the dragster we used the same Pontiac engine from the T, 389ci which came out to about 414ci. We both worked on identical machines at Cincinnati and did an equal amount of work building all our cars and sharing the finances too. We built the dragster at John's parents' house; we built a long shed out of 6 foot fence panels making it 18 foot long putting a roof on it with the advantage of power from the house. This was a luxury to what we had been used to. We also built the trailer here. John's parents were very supportive.
| | | |
| --- | --- | --- |
| Inside the home-built wooden shed/workshop | The dragster takes shape | |
| | |
| --- | --- |
| Direct drive | |
John: My dad was very conscientious and because he used to take me to things when I was a kid, I developed an interest. He had me working on cars before I could drive. He had some old cars, there was always something to work on. The dragster was by far the best one we did. It looked like it was all in proportion. We were both happy that it looked right. I wished we'd still got it.
| | | |
| --- | --- | --- |
| The dragster ran throughout the 1973 season | | The Read family double decker bus |
Derek: We bought a Hilborn injection setup, it was for an Oldsmobile they couldn't do a Pontiac one.
John: The down side to it was when you fitted it you had to cut the trumpets down short because they interfered with each other. But you redesigned it so the ram ports went vertical, it was much better after that.
| | |
| --- | --- |
| Hilborn Injection on Tee Total | The trumpets had to be cut down to fit |
Derek: We actually made the new fuel injection, there was a bloke at the pub we went together with, he cast them for us once we'd made the patterns. Where I was working in the apprenticeship section there was next to nobody in there. So, I asked the bloke if I could use one of his milling machines, he said yes. It was set up for weeks, I used to go lunchtimes doing a bit at a time.
| | |
| --- | --- |
| Redesigned injection on the dragster | Now the trumpets pointed skywards |
John: At the 1973 International we watched one of the Americans testing a box of new spark plugs on a machine and only keeping two or three of them. I asked him what he did with the rest, he said throw them away so I said can you throw them our way and he did.
| | |
| --- | --- |
| In 1973 they got a pic in Hot Rod Magazine | National Drag Racer report '73 Internationals |
Derek: These two pics are when Tony Froome had brought the dragster. We think a crew member drove the car at Long Marston and crashed it. A few weeks before I went to South Africa, I put a new front end on it for Tony. I didn't want to do it to be honest with you but I was forced into it. I think it was a case of that or scrapping the car and I didn't want that to happen. It was a 160-inch wheelbase when we had it and he wanted it extended to 200-inches. I said it would be too flexy but I didn't get to see what it ran like.
| | |
| --- | --- |
| Tony Froome bought the dragster in 1974 | In 1975 he lengthened the chassis and fitted full bodywork |
Derek: From Cincinnati I went to work for a company called BIP Engineering which made plastic injection moulding machines. I was there for a while, machine tool fitting the same as John. Then John became a foreman at Cincinnati and he asked me if I'd go back, so I did for about a year before I went to South Africa. I'd joined the Merchant Navy, I returned home after two years because my mother was unwell and died sometime after. I went to work with John at Curdworth Machine Tools which was a rebuilding company. I was there for a good while.
Then myself and two electricians decided to go on our own but it didn't work out so I went on my own with another bloke who turned out to be very unsavoury. I gave up the workshop I had at the time and went back to work with John at Curdworth Machine Tools who had moved to Minworth from Curdworth in the mid 1990's, that's when I last saw John.
John: When I had all the time in the world to do drag racing, I didn't have a lot of money. When I had the money, I didn't have the time. Now I've probably got both and I'm not fit enough.
John and Derek had not seen each other for almost 25 years and we are all so pleased how this has turned out. A real success and a great end to the Benbow/Fullerton story...
---
Gallery: click on any thumbnail for a large image.

Feature ©Eurodragster.com

Back to pioneers index

Back to News page


---