Jerry Cookson's story and history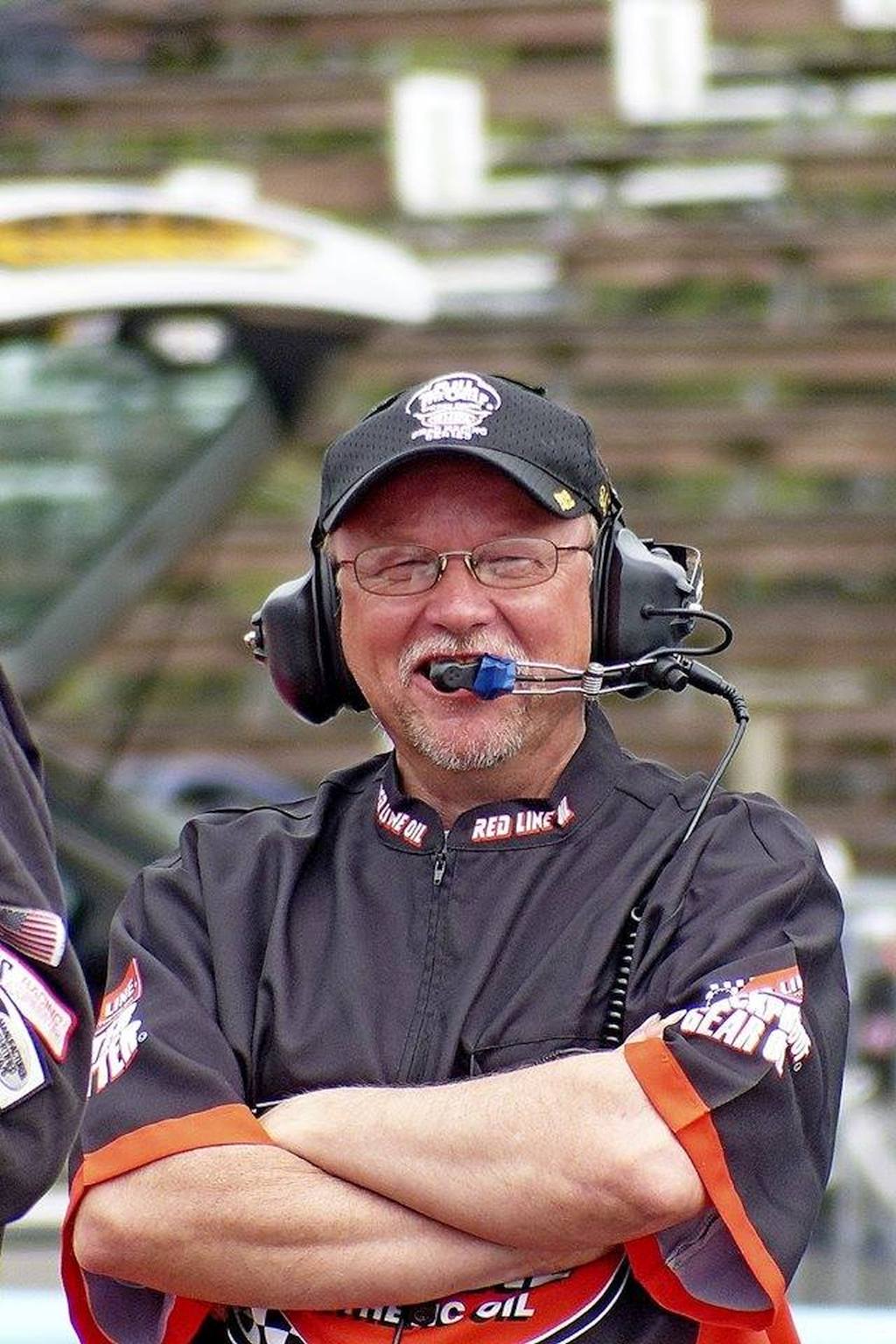 As told exclusively to

Jerry Cookson, Gerry and Joan's son, was born into a world of drag racing, attending the 1964 Drag Festival whilst still a young infant. As a teen he got into building drag racing model kits, and then became an apprentice at a printers which was helpful in getting magazines on the sport published. Having helped the NDRC crew in the 1970s and 80s, he became an announcer at APIRA events in the 1990s and took on the management of Avon Park Raceway, or Shakespeare County as it became known, for its last 12 years. He now provides archive material to Facebook, a number of web sites and helps run National Sprint Association events as well as the British Drag Racing Hall of Fame where he is a selector and director.
Obviously, I owe it to dad for my start in drag racing; otherwise, I might have been doing something totally different. Dare I say it if we had of moved to Criccieth in Wales god knows what we'd have been doing; maybe I'd have been following football or something like that! But certainly, motorsport has played a tremendous part in my life. My earliest recollection of being sat in a race car is when I crashed a Kart into a hedge. It was one of those fun Kart things and because I couldn't reach the pedals, they stuffed a kart tyre down the back of the seat. Next thing I know is I'm up this hedge must have been on holiday in Bournemouth or somewhere like that.
| | | |
| --- | --- | --- |
| | | Started early while at Brands Hatch |
So, I haven't really missed an event that dad's been to, we always travelled together. I've helped dad on the line putting the bleach down, wearing those stripy trousers like BDR&HRA Race Director Syd McDonald used to wear. We also all had our Castrol red trousers and green Castrol jackets. Before that I used to stand up on the muddy spectator bank at Santa Pod on the pit side. I used to act like Stu Bradbury with the flags and everything and just mess about. Some good relationships were created with people I still know, when I was just 13 years old.
I first saw drag racing at the 1964 Dragfest which Dad took me too. I still have the program and I did have the poster but don't know where that is now. I was 4 years old at the time so I don't remember any of it! After that it has been a roller coaster really. I started to get more involved with things when I was about 13. By then I was building Revell, Monogram or AMT model kits. Dad made me this wooden display cabinet. I used to take it to shows for display. All the models were 1/16th scale dragsters of Tony Nancy and Dennis Priddle cars. There were a few of my own custom type mock ups as well as a few 1/24th scale Funny Cars and Hot Rods. I was at the first Long Marston event held on September 9th 1973. That date will always be etched in my mind. It was September 9th two years ago I started working at my local Aldi.
| | | |
| --- | --- | --- |
| | Dad built the first model display cabinet which went everywhere including Long Marston. | |
Dad believes we went to Long Marston before this date to one of the Evesham Sprint Meets, but I don't remember. That's when the main runway was lined from one end to the other by World War 2 pontoons. After that I started to get involved in the Midland Drag Racing Association. I was running the junior section side of things. I got involved with the model competition and the Scalextric Drags we had at club nights in nearby Tamworth. I won one of the competitions at the MDRA Model Show. Vince Shaw beat me in another competition. I got more involved as they were looking for somebody to do the newsletter and magazine. That's how I got into that side of it because my career interest was to become a Fireman. Then after that it was to go into journalism. So, it was a good starter to do the magazine, writing reports and generally putting it together.
The first issues we did were in 1975. It used to get printed at the printers I started serving my apprenticeship. Then after that I was just doing Fire Up; the original little A5 pocket sized magazine for about 4 or 5 issues, money was obviously a problem with printing these things. After 1975/76 it went to a newsletter, A4 size format. Then I started to write reports for the National Drag Racing Club. By that time, I'd passed my driving test and could go to the events on my own. So, when dad had that break in between the dragster and the Berkeley I could toddle off and drive to Blackbushe and be back in time to write the meeting report for Motoring News. I did that for about 4 to 5 years. I would do the Santa Pod reports as well as all the NDRC meetings. At Santa Pod I'd sit up in those converted double decker buses. I occasionally wrote for Custom Car and Fast Car magazine. I continued to do both NDRC and Santa Pod events.
| | | |
| --- | --- | --- |
| At the Budweiser Cannonball. Photo by Mike Collins. | Key to the door at 21. | Sharing an interview with Uncle Jim Reynolds and Bo O'Brochta at LMR 1981. |
Backtracking slightly to the 1970s, when dad was still racing, we had friendship with John & Sue Fordham. John was a start line marshal who used to drive the push car to start our dragster. I used to help the NDRC crew at the end of an event pack away. Another thing that I used to do for an hour or so was collecting rubbish, signboards, whatever. I really got to know the guys at the NDRC which later led to building up an excellent friendship with Alan Wigmore and the rest of the crew.
Moving along into the 1980's I was still doing a bit of this and that. I was writing reports for UK Drag Racing magazine; the black covered publication that Tony Grace used to put out and did reports for whoever else wanted them. This all allowed me access to the start line. I could go and take photographs, get into places where others couldn't, which was a benefit, and continued doing that for a number of years.
Then, in 1990, the commentary side of it came to light. Now I'd sit up in the tower in those cabins we used to have on the side of the race track when we used to have a gantry across the start line and I'd see Mike Matthews on the microphone with Duncan Baron and a few others. I thought that's not for me, I'd never be able to pick up a microphone and speak!
| | | |
| --- | --- | --- |
| Interviewing Carl Olson on the start line at Avon Park. Photo from Paul Duxbury Collection. | Photo by Roger Gorringe Nitro Exposure | Playtime at the Bulldog Bash with stuntman Terry Grant. |
Then I got pushed into it at one NSRA Hot Rod Drags meet by Bruno [Sanderson Brown] of all people. He just said to me, microphone, crowd, speak and that was it. That's how it started. I then got connected with Martin Bennett who offered his services to help me out. It was good because we did together quite a few well-known events when it was Avon Park Raceway. How I've seen that place develop. I have good memories of how it has evolved over the years from being just an airfield into a full-blown drag strip. It's good to look back on. Me and Martin had some good laughs which lasted for about five or six years. We were known as the Ravon Park Twins. I was called MuddyTalker, a twist on Murray Walker.
At the same time also, I was editing Fire up magazine for John Wright when it restarted in May 1989. That led me to going over to America quite often. Also tracks in Europe; Hockenheim and Alastaro.
John was promotions manager for Anthony Hodges at the time. He could see a gap in the marketplace for a magazine. Drag Racing News was at the time here and there and not always appearing, Roger Gorringe had dropped out of it by then. I did write a few reports for Roger at DRN back in the 80s. Then Mary Antcliff took over DRN; she did it for a year. We could see there was a gap in the market so we thought about bringing back Fire Up again and we did that for 30 or so issues.
| | | |
| --- | --- | --- |
| Playtime at the Bulldog Bash with stuntman Terry Grant. | | Grabbing a quick word with Top Fuel legend Barry Sheavills. |
In 2006 promoting started to take a hold when a previous promoter pulled out from events at Long Marston's Shakespeare County Raceway. This developed into a full-time job promoting and organising events on behalf of the land owner for 12 years. In between I have done voice overs for video productions, and appeared on TV and radio shows. I also did two years as the man on the button as a starter at Shakey.
Sadly, when activities came to an end at Shakespeare County with the sale of the land in 2017 so did my involvement. In 2018 my family was inducted into the British Drag Racing Hall of Fame. This was indeed a great honour for dad and myself.
| | | |
| --- | --- | --- |
| NDRA 1989 Awards | Wild Bunch awards - Dean Smyth photo | British Drag Racing Hall of Fame - Keith Lee photo |
Nowadays, having been involved in some of the early No Prep events, I'm largely confined to commentating at the National Sprint Association events at Westonzoyland, Somerset, and now at Dakota Raceway, editing the NSA's in house magazine The Sprinter, as well as administering two prime Facebook pages; 'Memories of a Warwickshire Drag Strip' and 'UK Drag & Sprint Strips That Time Forgot'.
I'm also a selector and director of the British Drag Racing Hall of Fame as well as editing HoFTalk, the online magazine for the BDRHoF. From my vast collection of drag racing artefacts I have supplied material for two of British drag racing's nostalgia websites; UKDRN, Acceleration Archive and recently Chris Dossett's excellent and well documented Trakbytes site. And despite all this I'm still enjoying life on the other side!
Other parts of the Cooksons' stories:
Gerald Cookson Part 1 - slingshots
Gerald Cookson Part 2 - Berkeley
Gerald Cookson Part 2 - MG Midget & Berkeley
---
Gallery: click on any thumbnail for a large image.

Feature ©Eurodragster.com

Back to pioneers index

Back to News page


---