The Tony Whitehouse story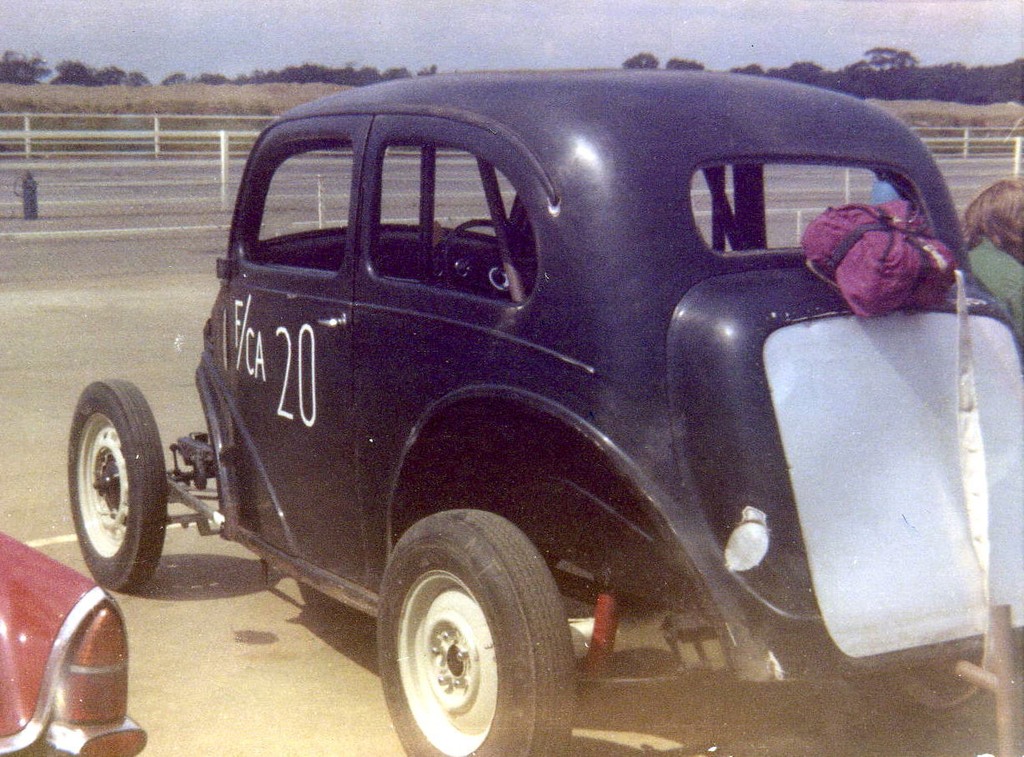 As told exclusively to

Tony Whitehouse started working as a truck driver, later getting into American cars and working on automatic transmissions for a company that was eventually known as Mr Shifter and later ATP. He was with the company for 33 years, during which he got involved with hot rods and drag racing, first joining the BHRA in 1965. As Staffordshire area BHRA rep, Tony got to know a lot of local hot rodders and racers. By 1970 Tony had got his first road going hot rod, a Ford Pilot and with help from longtime friend Ken Cooper he fitted the Allard-Ford drivetrain from his donor car the ex-hill climb 'Clanger Special'. Drag racing was still a twinkle in his eye.
I was born in 1946, in the front room of the family home, Chasetown, Staffordshire. Chasetown is located around 25 miles North of Birmingham and just over 4 miles from the Cathedral City of Lichfield. I had a Secondary school education, leaving at the age of 15 with no qualifications.
| | |
| --- | --- |
| Tony Whitehouse | 1971, he hasn't changed much! |
Work life
My first job was as a driver's mate, for a company called Burrows & Sturgess, delivering pop, beer, spirits and potato crisps etc to pubs, clubs, off licences and the odd shop. This was not just my introduction to working life, but also pub life and drinking. It was while working as a driver's mate I spent some time working with a guy named Fred Jenner. Fred was into motorcycles, was mechanically savvy and, like me then, liked his beer. We got on well and, in some ways, he became a father figure to me.
That said, shortly after one of the other driver's mates, my good friend and another drinking partner, Geoff Williams passed his test and became a truck driver there. Both me and Geoff shared a lot of interests like modified cars, motorcycles, girls and booze. Upshot was, I switched to become his driver's mate.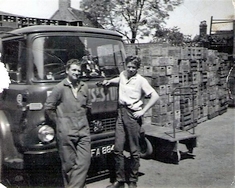 Fred Jenner & Tony Whitehouse 1962
Sometime later, while still working as Geoff's driver's mate and as I was reaching the age of 19 years, it was made clear to me by the boss that he only employed teenage driver's mates and it was therefore expected of me to learn to drive. In the recent past a number of mates had done this using a company truck, while doing deliveries. Geoff told the boss that he was happy to teach me to drive. The vehicle we had then was an S Type Bedford and at this time most of our particular daily rounds were in and around Birmingham, so that's where I learned.
After a few months I applied for my test. The day of the test we'd been given no load, so in the morning I was just driving around in preparation. All was good until the damn trucks engine just stopped. Following a bit of messing around, we bled the fuel system and managed to get it running again, after which it seemed fine. Well of course, it repeated the performance in the middle of the test! As you'd imagine, the tester wasn't impressed having to walk back to the test centre.
As fixing the S Type, a truck I really liked, turned out to be a prolonged thing, it ended up going away for repairs and being replaced by an BMC FG? with a 6cyl engine, that I hated. Along with this Geoff and I hadn't been seeing eye to eye, so I decided to come off the road and I transferred into the pop stores. This position involved driving a forklift truck which paid an extra pound a week, boosting my wage to £5! After a while I was tempted by the money to leave B&S to go and work in a factory metal polishing. Big mistake! After four months I begged for my old job back and fortunately got it, kind of.
While in the pop stores I'd passed my test, I went back as van driver/beer storeman. Placing me in the beer stores wasn't their wisest decision. As it happened, after only a short time a driver left and I was obliged to move to his position as a truck driver. I did this job for around two years, driving a variety of vehicles along the way.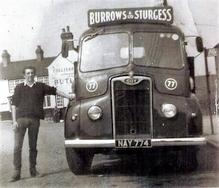 Geoff Williams and a Guy Otter 1963. Tony drove the sister truck in 1967
As a driver the first truck I had was an almost new long nosed Ford Thames Trader. These had cool American styling, a bench seat and were quiet and very comfortable to drive. The negatives for my particular vehicle were its low powered 4-cylinder engine and short load deck. As soon as I could, I changed to the first available truck which addressed those two negatives, that was a Guy Otter. The company had two of these which dated back to the mid '50s.
Switching gained me 6-cylinder power and a much longer deck, but lost me a few luxuries? Like, there were no indicators (gloves were promised for hand signalling in the Winter, but never showed up), no heater, no wind-up window. The windows were all manual, with a latch to hold the glass at half way up or 'almost' closed. I say almost, it was all but a half inch, the draft from which gave me a pain in the shoulder that's troubled me ever since.
Following the departure of another driver I switched again to one of the prides of the fleet, TK Bedfords. These had it all, 6-cylinder, long deck and a modern, again American styled cab. They had indicators, a heater (though retro fitted) and were quiet and comfortable with a fully synchromesh gearbox, (no more double declutch) and rather OTT air brakes. This I had until later leaving the job. Feeling the need for a change and following a difference of opinion with the boss I left B&S and got a job driving a road tanker, delivering specialised oils to factories.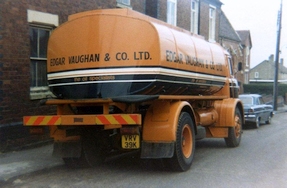 The last road tanker Tony drove outside his mom's, with his '63 Olds Cutlass parked in front
Feb 1973, having completed around 4 years tanker driving, bored and desperate to work on cars for a living, I had the opportunity to work for friend and fellow American car enthusiast, Alan Smart, in his recently formed automatic transmission business. The business was called Automatic Transmission Repair Specialists Ltd, (ATRS), but became better known as Mr Shifter and later ATP, eventually completing 33 years there at age 60.
I was the first employee, so started as general dogs' body, however with the business expanding at an incredible rate and diversifying, I quickly moved into a management position. Though I actually worked at the same place for all those years, it was at a number of different sites and in a variety of departments and roles, including Works Manager.
Getting the dragging and hot rodding bug
As a kid growing up in England, I suppose I was like loads of others, into British planes, trains, ships, tanks, racing cars and bikes etc but after a while the stuff that excited me most, without first knowing it, turned out to be American. Whatever item of transport I can think of, the American version was the one that was for me. It wasn't a conscious choice but one that was just in me. I liken it to a choice in girls, you don't get to choose what kind attracts you, it's just in you.
When I was about 10 years old, in 1956, on a family holiday to our uncles in Bath, Somerset, I saw my first hot rod magazine. It wasn't actually Hot Rod but a US little pages magazine, covering hot rods, customs and drag racing. There were actually two mags and they belonged to the boss of one of my cousins who was into Americana. His boss's daily driver was an early '50s Buick Eight Special that my cousin often borrowed and I loved riding in.
I was fascinated with everything pictured in those books and wanted more, so any opportunity to buy similar items wasn't missed. As a result, I knew quite a bit about both subjects from that time on. Around the same time, I'd switched from having a weekly comic and monthly aircraft magazine to Motorcycle News and Motorcycle Mechanics, through these I'd learned all about the sport of Sprinting. A lot of sprinters later tried Drag Racing and many switched.
| | |
| --- | --- |
| '56 Triumph 650cc Thunderbird 1963) | '59 BSA C15 250cc with Charlie Sutton doing his best Marlon Brando impersonation |
| | |
| --- | --- |
| This BSA got into the BHRA mag Kool Kams | From the May '65 issue of Kool Kams |
Also, around this time I got my hands on my first motorbike, well my older brothers actually. It was an old James with a two stroke Villiers motor, rigid frame, girder forks and hand shift on the side of the tank. Me and my mates pushed it miles and despite having fitted a brand-new head gasket, cut from a Kellogg's Cornflakes packet, it never so much as farted, lol.
Soon after I bought a 350 Matchless for £5, then three Autocycles and a couple of BSA Bantams and before you know it, I'm a small, time dealer. I switched to cars some years later, beginning with a Ford V8 Pilot, then a MkII Ford Zodiac and so on. Loads of cars, a few more bikes and loads of fun.
| | | |
| --- | --- | --- |
| Ford Pilot, Tony's first car bought for £20 in 1964 | July 1966 Tony bought this Pilot from Ken Cooper | This Zodiac was the first car that Tony's actually got on the road. It had brush painted gold wheels, Firestone thin whitewalls, portholes on the front wings and Dante Duce Speed Shop decals on the rear quarters |
As our dad died when I was 9 years old, until I started work, all this messing around with things mechanical was done with very little parental guidance and even less control. Me being the baby of the family and all that.
| | | |
| --- | --- | --- |
| BHRA Membership card 1965 | Ad in Kool Kams | Ken Cooper's '37 Ford Coupe. Brian Webster pic |
It was through publications mentioned above, Motorcycle Mechanics I think, that I learned of and later joined the BHRA in Feb 1965. In March 1965 I was amazed to see a for sale ad in the British Hot Rod Association mag Kool Kams for a rodded '33 Ford Cabriolet and '37 Ford Coupe located just a few miles from home, the seller was Ken Cooper. This was a Saturday, so after a trip to the local phone box, I was on my way over there.
In the event the Cabriolet had already been sold, though I did come across it by chance and managed to buy it in Oct 1967. Sadly the '37 Coupe, having had no takers, Ken Cooper had just started cutting it up for scrap. This was the beginning of an ongoing friendship, through which we've become almost family.
| | |
| --- | --- |
| The ex-Ken Cooper '33 Ford Hot Rod | Receipt for the Hot Rod |
As a BHRA member, with a lot of help from my girlfriend Janet Hackett, I was on a mission to recruit as many new members as I possibly could. I recall attending a BHRA AGM possibly at Uxbridge Rugby Club along with one or two friends. The only vehicle there of note was Tony Beadle's rather scruffy '49? 4-door shoebox Ford. This had a really nicely dressed, multi carb'd Flathead motor that Tony and Don Beadle had built. That motor looked and sounded the dogs! We felt the 200 ish mile round trip well worth just to see and hear this. Different times huh!
I was present at the 1965 BHRA AGM at Hednesford Hills Raceway when the news of a permanent strip that was to be called Santa Pod was announced. I consider myself fortunate in being able to attend a very damp, Easter 1966 inaugural meeting at Santa Pod. I was thrilled to also be present both weekends of the US Commando Drag Team visit, later the same year.
Jumping on a little, the meet that really blew me away, as it did many others, was the event where we witnessed the fantastic show put on by the Funny Cars of Don Schumacher and Paula Murphy in 1973. A spectacle I'll never forget and thrill never equalled.In September 1967 I became BHRA Staffordshire Area rep, which led to me meeting a lot of local rodders and racers, some who became friends for life.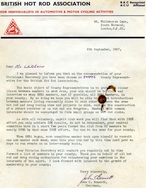 Letter from John Bennett
In 1970 I bought a stock Ford Pilot with a trashed trans for around £20, putting the word out for a replacement, I was told that the workshop foreman at our local Ford dealers had some kind of old race car for sale, which might have a suitable unit in. As it happened, I knew the guy but didn't realise he was a racer, though not drag racing. This was an old hill climb car that had been run at least one drag meet by a previous owner. Ken Cooper thought it may be the 'Clanger Special', but wasn't sure, I bought it for £15. Some years later Nick Pettitt confirmed it was indeed the 'Clanger Special'.
The car was Allard based with an Ardun headed motor and floor shift 3 speed trans. I did a deal with KC, he fitted the trans in my pilot and he got the motor and suspension. KC sold the heads to a Swede, but as there was no interest in this stuff back then, the suspension ended up going for scrap.
| | | |
| --- | --- | --- |
| The Clanger Special - unknown photographer | Receipt for the Clanger Special | Trans from the Clanger Special went in Tony's Pilot |
Part 2

With close friend the late Mel Price, cousin Charlie Sutton and his friend 'Bruce' Turner, known as 'The Syndicate', Tony built a Pop called 'The Nail' with welding carried out by Ken Cooper. Learning as they went, the car came out first in July 1971 at Santa Pod Raceway, and ran until the end of 1972. The team then bought the rear section of Alan Blount and Dave West's Weekend Warrior, adding to this a Ford Flathead engine and parts from other racers. Continuing to use the same name, Tony bought the others out, completed the car as a rolling chassis and then sold it on. The Weekend Warrior III never saw the track in Tony's hands, but parts of it still live on in the Wild Bunch as Rob and Pete Brown's Wrathchild.

I'm guessing around June 1970, along with three friends we decided to build a budget Ford Pop Altered. We called ourselves 'The Syndicate' and the guys involved with me were my close friend, the late Mel Price, my cousin Charlie Sutton and his friend 'Bruce' Turner. Bruce isn't his real Christian name and none of us ever knew what his real name was. We paid £12 for the base car, the most I ever paid for a Pop and also the roughest. I drove it home.

As the finished car was a little rough and ready, we thought calling it 'The Nail' very fitting. Though we'd all messed around with cars and motorcycles, none of us had any formal training in motor mechanics or engineering, or work experience in those areas. I feel it's very important to state that this was never my car, but was down to the efforts of and belonged to the four of us.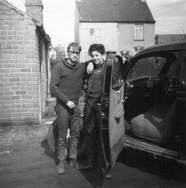 Mel Price & Charlie Sutton, rear of 1 Union St, Chasetown 1965
We started the build under my carport, as the car was too tall to fit through my garage door. The plan was to wait until the summer arrived, well a bit like this year, it was a little late. With the wind whistling through, it was bloody freezing under there. Eventually we convinced Mel to let us move the operation into his small, but very cosy garage. Not a popular move with his Mrs. His garage initially had no power, but as Charlie was an NCB electrician, no problem.
The power was only good for lighting as we had no welder, none of us could weld anyway. We also had no access to an electric drill of any kind until the car was almost ready to run. Apart from stuff done at Ken Cooper's and bits done at the NCB workshops where Charlie and Bruce worked, every hole was drilled with a hand drill. KC did all our welding via marking it up and taking it over for the welding process. Painfully slow, as we all did like to chat! We bought a stock 997cc motor and trans from a 105E and rear end off a 15cwt Thames van and got KC to fit them. Front end and steering were stock and KC lightened the beam axle with plenty of holes.
Wheels were stock for the axle they were fitted to. For some reason we saw putting in a floor with the necessary transmission tunnel as a challenge, so we decided to go with a raised floor to avoid the need for any welding. We built a framework using bolt together Dexion (handy angle). All the aluminium sheeting used was obtained from a scrap yard, being used originally in the printing industry and mostly having graphics or writing on, it was very cheap.
The driver's seat was the original with the base cut down. We fitted a hand operated lever rather than a footbrake; it was easier to fit and I found it much easier to use. A very last-minute item became a pain for us. The rules called for a secondary form of braking; we'd run out of time. So, KC suggested as he was not running at the time, we use the parachute off his rail. Bruce had a friend called Moz who worked at a factory that made saucepans amongst other things. He got the aluminium fuel tank that was mounted up front made using two saucepans welded together. Initially we ran the motor as is, stock carb and all.
| | |
| --- | --- |
| Coming down the fire-up road | First time out at Santa Pod 18/07/1971 |
I really wish I had a way of establishing just how many events we did but there's no way. to find out. I just know we did that always problematic, towing to the Pod quite a few times. We towed with Mel's MkII Zodiac, which was great, but an un-sprung caravan chassis with no proper way of securing a vehicle, just wasn't the way to go. We took it to a practice day at Santa Pod on July 18th 1971, setting the strip alight that day with a best ET of 21 seconds. I don't think we needed the chute which we'd borrowed from Ken Cooper in lieu of a secondary brake, but we were pleased.
| | |
| --- | --- |
| first run | Getting quicker |
Ken Cooper was keen for us to try running on methanol using a flathead V8 type carb, which we did on a hopeless, home-made manifold that was supplied by the previously mentioned Moz, who wanted in. Following KC's instructions, we'd now gone to a pressurised fuel system, using the original mechanical fuel pump to pressurise it. We were running methanol and struggling big time as we seemingly couldn't get enough fuel in it due to the log diameter being way too big. The hand lever for the brakes made it easier to drive off the line and I would side-step the clutch with loads of revs. It would leap off the line then slowly die a death and struggle the quarter at a snail's pace.
It was then spruced up with a Rootes Electric Blue paint job arranged by Gary Price, Mel's brother, who worked at a garage. They wheeled it in one day when the foreman had gone for his tea and was out before he got back. As KC needed his chute back, we needed to sort the secondary brake out. We fitted a mini handbrake and ran cables to the original levers on the rear brakes. The system barely worked being short of leverage.
On at least two occasions we had hassle with Captain Tom Hales at scrutineering. I recall at least one occasion when Tom was seated in the car, one or more of the guys stuck their foot in front of a rear wheel, then at a later meeting he inevitably sussed us out. He put me in the car and moved everyone clear but the pushers. No way Jose. In the end we added longer levers to the brake back plates and sorted it, just about.
| | | |
| --- | --- | --- |
| Looking good in Rootes Electric Blue | Lightened front axle was Ken Cooper's handiwork | Raised floor and hand lever for brakes |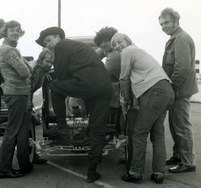 Left to Right: The guy in the glasses is Garry Price, Mel Price's young brother. Then Tony, the good-looking guy with beard. KC in what back then was his trademark, black Stetson. Tony's cousin Charlie Sutton (the only one working!). Bruce Turner, also known as 'Snowy' and Billy Beard who was a friend and workmate of Charlie and Bruce. The only actual 'Syndicate' members pictured being Tony, Charlie and Bruce
We attended a meet on September 12th at Santa Pod and then we took it to the NDRC meet at North Luffenham on the weekend of September 25/26th 1971. We had a two-car convoy and the support car got us to pull over somewhere around the Leicester outskirts. One of the trailer (old caravan chassis) wheels was on the wobble. On inspection, to our horror, we could see the inner tube poking through around a six-inch slot where the rim was rotted through and it had parted! Remarkable for us, we had a spare, which we soon fitted. North Luffenham was a great place, loads of room and beautiful smooth tarmac pits. The bonus was great sunny weather.
After push starting and approaching the start line the steering got on an horrendous shake. Obviously, we were told we couldn't run until we sorted it out. One of our team members, not a 'Syndicate' member, went off on one and almost got us thrown out. The upshot was that the very same team member had got the kingpin bushes reamed at his work and they were a drop in fit, not interference. Grease was the fix; we hadn't got a gun but a call out on the PA soon got us one. I think we got two runs in but I have no idea how they went. We were still persevering with running methanol re the previously mentioned set up, which never worked correctly, so the runs would be crap.
| | |
| --- | --- |
| Another improvement | Not quite into the teens |
As I recall, when we first ran the car the only other Comp Altered in our class was Rick Fielding's 'Imagination', he was later joined by 'Pony Express' run by Bruce Eggleton and Ron Billbury. Initially, when we were running the stock setup on petrol, I don't think either of them ran much better than us, but Rick soon got his act together. I believe I crossed the line ahead of the other car once, at least! I know we didn't run the car many times, but regarding not being listed in the programme, which apparently, we're not, late entries typically weren't and that'd be our style.
I do recall running at a very high-profile Santa Pod meet, maybe an international event. We were jerked around regarding when we were to run, like now, not now, now. We were running methanol and when we were eventually called up, the whole of the induction was iced up and the thing didn't want to start. We did get it going and put in another blistering performance, lol. Yes, I'm kidding. I was told afterwards the announcer was calling it 'the car with no engine' as with the setback, it was hidden by the bodywork.
| | |
| --- | --- |
| Rick Fielding's Imagination Brian Sparrow pic | Bruce Eggleton and Ron Billbury's Pony Express Brian Sparrow pic |
We then decided we wanted a dragster, so in 1972 'The Nail' was retired. Charlie and I financed a garage at his mom's place. We bought a sectional concrete job with extra panels and with the help of loads of friends laid a base and threw it up in no time. I think it was around 12 ft wide and 25 foot long, dragster size, lol.
As Mel had been good enough to let us use his garage for 'The Nail', we gave it to him. Eventually he sold it to someone who reckoned they had plans to use it for hillclimbs. Made no sense to us. Many years later I was told that some guy who had been to a house in the Bloxwich (West Mids) area to do some work had seen it sitting in a garage there. I tried to get more info but the trail went cold.
| | |
| --- | --- |
| Weekend Warrior III Brian Sutton pic | The Weekend Warrior team went on to build Mouse Organ Dave Eady pic |
Through Ken Cooper, then Bootsie we ended up buying the rear section of Weekend Warrior III early 1972 from Alan Blount and his almost always ignored, equal partner, Dave West. They had cut the front rails off at the firewall to use on their new twin engined dragster 'Mouse Organ'. This was again, not my car, but belonged to 'The Syndicate'. Only just prior to selling did it become wholly mine.
We bought the cockpit, from the firewall back, complete with all body panels. Also, the narrowed, disc braked Jaguar rear end and steering column and maybe steering box. Along with the metalwork Alan and Dave gave us their blessing to use the 'Weekend Warrior' name as they had no plans to use it again.
| | | |
| --- | --- | --- |
| Charlie Sutton holds up the top panel before it got Nitromors'd | The Syndicate made up some new front rails | Austin Westminster back axle |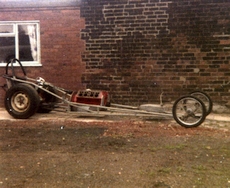 This is as far as it got before being sold to Brian Gleadow
By September we had made up some new front rails and as the Jaguar item was too narrow leaving very little room in the car we used a narrowed Austin Westminster back axle. Given the finances this car could well have been Chevy powered again, but lack of funds and a smooth-talking KC it was going the Flathead route. Sadly, as it was coming together, life started getting in the way for us all, I ended up buying out the other guys and working alone to make it into a roller that I thought sellable.
It was set-up for a flathead and BW35 autobox. The rear axle location point was moved rearwards and it had an ex-Benbow-Fullerton front axle and Harold Bull hubs. KC had made up a VW torsion bar front end. This was as far as it got before being sold to Brian Gleadow in August 1974. Remarkably, what this car has morphed into is still being run today as 'Wrathchild' by the Brown Brothers!
Sometime around Winter 1972 I bought an Oldsmobile F85 Cutlass off a friend and wanted a small Mr Gasket air cleaner for it. At the time I was driving a road tanker for a living and got around the country a fair bit, at the earliest opportunity I dropped in the fledgling John Woolfe Racing to pick one up. At that time the business was operating from a filling station in Ampthill and I was actually served by Dave Riswick himself! In April 1973 I joined the NDRC.
Through my work at the transmission repair business, I got to know and, in some cases, involved with many rodders and drag racers. Staying with drag racing, some who come to mind are, Brian Richardson, Mick Cheley, Steve Bingham, Sam Connell, Dave Grady, Tony Froome, Rob Hunt, Pete Hollingsworth, Tim Hines, Brian Huxley, the Clifton brothers, Roy Wilding, Tom Laffey, Stu Bradbury, Geoff Hauser, Dave Warne and Barry Sheavills.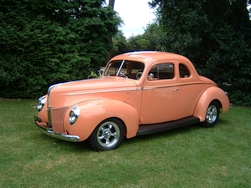 Tony's last rod - a Chevy powered '40 Ford Standard Coupe
I would like to say Ken Cooper has done so much to help and support me over many years. I owe him a lot.
Though I still retained an interest in drag racing, my involvement moved to the American car scene and later onto street rodding. My wife Gloria is also an enthusiast, we've attended and enjoyed many drag races, American car meets and rod runs over the years together.
Our last rod was a Chevy powered '40 Ford Standard Coupe that we sold in 2011 after 9 years of fun.
---
Gallery: click on any thumbnail for a large image.

Feature ©Eurodragster.com

Back to blog index

Back to News page


---