Geoff and Norman Barrett, Roger Horn and Mike Cornelius - The Liquidator


As told exclusively to

The Liquidator is one of those memorable cars from the early days of UK drag racing that people still talk about. It had a great name and the roof chop gave it a very striking appearance. Built by Geoff and Norman Barrett, Roger Horn and Mick Cornelius, who all came from the Luton and Dunstable area.
Geoff Barrett...
I was born in Dunstable and moved to the village of Ivinghoe, and then back to Dunstable at seventeen years of age due to dad's health. I started as an apprentice at AC Delco finishing up as a maintenance fitter.
Late 1965 after watching the American drag teams at the 1964 – 65 Dragfests, Mick Cornelius, Roger Horn and myself decided to get involved in drag racing and the decision was made to build a Jag engined Anglia. Based in Dunstable we bought the Anglia locally from a friend of a friend for I believe £1. We towed it to our rented garage to remove the running gear and clean up the chassis (wire brush, no pressure washer or power tools here!)
Next, we bought a complete 1953 Jaguar Mark 7 through Exchange and Mart, in London for £3, and towed to Dunstable to remove the engine, trans. and instruments. We didn't strip the engine down and ran it pretty much as it came out of the scrap yard. I do not know how we did all this with no lifting gear! We then decided to use a Ford Thames van rear axle because it had a better ratio for drag racing and we kept the Mark 7 Jag gearbox.
I did all the welding, oxy acetylene in those days, and we decided to chop the top. Time consuming with lots of cutting and welding, but I think it came out well. This was done with hacksaws, welding and filling. Painting, for a few beers, was done in a painting booth, by a friend of Roger Horn and Mick Cornelius did the sign writing. It took about 9- 12 months to build the car and the total build cost was £20.
The name The Liquidator came about because of a spy spoof movie of that name which was out in 1966 and the lettering style on the car is very similar to the lettering on The Liquidator film posters. In fact, at the request of a cinema in Luton we put the car in their foyer for the week of the movie, after they had seen a picture of the car in a local Luton newspaper.
| | |
| --- | --- |
| Named after the movie | First time out. Ron Fisher pic |
| | |
| --- | --- |
| Look no firewall! Ron Fisher pic | It got a mention in the race report |
Our first meeting was the 1966 August Championships Meet. I used my 1956 Fairlane Victoria to tow the car with a fixed bar and when we came to a hump-back bridge in Newport Pagnell I slowed down and the rear passenger wheel came off The Liquidator and overtook me! Our fault, as we obviously didn't tighten the nuts. Fortunately, there were no pedestrians there! We just hadn't had the time to finish it, and arrived at Santa Pod without a firewall in the car. We knew we could not run but we just wanted to get the car to the track.
| | | |
| --- | --- | --- |
| The Team, left to right, Roger, Mike and Geoff | Geoff's '56 Fairlane on the right. Brian Sparrow pic | A wet day at the Drags. Brian Sparrow pic |
| | |
| --- | --- |
| A four-inch block above the front spring got the nose in the air. Brian Sparrow pic | Brian Sparrow pic |
At the next meet with a firewall fitted we broke the diff on our first run realizing that when we bought the diff we had no oil, and I suppose the damage was already done. We replaced the diff and ran at the last meet of the year in October where it rained. We were certainly down on power compared to Wild Thing, but in the wet, because of our almost mid-engine placement we had more traction.
| | |
| --- | --- |
| | Blasting through the puddles at the top end |
| | | |
| --- | --- | --- |
| It made the cover of DR&HR | DR&HR feature | DR&HR feature |
I emigrated to Canada in November 1966. My brother Norman took over my place and fitted a 292-312 Ford engine, but had problems.
In Canada I worked for the GM engine plant in Ontario. I later bought an ex-drag raced 1966 street 426 Hemi Belvedere, rubber floor mats, no power steering, nor power brakes and drum brakes all around. I drove this across Canada to British Columbia (over 3000 miles). I bought my first house near Victoria (Vancouver Island). I have followed drag racing and tractor pulling here. During this time, I owned a variety of cars including a 1973 Hemi-Cuda, Pantera, 1974 Bricklin, 4 Corvettes, a Dodge Viper GTS (which I owned for 9 years) and many others. I loved Cadillac's too!
| | |
| --- | --- |
| Geoff in Canada | With his Fordson tractor |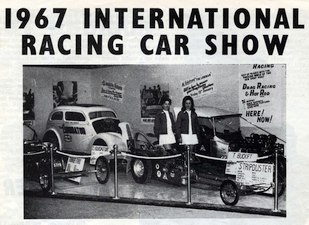 At Olympia; Liquidator's only appearance in 1967
Now at 80 years of age I drive a Kia! I now live 15 miles from Victoria on Vancouver Island and spend my spare time restoring vintage tractors and also enjoy restoring my seven Atco mowers on our half acre. I have a Fordson tractor, a 1925 model which has the Model T engine developing 20HP. The Model A came out in 1927-28. This model tractor was made between 1917-28 and has a 4.1 litre engine developing 20HP @ 1000RPM. I have owned it for about 40years, however it is not easy to hand crank for an over 80-year-old! Now, every few months I remove the plugs, pour in some oil, and turn it over a few times. Possibly I will sell it over the next few years. At 80 years of age the Fordson is getting tough to start......just like me!
Norman Barrett...
After Geoff emigrated to Canada, I took his place in the team and carried on running Liquidator from 1967 onwards. In 1967 myself, Mick and Roger decided to replace the Jag engine with a 292 inch Ford Y Block. This must have taken all of 1967 and a lot of 1968 because we didn't run the car until October 1968 and again in November 1968.
I will need to rack my brains to recall more about this period and details such as what gearbox we used. Roger Horn drove the car for the two meetings at Santa Pod in 1968. We didn't enter the car for any more race meetings after that and the car was eventually sold, the details of how and when this happened, I can't recall at present.
| | | |
| --- | --- | --- |
| Back out in 1968 with 292 Ford power | Four SU carbs | Race report |
Since then, I and my wife Denise went into business providing electrical and mechanical services and in fact retired quite recently. Outside of work I have become involved in classic cars and currently own a 1977 Daimler Double Six 2 door coupe (see gallery) which is my pride and joy and which I take to many classic car shows. Denise has been involved in equestrian events and has a stud business with small ponies.
Our racing partners Mike Cornelius and Roger Horn have sadly passed now. I haven't kept up to date with drag racing but look back on my time with fond memories.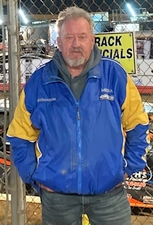 Rick Young.
Rick Young - the kid that helped out on The Liquidator...
Here's my story... During the mid-sixties I was a teenage school kid living in Dunstable, Bedfordshire. Me and my mates were all into racing, and my Mum & Dad used to regularly take me to the Stock Car Racing at Brafield, and on the odd occasion to Santa Pod for the Drag Races. Santa Pod was very primitive back in 1966, we only went a couple of times because it wasn't as exciting as the stock cars.
The mid-sixties were a cool time and dragsters seemed cool things for a young kid. I had a morning paper round, and a girl in my class at school, who lived on the route, told me that some guys used to work on The Liquidator dragster just down the road from her place. She said they were there every Monday night. Well, that was it; I pedalled my bike to the house on Ridgeway Drive, to get a look. I asked the three guys there, Chick (Norman), Mike and Roger if I could have a look.
To cut a long story short, I ended up joining them every Monday, watching and helping if I could. That would have been the winter of 1967/68. At this point the Jaguar engine had been taken out and they were waiting to fit a V8. They picked up a Ford, possibly a Thunderbird and it was squeezed under the hood. Instead of fitting a regular carburettor, a home-made manifold was constructed to take four SU carbs.
| | |
| --- | --- |
| Rick got a few snaps with his Woolworths camera | |
| | |
| --- | --- |
| Ed Roth style drawing | With the engine further forward a flat dash was possible |
It was about ready to go by October, and although the engine had not been tested, they decided to take it to Santa Pod to get things sorted before the season ended. We set off from Dunstable early Sunday morning with the race car being towed on a solid bar behind Chick's black Standard Vanguard, while Mike sat inside and steered for the duration of the journey. If I recall correctly there was a problem getting the engine running and there were a few things the scrutineer wasn't happy about, so it never raced that day.
I still continued to go round on Monday nights until mid-way through 1969. The garage they rented belonged to an elderly lady, and they all lived in the Dunstable area. I never knew where they lived exactly, I just saw them on Monday nights, so when they stopped turning up, I was at a loss to what happened. As for Geoff, I only met him once when he returned to the UK from Canada for a holiday. Coincidentally I moved to Canada in 1994 and have lived here ever since.
Liquidator Postscript - by Herb Andrews...
How many Liquidators were there?' that's a question that's come up before but to answer that here's a potted history... Over the years there have been three unrelated British built Pops called Liquidator. The first appeared in 1966, powered by a Jag Straight Six and with a roof chop. It was owned and built by the Barrett, Horn and Cornelius team. It returned to the track in 1968, powered by a 292 Ford V8.
I bought the car in 1976 from a Luton scrapyard after answering an advert in Exchange and Mart. It still had the 292 in it with four SU carbs and I took it to Blackbushe but had problems and didn't run the car. Then in 1977 I sold it to a group of guys from Essex but can't remember their names.
What happened to the car from 1968 to 1976 and after I sold it in 1977 is a bit of a mystery. Any information on this would be greatly appreciated. If anyone does know, please email Eurodragster with what they know or contacts that can be followed up.
There were two other Liquidators...
The 2nd Liquidator, initially called The Mob, debuted at Blackbushe with Chrysler V8 power in April 1975 run by Glen Searle and Tony Merry from Essex. It had a similar roof chop and was renamed Liquidator at the next meeting. Sadly at the end of 1975 it rolled when a rear axle failed at Santa Pod and was written off.
| | | |
| --- | --- | --- |
| The Mob at Blackbushe. John Hunt pic | Psychedelic painted Liquidator | The end of the 2nd Liquidator. Gary Morgan pic |
The 3rd was originally Tony and John Dickson's Good Vibrations which they sold to Tony Merry who renamed it Liquidator. From Tony it went to Pete Goddard and then in 1983 to Des Taylor who renamed it Revell Rebel. It then went to Shaun Wilson who put it on the street in 1987.
| | | |
| --- | --- | --- |
| The 3rd Liquidator | Revell Rebel | On the Street |
Conclusion...
The first Liquidator absolutely deserves its own place in UK drag racing history. It had a bold look with the roof chop, a great paint job and brilliant contemporary name. It was also a well-engineered car, done on a budget and just as important it was built by four guys inspired by seeing American dragsters that came to these shores in the 1960s, hats off to them!!
---
Gallery: click on any thumbnail for a large image.

Feature ©Eurodragster.com

Back to pioneers index

Back to News page


---