Ford Anglias of Yesteryear - John Fullerton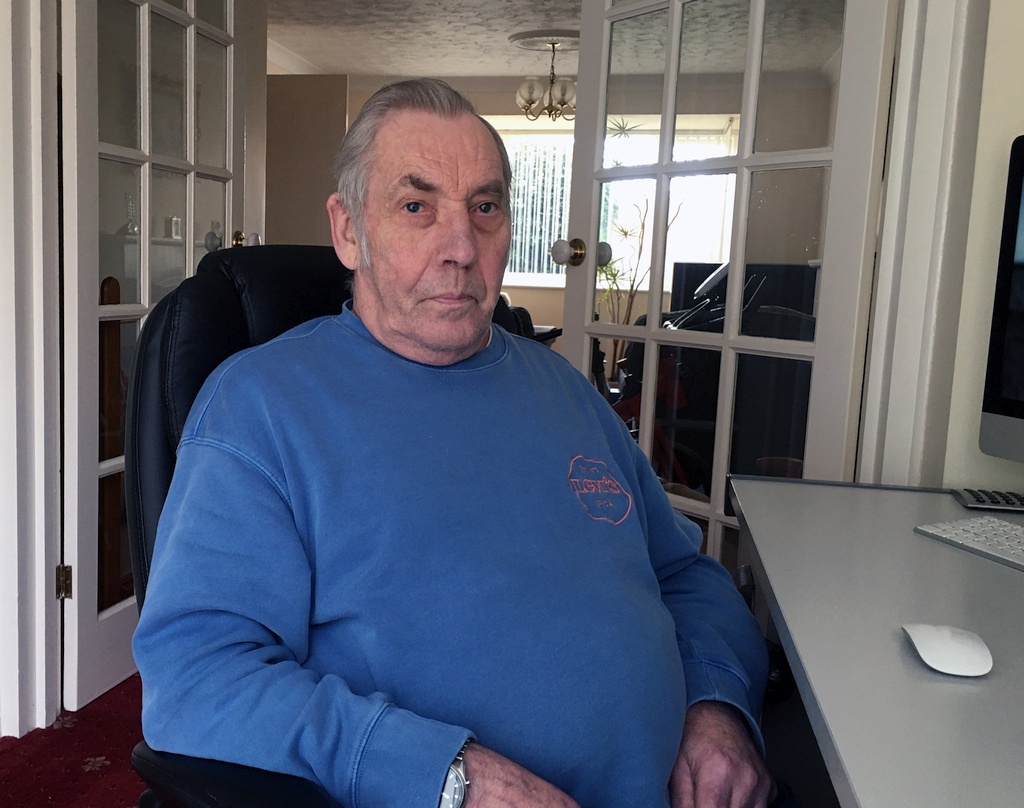 As told exclusively to

Preface: John Fullerton attended the 1964 Drag Festival and using skills acquired from his day job, built with partner Derek Benbow a Ford Pop called Orange Crate which came out in 1967. They then bought a turtle T body from Geoff Jago and built Turtle T, running it from 1968 through 1969, then rebuilding it for 1970. After selling the rolling chassis to the Stones family who renamed it Tee Rat, John and Derek then built an injected nitro slingshot dragster, running it until 1973 following which it was sold to Tony Froome who ran it as Nitromania.
Eurodragster.com thanks John for providing his story and John Hunt and Nick Pettitt for help with editing and proof reading the feature and making archive images available.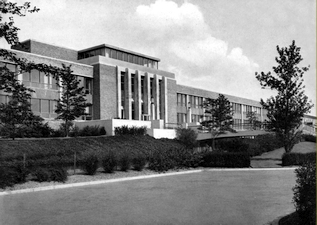 Cincinnati Milling Machine Company Birmingham 1960s
I was born in 1944, now aged 77. I went to Grammar school, in Sutton Coldfield where I've lived most of my life, I now live in Tamworth. I left school at 16 and went straight into an apprenticeship with one of the biggest machine tool companies in the world at the time, Cincinnati Milling Machine Company, working my way upwards. This was where I met my partner to be in drag racing, Derek Benbow. He's a couple of years younger than me and we worked together equally on the cars sharing the successes and failures.
| | |
| --- | --- |
| KS Pitman's Willys. Brian Sparrow pic | George Montgomery leaves the line at the Drag Festival. Brian Sparrow pic |
My inspiration for drag racing came from attending all six events of the 1964 International Drag Festival which started and finished at Blackbushe. My dad took me to them and they were all just brilliant. I was influenced especially by the gassers of George Montgomery and KS Pitman. The 1933 Willys coupe is still my favourite car in the world, a superb hot rod.
As a kid my dad had an interest in motorsport but it tended to be more motorbike related, grass tracking and hill climbs. The Saturday treat was going to Birmingham speedway. As a little kid then I used to come home as black as a coal miner. In those days they were black shale tracks and because I was little, I used to go down by the fence. All good fun and it gave me the inspiration to do something competitive but at that time I'd not even heard of drag racing. It wasn't until I saw the Americans compete at the Drag Festivals that I realised this was a sport I could afford to do at some level and was an exhilarating thing to be a part of.
I subscribed to Hot Rod, Car Craft and Popular Hot Rodding magazines, collecting thousands of them and throwing them all away later in life to make space in the house. It's one of the biggest regrets I have.
I went to college during my apprenticeship doing a lot of studying together with the practical side. What I learnt at Cincinnati's stood me in good stead for building cars and stuff that followed later in my life. I could turn, use milling and grinding machines, weld and a multitude of other tasks as well. Close tolerance work on machine tools lent itself in many ways to building engines etc, it was all mechanical engineering. All my working life was in the machine tool trade earning a living but I always worked on cars as a hobby. It's always been a non-profit making hobby, a case of bring it round and I'll do it, that's how I've always worked. I had great fun and really enjoyed it. Starting off with our first car was a challenging task as we'd not tackled anything like it before in our lives.
Derek and I had permission from the Managing Director to use the machines at Cincinnati during the 90 minutes between the day and night shifts, when the machines were available. He would come and see what we were making. On one occasion we were narrowing a rear axle and he took great interest in everything we did. It was so important to have these facilities to use.
| | |
| --- | --- |
| Orange Crate takes on The Vindicator Jag powered Standard Vanguard. John Smith pic | Chromed engine and orange paint looked good in the sun. Ron Fisher pic |
Our first car was called Orange Crate. We used an Oldsmobile V8 in a Ford Popular. We bought the Ford Pop from an elderly lady in Sutton Coldfield and completely gutted out the car. We had a problem finding a V8 engine but the Formula 1 stock car lads had them in abundance. One lad lived in Mere Green and had a 303 Oldsmobile mostly complete and a Chrysler Hemi of unknown capacity. Being naive and not having done our homework we choose the Oldsmobile engine for completeness, realising later that we made the wrong choice because the Chrysler would have been the way to go. We got the Oldsmobile up and running with a Ford 3 speed manual gearbox and Westminster rear axle. It worked and went but the performance didn't live up to expectations, the build quality wasn't good enough. Other teams were using tube chassis, we used the original one and it just didn't look as professional.
| | |
| --- | --- |
| in the wet against Ray Elliot's XK150. Keith Stacey pic | On the trailer. Unknown photog |
We debuted Orange Crate at Santa Pod September 24th 1967 and ran it for the rest of the season but it was too heavy, running 16 second ETs. It should have had a tube chassis and there were a lot of other things we wanted to change. After all the work and effort building it, we decided to scrap it and build a lighter car. We sold the engine back to a Formula 1 stock car racer.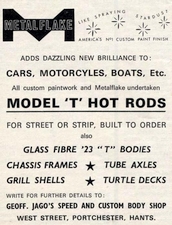 Geoff Jago ad
We then bought a 322 Buick engine and a three speed Cadillac Lasalle gearbox from Pete Atkins at Watford Motor Accessories. We were going to build a Model T Altered, and got the first fibreglass turtle deck Model T that Geoff Jago made, collecting it from him in Porchester. The downside was that the body was originally built for a street rod; it was full width. We did use it but ended up running it like that for only 12 to 18 months, it really was too wide. We built a new tube chassis and used a solid mounted Chevy rear end. Front axle was an Allan Herridge built chromed straight tube mounted on a transverse leaf spring with Mini shocks and Ford 100E wheels. The Buick engine was kept quite standard apart from a Lucas magneto and WRA Engineering solid lifter camshaft and adjustable pushrods.

First version of Turtle T complete with Jago T turtle deck body.
Brian Sparrow pic




One of Allan Herridge's straight tube axles.
Brian Sparrow pic




Large seat looked very comfy.
Brian Sparrow pic

We called it Turtle T and had it ready for the October 6th 1968 meeting at Santa Pod, running it till the end of the year.
We then decided to develop Turtle T further and built version two with a new stronger chassis and made cut outs in the body to clear the 12.95 x 15 Goodyear racing tyres supplied by Pete Atkins. Pete also ran a T Altered but didn't use a turtle deck, he just had a box on the back.

Turtle T version two. Keith Stacey pic



They both drove the T; on this occasion it was Derek's turn.
Ken Robbins pic



Derek blasts past. Ken Robbins pic



At Woodvale 1969. Andy Brough pic

Video links: Santa Pod 1969... Woodvale 1969...
We ran it for most of 1969 at Santa Pod becoming runner up in Top Competition against Dennis Priddle driving the Whistler at the May 4th meeting and collected £7.10s winnings. We were also runner up at the June 15th meet against Dave Collis in Opus One and in August, we took it to the 'on tour' meet at Woodvale. Our best times for 1969 were 11.89 at 117mph.

British Drag Racing & Hot Rod
magazine feature



British Drag Racing & Hot Rod
magazine feature



British Drag Racing & Hot Rod
magazine centre spread

Then we decided to update it again building version three for 1970. The body was narrowed by taking out about 12 inches through the centre then re-joined and we built a stronger roll cage. The Buick came out and we fitted a Pontiac motor. I spent a lot of money on the Pontiac. Over bored 3/16th, new camshaft and fuel injection. It now looked the part like a proper Altered and we renamed it Tee Total.
| | | |
| --- | --- | --- |
| Version three, renamed Tee Total. Brian Sparrow pic | With narrowed body and injected Pontiac power. Brian Sparrow pic | Pulling a hole shot on the Caddy powered Hot Dog Pop. Martyn Babb pic |
We debuted Tee Total at Santa Pod in September 1970 continuing into 1971 when we also took it to North Luffenham and Elvington. We were running high tens at 135mph and took it as far as we thought we could go with it.
We then had the inclination to build a Dragster and at that time felt Altereds were on the demise and Dragsters were becoming more plentiful, so felt that was the way to go.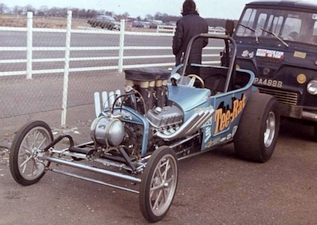 The Stones' Tee Rat. Ken Robbins pic
We sold Tee Total as a rolling chassis to Dave and Dennis Stone who ran it as Tee Rat with injected big block Chevy power. Now, one thing I want to make perfectly clear, all the successes that the Stones had with it were their own efforts, nothing to do with me. I'm not trying to take any claim for any success they had with that car. I'm glad that they did what they did with it but that was them and not me.
The Formula 1 stockcar lad in Sutton mentioned earlier will be familiar to you, it was Tony Froome who was my brother-in-law for a while as I married his sister, which didn't last.
We really enjoyed building the Dragster. It was great fun and our best effort so far, winning awards such as the best engineered car. Both Derek and myself took equal pleasure out of both driving the car and building it. There's a lot of enjoyment in doing something well then looking at it thinking that really looks the part.
| | |
| --- | --- |
| The dragster never had a name. Unknown photog | Wide slicks provided a good place to watch the Drags. Brian Sparrow pic |
One mistake we made with the Dragster was having direct drive, it didn't have enough power and it also had pretty hefty slicks, probably another mistake. Having said that, a 2-speed gearbox would have been enough, ideally an automatic. Once you got it off the line it would go for ever, it was fantastic but it did bog down off the line if you weren't careful. We used a chassis drawing from an American magazine to build the chassis. We bought a new flywheel, twin plate clutch, and a narrowed 9-inch Ford rear axle. We did use Nitro which made it go a bit quicker but we didn't know enough about how best to use it.
| | | |
| --- | --- | --- |
| Injected Poncho. Pete Blake pic | Getting ready for another run. Unknown photog | From Santa Pod Pictorial No.1 |
We ran the dragster throughout 1973 visiting Wroughton, HMS Daedalus, Blackbushe, Long Marston and Santa Pod where we ran a 10.43 at 143mph.
We alternated between driving with all our cars. Our first two cars were built in a lockup garage while the dragster was built at my parents.
It got to the point where we had limited funds. We didn't win any championships as we never completed a full season. Parts breakages invariably meant missed meetings to save the money to buy replacement parts. It would take us a week to prep the car then back on the trailer and away again. At that time Derek wanted to join the Merchant Navy which left me on my own and my work was taking me more and more overseas. I was at the time a director of an engineering factory trying to build the business up which we did quite successfully but most of the business came out of the Far East, particularly China. I could spend 11 months a year out of the country.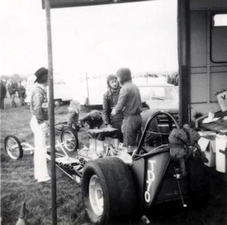 Tony Froome's Nitromania 1974. Nick Pettitt pic
That's when I sold the car to Tony Froome who ran it as Nitromania. In the end the air miles got to me ending up with thrombosis, having to do far less traveling. Now that I'm retired, I miss traveling and not going to work. I miss the comradery and it's also a good reason to get up in the morning. People would knock on my door asking me to look at their car or lawn mower engine which kept me occupied. I still have all my tools and equipment.
I really enjoyed my time building, racing and being involved with Drag Racing. One time towing to Santa Pod, going through Northampton, it was about 11am and it was market day and very busy. We'd stopped at a set of lights and as they started to change, I went to pull away. I looked in my mirror to see this woman straddling the A frame of the trailer with a shopping bag in both hands. Thinking good God, love you nearly ended up at Santa Pod.
We did win occasionally and had our moments of glory. We competed to a level we felt we could afford. I'm still interested now and thanks to Pete and Rob Brown who also live in Tamworth. It kicked me into life, I got caught up in their enthusiasm which became infectious.
Derek was a good guy to work with, a clever engineer and we stayed together right up until we stopped racing and sold the dragster to Tony Froome. He worked with me at our factory. I went away on one of my long trips, to find when I got back, he'd left and I've never seen him since. I'd like to meet up with him again but have found it very hard to track him down.
I was told by someone with some authority that the Pontiac engine which had all the money spent on it ended up in one of Barry Sheavills' cars. (Barry has since confirmed that it was)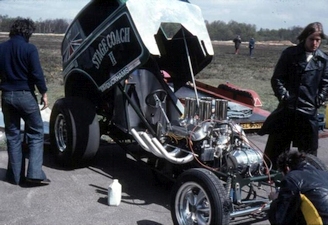 Barry Sheavills' Stagecoach II 1977.
Andy Craddock pic
I last went to Santa Pod two years ago to Dragstalgia and periodically go to an FIA meeting having taken my wife who really enjoys it. She's been circuit racing and now says that's boring. I have also taken a lot of friends for their first experience of Drag Racing and say you'll never forget this. Top Fuel Dragsters are just stunning to see and hear. They would ask me why I didn't use ear plugs, I said it's like watching a strip show with a blind fold on. I can relate to a piece I read recently; every time you hear a Top Fuel Dragster fire up it's like hearing it for the first time.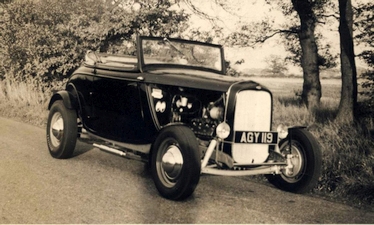 Ken Cooper's Hot Rod. Ken Cooper pic
When I was still at school, I didn't know it then, but Ken Cooper lived very close to my family home. He worked at a garage close by. I think he was only in his early teens and would drive past our house on a regular basis. In my opinion Ken would probably have been one of the first, if not the first Hot Rodder in the UK. He had a Hot Rod then that probably had a Flathead V8 out of a Ford Pilot or something. He continued and persevered with the Flathead engine and became really famous doing it. I notice he has been recognised by the Hall of Fame for his years of service as a Drag Racer. I spoke to him by phone fairly recently. His son Bradley I've never met but he seems to have taken over from where Ken left off.
Competition record of John Fullerton and Derek Benbow, compiled by Clive Rooms:
1967: 24th September, Orange Crate, not entered in the programme, but made its debut. See scans.
1968: 6th October, B/CA16 Derek Benbow, Ford T, Buick 5278cc (This was its debut, see scan); 3rd November, B/CA16 Derek Benbow, Ford T, Buick 5278cc,
1969: 27th April, B/CA12 John Fullerton, Model T Ford, 5280cc;
4th May, B/CA12 John Fullerton, Model T Ford, 5280cc (Derek was also entered as B/CA12 and he was runner up to Dennis Priddle in Top Competition. Derek won £7.10s);
25th/26th May, B/CA12 John Fullerton, Model T Ford 5280cc (Derek was also entered as B/CA12), Derek was a 1st round loser in Top Competition and won £4;
15th June, Derek not entered in programme but in official results as runner up to Dave Collis in Top Comp.
1970: 27th September, B/CA (no number) Derek Benbow, Tee Total, Pontiac 6800cc, he ran a best of 10.95/135;
11th October, B/CA (no number) Derek Benbow, Tee Total, Pontiac 6800cc.
1971: 22nd/23rd May 22/23 Nth Luffenham B/CA19 John Fullerton, Tee Total, Pontiac 6800cc;
30th/31st May SPR, not entered in programme, Derek made it to the final of Top Comp but lost to Pete Smith with a quicker 10.9/134.
1973: 19th August, Blackbushe B/D26 D Benbow, 6800cc;
9th September, Long Marston B/D20 D Benbow, Pontiac 6800cc;
15th/16th September, SPR, not entered in programme but running in eliminations, ran 10.43/14.3.
All Santa Pod Raceway unless stated.
---
Gallery: click on any thumbnail for a large image.

Feature ©Eurodragster.com

Back to pioneers index

Back to News page


---