Surrey Drag Racing Pioneers - Bill Haynes


As told exclusively to

Preface: Bill Haynes raced at Santa Pod Raceway, Blackbushe and Wroughton between 1966 and 1977, running a series of dragsters. During his racing years Bill collaborated with, or raced alongside, other Surrey based drag racers Tony Anderson, Richard Jarman, Derek Metcalf, Jim Rowat and Martin Rowat, mechanic John Smith, Keith Stacey and, from Essex, Mick Wheeler - Surrey Drag Racing Pioneers. Many thanks to Bill for telling his story to Eurodragster.com and to John Hunt for transcribing it and arranging for delivery of Bill's photo collection.
Eurodragster.com thanks Bill for providing his story and John Hunt and Nick Pettitt for help with editing and proof reading the feature and making archive images available.

Part 1 - Konkerer and Quarter Horse.

I was born on July 5th 1946 in Banbury hospitals, Oxfordshire, my parents living in local Bodicote. So am 74 now. Moving to Godalming in 1950, I am now retired and living in Stoke on trent with my wife Aquillinah of 4 plus years.

I first saw drag racing at the 1965 Dragfest at Blackbushe Airport, this followed the very first and most successful 1964 Dragfest. I went with lifelong buddy Keith Stacey. I decided there and then I wanted my own dragster. I had planned with a co-worker, to build one with a Ford Flathead V8 engine in 1965. When this did not happen I decided to build one for myself. Before then, Keith Stacey and I went to our first race meeting, April 11th 1966, at Santa Pod Raceway, the first ever meeting at the UK's first permanent drag strip, finding the raceway by following the Wild Thing race car. We went to most of the events held that year. I believe it was in 1966 Keith and I raced his Morris Minor taking it in turns, a full account of that event will appear in Keith's story.

Morris Minor raced in turn by Keith and Bill
John Smith photo


Konkerer frame by Bill's lockup
John Smith photo


Konkerer with engine mounted
John Smith photo
During 1966 we started building our own dragster in a garage without power or lighting, installing a Ford Anglia 997cc engine with Wal Phillips motorcycle fuel injectors and rear axle I brought from Alan Herridge. Another good friend Richard Jarman painted the body panels in Rolls Royce dark red. John Smith was a great help to me with the building the dragster. It was signwritten using gold leaf and named Konkerer.

Konkerer, minus body panels
John Smith photo


Showing narrow rear tyres
John Smith photo


Konkerer's engine, showing Wal Phillips motorcycle injectors
John Smith photo
During this period Keith and I met Pam and Derek Metcalfe. Unknown to us they had just moved into the Cranleigh area. Seeing their dragster in the driveaway, we stopped to call in and introduce ourselves. Derek remembers it very well. Derek had raced his dragster at the 1964 and 65 Dragfests.

Our first outing with Konkerer was at Santa Pod, May 5th 1968. We spent our first day trying to start the engine, eventually getting it started with Derek's help using his van battery strapped to the top of the gearbox rails.(what does health and safety mean?) I raced in a fire suit of aluminised asbestos sewn together by my Mother. We raced at another seven events all at Santa Pod from June to November 1968. I decided then to build my next dragster for 1969.

Konkerer launches at SPR 1968
John Smith photo


John Smith photo Bill with Konkerer in pits



Working on Konkerer in the pits
Bill Haynes collection
Keith would later race his first front engine dragster with a blown Ford 3 litre V6 engine, called Whisky Peddler. This dragster, originally owned by Tony Anderson, was called Trouble. Richard Jarman would go on to own his first front engine dragster from Derek Metcalf, his last dragster which he raced in 1969, with a Ford 2 litre, V4 Supercharged, fuel injected engine, called Strip Star.

During the end of 1968 into 1969, having acquired a new front engine chassis built by Harold Bull for a second time (correcting a ¼ inch out from his first build), I installed the same engine from Konkerer, with two Wal Phillips motorcycle fuel injectors, magneto ignition, with a narrowed BMC axle. The upholstery was done by another friend and motorcycle competitor, Jeff Mussell. The dragster was again painted in red by Richard and named Quarter Horse.

I debuted Quarter Horse at Santa Pod Raceway May 4th 1969, competition number GD1. I put the dragster on show at the National Sports Drivers Championships at Aldershot Lido on May 17th, before our second event on May 24th/25th. At the July 5th/6th Summer Spectacular meet organized by the BDR & HRA, I was runner up, receiving £1.10 shillings. I increased the engine capacity by an overbore from 997cc to 1034 cc before attending the Autumn Match Race meet, August 2nd/3rd at Santa Pod. I also raced August 16th/17th at RAF Woodvale, September 1st at Santa Pod, and September 28th at Hullavington, Our last event that year was at Santa Pod on Oct 5th 1969.

Quarter Horse view from front
Ron Fisher photo



Quarter Horse in Santa Pod pits 1969
Ron Fisher photo



Quarter Horse in Santa Pod pits 1969, alongside Walt Ithell's Aggravation

During the winter of 1969 I again increased the engine capacity to 1409cc by crank and rods from a three main bearing 1340 Ford Corsair/Capri engine. In 1970 I joined up with Barry Green, he had been a startline marshall at Santa Pod. He acquired sponsorship for us from Truman Brewery, also Major Tyre and Auto Services of Wellington, Surrey, where we displayed the dragster in their showroom during January.

Our first 1970 meeting with Quarter Horse, now competition number HD10, was at Santa Pod on April 12th. Then on April 19th, I came runner up to Brian Parkin in Tri-Keele, but with no timing ticket. At Martlesham Heath May 4th, I won the non-qualifiers race with a time of 13.60 receiving £10. I attended Santa Pod on May 24th, June 14th then July 12th, when I won middle dragster, 13.33, 95mph beating John Rotherham's Avanti dragster. I also ran at the NDRC Blackbushe meeting on June 7th and the NDRC Auto Club 66 event at Elvington August 9th, where we were runner up to Steve Collins with 13.93. I was the first dragster driver to race a motorcycle, best of three. It was one all when bad light stopped the racing, can't remember who against. Our last meeting that year was on 30th/ 31st August. The dragster was also at the Custom Car Show in Crystal Palace on January 9th and 10th 1971. I was working away at Lincoln, but managed to attend the show at the weekend.

During April 1971 Quarter Horse was on show at Gosport, prior to the BDR & HRA's first on-tour meeting, April 25th at HMS Daedalus Navy base. Barry and I were interviewed by the BBC South TV, unfortunately we didn't see it when aired. Our first event with Quarter Horse, now competition number F/D2 was at Santa Pod on May 16th 1971. We made another increase in engine capacity to 1478cc before attending Santa Pod June 27th. We also attended the King George V Hospital Fete, Godalming which was local to me, in June. In July we displayed the dragster at Ipswich Stock car stadium driving it around the track. before attending the August 8th meeting at Blackbushe.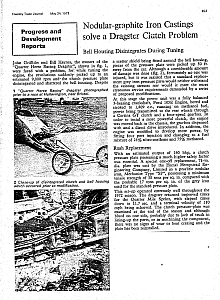 Article for Foundry Trade Journal
about clutch materials
We tried some nitromethane in the tank at just one event with not much success. I was then stopped in Guildford by the Police after dropping off the dragster and team members. He spotted four whisky bottles, which had the mixed fuel for the right tank capacity ready. The policeman said someone was going to have a good time, to which I replied, not on that stuff. Asking what it was, I said nitro, putting down the bottle carefully as he quickly disappeared.
In 1971 I attended the events at Santa Pod on September 12th and October 10th, in between these, racing at RAF North Luffenham on September 25th/26th. Towards the end of 1971 we were tuning the engine at Santa Pod when the revs increased and the clutch exploded, pieces of which hurt Barry badly, in a delicate place. Another team member, John Griffith knew of Hemel Hempstead Engineering Co Ltd who forged a new high pressure pad, solving the problem.
On our way back from Santa Pod, not sure when, we stopped at Barry's parent's pub in Stratford London. While drinking, we noticed through the window two police officers looking at the dragster. We'd parked on double yellows, thinking we might get a ticket, so we rushed out to find two very interested policemen looking at the dragster, then when I asked them, declining a road race with their patrol car.
At one meeting in 1971, I'm not sure which now, we had major engine problems over the whole weekend. Rebuilding the engine each night at Barry's grandparents' house in Rushden near Santa Pod. Barry managed to find another block from a local garage which we then rebuilt in the pits, just in time for us still to compete. We replaced the big end bearings, although we had to make the shims required from coke cans. Wynns were very generous, supplying us with the oil additive from their trade stand. We won the up to 4 litre class, being rewarded by the club with £40. Unknown to us, we had been filmed by local TV rebuilding the engine, which was a mark of the club's appreciation of our efforts.
| | | | |
| --- | --- | --- | --- |
| MG brochure, Quarter Horse in background | MG brochure, Quarter Horse in background | Mirabelle teen mag photos from 1972 | Mirabelle teen mag photos from 1972 |
On to 1972, our first two events with Quarter Horse was Santa Pod April 16th and May 28th/29th. The dragster was featured in the Mirabelle teen magazine on June 3rd, on the start line alongside Gerry Cookson. We also attended Santa Pod on June 11th and 25th and August 5th-6th. During this time the dragster appeared in two shots in an M.G.Midget full colour brochure. Seeing the photographers were at the event, we pushed the dragster into the shots, which paid off, getting Truman Brewery, our sponsor's name, in photos. Our last two events that year were at Santa Pod, September 23rd/24th and October 8th. Our best time for the year was 11.72 @ 110mph. I retired Quarter Horse at the end of 1972, not knowing what happened to it.
---
Part 2 - Quarter Horse II and III.
Quarter Horse II was built in 1973. I don't remember who made the chassis. It was a front engine dragster with longer wheelbase and a Ford V8 Mustang 289 cubic inch injected engine. Towards the end of the year, Geoff Masters and I were offered the chance to run the first ever Dutch dragster, the Flying Dutchman of Ronald Van Kuyk, which had been left at Santa Pod. We planned to run all three dragsters, Geoff's (The Worden), The Flying Dutchman and Quarter Horse. Unfortunately this did not happen and the Flying Dutchman was disassembled. We didn't attend any events in 1973.
We brought out Quarter Horse II in 1974. Our first event was at Santa Pod, August 25th/26th, having a real problem getting the engine to run. Myself, Keith Stacey in Whiskey Peddler and Richard Jarman in Strip Star, entered Silverstone on 14th/15th September, I was a non-qualifier, still having the engine problem; it would fire up then cut out. This was only solved at Snetterton on 29th September, the first event held there, with help from Mike Hall, who ran the Shutdown Comp Altered. It was a fuel line valve the wrong way round.
| | | |
| --- | --- | --- |
| Quarter Horse II with Ford 289 engine | Quarter Horse II repainted for 1975 | At a show, the car available for seating in by youngsters |
About the same time I joined the Surrey Street Rodders, run then by Tony Allen. Later on I became the dragster representative on the committee. At one of the club's evenings in a nightclub at Guildford, I put the dragster on display. At the end of the evening I brought the dragster out through the front door (being the only entrance). With the dragster on the pavement, while waiting for the trailer to arrive the police turned up, once again only interested in looking at the dragster. This turned out to be another fairly uneventful year for me and the team.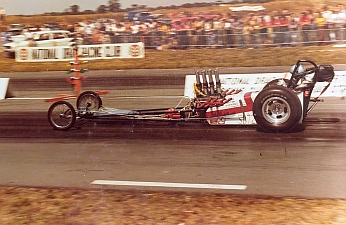 Quarter Horse II at Snetterton
Our first 1975 outing with Quarter Horse II, competition number SD72, was the season opener at Santa Pod on March 9th. We also ran 30th/31st March, May 11th (winning Senior Dragster), then 24th-26th May and June 14th/15th at Wroughton. On June 20th we attended the Fleet & District Carnival at Rushmoor Arena, Farnborough, Hants, showing the dragster as part of the Surrey Street Rodders display. Then it was Snetterton 20th July and Santa Pod on July 27th where I was runner up to my buddy Keith Stacey - he ran 10.34 @135.87mph in his Whisky Peddler front engine dragster. We ran at Blackbushe on 17th August then at Santa Pod 23rd-25th August. At Snetterton on September 6th/7th, I was the only senior dragster entered and raced a best of three with the Page brothers comp altered Panic, losing all three but winning the senior dragster class, being the only one entered. The last 1975 meetings for us were Santa Pod on September 20th/21st and 28th. Late in September I was interviewed by a reporter from the local paper the Surrey Advertiser. Much to my surprise, going to buy my copy, when I walked into the newsagents, the top center front page main picture was me with the dragster. I don't remember much of the car's performance in 1975.
Tony Anderson built a chassis for me at the end of 1975, this time a rear engine dragster using the running gear from Quarter Horse II, but increasing the engine size to 4799cc using liners as the block was thin walled. With unfinished bodywork and unpainted, our first meeting with Quarter Horse III was Santa Pod's Big Go 29th-31st May 1976 with a new team, Paddy Parker, Roy and Michael Bishop. Then Santa Pod Supernationals August 28th/29th 1976, which was rained out before the eliminations.-
Our first event in 1977 was Santa Pod's Season Opener on March 20th. Then April 11th/12th, I won the Competition 2 bracket with a 10.69. (I was not a fan of bracket racing) Then we went to the Spring Smokers meet at Blackbushe April 24th. At Santa Pod April 30th-May 31st, I lost to Russ Carpenter (a long time friend) in the semi finals. At Snetterton May 15th, in senior dragster, I lost to John Gibbons in the final, 9.86@137mph. Our remaining events were at Wroughton on June 19th, Snetterton on September 11th, and Santa Pod on September 17th/18th. Our final meeting of the year was at Santa Pod for the Winternationals October 15th/16th, where I was beaten by Russ in the final. Unfortunately I blew the engine breaking the block and piston although it all held together. This was our last meeting; although only needing the correct sized pistons, I was unable to complete the repairs, due to business at ARE motor factors. After a while Quarter Horse III was sold to Alan Fuller who was planning to fit a Daimler engine to be supplied by Russ Carpenter.
| | | |
| --- | --- | --- |
| Unpainted Quarter Horse III at SPR | Fully bodied and painted Quarter Horse III | Quarter Horse III in SPR pits |
My best time and speed with Quarter Horse lll was 9.2 at 150 mph, although I had a ticket from Pod with a speed of 167, which was very doubtful.
There are several memories over the years although I'm not sure of the dates. At Blackbushe in one event I qualified 2nd and was drawn against Geoff Masters in the Worden dragster who qualified 1st. We objected to no avail, and I lost.
Another time I broke my steering at 110 mph causing the dragster to veer off the track, but managed to stop safely.
Then in Quarter Horse ll, my boss who was my main sponsor came to see me race for the first and only time. It was a wet day, he was in the push car and, as the engine fired, I hit a puddle, aquaplaning into the fence, knocking off the front axle. Blackbushe was not lucky for me.
At Santa Pod, a friend and I once took my Father's new Ford Escort, still under warranty. We were bored, so after emptying out the car, draining out most of the radiator, pumping up the front tyre's, letting down the rears I raced Dad's car, reaching the final against a Mini Cooper S which disappeared down the track. When collecting what I thought was my runner up money, I was rewarded with the winner's money as he'd pulled a red light.
Once during a bracket race against Richard Jarman in Strip Star and sandbagging in fear of breaking out, as I thought I was so far ahead of him, I then saw him roaring past me just before the finish line.
On a practice day in 1969, Alan Herridge borrowed our van for his push car, we all piled in the back. Pushing his own dragster, as the engine started it backfired covering the whole van in a huge sheet of flame.
Another time I borrowed my crew mate's car using an inexperienced push car driver who banged into the back of Quarter Horse breaking the car's radiator. We spent most of the day trying to fix it to drive home, then breaking down en route. Russ Carpenter had earlier offered to return if we needed a tow, while waiting for Russ's return, Peter Billinton brought us all out fish and chips. I got back to my place of work in Guildford after a hairy drive at speed with Russ, arriving in time for breakfast before going straight to work. What a brilliant guy Russ is!
As an afterward, in 1979 Keith and I went on holiday to Canada to see friends. The four of us went to the 25th Indy Nationals, watching all the top teams of the day including Don Garlits driving one of his early front engine dragsters.
---
Gallery: click on any thumbnail for a large image.

Feature ©Eurodragster.com

Back to blog index

Back to News page


---