Surrey Drag Racing Pioneers - John Smith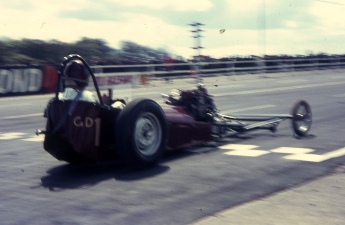 As told exclusively to

Preface:
John Smith was a schoolfriend of Surrey drag racing pioneer Keith Stacey, later getting to know Bill Haynes and Richard Jarman. Being mechanically minded, John helped Bill to build and run his first two cars Konkerer and Quarter Horse, also taking up trackside photography at Santa Pod Raceway. John met other early UK drag racers including Derek Metcalf, and spent time helping Tony Anderson's More Trouble Daimler-engined dragster team at his workshop and at the track, also later giving Keith Stacey assistance in running his Whiskey Peddlar, the former Trouble slingshot.
John has kindly given permission for us to publish his photo collection taken at Santa Pod Raceway between 1967 and 1971 which can be seen at this page.
---
I knew Keith Stacey as we both lived in the same village, Farncombe in Surrey, although we were at different 'Senior' Schools. Having left school, I became reacquainted with Keith in 1966 and he introduced me to Bill Haynes and the subject of drag racing came up. Keith and Bill told me of their visit to the Blackbushe Airport Drag Fest the year before (1965) and also that they had been to Santa Pod Raceway in Northampton to watch drag racing. Bill also said that he was trying to build a dragster of his own to race.
At about the same time that I had met up with Keith and Bill, I was also going to see blues bands at venues in Guildford and Godalming. Through another friend, Martin King who had a panel beating and paint spay business in Clandon, I was introduced to Richard Jarman, who worked for Martin, and we all went to a gig in Cranleigh, I believe Richard drove us there.

Bill Haynes' Konkerer
John Smith photo


Bill Haynes' Konkerer
John Smith photo
As Richard also had a great interest in cars, he was at that time restoring an Austin Healey 3 litre in the workshop at Clandon, I introduced him to Keith and Bill. I also went to Santa Pod with Keith and Bill in 1966 and, having the bug, I began to help Bill with the building of his car when he asked if I could help him go and collect the first chassis that he had built in Guildford. We loaded it into the back of a van Bill had acquired and took it to a lock-up garage in Farncombe that did not have any power, lighting or heating. Every hole for the bolts to hold the rear axle, engine mounts etc. had to be drilled out by using hand drills. The seat was made from plywood that we shaped to fit the frame using steam from an old kettle heated on a small spirit cooker.

Bill Haynes' Konkerer
John Smith photo


Bill Haynes' Konkerer
John Smith photo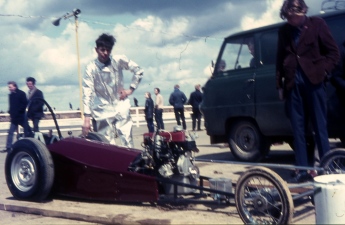 Bill Haynes' Konkerer
John Smith photo
Bill named this car Konkerer, it had a 997cc Ford Anglia engine and shortened rear axle that Bill bought from Allan Herridge. When finished, the body work was painted in rolls Royce Regal Red by Richard Jarman and we used gold coloured lettering for the name.
Whilst helping to build the car throughout 1966 and 1967 I began to start taking photographs at Santa Pod, first with an old 'box brownie 127' in 1966. When we went back to Santa Pod in 1967 I had by now acquired a Halina 35mm camera and Stu Bradbury let me get close to the start line with the 'official' photographers and I ended up with a nice collection of photographs and slides.

Keith Sales in Megalomania, chute trailing, vs Pete Mylrea in Stagecoach
John Smith photo


American Commando Drag Team's Barracuda
John Smith photo

Derek Metcalf (hands on hips) and Mick Wheeler next to him, Pam Metcalf driving the push car to start Harold Bull in Strip Duster.
John Smith photo


Gerry Cookson vs Derek Metcalf
John Smith photo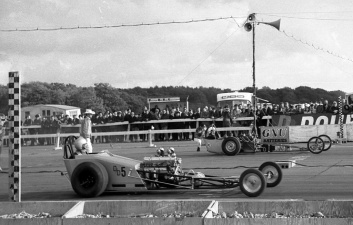 Reg Sommers' straight six powered MAB slingshot against Derek Metcalf.
John Smith photo
It was also during this period that we got to know Pam and Derek Metcalf who had moved to Bramley, just outside Guildford, and at that time raced the 2 litre Triumph powered dragster 'Wombat'. We finished 'Konkerer' in time to start the 1968 season at Santa Pod but had not been able to test it. So at the first meeting we took it to, early in 1968, we spent most of the first day trying to get the engine to fire up. This we eventually did with the help of Derek Metcalf.
Among other problems we encountered during 1968 in keeping the engine together was the fact that cam followers kept breaking. At one meeting where this happened, it was witnessed by Alan Allard or Alan Ing, who then gave us a set of cam followers produced by 'Ford Sport' as well as other useful information about tuning the Ford engine.

Keith Stacey's Minor RWYBing.
John Smith photo


...and more
John Smith photo
I had not passed my driving test in 1968 but Bill was still happy for me to use his van to push drive Konkerer to start it at meetings. Although I do remember one occasion, when the fire up lane was supposed to be for push cars and dragsters only, whilst I was manoeuvring the van to get behind Bill who was steering Konkerer to push start it, the driver of a very low road going sports car decided to jump the start lane queue and got close behind the van as I was reversing to get behind Bill and I just caught the front wing of sports car before I realised it was even there. After a bit of a barney I told the guy to just get it fixed and let me know the cost so that we could work it out. A few meetings later I saw that the sports car had been fixed and found out that the repairs had been done by Allan Herridge. I found Allan and asked how much I owed for the repairs and he told me not to worry as it was really nothing to him. That's just the kind of guy Allan was.

Drag Racing and Hot Rod Sept 1968 on the Greatstone beach party. (1.7MB)
Drag Racing and Hot Rod


Drag Racing and Hot Oct 1968 on the Bursledon beach party. (1MB)
Drag Racing and Hot Rod
Among other memories of 1968 is that somehow Bill had found out about a car show at some outside location at Bursledon near Southampton, so we loaded Konkerer into Bill's van early on a Saturday morning and went to Bursledon where the car did attract quite a bit of interest. I think that we slept in the van Saturday night and went off to Portsmouth for the day on the Sunday complete with Konkerer in the back of the van. Another memory of the summer of 1968 is that we attended a Drag Racing weekend show/beach party event on the beach at Greatstone near New Romney in Kent. This was a very well attended event by the racers including Pam and Derek Metcalf, Harold Bull as well as a host of others. It was a really hot weekend and I remember Keith, Bill and I chasing Harold's mechanic friend, who had a false leg, down the beach to the sea.

1969 Bill Haynes' Quarter Horse.
John Smith photo
During 1968 Bill decided to start building a new car for 1969 and ordered a new chassis from Harold Bull who had also built the chassis for Derek Metcalf's car 'Strip Star' which came out in 1968. I helped Bill throughout the 1968 season and also with the new 1969 car named 'Quarter Horse' During 1967 and 1968 seasons of going to Santa Pod as I also had an interest in bike racing I became vaguely acquainted with Alf Hagon and found out that he had a shop in Leytonstone in east London, where he also repaired and sold bikes. When Bill wanted some Duraluminium to make the clutch shield and firewall for Quarter Horse, I phoned Hagon's shop and they said that they were happy to sell us some so, as I worked in the City, I got a Tube to Leytonstone and collected it. I looked a bit out of place there, in my work suit and tie.
Having passed my driving test and acquiring my first car, a 1957 Hillman Minx, I had a tow bar fitted and Bill and I took the front bumper off and replaced it with a lump of wood with a thin piece of steel plate as a 'face' so that I could use the car as the push car for the 1969 season. Bill managed to borrow a motorcycle trailer from his boss and we used to lash planks of wood to it so that we could load Quarter Horse onto it.
Quarter Horse had the same engine that had been in Konkerer with a few modifications such as fuel injection, which I believe was also made for Bill by Harold Bull, and magneto ignition. I think that also the original shortened Jaguar rear axle that was in Konkerer was replaced with a much lighter one.
I think it was towards the end of the 1968 season but also during the 1969 season that we got to know Barry Green, he had some connection with Bardahl oil and used to get it for us as 'sponsorship'. As well as attending meetings at Santa Pod and other venues we all went to Greatstone again in 1969 it was a bigger event this time. Also in 1969 Richard had finished the Healey and in August of that year we went on holiday to a caravan park in Clacton that I arranged for us. We had enough of Clacton after a week and drove home.

Alan Blount's Weekend Warrior slingshot.
John Smith photo


1970 Richard Jarman's Strip Star.
John Smith photo
By this time I was going out with Jill and she had mentioned that her cousin lived in Wellingborough and that her husband was involved in drag racing but could not remember the name of the car. This turned out to be David West who was the mechanic for Alan Blount's car 'Weekend Warrior'. Jill and I used to stay with them in Wellingborough when we went to Santa Pod in the latter part of 1969 and the early part of 1970. By this time Jill and I had decided to get married so I stopped helping with Quarter Horse and Barry Green joined up with Bill. When Jill and I got married in September 1970, as well as being an usher along with Keith, Bill and Barry provided the 'disco' for our reception. After the reception Richard took us to Heathrow Airport in the Mk2 Jaguar he had bought from John Coombes' garage in Guildford.
Jill and I then moved away from Surrey for a period but in 1972 we managed to get our house in Horsell, Woking and moved in September 1972. Having reconnected with Keith, Richard, Bill, also Tony Anderson I remember that they all came over for a bonfire/firework party in the November of 1972. Keith became a regular visitor and we also used to visit Tony in his garage/workshop over at Worplesdon. I remember going with Tony and Russ to Snetterton with the Daimler powered car, after arriving at Snetterton and unloading the car then Tony discovered that something had broken on the car, so Russ volunteered to drive all the way back to Surrey to pick up a replacement part. I also remember going with Tony and Russ when they took the Daimler powered car to the Goodwood Festival of Speed in 1972 or 73.
I think it was in 1973 that Keith started to drive Tony's previous car, 'Trouble' that he had sold to Gary Whitehead. Gary's wife would not let him drive it as she was scared of him crashing it. Eventually Gary got fed up with the situation and offered to sell the car to Keith who renamed it 'Whiskey Peddler' As Keith had nowhere to put the car I offered to help so I hired a lock up garage, again without any power, in Maybury Hill, Woking and we took the car there I believe in early 1974. Neither of us had a towing hitch fitted to our cars so I spoke with Martin King, who by now had moved his accident repair business to Cranleigh, and he kindly agreed to lend us his firm's van to use as a tow and push car.
I helped Keith with Whiskey Peddler throughout most of 1974. I remember at one meeting at Santa Pod we blew a head gasket. The gasket was especially made for the car by Walkers of Woking out of sheet copper, but without any water drainage holes that Tony originally had. To continue racing, having talked the problem over with Tony at the track I decided to try and make a replacement gasket out of sheet aluminium but where to get it from? I spoke to Stu Bradbury and asked if he knew of anywhere that I could get some sheet aluminium from in a hurry and he pointed to an old caravan that had been abandoned in the camping area and basically said help yourself. So armed with tin snips I did just that and cut out two gaskets which we put together with sealant to get near to the thickness of the broken copper one and put the engine back together. The repair held for the rest of our involvement in racing.
Once home I spoke to Walkers and they were able to make proper replacement head gaskets. Towards the end of 1974 the financial pressure of having a mortgage and trying to race became too much for me so I had to stop helping Keith, and Keith also had another friend Pete who was by now becoming more involved in the car. I still went to Santa Pod a few times as a spectator in 1975 but in June 1976 my daughter Helen was born followed by my son Nigel in 1979 so now had other responsibilities. Although Nigel was more into music than cars growing up I did take him to Santa Pod a few times in the mid 1990's. I also went to Santa Pod in 2001/2 with a work colleague who then introduced me to Paul Townsend who also had an interest in drag racing - in 2003 Paul was Team manager of the Purple Loans Top Fuel team with a car, owned by I believe Knut Soderquist, and driven by Smax Smith. My friend and I as well as my son Nigel were guests of Paul's at Santa Pod for the Easter 2003 meeting which was won by Smax.
It was amazing being in the pits of a Top Fuel car in 2003 watching the team work on the car between runs, so different to the 60's and 70's. I also went to Sweden with Paul and Smax that year, unfortunately Smax red lit I believe against Mikael Kågered. I couldn't make the Hockenheim meeting but I was at Santa Pod in September 2003 with my son Nigel for the FIA final that Smax won. I have not been back to Santa Pod since 2003 but I have a lot of great memories and also photos and slides. Feature ©Eurodragster.com

John Smith gallery of SPR pictures 1967-71

Back to pioneers index

Back to blog index

Back to News page


---