The 'Wild Thing' story by Brian Gibson part one

As told exclusively to

| | |
| --- | --- |
| Brian Gibson in 2021 | Bob Venison in 2021 |
Brian Gibson and Bob Venison got interested in hot rods and drag racing in the early 1960s and were inspired by the 1964 Dragfest to build a gasser. Learning as they went, the Jaguar-engined Wild Thing Ford Pop ran at Santa Pod in 1966 and 1967.

103 Squadron, that's Brian's dad circled
I was born in 1946, now 74 and have always lived around the South Harrow, Middlesex area. The interest in motor vehicles comes from my father. In his younger days he was a motorcyclist doing grass track racing pre-World War 2. He belonged to Ealing Motorcycle Club taking part in trials and also playing football on a motorcycle, not something I had seen before. He was in the RAF as ground crew working on Merlin engines in Lancasters, which is probably where I get my appreciation for all things mechanical.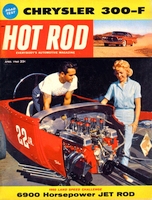 Brian picked up Hot rod Magazine in 1959/1960
We often saw American cars in the area of South Ruislip where there was a USAF airbase. I believe the service personnel were allowed to have their own vehicles brought over to the UK while serving here. When they returned home a lot of vehicles were left behind and stored in a car park on the base at Victoria Road. It was out of bounds to us enthusiasts and sadly the cars, left out in all weathers became derelict. I remember seeing an almighty Edsel sitting there parked up and being extremely jealous of it.
Several of the local newsagents stocked Hot Rod magazine, I think as a result of the US service personnel being there. This was my first exposure to hot rodding and I picked up the occasional copy in 1959/1960. I left school in 1962 age 16 starting an apprenticeship at EMI in Hayes using a motor scooter to commute. My best friend from school was Bob Venison and we were both interested in cars. We saw the Dragsters in Hot Rod which fired our enthusiasm. I didn't know much about Drag Racing until I saw them in the magazine and loved the fanatical detailing on them which really captured my enthusiasm for the subject.
Then in 1964 the International Drag Festival came to Blackbushe for the first of six rounds including Don Garlits and Tommy Ivo with their Top Fuel Dragsters along with other cars in different classes making up the US team. Bob and I went to Blackbushe for the first event and we were both blown away by what we saw. What totally captured our attention were the Willys Coupes of George Montgomery and K S Pitman.
| | |
| --- | --- |
| KS Pitman's Willys Coupe | George Montgomery's Willys Coupe |
We could relate to these more than the all-out Dragsters and saw many features in Hot Rod Magazine on what the Americans called Gas Coupes. They were often based on 'sit up and beg' Ford Anglias which we knew better in this country as the Ford Popular.
So, we decided we could do a home brewed version of an American Gas Coupe, even though I hadn't yet passed my driving test. There was no class for Gassers in the UK so we would be classed as an Altered. We had the raw material as Ford Populars were cheap and fairly easy to find. Bob got hold of a 1955 Ford Popular locally which cost £5 and then sold the engine and gearbox for £5!
Not being well heeled enough to afford an American V8, we settled on a Jaguar straight six engine. We were friendly with a couple of guys who raced F1 stock cars at Edgware and one of them got hold of a MK 7 Jaguar, which we broke up keeping the 3.4 litre engine, gearbox, rear axle and any other useful parts. We started out with the stock 3.4 litre engine but later added a ported C-type head and high lift cams. We also upgraded the SU carburettors from 1 3/4 inch to 2 inch venturi size.
We started construction in late 1964 or early 1965. We gutted out the car and I was interested in learning how to weld, so I brought some acetylene gas bottles and welding equipment. We did all the chassis modifications and alterations ourselves, building the car in a single garage at my parent's house in Malvern Avenue, South Harrow. Still living at home made it easy to work on the car at any time. Neither of us had any connection with the motor trade. I was an electronics engineer and Bob worked in the printing trade.
At first my dad was totally against it, he thought we were mad, risking our lives which could only end in disaster, but he quietly knuckled down and contributed to it helping us with the build and he also sprayed the metallic Royal Purple colour getting the paint from Trimite Paint in Uxbridge.
We were quite naive at the time and used articles in Hot Rod for reference, copying what we saw. Not having the knowledge to engineer the rear suspension we mounted the Jag axle solidly to the chassis. This was technically illegal according to the RAC rules which said all cars had to have full suspension and four-wheel brakes. An example was the Allard dragster which was built with front brakes but was given dispensation as a dragster to run without rear suspension. We fitted front brakes from a Ford 100E, again copying an example from an American magazine, but not long after the rule was dropped so we took them off. Rear brakes were stock Jag drums which we later replaced with smaller drums from an Armstrong Siddeley which used the same Sailsbury axle as the Jaguar. This was so we could replace the 16-inch wheels with 15-inch fitted with Goodyear Blue Streak 'Stock car specials' ex-NASCAR tyres.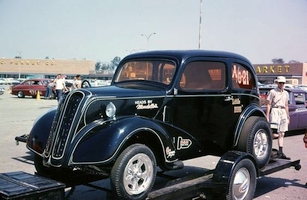 Little Hoss
One car in particular at that time I remember being featured in Hot Rod was Johnny Loper's 'Little Hoss', a Ford Anglia with an injected small block Chevy engine. We thought of calling our car 'Hemi Hoss' as the Jaguar engine was hemispherical, but we then decided on 'Wild Thing' inspired not by the Troggs record, but the later version by Jimmy Hedrix. I had the wacky idea to hand write the name on the doors and that's what we did. My first attempt at signwriting.
We were pleased at the time to have a British magazine called Drag Racing and Hot Rod. Our car was featured in the August 1966 issue and titled as being 'The First Altered'.
| | |
| --- | --- |
| Drag Racing and Hot Rod | Drag Racing and Hot Rod |
We missed the very first meeting at Santa Pod, debuting at the Whitsun Big Go in May and ran the rest of the season without rear suspension. Having to fit suspension was beyond our capability. We entered six meetings at Santa Pod in 1966. In June Bob ran a 15.78 and he won the eliminator in July. I also got an eliminator win at the October meet.
| | | |
| --- | --- | --- |
| Jag was a snug fit. Ken Robbins pic | Standard Vanguard push car. Ken Robbins pic | taking on Martin Hill's Oldsmobile powered Model A. Ken Robins pic |
In the early days the strip at Santa Pod was pretty bumpy and our car spent more time off the ground than on it at the top end of the strip. On one run with Bob driving, it was caught by a cross wind while off the ground and blown sideways. Bob's skilful driving put it back down on the straight and narrow. After the run scrutineer Captain Tom Hales came up to us and said the experiment was over and from now on all Altereds must have suspension due to the incident which to him looked very dangerous. It looked more spectacular than dangerous to me.
| | | |
| --- | --- | --- |
| Brian is in the hot seat here while Bob drives the Morris Minor push car | Anglia TV on the scaffolding catch the action as Wild Thing gets the jump on Alan Allard in the Dragoon Anglia. Brian Sutton pic | Brian made a good job of the signwriting, his first attempt. Ken Robbins pic |
Bob took it upon himself to start a campaign against the RAC to allow Altereds to run without rear suspension as they did in America, resulting in the RAC agreeing to keep the rules as they were in America at the time. The Gassers in America did have suspension as they were a production-based class whereas Altereds and Dragsters were pure competition.
| | | |
| --- | --- | --- |
| Lightening holes in the stock front axle. John Bennett pic | The Jag powered Model Y Juggernaut ahead off the line. Dave East pic | Wild Thing takes the lead. Dave East pic |
We used the unofficial name of The Rat Finks Drag Racing Team; I don't remember what triggered it off. We saw adverts in Hot Rod for Ed Roth Products, Ed was the home of the Rat Fink and we took a shine to all this. It was hard to import stuff then, we couldn't afford to anyway so we made our own hats. There was a stall in South Harrow market that sold government surplus stuff and we got some jungle hats. They were camouflage print and we painted Rat Fink on the front of them.
At St Martins Court in London there was a shop which sold American motor books and accessories. They had tee shirts in a pile and you had to buy the next one off the pile, you couldn't choose one. It turned out to be a Rat Fink Revenge, sticking pins into a toy. Being precious to me, I didn't wear it much and I still have it today. So, when we started racing, we called ourselves the Rat Finks Drag Racing Team but soon realised if we entered an event as a team, it cost a lot more than entering as an individual, so we stopped using it.
| | | |
| --- | --- | --- |
| The Rat Finks Drag Racing Team jacket and hat. Brian Sparrow pic | Brian leaning over the front of the car and Bob with his back to the camera. Brian Sparrow pic | A/E2 was Mark Stratton's Chevy powered BSA 'Scout Master' Brian Sparrow pic |
In 1967 we ran the car for eight meetings at Santa Pod. Our best times were 14.25 and 98.52mph, not quite reaching the ton. Then I had ambitions to step things up. We had acquired an 8mm cine film from Watford Motor Accessories featuring 'Pure Hell' a supercharged Chevy engined Austin Bantam bodied Altered. It was filmed both from outside and using an onboard camera. Back then it was a matter of spinning the wheels to get the revs up rather than using a slipper clutch. In the onboard shot you had smoke coming out of the cockpit in front of the driver which we found quite amusing.
Here's a link to the Pure Hell film...
I was really taken by this car and wanted to build a replica. A couple of others had built similar types of cars over here but for my money they were not as good as the real thing. We wanted to have a fiberglass replica Bantam with an injected Chevy engine.
| | | |
| --- | --- | --- |
| When people heard they were fitting a Jag engine they said it won't fit hence the writing on the bonnet | Rat Fink sticker on the window and rare XK140 badge on the boot | Timing tickets from 1967. Dean Gibson pic |
| | |
| --- | --- |
| Smoking off the line against the flathead powered 'Yellow Rod' John Smith pic | Brian's Mk 2 Zephyr push car. Brian Sparrow pic |
A few years back at Goodwood Festival of Speed some US Fuel Altereds came over, one being Pure Hell which nowadays has a blown Chrysler engine. I actually got to meet Rich Guasco, the owner, builder and tuner, he never drove it. I said to him his car had inspired me in the world of drag racing. At the end of 1967 Bob started to lose interest in 'Wild Thing' he was getting more interested in power boats and water skiing and pulled out. Although we went our different ways we would still stay in touch and remain good friends and still are today.
| | | |
| --- | --- | --- |
| Brian's good friend John Smith who used to help out crewing. Not the same John Smith who took some of these pics | 'Wild Thing' with For Sale on the window, taking on Bill McGrath in the Jag powered Triumph roadster 'Gloink' John Smith pic | a young Brian poses with the car |
Bob Venison adds...
Brian and I decided to build the car after attending the 1964 meeting at Blackbushe. We each drove it at alternate meetings commencing in May 1966. I only raced for two seasons and when the class capacity it ran in was changed from 3.5 to 4 litres it was clear things were going to get expensive. I was 23 and needed to buy a house so Brian bought me out and the rest is history.
I did continue attending meets at the Pod into the 70s but after being a competitor it was very different. I understand the car is still in existence on the south coast and is now a road car and I last saw Brian about 3 years ago. I'm not on social media but my son tells me the car crops up on Facebook now and again.
I'm sure Brian will have a lot more info to share after all he did the conversion to the Chevy motor and spent at least 10 times the figure we spent on A/D2, the original.
| | |
| --- | --- |
| Built by Bob's son for his 75th birthday | Bob posing for a photo taken by a national newspaper in 1966. He didn't normally wear a suit and his best Hush Puppies to adjust the carbs! |
Competition record of Brian Gibson and Bob Venison 1966-1967, compiled by Clive Rooms
1966: 29th May, Bob Venison driving; 4th/5th June, Bob Venison ran 15.78; 11th/12th June; 31st July, Bob Venison ran 15.95 and won the elimination; 28th/29th August; 2nd October, Brian Gibson ran 18.13 and won the elimination.
1967: 23rd April; 28th/29th May, Wild Thing had a half shaft failure; 17th/18th June; 24th/25th June; 23rd July; 27th/28th August, Brian lost in the first round on Sunday. Monday Bob Venison lost second round; 24th September; 22nd October;
---
Gallery: click on any thumbnail for a large image.

Feature ©Eurodragster.com

Back to pioneers index

Back to News page


---