The Gleadow family's story and history
- by brothers Brian, Mick and Bob. Part 3 - Model T, Funny Car and Top Alcohol Dragster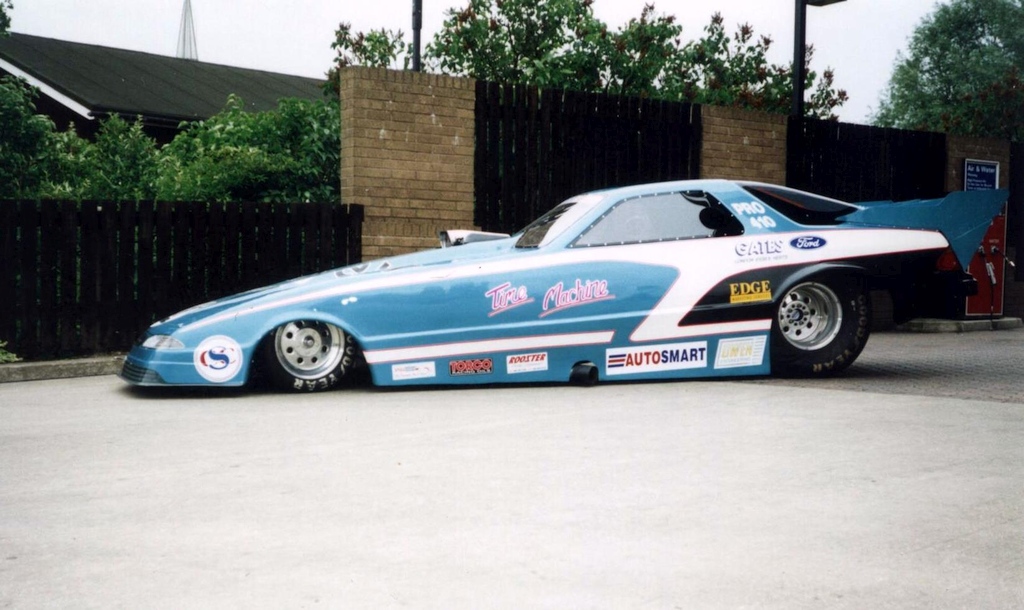 As told exclusively to

Introduction: In the mid-1980s, the brothers moved on to running a Ford 23T altered with their Rover V8, the body and chassis of which having origins from other UK racers. They combined forces with Steve Clarke, latterly of Nimbus Motorsports, the altered running quicker with his expertise. As a result, the team got sponsorship, making the trip to Hockenheim in 1989. The team progressed to their Time Machine Econo Funny Car in the early 1990s, for two years latterly running a Top Alcohol Dragster in the highly competitive Top Alcohol Championship with guidance from Dave Wilson.
In 1986 we were on the lookout for an Altered chassis in which to fit our Rover V8 engine. We wanted to build a Model T Altered and Bob knew John Spuffard had the chassis originally built by Dennis Priddle for the first Monza Funny Car which then became the Pages Panic altered. John also had Nobby Hills' Challenger Funny Car body which had been burnt in a fire in Sweden and he wanted it repainted. So, we agreed a deal; Bob gave the body to his apprentice saying this is your work experience to clean the body back to the fibreglass then repaint it, and we had the chassis. Ironically three weeks after John debuted the Challenger Funny Car it burnt to the ground in a top end fireball at the 1986 Summernationals!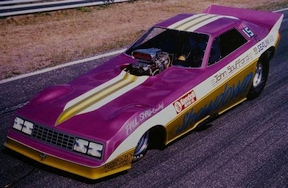 John Spuffard's Challenger
We got a T body from John Tebbutt and Nobby Hills also helped out as his workshops were at the end of Bob's road. Nobby fitted the Rover engine, transmission and built a new roll cage. Bob's bosses allowed us to keep the car and trailer at the garage where he worked. Bob painted it purple and we debuted at the 1987 Cannonball with Mick in the hot seat for some shakedown runs running arrow straight to 10.8, 10.7 and 10.6 seconds.
| | | |
| --- | --- | --- |
| Time Machine T Altered | Under the lights at Santa Pod | Mick takes on Steph Milam |
In 1988 Steve Clarke from the Frontline Video team volunteered himself onto our team and through his business Waltham Engineering, supplied a set of cylinder heads after we melted a set using the Nitrous Oxide. We had fitted a set of cast iron Buick heads after reading an article stating that they were easy to fit but in practice they were not. We improved the Nitrous system going from a plate system to port injection giving us 400 bhp. Steve continued pushing to see how much he could get from this set up. The Rover was on the ragged edge with the amount of nitrous we put into it and cost us a few pistons which thankfully we got welded up by Brian Thomas, of Paranoia fame. Running an MSD retard device and most importantly priming the fuel system before the run, kept the Rover alive.
| | | |
| --- | --- | --- |
| Mick manoeuvrers the T | Taking on Exile at the '88 Fireworks Meet | In Gates showroom, Woodford, Essex |
Bob and Mick went to see the Gator Nationals in 1989, doing a bit of shopping while there and coming back with front wheels and tyres, valve covers and other parts for the car. Bob then repainted it blue and white.
| | | |
| --- | --- | --- |
| Another great paint job by Bob | Taking on Giles and Hartley | Last version 1990 with spoiler and modified scoop |
Our first trip to Europe was Hockenheim 1989 which was funded by Gates, the car's sponsor and the Company Bob worked for as body shop manager at the Woodford branch. He also sat on the advertising agency committee for all the branches in the company. The guy who ran the agency was into drag racing and Gates paid us half the cost of the trip. We had a lot of coverage in the local papers always giving mention to Gates, our sponsors. We got £1000, a good amount of money then, which covered the cost of the trip and paid for us to stay in a hotel. We had an information sheet printed in German about the car and team after the lady in the petrol station next to Bob's workplace who was German translated it for us. The car went down extremely well with the race fans and we were acknowledged by them on our road journey back. We all agreed this was our best and most enjoyable experience of a full on drag racing event. From the start of our journey on Thursday taking everything we owned, arriving Friday and racing Saturday and Sunday. We did well, reaching the semi-finals in a 32-car field.
| | | |
| --- | --- | --- |
| Off to Hockenheim | Smart pit garages | Steve Clarke gets stuck in |
| In the lanes | Huge crowd | Against Urs Erbacher |
The following weekend was not so good when we went to Long Marston and blew up the engine! Best time for the T was a 9.20 at 141mph in 1989, achieving this with the help, support and knowledge from Steve Clarke. Mick learnt a lot from Steve who moved on after a better offer from Barry Sheavills to work on his TAD. We then detuned the car to run 9.80s reliably. In 1990 we sold the engine to a guy in Glasgow who put it into a Metro 6R4, meeting him on the A1 near Doncaster on a weekday evening.
| | |
| --- | --- |
| Mike Burt's Iron horse | Paul Manders' Time and Motion |
One day at Long Marston we sat the body of Mike Burt's 'Iron Horse' Mustang Funny Car on our chassis and thought that it looked really nice, so we bought it. The mistake we made then was we should have put a blown alcohol hemi in it, instead of the big block Ford engine that we used. We had tried to buy the 'Time and Motion' Funny Car from Paul Manders around the same time but he would not sell it. With Bob working for a Ford main dealer the Mustang body made sense. We went right through the 460 cu in Ford engine with a rebore, new rods and pistons opening it up to 480 cu in. We ran it in Pro ET running consistent 9s but got bored with the Mustang body which was very heavy and sold it.
| | | |
| --- | --- | --- |
| Mustang body fitted 1991 | At Avon Park Raceway | 480 cubes of Ford power |
| New paint job | Next to L&G Autos Accident Repair Centre, part of the Gates Group at Woodford | Mark Gredzinski pic |
Then we bought a Dodge Daytona body off the Chabiks which Alan Bates drove. We modified the body cutting much out of it from the screen forward making it look like a Ford Mondeo. This was done by Adam and Gavin at the bodyshop. All the fitting and engineering was done by Geoff Owen of Owen Engineering. The powerglide we used was breaking the tail shaft of the transmission but fitting a drive coupler fixed the problem and at the same time we fitted a Ford 9in rear axle. We fitted aluminium Ford Motorsports cylinder heads, alky injection system with a Bug Catcher making it look like a Funny Car.
| | |
| --- | --- |
| Swoopy Dodge Daytona body | At Woodford Bridge Service Station |
In 1992 and '93 during the Bo Meftah years they were short of a car so we ran it in the Cannonball but we were not last and really enjoyed this period with Mick driving and wife Cath and Bob crewing. Mick said you can have too many in the crew, sometimes less is more! This was an easy car to drive, our best time was 9.2 at 147mph.
Bob took it to a radio station in Harlow one afternoon and evening talking about the car and Gates all the time which was great publicity for all concerned. We would receive money for any advertising we gave Gates and had full use of their facilities in three workshops as well as storing the car and trailer there. Some of the staff worked on the car, we paid nothing for paint and materials. With the boss watching a guy from the paint shop hand brushed a grill on the front of the body to replicate a Ford Mondeo, all at no cost to the team. You could not put a price on this very successful arrangement we had with Gates, we had an all-round great working relationship with them.
We found the chassis was cracked in 1994, after Geoff Hauser looked at it we decided to sell it on rather than have it repaired. We sold the engine to someone in Watford, the rear axle to someone else and all the rest to a member of the Blues Brothers Band, going to the West Country where it still sits in a garage today.
We next moved up to Top Alcohol Dragster buying a Readspeed Pro Comp 280-inch Dragster chassis from Doug Bond. It went to Geoff Hauser's workshop to have the rear axle narrowed, new wing struts with the wing up in the air and not over the engine. He also fabricated aluminium around the roll cage. Bob then took it to Davroy Transmissions in Staines where Dave Wilson fitted the 484 Keith Black engine and transmission from his 'Krypton' dragster completing this all in the same day. Dave gave us a superb powerful and reliable tune-up which gave us a head start whereas it might have taken the whole year to sort out if we had bought an unproved engine. We debuted the car in 1995 with Mick doing his licensing runs at the Bug Jam then we entered the Cannonball qualifying for the British Top Alcohol series in fifth with a 7.647/133mph stepping up to a 7.523/158mph in the first round.
| | | |
| --- | --- | --- |
| Smoky burnout | Wheels up | 1995 Summernats Dave Alexander pic |
We ran it that year with a turquoise paint job and in 1996 it was purple. We had an engine fire during this period. The best time Doug had run with the car was a 6.90 our best was 6.72 at 204mph.Mick got into the 6s on his third run, at Shakespeare County Raceway.
| | | |
| --- | --- | --- |
| New paint job for 1996 | Bob watches the burnout | ready to launch |
We competed against racers like Anita Makela and Peter Beck; both ran very competitive times in TAD. Mick remembers racing Anita, she was running 5s and Mick launched really well but she just drove away like he was in reverse. The class then became an FIA class, that's when we stopped due to the cost being beyond our capability to compete. We all enjoyed this period even though it was a lot of hard work, but then we were used to that by now. We came 15th in the RAC Championships in 1995, then 5th in 1996 running under the guidance of Dave Wilson with his experience, always checking everything before we ran taking a precautionary maintenance approach due to running on a tight budget. We had no desire to campaign a Top Fuel Dragster, but one regret was not putting in a blown alcohol set up when we had fitted the Mustang body to the chassis of our Funny Car.
We were not really in it to win it or chase Championships; we didn't take it seriously enough and primarily did it for fun. We enjoyed the building process of all our cars more than the racing; we were more interested to see if it all worked and at least ran alright. Then we could have fun running it; taking part and being able to compete with our own creations was much more appealing to us all. Bob was asked by a well-known racer why we bothered to go to events, Bob replied to have fun but he said he came to win. With us it's more about racing against ourselves for the challenge, having built a car. If it runs well, we're all winners, if you focus only on winning, you'll be disappointed.
Funny things that happened which were not always so funny at the time...
On our first outing with the flathead Anglia we were only a half mile from home, driving past Norton Road school, Letchworth, which we all went to, and a cardboard mudguard blew off, we then pulled the other one off!


We built a new trailer in our garden then wondered how we were going to get it out? Dad was not impressed when we took the wheels off, tilted the trailer on its side and carried it out.


On the A45, near Kimbolton, a wheel bearing started to disintegrate; we poured a can of STP oil over it and managed to get to Santa Pod.


When taking the Rover dragster to Avon Park the trailer brakes caught fire. Then after whacking the hubs with a large hammer, we managed to release the brakes leaving us brakeless for the rest of the trip. You focus so much on preparing the car the trailer was an afterthought, forgetting about maintenance until only days before you go away.


In the early days we had a 14 foot diameter waterproof ex-army tent, pitching this in the rain at one event were us three, Steve Warner (not Thrill Ride Steve Warner) and the Beadle brothers. The guy's tent next door got so waterlogged they asked if they could use our tent as well. Waking up one morning we were greeted with "Morning campers, pay up or **** off! The Pod is a lot more people friendly now!


The height of luxury was Bruce Brown's caravan. His father had a caravan company and he stripped one out putting in a back door to fit the dragster in. We would sometimes sleep in this at events but it was rather unsanitary by the morning!


Brian would have sleepless nights spent in his Mercury; Mick was kept awake by the generators running all night but Bob loved to stay at the track.


At a rained out meet we went in Brian's Mercury with the Beadle brothers to a pub in Bozeat. Mick laid across the three in the back and on the way, someone opened the window and managed to push Mick halfway out before pulling him back in, not realising how dangerous that was. Mick has not forgotten barrelling down the road to Bozeat while being pushed out of the window, not something you could forget! The Red Lion in Bozeat was the default location if it was raining and sometimes the Nags Head in Wollaston got our custom!


We remember some of the well-known racer's getting quite drunk during the evening. Then getting straight in the race car the next morning still being well under the influence of alcohol. One racer is known to have said after his run next morning, "that's a lot better, I'll be ok now guys".


Brian remembers sitting in the fire up road next to Ken Cooper's dragster, 'Blast from the Past' and a spectator said to him, it's not a very fast car mate, to which Ken replied "it's better to be a slow competitor than a fast-talking spectator".
---
Gallery: click on any thumbnail for a large image.

Feature ©Eurodragster.com

Back to blog index

Back to News page


---