Surrey Drag Racing Pioneers - Derek Metcalf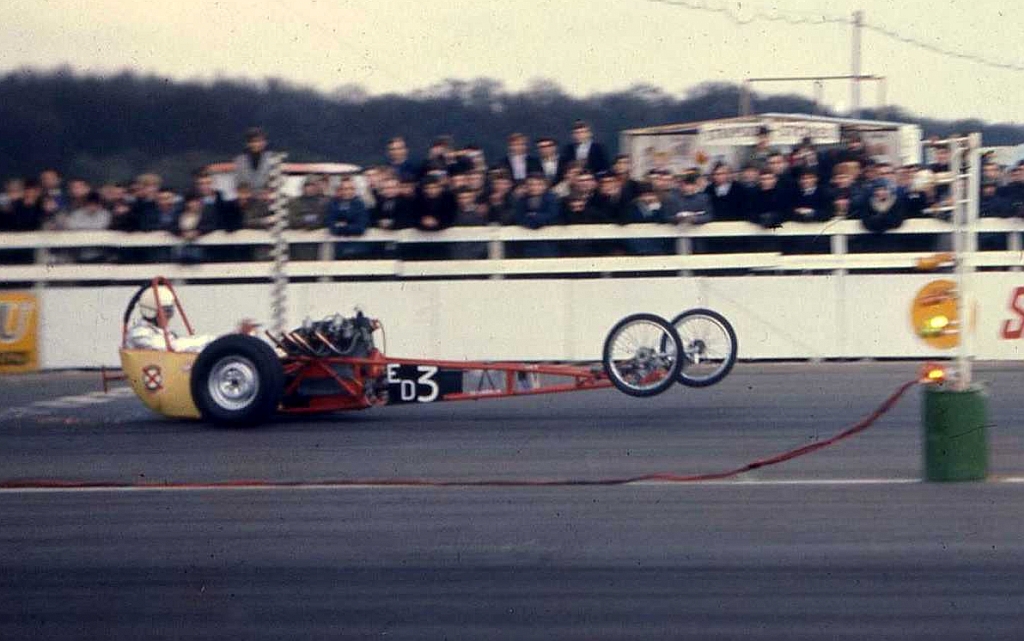 As told exclusively to

Preface:
Derek Metcalf with wife Pam discovered drag racing at a visit to the Brighton Speed Trials in 1963 where he saw the dragsters of Dean Moon and Mickey Thompson, soon starting to build his own car based on his own chassis design, working out all the engineering problems himself, assisted closely by Pam. The car was ready by the final 1964 Drag Fest event at Blackbushe on 4th October. He continued to race the car in 1965 and 1966, lengthening it in 1967 and building a new dragster for 1968, again applying ingenuity, in the engine department. Derek and Pam visited many locations, Pam driving on one occasion, and they helped promote the sport at its commencement in Germany. At the end of 1969 they retired, forseeing spiralling costs with US engines but maintaining an affection for the organisers and competitors they enjoyed collaborating with and racing against.
---
Part 1
We first saw dragsters at the Brighton Speed Trials in September 1963, these being Dean Moon's Mooneyes and Mickey Thompson's Harvey Aluminum Special machines. I was interested in competitive motor sport, wanting to enter the field of motor racing, I decided to build my own dragster within the limits of our pockets. We lived in Portslade, West Sussex, when we started work on our first dragster in 1963. Firstly making a jointed cardboard model of myself to scale, to study the driving position. I decided originally to use a 1500cc engine, this was quickly revised to comply with the up to 2 litre class, my choice of engine would change. Meanwhile I chose the VW gearbox unit, turning it upside down, back to front so that four forward and one reverse gears were obtained as the engine was in front. Easily deciding on this layout being obvious the weight was required over the driving wheels, I used the VW wheels. I found the gearbox, rummaging in a local breakers yard, then back home in the family Standard 8. I stripped, cleaned and examined it for wear, it was in excellent order, only needing to replace two outer ball races on the drive shafts.

Dante Duce at Brighton Speed Trials 1963
John Wood photo


Mickey Thompson's Harvey Aluminum Special deafening spectators
John Wood photo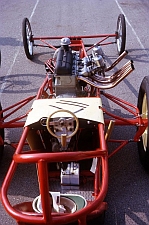 Brand new Wombat at the last round of Drag Fest at Blackbushe, 1964
Nick Pettitt collection
Gearbox reassembled, and with the preliminary groundwork done, I prepared my drawing for the chassis. Obtaining quotations for tubular 1 1/4' diameter x 16 gauge mild steel tube. With a friend we set off on foot to collect the 20 foot lengths balancing one end on our shoulders. On the way home we went over a level crossing. At the same time the gates began to close, leaving me on one side my friend on the other. I began to visualise my tubes being bent by an oncoming train in a different design to my drawing. Luckily the crossing keeper spotted us and opened the gates letting us through. I paid attention to the only braking system on the rear of the dragster, a parachute was not required then on smaller cars although I could not afford one. Pam cleaned all the brake components to surgical standards on the kitchen draining board. Pam did such a good job, she was pressed into doing many more parts, but not in the kitchen. Pam also helped with bending the steel tube, being on the end of a 20 foot length of steel becoming airborne as I bent the other end. With the tubes all bent, cut and a lot of filing, the chassis was held together with masking tape and wire then transported in a friend's van to St Leonards where Alan Jenner of Moore and Tye fame welded it all together. This took a lot longer than we thought, but in the end we returned home triumphantly, we at least had a chassis.
With the chassis constructed, I chose a very neat rack and pinion steering box off a BMW Isetta bubble car. This fitted nicely, connecting it to the column, to my horror the front wheels moved in the opposite direction to the wheel, I'd fitted the rack upside down. I used two equal size gears and teeth from a motorcycle gearbox. Welding one to the column the other to the steering wheel fitted in bearings, housed under the scuttle, reversing the rack and it all worked correctly. Assemble rear axle shafts to the gearbox halves, bolting together the two halves of the gearbox. My brother Barry, whose lathe I used endlessly to make many of the parts to fit. All this with many late nights and early into the mornings to 3am. Finally we had a completed rolling chassis.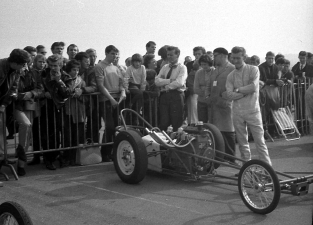 Wombat at Blackbushe for the 1964 Drag Fest
Brian Sparrow photo
I persuaded a colleague to part with a Standard Vanguard engine. The reason was I could reduce the capacity from 2.083 cc by taking out the wet liners, putting in new liners and pistons to bring the engine capacity down to 1.991cc. I completely rebuilt the engine to TR2 specifications, so we could race in the under 2 litre class. I had machined over 5/16" off the cylinder head, having it ported and polished by a well known expert in the racing world, Harry Weslake. Once again Pam was involved rubbing down, then painting the chassis, doing such a good job she ended up doing all the finishings. Then spending many evenings lowering and raising the engine to find the right location in the chassis. Needing to take the chassis to a friend for more welding. Pam drove the car towing just the rolling chassis with me in the dragster seat for ballast, through the streets of Brighton. Stopping at traffic lights, drawing alongside a double decker bus, the driver leaned out and shouted, is she pulling you mate or are you pushing her?
I lacked many of the facilities found in a commercial garage. I made most things using hand tools needing to stick to our budget, my motto became "If you can't afford it, make it". For about 8 months before the first Blackbushe meeting we worked tirelessly, desperately wanting to compete. Brake, clutch accelerator mechanisms were made and fitted. Twin 1 1/4" SU carburettors were obtained. Having incorporated different parts from many different vehicles, having no idea if it would all work. The pressure was really on as two of the festival meetings had been run. Pam and I worked all hours, sometimes with tempers a little frayed, were being tested, having not been married long. We managed to stay out of the devorce courts. Anyone visiting the Metcalf residence were pressed into helping lift the engine in and out of the frame, amongst other jobs. With my entry accepted, I was determined to get there with my machine and Pam's perseverance. The final meeting at Blackbushe was Sunday 4th October.
---
Part 2
In time for the first Blackbushe meeting were due a large contingent of American race teams which had been brought over by Sidney Allard and assembled for match racing. Some of the British drivers and their machines had very different set ups to the American cars. The Drag Fest was a six round series of events. The very first International Drag racing event took place at Blackbushe Airport near Camberley, Surrey, Saturday 19th September 1964. Then, Sunday 20th at RAF Chelveston, Saturday 26th at RAF Woodvale, Sunday 27th at RAF Church Fenton, Saturday 3rd October at RAF Kemble, returning to Blackbushe for the last event Sunday 4th October. We were involved at the very start, our experiences were as follows. Gerry Belton being the general secretary of the BDRA which had been set up by Sidney Allard. He asked for volunteers to go to Southampton docks to meet the Americans and their machines off the old liner "SS United States" and tow them to Sidney's showroom at Clapham. Pam and I went with a friend in his Landrover all ready to get towing.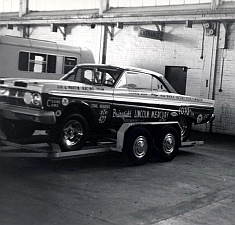 Sox & Martin's Mercury Comet pictured at the docks
Brian Sparrow collection
We arrived just as one dockside crane was not strong enough to lift out the first trailer, after a few strong words by the crane driver a second crane was brought alongside. We all now realised we were in trouble not only with the size and weight but also they all had air brakes. Being unable to shift them, Sidney realised he was in trouble as he had announced a publicity display at his showroom in Clapham the next day. There was one, a saloon car on an open trailer with cable brakes, we were asked if we could get this to Clapham that evening with our friend and his Landrover. This we eventually did at a moderate pace. Tom Lush, Sidney's right hand man came looking for us in the deserted streets of London as the tow took longer than anticipated, but an American car was at last in the showroom. Getting back down to the south coast rather late. The next day Sidney went to a surplus yard, buying ex army vehicles, having to insure them and fit tow bars. Taking the rest of the dragsters straight to Blackbushe.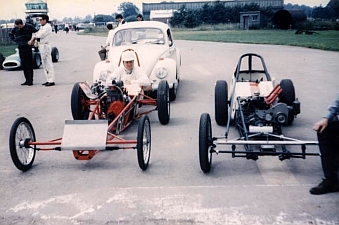 Derek Metcalf alongside the Worden at South Marston, Vickers Day Gala July '65; Derek took the up to 2500cc class eliminator with a 17.80/78mph
Brian Sparrow photo
We had still not fired up the engine until the Saturday evening before the Sunday meeting. At 8.15pm brother Barry and Pam pushed me in the dragster round our estate, to our joy it started almost straight away, and I drove around the roads. I was somewhat relieved to find that I must have put things together properly, with the engine firing up and shattering the peace of our neighbourhood. It was hurriedly switched off and pushed back home into the garage before anybody could ask what was going on. Barry volunteered to act as mechanic on the Sunday, so with his assistance the last nut and bolt were tightened up, this was now 1am Sunday morning.
Finally ready to attend the last meeting of the festival at Blackbushe, Sunday October 4th, having snatched a few hours sleep from our 1am finish that morning. Borrowing a trailer locally we set off that morning for Blackbushe. As we approached the Airfield an Austin van came up behind us, it was Alan Herridge and John Harrison with their machines looking on enquirginly at our machine. It caused quite a lot of interest and speculation as to its performance. Preparing for some practice runs wanting to see how the dragster behaved on the quarter-mile. Then to my horror an announcement was made to the effect that there would be no practice runs due to noise problems, however we did get to do our first run. At this time Don Garlits had a broken helmet strap, Pam always went prepared, producing a needle and thread, mending it for him.
So imagine my feelings when I found myself on the starting line before a crowd of about 30,000 spectators. Sitting in a vehicle which I had made myself virtually on the kitchen table and which apart from a few minutes run on the road around my home, I had never driven it. As I lined up at the start, the lights changed, accelerating away clutching the steering wheel I had pulled the gears for the steering out of mesh going down the strip. I quickly put my hand under the scuttle, grabbed the column and steered by hand from there. After crossing the finish line while slowing I managed to re engage the gears. I kept quiet about this, doing the second run the same way.
I had no intention of thrashing the machine, this was really the running in period. I considered it something of a miracle that I reached the end of the course at all and with the machine still in one piece. After one or two adjustments I made a second run and during this run I became more confident. I was the first British driver to pull a wheelie, lifting the front wheels some 18" clear of the track. We did only get the two runs in, then making for home feeling pleased that the day was such a success. Although I didn't carry off any prizes, just to compete was a big thrill. The Blackbushe meeting was a real learning curve for us, like the rest of the home contingent. We only fixed the problem back at the workshop.

Wombat had a new nosecone by the Woodvale DragFest meeting in '65.
Ron Fisher photo
After this we used to attend informal practice meetings March 14th 1965 at Graveley, a disused RAF base, originally the home of 35 Squadron P.F.F. flying Lancasters. Alongside the runway there was still the Fido Fog dispersal flare system. Then 6th June RAF Duxford, Big Go, 20th June Long Marston Sprint meet, 3rd July South Marston, Vickers Day Gala, 21st August Graveley. One of these Sunday meets Alan Herridge's trailer bulbs had all blown, so we took ours out and gave them to him as he had to get his son home and off to school the next day. So we camped overnight coming home on Monday with no trailer lights!!
Lastly attending the 1965 Dragfest, September 25th/26th Blackbushe and RAF Woodvale Sunday 3rd October, where we saw Sidney Allard for the last time. At the end of the meeting he walked past our tent, looking tired out and exhausted. Pam invited him for a sit down and a coffee, gladly accepting, soon after this tour he was taken ill and died April 1966, a great loss to the motorsport world, in all forms, be it Hill Climb, Sprint, Rallies and mud plugging plus of course Allard cars and two seaters. I was working for the South Eastern Electricity Board in Hove where we exhibited the dragster at a S.E.E.B hobbies exhibition in 1965 at the Hotel Metropole, Brighton in either September or October. The dragster now fitted with Ford wheels was on a rotating display stand kindly arranged by Eric Ellis, it was a great attraction. Eric worked at the main Ford agents in Brighton. I left the S.E.E.B in November 1965.
Shortly after, contact was made with another drag racer Eric Ellis and his son Barry living in Hove, they had their own supercharged Cortina MK1 car. During this period it was announced that Santa Pod was going to be the new home for drag racing. Myself, Pam, Eric and Barry set off in our VW to this disused airfield, before Santa Pod Raceway opened on 11th April 1966, going back with our dragster for that very first meeting. Attending 24th April Thames Estuary AC Sprint, Santa Pod 29th May Big Go, 4th-5th June and 11th-12th June US Masters visit, 19th June Debden Gala of Motor Sport, Santa Pod 17th July, 14th August, and 28th-29th August. We met Ann and John Bennett who entered the scene along with Tom Hales the scrutineer who became quite a character for all of us.
1st September 1966 Pam and I moved to Bramley, Surrey to be near my new place of employment. I started a new job at Marley Buildings in Peasmarsh. Sadly on his way to visit us, Barry Ellis came off his motorbike at Henfield, sliding into oncoming traffic with fatal results. We attended the September 18th Thames Estuary AC Sprint meeting. Having loaded our first dragster on the trailer all hitched up in the driveway on the Saturday ready to go to Santa Pod, Sunday 2nd October, that a car suddenly pulled up. Two young gentlemen ran down the drive saying "it's a dragster". These two visitors were Bill Haynes and Keith Stacey who eventually raced at Santa Pod in their own right which led us to meeting John Smith and Richard Jarman. Firm friendships were established between all of us. Pam and I attended three marriages of Bill, Keith and John. With friendships continuing for many years.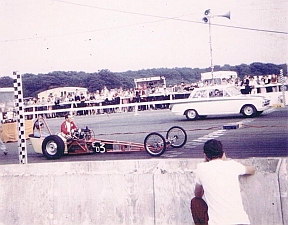 Pam Metcalf driving Wombat at Santa Pod's Ladies Eliminator competition Derek Metcalf collection

Bill in particular was very good to us all, as he became very senior in an automotive parts company, very useful to us all, running machines on very limited budgets!!
I lengthened the chassis just before the '67 season in the hope of keeping the front wheels on the ground but it still did wheelies.
We attended in 1967 at Santa Pod March 7th, April 15th, May 28th/29th, best time of 15.33 84.96mph, June 2nd out in the first round, June 17th/18th and 24th/25th US Commandos visit, best time of 15.13 86.51mph. Having now met John and Ann Bennett, they made sure everything ran well and to order. August 27th/28th. John allowed a team member to have a go in the machine that they helped look after. This was called the 'Ladies Eliminator' with Christine Skilton, driving Clive's E Type, beating Diana Floyd in Jago's T, While Rachael Harvey beat Pam Metcalf who borrowed Derek's helmet, put on her blue cardigan and drove full pelt down the strip in our dragster 'Wombat'. Christine took the win over Rachael. Pam claimed to be the very first lady dragster driver in England. Another character at Santa Pod was Tom Hales the resident scrutineer, Tom used to run his biro pen around the spokes of our front wheels, if they all played the right note you were through ok!! There were no rules or regulations then. The last two events we did, September 24th, best time 16.57 75.76mph, Oct 22nd, a busy year.
---
Part 3
In those early days we used to race in all weathers to please the spectators. On one occasion it was very very wet with standing water, I kept my right foot hard down and had to use a lot of the strip width aquaplaning a lot of the time. I must've won my heat as I was then drawn against Les Turner. He was a brilliant machinist and built his own supercharged dragster but did NOT like racing in the wet, which I knew. So when he asked about the conditions, I said it was b-----y hairy, with that he withdrew and I had a bye run and won!! On our way home from Graveley to Portslade, pre M25, going down Edgware Road and Park Lane in our trusty Beetle, dragster on trailer. The Bunny Club had just opened, Pam and I being curious, we parked outside the entrance amongst the smart onlookers to see the bunny girls inside. No one took any notice of us two scruffy people or the dragster, leaving quickly after seeing all we'd wanted to.

Modified Jaguar DOHC cylinder head first fitted at the '66 Big Go
Brian Sparrow photo


Derek had to convert the head from 6 cylinders to 4.
Brian Sparrow photo
At the beginning of 1964, when we all started drag racing money was even tighter than we expected. So after chatting to other drivers and owners I decided to have a go at making a twin cam cylinder head this meant getting a Jaguar head which had the same bore 83mm and centers. We found that by cutting number 1 and 6 cylinders away, this would fit ideally, so end plates were cut and fitted. Patterns and castings were made for the camshaft bearings, the camshaft lobes were built up by special welding rods and then hand ground to shape on the original camshafts. Using a duplex chain drive and sprockets fitted. The big issue was would it fire it up when we needed to. In the end a very good friend Derek Harvey came down to Portslade from Croydon. He had done such things and worked on Bugatti's, he scientifically worked out how to time it all and hey presto it worked. Although we did not fire it up until later on. Ed: It wasn't put on until the 1966 Big Go and was soon taken off again as it didn't work as well as was hoped; by 1967 the original head was back on. Was it worth all the hard work, I don't know but it proved to be the only over head twin cam TR engine in the world but it required a lot more development.

The chassis of Wombat was lengthened for '67.
Brian Sutton photo


Derek (far lane) racing Harold Bull in Stripduster '67
Ken Robbins photo
Our first dragster, sadly, was sold to Mike Cunningham of Watford, who renamed it 'Leprechaun' in 1967 to partly finance the second dragster as I teamed up with Harold Bull. I used one of Harold's chassis, this time using the Ford V4 2 liter engine that we supercharged and injected running it on methanol. The engine was acquired by Allen Ing who went on to drive an Allard Dragon. This was originally won by 17 year old Chris Pattison in 1965 in a competition run by British Drag Racing Magazine. Chris and his dad ran the Dragon in '65 and '66 then in '67 Chris swapped it for Alan Ing's Turner Climax and Alan went on to have a very successful '67 season. However the V4 had some technical issues i.e head gaskets, and studs too long. Being supercharged and fuel injected, with terminal speeds of 107 mph were recorded, not bad for a first season and home built. We rectified this by having copper gaskets made by Walkers of Woking and just shortening the studs. It was in 1967 we met Tony Anderson becoming very good friends with him as well, another nice chap.
Our first event in 1968 with our new dragster 'StripStar' was at Santa Pod was 2nd-3rd June, 15th-16th June, 7th July and 20th-21st July when dear John Bennett tried out night racing under floodlights. Myself along with another were the first to try it out, the strip was well lit up but the lights finished at the 1/4 mile, nothing in the shutdown area. Having come from the floodlight strip through the timing lights we were both in pitch black runway. First shouting to each other "where are you", what's more, our push vehicles could not find us. We both sat in our machines watching their headlights go from side to side until they picked us up, we did not do a second run, I wonder why! At this same event Harold and I were involved with a promotion for London Taxis. Our last four events were 4th August, 1st-2nd September, 6th October, lastly 3rd November.

Derek's new StripStar in the SPR pits in '68
Brian Sparrow photo


StripStar engine setup with Wade blower and injection
Brian Sparrow photo
During 1968 we were both invited to travel to Saarbrucken in Germany along with other drag racers for a weekend with American service personnel at this air base. Peter Breeze was a British civilian based at Ramstein, the American Air Force base, he wanted to promote drag racing there. Assisting John Bennett who then organised a team of dragsters and motorcycles to go over to race the American personnel based there and put on a show. The locals all had radiators on their machines, when they saw ours with only water in the block, off came their radiators throwing them over the hedges. We were also invited along with our wives to exhibit Harold's machine at a Racing Car Show in Berlin which was most interesting. Harold's dragster had to be flown out and back separately, our host Gerhart Mitter the works Porsche driver really looked after us with hotel and evening entertainment.

Myself and Pam literally drove hundreds and hundreds of miles towing our first dragster on our home built trailer. This we made, using a Co-op electric milk float. Visiting such venues as Blackbushe, Southport, Gravely, Debden, South Marston, Silverstone and Duxford either to race or give demonstrations. This was how I entered the field of drag racing. It meant a lot of hard work, but this was offset by the enormous amount of fun we have both had from it. Also we have met many friendly and interesting people with whom we would not normally have come in contact with. They turn up at the meetings white, drawn and haggard sometimes after working all the previous night and perhaps all the night before that and all said why do we do it, does anybody know? As I could pull good wheelies, the crowd thought that was good and so was the publicity for the sport and the gate. For January 25th-26th 1969, John and Ann arranged for a static exhibition at the Fairfield Halls in Croydon, in one of the conference rooms. This was well attended and hopefully increased the gate numbers. Both Harold's and my own machine looked fine alongside each other. I do believe at this point John and Ann kept the sport going.

The last show we displayed our dragster was at Dorking Halls, Surrey, March 1969 in connection with the launch of the Ford Capri with the V4 engine. Pam and I retired from the sport in late 1969, selling our second dragster and Ford van to Richard Jarman. We could see how the sport had to go if it was to survive with big V8's coming on the scene and garage proprietors entering the sport. We have always remembered those years of drag racing with great affection. Contact is still maintained with Mike Wheeler of Scorpion fame, he always wanted to know what happened to his dragster after he last saw it. A lady drove it in the fire up road, she managed to crash and bend it into a U shape. We have lost contact with Tony Anderson, there is a good chance that we may be able to restart that friendship again very soon. None of those early days could have happened if it had not been for Sidney Allard, John and Ann Bennett along with the Phelps family in the background. Somewhere sadly in later years businesses changed, John and Ann left the sport, they put so much into it but did not get the recognition they deserved. I'm very pleased to say I have just recently spoken to John Bennett after all these years, sadly Ann has since died.

Gallery: click on any thumbnail for a large image.

Feature ©Eurodragster.com
---
Back to blog index
Back to News page
---