Brian Gibson's story and history - part 2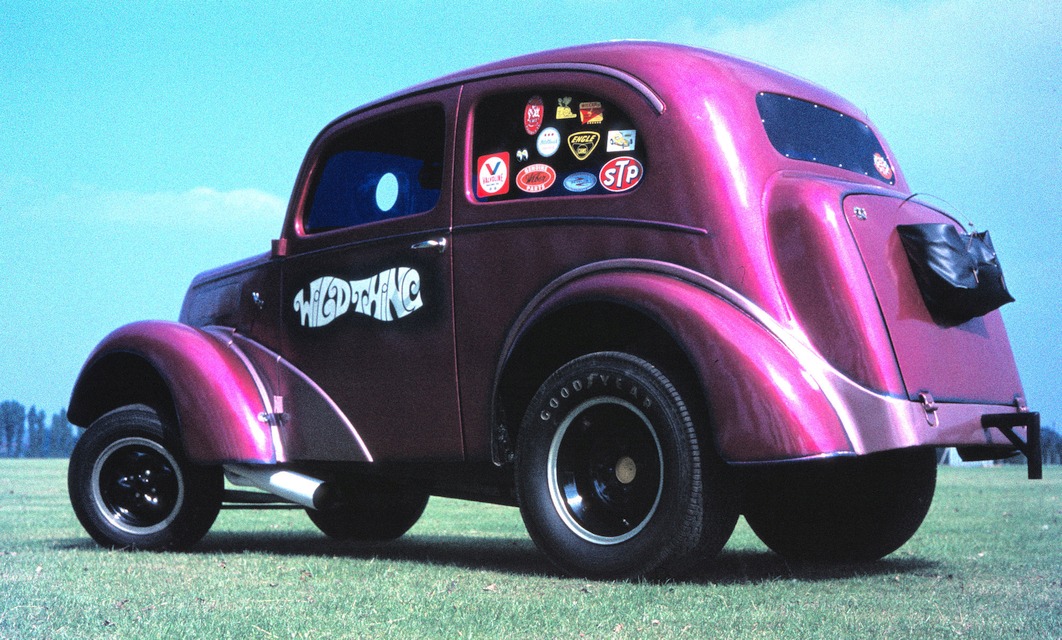 As told exclusively to

After a couple of seasons, Brian upgraded the engine in Wild Thing to a small block Chevy and install suitable rear suspension. He met pioneering UK drag racing engineers Allan Herridge and Don Beadle along the way. 1972 was the last season that Brian raced the car, selling it eventually and later tracking it down 45 years after its debut.
Brian Gibson takes up the story...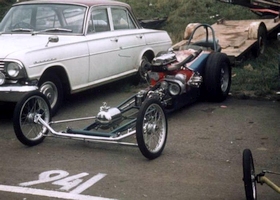 John Harrison's blown Austin Healey powered 'Jynx'. Andy Brough pic
Despite being popular with the crowd and other competitors we found it impossible to sell 'Wild Thing'. Having already accumulated parts for a new car amongst which was a small block Chevy 283 cu in engine from a 1957 Corvette, I decided instead to build the Chevy engine and fit it to the Popular which was nearer to the concept of a Gas Coupe.
Between stopping racing with the Jaguar engine and before starting with the Chevy, I towed for various people. One was John Harrison who I knew and remember John's car had a reputation as one of the loudest, due to him running so much blower pressure. We went to an 'on tour' meet with his dragster using my Zephyr but I didn't get involved with the car, I don't remember where the event was.
I became friends with Tony and Don Beadle who at the time were teamed up with Allan Herridge. This was after Allan had run his Cadillac powered 'Pulsation' dragster. They had decided to build a new Junior Fuel Dragster using an injected Chevy engine. Tony had also formed a company called Speed and Custom Parts, based in Hillingdon to import parts from the States and brought in a second hand Hilborn injection system set up for me. There were three sets, Allan Herridge had one and Alan Wigmore the other for his 'Itzaviva' These were older sets and had the intakes at an angle before going vertical with the stacks whereas my intake went straight up vertical with the stacks.
| | | |
| --- | --- | --- |
| Allan Herridge in Motorvation 1967 before the days of slipper clutches | imported early Hilborn injection and Tony Beadle's 1949 Ford Customline. Brian Sparrow pic | The new Junior Fueller of Herridge and the Beadle bros 1968. Brian Sparrow pic |
| | |
| --- | --- |
| Alan Wigmore's Hilborn injection. Alan Wigmore pic | Itzaviva. Alan Wigmore pic |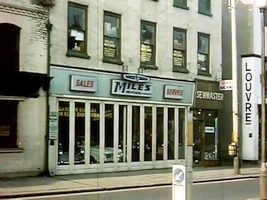 Miles Motors in Uxbridge
Don Beadle had started off as a motorcycle mechanic at Miles Motors in Uxbridge. On the strength of knowing about V8 engines and having a partnership with Alan Herridge, Don got a job with Stuart Graham who ran a Chevrolet Camaro in the British Touring Car Championships. Don worked on the engine in his Camaro which taught him a whole lot more about working on V8 engines.
Meanwhile I'd got to know an American serviceman from the South Ruislip USAF airbase. He agreed to bring me in some parts through what I believe the Americans called a PX like a goods exchange platform that operated for the servicemen and managed to get a number of engine parts this way.
I set about the modifications I wanted to make to the 283 Chevy engine. The high-performance cylinder heads had smallish valves so I machined out the intake seats and fitted 1 7/8-inch valves, although they were not the fuelie heads other teams ran. I took the block to a local engineering company in South Harrow called Chacksfield's. I asked for a 1/8th inch overbore and they looked at me as if I was crazy saying not to go that far, but this was common practice in the States. They were used to only going to 30 thou or sometimes 60 thou. They did finally agree to do it, after I agreed to take full responsibility if it all went wrong. It worked out fine leaving me crosshatch honed finished 4-inch bores which gave 302 cu in, keeping the original crankshaft. Vic Hubbard, an American Speed shop of the time, supplied me with a set of TRW 13-1 compression pistons. I used a deep sump with extended oil pick up. Allan Herridge machined the main caps flat then fitted a steel strap across the main bearing caps to reinforce the bottom end.
| | |
| --- | --- |
| Chacksfield's Ltd. Dean Gibson pic | Vic Hubbard Speed and Marine. Dean Gibson pic |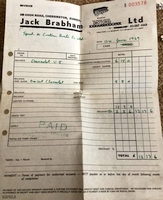 Jack Brabham Motors Ltd. Dean Gibson pic
I had a small paperback book on engine building, don't remember what it was called. One really important thing it mentioned was to get the engine block clean, this was one of Don Beadle's trademarks. Once the rebore was done the first thing was to wash the block and bores using hot soapy water. Then with a paper towel wipe down the bores, following the crosshatch honing, removing all the black cast iron particles. Then continue using light oil. Well worth all the preparation, I used molybdenum faced piston rings and the engine ran really well. I used stock conrods lightened and polished and the crank assembly was fully balanced by Brabhams at Chessington.
The camshaft came from a formula 5000 race car with 300 degrees of duration and half inch lift, it was an Engle type 251 camshaft which Don Beadle acquired for me. I put in Chet Herbert lifters with magnesium alloy rocker arms, later changing to Crane roller rockers with roller tips.
| | |
| --- | --- |
| Speed & Custom Parts. Dean Gibson pic | Speed & Custom Parts. Dean Gibson pic |
I managed to find a Vertex Magneto after Pete Atkins of Watford Motor Accessories suggested I put out a wanted advert in the Exchange and Mart which was our main source for finding parts back then and received six to seven replies to choose from. Apparently during the war these were used on fire pumps with Ford flathead engines so as not to rely on batteries. I made an adapter by cutting off the bottom from a Chevy distributor and had it reconditioned by Bosch electrical in Watford. I found the bill for it recently, it cost me £39, which was a week's wages in those days.
Alan Herridge made me a button flywheel from Lloyds plate steel without a ring gear so I was committed to push starts. I used a Weber Ford type long pattern clutch cover, rather than the Borg Warner type, with a bimetallic disc from the USA. I kept the 4-speed Jaguar gearbox that we previously used with the Jaguar engine. It had an adapter made by my dad at his works, courtesy of London Transport, to fit the gearbox to the Chevy engine. He made it from 3/8th steel so it was the scattershield as well. The Jaguar gearbox was not the strongest gearbox as it used a pin system synchroniser rather than the synchromesh baulk ring which was much better. I also made a quick shifter by turning over the original pivot bracket and making a new bottom piece.
One thing I was never that keen on was the appearance of Altereds that didn't have a narrowed rear axle; I didn't want the wheels hanging out. I don't know what prompted it but I noticed Landrovers had an offset differential, then I thought it would be a good idea as we didn't have the machining facilities to work on the actual half shafts. So, all I needed to do was buy another short half shaft, then just cut the housing down to match the half shaft. It had a 4.7-1 ratio crown wheel and pinion which was nice and low, the sort of ratio the guys were running in the US. I think they ran 4.88 gears a lot of the time and into the 5's. I didn't want to risk that with my engine just in case of breakage.
Altereds didn't need to have rear suspension in the UK after Bob's campaign mentioned earlier but 'Wild Thing' had so many problems with the solid rear set up on Santa Pod's bumpy surface at the time. It was thought it would have gone much quicker if we'd had rear suspension as it spent most of its time off the ground at the top end.
| | |
| --- | --- |
| Long ladder bars | Landrover axle |
I managed to engineer rear suspension which I copied either from Hot Rod or Popular Hot Rodding. A car featured in the magazine had coil over rear suspension looking reasonably simple although I didn't really know what I was doing. However, I managed to copy this and it worked and was a successful set up. The car in the magazine had long ladder bars that went up to the rear engine mounts so I copied those not realising the ladder bars were higher than the floor level inside the car so I built a false floor to give clearance. Nowadays the popular set up is 4 links with shorter bars to locate the rear axle. But in those days the tyres were nothing like as grippy as they are now. It was a question of getting all the weight transfer onto the back wheels to get traction. I had built the car to loosely fit the American Gasser regs which dictated no more than 10% engine setback and 24 inches from the centre of the crank to the ground.
| | |
| --- | --- |
| Spax adjustable coilovers | Inner arches fitted and chassis painted |
I was very pleased with the front end set up, keeping the standard Ford Popular front end with mini hydraulic telescopic shock absorbers. When we were originally building 'Wild Thing' in 1965, my road car was a mighty Standard 10 saloon and out of interest I decided to see if the Standard hubs would fit on the Ford spindles. To my surprise and amazement they fitted perfectly, which gave a bolt pattern that matched Lotus wheels. Remembering this I fitted a pair of Standard hubs and headed down to JA Pearce Engineering in Southall. This was a race shop that bought and sold circuit race car parts, and I got a pair of magnesium Lotus wheels from them. I can't remember how much I paid but it wouldn't have been a lot. Because magnesium deteriorates, modern wheels have to be dated, and they only have a finite life. I don't suppose those Lotus wheels would be allowed these days but they did the job fine back in the 70's.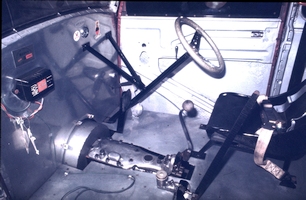 Brian's office
I had Spax adjustable coilover shocks for the rear end from a Triumph Spitfire but I had cut down the springs by half their original length, running a spacer around for the shock to sit in. It all worked really well, I could drive one handed at the top end of the strip without any problems and didn't have to hang onto the wheel to keep control. I had a hand operated brake, meaning driving it one handed after the finish line when you're doing about 120mph. That was a happy outcome of the rebuild, always handling just fine, which was very different from when we had the solid axle. One of Nick Pettitt's DVDs shows it crossing the finish line in 1966, off the ground more than it was on!
Pete Atkins of Watford Motor Accessories bought tyres from the Goodyear Racing Department. These were the days before F1 raced with slicks, they were the normal dry weather tyres. Trouble was they were so hard, terrible if you broke traction, they would just spin. Eventually I got slicks when the American serviceman, Ed Shaver who raced a Javelin AMX, brought some brand-new M&H slicks then decided not to use them. So, I brought them from him. In 1972 I fitted a pair of magnesium five-spoke rims, I think these came off Stuart Graham's British Touring car Championship Camaro.
I picked up a fiberglass one piece front end built by Jerry Jackson and Dave Cottingham of the Northwood Racing Team. They were Jaguar fans and in 1967 had a 3.8 E Type engine in their Ford Popular Altered called 'Purple Passion', which produced more power than our 3.4 twin carburettor engine, even with a C-type cylinder head and reground camshafts, we could never keep up with them. That was another reason I wanted to update car and the small block Chevy was so universal at the time especially in Gassers.
| | |
| --- | --- |
| Jerry Jackson flip front | Hilborn injected 302 Chevy. |
My dad painted it maroon Metalflake with pink pearl panels and dark blue fogging. He also got a lot of the machining done on the car and bent and cut the sheet aluminium interior. It had blue tinted windows all the time I raced it which were legal at the time, but outlawed later under the construction regulations.
| | |
| --- | --- |
| Another great paint job by Brian's dad | Brian still has one of the stickered side windows. |
I paid for the whole lot myself out of my own pocket. At the time others were putting down deposits on house's and taking out mortgages. There I was sticking all my income into drag racing which is not that uncommon. It was a case of reading the Hot Rod magazines and finding all the right bits.
| | | |
| --- | --- | --- |
| National Drag Racer | National Drag Racer | National Drag Racer |
I debuted the rebuilt 'Wild Thing' at the Santa Pod Internationals July 11/12th 1970. Bob Bailey crewed for me. He had a liking for what we called Bread Zeppelins which were a whole French stick cut in half. There is a photo of him in the Santa Pod fire up road, pushing 'Wild Thing' with one hand and clutching a Bread Zeppelin in the other.
| | |
| --- | --- |
| Back out at the Pod. Andy Craddock pic | Brian's Corsair push car and Ken Cooper's 'Bazooka II' Paul Rees pic |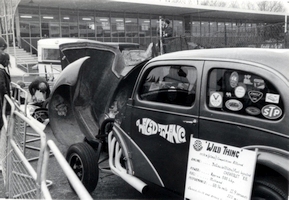 Walthamstow Stock Car Stadium. Brian Sparrow pic
At the August Bank Holiday Meet, I came up against Pelle Widholm from Sweden driving 'Maffia Mouse' an injected 454 Chevy powered Topolino. Pelle ran a 10.8 but pulled a red light to my winning 12.98.
I entered three more meetings at Santa Pod in 1970 then in November I took the car to Tom Barnar's Speed Show held at Walthamstow Stock Car Stadium. Clive Skilton was there doing burnouts with his dragster. The show was opened by Graham Hill. He came to our car and said 'Blimey, I learnt to drive in one of those' When he saw the engine, he said 'rather you than me!'
At the 1971 Easter Santa Pod meeting the engine hydrolocked due to one cylinder being full of fuel. We pulled it backwards to clear the cylinders of fuel then fired it up again. It seemed alright, not realising at the time it had bent a conrod. It was the final run of the meeting. I'd gone through to the final of one of three Elimination classes and would end up racing a car from another class. I faced Ed Gurney in his 401 Buick powered Falcon 'Hush Bloo' beating him with a 12.70 to Ed's 13.34.
It wasn't until I came to prepare it for the next race back in the garage that I noticed a puncture mark in the oil pan. It must have done it when I shut off at the end of the last run. Once apart I found two broken conrods, the pistons had hit the cylinder head, it was in a real mess.
I needed a replacement block so got a short block from a circuit racer in Tottenham which needed some repairs. It was a Traco Engineering Chevy block from a company in Switzerland who built engines for formula 5000 circuit racing cars. It came with seven Forgedtrue pistons and one Venolia piston with O ringed bores to fit copper O rings. Although I ran it for a while, I don't believe it was producing much more than 500bhp, I really wanted 600bhp. I had acquired a full race camshaft from the Beadle brothers from a formula 5000 race engine, and bought the latest and best aluminium roller rockers made by Crane, with Mr Gasket push rods.
| | |
| --- | --- |
| North Luffenham 1972 racing 'Tee-Rat' in the wet. Phil Herrick pic | Brian's Dad. Philip Oldfield pic |
I was back out at North Luffenham May 20/21st 1972. This was the first time I ran the car with my newly acquired M&H slicks. Of course, it rained, wheelspin in third gear was interesting! I came up against Dave Stone driving 'Tee-Rat' in the Top Comp semi-finals and he beat me with an 11.66 to my 14.20. Another thing I remember is losing a nice chrome oil filler cap off the small block, and spending some time driving up and down looking for it after the meet finished. Needless to say, we never found it.
| | |
| --- | --- |
| 5-spoke mags on the back | 'Wobbly web' Lotus mags on the front. Ken Robbins pic |
One of the main problems with Wild Thing 2 was unreliability. Along with many others, I had made the mistake of concentrating on the engine, which performed beautifully. Although the jet settings for the Hilborn fuel injection were better suited to dry and warm California air conditions rather than the damp, cool UK air, the system performed well.
A major problem was with the gearbox. Although this had performed fine behind the original 3.4 litre Jaguar engine, trying to feed it with double the horsepower was a bit too much. Most Jaguar parts seemed to be over-engineered but there are limits. Whilst strong, the gearbox was not really up to handling the power of the small block Chevy engine, which, on straight Methanol, was probably making around 500 brake horsepower. Of course these days one would use an automatic gearbox, but in the 70's these were heavy, bulky and expensive and certainly not within my budget.
Another thing that didn't help was when I forgot to install the locking split-pin through the rear axle pinion retaining nut. It was secure for a while but gradually the nut loosened, allowing the pinion to move out of mesh with the ring-gear. I was on a qualifying run early in the day, and I'd just shifted into 4th gear when I felt the rear end let go. After a very "crunchy" push back to the pits, it was plain that the rear axle had given up in a big way, Draining the oil was accompanied by a mass of large chunks of metal, and further strip down revealed that every tooth had been stripped off the ring gear. With no spares it meant an early end to yet another day's racing.
When everything held together the car ran pretty well, although the reliability problems meant I never had a chance to tune the engine or set up the chassis, and it continued to run very rich, due to the previously mentioned fuel injector setup.
In theory, based on similar American cars, it should have run in the high to mid 10 second bracket, but in reality the best performances were in the 11 second range. Not much by modern standards but quite good for the era. I seem to have lost a lot of the timing tickets from those days, but I seem to recall my best E.T. was 11.59 with a speed of about 119 or 120 mph.
There was one occasion at one of the International meetings when an American guy came up to me and said "out of all the cars here, yours is one of the few that I think would pass an NHRA tech inspection." I've no idea who he was and if he was of any importance, but his comment made me feel very proud, and went some way towards providing a reward for all the time, effort and money I had poured into the car.
I stopped racing at the end of 1972 but kept the car for quite a while always intending to race it again. I gradually obtained parts to build a new engine, having bought a crated Chevy 4-bolt main block and crank and some ported fuelie heads with big valves. Unfortunately with the expense of a growing family and mortgage and working long, often unsocial hours at Abbey Road studios I eventually reluctantly came to the conclusion that I would not be racing it again, so the decision was made to sell it.
I sold Wild Thing in 1985 to a couple of local guys who promptly split up all the good bits and sold them separately, probably raising a great deal of money in the process.
| | |
| --- | --- |
| From Street Machine July 1985 | At Bruntingthorpe shortly after being sold |
Ten years ago, my son found 'Wild Thing' for sale in Dartford. He was urging me to buy it back and run it again. It was being sold by a guy named Jeff Willets from Dartford, it had been run in the Outlaw Anglia series and didn't bear any resemblance whatsoever to the car I built, the only original part was the metalflake silver steering wheel. It had a complete tube chassis which I thought was very badly made, I didn't like the welding at all and the body had been welded to the chassis. This didn't meet the current regulations needing a couple more tubes in the roll cage. It had a different fiberglass front end which was so thick it would have been as heavy as the original steel one and had a 460 cu in Ford engine completely stock which wouldn't run properly when I saw it at Shakespeare County Raceway running 16 or 17 seconds. The guy selling the car still had the two original rear side windows with the decals on. I asked him for one as a souvenir which he gave me and I have upstairs somewhere.
| | |
| --- | --- |
| Recent pic | Recent pic |
I spoke to Geoff Hauser who has been a good friend, he used to live just around the corner from me many years ago. Geoff was part of my pit crew which is how we became good friends back in the day. I had a discussion with Geoff about the possibility of resurrecting the car again and getting it running or maybe building a new chassis but it was going to cost too much. I did two visits to see the car before deciding I didn't want to buy it, but with some regrets now. I bought a road car instead, a Nissan 350z Coupe, which my son drives now as I'm unable to drive since losing my leg last year.
In a similar way that I inherited my fathers love of things mechanical, my son, Dean, seems to have inherited my attraction to cars (no influence of course!). After a number of jobs in magazine publishing, he is now in the position of Content Editor for the weekly car magazine Auto Express. Part of his duties include road testing some of the models the magazine receive for review. In this capacity he has driven just about every car on the road, from Lamborghinis to Land Rovers, and it's a position any true petrol head would be happy with. I did become involved at one time if they needed and extra driver, but I'm now past their age limit, so that has come to an end.
I still retain an interest in drag racing, but these days I tend to follow the US series and have visited NHRA events several times in recent years. The last time I visited Santa Pod was the last time I raced there.
Competition record of Brian Gibson 1970-1972, compiled by Clive Rooms
1970: 30th/31st August, Wild Thing lost to Mafia Mouse; 27th September; 11th October; 8th November.
1971: 11th/12th April Brian won Top Comp with 12.70 to Ed Gurney's 13.34; 25th April HMS Daedalus.
1972: 20th/21st May North Luffenham, Brian ran 14.20 but lost in the semis to T-Rat; 8th/9th July; 23rd/24th September.
---
Gallery: click on any thumbnail for a large image.

Feature ©Eurodragster.com

Back to pioneers index

Back to News page


---