Gerald Cookson's story and history: Part 3 - MG Midget and Berkeley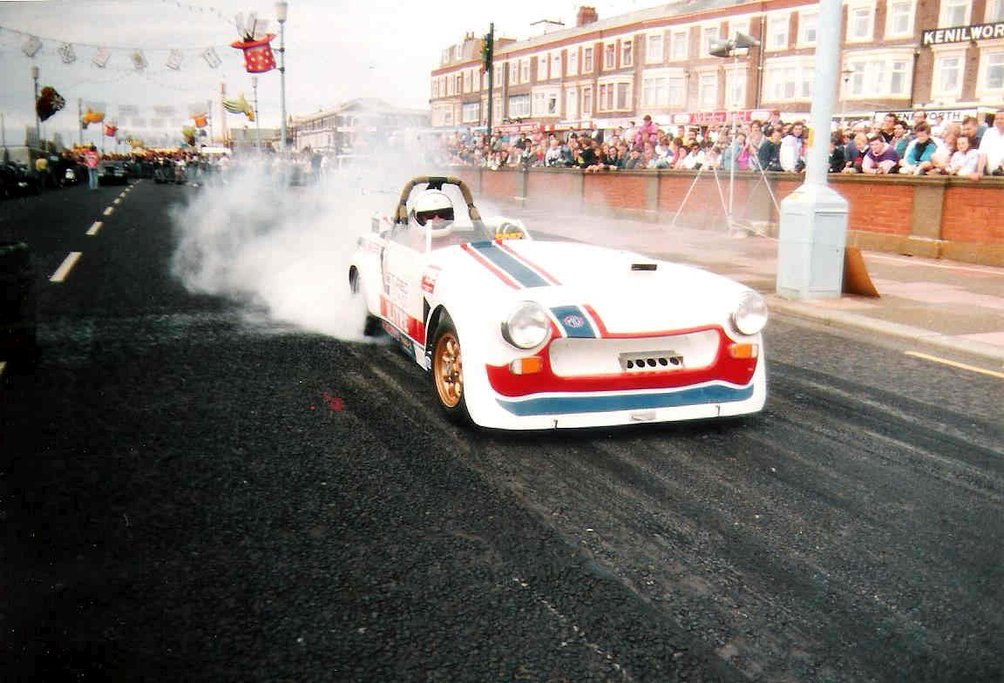 As told exclusively to

In the early 1990s, Gerry bought an MG Midget and transferred the 'A' series running gear from his previous Berkeley, then switching for a time to a turbocharged Hillman Imp unit, then an injected twin cam 'K' series engine. He returned to the Berkeley which he still owns. Gerry concludes with his reflections on the social side of the sport and the lifetime achievement awards he has received.
I had the opportunity to acquire an MG Midget as an unfinished project. It was being built to run in circuit racing. We got it and transferred the transmission and engine from the Berkeley into the Midget together with the supercharger. We ran that for quite a few years with the 'A' series engine and supercharger and then took it out and put in a Hillman Imp overhead cam engine, running that for a while with a turbocharger, did quite well with that.
| | | |
| --- | --- | --- |
| The MG Midget gets readied for the Drags | | |
| | | |
| --- | --- | --- |
| | Supercharged 'A' series engine from the Berkeley | |
The biggest failing with the Imp engine was the cylinder heads. Some of them were paper thin around the water jackets and the cylinder bores were sealed with Wills Rings which had a habit of failing. It was then I got talking to Nick Stevenson (part of the Phoenix Four to save British Leyland) and with his help I got on permanent loan from Longbridge a twin cam 'K' series engine and all of the injection system. We put this into the Midget and I adapted an inlet system from a turbocharged 'A' series engine.
| | | |
| --- | --- | --- |
| Hillman Imp engine | Twin cam 'K' series engine | Twin cam 'K' series engine |
We had a system with a blow through turbocharger on there. We ran that quite successfully for a while but it got to be a bit too much for the back end of the Midget. A bit of the monocoque body started buckling. When I investigated, the people who had started to build it had actually put a lot of fiberglass over what were in fact rusty panels and it started to give up the ghost. At that point I pushed the Midget away and got the Berkeley out again and thought I'll reinstate the Berkeley which is now in its current form.
| | |
| --- | --- |
| | |
We ran the Midget from about 1989/90 to 1995. We took it to Blackpool and ran along the Golden Mile when York Raceway promoter Steve Murty ran a motorsports festival for a week. We could only do a burnout then had to brake as the police were there with a radar gun and said anyone going over 30mph would be fined. It was on the promenade and there were no barriers with the crowd lined up just to watch. Then I ran the Berkeley again till 2009/10. I had started to restore the Midget, starting with welding on the chassis, but at that point my eyes started to get macular degeneration so it now sits there in the back of the garage and still could be put back together. My wife had a serious fall while in hospital and since then I have had to care for her so that called a halt to my drag racing career.
| | | |
| --- | --- | --- |
| Blackpool Golden Mile | Blackpool Golden Mile | Blackpool Golden Mile |
I got to the point with the Berkeley where I'd gone way down on the engine size, still a BMC 'A' series engine but its only 850cc now with a tiny turbocharger, I'd adapted it to run 12's to low 13's to that specification but it never got there, the best we got out of it was a 13.9. One reason is the turbocharger takes time to speed up and it bogs on the line, gets to the 1/8th mile and it takes off.
I thought I should get it back to somewhere where it should be once I picked back up on the Berkeley again, capacity wise. I'd done one or two modifications. I'd realized the one problem was not being able to get off the line. The slicks that were on there were not helping, they were just sticking. So, I put road going tyres on the back again and also added some Nitrous when you'd got full throttle. The Nitrous was fitted so that there was enough pressure in the inlet system which should have helped it off the line, then when it got to about 5 to 6 lbs pressure in the inlet system the Nitrous cut out and the turbocharger took over but I never got to try it. The theory is great but whether it would work in practice I'll never know.
John Hunt mentioned how he had come to discover through doing these interviews that in the case of those who ran dragsters nearly everyone's wife was the only team member, whereas with the Competition Altereds there were 2 to 4 crew members to a team.
Gerry replied... my wife never missed a meeting, she provided all the food, was a gofer, back up lady, you name it she did it.
Jerry continued... I think also it was the social side for her, all the wives and girlfriends got together while the racing was happening. I think that's why the dragster side of it was more of a close-knit family and they all really helped each other out. There was almost an equal split between the dragster drivers who ran BMC and Ford engines. Also there were 4 or 5 competitive Drag Karts which most likely came from Sprinting. The jokers of the pack then were Ken Penfold and his son Derek. There was also Brian Parkins, Peter Gayton, Bob Harman who went onto drive the Lolitre rear engined dragster. He also took over Watford Motor Accessories from Pete Atkins. At one time mum didn't want to drive anymore, I didn't drive at the time, so a few of the NDRC marshals would help out. John Fordham, former NDRC start line marshal from 1973 to '74, was always there to help out as did Big Pete and a guy called Bomber. That's why we raced more at the NDRC meetings than Santa Pod as we had struck up a great friendship with these guys as well as Alan Wigmore, Chris Ulwin, June Nokes and Cliff Jones.
One time back in the mid-sixties on the A45 going to a meeting in the pouring rain the mudguard blew off the crudely built trailer, it was just a piece of aluminium bent to shape over the wheel and just bolted on. Right at the beginning we had a puncture on the trailer and no spare. Fortunately, someone unknown to us just happened to be following us from Santa Pod, drove into Wellingborough, found a scrapyard and got another tyre for us. We were stopped many times by the police, just wanting to take a look at the dragster!
Back in the early days we used to drive our push cars up and down the strip to dry out the track after it had rained. We were going up and down at one meeting in our HA Viva and the sweeper hit our car. We were due to go on holiday only a few days later. John Bennett of Santa Pod offered to help out and took our car to FGR to be repaired and lent us a Triumph Herald so we could go on holiday but it wouldn't run any faster than 40mph.
We've been to several shows, the Town & Country Festival at Stoneleigh two or three times with the Berkeley. We were on the Banbury Drag Racing and Hot Rod Association stand, doing a burnout on one of the inner roads there. Birmingham's Bingley Hall, NEC MG show with the Midget alongside a Frog eyed Sprite with a V8 engine. Trevor Langfield put together a Euro car challenge, the Four Port Challenge and we won that.
Gerald continued... I've enjoyed my time drag racing, when it was much more for the amateur than it is today. I'm pleased with my time being involved. Not just drag racing but anything to do with wheels including my very early days cycle racing, my bike's hanging up in the garage still and did a couple of Auto Test's in a field. There I hit a tree stump whipping the sump of the family Herald at Shenstone, Litchfield when I was in the Lucas Car Club.
Of course, the biggest accolade to my career in the sport is the family name being inducted into the British Drag Racing Hall of Fame in 2018. It also sits alongside the year I won the 'Don Garlits Spirit of Drag Racing Shield' presented by the Wild Bunch in the 2000s along with many other distinguished Life Time Achievement awards. There was also one presented on the start line at Santa Pod in the late 80s or early 90s but we can't remember when that was so if anyone knows please let us know!
John Hunt did this video in Gerry's garage where his Berkeley and MG Midget still sit along with a few bits from the slingshot (look out for the flying watering can!) Click here
---
Gallery: click on any thumbnail for a large image.

Feature ©Eurodragster.com

Back to pioneers index

Back to News page


---