Pat and Chris Church's story and history - Part 2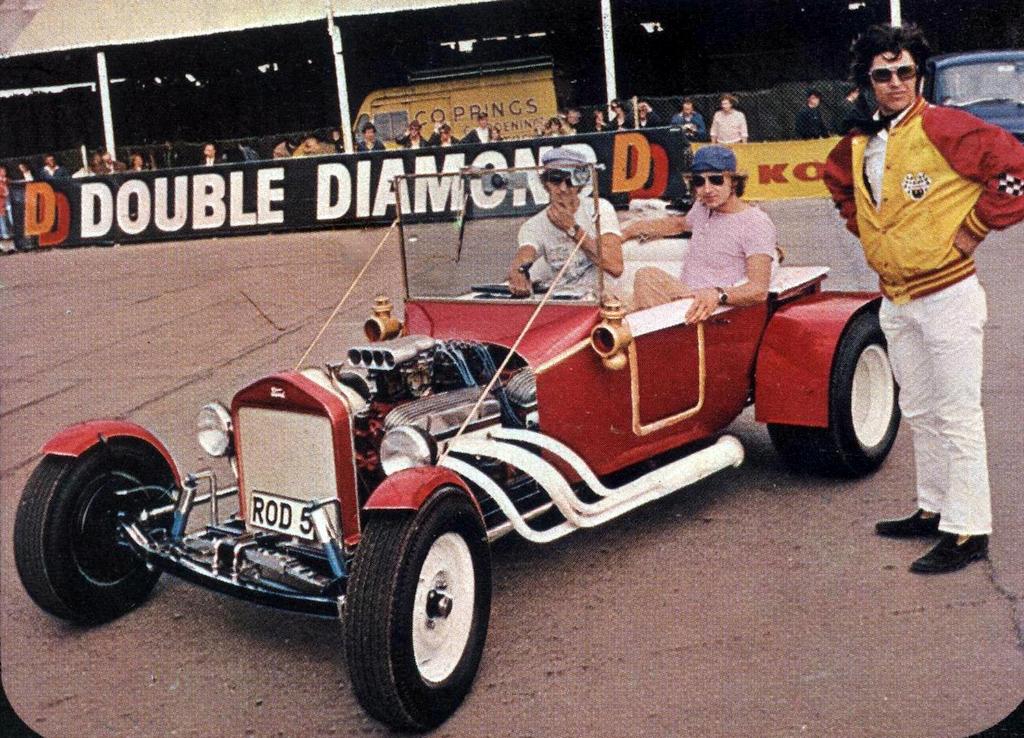 As told exclusively to

After selling Gold Rush, the Church brothers stayed close to drag racing whilst developing their own hot rods. Their first was a T Bucket, widely displayed at UK drag races in the early 1970s and featured in mainstream publications. Having founded the NDRC Roadster Register, in 1971 they founded Brighton Speed & Custom, later moving back into replica and hot rod building and restoring.
Chris had purchased a Jago T Bucket body from a fellow surfer friend. He made his own chassis in a lock up, eventually moving it to my garage at the Mews not far from where he lived with his fiancé. I think the 327 Chevy with 4-speed manual box and rear axle came from a '57 Chevy I had in storage somewhere in Lewes that my then girlfriend had purchased from Dave Riswick of John Woolfe Racing. A Model B Sedan I had at the time donated the front, I-beam axle. Initially fitted with drum brakes, Chris later swapped these for Jag discs. The front axle and suspension were all chromed and it was painted in gold Metalflake topped with red Candy Apple. Devon County Council issued an apt registration number, ROD 5 and the log book was titled Ford Model T Roadster.
Out cruising in the T bucket, we were followed by a police car. We did the normal diversions but they followed us, then the blues lit up, sirens wailed, it was all guns blazing. They pulled up behind us and four policemen jumped out. We thought we were going to cop it, but it turned out they were all just excited to look at the car!
| | | |
| --- | --- | --- |
| At Blackbushe in June 1970 for the Custom Car Trophy Dragfest organised by the NDRC. Brian Sparrow pic | Chris takes Dave Lee Travis for a spin. Vic Heffer pic | Then DLT puts on a helmet and takes it for a blast down the strip. Terry Ayres pic |
Chris took the T to Blackbushe in 1970. Radio One DJ Dave Lee Travis was there so Chris took him for a ride. DLT was then let loose in it, taking it for a blast down the quarter mile. This was DLT's first visit to the Drags and by the end of the day he was well and truly hooked.
| | | |
| --- | --- | --- |
| Feature in Motor 1970 | Feature in Motor 1970 | Feature in Motor 1970 |
| Feature in Motor 1970 | Feature in Motor 1970 | Feature in Motor 1970 |
The car was featured in 'Motor' magazine. Jim Tosen from the magazine came down and we all headed off to Ford Aerodrome where a fifth wheel was fitted along with all the test equipment and we did a series of standing start acceleration runs. All was going well until the rear radius rod studs came adrift. Chris had also broken the Chevy rear axle. The rear end was subsequently changed to a Jag E type that Chris & fiancé Frankie had found on a holiday to Devon/Cornwall in their Morris Minor Woody Wagon.
| | | |
| --- | --- | --- |
| With Stu Bradbury at Santa Pod. Custom Car pic | Santa Pod. Ron Fisher pic | Santa Pod. Ron Fisher pic |
| | |
| --- | --- |
| Santa Pod. Ken Robbins pic | Santa Pod. Ken Robbins pic |
The last Friday of the month became Brighton cruise night, with Mickey Bray, Brian Godber, Barry Treacy and Nick Butler coming down from London, with the evening terminating in the Preston Street Steak House.
In 1970 Chris was invited by Alan Wigmore of the National Drag Racing Club to form the NDRC Roadster Register, to bring together Rod owners in an organised body to have meetings, rod runs, displays at the drags and to establish a high standard of safety and construction. Original members included Barry Treacy, Bryan Godber, Micky Bray, Pete Farries and Brian Webster. Each was issued with numbered NDRC Roadster Register plaques, Chris having number 1. We also had bright red bomber jackets with the NDRC Roadster logo on the back, mine's gone but I think Chris still has his.
| | |
| --- | --- |
| The Ts of Mickey Bray, Brian Godber and Barry Treacy, all members of the NDRC Roadster Register. Cliff Jones pic | Micky Bray was member No. 5 Cliff Jones pic |
| Brian Godber was No. 4 Cliff Jones pic | Chris still has his No. 1 plaque |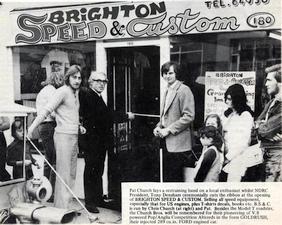 Opening day at the shop. National Drag Racer pic
The NDRC Roadster Register continued until 1972 when it was disbanded as the members felt more could be gained as an independent Street Rod Club rather than being part of a Drag Racing Club. So, the National Street Rod Association was formed in February 1972 with Chris as president.
We had started up 'Brighton Speed and Custom' in 1971. It was based in Edward Street, Brighton, coincidentally next door to the original Hi-Tune Speed Shop I'd worked at. Tony Densham, AA fueler owner and flying kilo record holder, cut the ribbon at the grand opening. My then girlfriend turned up on her horse and a friend on his chopper bike - quite a sight with the T parked outside the shop alongside the horse and chopper bike.
We had a JWR and Wolfrace Wheels dealership, sold MPC Zinger models, Revell models, HP Books, Cal Custom & Mister Gasket dress up parts from JWR. We also stocked a few wheels and American car parts from C M Frost who Dave Riswick had introduced us to, but mostly sold our own T-shirts, model kits and books with the occasional high value items.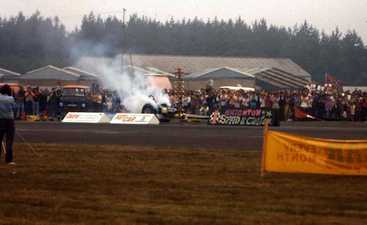 Dennis lights 'em up behind the BS&C boards. Pete Blake pic
Most of our trading was done mail order and at NDRC Drag Races, where we had a captive audience. This paid the bills. We had centre boards made up advertising our business which were put just ahead of the Christmas tree. Alan Wigmore (R.I.P.) of the NDRC and Dave Riswick were always very supportive and tried their best to help us and further the sport.
As previously mentioned, my girlfriend had bought us a '57 Chevy 210 complete with a pair of fibreglass bumpers, from Dave Riswick at JWR. We had stored the car in a barn in Lewes. Graham Kerr, who worked for me at the shop and managed it for a while, bought the '57 Chevy 210 as a 'barn find' from the owner of the barn. I had forgotten all about it as at the time my headstrong, crazy girlfriend had written off our daily car, despite my telling her not to drive it as she had no insurance. She then did a runner to Canada to avoid a forthcoming lawsuit.
In 1972 Ed Wimble gave ROD 5 one of his trick paint jobs, which was sadly lost when it was resprayed a couple of years later. The steelies were replaced by Wolfrace wheels.

Back at Santa Pod in 1972. Ken Robbins pic



Ed Wimble's Himsl style paint job. Ken Robbins pic

| | | |
| --- | --- | --- |
| George Hall pic | Looking good with Wolfrace Slot Mags. Alice Fairhead pic | Crystal Palace CC Show. National Drag Racer pic |
Video link: Mister T Pop and ROD 5 1972.
Chris and Frankie got married in 1973, the T being their wedding car.
The T was sold shortly afterwards. As is often the case the purchaser just wanted the registration number and sold the rod on. Tim Martin owned it for a while and his dad who was a metalwork teacher at Bexhill Grammar School, built a brass radiator for it. Nick Pettitt, who went to the school remembers seeing it at the time. The T ended up with Brian Kirby who remodelled it and called it 'The Prisoner' after the '60s TV series. Rumour has it he still has the car in a garage in Essex but won't sell it.
| | | |
| --- | --- | --- |
| The T when Tim Martin had it. Harold Martin pic | The Prisoner. Unknown photog | Owned by Brian Kirby. Ken Robbins pic |
With the proceeds of the sale of the T, we went to the States in 1973 for the Winter Nationals at Orange County Speedway and at the SEMA Show. We had a deal with ET Mags who were doing Unilug wheels at the time. However, the shipment never arrived and we spent the next year getting the money back.
I'm not sure of the politics but I believe Clive Skilton was going to sponsor the NDRC events and wanted to negotiate prices with us to attend with the Brighton Speed & Custom trade stand, but it became too expensive to continue. Later on, Clive moved to the States. My wife Jean & I bumped into him on a visit to the Indianapolis 500. We had borrowed our pals Camaro and took a trip to Dayton, Ohio for the drag event there. Clive was there racing AA fuel with Don Garlits and the other big boys.
Subsequently we closed the Speed Shop in 1973. We were in the wrong place being located down on the south coast, and American Auto Parts opened in Thornton Heath and John Woolfe Racing in north London. I was not prepared to start moving the business elsewhere. We were naive in the world of business; we got some bad deals and subsequently got screwed.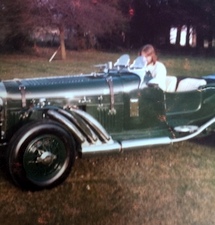 Pat in one of the Bentley replicas
I did a spell building replicas of the Blower Bentleys at Halse Engineering, Kingston, Lewes, located in a Sussex barn. Builds were based on the Bentley Mk.6 chassis. Bodies were fibreglass made in-house along with a lot of authentic replica parts. The last car we built was for Mr. Halse himself for his retirement to Florida, the car was fitted with a Rolls Royce straight 8 motor that we removed from an Airport Fire Tender he'd purchased. I commuted to work in a GP Beach Buggy with a 1600 twin port and full roll cage in those days. Had great times cruising in the Sussex countryside in the buggy and road testing the Bentleys, that lasted for a couple of years. When I left, I purchased a Bentley Mk.6, modified and restored the rolling chassis and engine but a body was not readily available without an expensive bespoke ash frame and ally fabrication so the project was abandoned and sold.
I rented a double garage hobby shop to build another Pop, this time for the street, (Chris was busy making a family) using a Daimler 2.5 V8 and adding a Wade supercharger. I adapted a Ford C4 transmission, narrowed a Jag live rear axle 11 inches to get the 8½ inch wheels under the stock arch. It was built retro style with chrome bumpers, original lights and even kept the original semaphore arms making it look like a stock Pop. Rear wheels were 8½ J Wolfrace slot mags with 6" up front. It had electric windows, tinted glass and the bucket seats I'd kept from the TVR. My wife and mother-in-law sewed the interior in red velour to match the seats. Younger brother sprayed it for me in black base with red flip flop over.
| | |
| --- | --- |
| Pat's Street Rod Pop | Blown Daimler 2.5 V8 |
I spent three years building it during the late 1970s then sold it around 1982. The Reg number at the time was SCD 234 but the same thing happened as with the Model T. The new owner removed the number and the car was sold on to Graham Kerr as OUF 335. It's still out there today albeit brought up to date.
I had a few interesting projects during the hobby shop years including rebuilding two, 440 V8 engines fitted in an offshore cruiser which had blown up. We upgraded them by fitting high-rise manifolds and Holley carburettors to improve its performance. It was a great ride when we took it out for the first time in the channel. It took off bow up, reaching for the sky, boat equivalent of a wheel stand, but boy did that eat fuel! It sounded great though on full chat.
I also restored a 1940's Bedford truck for the landlord while at the hobby shop along with shoving a small block Chevy in my Vauxhall Ventura, the daily at the time.
In the 1990's, on a visit to Santa Pod with my son John, he purchased the ex-John Whitmore, supercharged, alcohol Daimler 2.5 dragster. (With a little encouragement from Dad). He did some work on it but didn't race it, opting to do track days, sprints & hill climbs in my old Audi Quattro turbo which he still runs today, albeit with a lot more horsepower. Chip off the old block! It runs quicker than Gold Rush now!
| | |
| --- | --- |
| John Whitmore's Daimler dragster. Nick Pettitt pic | Audi Quarto turbo at Brighton |
Now semi-retired, I've spent my free time renovating and modifying a '69 Dodge A108 van, for Pod weekends and currently working on a '65 Ford Econoline 5 window pickup. I'm definitely not done yet!
| | |
| --- | --- |
| Pat's Dodge A108 | Cool '70s style sidepipes and slot mags |
Chris has himself a Chevy SSR which he's playing with, once a Hot Rodder always a Hot Rodder. He's good at golf too.
| | |
| --- | --- |
| Chris's Prowler a few years back | Chris's Chevy SSR |
We may not have won anything or broken any records, but boy we had some fun and I do hope we inspired the next generation of Drag racers and Hot Rodders.
---
Gallery: click on any thumbnail for a large image.

Feature ©Eurodragster.com

Back to pioneers index

Back to News page


---