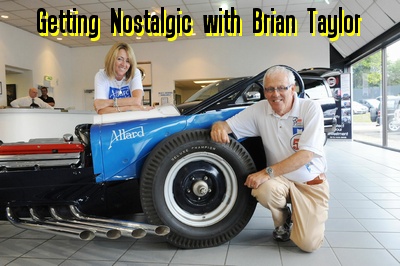 As told to

Monday 13th October 2014: Some days it is better to stay in bed.

After nearly two years of 'cackle' appearances, June 8th 2014 saw the Allard Chrysler Action Group (ACAG) team assemble at Beaulieu for what was planned as a pretty straightforward day preparing the dragster for its appearance at the Beaulieu Hot Rod and Custom Show the following weekend plus a couple of test engine runs. However, it proved to be anything but straightforward and the start of a pretty traumatic period as far as the restoration project was concerned. The first signs that this would not be a normal day were flakes of metal in the sump. After investigation the team checked crank end-float and the mains caps. One of the mains cap appeared to be damaged by metal to metal contact on one side. There was no option but to remove it, only to find further damage to the shells.
After a team discussion it was decided to remove the Chrysler Hemi engine for repairs. As regular readers will know this is not easy on the Allard and it took up the complete day. After it had been removed from the chassis it was mounted on its display trolley. The dragster was re-assembled in temporary display condition – sans a few key components like an engine and gearbox. This was how the dragster was when we started the restoration a few years ago. Because the car has a complete body enclosing the mechanicals it still looks good on display in the museum, although it was put together in a bit of a hurry this time and more work would be required to properly secure the headers.
Further investigation of the engine revealed more damage and it looked as if the crank had been trying to move towards the front of the engine. Number 5 (the rear bearing) was worn badly; number 4 looked relatively OK; number 3 (centre thrust) was bad; number 2 was not too bad and number 1 was badly worn. The thrust bearing and every main cap side had worn on the rear face with the crankshaft pushing forwards. The front faces of the caps were completely untouched. The main cap 3 had a small chunk missing on the opposite side to the locator tab hole.
Why had all this occurred? There were several thoughts. Looking at the bearing wear we wondered if it might be a balance problem. The crank was balanced when the engine was recreated in the USA, but since then a flywheel was added to the rotating assembly. Although they are produced with a neutral balance this might cause a problem if modifications resulted in it being slightly out of balance. With a relatively fast idle (2500 + RPM) it could certainly tear up the main bearings as seen?
However, more likely is that the bearings had got washed by fuel in the oil with the extra methanol running time done since Christmas 2013, and not enough regular oil changes. Another chain of thought could support this analysis. We have used the starter motor for turning the engine without a fire-up on many occasions - valve lash, getting fuel from tank to injectors, draining fuel through new blow-off valve manifold drain, checking for oil pressure pre-fire-up, etc. During these starter motor turns we could not get any oil pressure readings on the cockpit gauge after the initial runs two years ago when the oil was fresh and un-contaminated. Could it be that the zero oil pressure reading during these activities was telling us something we didn't give it credit for? Maybe the contaminated oil in the sump had resulted in an oil pick up problem on initial starter motor turn?
Up until now our thinking had been that the blower was throwing too much of the fuel to the rear cylinders which run rich compared to the others. This would result in an unbalanced engine with more fuel to get past the rings in the rear cylinders. This works against us running a higher volume of fuel that would enable cooler running. However our thinking was to be proved incorrect as far as which cylinders were running rich, although the view of an unbalanced engine was sound.
There were thoughts about using slightly thinner oil. Back in the day it was a common practice to use a "Warm Up" oil and then swap over to full race weight oil once the motor was hot. This would mean that at the start of each run up session the first fire up would be on thinner oil, and then it would need to be swapped for thicker oil because the bearing clearances on the crank have been set for race weight oil and once warm would be too great for a thinner grade.
Other options for circumventing the problems regarding obtaining oil pressure on initial start-up would be an external connection into either and oil gallery or the oil pump outlet that would "feed" the system via either a hand pumped or pressurised supply to ensure there was sufficient oil in the system prior to starting. Alternatively, to prime the system prior to firing, the magneto could be removed and an oil pump drive attached to a speed brace inserted and the oil pressure obtained (this is how some of the fuel engine teams do their engines due to oil pick up drain back). This does however mean the mag will need to be re-timed at the start of each session.
But using thinner oil needs to be looked into carefully. These old engines have heavy rotating assemblies and benefit from a good cushion of oil. Our thoughts were that we should not go below 20w-50w racing oil that has a higher level of zinc - good for old engines with solid lifter camshafts. Lucas also recommends the use of zinc based grease on the bottom end components.
We concluded that it needs to be a case of precautionary oil changes after every cackle session (2 start ups). Then we need to introduce a routine for checking a couple of bearings – probably every six fire-ups.
The crank was removed and initially taken to Roland Alsop Engineering. After initial inspection he believed it would be ok with just a polish and turning the crank web to remove the damaged area. Once that was carried out we could order the right size bearings. We would also try and locate some replacement end-caps.
In the end he had to take 25 thou off the web. The big concern was the damage to the 3rd main crank web on the rear face. It had grown deeper than a standard thrust bearing width and if left like that would just rip the mains apart again.
His thoughts about the cause of the damage were;
If it was an auto box, someone sitting with throttle on holding the brakes on.
Holding the clutch down for a long period, so always trying to put drive through the engine.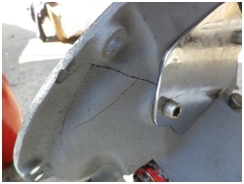 As neither of these directly applied to our operation we needed to take these thoughts on board when re-assembling. We had to check whether the blower on the front had too much end float, which in-turn could be grabbing the crank forwards. Likewise did we know if the end float on the gearbox input shaft was correct, as if that is insufficient the crank will be under load and will be pushed forward. We had been running the engine without an effective transmission for some time.
In the end Roland Alsop did not feel they could carry out a weld repair so the crank shaft was taken to Fields Engine Service in London www.fieldsengineservicee11.co.uk. The company carries out crank repairs for many drag racers and after inspection they felt it was repairable. It was then ground to standard size. We supplied Federal Mogul bearings so that the machining could be carried out to match the bearing.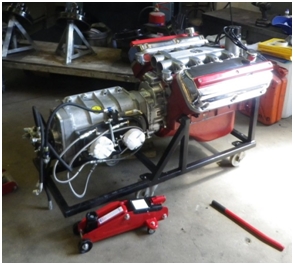 On a different note the cracked gearbox referred to in a previous blog was taken apart and re-assembled in a replacement gearbox casing obtained from the USA. It just required painting red – or so we thought. Unfortunately the box was dropped on the floor and the new casing was badly damaged. For a long time it went very quiet in the workshop as we all came to terms with what this might mean to the project. We needed to order yet another casing from the USA.
Although it looked to be a bit heavy for the task in hand the new clutch was checked out for fitment to the flywheel. We had ordered two friction discs. With a slight modification to one friction disc (4 mm taken off the spindle mount to allow contact) and the tapping of a dowel hole to enable a sixth bolt to be put in place, things seemed to be correct. This would need to be balanced with the repaired crank.
The engine trolley had been painted black and so the engine with blower could be installed for display at the museum and forthcoming shows. A cardboard tube held the rods in place while the crank was out being repaired. The dragster sans engine, etc., was transported to the Goodwood Festival of Speed and we were pitted next to Rat Trap, one of the two American Fuel Altereds appearing at the Dragstalgia meeting at Santa Pod some two weeks later. Lord March paid us a visit during the show.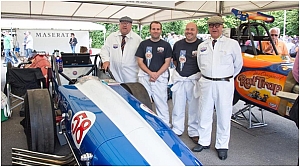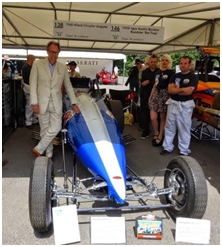 During the weekend July 12/13th the dragster was displayed at the Santa Pod Dragstalgia meet. This is always a good fund raising event – much needed with the repair costs building up. We also picked up a presentation folder of 1963/64 press cuttings and letters from Mooneyes delivered by American racer Dale Snoke. More about this later. Another American racer Julie Braskett posed with the car. She had followed the project via Social Media and, now residing in the UK, wanted to discuss how she could help out. More about this later on as well.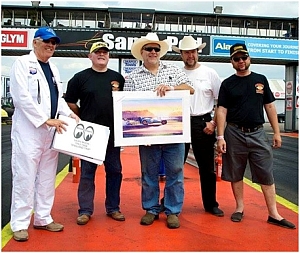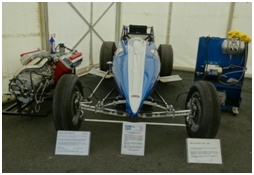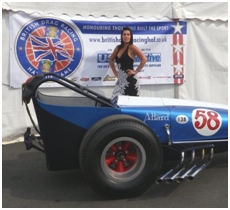 Because the restoration is based on the availability of volunteers and funds available it is not always possible to do all the required work when we would like. So once back at the National Motor Museum, Beaulieu we started to prepare the engine for crank balancing and it was then that more damage was discovered.
One piston was very lightly marked but serviceable, three were pretty badly chewed up and 1, 2, 5 and 8 would require replacing and the cylinders honed to remove the marks (hopefully that would be sufficient). Number 8 was only very lightly scuffed. On Number 5 piston the damage had trapped the oil control ring so that would require replacement. Again it was thought that poor lubrication had caused the problem. The camshaft was not inspected at this time.
With all this work required it was time to re-think our complete service and repair strategy. The feeling was that we now needed a professional engine builder to re-build the 354 and help sort out our transmission problems. Although we had the expertise within the 'greater' ACAG Team they were not always available to us due to their own race team commitments. We had some funds but would need more.
Initial publicity about the need for an engine builder brought forth some interesting responses and these were analysed. They included Denny Hummel who originally built the engine when he was a partner in Booth-Arons, but although he offered to do it free of charge (including the parts) the logistics of transferring the engine to and from Detroit needed to be overcome. And it made sense for us to build the expertise in the UK if possible. Denny did however offer to source the parts. Rob Loaring of ICE Automotive also offered to help. Rob's business partner Nick Davies has been a big supporter of the project.
But what about our need for more funds? Our calls for help to cover the extra work soon generated support. American drag racer Julie Braskett confirmed her interest and offered £1000 sponsorship. I handed the money over to Doug Hill, Museum Manager and Lord Montagu's Chief Engineer, on August 16th.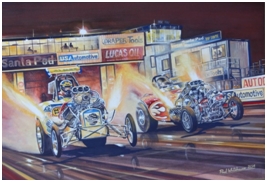 Julie said.
"I have been following this project on-line long before I moved to the UK. It is so important to cherish our history and this dragster has a fan base both sides of the Atlantic. Now I have seen the car up close it is even more beautiful than I thought and I'm so pleased to be able to help the team keep it running. I'm looking forward to sitting behind the wheel when it is ready to cackle again".
Nick Davies was the top bidder for the latest original painting donated by Paul Whitehouse. He has quite a collection now.
Paul has been a long-time fan of the Allard Chrysler restoration project, donating several original paintings for auction. When he heard that the group needed to obtain additional parts, plus the services of other facilities for the engine rebuild, he was straight on the telephone and donated his fabulous painting of Rat Trap and Pure Hell at Dragstalgia 2014.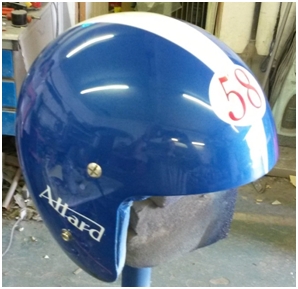 Another donation came in the form of a period crash helmet painted in Allard colours. The helmet was donated by Mark Coulsell but the artwork and paint was applied by Lee Patrick of HRS Designs of Tamworth.
This will be displayed with the dragster at the National Motor Museum, Beaulieu along with the starter trolley.
This is our second period crash helmet – the first being donated by Cliff and Sharon Watts.
Added to the funds raised at Dragstalgia, the financial donations boosted our kitty considerably and we were ready to get the engine back making a noise again. Further help came when Rob Loaring of ICE Automotive confirmed that he would lead our team in the engine rebuild work using his Silverstone workshop. In the meantime the car – sans engine - would remain on display at its home in the National Motor Museum, Beaulieu.
So August 15th saw a small team assemble at Beaulieu to prepare the engine for inspection by Rob. It was taken off display and stripped down so that he could inspect the damage in the bores and on the pistons, cams and cam lifters. We learnt that the rear two cylinders had been running lean and not suffering from over-fuelling as had been our thoughts up to now. The main damage was to the front two pistons and bores due to over-fuelling washing past the rings and corrupting the lube system. Still a fuel distribution problem causing oil contamination but not quite the one we had assumed.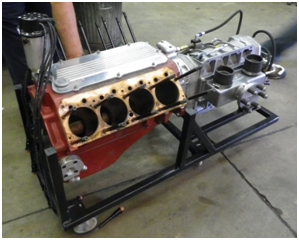 Some of the lifters were convex and some concave so it was thought the cam would also be damaged although we didn't access it at this time. Rob thought that we needed a set of 10 pistons – sizes to be specified once the bores had been finally honed by ICE Automotive. We also needed a cam and lifters and some information about the minimum recommended valve spring pressure that could be used with this set-up.
It was further decided that the rebuilt engine should be suitable for running on methanol with nitro running an option rather than the norm. It was something the museum were keen on and more closely represents the way Sydney and his team ran the car back in the 1960s. I know the 'cackle' purists will have something to say but balancing the show aspects with the originality of the project is never a smooth ride. We would increase the compression ratio to suit these requirements.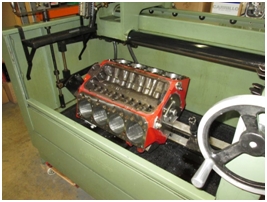 A few days later the team broke down the engine to short block only and transported it to Silverstone so that Rob could hone the cylinders.
My job was to contact Denny Hummel to check out availability and lead times on the pistons, cam and lifters along with information about the valve spring pressures.
Rob carried out a first stage light honing at ICE Automotive and identified the finished bore size as 4.066". This would enable Denny to re-calculate the piston volume required for our target 10:1 compression that will facilitate our methanol running as the first option strategy.
Wayne Brooks at Race Tec confirmed that the piston lead time would be 4-6 weeks. Dave Crower recommended the same cam profile for the replacement cam. Denny also confirmed that a valve spring pressure of 100 pounds at the seat would be about right.
The next stage will be for the ACAG team to go to Silverstone and mock up the crank, bell housing and transmission to see what we have. However we would need to re-assemble the replacement gearbox first and Chris Eames re-joined the team to carry out this work. I made copies of the original Booth-Arons 'Build Book' for Denny and Rob.
More details about the engine problems can be found on our Autumn on-line issue of ACAG Update on drceurope.co.uk/acag/aug2014/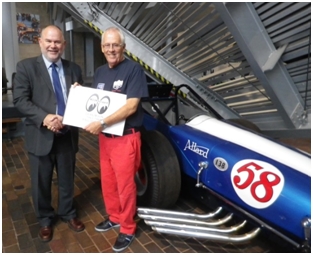 Earlier in this blog I mentioned the Mooneyes Archives presented to us at the Dragstalgia Meeting in July. Most readers will know that Dean Moon was very much involved in supplying parts and advice to Sydney Allard's team back in the winter of 1960/61 when Europe's first dragster was being assembled in the Allard Motor Company Clapham workshop under Sydney's office. Dean was also very much involved in bringing Dante Duce and the Mooneyes dragster across to appear in the UK during 1963.
What was not known was the fact that Dean kept copies of the correspondence linked to the 1963 trip in his office drawer, along with press cuttings. They have been discovered only recently and, backed by Shige Suganuma and Chico Kodama of Mooneyes, have been copied and printed in a folder by Allison Jobe of SXS Performance in California.
The completed publication has been donated to the National Motor Museum, Beaulieu as part of the archives linked to the Allard Chrysler dragster. Along with lots more information it can now be accessed by researchers using the library at the museum. I re-presented them to Russell Bowman, CEO National Motor Museum, Beaulieu.
Russell said, "Our heartfelt thanks go out to all those involved in preserving this piece of history. The National Motor Museum, Beaulieu is proud to include it in our archives. Preserving the documents linked to our exhibits is a vital part of what we do and this document includes a considerable amount of previously unknown information about Sydney and his drag racing activities".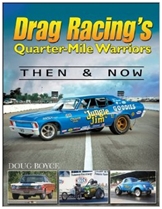 A new book by Doug Boyce has just been published reviewing some of the most influential cars in the world of drag racing.
As Europe's first dragster, the Allard Chrysler is one of the featured cars. We are in fantastic company and I would like to thank Doug for including us.
This link takes you to more details.
BDRHoF work
My other role with the British Drag Racing Hall of Fame Management Group has been taking up a lot of time. We have been very busy as the date approaches for the most ambitious social event drag racing has seen for decades. That is of course the 2014 BDRHoF Celebration Gala Awards Dinner being held at the Savill Court Hotel, Windsor Great Park on November 22nd.
The Celebration part of the event is marking 50 years since Sydney Allard organised his First British International Drag Racing Festival. However the main awards focus on the pioneers being inducted into the Hall of Fame this year. Sponsor of these awards is the Santa Pod Racers Club.
At midnight on July 11th 2014 BSM and 7.00pm EST 2014 in the USA, the BDRHoF announced its new inductees – Gerry Belton, Russ Carpenter, Don Garlits, Dennis Norman and John Whitmore. More details about all of them can be found on www.britishdragracinghof.co.uk. We congratulate every one of them.
Following the initial sponsorship of the event from Beech Underwriting and Flint Insurance, Lucas Oil Products UK announced its support. Les Downey is Managing Director and Director of European Operations for Lucas Oil Products UK that he established back in 1998. He has been associated with UK drag racing for many years and at the Savill Court he is hosting the welcome drinks for guests as they arrive ready for the Awards Dinner and supplying the official 'goodie' bag. Les Downey said,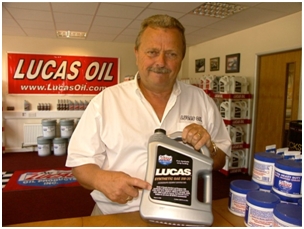 "It gives me immense pleasure to be able to support this much needed prestige drag racing social event and play a part in honoring those who helped get the sport established in the UK. I have made so many friends during my involvement with the sport and I look forward to meeting up with them in Windsor".
"But as well as welcoming guests with a drop of wine we will also be involved in another aspect of the event to be announced on the night. It promises to be an evening to remember and set a new standard in hospitality that can only benefit the sport of drag racing over the next few years. It particularly rewarding to be involved in the event that also celebrates 50 years since Sydney Allard organized the First British International Drag Festival".
Anticipating that the Gala Awards Dinner would be a sell-out event, the BDRHoF decided to arrange an additional opportunity for fans to meet Big Daddy Don Garlits during his 2014 trip to the United Kingdom. It is being held at Santa Pod Raceway and includes refreshments, a signed copy of Don's latest book 'Don Garlits and his Cars' plus the opportunity to shake hands with the great man and take part in a Q&A session. It is an exclusive event with no more than 50 tickets being made available.
Sponsors of the event are UK-based American drag racer Julie Braskett and long-time BDRHoF supporters US Automotive. The event is 'Afternoon Tea with Don Garlits' held in the Quarter Mile Club VIP Centre at Santa Pod Raceway on the afternoon of November 23rd starting at 2.30pm. Tickets cost £35.00 (booking fees apply). They sold out very quickly.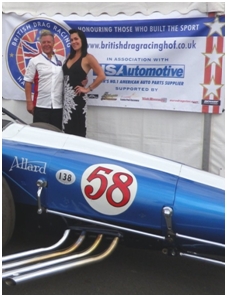 Julie said, "Having grown up in a drag racing family from Southern California, and recently relocating to the U.K., I find it rather astounding that now on this side of the pond, I am preparing to meet one of my father's idols. Don Garlits is "The Big Daddy" of them all. A pioneer and a true legend of the sport. He was the driving force, the inspiration, and the very reason my father became a drag racer. This is the reason why I am committed to continuing the Legacy, in my father's name. I would like to thank the BDRHoF from the bottom of my heart, for welcoming me with open arms, and for the honour, and privilege of sponsoring such an occasion".
Stewart Bassett of US Automotive said, "We have supported the British Drag Racing Hall of Fame since its inception and its growth in status over recent years has been very rewarding. Apart from Bonneville being cancelled, it's been a great year for all of us at US Automotive. Being able to bring Rat Trap and Pure Hell to Dragstalgia was a real highlight and the opportunity to sponsor and host an appearance of the man who has to be the most influential in the sport's history is the icing on the cake. We are all looking forward to meeting a legend".
Custom Car Magazine, in partnership with Real Steel, joined the list of companies involved with the Gala Awards Dinner. They are sponsoring a 16 page table programme in the form of a mini Custom Car Magazine, featuring the menu, time table and information about the award winners. A great souvenir.
Editor of Custom Car Magazine, Dave Biggadyke said,
"We are proud of our association with drag racing over the years and would like to thank the British Drag Racing Hall of Fame for giving us the chance of getting involved in this magnificent tribute to the pioneers of the sport – particularly as this year marks 50 years since Sydney Allard organised the First British International Drag Festivals".
"It is fantastic that one of the men at that series of influential drag racing meetings, Don Garlits, is to be at the Gala Dinner. He has stamped his mark on the sport in a manner that nobody else has equalled. I would like to thank Charles Pinion of Real Steel for joining us as co-sponsor".
Robin Jackson, Press and Public Relations Manager for the BDRHoF says:
"Having Custom Car Magazine involved with this event is very fitting. In media terms there can be few publications that have equalled the support and exposure they have given drag racing since 1970. The special mini replica of the magazine on the dining tables will definitely become a collector's piece. On behalf of the BDRHoF I thank both Custom Car and Real Steel for their support".
And the support keeps coming in. With a substantial four figure sum, the National Street Rod Association UK (NSRA) joined the list of those sponsoring the Gala Dinner. Jason Hollamby of the NSRA said: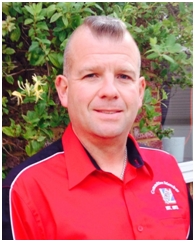 "We have recently been working with the British Drag Racing Hall of Fame linked to our involvement in the Dragstalgia Meet at Santa Pod. We really admire what they are doing and the way they go about it. The NSRA Hall of Fame was established in 2012 as part of the NSRA's 40th anniversary with the aim to recognize significant contributions or achievements from people or vehicles within the hobby, so there is much synergy between our two organizations – both of which are truly national bodies. We are keen to develop this obvious common ground and our sponsorship of this special event is hopefully just the start of a long term relationship".
BDRHoF Chairman Stu Bradbury said, "One of the most costly and important requirements for a successful Awards Event is installing the right Audio Visual support. Julian Parsons and AMP Audio Solutions will be providing this for the Gala Dinner. Most of you will know Julian from Nitro FM at Santa Pod. The not insubstantial costs are being sponsored by the NSRA this year and we offer our sincere thanks. Working with the NSRA to develop Dragstalgia has been a pleasure. Drag racing is the traditional hot-rodder's sport and hot-rodding is the very foundation of drag racing. Most drag racing pioneers are hot-rodders at heart – including me".
Along with Don Garlits and his family many other special guests will be joining those assembled at the Savill Court Hotel to celebrate the pioneers of our sport. They include Guy Loveridge, Chairman of the Guild of Motoring Writers, Doug Hill, Museum Manager, National Motor Museum, Beaulieu, and Lord Montagu's Chief Engineer, Ron Hope of Rat Trap Racing and President/CEO of CARS Recon Inc., several guests from Lloyd's of London, the top management teams from Santa Pod Raceway and York Raceway plus others whose names are yet to be announced.
While Don is in the country he has been invited to quite a few functions. These include dinner with Lord Montagu's son Ralph at Beaulieu Palace on November 24th (he will be at the museum in the afternoon so as the museum is open as normal you might glimpse the party viewing the exhibits); the International Historic Motoring Awards dinner at the Renaissance Hotel, St Pancras; lunch at the RAC Club in Pall Mall hosted by Ben Cussons, RAC Board Member and Chairman of the Motoring Committee; and an exclusive trip around the Lloyd's of London Building including a special presentation by Rupert Atkin, Deputy Chairman of Lloyd's; plus a visit to Nick Mason's private collection of cars if it can all be fitted in to the busy calendar. Alamo Rent a Car is providing the transport and Robin Jackson will act as tour guide.

The British Drag Racing Hall of Fame announced that it has nominated The Don Garlits Museum of Drag Racing to be honored with the "Museum Collection of the Year Award."
The Museum Collection of the Year Award is connected to the International Historic Motoring Awards, a prestigious automotive event which honours a number of individuals and groups each year for contributions and achievements in several categories. The Allard Chrysler Restoration Project was nominated in two categories in 2013. The winners will be honored at the St. Pancras Renaissance Hotel in London, England on November 20, 2014.
The Don Garlits Museum of Drag Racing has long been a destination for drag racing fans, worldwide. Don's contribution to the preservation of historic drag racing vehicles, and not merely his own, as well as uniforms, helmets and other memorabilia is a major reason why the British Drag Racing Hall of Fame chose to nominate the museum for this honor. Click the link and view the progress of the Don Garlits Museum Of Drag Racing, nominated as the 2014 Museum or Collection of the Year: www.historicmotoringawards.com.
Wednesday 4th June 2014: January to May.
Well – I seem to have missed out a blog again. Must be an age thing so this one is a 'Super Blog'. On December 29th an ACAG team assembled in the workshop of the National Motor Museum, Beaulieu. The first job of the day was to enhance the RHS half shaft with an extra safety mechanism. It had previously been welded by Andy Robinson at the thread end (it had been broken for years) and, although there was no way the wheel could break loose if the weld failed, it was felt that an extra precaution would not be a bad thing. It would also protect in the case of bearing/circlip failure.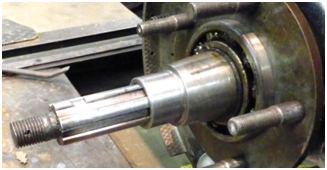 We set about the task by grinding a couple of slots in the axle shaft and drilling corresponding holes in the cover (see left). Flat ended M8 Allen Key grub screws were used to secure the cover to the shaft.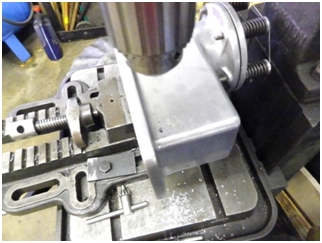 Paul Stubbings also made a suggestion to improve the draining of fuel from the blower after shutdown. A small drain hole was drilled and thread tapped in the base of the blower pop-off valve side-plate at the front end (see right). An M8 Allen Key head screw with a copper washer was installed as the blank. This proved to be a very simple but useful modification.
After shut-down the rear of the dragster can be jacked up and the drain plug removed to drain surplus fuel. Turning the engine on the starter button with fuel shut-off closed and mag off should clear the blower of any further excess fuel, driving it into the drain hole.
We also addressed fitting our ex Dave Gibbons chute. Up until now the pack had just been padded out with material for effect. It was a tight fit and tougher eyelets were required, but as we did not need the spring loaded drove (we do not envisage using the chute to stop the dragster; just for display) this was removed and placed in storage.
We had previously identified that the length of the on-board fuel pipe linking the injection system to mobile starter trolley union was too short and this resulted in stressing the union joint so that it leaked – a regular occurrence during 2013. Plans were made to replace it with a longer pipe but unfortunately this was not the end of the story as readers will find out. We took the clutch pedal to Nick Connor's workshop so that he could fabricate an extension that would facilitate more room for movement in the cockpit. At the time it hit the clutch cover when fully depressed. Again this proved to be just the start of a series of discoveries about the transmission problems on the dragster.
Jan 19th saw our first Beaulieu get-together of 2014. Our main focus was to take the clutch out so that we could reduce the number of springs from three sets of three to three sets of two – the idea being to produce a softer clutch action. With the clutch unit out, using a hydraulic press we were able to expose the springs and remove one from each set of three. The unit was then re-installed to the engine. We had a good look at the tacho that had been giving spasmodic readings during 2013. We spotted a mechanical problem with the meter and further tests were needed.
Feb 23rd saw an ACAG Team gather at Beaulieu again. Gareth brought along the clutch pedal that had been strengthened by Nick Connor. The new extension was drilled ready for the retaining pin and then attached to the gearbox shaft. But we found that the pedal shaft in the gearbox was slightly bent so we had to find a replacement shaft.
We removed the RHS exhaust manifold and gasket that was leaking on one side. We found that something quite unexpected. Some manifold retaining bolts were leaking coolant. Checking the LHS resulted in similar leakage. These bolts were taken out, the coolant drained and the bolts re-installed using thread lock. The headers and exhaust gaskets were cleaned and the gaskets heated to soften them before installation.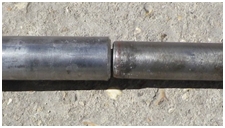 March 16th saw the ACAG Team gather at Beaulieu again. We had obtained two replacement shafts to replace the bent one; one for a Ford Pilot (this is the box we had been led to believe is on the Allard) and one was a Mercury fitment (recent work leads us to believe the box fitted was used for a left-hand column gear change drive American vehicle). On arrival they both appeared to be the same shaft with slightly different attachments. Once we got the existing shaft out (not easy) there was a difference between that installed and the replacement shafts (see left).
Both replacements were 7/8 inch diam while the existing one was ¾ inch diam. It looks as if at some time the existing shaft had been modified – probably as part of trying out different clutch units.
While the clutch was exposed other measurements were checked and these seemed to be in order but the clutch was still very severe so we decided to order a saloon car clutch. It is something we had looked at earlier. The parts ordered by US Automotive were Schiefer clutch disc 706-0009, 11 inch diameter, plus 1 3/8 inch x10 spline input shaft to fit Ford manual gearbox applications. The original clutch on the dragster was Schiefer so it is in line with keeping the car in original status. We also found a small crack in the gearbox casing. So we decided to source a replacement casing and rebuild the gearbox using the correct sized 7/8 shaft and the parts in the existing box.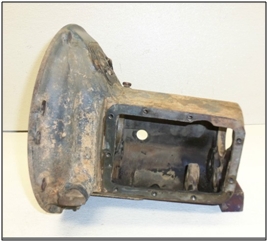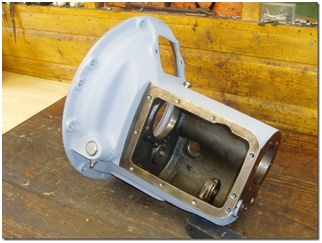 Ford gearbox specialist Alan Brock found a period correct unit in the USA and had it shipped to his base in Bedfordshire where he had it blasted before removing the old shaft and re-shimming it as necessary. He then cleaned it ready for us to work on.
We also looked at the clutch pedal mechanism. It came straight off the shaft with no heel rotating point apart from the floor or extra levers in the linkage to magnify pedal pressure. It meant that a lot of lateral force was used rather than rotational. Looking at the pedal fitment in the Commuter dragster that is currently on display at Beaulieu, we developed some ideas for improving the situation.
However, we decide to delay further work on the transmission and focus on getting the car ready for its first test fire-up of the year on March 30th. So we put things back together without the clutch shaft installed. And as we did not plan any immediate work on the clutch we re-installed the left hand side cockpit floor.
Rubber matting was installed on both shelves of the recently painted starter trolley for protection, grip and easy cleaning. We also had new batteries donated by Yuasa. These were YBX 5334 units, 95 Ah, 830A as recommended by Yuasa's tech team. We only needed one on the trolley so we now had a back-up already charged. It should give more power on starting and more starts per charge. We replaced the crocodile clips with proper battery post fitments. Battery clamps were installed to hold it firm in the trolley and an isolator switch completed the job.
The inlet manifold was removed because a leak had been spotted at the final fire-up of 2013. Gaskets were cleaned off and it looks as if the leak might have been between the spacers and the engine. New gaskets and gasket sealer were installed and the manifold replaced. More sets of replacement gaskets were ordered via our parts buddies US Automotive. After the manifold had been installed we fitted the booster gauge using one of the port injection points. Hopefully this will give us more information when the engine is running. We were unable to re-install the tacho as it was proving difficult to fix the damaged windings.
Leaking core plugs on the left hand side of the engine were cleaned and re-sealed without removing them. We may have to replace these in the future.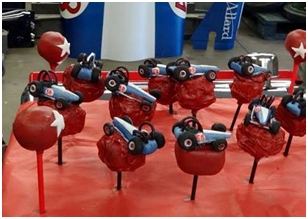 It was Kev's birthday weekend and he bought in some fantastic Ally Cake Pops in the shape of the dragster. We felt like cannibals eating our young but as well as being works of art they tasted good.
March 30th saw us back in the Beaulieu workshop. One of our supporters, Steve Clark at Nimbus, kindly donated a System 1 billet spin on oil filter Part Number 209-561B. On advice from Nimbus we had chosen the 3.75" diameter filter which is slightly longer than the original. We also changed to a 45 micron element (part number 208-560) for use with the 60wt oil.
This was installed and it meant that we would be able to drop the filter after a run, clean the mesh after checking for debris and re-install after filling with oil. Much better than just replacing the filter without having the ability to check for debris unless the old filter unit is destroyed.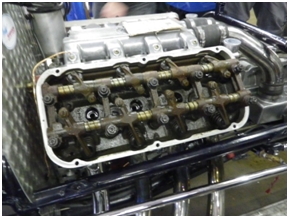 When we took off the rocker covers we discovered quite a bit of corrosion that had to be cleaned off with spray, brush, Scotchbrite and cloth. We think it had been caused by condensation and/or nitro in the oil. We have decided to revert back to using Lucas blue 50 Plus Racing Oil with Organic Moly. We were also advised to use Lucas oil stabilizer as well.
As an added precaution we decided to change the oil more frequently and clean down the rockers as part of our post cackle session drill. For the pending test fire-up engine oil was applied to rockers before covers and new gaskets were reinstalled. We decided to ask Nimbus for some Torco MPZ.
Plugs were removed, checked, cleaned, gapped and replaced after spraying WD 40 in bores. Oil was drained and replaced. WD 40 was sprayed into fuel pump. Evans fluid was topped up.
For the first run of the year we ran our methanol/petrol mix from the on-board fuel tank. The starter trolley was just used for the battery power. The car was on rear axle stands outside the Beaulieu workshop. The Digital temperature gauge was attached for block temperature and the laser gun made available for outside block and header readings. All body panels were off so we could check for leaks.
After a quick starter motor turn with the fuel shut-off open to get fuel into the injectors, the mag was switched on and the car fired on the second attempt. Unfortunately it had to be switched off after a few seconds due to a fuel leak in the fuel filter container. This was given a temporary fix but we decided to replace it with a direct connection as the fuel filter element failed the nitro test last year. We also drained the residue fuel out of our new Potvin manifold drain.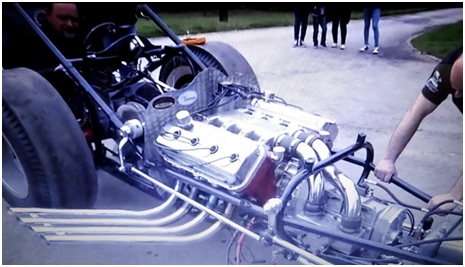 We went for another start and it fired up first time sounding really great. We didn't attempt any fine tuning but let it run for a couple of minutes to check for any further leaks. Apart from the fuel filter still seeping fuel all seemed OK. After switch off surplus fuel was again drained from the blower drain and the remaining methanol drained from the fuel tank for use another day.
After the team took off the rocker covers to check all was well, we dropped the new oil filter, checked for gunge, cleaned the filter and replaced. We replaced the leaking fuel pipe that Andy Robinson had fabricated using Exact unions. We also went through the full list of checks that will go in the operating guide.
During this session we hit problems. Leaking pipes and unions on the dragster's remote trolley feeds caused problems as soon as we put any pressure into the methanol feed. Despite many attempts to rectify the situation, a decision was made to abort the original nitro test schedule and go for a couple of methanol runs fuelled from the on-board tank. We took measurements of the leaking pipes and unions required and made plans to fabricate a completely new set.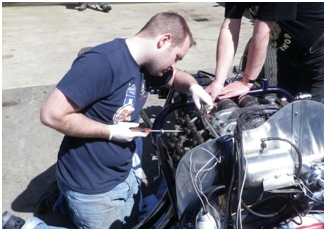 The methanol run went well and put some heat into the motor. We left it to cool to a manageable temperature and then removed the rocker covers so that Gareth could set the valve lash. They were quite a bit out.
Oil stabiliser was added to the oil and Torco MPZ used on the rockers. New NGK plugs were gapped and installed.
A second run was carried out and the engine sounded much sweeter but we had a leaky rocker cover spacer. After the run the covers were taken off again and new gaskets and sealant applied. The plugs were checked and the oil filter dropped again. All looked OK. Methanol was drained from the tank.
Our first public appearance of 2014 was on April 18th at Wheels Day held on Dunsfold airport - the home of Top Gear. It was the first day of the Easter break and the event was organised by Surrey Street Rodders - the 40th anniversary of the show.
This was the first time at this venue for the show that had previously been held near Aldershot. But there were only two narrow road access points and huge traffic jams built up with queues starting before 8.30 am. By mid-morning the jams were so long the police ordered the organisers to let people in FOC to speed up traffic flow. 23,000 attended and many turned back because of the jams. It demonstrates the appeal of the event.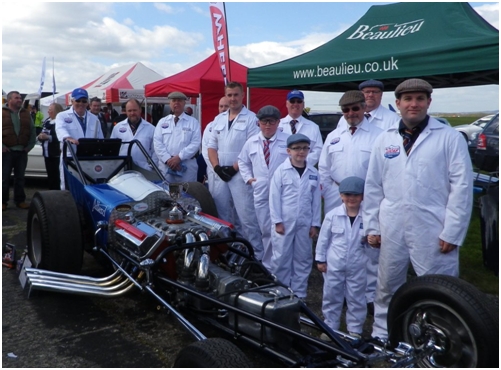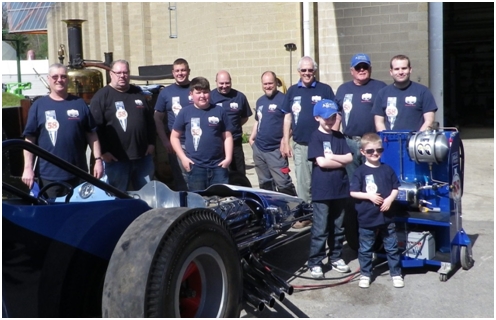 The dragster was pitted in front of the National Motor Museum, Beaulieu display point and attracted big crowds. The team was in white overalls rather than the ACAG T-shirts and were featured in several video and photo shoots.
Once pressure was put into the trolley fuel system a couple of unions needed tightening but otherwise it was all OK. With Jon Godman in the driver's seat while Gareth tuned the idle settings the methanol start was carried out. All looked good for our methanol-nitro-methanol fire-up at 2.00 pm.
I was interviewed on stage by event commentator John Price who later brought the mobile mic to our car for the 2.00pm start. This went well and startled a few people who had not heard or smelled a fuel dragster before. We drew a massive crowd as the photo shows.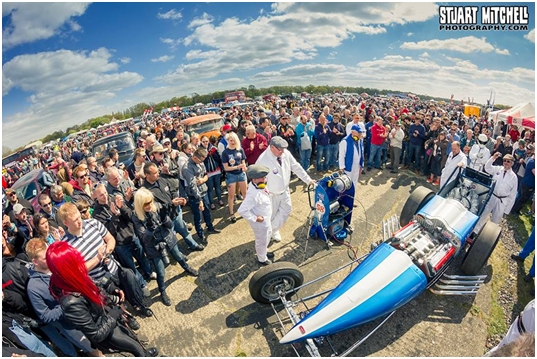 This link takes you to a video of the nitro fire-up
All in all a good day for the crew, the National Motor Museum, Beaulieu and spectators. Taking history to the people – particularly working history – is an important part of the National Motor Museum, Beaulieu's strategy.
2014 Allard Chrysler Dragster planned Appearances in 2014
April 18 - Surrey Street Rodders' Wheels Day, Dunsfold (COMPLETED)

June 14/15 – Beaulieu Hot Rod and Custom Show, Beaulieu
June 26/29 – Festival of Speed, Goodwood
July 11/13 – Dragstalgia, Santa Pod
July 20th Sherborne Classics at the Castle
Our appearance at Dunsfold was reported in Nostalgia Drag World http://nostalgiadragworld.com/v2i5allardbriantaylormelanie.php
If you want more details about the work carried out so far this year follow the links to updates for March and May.
Additional news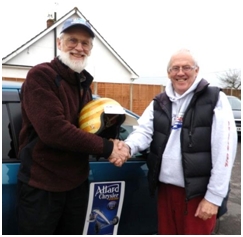 During a recent visit to the UK our good supporters Cliff and Sharon Watts gave us another donation – this time something for our box of goodies. It is a 1970s vintage crash helmet complete with peak and visor. It previously saw use with the Uncle Scrumble competition altered that raced in the UK during the 1970s.
They have now returned to their home in California. Thank you both for your continued support.
Media Coverage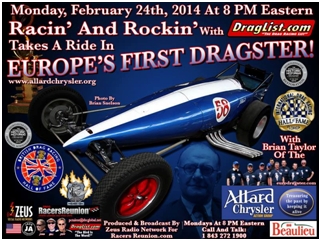 The 2014 January issue of Custom Car saw a fantastic feature on the dragster with photos by Matt Wood taken at the 2013 Dragstalgia event and words by Keith Lee. We even had a centrefold pull out of Nitroman next to the car.
We also had a slot on Racers Reunion Radio in the USA. Presenter John Bockelman talked about the dragster and our project in glowing terms.
Iris Page Achievement Award
We were presented with an achievement award for work carried out on restoring Europe's first dragster - the Iris Page Memorial Trophy. The trophy is awarded to 'the racer or team or individual who has contributed most to the sport over the previous 12 months or achieved their own personal goals against all the odds thrown at them'. It is satisfying that people in the sport see us in this category.
2014 BDRHoF Celebration Gala Dinner
As most of you know I also handle the Commerce and Marketing functions for the British Drag Racing Hall of Fame (BDRHoF). On May 19th the BDRHoF announced more support for the event, this time from the Flint Insurance Group that is sponsoring the table wine and the Public Liability Insurance required for the function. More sponsors will be announced soon.
Together with the induction of the Hall of Fame's new members for 2014, the event celebrates a landmark, half-century anniversary. In 1964, the International Drag Festival gave Britain its first full taste of the American sport of drag racing. A joint-venture between Sydney Allard and Wally Parks, president of America's National Hot Rod Association, the 'Dragfest' brought a team of leading US racers of the day to race on airfield sites across England.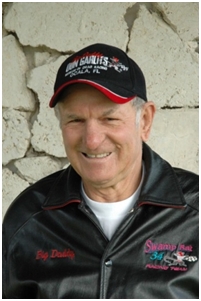 Already the foremost star among them was 'Big Daddy' Don Garlits, who in the ensuing decades would become the true titan of the quarter-mile – not merely the greatest drag racer who has ever lived, but a touchstone figure who would define the very landscape of the sport we know today.
So it was with great excitement and pride that at 2.00 pm on Saturday May 24th the BDRHoF was able to give the fantastic news that the King of Drag Racing – Don Garlits – is to fly in from the USA to attend the Gala Dinner. At 82 years of age, Don continues to serve as Chief Executive of the Don Garlits Museum Of Drag Racing and the International Drag Racing Hall Of Fame, both based at Ocala, Florida. Daughter Donna is General Manager and Chief Financial Officer of the Museum. While not (currently) active in competition, Don has never ceased his on-track exploits and innovations. Within the past month he has established a new quarter-mile record for a battery-powered electric dragster (7.25sec/184mph) and is intent on breaking the 200mph barrier for the class.
Further news of the Gala Night and of Don Garlits' UK visit will be released on www.eurodragster.com and tickets for the occasion may be obtained by contacting the Hall of Fame via its website.
This year's new Hall of Fame inductees will be announced during the Dragstalgia event at Santa Pod Raceway, 11th-13th July.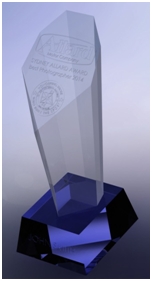 Still about the Gala Dinner, early this year the British Drag Racing Hall of Fame (BDRHoF) announced the introduction of two new annual BDRHoF Awards for photographers and writers. Open to professionals and amateurs, they celebrate the importance of the media in promoting our sport along with the crucial role played by Sydney Allard as the 'Father of British Drag Racing'. The trophies are sponsored by the Allard Motor Company operated by Sydney's son Alan and his grandson Lloyd.
One will be presented to the writer of the best book, article, blog or feature on British drag racing published in print or on-line during the 12-months ending July 2014. This is in association with the Guild of Motoring Writers and the Chief Judge is the Guild's Chairman Guy Loveridge.
The second will be presented for the best photograph featuring British drag racing, either published in print or on-line during the 12 months ending July 2014, or remaining un-published. This is in association with Octane Magazine and the Chief Judge is Octane Columnist and Classic Car Collector Nick Mason who will be joined by Octane Art Editor Mark Sommer.
So the competition has already started with many photographers and writers owning photos and/or articles taken or written from August 2013 onwards. Many have already sent in their entries. You can enter as many pieces of your work as you like, but each entry must be accompanied by a completed entry form to enable the judges to collate them accurately. The entry form can be downloaded, completed and then sent back by e-mail to with attached article or photo files in Word or pdf form and photographs in jpg form. These forms can be accessed by selecting the Allard Award Entries tab from the menu on www.britishdragracinghof.co.uk/allard-award-entries.
These new and prestigious awards will be presented at the BDRHoF Gala Awards Dinner on November 22nd 2014 held at the Savill Court Hotel, Windsor Great Park.
Wednesday 4th December 2013: August to December.
Here we go with my pre-Christmas blog. The last one was written just after the Santa Pod Dragstalgia event and what a great success story that was this year. After this appearance and fire-up of Europe's first dragster the ACAG team took a bit of a break. Many had other projects they needed to work on and family holidays came to the fore.
The dragster remained on display alongside many famous Grand Prix cars at its true home, the National Motor Museum Beaulieu. I went down and sorted out all the bits and pieces that had been delivered with the car after Dragstalgia many previously with Bob Roberts and Andy Robinson Race Cars). These were taken to the storeroom – marked up as Allard dragster stock. Some parts and equipment still remained with Nick Connor in Reading who was working on the mobile starter trolley.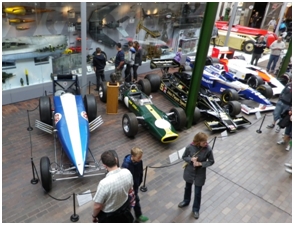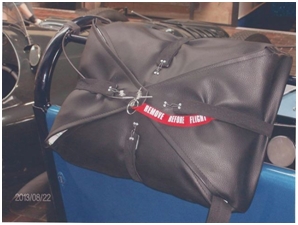 Syd McDonald called in to the museum to carry out more detailed work on the chute pack. And thanks to Dave Gibbons we also located a chute. I also made another trip to pick up the remaining parts and equipment from Nick Connor. He retained the mobile starter trolley to manage the final paint job. I had two large 'bonnet 58' decals made up for applying to the sides of this unit.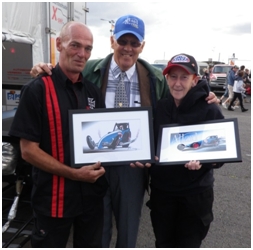 We continued to raise funds – now for operational costs as well as the restoration work. Graham Durbridge had donated the original artwork for his two Ally CARtoons. I had them mounted, glazed and framed as a matched pair ready for auction. The highest bid was £250 for the pair from Ingrid Chesworth as a present for husband Martin. Thanks Ingrid. Your name has been added to our Roll of Honour.
More funds were raised by the National Street Rod Association (NSRA). After Dragstalgia Pike Murray took away our stock of old hot rodding magazines and sold them at their own functions. This raised nearly £90.00. Thanks Pike and the NSRA. The NSRA is now on our Roll of Honour and a link to their website can be found on the links page of www.allardchrysler.org.
On the sponsorship side American company Mr Gasket joined our gang of supporters. The Mr Gasket products used on the Allard Chrysler include valve cover gasket sets and a Mr Gasket oil dip stick.
Another link to Mr Gasket comes via our Bedford -based components partner US Automotive; the number one Mr Gasket distributor in UK. And our North American Patron is Traci Hrudka, Chairman of the Quarter Mile Foundation and Project 1320, a Charitable Trust logging the history of American drag racing in a series of films for television. Traci is the daughter of Tom Hrudka (one of the Mr Gasket company's founders) and she was Sales and Marketing Manager for Mr Gasket 1982-1997. In 1993 she was named the Performance Warehouse Association Person of the Year.
I can't quite remember who introduced Traci to our restoration project. I think it was legendary drag racing commentator Jon Lundberg or Carl Olson. Whoever it was did us a big favour because she is an explosion of enthusiasm Building awareness of our restoration project in the USA has been vital to gaining sponsorship from many American suppliers and Traci has played an important role in this.
And our good supporters the British Drag Racing Hall of Fame donated a further £250 from a long lost BDRA fund that was finally released. The ACAG and the BDRHoF work together wherever possible to promote the 'Nostalgia Drag Racing Scene'.
Still with ACAG supporters our major sponsor F&A Racing won the last FIA European Top Fuel Championship round of the year at Santa Pod in September so many congratulations to Chris and the team. Renting an RF Motorsport car this year it turned out to be a hard slog over the weekend but it paid real dividends.
I have been checking out who will be wearing the ACAG shirts and special overalls in our winter work/show team and the support crew for 2014. After three years camping out at Andy Robinson Race Cars the regular maintenance work will now be carried out in the Beaulieu workshops at the museum – still on a voluntary basis and at weekends. Those joining me as volunteers so far are:-
Kev Roberts, Gareth Kent, Ian Jones, Mike Kason, Liz and Peter Rowland (shows), Paul Stubbings, Dave McDonald, Syd McDonald, Nick Connor, Stu Bradbury, Martin Dunks and Ian Coulsell. So most of the original team remain in place but we are still looking for more volunteers – particularly anyone within a 1 hour drive of Beaulieu.
November 10th saw the team get together for the first time since Dragstalgia. The main focus of the day was to discuss and plan the work required on the dragster during the winter. The overall strategy for 2014 is to get the car so that it can be paraded under its own power rather than just cackle as a static exhibit. The second purpose of the get-together at Beaulieu was to prepare the dragster for its appearance at the International Historic Motoring Awards function in London on November 14th, for which the project had been short listed in two categories.
Those joining me at the National Motor Museum, Beaulieu on November 10th ready for physical and brain exercises were Kev Roberts, Gareth Kent, Paul Stubbings, Syd McDonald, Ian Jones, Nick Connor, Martin Dunks and new comer Ian Coulsell. His son Mark had helped us out at the Nostalgia Drags meet earlier in the year. Several topics were reviewed after the dragster was given a good polish and shine plus we identified a few other items such as loose right hand axle mount bolts. And at long last we were able to apply the decal of our major sponsor F&A Racing on the engine firewall.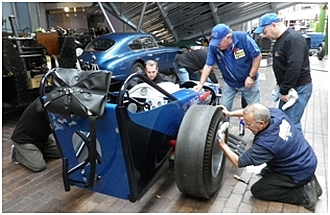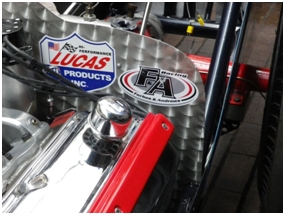 After the polishing the first thing we discussed was completing the paint on the starter trolley. Nick Connor will get this finished ready to bring to Beaulieu for re-assembly during our first Work-In sessions of the winter.
But there were two potentially big jobs to do. The first was to further modify the clutch so that the power transfer on gear change would be gradual enabling gear changes to be more manageable for parading. Over the months several ideas had been discussed but thoughts during the November 10th get together seemed to offer an easier path.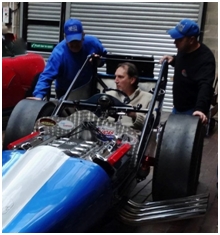 The clutch pedal position and operational arc (throw) needed to be addressed. Martin sat in the cockpit to test the current set-up. The cross shaft seemed to be slipping so this needed to be investigated with the clutch out. The pedal also needed to be spaced out to the left hand side of the cockpit so that it did not foul the bell housing when fully depressed. This would mean slight modification to the floor panel and cross-shaft.
The clutch spring pressure needed to be lightened. Current thoughts are to remove three of the springs in the clutch (three sets of three in the 3 lever unit reduced to three sets of two). In theory this should reduce the spring pressure by 33.3 per cent. The clutch would need to be removed of course but the team figure they can now do this without removing the engine. It is still a difficult job because everything between the rear axle and the clutch adapter needs to be moved towards the rear.
The second potentially big job concerned one of the half-shafts that had been welded close to the outer-shaft thread. This right hand side wheel assembly was dismantled and the thread, along with its role in wheel retention, thoroughly investigated. The team's thoughts were that if the weld broke the wheel would still not break lose and a further safety device could be fabricated as an extra precaution in the event of the weld failing. Photos were taken and Martin checked out these ideas with Andy Robinson Race Cars who carried out the original weld. Andy gave the proposed modifications the thumbs up. On re-installing the half shaft/wheel assembly the brakes were adjusted. This was also carried out on the left hand wheel. It was discovered that this adjustment could be made with the wheels on.
The engine oil was drained to check its condition. Around 1 pint of nitro had settled in the bottom of the sump. This was separated and the good but used oil replaced in the engine. No metal was found. From the condition of this oil it seems that only a light service would be necessary. However, it was decided that before itemising the service jobs it would be a good idea to fire-up the engine for a short warm up run and then carry out a leak down check. This would indicate whether we needed to take off the heads and check the pistons. Pre warm up checks would include topping up oil, changing plugs, spraying WD40 in bores through plug holes, checking coolant levels, checking fuel system unions (clearing out ptfe residue and replacing with red thread lock, taking the blower back plate off to check for residue fuel and check blower lube level, completely drain fuel tank and refill if going for a nitro run, WD 40 fuel pump, lube rockers.
After the clutch and half-shaft work have been completed along with any general service work, other jobs would include:-
Replacing damaged throttle cable after modifying existing path to enable a straighter run. This will entail drilling firewall.
Re-drilling inlet manifold spacers to enable easier fitment and re-look at the possibilities for improving the air flow.
Ensuring all gauges are correct. This will include acquiring a larger capillary tube for the oil pressure gauge; ensuring the tacho and engine temp readings are correct. Current tacho readings are spasmodic and engine temp slow to achieve reading. We also need to install a boost sensor so that the cockpit boost gauge works.
Fit chute
So a very rewarding day with lots of progress, helped along by Syd Burgers and Mrs Syd bread pudding of course. I have since prepared a series of work schedules, with job time and man-hour estimates. We plan to commence these jobs between Christmas and the New Year – starting with the clutch modifications.
I've started to rough out potential show appearances for the winter and next year. The Surrey Street Rodders have moved their big event to Dunsfold on Good Friday 2014. I have said that we will provisionally be there. Just had the Festival of Speed dates confirmed – June 26-29th. The Allard has been put on standby for that and we will be at Dragstalgia on 11th to 13th July. We have also been pencilled in for Team Member Gareth Kent's wedding in 2015. We are the 'something borrowed and something blue' bit. Bow ties with the overalls I think.
But we had an unscheduled appearance in November. In October the ACAG received the following e-mail from the International Historic Motoring Awards 2013.
I'm delighted to tell you that, following multiple nominations, the Allard Chrysler has been shortlisted in the Restoration of the Year category in the 2013 International Historic Motoring Awards in association with Octane magazine and EFG International private banking.
And - also as a result of multiple nominations - you yourself have been nominated in the Personal Achievement of the Year category! Many congratulations on being nominated by so many people, and on being shortlisted - and good luck in the judging!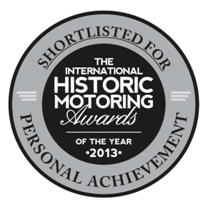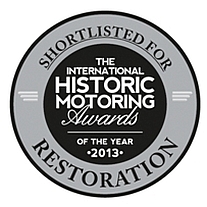 Wow! To say I was 'gobsmacked' understates how I felt. I had to phone Doug Hill, Museum Manager at Beaulieu to check that it wasn't a hoax. The Awards celebrate the very best of the best in this £multi-billion international industry. Nominations are received from around the world, and from a variety of disciplines, and the geographical spread of the historic motoring movement is emphasised by the list of finalists each year, which includes events, companies, cars and individuals from across Europe, the USA, Asia and Australia.
It is the benchmark by which the world of historic motoring judges itself and now established as the most prestigious celebration of this global industry. The Awards showcase the success and dedication of the people and businesses that make it all happen
These are the categories and, as the e-mail indicated, out of hundreds of entries the restoration of Europe's first dragster had been included in the short lists of two of them.
Museum or Collection of the Year
Restoration of the Year
Specialist of the Year (new for 2013)
Publication of the Year
Club of the Year
Industry Supporter of the Year
Rally or Tour of the Year (new for 2013)
Race Series of the Year
Motoring Event of the Year
Motorsport Event of the Year
Car of the Year (voted by enthusiasts from a shortlist)
Personal Achievement of the Year
Lifetime Achievement Award
Those judging reflect the prestigious nature of these awards; Derek Bell, Horst Brüning, Ian Callum, Robert Coucher, Dick Crosthwaite, Berthold Dörrich, Tony Dron, Ed Gilbertson, McKeel Hagerty, Simon Kidston, Jay Leno, Nick Mason, Jochen Mass, Bruce Meyer, Lady Susie Moss, Dr Franz-Josef Paefgen, Patrick Peter, Murray Smith and Peter Stevens, Duncan Wiltshire (chair of Judges)
Being short listed in this company is a tribute to the ACAG team and all of those who have supported us during the last five years. On announcing that we had been nominated we had loads of congratulatory e-mails. Here are just a few.
Congratulations, and good luck in the voting – Carl Olson
Superb Mate! I cannot think of a better person and team that deserve this more. I am so very proud of you and your crew for staying true to your mission and pulling through and making Ally look like a new Diamond! Time to go and get Margarita/s and celebrate! – Traci Hrudka
Most richly and well-deserved by all hands. Congratulations to the entire ACAG Team! – Jon Lundberg
I just wanted to say congrats on the nominations. Drag racing is too often overlooked in the 'land of mainstream motorsport' and it's fantastic that you and the team have got some recognition for the remarkable efforts over the last (how many?) years! Well done! – Nick Davies
Many congratulations on being nominated. You and the ACAG team deserve to win. That would be icing on a very large, already heavily iced cake! We'll done. – Nigel Holland.
Just to add my congratulations on your nomination. I hope you receive the award as you really deserve it, not just for ACAG and the dragster restoration but for your book and all the behind the scenes work you do to further British Drag Racing. – Peter Crane
The winners of the International Historic Motoring Awards 2013 were announced at a gala dinner in London on Thursday, 14th November at the magnificent St Pancras Renaissance Hotel. Thanks to the National Motor Museum, Beaulieu and some hectic cleaning and polishing by the ACAG crew at Beaulieu on November 10th the dragster looked amazing displayed by the main entrance of the hotel. The ACAG Guard of Honour (overalls caps IMI ties and pipes of course) consisted of Kev Roberts, Syd McDonald, Stu Bradbury and Bev Bradbury. They managed to negotiate the best position and during the evening many admiring glances and complimentary remarks (like WOW!!!) came the crew's way. We were next to a small racing car that used to be driven by someone called James Hunt.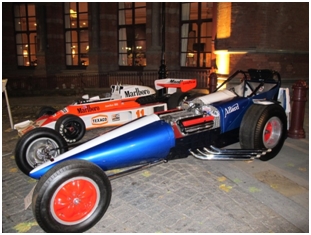 So although we didn't win any of the official awards we did win a lot of new friends and made our project even more famous. The gala dinner was attended by the rich and famous from around the world. Murray Walker MBE and Sir Stirling Moss were in attendance. I was in the very pleasant company of National Motor Museum Trust Director of Collections Andrea Bishop and Corporate Partnership Manager Heather Reid.
It was great to see our dragster up on screen as the nominations were read out. More details about the awards are on www.historicmotoringawards.com
On the general nostalgia drag racing scene I have continued to help Stu Bradbury at the British Drag Racing Hall of Fame (BDRHoF) with press release work. With Robin Jackson joining the BDRHoF Team I can hopefully re-focus on the Allard Project. There have been exciting developments at the BDRHoF and details can be found in the December 2013 issue of our on-line publication ACAG Update via this link. Likewise I have been pleased to be involved with the 2014 Dragstalgia plans and this looks like being very special.
Sunday 4th August 2013: April to July.
I seemed to have missed a Blog in March so I have some catching up to do. I'm not sure how that happened but let's start the catch-up by briefly reviewing some April highlights.
APRIL
Although there was plenty of other work to complete, the main aim for the April 7th Work-in day at Andy Robinson Race Cars was to go for another fire-up and test the latest developments in our methanol – nitro switching mechanism, plus carrying out more engine-run gear changes. Before that we replaced a core plug that was blown out during the previous test in March. We were still having problems with overheating and it was generally felt that it was the pressure caused from steam that forced it out because the Moroso block-fill only goes half way up the core plug level.
With the dragster up on axle stands the fire-up and methanol/nitro switch went well although we still had a problem with the engine getting hot very quickly and boiling the cooling water. This time we left the filler caps off to prevent pressure build up and topped up water as necessary during the run. Gear change checks went well although we did have a very heavy clutch.
After the run the head was torqued down to 110 lbs ft. A cylinder compression check was carried out to check for any gasket blows that might be causing the water boiling and all looked good. We also started to look at ignition timing to reduce heat. At the time the ignition was set to about 30 degrees advance; our best guess from experience as to what would work with our 60% methanol/40% nitro mix being used at the time.
April 21st saw us continue the restoration. Good progress was made on several fronts. The magneto casing was marked out in 5 degree segments - advance and retard either side of our existing 30 degree setting. This was to enable us to tweak the timing to aid cooler, more consistent running. We decided to further address the engine cooling issues by testing Evans Waterless Engine Coolant that reduces the coolant boiling temperature.
We continued to dial in the timing on April 25th. With the Magneto timing advanced a little (5 degrees), the dragster fired up straight away. There was less steaming this time and the engine was run on methanol and the nitromethane mix. We appeared to be going in the right direction so we continued down that track with a further fire-up.
MAY
May 5th saw the timing advanced a further 2.5 degrees (now reading 42 degrees). The sequence was double checked by viewing the flywheel timing marks and cranking the engine on the starter motor. The nitro percentage was increased to 66 per cent. The run went well and the switch from methanol to nitro was smooth (good header flames).
We continued with other work and also had a chance to take photos of the day's crew in the new Allard Lucas Oil T-shirts (only £15.00 each plus P&P).
L-R: Brian Taylor, Nick Connor, Syd McDonald, Paul Stubbings, Andy Robinson, Stu Bradbury, Martin Dunks, Gareth Kent and Bob Roberts in the new Allard Chrysler Lucas Oil T-shirts.
Much was achieved on May 12th. We installed a cooling system header tank to improve the cooling. The dragster had several cooling systems during its life time and although this version is not as original we think it is in keeping with the ethos of how the car was developed. It is also small and unobtrusive, being hidden under the top cockpit panel within the cockpit area.
The car was started on methanol, switched to nitro and then back to methanol again on several occasions. Each run was about 2.5 minutes and cool down time was managed at around 1 hour. The nitro flames and cackle sounds were much closer to where we wanted to be and the new coolant system seemed to work well.
JUNE
June 2nd saw us back at work. The engine firewall was installed. This is one of those critical stages that can really make a difference to the look of the restored dragster. Back in the early 1960s the firewall was the only surface where advertising was allowed due to RAC regulations. The Allard had several different decals affixed here during its life including Castrol, Wynn's and Valvoline. None of these companies have supported our restoration so we will follow Sydney Allard's view of putting in place the logos of our major supporters - F&A Racing, Lucas Oil and Andy Robinson Race Cars. You can see how the restoration faithfully reflects the original when you compare a recent photo with one taken back in the early 1960s.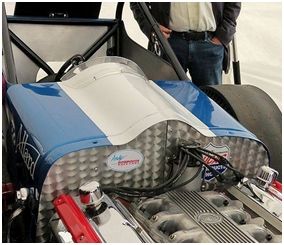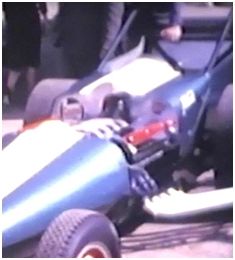 On the left we have the restored dragster. The original is on the right.
The last fire-up of the day was with all panels on (the first time since the restoration). This link takes you to a video of the event.
We were now ready for our first public appearance in the fully restored state; a special Institute of the Motor Industry (IMI) drag racing evening held at Northbrook College, Shoreham-on-Sea airport on June 13th. This continued our partnership with the Institute to promote the motor industry as a career choice.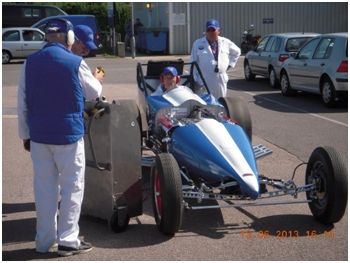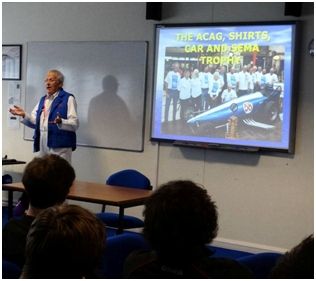 We took the car out to the car park and fired it up in the afternoon sun before returning it to the workshop ready for a presentation to the students in one of the lecture rooms about its history and restoration. It was then back into the workshop to chat to the students. At 7.00pm the more senior members of the IMI came to view the cars and bikes on display in the workshop. We fired up the dragster again at 8.00pm before moving back into the lecture room for another presentation. Time Travel DVDs No 10 went down well. It covers the role Sydney Allard played in launching the sport.
Friday June 14th saw us transport the Allard Chrysler Roadshow to its true home Beaulieu; ready for its official hand-back as a completed restoration project.
The Saturday fire-up went well. The engine sounded really crisp and shook the Beaulieu tarmac for the first time in the dragster's life.
Sunday started out a bit damp and got damper for a while. We prepped the car in our pit marquee and didn't wheel it out for the official hand-back ceremony until just before 11.00 am – the published fire-up time. The fire-up went well and a large crowd enjoyed the sound of a Chrysler Hemi and the sweet smell of nitro in the air. Lots of photos of the car and the team were taken for the press.
More chats and then we all drifted across to the Domus for our celebration buffet courtesy the National Motor Museum. I was able to give a proper thank you to everyone involved with the project. Special thanks came from the museum's Director of Collections Andrea Bishop, Diane Golder who bequeathed the dragster to the museum after her husband Brian passed away, ACAG Patron and museum Trustee Nick Mason and Museum MD Russell Bowman.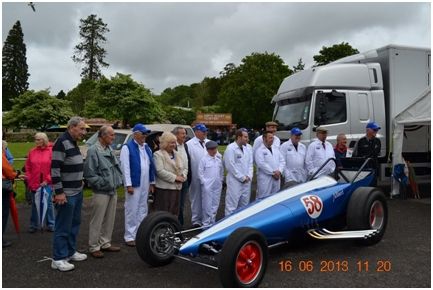 VIP Guests and the team are shown in the pic that follows; L-R David Hooper the dragster's designer, Sydney Allard's son Alan, me, Diane Golder, Nick Mason, Kev Roberts, Kev's son Jason, Gareth Kent, Syd McDonald behind Gareth, Nick Connor, Martin Dunks behind Nick, Paul Stubbings, Ian Jones, Bob Roberts.
This link takes you to a video of the official hand-back ceremony and fire-up.
Back out again for another fire up this time with Terry Clifford's Rat Trap. More PA interviews with Alan Allard and David Hooper being featured this time along with Lord Montagu's son Ralph. A good fire-up after an initial pop-off back-fire and the header flames looked and smelled as they should.
Commenting on the restoration, Director of Collections, National Motor Museum Trust, Beaulieu, Andrea Bishop says:
"As far as I am aware, such a task has never been completed on an iconic exhibit in the UK, by a group of private individuals working in partnership with the museum who own it. The ACAG raised the funds, researched, promoted and publicised the project and provided the expertise and people to carry out the work. It truly is an amazing achievement and a fantastic model for other groups to follow".
Museum Manager and Lord Montagu's Chief Engineer Doug Hill sent a message to the ACAG Team:
Dear All
I cannot thank you enough for the extraordinary work you have done on the Allard, and the huge achievement in getting it running. I am amazed at the wealth of knowledge and skills displayed in this project.
I cannot thank Brian enough for heading the project, indeed without his tenacity and vision this car would still be sat in the museum with a box of broken bits in store just being a 3 dimensional object, not a living breathing thing.
Also thank you so much Andy Robinson for accommodating our car and quietly and calmly giving valuable advice during its restoration. Not only has Beaulieu now gained another fully functional and unique piece of British motoring history, but also a group of loyal and talented friends.
The story of this car now turns another page, but does not stop. I am very keen for "Ally" to get out there and fly the flag for Beaulieu and "Dragstalgia."
Thank you all.
The NSRA Nostalgia Nationals at Shakespeare County Raceway over June 22nd and 23rd marked an important weekend in the history of the Allard Chrysler dragster. It would be the first visit to the Long Marston venue since 1963 when sprint events were held at the airport. In the Saturday morning I carried out a live interview on the land line for BBC Radio Coventry talking about the dragster and the event and our restoration project. Combined with good local press coverage we managed to help promote the event. The dragster arrived at 10.00 am Saturday courtesy of Polygon Race Car Transport.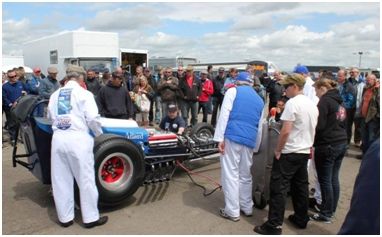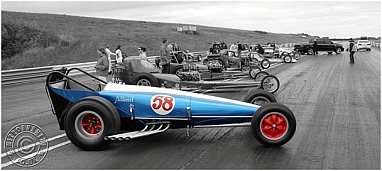 We carried out a nitro fire-up in the pits to warm up the engine ready for the 'cackle fest' due at 6.30 pm with the Wild Bunch. We had been granted a lifetime Honorary membership of the Wild Bunch and were tasked with leading off the cackle; our first proper 'cackle fest' with other nitro cars because previously we had been running methanol at such occasions.
This link takes you to a video of the Nostalgia Nats cackle.
JULY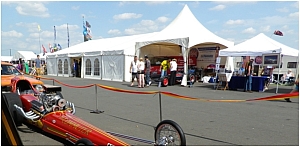 Dragstalgia 2012 at Santa Pod Raceway saw the first public fire-up of the restored dragster so it was good to take the completed car to Dragstalgia 2013 over July 13th and 14th - to cackle on nitro rather than methanol as was the case in 2012. It also enabled the fans and supporters to get a close view of the completed project with its new chrome and paint.
The weather was really hot this year. Santa Pod Raceway provided a pit marquee with space around that was enough for the joint ACAG/British Drag Racing Hall of Fame retail point using Syd McDonald's easy-up gazebo. His caravan was positioned behind to act as the ACAG hospitality focal point. With the beautiful Commuter dragster across the way it was a good place to be.
A test fire-up was carried out in the pits and all looked good. Another warm-up run was carried out in the pits at 6.00pm ready for the on-strip cackle fest at 8.15pm.
Gareth Kent took the driving seat for the evening cackle (now fully equipped with period safety wear courtesy Deist Safety, Wild Bunch and Ron Hope), The dragster fired up well and the switch to nitro was smooth. We detached the trolley connections from the car and moved it away to give the fans a good look.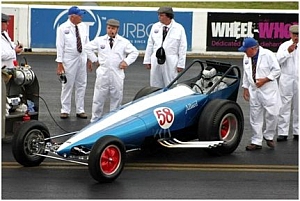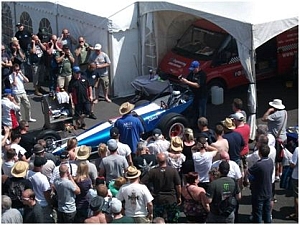 This link takes you to a video of the cackle fest.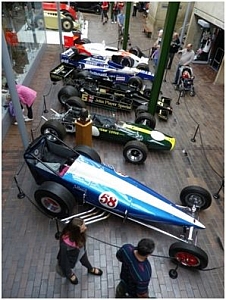 We announced another pit cackle would take place around 1.00pm on the Sunday. This went well drawing a large crowd of fans. The rest of the afternoon was spent talking to our visitors, some having their photos taken in the driving seat.
This link takes you to a video of the pit cackle.
Dragstalgia 2013 was a fantastic event. The weekend was quite successful on the financial front for the ACAG with funds raised from our retail point and a donation from Santa Pod Raceway. We loaded the dragster on to an open trailer and started the long trek back to Beaulieu. I passed it on my way home and the dragster looked quite comfortable on an open trailer in the evening sun attracting many admiring glances. It is now on display at Beaulieu in the company of some very famous Formula One cars.
You will find lots more info, photos and video links covering this blog period in the last two issues of ACAG Update here and here.
The next IMI Youth Day is at Santa Pod on the Thursday before the European Finals and the ACAG will be helping out with that. The same weekend sees the presentation of the 2013 British Drag Racing Hall of Fame awards so expect to see some faces from the past around the place.
Tuesday 2nd April 2013: Winter work, branding, 2013 plans.
WORKING ON THE ALLARD CHRYSLER
Hi all. My last blog was before Christmas 2012 and things have moved on a pace since then. You will recall that 2012 was spent simply assembling the dragster to prove that everything worked. Final finishing was planned for later so after a full tear down of the completed 'working dragster' in early December, we sent out components for paint, chrome and final finishing. Once the pieces had been returned to Andy Robinson Race Cars we started to add the 'razzle dazzle' factor – such an important part of drag racing. In fact, back in 1961 Sydney Allard was chastised by the traditional sprint fraternity for the amount of chrome on the car.
Our last 2012 'Work-In' day on the dragster was December 30th. Although it was the last in the year it was really the first of the final re-build with cleaning and polishing bits the aim of the day along with starting to build and refurbish small sub-assemblies including some of the recently chromed pieces. The gearbox and rear axles were primed and painted red as per the original car; as were the front and rear wheels.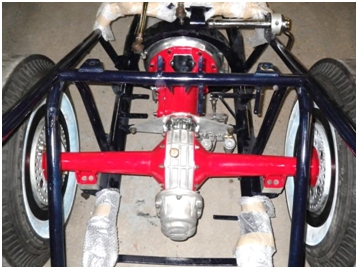 January 2013 saw the team back at Andy Robinson Race Cars with the first objective of getting the dragster back up onto four wheels. It had taken 5 years to reach this stage but we could at last get a feel for how the finished restoration would look. And it certainly was going to look good. The red painted components; the polished metal and chrome; the skimmed front brake discs and the zinc plated rear brake back plates; Wow! What a difference.
It became clear that the finished restoration would produce a dragster more glamorous than we could ever have imagined. This could be seen even with bubble wrap remaining in place to protect some finishes.
Involvement in a project like this is a fantastic privilege and totally absorbing. Pride takes second place to solving puzzles and overcoming challenges. But occasionally a point is reached in the process when the sense of achievement becomes overwhelming and for a short moment pride can be allowed its place in the sun. This was one of those moments. It can be quite emotional when bringing history back to life becomes a reality that exceeds all expectations.
The February 3rd 'Work-In' day saw Nick Connor join our team. Nick was the first of our expaned team members (five coming forward after advertising in Eurodragster and on Facebook). He first caught the drag racing bug back in the 1970s. After building and crewing on cars for a couple of friends he built and raced a supercharged Rover V8 engined 1954 Ford Pop back in the early/mid 90`s that put down a 14.59 seconds elapsed times.
This led to a Competition Altered called "Barking Mad". Its body was a much modified 1932 Model B highboy. With a 350 small block Chevy its best elapsed time was 10.23 seconds and its fastest terminal speed 132.58 mph. He raced this with the Wild Bunch from 1999 to 2003. His current car is a 1963 Trabant 601. Clearly he has a sense of humour; mandatory for becoming an ACAG crew member. A joint-owned venture with his friend Kevin Bingham, it has a full race chassis and roll cage with a Pro Street back end. Engine is 355ci small block Chevrolet. Most of the body panels have been remade in fibreglass. Welcome to the team Nick.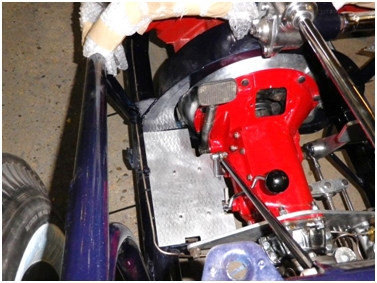 The main focus of the day was installing the engine along with work on the steering mechanism and water temperature sensor. The clutch throw was roughly checked at the pedal for gear change action. February 12th saw more work on the brake lines. The Pop-Off valve was installed along with the Hilborn injection unit, fuel pump and blower pipes. An oil dipstick was also modified to suit our requirements.
Feb 24th saw the brake hydraulic system completed and all unions tightened ready for fluid to be added and bleeding. All gearbox levers (most freshly chromed) and foot controls were installed along with the aluminium footplate in left foot control bay. This is the only proper flooring on car and is original.
The newly chromed hand brake/fuel shut-off control was installed and connected to the fuel shut-off cable (fixed to the front of the fuel pump) and the brake system. The hand brake (positioned behind the rear axle) was connected to an attachment at rear of master cylinder cross-plate and the foot brake control attached at the front.
The fuel tank was installed (the steel retainers still need to be covered to reflect the original bungee straps) and all the fuel lines were connected and tightened. Nick took the firewall back to his own workshop to apply an engine turn finish both sides.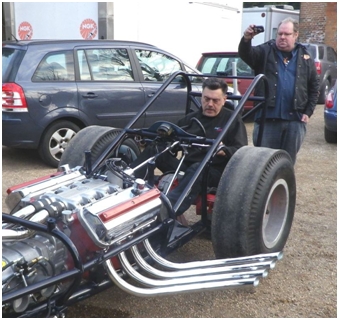 March saw another new member join the team as we gathered at Andy Robinson Race Cars. Kev (AKA Kamikaze Kev) was first exposed to straight line racing at the Brighton Speed Trials in the early 1960s when, thanks to his dad, his young ears received their first blast of a dragster's V8 engine (maybe it was the Allard Chrysler). His life was changed forever. He built his first custom vehicle in 1974 and the same year saw his first visit to Santa Pod. He had been mates with drag racing historian Nick Pettitt and became crew member for Nick's High Fever slingshot in the 1990s. He had a Rover V8 engined Victor of his own that he entered in the Bexhill 100 Hill Climb and surprised a few people, and then went on to a V8 engined Humber Hawk High Rider that blew up a few years back. However he is determined to get it back on the road. Welcome aboard Kev.
The shock absorbers were installed along with the instrument panel. Brake fluid was added and the brake system bled and adjusted. Work on enhancing the appearance of the inside faces of the cockpit panels was carried out. Other work on the throttle and shut-off valve was completed ready for the first fire-up of the year using only methanol from the pressurised remote starting system. Plugs were installed and lube and water added before the car was placed on axle stands. The engine sounded really good and Andy had a chance to check out the gear selection. Still some adjustment needed at the clutch pedal.
A link to Gareth Kent's video of the fire-up can be found here.
Other videos of the fire-up made by Kev Roberts and Gareth can be found on the video link on www.allardchrysler.org. More detailed reports about the work carried out on the dragster since Christmas can be found in the latest issue of ACAG Update via this link.
BRANDING ON TEAM SUPPORT VEHICLES
Now we are getting close to completing the restoration I thought we should smarten up the support vehicles to match the dragster. Depending on the event being attended we will need a towing vehicle, promotional gear and branded items to retail, team members and gear for cackle starts, etc. We can't afford a team of fully branded vehicles so I have invested in three sets of Vistaprint car door magnets featuring the ACAG identity. This is an inexpensive and flexible way of branding any vehicle in a smart way. Hope you like it.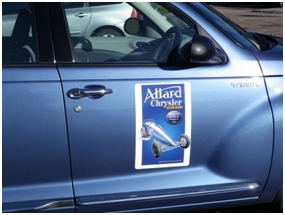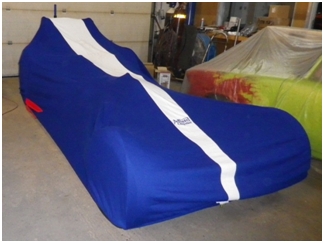 And a new car cover has supplied by the National Motor Museum, Beaulieu. The car was without engine and body panels when the photo was taken but you get the idea. It even has red pockets to keep the headers warm.
THE SEARCH IS ON FOR A COVERED TRAILER
We have been mulling over what sort of trailer we should acquire to transport the dragster. Should it be very retro with a Ford Thames van towing an open trailer as was the case back in 1961? Or should we go for something more modern? We decided that it would be more practical to have a modern covered trailer. It would look more professional in today's show environment and provide cover for the dragster and support crew when the weather is not so good. It will need an awning with side panels to facilitate a covered work and retail area.
We want a trailer that can take the dragster complete with headers installed. This means the access needs to be 2.2m minimum with a flat floor that clears the trailer wheel well arches. Because it is so wide it means that the trailer could also be used to transport other museum vehicles although it will be branded with the dragster's identity and sponsor logos. Photo show our preferred trailer and a proposal was put to Doug Hill at the Museum who approved the spec. Unfortunately budget constraints prevent the museum from ordering it straight away but they plan to put in a budget for early 2014. So we will continue to beg, borrow and hire during 2013. If you have a redundant trailer contact brian@allardchrysler.org.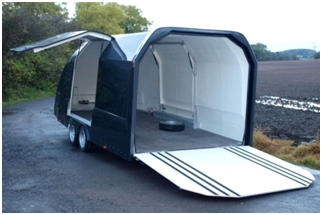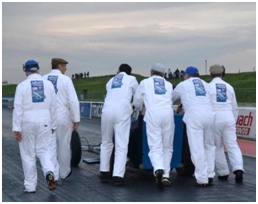 ALLARD CHRYSLER DRAGSTER OPERATING TEAM TO EXPAND
We have started to expand our pool of people available to operate the car at public appearances and carry our general maintenance procedures. The plan is to have at least three stand-alone National Motor Museum, Beaulieu drag racing support crews available at any given time. We plan around five appearances this year but other opportunities may crop up.
A uniform is provided for public appearances and food is available from our 'Extreme Chef' Syd McDonald. A sense of humour and enthusiasm for the project are clearly pre-requisites. If you would like to join us contact brian@allardchrysler.org and tell me why.
NEW ALLARD CHRYSLER DRAGSTER T-SHIRTS FROM LUCAS OIL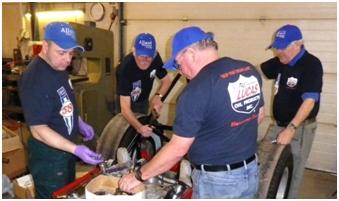 Lucas Oil has supported our project in many ways. A proportion of all Lucas Oil sponsorship money going to F&A Racing has come our way thanks to Chris and Vince Andrews. Les Downey of Lucas Oil for Europe has given us a range of items to sell and auction and these have produced good funds. And of course they have supplied all the race lubricants for the dragster.
Les came up with another great idea and he is supplying us with 100 Lucas Oil Motorsport Division T-shirts upon which we have been able to add our own brand on the front. It means that our only cost will be the additional vinyl logo plus P&P. And they will be a true limited edition of 100 shirts – each one being numbered. They are priced very competitively at £15.00 plus £2.50 P&P UK. Ask for quote on overseas posting. Sizes are S, M, L, XL and XXL with S and XL already in stock. More sizes expected from the USA shortly. Send me your requirements at brian@allardchrysler.org and I will contact you for money once the shirt is ready for dispatch. All profits to the restoration fund.
NEW SPONSORS AND DONATIONS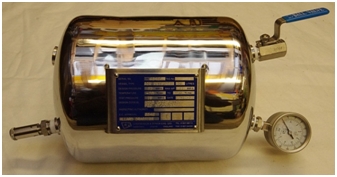 Alongside the restoration work being carried out on the dragster, Bob Roberts has been designing and sourcing the parts required for our remote starter trolley. As well as a battery pack, this features a pressurised methanol system with the methanol being stored in a previously donated Mooneyes fuel tank. But we needed a pressure tank and he contacted drag racing fan Mick Dowd of CPE Pressure Vessels.
Mick has been attending Santa Pod since 1978 when he used to crew on the Wild Honey competition altered. He really came up trumps for our project; not only supplying a stainless air tank but also a pressure gauge, safety valve and tap. He said,
'I have been following the amazing Allard Chrysler dragster restoration since it was first announced. When Bob contacted me about the pressure requirements for their starter trolley we were only too happy to oblige by supplying our 10 ltr capacity 316L stainless steel polished vessel. I find it truly inspiring what the guys at the Allard Chrysler Action Group have achieved – all on a voluntary basis'.
It's great to keep announcing new supporters of our project. Individual product sponsors have been a vital aspect of progressing the work – providing expertise as well as product.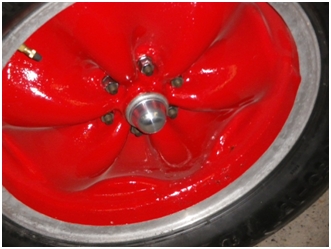 And here is another. Paul Wing is based near Biggin Hill in Kent. He has been involved in drag racing since the early 80's - crewing for Mick Beaumont at the beginning in Superstreet bike and then Prostock bike.
He later crewed for Mark Wanstal and then Vicki Steer and for the last 16 years has been racing himself. This year he will be crewing for Nick Milburn on the ex-Rene van den Berg Top fuel bike.
He kindly offered to make two wheel nut caps to protect the central retaining nuts on the front wheels. Using old photographs and measurements provided by Bob Roberts he fabricated the caps from HE30 aluminium.
Part time at the moment he is trying to go full time with PRW engineering. He will machine anything from any material up to the physical limits of his machines. Most of his work has been with Motorcycles (chassis work, machining yokes, engine cases, disc carriers, etc. He also carries out engine building and bike servicing. The links to both these new sponsors can be found on the links page at www.allardchrysler.org.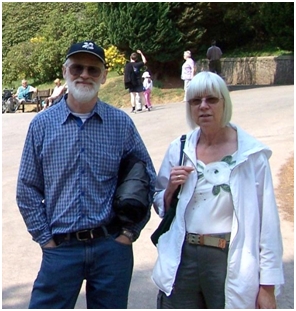 But the lifeblood of our project is finance. British drag racing pioneers Cliff and Sharon Watts have kindly donated a three figure sum to our restoration fund. Cliff and Sharon served on the British Drag Racing and Hot Rod Association Committee in the 1970s – Cliff as Street Rod Rep and Sharon as Secretary. They were also known for their altered Uncle Scrumble. These days they split their time between Somerset and San Francisco but will soon be permanently based in California. Many thanks to both of you and we look forward to seeing you at Beaulieu in June.
Our partnership with the Institute of the Motor Industry apprenticeship schemes produced extensive promotional activities during 2012 – for our project, the IMI and drag racing in general. Last year the IMI ran two RWYBs at Santa Pod plus two IMI Youth Days when coach loads of apprentices were invited to Santa Pod and toured the pits of top teams at FIA Meets.
This year has started with Ken and Bradley Cooper taking their flathead dragster back to Derby College for its Annual Automotive Careers Event - now resplendent in new paint. This car was a great success at the 2012 event and its return this year was requested by the College and the IMI.
The IMI will be holding Youth Days at Santa Pod once more during the Main Event (May 24th) and the European Finals (September 5th). The ACAG will again help out as Pit Tour Guides. And the completed Allard Chrysler dragster restoration will make its debut at Northbrook College in Shoreham on Thursday June 13th just a couple of days before its official hand back to the National Motor Museum Beaulieu during the museum's Custom and Hot Rod Event on June 16th. Northbrook College has a long association with drag racing but this will be the first time that Europe's first dragster has been able to attend.
I greatly value our partnership with the IMI. The IMI tie is part of the team uniform. I have written several articles covering our restoration that have been published in MIM Magazine and these have given us extensive publicity and credibility as well as, hopefully, being entertaining and informative to IMI members. We have also given those looking to enter the motor industry, along with those just starting out, and exciting and dynamic take on the service and repair business.
2013 APPEARANCES
We are still planning our appearance schedule for the year. As already mentioned June 15th and 16th are the dates for the Beaulieu Custom and Hot Rod Festival and Sunday 16th the official day for the ACAG to hand back the completed dragster restoration to the National Motor Museum, Beaulieu. These dates replace previously announced dates in May. This will be a thank you party for all those who have supported the project during the five years it has taken to restore the car to working order. The car will be fired up several times during the day.
The previously mentioned Northbrook College evening in Shoreham is an 'invited guests' only affair. The dragster will also be a Shakespeare County Raceway for the 20th Anniversary of the NSRA Nostalgia Nationals over June 21st-23rd. Sydney Allard took the car there during 1962 and we will be there jointly with the British Drag Racing Hall of Fame.
It's regular display base will now be the National Motor Museum, Beaulieu but the dragster will appear at other drag racing/motor sport/motor industry events during the year. Several are in the final stages of negotiation and I am waiting for confirmation before making any announcements. If you have an event you would like the dragster to attend let me know at brian@allardchrysler.org.
OTHER NOSTALGIA NEWS
Santa Pod's Dragstalgia event takes place over the weekend July 13th and 14th. The steering group of Darren Prentice, Neale Saunders, me, Stuart Bradbury and James Forster met early in February and discussed the format. Maintaining that special atmosphere in the pits was considered a vital aspect and plans were put in place to extend the static Nostalgia exhibits. More announcements will be made by Santa Pod Raceway during the next couple of months.
The British Drag Racing Hall of Fame has decided to move its annual induction ceremony to a stand-alone function on the Saturday evening of the European FIA Finals held at Santa Pod. It will be held in the VIP Marquee with invites being sent to past inductees, sponsors and other guests. It is hoped that limited tickets for the ceremony may be made available to the general public. Watch the media for further details.
It was felt that this format would enable the BDRHoF to spend a bit more time during the occasion to explain why each new inductee has been chosen, plus past inductees could come to a premier drag racing meeting with their partners, sign a few autographs and be pampered by the Santa Pod hospitality. They will also be able to see how the roots they sowed years ago have borne fruit.
The new inductee names will be announced by Eurodragster.com just before Dragstalgia and these inductees will be invited to that event as VIP guests.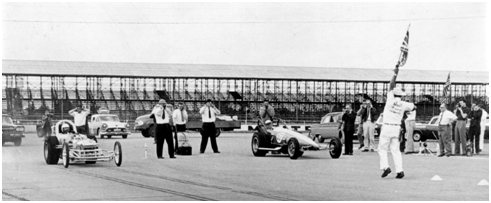 Finally I'm trying hard to make it possible for Mooneyes to visit the UK this year to celebrate the 50th anniversary of its first visit in 1963 by displaying Mooneyes and the Allard Chrysler side by side once again. Chico and Shige at Mooneyes want it to happen and I'm just going through the final costings and seeking financial support. Wish me luck.
I have some interest from businesses wishing to support the tour and I am now just looking for a headline sponsor to put up £6000 for the whole tour; including the tour official T-shirt franchise. It doesn't sound much to mark such an important event does it? Mooneyes would remain in the UK for around 3 months so it could attend several events during an Anniversary Tour, firing up and putting in power runs at the beginning and the end of the trip. Unfortunately I don't see it being possible without a headline sponsor. If you want to help make this happen contact me at brian@allardchrysler.org.
Wednesday 19th December 2012: Autumn fire-up, stripping, plating and looking forward.
Where do I start? My last blog was September 21st and the first thing I should do is thank F&A Racing for their latest donation of £5000. This should really get us to the finishing post as far as the Allard Chrysler dragster restoration is concerned and is much appreciated.
The gang assembled again at Andy Robinson Race Cars on September 30th. This time it was me, Syd (Calorie Max Catering) McDonald, Andy Robinson, Bob Roberts, Martin Dunks (who turned down a trip for his McLaren GT employers to Germany so he could join us), Stu Bradbury and Paul Stubbings (now on temporary leave from his Timewarp duties). We were also joined by photographer Dave Gardener of Deltapixels. His photos, along with some from Bob Roberts and me, are all published in issues of ACAG Update that are available via the Latest News tab on www.allardchrysler.org.
The first job we addressed was agreeing a solution to the header/slicks clearance when the car is fitted with the rear 5-spokes and slicks. This was something highlighted during our appearance at Chelsea AutoLegends at the beginning of September. We already knew that the clearance was very small from photos taken in the early 1960s but Chelsea was the first time the slicks and 5-spokes had been fitted to both sides of a rolling chassis. They actually touched on one side.
We tried moving the axle slightly but there wasn't enough to make a difference. We also tried adjusting the header pipe braces and attempted a cold bend on the rear pipes but again there was no joy which, out of our original ideas, left us with shaving the tread off the tyres and fitting spacers to the headers where they joined the engine.
After much discussion, rather than this piecemeal approach it was decided better to re-profile the headers slightly and get them re-chromed if necessary. It might cost a bit more but it would be a proper job and we don't believe the existing chrome is original or it would have blued with the heat before we picked up the project.
One of the day's prime objectives was to test the switch from methanol in the remote starter tank to nitro in the main fuel tank and back again to methanol. So Bob finished off the new remote methanol feed to the rear injector intake and completed the associated piping. We hadn't completed the new remote starter trolley so the remote tank and starter battery we had used previously for our test starts was brought into operation.
We had noticed a slight twisting of the butterfly operating shaft with the existing idle return spring set-up to the side of the inlets. So Paul fitted the F105 throttle arm supplied by Edris Snipes of Hilborn Injection in the centre of the two inlets. In association with a new return spring this kept the throttle in the idle position and equalised the tension across both butterflies.
While he was doing this we logged all the nuts and bolts required. Some of those fitted were not period correct and some bolts were not long enough. We also logged all anticipated chrome, nickel plate and paint requirements. Apart from the cowlings and chassis we would carry out the painting in-house.
We fitted the old wheels back on ready for a fire-up after lunch. We had a bit of trouble with the wheel studs and Stu was tasked to locate some extra nuts because the car has always been a few short. The old oil was drained and the filter and oil checked for nasty bits. Looked OK. Fresh oil was added.
After we had all taken bread with Syd the rockers were oiled and the plugs checked. It looked as if the Number 8 plug had been dropped on the floor sometime and closed the gap, so this was re-gapped. Methanol was poured into the remote feed tank and a 40 per cent nitro mix in the main fuel tank. We were ready for a test fire-up.
This was the first fire-up carried out in slightly colder conditions and initially the engine did not want to know. Out came the petrol squeezy bottle and after a couple of goes we were in business. The transfer between nitro and methanol worked well. Although a methanol start is OK in the summer, we don't live in California so our thoughts are that a petrol/methanol mix might make more sense.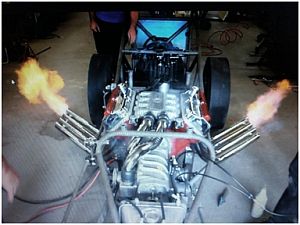 We still have some air and fuel distribution issues to overcome but things are improving as we learn more. Lots of unburnt fuel coming out of the headers at low revs with a bigger flame display on methanol. We managed to set fire to the workshop floor at one point.
It smells much nicer on nitro and the engine runs much smoother. After some consideration we planned to add jets to the remote tank inlets on the Hilborn unit to further improve initial fire-up. Dave Gardener got it all down on photos and videos. The videos can be found via the links below; youtu.be/McjmH8nUzTQ and youtu.be/HDDcTzX5NXU.
We started to look for a UK based company to join us in the restoration plating task. The following list shows the items that required treatment and our thoughts on the type of treatment required. A couple of extras were thrown into the mixture at the last minute.
Chrome

2 radius rods
1 track rod
2 steering drag links
1 Pitman arm
1 steering shaft
1 handbrake/shut-off valve lever
1 gear shift lever
1 cross shaft from Pitman arm to steering box
1 UJ cover
2 short shock absorber links



Nickel plate

2 rear brake cooling finned brake drum back plates
We would also have some chrome plate requirements on the headers after re-profiling.
So we had fired up the engine again and further improved the methanol starting procedure and switch to on-board nitro for cackle running. This was an on-going task and further tests were carried out before the next official Work-In day on October 21st when the team assembled again. Joining me at Andy Robinson Race Cars this time were Bob Roberts, Andy Robinson, Syd McDonald, Martin Dunks and Paul Stubbings.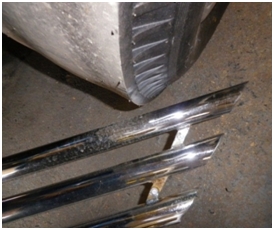 I arrived early to photograph and measure up all the items that required chrome work. By this time I had two companies willing to re-chrome our bits at cost so I needed the photos for estimates and budgeting before placing the work.
Andy and his team had re-profiled the headers and these definitely needed to be added to the re-chrome list. However, the gap between the rear headers and the tyres was now more than acceptable. We no longer needed to shave the slicks or carry out any further small adjustments in other areas. Phew!!
Chris Eames had dropped in the chute pack made by Grahame Smith during the summer. Using photos taken at Blackbushe in 1964, Syd, Andy and myself worked out how best to finish it off to give the 1964 look. Syd took it home to apply eyelets and tension straps ready for installation and cabling during the final assembly in 2013. Syd also fitted a new Dzus fastener to the filler cap door and re-riveted others for a better fit. Finally he fabricated gaskets for the water system components.
Paul and Martin completed the cooling system by fabricating blanking plates to block off the front and rear access points not required. One on the front will be used for the original water temperature sensor once a new and longer 56 inch capillary tube is acquired. This is being supplied by Speedograph Richfield in Arnold near Nottingham.
Maurice Takoor had donated some correct retaining bolts for the rear 5-spoke mag wheels and these were installed by Syd. The left hand wheel still has some retaining studs that move about when tightening the nuts but these will be tag welded on final installation.
Bob and Andy concentrated on further modifications to the remote starting procedure fuel system. A jet was fitted to the front Hilborn inlet but that to the rear required a different fitting to avoid existing piping. So the fire-up test was carried out using just the one. The Moon tank was used for the first time and this was pressurised to 10 psi to enable the jet to produce a fine spray.
Before starting the engine the rockers and plugs were checked. Water was added to both heads (we have decided not to link them at this point) and each one took about 5 litres. The filler caps were left open in case of boiling and to check any changes in the level. Oil pressure was checked OK by turning the engine using the starter button.
The engine was fired up using the modified procedure and just the remote methanol source from the Mooneyes tank. It ran on low tick over for about 4-5 minutes – much longer than would be required for normal cackling before switching to the on board nitro (which we didn't do for this test).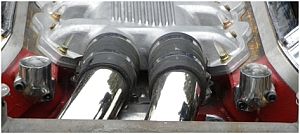 The cooling system was sound and there were no leaks, with the water temp reaching boiling point towards the end of the test. The block and head temperatures remained at acceptable levels. Tick-over was really smooth on idle and the best yet achieved in tests. Further tests between Work-In days settled the jetting but smaller jets will be installed before the next test after the tear down and re-build. Our friend Edris Snipes at Hilborn offered to supply these.
Water was sucked out of the heads after the test because we have no drain points due to the Moroso Block Fill used in the engine build. On final assembly next year we will use antifreeze in the water and leave it in for the full season. This will further help with the cooling.
As usual Syd provided lunch. We are seriously looking at carving his burgers before serving because lock-jaw on biting into the Calorie Max snack is a real possibility.
Remembrance Sunday 2012 saw me join Bob, Syd, Paul, Martin and Andy to completely take the dragster apart ready for component plating and painting before final assembly beginning January 2013.
Starting with the fuel system, all ancillaries were removed, labelled and boxed ready for removing the engine. The latter task turned out to be the usual tussle with the clutch having to be dismantled before removal could be completed. We are still not sure which is the worse option; dismantling the clutch before engine removal or removing the blower. Both are difficult tasks.
By the end of the day all planned dismantling tasks had been achieved and the bits in boxes. The engine was mounted on its trolley and was stored at Andy Robinson Race Cars so Andy's team can complete the work on the clutch before final installation. Bob took the rest of the items and organised the chassis paint (undercoat and top coat rather than dipping to retain original status) and started to plan sub-assembly work, polishing and component painting. In fact the company that carried out the media blasting – Euromart – agreed to paint the chassis using their brand new spray booth.
We also had some fresh ideas about panel restoration and paint. With the assistance of BASF Coatings, Spectro readings were taken of the existing paint. From these readings current paint chips were obtained and the Spectro readings from these compared with the panel readings to ensure an accurate match. This exercise resulted in the light blue being identified as MB746.50 and the dark blue SB287.50. This now gave us the option of retaining some of the original paint and only replacing that with more serious damage. The full Spectro readings will be logged in the car's manual.
The next day I delivered the parts requiring plating to S&T Electroplate in Yate near Bristol. By this time I had received estimates from 5 different plating companies and selected S&T after receiving a recommendation from the Allard Owners Club and talking to Nigel Hayward and Kim Saleh of S&T on the telephone. The facts that they were fairly local to us and specialised in plating for the enthusiast and vintage restorer were also important.
Kim made suggestions regarding some of the components. He thought due to their condition the rear brake back plates should be silver zinc plated rather than nickel flash as we originally planned. He also recommended that we use a nickel coat on the headers before chrome plating rather than the normal copper. Because metals expand at different rates when heated, too much copper can result in it breaking through the chrome if the component gets too hot.
A couple of days later I took a handful of the remaining coloured anodised components to our supporters Exact Engineering in Totnes. Ian Grout agreed to replace with equivalent clear anodised Exact components where possible or get the existing colour removed and re-anodise clear to be period correct.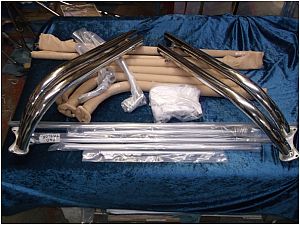 More about S&T Electroplate. This company was established in 1983. Staffed by very experienced polishers and platers, the key people have all the required skills to strip, polish, repair, plate and inspect the work that is undertaken. They service customer right across the UK & Ireland and even have regular clients in various parts of the European mainland. Production Manager Nigel Hayward said,
"We are proud to have been selected to carry out the plating processes required to restore such a unique and historic vehicle. The great bulk of what we do at S&T is refinishing vehicle parts dating from the early 1900s to about 1980. This inevitably means that of all the car and bike parts we receive for refinishing in nickel or chrome, a significant number will be damaged in some way and need to be repaired prior to being refinished and we can carry out that work at Yate".
"But the polishing shop is the key area in the restoration of old parts. It is the work here before the main plating stage that largely determines the quality of the finished parts. The polisher is dealing with various metals in various states of decay. They are also dealing with various shapes and need to be aware of stampings and logos so as to retain the originality of items".
"In our main processing shop we have the plant and solutions for Zinc, Copper, Dull Nickel, Semi-Bright Nickel, Bright Nickel & Chrome Plating. Our tanks are large enough to cope with items up to 8 feet in length. There is an art to know how to 'jig up' a part prior to its journey through the chemical processes. The plater will be aware of holes on studs to be masked and of parts that have to fit together after plating. They will be aware of power and time settings to ensure that the correct amount of plating is put onto parts".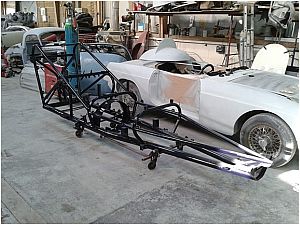 Back to our task. So far we have concentrated on assembling all the dragster parts and producing a working exhibit. But it will be fantastic to see the car restored back to its former glory and the chrome plating task is an important stage in completing the job. Now we have the chrome work and the painted chassis, the final assembly can begin. It starts at Andy Robinson Race Cars on December 30th. We might need to wear sunglasses to protect our eyes from the glare.
The dragster's next public fire-up appearance was planned for a special Press Launch to be held at Beaulieu on May 18/19th. This would also be our supporter thank you party and the official hand-over of the completed project to the museum.
A few extra points. I'm pleased to report that Stu is recovering from his operation. It will be nice when he can join the restoration gang again.
Clive Skilton is keeping in contact from California regarding restoring the 1965 Allard Chrysler chassis to Rev 1 top mounted blower format.
Our webmaster Alan Currans has been busy updating the photo galleries on www.allardchrysler.org.
Haynes publishing report that they do not plan to re-print Crazy Horses because sales are not above 500 per year. If you haven't got a copy better get in quick.
Finally Seasons Greetings to all our friends and supporters. When we fire up next year bring your shades as well as your ear plugs.
Friday 21st September 2012: Maintenance, Chelsea AutoLegends, IMI and autumn plans.
So here we are again. At least when you hear from me you get a load of stuff. At the time of my last blog we were just recovering from the Dragstalgia weekend at Santa Pod when the ACAG Team were bathed in glory after the Allard Chrysler's first public fire-up since 1964. But it was soon back to work, and while the world was watching Andy Murray win Olympic Gold at the London Olympics and NASA landed a Rover vehicle on Mars, the ACAG restoration team of me, Bob Roberts, Syd McDonald, Stuart Bradbury, Martin Dunks and Andy Robinson gathered at Andy Robinson Race Cars to continue with our own challenge.
Stuart and Martin made some final adjustments to the steering Pitman and idler arms to prevent the latter from fouling the bodywork – something that had been happening for years. Meanwhile Syd replaced most of the broken Dzus fasteners and/or springs. We now had a complete set apart from the fuel cap cover that has a smaller size.
Syd then investigated the blow-off valve that has been leaking fuel while the engine was running. He found that an O-ring seal had not been installed. The blow-off valve was one of the components held in stock at Beaulieu since the part restoration carried out in the late 1970s.
We had a seal in our box of Beaulieu bits (wondered what that was for) so this was fitted and the blow-off valve replaced ready for a fire-up test later in the day. The spring loading was a guestimate but Lori Peterson e-mailed the correct procedure within the following few days. I'll certainly ensure this is included in the Operating Manual that I am writing for the museum.
I cleaned off the crack testing fluid from the 5-spoke rear mag wheels ready for transport to Motoshine who agreed to polish them on a sponsorship basis before we paint the spokes red as per photos of the car in 1962. I also degreased the inside of one of the cockpit panels and tested the level of polished aluminium finish achievable using wet and dry along with Scotchbrite. It looked good and we will carry out the process with a buffer when the car is stripped back and before the panels are sent for final paint.
Bob concentrated on a mock-up remote methanol tank for starting while we waited for our donated Mooneyes tank to arrive. We had continued to develop the engine fire-up procedure after Dragstalgia using a remote methanol tank. We wanted a method that enabled us to leave all the cowlings in place. A small 1/8 inch npt fuel connector had been installed in the tapped hole provided on top of one of the Hilborn injector inlet tubes with a pipe leading to the front cowling fuel cap cover. The remote tank was connected to this with a tube fitted with a ball valve control switch to adjust the flow. A test firing proved the system sound and a second npt connector will be fitted on the hole provided in the second inlet tube for better fuel distribution.
The plan is to start the engine this way on methanol before introducing nitro using the cockpit fuel shut-off control. We will then remove the remote methanol feed and the support team will move back from the car leaving the driver in control of a nitro 'cackle'. Before switching off the engine the support team will return to the car and reconnect the remote methanol feed. Methanol will be fed into the engine and the nitro switched off after a short while leaving the car running on methanol; so purging the fuel system of nitro. The engine will then be switched off; so ending the 'cackle'.
Surprisingly (lol) the engine ran much better with no fuel leaking from the blow-off valve that briefly opened on initial start-up. Header flames appeared from all eight pipes. Top Methanol Dragster builder and driver Dave Wilson joined us for a second test fire-up and he fine-tuned the mixture getting the engine to tick over very slowly. He knows a bit about tuning nitro cars and it sounded like a quartet of orchestrated Harleys.
Bob Walker of Hot Heads agreed to send us two water filler necks so we can complete the water cooling for the heads. The two that had been donated did not fit. The car will return to Andy Robinson Race Cars for another 'Work-In' day on September 30th. The team will then carry out final nitro running tests using the finished remote service trolley. When these have been completed, work will start on dismantling the car with components going out for chrome and paint. The engine and remote trolley will be sent to Beaulieu and put back on display.
The dragster's next public fire-up appearance will be at a special Press Launch to be held at Beaulieu on May 18/19th 2013; the weekend before the Main Event at Santa Pod. This will also be our supporter thank you party and the official hand-over of the completed project to the museum. We'll keep you informed.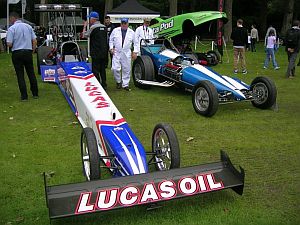 September 1st and 2nd saw us take the car to the Chelsea AutoLegends event. Well; that was a bit different! Champagne, Pimms and posh frocks along with Playboy Bunny Girls, Chelsea Pensioners and celebrities; a bit like Henley Regatta on wheels. It was a really nice affair with the Allard Chrysler joining our major sponsor Chris Andrews of F&A Racing with the Lucas Top Fuel Car and Santa Pod's green display Avenger Funny Car.
The ACAG crew of me, Maurice Takoor, Syd McDonald, Stuart Bradbury and Martin Dunks were kitted out in our 1960s style white overalls, shirts and IMI ties. Bob Roberts was in his best Andy Robinson Race Cars kit and Bev Bradbury helped keep us in good order when she wasn't reading that book Shades of Grey. I'm told that it is not about paint. The first thing we noticed was how few of these supercar fans had ever seen a dragster before. The shock on the faces of the organisers and BRSCC marshals as we unloaded the Lucas Top Fuel car was a sight to behold. I wish we had a camera available then.
The weather tried its hardest to spoil things but a very light sprinkle was all it could manage so we were able to spread the message to a new audience. The Allard Chrysler was featured in the event programme given level billing with the World Record setting John Cobb Napier Railton. Now that is an honour. It made me realise that not only have we recreated Europe's first dragster but we have also put the spotlight on the Sydney Allard legend.
After being told that noise restrictions would prevent us from firing up the car they did start up a Formula 1 car. So, if we attend next year I have asked the organisers for equal rights. All those Chelsea supercar fans that have never seen a fuel dragster will then be able to hear one. It could be the first time a fuel dragster has been fired up so close to London's centre of fashion and the corridors of power. It might wake them up as well. It will certainly startle all those London based parakeets squawking in the Royal Hospital trees.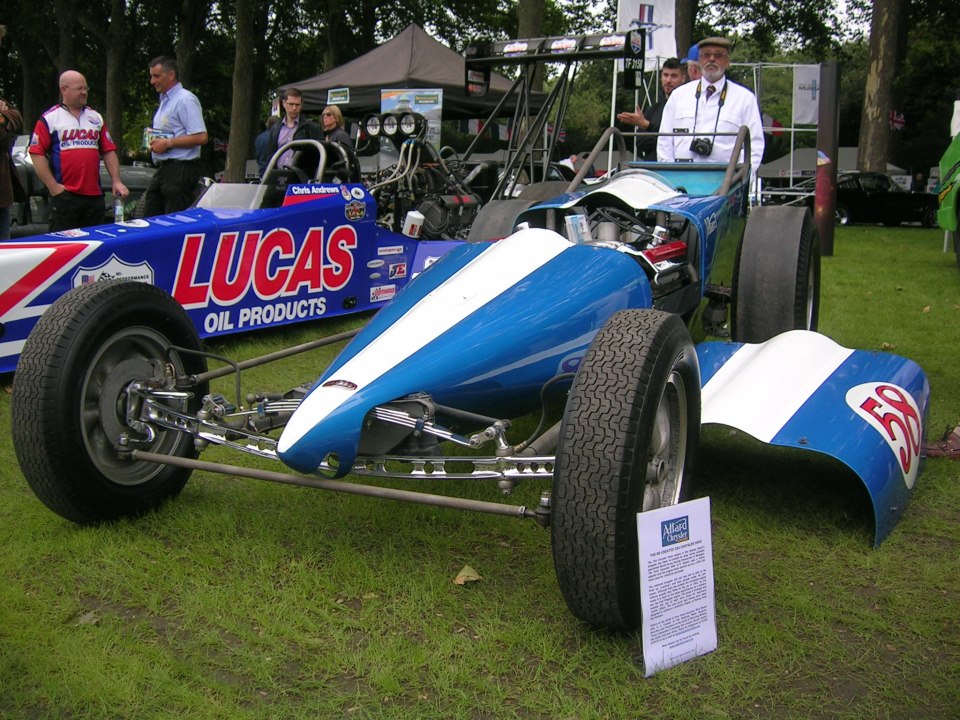 Wednesday September 5th heralded the second Institute of the Motor Industry (IMI) Youth Day at Santa Pod with coach loads of motor industry apprentices or pre-school leavers looking at a career in the motor industry invited by Santa Pod to attend a drag race meeting. For the majority it was their first exposure to drag racing and fortunately the weather was fantastic. Santa Pod provided the mid track VIP unit that acted as the focal point for the IMI with Emily Hakansson IMI Careers Development Manager supported by Careers Development Coordinators Joanna Hollingdale and Sarah Cunningham.
Drag racing's link with the IMI is based around the Institute adopting the restoration of Sydney Allard's 1961 Allard Chrysler. The work has been featured in a series of articles published in the IMI Magazine and is part of a strategy to make motor industry apprenticeships even more exciting to young people. I was joined by ACAG supporters Stuart Bradbury and Syd McDonald along with Robin Jackson, and we acted as pit guides for groups of students. Thanks to Chris Andrews and Michael Gullqvist for their time. Syd also provided food for the IMI staff who are all now on an immediate crash diet. The IMI is organising its second drag racing RWYB at Santa Pod on September 29th and discussions are now taking place about how to move things forward in 2013. This link takes you to a report published by one of the visiting groups.
The IMI announced the launch of a new online resource and community for Careers and Academic Professionals, available through the organisation's Autocity website . HUBcap is a one stop shop for careers resources dealing with the retail motor industry and forms a key part of the IMI's strategy to attract bright, young and enthusiastic talent into the sector, which was laid out in their Manifesto earlier this year.
Created specifically for Academic Professionals and Careers Practitioners, HUBcap features a comprehensive database of Key Fact Sheets covering the opportunities available in different sub-sectors of the motor industry, apprenticeship figures and Careers Labour Market Information broken down by region. Forums are also available, giving access to a community where further advice about motor industry careers can be obtained. As such, HUBcap aims to become the go to website for careers practitioners looking for information about motor industry careers.
Additionally, HUBcap is also the base for the IMI's free learning resources for teachers, Headlight and Indicate (this one features a drag racing exercise), which are sponsored by Jaguar Land Rover. Headlight is a Business and Enterprise resource mapped to the GCSE and B-Tech curriculums while Indicate is a Key Stage 3 maths resource. Both contain full lesson plans, student work books and suggested research material which cover all key learning objectives, whilst also introducing students to the motor industry and the opportunities available for future careers.
Combined with Autocity's other resources, such as a motor industry careers portal (World of Work) aimed at young people, HUBcap now ensures that the IMI is able provide a comprehensive motor industry careers service covering all stakeholders from teachers and careers advisors to school children and young people studying motor vehicle qualifications.
The IMI's Head of Professional Development, Lesley Woolley said,
"For many, because of the poor public perception of the industry, the automotive retail sector is not seen as a career of choice. Outdated perceptions among careers advisors and teaching professionals perpetuate this view. The automotive retail sector offers fulfilling and challenging careers not just a job, but this message is still not understood by many young people, parents and teachers. Through HUBcap we hope to change these perceptions, by giving individuals who help guide young people in their career choices the necessary tools to understand and promote the opportunities available in the Retail Motor Industry."
The IMI will be organising several evenings at colleges during the winter and we will keep you informed of dates and venues.
The Transport Trust is a name with which you might not be familiar. It is the only national charity established to promote and encourage the preservation and restoration of Britain's unique transport heritage in all its forms – by air, land (road and rail) and water (sea and inland). It offers Annual Restoration Awards specifically to assist preservation projects that are underway but not completed.
I entered our restoration project in this year's competition so fingers crossed because the financial awards would be very useful. Doctor Colin Billington, appointed by the Transport Trust to review our entry, inspected the car at Andy Robinson Race Cars during August 21st.
Our major sponsor F&A Racing had a difficult start to the year but they managed to get to all rounds of the FIA European Drag Racing Championship visiting Sweden, Finland and Germany as well as the UK. They got down to a best elapsed time of 4.12 seconds for the standing start 1000 foot strip recorded at the European Finals held at Santa Pod Raceway in September. Not too dusty for their first year.
As some of you know I did a bit of investigative work on the Hockenheim debacle. I was so upset about some of the stuff appearing on social networks that I thought I should do something so that in the future anyone writing about the farce should have some useful copy as a reference. It is on www.ukdrn.co.uk under the Sport Today tab. It still awaits some sort of comment from the FIA but as there is no official protest they might not deem it necessary to make a public statement. We'll wait and see.
We are coming into the motor industry function season again and this year I have decided to get out more and mix with the great and the good.
September 27th Ron Sewell Memorial, Society of Motor Manufacturers and Traders, London. I'm speaking at Memorial for the man that gave me my first full time writing job and set me on a course that has enabled me to do this work.
October 13th Beaulieu One Hundred Annual Dinner, National Motor Museum. Invited to attend the first Annual Dinner for supporters of the National Motor Museum, Beaulieu.
October 25th Fellowship of the Motor Industry Annual Luncheon, Seymour Hall, London. Attending the annual luncheon of those who have long careers in the motor industry.
December 6th Guild of Motoring Writers Annual Dinner, RAC Club, London. Attending the Annual Awards Dinner of the Guild of Motoring Writers.
Well I had to buy a new dinner jacket so I might as well use it. But I'd better get my seniors' Railcard. Before we know it the British Drag Racing Hall of Fame Awards will have come round again. Soon be time for the selector's meeting on November 18th. Just need a T-shirt and hard hat for that.
I'll shortly be sending out the October issue of our on-line magazine ACAG Update so keep an eye out for it in your e-mail and a link via Eurodragster.com. It will include all my blog stories plus lots more and loads of colour photos.
Pictures courtesy and © Paul Whitehouse.
Monday 30th July 2012: Work-In, sponsors, Dragstalgia and help yourself...
Time for another megablog to consolidate my drag racing life during the last couple of months so where do I start because so much has happened since my last blog posted in May? Some of you will have already read some of this but let's start with news about one of our project partners the Institute of the Motor Industry (IMI).
Emily Hakansson, Careers Development Manager at the IMI, along with her colleague Business Relationship Executive Peter Tolfts were at the May 20th RWYB event held at Santa Pod Raceway, greeting IMI members along with Accelerate and First Gear students and apprentices who were invited to get out on the drag strip.
This was followed on Friday June 1st at the FIA Main Event drag race meeting with the first IMI automotive industry Youth Day at Santa Pod Raceway. Thanks to Caroline Day of Santa Pod, invites were sent to schools and colleges on IMI programmes and around 700 students attended with their teachers/lecturers. The pit-side VIP car park was full of coaches and the IMI team comprised of Emily, Joanna Hollingdale – Careers Development Co-ordinator, Simon White – Professional Development, Richard Hicks – Business Development Manager and Ash Hill – Business Development Executive.
The young visitors (for many their first experience of drag racing) were given exclusive tours round the pits, with many drivers spending time with the groups which were led by Stuart Bradbury and Syd McDonald. One of the high points was visiting the pit of the UK's new Top Fuel Dragster star and major sponsor of the Allard Chrysler dragster restoration project, the Lucas Oil backed F&A Racing's Chris Andrews.
Chris's Main Event racing activities went quite well. They had previously fired up the engine on methanol back in the team's new workshop in Shefford near Bedford. At the track, after overcoming some fuel problems, they carried out two more methanol fire-ups before the first nitro fire up. On the track they put in a 60 foot launch to gather data with the car and team looking and sounding fantastic. He put down a 5.26 second run over 1000 feet with an early shut-off. Not bad for your first meet – and he scored FIA first round loser points. They have since run 4.415 at 329.07 mph in Sweden, 4.665 at 417.28 kph in Finland and a 4.41 early shut-off test pass at Santa Pod recently.
Back to the restoration of Europe's first dragster, Sydney Allard's 1961 Allard Chrysler owned by the National Motor Museum, Beaulieu. June 6th saw a planned small ACAG team at Andy Robinson Race Cars comprising of Bob Roberts, Chris Eames, Andy Robinson and Paul Stubbings. The refurbished steering rods were fitted and that completed the steering mechanism, apart from the chrome. The drive train component modifications from Kev Slyfield of M and D Tooling appeared to mate well so the rocker covers were removed to identify TDC, the flywheel marked out at 90 degrees for valve lash and 20 degrees for timing. After manually checking the engine turned OK, it was re-installed in the chassis along with the gear box, clutch and associated components. The drive train was still un-tested as a complete system and this would come back to haunt us later.
Chris Eames had been working hard in parallel with the group sessions. He had assembled and fitted most of the required parts for the braking system and found suitable tubing for the oil pressure gauge. Brake piping had been supplied by Mick Wood of Old Ford Autos. Chris had also created and fitted a wiring loom. The rev counter was bench-tested with the Mag and both appeared to work correctly.
June 10th saw Paul Stubbings, Martin Dunks, Andy Robinson and Bob Roberts assembled at Andy Robinson Race Cars to continue the work. The 5-spoke mags supplied by Nick Davies had returned from media blasting and looked good. After crack testing they will be polished and painted to reflect the level of finish shown in 1962 photos.
After a callout on Eurodragster, BSP dies were supplied by David Downes, Ian Hart and Dave Grabham. The fuel tank union threads were cleared and the plumbing almost completed by Martin using period correct black hoses. All coloured anodised unions will be clear on the final set up.
A bracket was made to hold the business end of the fuel shut-off cable and a further bracket fabricated to space the oil filter forward to avoid the starter motor. However, while planning these bracket mounting points it was discovered that some bolts were missing from the bottom of the blower/engine Potvin adapter. Lori and Doug Peterson were contacted in California for guidance and they confirmed that the blower would need to be removed and the missing bolts replaced. This likely meant new gaskets and a delay that could risk the Dragstalgia fire-up target July 14/15. Stu Bradbury of US Automotive quickly sourced a gasket set and a planned 'Work-in' day was scheduled for Thursday 21st June.
On the due date Syd, Bob, Martin and Paul assembled to attack the blower tasks. The team originally considered taking the engine out again but decided to carry out the work with the engine in the chassis. Before the blower could be separated from the engine adapter, the sump had to be removed along with the starter and oil filter adapter. While this was off, Paul checked the torque loading on the bottom-end bolts and made sure the assembly lube condition was OK.
Fuel pipes were removed so the blower could come off. The missing bolt issue was rectified. A couple of hexagonal head bolts replaced the cap heads visible on the outside. Two studs were installed on the other side to allow for the installation of a throttle cable bracket. Lube was added to the timing chain before the blower was re-installed; an operation that proved to be a little trickier than expected due to difficulty in lining up the blower and adapter. Thoughts were to fabricate some special long alignment studs ready for the next time. Once installed, dimensions for the throttle and fuel shut-off cables were taken and the parts ordered by Bob. After a bit of re-tapping, studs were installed on both sides of the blower to ease the installation of injectors and manifold.
Work continued during the week on several components with Bob, Andy and one of Andy Robinson Race Cars technicians trying to keep us on plan for a Dragstalgia fire-up. July 1st started out well and finished well. But in between there were a shed load of problems. The team was Brian Taylor, Andy Robinson, Martin Dunks and Bob Roberts. Brian had planned to start polishing the inside of the cockpit panels but due to the good work put in by the Andy Robinson Race Cars' crew there was a real chance of firing up by lunch time so these plans were shelved so that all efforts could be focussed on working towards that fire-up. The team finished off the control cables plus a few other odd jobs before Lucas oil was added to the engine, the blower and the gearbox.
Using an electric drill and special adapter, the oil pump was driven via the magneto/oil pump connection. Pressure reached 85 psi. But the team could not get oil through to the rocker gallery. They figured that the cam position after the timing marks had been applied was unfortunately such that it did not let the oil through. Using the starter they tried to move it slightly but nothing happened. Power reached the starter but it was unable to turn the engine.
The starter was removed and bench-checked OK. The team checked through the transmission and gearbox for faults and eventually discovered that the problem was with the clutch levers fouling the cover. The spacing carried out at an earlier session had not solved our problem. To correct this they had to dismantle the clutch and in turn it meant partially removing the engine, gearbox and rear axle from the chassis. Just what was needed!!!! NOT.
It was decided to proceed towards the fire-up with the transmission disconnected from the clutch. With the spacers removed the arms cleared the cover and the team was back in business. Before putting things back together, and after some trial and error moving the cam on the starter button, they got oil into the rocker galleries.
After putting things back together again a full starter button check confirmed everything was turning. The mag was backed off to a methanol setting. The firing order was confirmed and the plugs installed.
After some final checks methanol was poured into the tank with a remote feed connected to assist the starting until the fuel was pumped the long distance from the tank.
The engine fired but for some reason the fuel was not being pumped round so it stopped as soon as the remote fuel canister was empty. After much scratching of heads it was thought that the pump was turning the wrong way. A test confirmed this to be the case. A quick check via the internet confirmed that the flow could be reversed by taking the pump apart.
All this took a lot of time and it was now 2030 hrs. The team went for another fire-up and Eureka!!! For the first time since 1964 Europe's first dragster burst into life and continued running.
It ran for about one minute (the water cooling system had not been installed so it could not run for too long). Oil pressure reached 90 psi at 2000 rpm. With flames leaping from the rear headers history had been brought back to life. It was all recorded by Bob Roberts on video. Huge relief. The car could now be taken to Dragstalgia at Santa Pod to show the fans what had been achieved so far and hopefully raise more funds to complete the restoration. There was a bit of 'popping' going on that needed to be addressed and although very dramatic something must be causing the flames in the right rear header pipe, but the feeling was this would not stop the ACAG from putting on a show. The clutch issue would be addressed after Dragstalgia and the team would just have to push the car everywhere.
So on to Dragstalgia. The wet weather on July 14th at Santa Pod Raceway gave us plenty of pit time to further improve the tuning and fire-up technique; this time with all the body panels in place apart from the engine cowl. We missed our fuel pick up time but Santa Pod raceway and Ian Turburville saved the day.
We decided to stick with methanol for the first public fire-up of the car since 1964 during the evening 'cacklefest'. The team period uniform of white overalls, shirt and IMI tie went down well with the other teams and the fans as we pushed the car in position. The dragster started on the third time of asking and we ran for about one minute on our own. When we shut down the fans went wild.
On Sunday 15th we continued developing the start-up procedure and decided to try it on a 40 per cent nitro/methanol mix. Doug Hill of the National Motor Museum, Beaulieu joined the team to witness it. After a few changes to the timing and slight adjustments to the start-up procedure she fired up and the nitro flames were coming from the headers. She obviously liked nitro more than methanol and another crucial stage in the development of the project was achieved.
I must thank everyone for all the fabulous photos and videos taken during the weekend. A special thanks to Matt Woods who took the car and his lights out onto the strip on Saturday evening. The photos produced will be very useful in promoting our project.
When Doug returned to the museum he sent this e-mail:
Brian and the team
Well just WOW,
I think it is well worth reflecting a while what you have achieved.
• Probably the Most important Drag car in UK history has be brought back to life
• A car that's only prospect was to be preserved in an incomplete state never to be see operating again has been "Resurrected"
• The car is in one piece complete as Mr Allard last saw it
• The wishes of Brian Golder have been realised, unfortunately not in his life time but in his memory.
Guys this is getting a masterpiece out of the Museum cellar and bringing it back to the nation.
Never underestimate your achievement. Thank you all.
Doug Hill
Museum Manager and Lord Montagu's Chief Engineer
National Motor Museum, Beaulieu
So now it's back to Andy Robinson Race Cars for more tuning for nitro running and honing the starting technique. We also need to train more than one start-up crew. The drive train problems with the clutch need to be fixed. Then it will be a complete strip down and rebuild with final paint and chrome in place ready for a big press launch at Beaulieu next Spring. That's Spring of 2013 – the 50th anniversary of the trip to the UK by Mooneyes in 1963.
The ACAG established direct communication with Don Garlits who agreed to act as Mentor on running a Potvin engine on nitro. This was in addition to Potvin Doug Peterson. They also continue to search for a suitable trailer to store the car and parts.
Four new sponsors joined the band of supporters. Brian Childs and Tim Howes of NGK have been keen to support our project for many months and have been waiting for my call for B7ES plugs. The call went in and the plugs winged their way to Andy Robinson Race Cars.
Long-time drag racing fan Steve Clark of Nimbus Motorsport kindly supplied some bottles of ZEP that Andy thought desirable. And Gordon Riseley of RCS Ringspann came up trumps with throttle and shut-off cables. Access to all these websites is now available via the links page of our website www.allardchrysler.org.
And Chico Kodama of Mooneyes has kindly donated a Mooneyes fuel tank to be mounted on our mobile starter trolley. It will hold methanol for firing up the engine before the nitro comes through. Chico sent the tank to the US Automotive collection point in Atlanta and from there it was flown to the UK.
The Allard Chrysler has been invited to appear at the Chelsea AutoLegends show on September 2nd. The event is set in the beautiful grounds of The Royal Hospital – home of the Chelsea Pensioners and the Chelsea Flower Show. Promoted as London's leading celebration of Britain's unique passion for all things automotive and motor sport, this is the show's third year and it is supporting the 'Walking with the Wounded' charity.
We had hoped to attend last year but events conspired against us. It will interrupt our restoration work schedule but I have been keen to get us in front of a slightly different audience and this gives us a great opportunity.
Reading the Chelsea AutoLegends website copy I realised it was the place we needed to be. Cars and cool, fashion and food. I mean; that describes us doesn't it? There is a gala dinner on Saturday evening and the Allard team will be available to talk about the project as guests assemble for the prestigious evening. More website copy; A glass of champagne in the Chelsea AutoLegends VIP area, stroll through the sixty or so best cars in the show – Le Mans cars, F1 cars, sports racers, classics and motorcycles' (they didn't know about us being there when the copy was written). A great place to rub shoulders with the motorsport elite, world champions, celebrities, models and soldiers. Sounds posh doesn't it?
One of the show's Patrons is Sir Stirling Moss MBE. He knew Sydney Allard and attended the 1964 International Drag Festival at Blackbushe so it will be nice to re-unite him with the car. I wonder whether he will remember it? Another show Patron is Phil Read MBE who I persuaded to sponsor John Hobbs in the 1970s and it will be good to see him again.
On the Sunday they expect more than 15,000 visitors who will be able to view over 500 collectors' vehicles. Thanks to American Sam Eidy and Canadian Ked Dieter I bet the Allard is the only exhibit with its own recorded theme tune – Ally Blue; unless, of course, Chitty Chitty Bang Bang is there. In fact the organisers have asked if they can play Ally Blue during the pre-dinner drinks on Saturday evening. We will not be firing up the dragster due to noise restrictions but I hope the spin-off will be good for Andy Robinson Race Cars (many of their existing and potential customers will be there), the National Motor Museum and Santa Pod who will be hosting the FIA European Drag Racing Finals the following weekend. Maybe we can also meet a few new supporters for our project.
Noise restrictions will prevent us from firing up the car but we will be joined by our major sponsor Chris Andrews and the F&A Racing Lucas Oil Top Fuel Dragster. Europe's oldest next to Britain's latest; a unique occasion. And Santa Pod Raceway will also be bringing along some vehicles. More details about the show on www.chelseaautolegends.com. And don't forget that the latest issue of our regular on-line magazine ACAG Update is now available via www.drceurope.co.uk/acag/jul2012.
Monday 14th May 2012: Work-In, sponsors, Dragstalgia and help yourself...
Allard Chrysler Restoration 'Work-In' days
So where shall we start my Mega-blog compilation this time. I think the April 22nd Allard Chrysler restoration Work-In day is good. While thousands tramped around the country's capital city in the London Marathon, the day proved to be a very rewarding 'Work-In' day at Andy Robinson Race Cars with new members of the Allard Chrysler Action Group (ACAG) restoration team joining the regulars. The full head count this time consisted of Bob Roberts, Syd McDonald, Martin Dunks, Andy Robinson, Brian Taylor, Paul Stubbings, Chris Eames and Ed Wimble. It was the largest team so far.
We had two 'Work-In' day virgins - Paul and Ed. Paul's initial encounter with drag racing was at the first Cannonball meet at Santa Pod in 1981 but he waited until 1992 before participating with Wendy Baker eventually in the driving seat. Via a series of cars including a Rover V8 slingshot, a blown Chevy powered Econo Funny Car, a blown Top Alcohol rail and a Fuel Altered, his career is currently focussed on the blown Mustang II Nostalgia Funny Car Time Warp. He also helps out on the Tech Crew when not running the Mustang. If he's not busy enough we've now found him something else to do.
The name Ed Wimble – Mr Ed - will be familiar to many readers. He has been into hot rod building since 1958 and living in Brixton he soon became aware of the Allard Chrysler being built in the early 1960s at Adlards in Clapham. Entering his Model T 'Outlaw' at Crystal Palace shows in the early 1970s was probably the first time he came to the public's notice and he went on to become a major force in custom painting (he will be sign writing the Allard Chrysler dragster) and traditional hot rod building – even designing for Boyd Coddington in California (including the famous Alumatub). In the late 1990s Ed was involved in designing Boyd's new wheel range. From 2002 he has been involved in developing the New Stromberg 97 carburettor.
We now have the replacement stainless steel blower pipes fabricated by Lloyd Allard installed. Both Alan Allard and his son Lloyd became supporters of the restoration right from the start. When he had the opportunity to work on the car in his Gloucester workshop Lloyd jumped at the chance, thus becoming the third generation of Allards involved with the car – first Sydney in 1961, then his son Alan in 1964 and now Lloyd. His task was to recreate the two stainless steel blower tubes linking the blower to the inlet manifold. A chassis brace made it particularly awkward.
Lloyd said:
It was a pleasure and truly an honour to have the unique Allard Chrysler dragster back in an Allard workshop after such a long absence. I'm always so proud when anyone mentions Sydney and his achievements. While working on the car my father and I started to reminisce about the various events at which it was involved. We agreed that even though Sydney was known for trying many things, the dragster project way back in 1961 really was a ground breaker and way before it's time in Europe.
He was a true pioneer and it was such a tragedy that he died only a few years later. He really was a true gentleman on and off the track and continues to be very much missed. I'm sure there were many more things that he would have achieved. Things we can only imagine. Remember that he designed, built and raced his own car at Le Mans in 1953; an almost, if not impossible, task to achieve today.
After Sydney's death in 1966 my father went on to become a supercharging and turbocharging expert; putting pen to paper to publish two books released in the 1980's. Now in his early 70's and semi-retired, he still helps on new projects here at Allards such as the recreation and continuation of the original Allard cars.
The Allard business today manufacture aluminium parts for the motor sport industry including parts for Allard cars, such as radiators and fuel cells. I would like to think I share some of the talents that my father and grandfather had in such abundance and that it spills over into the company today.
The main aim of this April 22nd 'Work-In' was to get the car back up on its own wheels to make it easier to move around and provide a solid base for the electrical, hydraulic and fuel systems to be completed.
The rear axle was installed and this enabled Chris to complete the mechanical controls and cockpit gauge links. Rather than send the gauges to Smiths, Chris serviced them himself. There are two gear levers to the left of the steering wheel. The main gear selector is the long lever close to the steering wheel while a short stubby control enables reverse to be selected when forward gears are disconnected. The second master cylinder was installed.
The part re-furbished front-end components were retrieved from Dave Davies by Syd McDonald. Paul Stubbings supported by Syd and Ed re-assembled these components on the chassis – excluding the brake callipers because we needed to extract the pistons and check the seals. Chris did this later in his own workshop and found the pistons OK but new seals were required. The original wheels were re-fitted to the car with new Dunlops up front and the Inglewood Cheater slicks on the rear.
We had hoped to complete the steering but a couple of the side-mounted steering rods presented problems and needed serious thread cleaning. Ed Wimble took these away to carry out this work. Chris and Bob test fitted the starter motor and remote filter mount to check clearances.
Martin completed plans for the fuel system and took measurements for all the hose requirements. The system includes a filter and a shut-off valve. Some of the tank fittings need threads tidying up so we started to hunt down a set of BSP dies.
We also had a chance to consider the chrome plating requirements. There is a lot of it shown in original photos – not all of it restored in the 1980s part restoration. We are considering a copper flash nickel plate finish on the components not normally visible although clearly plated in early photos (parts of rear axle, etc). We will use chromium plate on the more visible and accessible parts (steering and suspension).
Syd provided his usual excellent food (he should have his own TV programme) and as a reward he was the one who sat in the cockpit to check the newly installed controls.
A planned small team assembled at Andy Robinson Race Cars on May 3rd for a Mini 'Work-In' day - Andy Robinson, Bob Roberts, Chris Eames and Paul Stubbings. The engine was removed from the chassis and the machined flywheel fitted. The starter motor was fully installed and checked out OK.
The team moved on to install the Roy Wilding donated clutch and managed to find a set up that looked reasonable. The gearbox was then fitted to complete the core drive chain. This showed that further machining was required on the flywheel and a couple of adapter/spacer pieces were required to hold the bearing that supports the gearbox input shaft within the flywheel. Kev Slyfield will complete this work with Bob Roberts managing.
Chris will now complete the solid mounting of the fuel tank to suit current safety requirements. It will appear to be held by bungees as on the original car. Paul will check out the engine during the next couple of weeks. I have collated all documentation from Booth-Arons and engine component suppliers. This pack will form the car's mechanical 'Bible'. More thoughts were put into timing the engine and Potvin Doug in the USA was contacted for advice. Bob Walker of Hot Heads helped out by supplying more gaskets FOC. What a star.
Finding someone to polish the 5-spoke mags proved to be more difficult than expected but Luke Robinson has given us a lead.
ACAG Sponsors
And some great news came from our major sponsor, Europe's newest Top Fuel Dragster Team F&A Racing. Having such a sponsor is a bit like one of today's Top Formula One teams sponsoring the restoration of a 1960s vintage Grand Prix car. They debuted their own 'state of the art' Lucas Oil Top Fuel dragster at Autosport International and have been waiting for parts prior to testing. They have entered for the Main Event and have recently received items including a Sonny Bryant crank, TFX blocks and 1 ton of parts arriving by sea. A further $250,000 worth of parts is arriving in several air shipments. Fingers crossed for the Main Event.
Despite all this work on their own project they have still found time to generously donate a further £2500 to our restoration fund; with more to come. We can't thank them enough. I've decided to wait until a suitable photo opportunity during testing or at the Main Event before making a big splash about their latest valued support.
I'm pleased to announce that Alexandra Workwear, the UK's leading workwear company, has provided 16 sets of white overalls at a very special price. I have been trying to get sponsorship of this clothing and in the end Alexander came up with the best offer. The overalls are now having our logo applied.
Continuing with clothing, as regular readers will know we plan to have the team in period correct attire so shirts and ties will be worn under the overalls. IMI ties have been provided by the Institute of the Motor Industry. The IMI is the professional association for individuals working in the motor industry. It is the Sector Skills Council for the automotive retail industry and the governing body for the Automotive Technician Accreditation (ATA) scheme. So the ACAG team will be unofficial honorary members of the UK's premier motor industry qualifications organisation whilst working on the car in public. Cool; and thanks to IMI Executive Chair Sarah Sillars for this.
While we are on the topic of the IMI, you will recall that we have been working with the Institute using the Allard Chrysler restoration project to excite young people about the motor industry. As an extension of this strategy the IMI has recently launched 'Indicate', a set of motoring themed, free teaching resource that schools can use to deliver the Key Stage 3 maths curriculum and introduce students to the motor industry. And guess what? It includes a drag racing exercise.
Sponsored by Jaguar Land Rover and available to schools nationwide, the resources comprise a student workbook and a 12 lesson teaching plan that is based on real life activities within the motor industry. This covers subjects like statistics and data analysis, spanning sub-sectors which include motorsport, parts, sales and heavy vehicle. Crucially, the lessons allow students to explore mathematical concepts such as equivalence, proportional thinking and relationships and express them in written and oral forms.
Emily Hakansson, Careers Development Manager, The IMI, said:
"Speaking to apprentices over the last year, I found that they showed great enthusiasm for maths in practice coupled with conceptual understanding. When discussing road cars and motor sport for example, they could talk at length about power-to-weight ratios and how they impact acceleration and lap times. This prompted us to build Indicate around real world examples from the motor industry – hence the inclusion of drag racing. Our aim is to make maths as engaging as possible for learners."
I am really chuffed that the IMI has now included a drag racing themed exercise in this exciting new programme available to schools. The drag racing element is about budgeting and it is the sort of development I have hoped for as part of getting young people involved in our project and our sport. Any teachers reading this who are drag racing fans make sure you get the details. Any students who are fans then tell your teachers. The contact details are below.
To register for the resources please follow this link: www.autocity.org.uk/headlight/indicate.
And congratulations to Emily who has been promoted since working with us. The old ACAG stardust at work again.
The IMI has its own RWYB day within the May 20th RWYB at Santa Pod. I plan to be there to support the day so come and say hello.
Wednesday 17th May is the Guild of Motoring Writers' AGM held at Honda in Swindon this year. It gives me a chance to meet up with some old friends and update ACAG Patron Nick Mason with our progress with the Allard restoration. Nick is President of the Guild. Also gives me an opportunity to test drive a few Hondas.
Dragstalgia
Dragstalgia at Santa Pod July 14/15 is approaching fast. A weekend dedicated to drag racing, hot rods and bikes from a bygone era with classic dragsters and funny cars, altereds, hot rods, American muscle and more. A fantastic weekend in prospect.
National classes racing at Dragstalgia include:
Nostalgia Fuel Altered Association
Supercharged Outlaws
Wild Bunch
Outlaw Anglia
Gasser Circus
Outlaw Street
There will be a special UK Street Machines Shootout plus a Heads Up Superstock Shootout for pre-'72 American bodied cars with stock rear suspension, carbs only - no power adders, slicks are allowed.
There may well be some special news soon about an extra class and Keith Lee is busy getting some early drag bikes together including John Hobbs.
There will be time for Run What Ya Brung activity. Because this is Dragstalgia it will be open to pre 1980 vehicles only, Retro, Classic, Hot Rod and American cars and bikes. RWYB sessions on Saturday and Sunday but time will be limited on Sunday.
Put your pride and joy on display in the Show and Shine on Sunday and you could be going home with a trophy. Free to enter, just turn up and register on the day. And if you're looking to buy or sell vintage cars, bike or parts then head over to the Swap Meet and Cars 4 Sale areas. Both are free.
The UK Tri Chevy Owners will be celebrating '56 years of the 56 Chevy' with a cruise of Tri Chevy's up to the 'Pod on Sunday morning.
Club display areas and club camping areas are available but book now to be sure of space. Call 01234 782828 or download a Dragstalgia Club Booking Form here. You must have a minimum of 10 cars to book a club stand or camping area. 20% discount for members of American, Classic, Retro and Hot Rod car clubs including Mopar, NSRA, NASC, AACI and UKSM. Offer applies to gate tickets only and you must provide your membership card.
There will be stock car racing displays on special oval track from the Historic F1 Stock Car Club on Saturday and Sunday. These powerful cars are still racing, just as they would have done in the 1950's and many of drag racing's early pioneers came via the stock car route.
Some of the greatest cars and bikes from Drag Racing's past will be on display in a special marquee and as an extended part of the Historic Car display the Allard Owners Club hope to be in attendance with a number of their cars even taking to the famed quarter mile. There will be British Drag Racing Hall of Fame autograph signing sessions on Sunday with some of the biggest names from the past 40 years of drag racing. Santa Pod's own radio station Nitro FM will broadcast from early till late with a selection of great music of the early years plus interviews and chat with some of these drag racing pioneers. Although I found it great fun to host a nostalgia music and chat show last year I have mixed feelings about doing it again. The reason I was doing last year was because it rained a lot. Let's hope we have more track action this year and less chat from me.
There will be a Cacklefest on Saturday evening with cars lining up on the track in front of the grandstand. Keeping the nostalgia vibe going, suitable cars will be push started from the road in front of the grandstand before driving onto the track. Plus there will be Flame Burnout demonstrations. These made a welcome return to Santa Pod at Dragstalgia last year.
It may also be the event that features a very special moment in European drag racing history. Keep checking the news on Eurodragster.
After the track closes on Saturday, head to Fuelers Bar for an evening of Live Music, Entertainment, Burlesque and Cabaret presented by Milkcow Vintage Magazine. To complete the nostalgia many of those attending will be in era gear so look for stripy trousers and bobby soxers. And of course the weekend would not be complete without the Battle of Britain Memorial Flight making a fly past with a Hurricane on Saturday.
One car that I don't think will be there is Megalomania. It has recently been restored in the USA and the owner is looking for a way of racing in the UK. I don't usually include photos in my blog but as this is one of the cars that I used to love back in the late 1960s I had to include this pic taken from the UKDRN Forum. Wouldn't it be fantastic if...?

Watch out for the next issue of ACAG Update, the ACAG's on-line magazine. Lots of pictures here. The Latest News tab on www.allardchrysler.org is where you will find it.
Help yourself by helping the sport The final bit of my Nostalgia blog concerns something close to my heart. The British Drag Racing Hall of Fame is looking to expand its activities but needs more help to achieve this. They recently placed this advertisement and I truly relate to the content. When I first became involved in drag racing I was a territory salesman for the Kelly-Springfield Tyre Company. The skills and experiences gained during my years in the sport were fundamental to my own career development in marketing and management. The line 'Help yourself by helping the sport' is indeed a truism. The new BDRHoF stickers are good too. Buy them from www.britishdragracinghof.co.uk.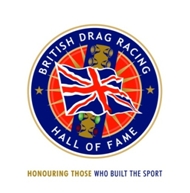 The British Drag Racing Hall of Fame has great plans for the future but needs help in the areas of press and sponsorship communications plus event planning and management. This support will be on a voluntary basis but your work record can help you when seeking full time employment or promotion. Working with some of the most well-known and respected people in drag racing you will be able to prove to prospective or existing employers self-reliance, creativity, computer skills, writing, planning, organising and event management capability in a working environment – skills you might not be able to deploy in your current job.
If you are interested in developing these skills within the most exciting motorsport on the planet then contact Stuart Bradbury on BritishDRHoF@aol.com. Show him how you would raise the profile of the British Drag Racing Hall of Fame by keeping the press and sponsors informed, organising events at drag race meets and shows to raise funds, plus the Annual Awards Event.
Saturday 24th March 2012: Hall of Fame, Hot Heads and wheels.
Where do I begin this time? The 2012 British Drag Racing Hall of Fame Awards is a good starting point. Held on February 11th as part of the joint club annual trophy presentation 'do' in Solihull we introduced a few new ideas. The main one was holding a separate British Drag Racing Hall of Fame 'bubbly' reception for inductees and their families so they could get to know each other before entering the fray. It seemed to work quite well for a first attempt and we were able to troop in to the main event when dinner was served.
I was asked to introduce the awards bit and thanks to the flexibility of the organising clubs we were able to present DLT's award straight after dinner as he had to get away to prepare for his live radio show broadcast Sunday morning. We also maxed on the publicity this time, both before and after the event. It produced extensive coverage – particularly in the USA with Carl Olson being one of the inductees. We plan to introduce more changes but we will need extra help in media relations and organising events so if you are interested contact Stuart Bradbury on britishDRHOF@aol.com. You might gain experience that could help you in your proper job! I did!!
The February 2012 on-line issue of ACAG Update went down well. If you missed it try www.allardchrysler.org under Latest News or you can get it direct on www.drceurope.co.uk/acag/feb2012. Getting people to share this on-line magazine with their Facebook, Twitter or e-mail contacts in a viral campaign spread the word far and wide. If you haven't let your friends know about us yet why not do it now. The next issue will be in April.
The ACAG restoration 'youth' team assembled again at Andy Robinson Race Cars on Sunday February 26th. Those assembled this time were Andy Robinson, Bob Roberts, Syd McDonald, Chris Eames and Brian Taylor. We gave the new team uniform overalls a run out. It was always planned that the support team would dress in accordance with the era. They may have been in T-shirts at Lions in California but Sydney and his crew wore white overalls, shirts and ties so we will do the same. At the moment we are working on a sponsorship deal for these overalls.
Chris and Andy carried out more work on the gear shift lever in line with new detailed photos that have recently become available from the Allard Register. Chris and Bob also worked out the hand brake mechanism with Chris leading this part of the restoration. Chris also worked on the battery plug-in point for use when starting the car and supplied a set of leads.
We ordered a Hot Heads 146 tooth flywheel for an 8 bolt crank Part No 25006.146 1951-56 Hemi engines. After communication between Stuart Bradbury and Brian of the ACAG and Bob and Debra Walker of Hot Heads in North Carolina Hot Heads agreed to supply this free of charge. The transfer was organised by US Automotive and SBS. A brand new medium size Royal Blue ACAG T-shirt should now be with Bob in the USA.
Hot Heads specialise in early Chrysler, DeSoto and Dodge Hemi engines and parts - '51 thru '58 Chrysler. To give the company its full title, Hot Heads Research and Racing Inc, USA was established by Mike and Mellonie McLeod in 1996. One of their first distributers was Bob Walker of Power Play and American Hemi Speed Centre. A few years later Bob and Debra Walker purchased the business, their initial product being the Hot Heads aluminium Hemi heads to fit the 331, 354 and 392 cubic inch engines for street rod, marine and race applications.
Their range is much broader now and we already have quite a few Hot Head bits on the Allard Chrysler dragster that were purchased by Sam Eidy and Denny Hummel when they were with Booth-Arons who recreated our 354 Chrysler Hemi engine. These include bearings, by-pass, valley cover, valve cover spacers, spark plug tubes, oil pump, intake spacers and intermediate shaft. With Bob on board we have access to one of the world's leading Hemi experts. I'm sure we will be making regular contact as we get close to firing up the engine. A link to Hot Heads website is now on the ACAG website at www.allardchrysler.org.
The ACAG team temporarily fitted the rear axle with the second set of 5-spoke mag alloy wheels that were found by long time ACAG supporter Nick Davies who has given permission for us to use them on the restoration. The fit is so good that, although we are still trying to get an actual track on the ownership of them since 1964, we are 99% sure these were the originals. Measuring the clearance between the rims and the exhaust headers produced a tight fit; but no tighter than indicated on photos taken during 1961/62. We still have room for adjustment on the headers and we haven't yet installed gaskets.
Clearly, we needed to check the clearance with tyres fitted. Chris had located a set of Pie Crust 900x16 slicks to fit. They are already in the country so we did not need to worry about the black oil content issue and clearing Customs. An important task for the next 'Work-In' day.
Brian completed cleaning up the front wheels before crack testing proved they were sound. The next job was to wet and dry the outer rim face ready for polishing.
Some of the plumbing was installed and the fuel pump mounted. The new photos of the car taken in 1961 indicate that we might need some slightly different pipe adapters. Exact have some of the new requirements but not all of them.
The fuel tank was pressure tested and a couple of leaks welded by Andy. The oil filter adapter supplied by Roy Wilding was modified by Syd and is ready for use.
The dragster was not the only Allard in the ARRC workshop in February. Like a magnet it had attracted Sydney Allard's 1950 Le Mans car that was being fitted with a roll cage as part of a major restoration. More Allard roll cage jobs are in the pipeline.
Syd provided a fantastic BBQ and all ate heartily in the sunshine.
Work continued three weeks later when the ACAG Magnificent Seven of Andy Robinson, Bob Roberts, Chris Eames, Syd McDonald, Brian Taylor, Stuart Bradbury and Martin Dunks met up at Andy Robinson Race Cars on March 18th.
Stuart brought the recently arrived flywheel supplied by Bob Walker of Hot Heads. This was drilled to suit the ½ inch bolts used (flywheel delivered with standard 7/16 inch holes) and a trial fitment showed all was well. Critical dimensions were taken to enable a starter motor to be ordered. The flywheel will now be machined to suit the clutch cover.
Thanks to the muscles of Andy and Martin, assisted by a couple of big mallets, one of the two new Radir 900x16 pie crust drag slicks supplied at cost by Russ Pepper of R&R Hot Rod Imports was fitted to a Nick Davies sourced 5-spoke rim. This was fitted to the axle for final check on clearance between headers and tyre. It was still tight but once a gasket is installed on the headers it should be fine. Better not let the headers get too hot on a static 'cackle' though.
R & R Hot Rod Imports is a newly formed venture with partners on the US East coast and the UK. Their goal is to provide all frustrated hot-rodders with parts, wheels, cars ...... or whatever their heart may desire and their wallet will stretch too. Everything is sourced in the US and shipped primarily from the East coast. Radir Wheels and tyres are specialities. The R&R Hot Rod Imports website can now be accessed via the www.allardchrysler.org links page.
The 5-spoke wheels will now be sent to a wheel refurbish specialist for blasting and polishing ready for red paint to be applied to the spokes.
Chris has all but completed the gear levers thanks in part to donations from Miles Sherlock of Jack Hammer who in addition is supplying gaskets for the rear axle. JackHammer Hotrod & Kustom Supply was created in September 2007 and has quickly become one of the UK's leading Hotrod and Custom supply shops. This success has been achieved by specialising in the traditional and nostalgic style of car building, which has always and continues to be incredibly popular with hot rodder's worldwide. Some of the big name companies they are agents for include Mooneyes, Limeworks, Speedway Motors, Gennie Shifter, C & G Early Ford Parts, Tuckers Classic Truck Parts, Pertronix, Dynamat and many more. They have supplied control knobs and gaskets for the restoration project. The Jack Hammer Speed Shop website is also now on the links page.
The brake lever mechanism was developed further. A second master cylinder was being ordered.
Brian and Stu finished prepping and polishing the front wheels that were then taken to Vintage Tyres at Beaulieu to have the replacement tyres and tubes fitted. As the car is only going to be used for 'cackling' it was not thought necessary to balance the tyres to the rims.
On the plumbing side Exact came up trumps with some extra fitments and Martin finished off the fuel tank attachments. He will now start assembling the fuel system hoses.
Although he has been travelling all round Europe, Dave Davies has managed to complete most of the front end restoration. Just the front axle to polish and he will then be ready to put it all back together. This might be a special mid-week Work-In day as Dave is out and about selling parts most weekends.
Syd McDonald fed us well as usual. His barbeque is one of the highlights of the day. The car was prepared for transportation to Alan and Lloyd Allard; Maurice Takoor will handle this on March 27th. The Allards will fabricate and fit two new blower tubes in their Gloucester workshop. The plan is for the car to be back at Andy Robinson Race Cars ready for another Work-In day on April 22nd.
We've been doing a lot of work with our new partners the Institute of the Motor Industry. They have started to promote our project along with drag racing in general. A recent video introduced the restoration to industry apprentices. If you haven't seen it go to the videos page on www.allardchrysler.org. We have been featured on www.autocity.org.uk/accelerate and www.motor.org.uk/magazine as well as the Acceleration Facebook page. I have also been writing a series of articles that have been published in Motor Industry IMI Magazine.
They have organised an IMI Apprentices RWYB at Santa Pod on May 20th that I hope to attend and Santa Pod have agreed two free entry days for Accelerate members linked to the FIA Championship rounds.
This relationship with the IMI is really developing fast and after a recent meeting at the National Motor Museum, Beaulieu the IMI hope to be sending out some exciting new information to its members. Some superb news concerning a new IMI education programme will shortly be released. I'm pleased to say that drag racing is beginning to excite those entering the motor industry and we are re-engaging with the fans, mechanics and drivers of the future.
Watch out for some big ACAG project sponsorship news shortly. And if you want to join the ACAG Restoration Team and sample Syd's amazing food then contact Bob Roberts on roberrl-1@robinson-race-cars.co.uk.
Wednesday 1st February 2012: Work, college, show, Dragstalgia and Hall of Fame.
Work on the Allard Chrysler
A lot has happened since my last blog. Several sub-assemblies of Sydney Allard's 1961 Allard Chrysler have been restored with the help of new supporters. Warringtons of Warwick is a family run garage and repair business that has been established for 40 years. Classic car fan Rob Warrington has been working on an Allard engine for some time. Fortunately he had a spare Ford Pilot gearbox, the same as that fitted to the Allard Chrysler, and he kindly donated it to the project. The original box had suffered some damage over the years and Rob's donation enabled ACAG member Chris Eames to assemble a box out of the existing unit and the donated unit.
Euromart of Thatcham in Berkshire carried out the soda blasting of the chassis and other components. Owned by Mike Humphrey and previously used by Andy Robinson Race Cars after his Pro Mod fire in Finland, the company has been established for six years and uses a mobile media blasting system that can be used on-site or at the Thatcham premises. They discovered that the chassis was in good order and has been sand blasted earlier in its life – probably during the Brian Golder restoration carried out in the 1980s.
Exact Engineering of Totnes is supplying all the hose fittings for the restoration with Andy Robinson crimping them to BMRS hose supplied by ARRC. The fittings are one piece light weight alloy designed for convoluted hoses. The BMRS hose being used is a standard braided hose finish but black sleeves will be used as necessary to reflect the period look.
Exact was established in 1995 and it is the motor sport brand for its Associate manufacturing company Vire Engineering of Totnes in Devon that has been in business for 38 years and is now one of the UK's largest manufacturers of hose fittings with Andy Robinson Race Cars one of its customers. In fact it was Vire that manufactured the first fittings for the late Stuart Goodrich when he launched his business in Totnes. But as well as motor sport components, Vire supplies fittings to the nuclear, security and defence industries.
With some of the basic sub-assembly work completed, a small group of ACAG supporters gathered at Andy Robinson Race Cars between Christmas and the New Year for a three days 'Work-In' commencing the trial build. The ACAG's 'Time Team' on this occasion consisted of Andy Robinson, Bob Roberts (he's in charge), Chris Eames, Syd McDonald (special responsibilities for catering) and new member Martin Dunks who contacted Bob after reading about the work being carried out on eurodragster.com.
Martin attended his first drag race back in the early 1970s at Blackbushe and by the end of that decade he had entered his first meeting. His main love remained the doorslammer/muscle car classes and along the way he became friends with Andy Robinson and Bob Roberts. Although he now works on state-of-the-art sports cars at McLaren Automotive (currently the MP4-12C sports car) he has always been keen on the historical aspects of motor sport – hence his interest in our project.
The team made good progress with fabrication and using the ACAG's file of pictures, notes and old articles they managed to figure out things like gear box linkage and the parachute release mechanism. Automotive archaeology at its best. The position of the engine in the chassis has been a concern and the team made new engine mounts that now hold the engine about ½ inch lower than before. This results in the low-slung 'weed-burner' header position being more in-line with early photos and gives better clearance between the rocker covers and the engine cowling.
The restored gearbox was mated with the clutch and engine and the gear linkage was made (just requires some rod ends). There is still an issue with the flywheel and the availability of early Hi-torque starter motors. There are several options open to the team and more research is being carried out by Bob Roberts, Andy Robinson and Stu Bradbury before a final decision is made. Bob had a good day at Autosport International later in the month talking to companies that said they could help.
After making a slave out of cardboard a new firewall was manufactured out of aluminium and fitted. The protective cover was left in place prior to applying the archetypal Allard engine-turn finish in the final assembly. If any of you have watched the late Boyd Coddington's American Hot Rod TV series you will know the drill. Only the ACAG crew don't shout so much and Bob's shirts don't hurt your eyes.
The driver's seat has been refurbished by Grahame Smith who is also looking at re-creating the chute pack and chute. Chris Eames may have located a period correct aviation chute. But we have decided not to replace the bent push-bar. The museum was keen to keep it and as we will only be firing up the engine using a starter motor it makes no difference to us. You might say it keeps a bit of original character on the car.
We have located the supplier of 5-spoke mag alloy Torq Thrust rear wheels that we think were used on the original car mounted with 900x16 pie crust slicks. Steve Trice at U S Automotive has been checking that our axle fitment can be covered, the delivery time and costs. At the moment there seems to be an availability problem with our size and fitment. The wheels are made in China these days so we are looking at other options. Anyway, new information seems to indicate that our size was not available until 1963 whereas we have pics showing the car fitted with them in 1962. So maybe they were Halibrand?? The beat goes on. Nothing is straight forward and we are looking at other options. We have located the pie-crust slicks though and have a price so as soon as we sort out the rims we will order the slicks. Dunlop Racing and Vintage Tyres have recommended the size of new tyres for the front because the originals are badly crazed. The 525x15 are no longer made and the recommendation is to go for 550x15 Dunlop R5. These have been ordered along with tubes.
The January 22nd Work-In saw more work. The team this time consisted of Brian Taylor, Andy Robinson, Bob Roberts, Chris Eames and Martin Dunks. Syd was absent this time because he was on one of his regular expeditions to Florida as he tries to discover the source of the world's largest muffin. You have to admire his dedication. Chris re-installed the brake pedal that he had cleaned up and then carried out more work on the gear shift linkage before fabricating a chute back plate that will be used by Grahame Smith to recreate the 1964 vintage chute pack. Martin carried out a detailed inspection, clean-up and polish of the fuel tank ready for pressure testing. The Master Cylinders are being replaced with new units and one was installed. The front wheels were Scotch-Brite cleaned by Brian ready for crack testing, painting and getting the new tyres mounted. Bob concentrated on fabricating a transit trolley for moving the chassis, parts and materials to hand around the workshop.
Cables have been ordered and the Exact hose fittings have arrived at ARRC. The car is now ready for a trip to Alan and Lloyd Allard in Gloucester for fabricating and fitting replacement blower pipes and we are looking for a volunteer to transport the car. Maurice Takoor has offered his services but transport is something that will continue to be a problem until we have sorted out our own trailer so if you can help get in touch. Work on plumbing can also start and it looks like we might have an offer for the chromium plating. So there is still plenty to do.
Fit second master cylinders; Complete cleaning of second front wheel, make and fit handbrake lever; test fuel tank; make and fit parachute release mechanism; install starter, cables and connectors; plumb fuel system (cut hose to length, install fittings and crimp); design or locate remote oil filter adapter for block; identify remote oil filter mount. Those interested in living in the past and discovering how they used to do it please contact Bob Roberts on roberrl-1@robinson-race-cars.co.uk. You will be welcomed with open arms and progress will be speeded up. Links to all supplier websites can be found on the brian@allardchrysler.org. As well as Ken & Brad Cooper who are based near Birmingham the team currently includes Dexter Price in Essex, Roy Walker in Northampton, Dave Gibbons in Canterbury plus Wayne and Brad Jackson in Sheffield. F&A Racing will make their new Lucas Oil Top Fuel dragster available when possible and of course the IMI endorsed 1961 Allard Chrysler restoration project will be on the list when complete. Likewise Santa Pod vehicles will be displayed when commitments permit.
Unfortunately Ken Cooper injured his right hand in the course of duty when trying to assist a larger lady apprentice out of the car's cockpit. It's his valve hand too but he hopes to be playing the trumpet again soon and he will be available for Dragstalgia. Next time we plan to have an engine hoist available.
I attended a very positive meeting with Caroline Day at Santa Pod along with Emily Hakansson of the IMI. Watch this space.
Autosport International and F&A Racing
I stayed at a Premier Inn near the NEC ready for Autosport International. It was warming to see that Harvester restaurants are continuing their efforts to take UK obesity levels to even higher values. Huge portions and waitresses trained by the CIA in psychological force-feeding techniques to persuade you to have even more because it's free – even though you feel stuffed to the gills. They reminded me of Gladys Pugh in Hi De Hi (Welsh vamp in 1980s Holiday Camp comedy series). If they saw a square inch of empty plate they sauntered up to you with smouldering eyes and said, 'Would you like some more – it's free?' If you say no they give you a scornful stare as if to say, 'What's the matter; aren't you man enough?' Makes you feel like a Welsh wimp (same as English wimp but they tend to sing a lot more, have less tattoos and their dogs are not so ugly). Clearly they follow the old drag racing creed – there's no substitute for cubic inches. And getting the Premier Inn or Travel Lodge Super Saver rate was the usual impossible dream. Hey Ho.
At Autosport International I met up with Les Downey of Lucas Oil, Andy Carter, Caroline Day, Jeremy Cookson and of course John McGrory and our friends at Aurora Bearings and Exact. Also met up with some of my journalist and PR contacts (including Steve McQueen) plus the owners of the classic Offy engine vintage Kurtis Indy car on the Aurora stand. Also met Ian Gartside who has since sent me some great pics of 1964 Drag Festival pics and the Allard Chrysler. Ian was the owner of a workshop in Yorkshire used by Don Garlits in 1964. It is a story that Don often tells so I have put them back in contact with each other.
Returned to the NEC Saturday morning and met the Santa Pod crew plus my old colleague Derek Carruthers from Marangoni. But the main reason was to be there for the unveiling of the new Top Fuel dragster owned by our biggest benefactor F&A Racing. Looking splendid in its new Lucas Oil colours it was a great thrill to feel a part of the team. Even when just on static display a modern Top Fuel dragster is very imposing. Gothic in stature, prime evil in nature with an ample dollop of glam rock bling they are truly awesome. I think this car and the Allard Chrysler side-by-side will make an exciting display – particularly when they can both be fired up. Crazy Horses wheee-oo, wheee-oo. (do Charleston legs dance as per Osmonds). Watch out for black F&A Team shirts on e-bay.
Dragstalgia
Dragstalgia is shaping up well. I made contact with Dean Butler who owns a 2004 replica of the Charlie Bang Special – a 1965 Flathead Ford slingshot campaigned by American drag racing pioneer Charlie Bang whose history goes back to the 1950s. Charlie built the replica for Dean and it appeared at the Goodwood Festival of Speed in 2008 when it was fired up by Wayne Allman. It has also raced at Shakespeare County Raceway when Charlie Bang flew over to drive it. Dean hopes to bring the car to Dragstalgia this year.
Before leaving Derby after our IMI event I had a chance to meet up with Ian Rubrey and Steph Wainwright to catch up with the Allard Mark II chassis story. It looks like Clive Skilton is going to restore the car in top mounted blower form. He plans to do the work in the USA and then ship the car back to the UK when complete.
I opened a discussion about track prep on ukdrn because several people contacted me regarding over-prepping a track for nostalgia vehicles and the desire for more rubber smoke action on the runs like back-in-the-day meets. Clearly safety is paramount and the decision must be with the Race Director. The Fuel Altereds and Nostalgia Funny Cars in particular need to enter the discussion. Talking to Geoff Hauser who has had many years of experience with track preparation he feels that if the track was prepared to RWYB condition and everyone knew it then they could set up to run accordingly. Tee Rat and Shutdown ran without any track prep; as did Dennis Priddle, Clive Skilton, Allan Herridge, etc in their fuel funny cars. Speeds will be slower and ets below usual and it would mean setting up without the use of earlier computer curves resulting in, hopefully, tyre smoking runs. Maybe Grip Juice will make a return. The main thing is to discuss it so that the Race Director can make his decision with plenty of input from racers.
British Drag Racing Hall of Fame
By the time you read this the British Drag Racing Hall of Fame in association with US Automotive will have honoured the new intake of inductees. The 2012 crew consists of Tony Murray, the Brachtvogels, Barry Sheavills, Carl Olson and Dave Lee Travis. The full citations can be found on www.britishdragracinghof.co.uk. Congratulations to them all. Additional sponsors are Saga Holidays and Britain's quickest growing franchise darbyandjoan.comintothegardenmaude.
Saturday 3rd December 2011: Restoration updates.
Here we are again. Lots happened since my last blog – some of which you will have read about in Eurodragster. November 16th saw the ACAG team completely strip down the 1961 Allard Chrysler dragster and it now only exists as several sub-assemblies spread around southern England with different volunteer team members restoring their particular bits. When complete these will be gathered at Andy Robinson Race Cars for a trial re-build and test firing before final finishing ready for an official fire-up at Beaulieu. We should be able to start the trial rebuild between Christmas and New Year and Andy has put his complete machine shop at our disposal. The December News Update on our website www.allardchrysler.org will carry more details. This should be available shortly. The restoration team consisted of me, Dave Davies, Chris Eames, Bob Roberts, Andy Robinson, Syd McDonald, David Hooper along with Alan and Lloyd Allard. New faces are very welcome so contact Bob at roberrl-1@robinson-race-cars.co.uk. It's the closest you'll get to the emotions felt by Sydney Allard, John Hume and David Hooper when they first built the car during the winter of 1960/61. This is the planned list of Christmas/New Year jobs;
Rework donated clutch, check fit with engine and bell housing
Re-install engine, gearbox and front axle
Make new engine mounts
Make gear lever and linkage
Make and fit firewall
Make and fit new tube to replace bent push bar
Fit new master cylinders
Make and fit handbrake lever
Clean, test and refurbish fuel tank
Make and fit parachute release mechanism
Install starter, cables and connectors
Plumb fuel system (cut hose to length, install fittings and crimp)
Design remote oil filter adapter for block
Identify remote oil filter mount
News about other well-known restoration projects is that Dennis Priddle says he is ploughing on with the restoration of Mr Six and hopes to make some form of appearance over Whitsun 2012 (Spring Bank Holiday for you youngsters) because this marks the 40th anniversary of that first 6 second run outside the USA. Dennis ran a whole bunch of superb front engine slingshots but Mr Six is the one that is in the history books. How cool it will be to see and hear it again.

Keith Potter has started to assemble the parts required for him to recreate his blown and injected Chevrolet Plymouth Coupe called the Devil. He hopes to start the build early in 2012. After early trial runs he is targeting the Fuel Altered brigade.

Talking to Antony Billinton about his restoration projects he says that he has it in mind to cackle Commuter and Firefly, with Firefly being readied first as it's the ideal cackle car. It will make a lot of flames, noise and will impress when it's running on around 88-90% nitro which is about what it used to run. Commuter is somewhat less impressive as a cackle car as the nitro loads were never very high but would still be a good compliment to the Firefly show. And if there was a beauty contest between the two I know which one I would vote for. Of course Antony only does this sort of work in proper fashion and it is not a simple task. At the moment he does not have any prediction as to when work will be completed.

Nobby Hills has now fired up his recreated Houndog I Blown Jaguar rail on methanol. He is looking forward to firing it up alongside the Allard Chrysler to recall the time these two cars faced each other in 1964.

Ken Cooper and his son Bradley have fired up his new 1960s period flathead slingshot and they hope to test it out soon at a RWYB. He has decided to call the car Back from the Past as a salute to his last car Blast from the Past.

I was talking to someone who shall remain nameless who recently called into Freddie Whittle's workshop. He reports all the parts for a recreated Shutdown are there. Come on Freddie – put us out of our misery. The expectation is killing us.

Two projects I've yet to hear about are the Mark II Allard Chrysler originally launched in 1965 and Stripduster. Last I heard about the Allard was that they were still to decide whether to have a front mounted blower or top mounted. No news yet about Harold Bull and his son recreating Stripduster. Let me know if you hear anything.

Many of the bikes we used to see on the drag strips running in Top Bike or Superbike in the 1970s now run at Sprint meetings. Keith Lee reports that one of the highlights of the first Dragstalgia event at Santa Pod in July was seeing John Hobbs blast down the quarter on his impressive double Nourish-Weslake drag bike called the Hobbit. Furthermore, those who visited the Hall of Fame marquee over the weekend will have seen the recreation of John's original Olympus 500 blown Triumph, which was on static display following completion of a meticulous process to bring an old name back to life. By making use of his original drawings, the new build really does look the part for those of us who remember the original. Dating back to 1967, Olympus started life as an unblown machine, but soon received a boost from a Shorrocks blower. It was a highly successful sprint bike at National Sprint Association meetings, taking World and National records.

John then turned his focus more seriously to drag racing competition - and a modified version of this bike was the first under 750cc to dip into the nine second zone. Olympus was a most feared name on the strip, as it extended into his first double-engined machines.

It was fitting that the recreated 500 cc Olympus bike made its competitive debut with the NSA, running at York in October 2011. Running on straight methanol, the bike performed flawlessly - putting in four runs - running a best of 12.4s/115mph on a dampish track. There are some finishing touches, including the nosecone, to finish the bike off over the winter. John will no doubt have fun developing his new/old mount in the coming season and we will look forward to seeing both machines at Dragstalgia in July 2012 along with Rouge et Noir which is also up and running. The double engine blown Triumphs of Dennis Norman and Ray Law/Terry Fisher should also be available.

November 20th saw me back up at Santa Pod with my British Drag Racing Hall of Fame selector's hat on. Doesn't look its best on a foggy November day.

It was great to see our Chairman Stuart Bradbury getting back to his old self. This was a long meeting with several names in the hat. The decisions do not become any easier as the years go by but we know our final selection of names are all very worthy for the difference they have all made to our sport. You'll have to wait until February to find out who they are. We also outlined plans to increase the prestige of this accolade over future years. Again you'll have to wait for the appropriate announcements.

Stu Bradbury, David Jones, James Forster, and I will be having our early Dragstalgia Event format meeting during the afternoon of the Trophy Presentation evening being held in Solihull on February 11th 2012. Let me know if you have any suggestions.

A very important recent announcement has been the ACAG's exciting new relationship with the Institute of the Motor Industry (IMI). It is something I have been working on for nearly two years now and the partnership forms part of the IMI's new online apprenticeship community for 16-24 year olds called Accelerate (www.motor.org.uk/accelerate).

Sarah Sillars OBE FIMI, Executive Chair of the IMI said: 'We are really excited about this new partnership with the ACAG. It provides a unique benefit to Accelerate and I'm sure the extra technical insight into such a dramatic and explosive form of motor sport will be rewarding. It will be inspirational too, showing automotive engineering working at the limits'.

'I'm pleased to say that ACAG Chair Brian Taylor will be writing regular reports about the dragster restoration project for Accelerate and Motor Industry Magazine. He will also be attending several Accelerate events starting with one at Derby College over January 11/12, 2012. We will be announcing more very exciting and exclusive aspects of this new relationship soon. These will provide opportunities to get close-up and personal with drag racing machinery, drivers and the race technicians, plus vehicles dating from the dawn of our industry.'

I'll be including more information about this new partnership in the next issue of our online magazine ACAG News Update because this is a long term relationship that will not only inspire young members of the IMI, but will also raise the profile of our project and our sport in the eyes of key industry figures.

Have a good Christmas and New Year break.

Tuesday 25th October 2011: Some background.

Hi everyone. For those who don't know me I am currently Chairman of the Allard Chrysler Action Group (ACAG) responsible for restoring Europe's first dragster – Sydney Allard's 1961 Allard Chrysler (above, with ACAG supporter Liz Rowland). The car is owned by the National Motor Museum, Beaulieu and the ACAG has been approved by the museum to raise awareness, funds and provide the expertise to carry out the work. I'm also a British Drag Racing Hall of Fame Selector and an advisor to Santa Pod Raceway for the Dragstalgia event. I wrote Crazy Horses – The History of British Drag Racing published by Haynes and I'm currently writing the story of the Allard Chrysler and its restoration. I'm commissioned to write a few nostalgic drag racing stories for magazines, race programmes and web sites – mainly about the Allard project of course – and sometimes I even get paid for them.

How did I come to this (a question I often ask myself)? I first became aware of drag racing in the early 1960s via magazines brought into the British European Airways engineers' crew room at London Heathrow by an engineer called Albert Norton. I got to know Syd McDonald. He wasn't so big back then because the giant muffins hadn't been invented. My first drag racing meeting was a very wet Blackbushe in 1965 where the sight and sounds of Bob Keith and his team splashing through the puddles got to me. I was hooked and when Santa Pod Raceway opened in 1966 I became a regular spectator.

I wrote a few articles for John Bennett's drag racing magazine and in 1970 responded to an advertisement placed by the then newly formed National Drag Racing Club (NDRC) for an assistant commentator at a meeting held at Blackbushe. I must have passed the test (I don't think there were very many volunteers and Cliff Jones and Alan Wigmore wanted to race their cars) because I then started to commentate at NDRC meetings held at Santa Pod as well. Dave Watts was Race Director for the British Drag Racing & Hot Rod Association (BDR&HRA) and he asked me if I would assist Mike Collins at their meetings so my weekends were now planned out at Santa Pod and on-tour events – commentating at NDRC and BDR&HRA meets.

During the 1970s I gradually focussed on being the chief commentator for the BDR&HRA at Santa Pod and all Santa Pod promoted race meetings and Custom Car Shows. I also became Chairman of the BDR&HRA with special responsibilities for PR. I formed Taylor Startup International with ITN cameraman Mike Startup and we made drag racing films for TV and the cinema, radio and TV commercials, promoted racers (The Stones racing Team including DLT, Roz Prior, John Whitmore, John Hobbs and Mick Butler), promoted the BDR&HRA's Annual Champions Night, wrote articles, produced race programmes and solicited sponsorship – working for Santa Pod and Clive Skilton's European Dragways. I became very involved with DLT's drag racing activities. In 1978, after a meeting with Wally Parks and Carl Olson in Los Angeles, we launched the UK's first official drag racing Contingency Sponsorship scheme. So by the late 1970s I was very involved in many areas of drag racing.

In 1979 I joined John Woolfe Racing as Publicity Manager so my drag racing activities changed from being on the organisation side to being a major sponsor. By 1984 my career in the motor trade took over and I withdrew from the sport apart from following race reports in the magazines. My career path led me to becoming Marketing Director for the Pirelli owned Central Tyre Company, the multi-franchise dealer group Perry Motor Group plc and the Dutton-Forshaw Motor Group. This was another multi-franchised dealer business owned by Tiny Rowland's LONRHO Group. As well as Dutton-Forshaw branches it included Dovercourt and Jack Barclay. I think it was Ted Heath who described Tiny as the 'unacceptable face of capitalism'. Wonder what he would say about the bankers today. In 1990 I became a full-time analyst and motoring writer – eventually going freelance and publishing my own reports as well as writing for trade magazines.

It was Dave Riswick of John Woolfe Racing who drew me back into drag racing. I was subcontracted to his company to help organise 'California Dreaming' at Knebworth in 1997 to celebrate 30 years in business. This led to developing and launching the AMPAR Network for the company's American parts retail partners and part of building awareness in the AMPAR brand was launching a contingency scheme based at Shakespeare County Raceway. One of the things we discussed at this time was writing the history of the sport because he had collected many documents and magazines across the years of his involvement since the mid-1960s. Nothing happened for a while though.

However, when I semi-retired from the motor industry in 2007 I returned to this subject and after securing a publishing deal with Haynes I started the task of researching the sport's history. As well as Dave's archives at Bedford, one of the resources I used was the library at the National Motor Museum, Beaulieu and it was during these visits that I had the mad idea of restoring the museum's Allard Chrysler dragster to 'cacklefest' mode. You can keep up to speed with this project on www.allardchrysler.org and if you want to receive my regular PDF reports send your e-mail address to brian@allardchrysler.org. Hence my involvement in the current drag racing 'nostalgia' revival. That's my background covered. Thank goodness for that.

When economies go into reverse 'nostalgia' always comes to the fore as people hark back to the good ol' days. But nostalgia has always been alive and well in drag racing. It's in the sport's DNA with its American roots in modifying old cars (hot rodding) and European sprinting and hill-climbing populated by classics and historic racing cars. So a healthy drag racing nostalgia scene should not be seen as anything extraordinary. It's at the very heart of our culture and alive and well in Fuel Altereds, Pro Modified cars, the Outlaw classes, American Stockers and the Wild Bunch. It's a marriage of modern technology and replica bodies as well as 'true-to-roots' machines.

Because I was there for much of drag racing's development in Europe I obviously have a close affinity with the sport's history. Crazy Horses cemented that and to me this history is important. To fully appreciate the achievements of today you need to understand where we came from. So over the next few months my Eurodragster.com blog will feature this aspect and hopefully put today's sport into some form of context. Clearly there will be lots about the Allard Chrysler project but I also want to keep you up to speed with other restoration projects of which I become aware. Cars like Commuter, Firefly, Mr Six, The Devil, Ken Cooper's flathead, Stripduster, Houndog 1. I'll try and persuade Keith Lee to feed me info on the bike restorations. I'll also keep you informed about the Dragstalgia discussions and plans.

To give you an idea of a day in the life of Brian Taylor these days, yesterday I had a telephone call from the Congo making a donation of £1000 to the Allard Chrysler project and a bid of £500 for the Pocket Motorbike donated by Lucas Oil to raise funds. I also received an e-mail from American Moe Bailey who works on an oil rig in Baku, Azerbaijan. When he is not drilling for oil, he and his daughter Grace buy and sell Hemi engines, searching Ohio and the surrounding States. They provided the 354 Hemi engine to Booth-Arons for our restoration. I didn't know of their existence until Moe contacted me after reading an article that I wrote for the Mopar Collectors Guide. It's a small world isn't it?


Feature ©Eurodragster.com


---
Back to Racer Blog index
---