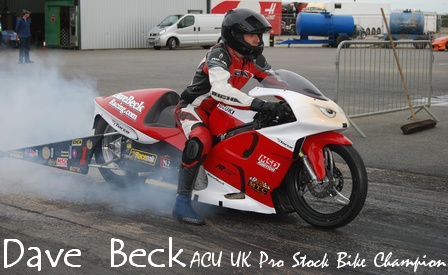 As told to

Monday 5th December: Off-season update I.
It's been a while since the last update so I thought I'd give a quick update on where we are.
Unfortunately Stephen Moon who helped me with the Blogs is now involved with new business ventures and committments so he no longer has any time to put into our race programme. We all wish him well and hope the new ventures bring him success. I'll have to apologise in advance for any speeling misteaks now that I'm not relying on him to sort them out for me!
As with any winter or off season the plans are being formed for the new season ahead. We are obviously looking to build on our record-setting pace of 7.06 seconds from earlier in the year and work towards breaking our own European ET record that has survived another year.
Ric and Tom have joined Charlotte, Penelope and I for some Florida sunshine this week at our villa. Of course it was no coincidence that this period of r'n'r coincided with the PRI Show in Orlando. We spent a couple of days having a good look round the show and having very productive meetings with our sponsors. We are heading over to Clearwater on Tuesday to visit Falicon and MRE to collect parts and have lunch with Jay Regan of MRE, who I must thank for inviting us over for Thanksgiving dinner. Wow, what a meal!
There will be a few new products on the bike for 2012. More of that on the next Blog after the super crew of Ric and Tom have been up to the Cheshire workshop for a weekend to get them all fitted and functioning on the bike.
A big thank you to all our sponsors for their continued support in 2012: Dom Tricket (TVR Power), Eric Hochstetler (MTC), Steve Clarke (Nimbus Motorsports and Torco Oils), Don Plesser (PR Factory Store), Paul Gast (FBG) and Dave Conforti (World Wide Bearings).
Sunday 29th May: Warning! Racing can bite.
Well, our Main Event weekend turned out to be much shorter than we expected, indeed we didn't turn a wheel in anger. As Eurodragster.com reported, the Peak Performance Day on Thursday was a rain out and so we didn't get our half pass done. I agreed with Ian Marshall that we could do a burnout on Friday morning, just so we could run the motor up to the shift light and then lift the top end to check it out.
After the burnout, we went back to the trailer and lifted the head. Of course we found a valve slightly touching a piston and we fixed that. That was the reason for the half pass being needed – the tolerances on these motors are so tight these days and this is an expected part of the build process. Just before putting the top end back on we noted that number one rod was a little stiff – early thoughts are a bearing or journal problem. We know it was not a lubrication issue, the pump was working perfectly and Steve at Nimbus Motorsport came and inspected it. We had a faulty crank. This is our second crank issue in two meetings, we had a problem at Easter and this new crank had only just been shipped over from the US.
I spoke to sponsor Stephen Moon and we decided it wasn't worth going into a race of this quality with only one motor. These top European guys come fully loaded to these races and we didn't want to go into battle with a pea shooter. So we packed up and left. I had a great response from my sponsors Dom Trickett of TVR Power, Don Plesser of PR Factory Store and Stephen were all on the phone to me on the way back home, as were a number of racers. I also received messages of support from racers in Europe as well. Racing can be tough some times, but it's tough for all of us, and it's great how everyone rallies round.
Dom, Stephen and I were on the phone until midnight planning our next step and we have a clear plan in place. It's a bit radical actually, but we are going to be back and we are going to be better. In the meantime, I'm fired up to ride Vesa and Ari's bike at Alastaro and Tierp, I'm really looking forward to that.
It was great to see legendary Pro Stock Bike tuner George Bryce at Santa Pod – this guy is one of the very best tuners of all time. I first met him when I was racing in the AMA Prostar series in the US and it's always a pleasure to spend time with him. George is here to help tune Jesper Thiel's Buell. I fully expect Jesper to run into the six second zone this weekend – his eighth track time in Hungary was much faster than that on our 7.06 run so he has power to spare. Add in the Bryce magic and the full backing he gets from Sovereign and I think he will do it. Good luck this weekend Jesper!
I don't think the season will all be about Jesper either. I'm very impressed by Kalle Lyrén's new ride. I know the V&H motors are making a lot of power now and I know Roger will be taking advantage of these impressive motors. I can see Kalle turning it up more and more, by the time his home meeting at Tierp comes around, he will be running big numbers in my view.
It was great to catch up with all the UEM guys after the winter break, not only are they great racers, but nice guys – I mentioned Jesper and Kalle already, but Gert-Jan and Freddie are also great company as well. It was a shame not to see Ulf and Anders, but hopefully we will catch up on the Scandinavian swing.
So that's our weekend, but I will be watching on the Eurodragster.com webcam, because I think history will be made and there will be some great racing.
Thanks as always to my sponsors Stephen Moon Consulting, TVR Power, MTC, PR Factory Store, Worldwide Bearings, Nimbus Motorsport and VP Racing Fuels. Without you, my race programme wouldn't be possible.
Sunday 15th May: The Main Event is coming.
The pace has been flat out since the Easter Thunderball, as we get ready for the UEM Main Event at Santa Pod at the end of this month. It seems the faster you go, the more attention to detail is spent between rounds and it just sucks the time up.
As mentioned in previous blogs, we bent an inlet valve in taking the win at the Thunderball and as a result the motor came down to the last nut and bolt. We had planned to do this anyway – we had some new ideas in there already, and also we learnt some things during the meeting, so we wanted to use Easter as a test, then get some more development work done.
Straight after the meeting, the motor was down and with some help from crew member Richard Cawthorn and good old FedEx, the components were in the US the same week. The top end has been in Professor Paul Gast's workshop, not only to replace the valve, but for some subtle but important modifications to be carried out. Paul's guys worked all last weekend to get this done and it was fully rebuilt and ready to drop on by early last week. To show what commitment the FBG team has, Paul Gast himself even jumped in the car and drove the head to FedEx in order it could get back to us a day early. As well as the head, some trick clutch parts also made their way over from the FBG Grand Island workshop.
Down in Florida, Eric's top-notch team were all over the block and pistons, installing some new liners and pistons with some trick new coatings. An uprated Falicon crank was also sourced as well. Mike Berry let us have some upgraded parts for the vacuum pump, plus some new ceramic bearing parts courtesy of Dave Conforti's Worldwide Bearings have made their way into the mix. Don Plesser of PR Factory Store is working with us closely on some ignition modifications. We have even gone to the lengths of spending a lot of time discussing oil and lubrication with Steve Clark at Nimbus Motorsport.
While in themselves, these are all tiny improvements, I'm hoping that together they can give us that all-important edge. As I have said many times, the rest of the guys haven't been sitting around all winter, as evidenced by PBs from Martin Bishop, Kalle Lyren and Jesper Thiel in the Hungary round. Here we are with four top-flight players having run a personal best at their first meeting of 2011. This isn't going to be a season where anyone can sleep.
So this weekend has been all about painstakingly putting the number one motor back together. And it doesn't finish there. The backup motor was also treated to some new parts, so once the record setting motor is back together, then another needs stripping and rebuilding.
None of this has come for free and I have to thank Stephen Moon and Dom Trickett (of TVR Power) for stepping up in a big way with financial support. Thanks very much guys, we wouldn't be racing this year without your backing. As well as this support MTC Engineering, Fast by Gast, PR Factory Store, Worldwide Bearings, Nimbus Motorsport and VP Fuels have all stepped forward with expertise and parts, or in some cases both. I'm very fortunate to have the backing of these top quality people.
I spent hours and hours looking at the data from the Easter meeting and I really think we have a fast motorcycle here. As always, Paul Gast was happy to step forward and look at the data in some depth as well. His view was that other than a very small possible change to a clutch setting, the bike was as close to spot on as it could be and he felt it would have run well into the sixes if fielded at the Gainesville NHRA opener. It's great that Paul takes the time to look at the data, and it gives me a lot of satisfaction when one of the world's best tuners tells me I have the tune up in there.
Only two weeks to go now! The plan is to give the motor a gentle half pass at the Peak Performance Day on the Thursday, then spend Friday taking the motor down and checking it all out, prior to the first qualifier on Saturday. And when we line up on Saturday, I am giving it everything, we are showing up fully loaded for the win.
Tuesday 26th April: Big Red is back!
The goal for this weekend was to get the tune up right for the Main Event. This was the first run for the new bike with the new 1755cc motor and a lot of other modifications had been made over the winter, so it felt like a complete new bike. As reported in a previous blog, the bike had been re-sprayed in red and white, after one of those winter discussions. Stephen and I were discussing some of the highlights of our time in racing and we remarked how red always featured, whether on my Pro Stocker, or on the MRE Pro Mod in the US. We were looking at a picture of Paul Gast's bike and said to each other "that's the colour!" Actually we said "that's the colour, I hope Paul won't mind!" So the Big Red machine is back.
Friday and Saturday saw us struggling with various niggles on the bike, but it felt good and was coming together. This was the first time we had pushed the new PMFR chassis hard as well, so as well as tune up mods, I also had to make some chassis adjustments and the result was great - it runs straight and true. Interestingly the new motor must put different harmonics through the bike, as fasteners were coming loose all over, magnets out of sensors. At first I thought the bike was haunted, then thought my crew were getting sloppy, then we realised what it was.
The last run on Saturday was a 7.23 for number one, although with a carb coming loose at 6.3 seconds and the vacuum pump failing. So not a bad run, all considered. We looked at the vac pump and tried some trailer engineering, with the help of Richard Cawthorn. One of the Shockwave Funny Car team offered to help, looked at the part, said "leave it with me", disappeared at midnight and returned at 8 on Sunday morning with a beautifully machined part. The pump went back together and ran like a dream. Thanks very much to Richard and the Shockwave team – this kind of help is one of the many reasons I love drag racing!
The weather was looking good for Sunday, the air was better than Saturday. In addition, we thought the track would be pretty good even though not a lot of cars had been down it. Some work has been done over the winter and I think it has paid off. Also we are privileged to work with Ian Marshall and the Santa Pod team and they are so professional. Ian came round the pits over the weekend looking for feedback and we had a number of conversations and the guy listens carefully and does something with the information. As well as putting a great track together, we all know as racers that our safety is top of his mind, so we are in great hands.
We had three shots and the first gave us a very nice 7.13 at 185.9 – great ET and speed, so we were feeling pretty good. The air was nice and the track was good, so we made some changes to the clutch and fuelling and went again. The second run served us up 7.10 at 186.6mph for both ends of the UK record. Looking at the data, we could see it coming together nicely and we were really looking for an improvement on the 60 foot time, which was sitting at 1.11. As the day drew towards its conclusion, the temperature was dropping, the air was improving and the wind was moving into a gentle tailwind. We were hoping for a little more, but another 7.10 at an even faster 187.4mph showed nice consistency and raised the bar a little more on the speed record. All in all, Saturday was a very solid day and those consistent ETs and speeds were exactly what we wanted from the meeting. Our UEM colleagues haven't been sitting on their hands all winter, so we know they will be coming fully loaded for the Main Event and we need something for them.
Sunday was race day and with a low bike count, it meant we had Mark Smith in the semi and if we could get by him, the final. The air was not as good as Sunday, but still ok and we thought the track was there after the Santa Pod team had worked hard on it again. Sure enough, in the semi we clocked a 7.06 at 188.2 for new UK records. The 7.06, while not run in a UEM contest, is the quickest Pro Stock Bike run in Europe ever, and we understand the quickest ever outside of the USA.
In the final we were due to face Len Paget, but we understand he had a problem, which is a handful for him, given he is off to Hungary on Tuesday. We lined up hoping to do a little better and the bike was marginally quicker in the 60, 330 and half track, but it started to die at the big end, so I clicked it off for a 7.16. A quick inspection back in the trailer found a valve lying in the airbox, so obviously some light maintenance is needed.
But we got what we came for, which was consistent times in the low teens and zeros. We have a handle on the whole bike and the tune up and we think there is more in there. Pro Stock legend Paul Gast was in touch with me in the day and we had a long conversation after the meeting and we are looking for more from this bike. The head will be in the FBG workshop by the end of the week and the motor will be back and looking for more at the Main Event.
So it was a great weekend for me. I really was proud of my crew of Ric and Tom and watching them work this weekend was a pleasure – they work together very well as a team and they understand the bike inside out, so I'm confident I'm off to battle with the right guys.
Also I couldn't be out there doing this without the backing and expertise of my sponsors, so I have to thank Stephen Moon Consulting, MTC, PR Factory Store, Fast by Gast, Ward Engineering, Worldwide Bearings and Nimbus Motorsport. I was also very pleased to receive backing from LA Racing Parts over the weekend, who will be supplying me with VP Fuels this season. Thanks to all of you – it's not just what you put on the table, it's the expertise and it's the support – you all stood by me through a very difficult 2010 season.
Over the weekend I had a lot of support from fellow racers, from fans at the track, from sponsors and race fans overseas. It really felt great, a lot of people were willing us on to run quickly and we did. The support really makes a difference, it really does.
I had a number of people mention the plans for ADRL over the weekend. Stephen and I are very serious about launching a Pro Mod campaign in the US in the near future – we have raced there before, we think Pro Mod is the class and we are putting our plans together. But first there is some UEM business to attend to, and that gets the fullest attention.
So that was our weekend. Watch out, Big Red is back!
Monday 18th April: It's almost time!
Well, I'm ready to go for the Easter Thunderball, or rather I should say, I was ready to go.
The bike is ready with a brand new motor and I think we have some big numbers in there. I'm very confident, I have put countless hours into the motor and it's exactly as I want it. So I thought I would start it up and within seconds my super trick Mike Berry vacuum pump had gone into meltdown. An expensive start to the season, breaking before I got to the track isn't ideal, but fortunately I found a local engineering company to make the replacement parts needed and it will be back with me this week. I know some racers don't bother with vacuum, but I wouldn't race without it, you are leaving a lot of power on the table if you don't run one.
The bodywork will be back from the paint shop later this week. I have gone back to my traditional red and white scheme, with the logos of my main sponsors for this season, Stephen Moon Consulting and MTC Engineering, prominent. Photos to follow this week Tog, I promise! I have seen the bike in bare paint and it looks great, the sponsor logos are being applied now – together with Stephen and Eric of MTC, Don Plesser of PR Factory Store will continue supporting me, together with Nimbus Motorsport.
The Thunderball will really be a test event for me. I decided over the winter that my main focus from now on was the UEM rounds – I really enjoy the competition there and it is making me sharpen up my game on a lot of fronts. As a result, I have made the conscious decision not to defend my ACU title, as I won't be attending all the rounds. But that doesn't mean that when I turn up, I won't be looking for the win. The main objective for Easter is to get the tune up for the new motor ready for the Main Event.
This season, as mentioned before, it's the Main Event and European Finals on my bike, with Hockenheim a possibility, depending on how we are performing. I will also be riding for Ari Aholainen and Vesa Rautio in Tierp and Alastaro. Their bike is one I know well and the guys have spent a lot of cash with Paul Gast over the winter, so I know that has some big numbers in it.
Stephen has decided to put all his efforts behind me this season and as a result is selling his brand new 9.50 Hayabusa, so if anyone is looking for a great deal, then give him a call. I supplied most of the parts for it, so I can tell you it is a top quality bike. We have also spent a lot of time talking about where we go over the coming years. We have some unfinished business in the UEM Championship after a problematic 2010, and expect to compete there for a year or two. We are also taking a long hard look at contesting the ADRL Pro Mod Extreme Championship. We think that we can probably race in the US for less money than it costs to race the UEM Championship, plus it also offers some top flight racing. We spent a few years flying over the pond to race the MRE Pro Mod and think that we can find a way to put a race programme together again. But for now, the focus is firmly on the Thunderball, so stay tuned!
Monday 7th February: Chasing that six.
Pre-season preparation is now well underway in my Cheshire workshop. One of the new 2011 specification motors is now complete. I started with a new set of cases and put in tens of hours of work to get to the stage of having the motor built. With the stroker crank, there is a lot of work in getting the clearances right, as well as jobs such as fitting cylinder studs, the electric oil pump, shift fork clearance and a hundred and one other small jobs. It's easy to see why a motor coming out of a leading tuning shop like Fast by Gast carries a hefty price tag! But it's ready to go now and hopefully it will enable us to achieve our goal of a six-second run, as well as giving us a fighting chance against the Buells and their huge motors.
The bike will sport a new paint job this year, as we return to the familiar Dave Beck Racing red and white scheme – pictures to follow, as the body is still in the spray shop.
I have set the schedule for the season, with an Easter outing to test the new set-up ahead of the Main Event. Depending on how Easter goes, I may do a test day prior to the UEM race as well. Next up is the FIA Main Event at the end of May and we are hoping for big numbers at that meeting, as the Santa Pod track crew always have the track in top condition. The summer will see me racing a Finnish bike at the Alastaro and Tierp events. Then it's back to Santa Pod for the European Finals. If we haven't achieved our goal of running a six-second pass by then, we may contest the UK National Finals. So at present the schedule looks like four UEM events and one or two ACU rounds. There is an outside chance I will race at Hockenheim but it will depend on funding and, as I am starting a new job shortly, whether or not I can have time off for the journey to Germany.
I have deliberately gone for a shorter season in order to focus on the team's ambition of a six, so I am effectively conceding any Championship ambitions. Hopefully we will get the job done, but I'm aware that there are some very quick bikes out there and I hear that an NHRA Suzuki will also appear on the circuit this year. So we can't hang around, because everyone else will be pushing hard. With a great crew and some very supportive sponsors, I'm confident we can deliver the goods.
Thursday 30th December: Goodbye 2010.
In many ways I'm glad to put 2010 behind me, it has been a challenging year for sure. I started out with high hopes with a brand new PMFR chassis and new sponsors, including TVR Power and Stephen Moon Consulting. But there were some twists and turns along the way including me being hospitalised with a serious illness and then later in the season being made redundant. Overall the season turned out to be one which I wasn't satisfied with – the new bike ran pretty well thanks to my super team of Ric and Tom, and help from seriously knowledgeable guys like Rick Ward and Paul Gast, and it got into the teens pretty quickly. But I didn't ride as well as I know I can, plus we had odd niggling problems which cost us races. 
But to keep it in perspective, I was very proud to win my twelfth ACU Pro Stock title, and as Simon kindly pointed out on Eurodragster.com recently the season's tally brought me to 34 wins in the last 12 years, more than any other UK racer. I still hold the European ET record, being the only racer in the zeros, and I hold both ends of the UK record. So while a tough year there was another Championship, which I dedicate to my crew and sponsors.
I closed the season thinking about my daughter Penelope now growing up, and a new work situation and wondering whether I could compete in Pro Stock at the level I wanted to. Guys like Ulf Ögge field very serious race teams and it made me wonder if I could cut it given my limited finances. Logically I said it was time to call it a day and put the race operation up for sale. The response when the advert was posted was interesting – Ric and Tom immediately told me not to quit and that we would find a way to get out there and win. I went out for a winter holiday in Florida and met Eric at MTC – one of my most supportive backers – and he told me to find a way to push on and try to at least run the first six second pass in Europe. Then Don Plesser of PR Factory Store came over to the house and we spent many hours discussing racing in general. He pretty much had the same view as Eric, committed to sponsor me again, and told me to get out there and enjoy my racing again.  
Just before Christmas I spoke for a while to Stephen Moon and we looked at options for 2011. He committed to help me out as well and we came up with a practical plan to race in 2011. So by now I had my crew and three of my main sponsors telling me to press on and achieve the major personal goal of running a six second pass.  
So as we currently stand, I will be competing in at least two UEM rounds in 2011 on my bike – the Main Event and European Finals at Santa Pod. If circumstances permit I will also race in Hockenheim. My goals are clear - to run a six and also to find my form again after a difficult year and take some event wins.    
I am also in discussion with two Finnish Pro Stock guys about racing their bike at Tierp and Alastaro. It's a bike I know really well and the guys are visiting Paul Gast in mid-January to update the engine to the latest specification. Hopefully that will all come together and I will run five UEM rounds in total.  
Next week, thanks to a little help from Stephen, I will be starting to put together one of the new mountain motors in readiness for the Main Event. This motor ran a zero at 1655 cc so I have to believe the extra capacity will help me achieve my goal. It will also help me against the very quick and consistent Buells. Don Plesser has some trick new parts for me, and Rick Ward and Paul Gast will also be scrutinising setup, looking for extra power.  
I'm looking forward to racing at the top level in 2011. I had a great conversation with Anders Abrahamsson after the European Finals where he told me what motivates him and it made me think hard about my racing as well. There are a lot of great people and great racers in UEM like Ulf, Kalle, Stavros, Jesper and Gert-Jan and it will be a pleasure to be out there again lining up against this calibre of competitor. With Ric and Tom behind me, plus my great sponsors, you can bet I will be giving it 100%.  
Thanks as always to Eric at MTC, Don at PR Factory Store, Stephen Moon, Steve at Nimbus Motorpsorts, Steve Howe and Dave at Worldwide Bearings.
Sunday 8th August: Coming home.
We are just packing ready to hit the road back to the UK after our two weekend UEM road to Mantorp Park and Gardermoen.
It's been one of those testing trips where we damaged a lot of parts and eventually went out due to a electrical part failure. But we still getting to grips with the new bike and have learnt a lot about the setup, so we will be back and better for the next round.
The trip to Sweden took us 36 hours - 18 hours of driving and 18 hours on the ferry. Mantorp Park is a fine race facility and we were looking forward to the meeting, with a great race track and two fresh motors.
Unfortunately we dropped a valve guide in saw us drop a valve in the burnout on the first qualifying run, a repeat of an issue we had at the Easter meeting. So Ric and Tom were immediately hard at work on motor change, ready for day two of qualifying after a rain shortened first day.
Second qualifying saw us hit an electrical problem (more of which later) which wrecked a transmission in the second qualifier. So now we were really up against it as we weren't in the field with only one qualifying round left. So there I was under the bike trying to fix the transmission while Ric looked at all the electrics. We made the call with only a handful of minutes to spare. With the last roll of the dice we ran a 7.40 to get in the field at number five.
Again we had problems on the run, bending valves and damaging a piston. So we worked overnight trying to put together the best of both motors ready for the eliminations.
Race day saw repeated rain and eventually the race director called the meeting off. We moved to a nearby campsite for a few days to relax and to look over the motor. Roger Lyren kindly helped us with repairs to the cylinder head, so we headed off on the 500 mile drive to Norway with one decent motor for the Gardermoen round.
Friday saw very heavy rain on the first round of qualifying, so it looked like we weren't going to see any action that day - the pits were under water after 24 hours of torrential rain. But the weather improved a little in mid-afternoon and the race director announced a round of qualifying at around 6pm.
By the time 6:00 pm came around the sky was a glorious blue and the sun was shining, so it looked as though race weekend was on. The track crew had worked extremely hard to deliver a nice racing surface. We went in the left lane and opened our account with a nice 7.30 pass. Ulf closed the session with a tremendous 7.19 to take the number one slot. Credit to Stavros with a personal best of 7.25 off the trailer. But we were more than happy with the number four slot to open our account, as it showed we had a decent motor.
Day two of qualifying dawned with more glorious weather and the track temperature was rising rapidly. We nailed a 7.26 in the first run of the day and were happy with the improvement. But the rapidly improving Jesper Thiel leapfrogged us in the qualifying order.
Round two saw the air and track temperature rising rapidly and the track was looking a little greasy. But it made no difference to us, as our electrical issues returned, resulting in a shut off run. Many of the other guys also struggled in the session, a mixture of technical issues and traction problems, although Jesper managed to improve again on his Buell.
The last session of the day was in cooler conditions, so we were hoping for an improvement, but carded another 7.26. Jesper took the number one slot with an impressive 7.18 and Fredrik nailed a 7.24 off a nice 1.10 sixty foot time to push us into sixth in the final qualifying order. But again, some of the guys had issues, with Ulf damaging a transmission and some struggling to improve. Overall we were disappointed we hadn't gone quicker, but took some consolation from our consistency while some of the guys had struggled a little. So we went into race day thinking we may have found a tuning window we could work with.
First round saw us against Gabbi and we felt we had a the tune up right. On the hit the bike seemed to hesitate a little and from that point I was playing catchup, gaining ground on Gabbi rapidly. At the stripe I wasn't sure, but the clocks showed the story, with us losing by 0.001 or 8 centimetres. But I'm not taking anything away from Gabbi, it's all about the win light on race day and she and her team did a fine job.
We went back to the trailer and looked at the data and it didn't look right, which confirmed what I had felt when riding the bike. After a few minutes of checks we realised we had a faulty clutch switch which meant the bike had stayed on the two step momentarily on the launch. As can be the way in racing it is sometimes the very small low cost component that is the issue. We went back through the Racepak data for both meetings and sure enough there was the same issue on both of the runs with electrical problems - so a $2 part cost us a $2,000 dollar transmission and a round win. But that's racing, no complaints, we will just work harder and come back better for it.
So now we are packing up ready for the 1150 mile drive home, we should see Cheshire late on Tuesday.
In two weeks we will be at Shakespeare County Raceway and with our electrical issues now sorted, we can focus on developing the tuning window on the new bike, in readiness for the European Finals at Santa Pod. I remain confident that the new bike has the potential to deliver some big numbers, so we will keep working at it. At this level of racing it's all in the detail, no short cuts, just hard work.
Thanks to my super team of Charlotte, Ric and Tom for supporting me through this long trip, and for working hard throughout.
Also thanks to my sponsors for everything they have done me this season: Tvr Power, MTC, Stephen Moon Consulting, Ward Performance, PR Factory Store, Nimbus Motorsports, Motorshack, Worldwide Bearings, Steve Howe & Sons. Many thanks to Paul Gast for his valuable advice with the new setup. Without my support team and sponsors none of this would be possible.
Until Shakespeare County Raceway then!
Tuesday 22nd June: A little bit at a time.
It's been a while since I blogged and both the Main Event and Summernationals have been and gone. It's been a strange old season with my health issues, but I'm pleased to be getting better a little bit at a time. I'm still under medical supervision and the clear direction I'm getting is to take it very easy indeed in whatever I'm doing. While I feel better every week, this condition can creep up on me and sometimes I'm left feeling completely without energy. Anyway, the consultant thinks I will be back to something like top condition by August if I look after myself.
It has meant a completely different approach to racing, with me doing next to nothing between meetings, then at the meeting staying off my feet while my super crew Ric and Tom do all the work. We haven't even done all the qualifiers at a meeting this season yet – only one at the Main Event and two at the Summer Nationals. So a strange season – I expected to be writing about the new bike and the racing, not me being ill. But that's life and I'm getting better. What I do know is that I have had tremendous support from my friends (and you really find out who your friends are at times like this), family and sponsors.
On to the racing. We had a decent outing at the Main Event. With Saturday rained out, it all came down to Sunday qualifying. We hit the track with a 7.33 in the first session, with the bike overpowering the track – my fault really, we just got a little greedy, but number three qualifier was a good starting point. Anders ran a 7.24 and Ulf a 7.26 to demonstrate that Pro Stock racing at this level is very competitive. Nice to see Kalle Lyren run a 7.48 for a PB as well, a very impressive performance in his rookie year. The weather worsened during the day and by the time the second qualifier came round it was very windy and I was a little concerned about how much energy I had left. So we sat in the lanes and watched the guys run and once we worked out that the number three spot was safe, we pushed the bike back to the trailer.
Race day was great and underlined why we are competing in Europe this season – a packed house and a sixteen bike field, with some great competitors and well turned out bikes. It doesn't get any better than that. We ran a 7.42 to take the win over Martin Newbury in the first round. Actually, we were quite fortunate because it was an ugly run, with tyre spin off the line and then the bike hit a bump and went from third gear to sixth in one go. So we dodged a bullet there.
We had Jesper Thiel in the next round and thought we had a tune up in it, even though Jesper was going quicker and quicker. Sure enough we nailed a 7.18 at 185mph which I was very pleased with – this was only the eighth run on the new bike remember. But sadly I left a cherry on the tree, having left 0.04 too early. Nothing other than rider error I'm afraid and believe me that is going to be sorted out! I went back to the pits and wasn't happy at all. I huddled in the awning with sponsor Dom Trickett and he couldn't have been more supportive – all he wanted to know was what we needed to do to go faster at the next meeting. All my crew were exactly the same – looking forward, not looking back. Just what a rider needs to be honest, you can't ponder mistakes, you just get on with it. Congratulations to Ulf on the win, that is one very professional rider and team. Also congratulations to Gert Jan Laseur for his personal best as well, very well ridden.
I spent a long time on the phone with Rick Ward and Paul Gast after the meeting, discussing where next, as we have had some fueling issues in the second half. I'm confident we have a very quick bike already, one that will run regular 7.0s once it is fully dialed in. But the Veidec guys are quick and the Buells are consistently rapid, so we want a little more in there. So Rick and Paul made some suggestions on what we could do and also had some thoughts on beating Buells. We have made some changes and would hope to go quicker in the second half of the track now. We also tried a few things at the Summernationals which worked well and I expect they will turn into ET improvements as the season progresses.
For the Summernationals, we stuck the number two motor in (when I say number two, this one has run in the teens as well, so it's not a poor motor). The weather on Saturday was not much like June weather – it felt like October. We clocked a 7.44 on the first qualifier, then sat out the second session. We went out for the third session just to get a look at the left lane, but didn't improve on our earlier time.
On Sunday we had Mark Smith in the first round and we clocked a 7.28 at 181mph to take the win – it felt nice and easy to be honest, which was good as we felt that Len might be ready to unload a quick run after his 7.36 win over Paul King. I was also happy with the 0.08 light as well. In the final I left well again and took the win with a 7.31 at only 163mph. I was very pleased with the run – left well, rode it well, the bike was quick in all the incrementals. Unfortunately it didn't make the fifth to sixth shift, hence the lack of terminal speed. But it was a good solid run and I'm very pleased with the new bike.
So now we are getting ready for Mantorp Park and Gardermoen. We will have two very quick motors, we really feel we have a handle on the clutch and the new chassis can't be faulted. So we will be bringing everything we have!
I must thank all my sponsors who have been great this season – all have been very supportive through my illness, none of them have pushed me or complained – they have all just told me to take my time. So sincere thanks to Dom at TVR Power, Eric at MTC, Stephen, Rick at Ward Performance, Steve Howe, Steve at Nimbus Motorsports, Steve at Motorshack, Dave at Worldwide Bearings, Don at PR Factory Store and Paul at Fast by Gast.
Wednesday 11th May: That's better.
I've been trying to balance preparation for the Main Event with a continuing series of visits to the hospital for tests and consultant visits. Thankfully today I got confirmation from the consultant that the illness is virus-related – another patient had been admitted with exactly the same symptoms. It's a great relief, as some of the other possibilities weren't exactly positive ones. So it's going to take me a few months to get back to full strength and I'm going to have to limit my workload, but at least the road back to recovery is clear. I will need to take it very easy at meetings, limiting my efforts to just riding the bike. That's what I'm telling Charlotte, Ric and Tom anyway! Seriously, I would like to thank everyone for their kind words over the last few weeks, as well as all my sponsors for their unwavering support.
After a lot of discussion with Eric at MTC and other leading Pro Stock racers in the US, we are going with the new MTC Gen II clutch for the Main Event and the rest of the year. We gave it a go last year with decent results, but I wasn't confident enough at the time to move away from my trusty MTC conventional multistage. But with a number of the NHRA guys now having a lot of usage under their belts, the fine tuning is a lot better understood, so I'm confident it's time to switch to this highly adjustable engine RPM driven design. The guys in SSB using them have had great results as well and I think it's a great product – competitively priced compared to the other options and great build quality.
I have just finished refreshing the number one motor as well – we have over fifty runs on the pistons and they still look OK, but I don't want to take any risks for such a big meeting, so have put a new set in. That's one of the many reasons I like the Ward motors – great power, but also reliable. Given the cam lift we use, the valve springs have lot less in them to be fair, with only ten runs per set. But after talking to Ulf Ögge at the Finals last year, I felt a lot better when I found out he has to change springs on the V-twin every two runs!
Anyway, that's where we are, just going over the fine details in preparation for the Main Event – I'm itching to get the new bike out on a European standard track to see how it goes – even with the limited amount of runs I have had this season, it's easy to feel the quality of ride on the new chassis. I loved the old bike, but the new one will take us to another level when we have it fully dialled in.
Tuesday 4th May: Main Event countdown.
I'm pleased that my health is improving after the problems at Easter (check out the Eurodragster.com News update of Thursday 8th April - blog editor). It's fair to say I'm not out of the woods yet and have to be very careful. In addition, I'm still making regular visits to the hospital, last week for a liver scan, today for an ECG test and later this week to see my consultant again. I can ride the bike ok, the main issue is I don't have any energy reserves and even short bursts of activity can leave me drained for a few days. The consultant says I'm ok to ride the bike, but I can't do much else, so that means a lot more work for the team of Ric and Tom.
It was good to get out on the bike at the weekend. After the limited activity at the Easter meeting, I wanted the opportunity to test the TVR Power bike before the Main Event at the end of this month. The weather was very poor all weekend, with a lot of rain and very low temperatures, so things were never going to be ideal, but the hard working crew made sure that all competitors got a decent number of passes. We did one qualifier on Saturday and then sat out Sunday while we carried out more modifications to the new bike. On Monday we just had the final to run and it was an easy 7.48 at 175 mph for the win – the bike feels very strong and the improved handling of the new PMFR frame is noticeable.
A busy month lies ahead in preparation for the Main Event and the team are already doing a lot of work on the bike, in lieu of me being able to work on it, as well as planning for the meeting. I'm really looking forward to the event – the leading guys were very impressive in Hungary at the weekend so we know we are playing catch up, but I'm confident I have the bike and the crew to put on a good show. Well done to Ulf for his win at Kunmadaras!
Tuesday 23rd March: Ready for Easter.
I'm feeling a lot more confident about the season opener now, after another epic weekend of graft in our Cheshire workshop. My super team of Ric and Tom gave up yet another weekend to help get the bike finished, so once again, thanks to the guys.
We finished the wiring, fitted the motor and dealt with all the jobs which sound simple but which take a long time, like fitting the airbox. The bike started up fine on the first hit and sounds very good indeed, so we know we have a runner.
On Sunday we realized we had a small welding job which needed doing, so Jerry Collier kindly jumped in his car and drove over the Pennines to lend his welding skills to the job. I really appreciate Jerry's time, as he has his own bike to finish, but he didn't hesitate to come over and help out.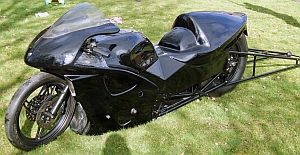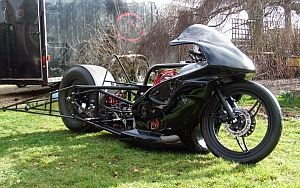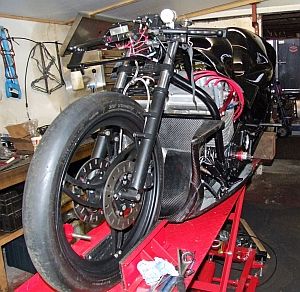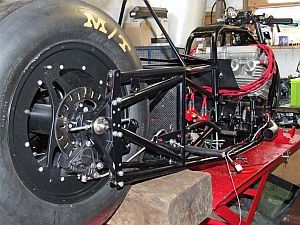 We wheeled the bike out of the workshop on Sunday afternoon and I have to say it looks great. Tom looked at it and said "black magic" and I think that name might stick. Of course there will be a lot of small snagging jobs to do, but it feels like we are there now and will be able to compete at Easter.
This week the bike goes over to the spray shop to have the TVR Power colours applied (more black – do you see a theme here?!)
Only a bit over a week to go now. We are champing at the bit to be honest. We have a big season on and want to deliver another ACU title, take some wins at European level and have a real crack at a six second run. Bring on the season, here comes TVR Power Pro Stock Bike and a little black magic!
Tuesday 16th March: Easter Preview
Well it's less than two weeks to the first meeting of the season. As always, everything looked on track at Christmas, but as the season opener approaches it starts to look very tight. I'm sure the story is the same in workshops all over the country, so I will be in good company in the last minute thrash stakes.
The bike is almost finished now and to be fair it looks a million dollars. Which is just as well really, as it feels like it has cost a million dollars. Thanks to the help of Dom at TVR Power, Eric at MTC and all my other sponsors we have a great new bike for the season, with virtually a complete new rolling chassis and two fresh motors, both with record setting pedigree and hopefully more to come. The rolling chassis cost a lot more than I thought, but it's a work of art, with lots of carbon fibre and newly black anodised chassis components. At the moment the body is in the spray shop, having its new TVR Power colours applied – photographs to follow. Ric and Tom are coming at the weekend to get the airbox fitted and all the small jobs finished and we should be ready to roll.
For the first meeting we will be running our number two motor. When I say number two motor, to be clear this has already run a 7.1 and holds the British speed record. We know it has some more in there, so it's a good position to be in. The four bike field at the Easter meeting will be competitive and as always Len Paget with his identical Ward top end setup will be out for the win, so we aren't looking ahead too far – one meeting at a time.
Our record setting number one motor is running slightly behind because of the cost of the cylinder head modifications. All my head work is done by Rick Ward of Ward Engineering, the designer and builder of the record setting Vortex heads. I don't know how Rick keeps up to be honest – he is flooded with orders from the Pro Mod guys and manages to give all the heads his personal attention as well as running the admin side of the business. I know he gives me a lot of tune up advice, as well as top quality heads, so I couldn't be happier. The head for the number one motor has now left Rick's shop, so I will get it built in time for the Main Event – we are showing up for that meeting fully loaded, for sure.
Sunday 7th February: Surprising some Swedes!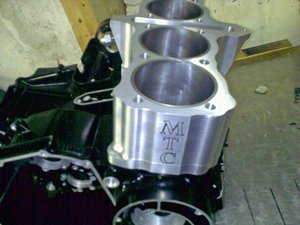 Being the lucky guy I am, I followed up my December visit to Florida with another two week break in January! Once the racing season starts there isn't a minute of downtime, so I thought it might be wise to take a holiday now, because we have a big season ahead of us.
I tried to keep it as a non-racing break, but couldn't resist sneaking over to see Eric at MTC one day. He had some new stuff to show me and I also picked up a new block for the brand new motor we are putting together. While we were in the workshop, we heard that some European visitors had arrived in reception, so we popped out for a look and there were Roger and Karl Lyrén, plus four other members of the Veidec team. They were taking a look at the brand new MTC catalogue and I could see Roger was very impressed by the Pro Stock rider and bike on page two!
Back over here, I was delighted that my Crew Chief Ric Naylor won the James Edgar Memorial Trophy, which is awarded for outstanding contributions by a Crew Chief, tuner or crew member. Ric has been my crew guy for a number of years now and makes big contributions to the TVR Power Pro Stock Bike team. On race day he helps with input to the clutch and ignition and helps me work with the tune up and any new ideas we have. He also finds time to campaign his bike in Super Gas Twin - I have no idea what it is, I do know it makes a lot of noise, is smoky and bits fall off it. He tells me it's a Yamaha, so I'll have to believe him. Thanks very much Ric - well-deserved award and you know we couldn't do it without you.
Today my main sponsor Dom Trickett, owner of TVR Power, arrived to take a look at the new rolling chassis. We think the new PMFR frame will help us in our goal to run the first six in Europe. And it looks very slick with the all newly powder-coated frame and chassis parts. We just need to get the TVR Power paintwork applied and I think it will look like we mean business this year.
Next weekend Ric and my other invaluable crew member Tom will be here again and we will wire the bike and maybe start to think about putting the motor in. Or maybe not on the motor - we have some work going on over at Ward Performance which is interesting and so it might be a last-minute motor installation before the Easter meeting.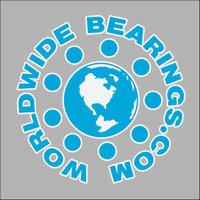 Finally, I'm very proud to welcome Worldwide Bearings on board as a new sponsor for 2010. Dave and Laura Conforti do a great job designing and developing ceramic bearings for all racing applications and their products are used by many leading professional and sportsman drag racers, including a number of world record holders. They understand racing and they understand racers, so I'm excited to have them involved with the TVR Power Pro Stock Bike team. Thanks very much for your support guys!
Well, the countdown continues – less than eight weeks to the Easter Thunderball now, so it's a case of no rest for the wicked. It's going to be very busy in our Cheshire workshop.

Sunday 24th January: The Christmas present.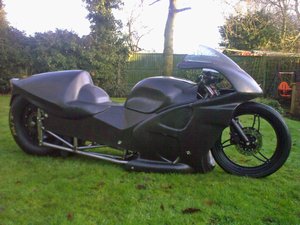 It wasn't great swapping the sunshine of Florida for the snow of Cheshire at Christmas, but I had a great present to play with on Christmas day in the form of a new PMFR chassis. Charlotte kept giving me earache for going into the workshop over the holiday to look at it, but I couldn't help it!
My super crew of Ric and Tom arrived for the weekend early in January to start to get the build underway. The frame was bare metal and needed a lot of brackets fabricating, so fellow Pro Stock racer Jerry Collier brought his welding gear as well. The guys worked very long hours for three full days, starting early and finishing close to midnight.
Jerry did a fantastic job of fabricating all the seat rails, brackets and other bits and pieces, even including parts like gear levers. It all looked a million dollars when Jerry had finished, great fabrication and very neat welding. I would recommend his work to anyone!
On Monday I took the frame up for powder coating. After talking with Dom at TVR Power we decided to go for the black 'stealth' look, so the frame and all the chassis parts and wheels got the black powder coat treatment. The bike was also treated to a new carbon fibre body kit as well. The final touch will be a new paint job in TVR Power colours.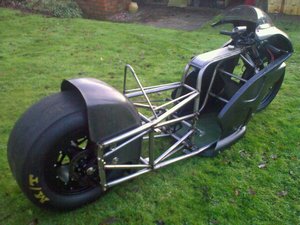 Between now and Easter the focus will be on getting the engine builds finished, in addition to wiring the bike, installing the logger and all the hundred and one other jobs.
Nimbus Motorsports have kindly agreed to support me again for this year, so I'm in the fortunate position of all my sponsors returning, as we launch our 2010 campaign. With our goals being winning at European level, defending the ACU title and looking to nail the first six second Pro Stock bike run outside of the US, it's important to have the backing of all my experienced and knowledgeable sponsors. Yes, they have great products, but they bring many years of tuning and race experience to the table as well.
So as you can see we are making good progress. But remember it's only eleven weeks until the first race. I can't wait!

Tuesday 22nd December: A trip to Florida.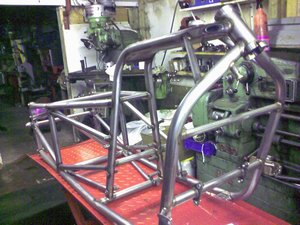 I've just returned from a two week break in Florida - it was supposed to be a vacation, but like any other serious European racer, any trip to the US turns into an information gathering expedition. My visit coincided with the PRI show in Orlando, which gave me a chance to meet friends and sponsors new and old, in the process picking up a lot of new tuning advice. The plan was to take a lot of photographs, but sadly the expensive new camera I bought for Charlotte didn't work. Fortunately Eurodragster.com were on the ball as always, with their US correspondent being there, so you have already seen the photographs.
Larry McBride stopped me to chat about the US and UK racing scenes. It's always great to chat with Spiderman - he's the quickest guy in the world, but has no airs and graces at all. He is truly a legend in the sport, yet has is open and approachable. I've known him for a number of years now and it's always a pleasure to see him.
I talked with Dave Conforti of Worldwide Bearings, the leading supplier of ceramic bearings for racers. I've been using Dave's bearings for a while and they really make a difference. Dave was really interested in the new bike we have underway and before I knew it he had given me a great deal for 2010. So you will see the new bike proudly carrying the Worldwide Bearings logo.
Eric Hotchstetler (the owner of MTC, one of my main sponsors) and I spent a lot of time talking about the 2010 season. Eric is a great guy to have supporting my race programme, because MTC stuff is the best from my perspective and he and his team are always working to improve and develop their performance parts. So for next year I have pistons, blocks, clutch and a few other 'secret' parts from Eric to support our efforts. Eric shares a goal with me to run the first six-second Pro Stock run in Europe, so hopefully we will achieve this.
I also met with Walter Sprout, the globe-trotting Super Street Bike racer and I spent a lot of time with Walter looking around his bike and picking his brains - UK racers will know that he is one of the world's fastest riders. With me doing more and more work on Super Street Bikes, you can bet that some of my customers will be stepping it up next season.
Walking out of the exhibition I heard a loud shout of "Dave Beck!" from across the street and saw Scott Valetti, the owner of AMA Dragbike and a pretty good racer in his own right. Scott is one of those human dynamo guys, always buzzing with energy. We caught up with the news on both sides of the pond. I think Scott is doing a great job with AMA Dragbike and I wish him all the best for next year.
Back at our villa, Don Plesser the owner of PR Factory Store and a longtime sponsor of mine dropped by for a visit. Don has backed me for a long time and I'm pleased and proud that he will be backing me again next season. With Don was Top Fuel Bike veteran Chris Hand. Those of you who know Chris will know that he is just one of the nicest guys in racing. I met him while racing Pro Mod in the US for a number of years, but it's been a while since I've seen him and this was a great surprise.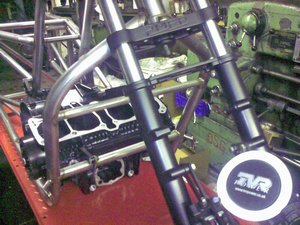 While I was in Orlando, I got the news that the new chassis was ready and on its way to the UK. I used Eurodragster.com sponsor Air Sea Logistics, owned by Malcolm Francis, and the service was absolutely first rate. The crate arrived in Cheshire today, so I had great door to door service at a very competitive price. So I know who we will be using when we finally realise our dream to race the TVR Pro Stock bike in an NHRA event! The new chassis has made a great Christmas present for me, so I think Charlotte's biggest problem over the holiday will be to stop me sneaking into the workshop.
From the TVR Pro Stock team, I would like to wish all our readers and all Eurodragster.com readers a Merry Christmas and a Happy New Year. I will be back in January with more news on our 2010 sponsors and also photographs of the brand new bike.

Saturday 21st November: The parts collection starts.
Winter is keeping us busy, readying the bike for the 2010 UEM Pro Stock series. John at PMFR has finished our new chassis and it's now somewhere on its way over the Atlantic. All the running gear is back from being anodised black, to go with the new paint job in the TVR Power colours. I'm going to let my super crew of Ric Naylor and Tom Lynskey have Christmas off for good behaviour, but once the new year comes they will be here to help with the new build, together with Jerry Collier who is going to apply his welding and fabrication skills to finish the fittings. After that, it's off to the powder coating shop. I'm looking forward to seeing the finished 2010 version of the TVR Power Pro Stock bike. So we are pretty much going to have a new bike for next season. Like all great racing projects you start off thinking "I'll just do a few modifications" and you end up with a completely new vehicle.
I have been spending a lot of time on the phone with Rick at Ward Performance discussing where we find a little more power for next year. The 7.07 cylinder head is going back to Rick's Minnesota workshop to have a number of modifications made. Rick has been working with Dan "the Man" Wagner, who built and tuned Eric McKinney's Pro Mod at the AMA Prostar World Finals in Valdosta last week, where it reset the world record with a 6.55 second run at 203 mph, so it's clear Rick has found some more power. But his time doesn't come cheap, and even though Rick does help me out financially I still need to produce the cash, so I'm currently looking under the furniture for spare change. That's the nature of the game in Pro Stock bike - at the highest level of performance enjoyed by the key European racers each extra BHP costs a lot of time and money.
I'm going to the Performance Racing Industry exhibition in Orlando three weeks from now. Billing itself as the world's largest hardcore racing show, and with 1200 exhibitors and 3500 booths, it's a great place to meet all the top tuners and racers. I'm going with Eric Hochstetler, owner of one of our key sponsors, MTC Engineering. I'm also meeting with Dave Conforti of Worldwide Bearings and Don Plesser of PR Factory Store (another long time sponsor) amongst others. Hopefully I will pick up a few tuning tips for the next season.
The workshop is full of customer motors at present. I'm looking at a line of Busa motors and some Pro Stock lumps as well. Like a doctor, priest or lawyer my customers' confidentiality is very important so I can't spill all the beans on who is doing what. But there are some Super Street Bike and Pro Stock guys who are going to be stepping it up next year. And I need to get the work done so I can afford all the changes to my bike. So back to the grind! I'll report back after my US trip in December.
Wednesday 4th November: A six in 2010?
I wanted to open my first Blog entry by thanking Tog and the Eurodragster.com team for the opportunity to record the development of the new TVR Power Pro Stock Bike team during the 2010 season. I think next year is going to be a challenge and also a lot of fun, with hopefully some success for our sponsors.
As regular Eurodragster.com readers will know, I have been looking for a way to extend the team's racing efforts into the UEM Championship for some time now, but as is the case for a lot of us weekend warriors, it boils down to finance. But this last season saw a chain of events fall into place which takes us towards our goal. We nailed some very solid times at the Open Sport Nationals at Shakespeare County and in my own mind I thought "I should give the Finals a go". And then a couple of people I've known a while approached me at the meeting and offered me some financial support. A few days later Steve Howe also approached me with a bundle of cash and there we were, ready to go.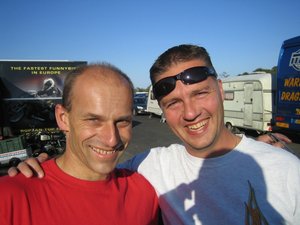 The rest was history, as we put our best foot forward at the meeting. Although we went out in a very fine race with Anders Abrahamsson in the semi-final, we also set the new European record in that race, becoming the first on the continent to run in the 7.0s. I enjoyed racing at the European level again - it's been a long time since my last European Championship. Anders, Ulf, Fredrik, Gert-Jan and all the guys couldn't have been more welcoming and the racing was unreal with records changing hands all weekend. All credit to Ulf, a worthy Champion and a great competitor.
The plot thickened at the Finals when Dom Trickett appeared in my trailer. Dom and I have known each other for many years and he has always had a strong interest in Pro Stock, both as a sponsor to the late Paul Willis and also as a tuner in his own right - he is a very experienced cylinder head developer, among his skills. Dom was also present in Columbus, Ohio in 1999 when I took the Pro Mod win in the AMA Prostar event on the Jay Regan bike. In the middle of what was already a very exciting weekend, Dom really took things to another level by suggesting he help out with some sponsorship and technical support for the 2010 season. And that's how TVR Power Pro Stock Bike came about. We chatted back and forth over the next couple of weeks and agreed we would look to do four UEM events in 2010 at the least and as importantly we both realised we had a shared goal to run the first six-second Pro Stock Bike run on this side of the Atlantic.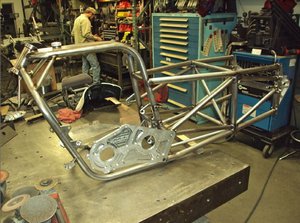 Since then, things have moved quickly. I visited Dom's very impressive workshop and rolling road dyno in Coventry one evening and we chatted about how we could develop the bike for 2010. We have been seeing some traction and handling issues on the old Kosman chassis in the last couple of years as we have found more power from the Ward/MTC motors. After discussing this with Dom, the upshot was to go for a new chassis. This is now being built by John at PMFR in Minnesota - see John's iPhone picture. I have run two PMFRs in Pro Mod previously and have admired the performances that Paul Gast has delivered on his Pro Stock Bike, so I know this new chassis will deliver the goods and help us in our quest for a six.

I'm also in constant dialogue with Rick Ward, the developer of the Vortex cylinder heads which have been a key part of the performances over the last three years. We have two motors at the moment which are capable of regular 7.0s, but we can't stand still. Rick is currently taking a close look at how we can develop another head to squeeze a little more power out. In addition, I receive a lot of support from Eric at MTC, who provides me with pistons, blocks, clutches and various other engine parts. Eric is keen to be part of the quest for a six second run, so I'm due to meet him next month to explore where we can find some more power.

So as you can see, it may be the off season, but like all the other guys in Pro Stock it's by no means downtime. We have a very busy few months ahead of us and that's the way it has to be to compete with the UEM guys. They won't be sitting on their hands, so neither are we! Stay tuned for another update before Christmas, when I report on my visits to Ward, MTC and PMFR.


Feature ©Eurodragster.com


---
Dave Beck Racing web site
Back to Racer Blog index
---