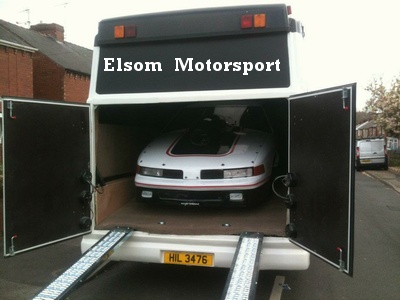 As told to

Tuesday 24th April: We are Elsom Motorsport.
Hello and welcome to the Elsom Motorsport Blog. We are Rob and Sharon Elsom and we are from Mansfield, Nottinghamshire in the UK. We are married with two children. What started us off with drag racing? Well it all started off back in 1997 when Tiff Needell the Top Gear presenter took a Top Fuel dragster out at Santa Pod. And after seeing this on the TV we thought it was a must to go to Santa Pod Raceway. And so we went and that was itw we were hooked. Before you know we were at every meeting.
Then back in 1998 Rob's racing interest was rekindled after we went to the NEC and he was allowed to sit in a dragster. Finally our minds were made up, let's do this! Then along came our '68 Camaro which we ran in Pro ET and also Super Gas. After a few years we had some time out due to finance and in this time we sold the Camaro. Then we had our children Chloe and Cody, now now 8 and 3.
Rob has always kept his hand in racing as he has been helping other race teams, but he was getting the itch to get back in and drive. Well the next thing I knew I had a 1989 Jerry Bickel Oldsmobile Cutlass sat in my garage. We will be running in Super Modified with this car.
At Easter we made final preparations for our first run which was a planned 330-foot no-gas run. The burnout was OK enough but after that things went away and the car died leaving the line. Fortunately enough this was down to a switch being in the wrong position so we made prep for the following day.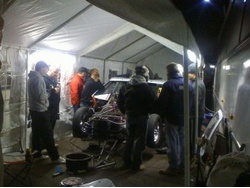 On Saturday, thanks to the glorious Easter weather we spent time in the day waiting for another chance to try again, unfortunately once I tried to put the car onto the burnout I drove through the clutch in a shower of sparks and so was pushed back again. Back in the pits it was decided to fit the spare clutch, and this was done thanks to all the help and advice from Fred, Tim and the other guys in Super Modified. I can't thank the other teams enough for all their help and advice over this weekend and I've got to say how great our class is for that, all so willing to help.

Come Sunday, after all the work being the night before we spent time waiting for a weather window to get what we thought would definitely get us up the track but again due to the weather this didn't happen so we packed up and came home.

Sharon and I would like to thank the lads for all their hard work at the track, Tony Gillam at Abbey Motorsport for all his help and support, Dave at Delta Pixels for his sponsorship at the event and to Andy Kirk for all his help leading up to and at the track. Thanks also to Dijitul.com. Without all your individual inputs we probably wouldn't have made it.

Thanks for looking at our Blog and keep your eye out for any more updates etc. We have a web site at www.elsommotorsport.co.uk so why not have a look?



Feature ©Eurodragster.com


---
Elsom Motorsport web site
Back to Racer Blog index
---