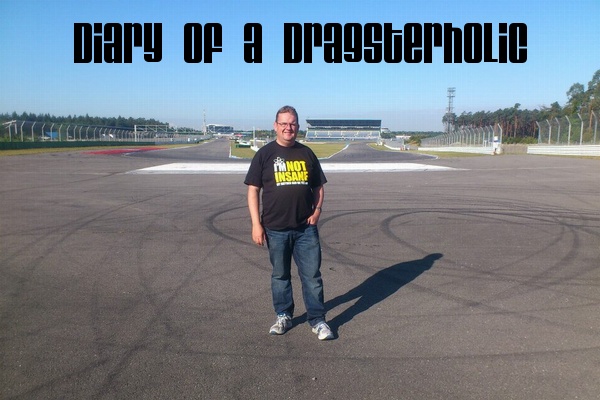 As told to

Wednesday 9th April 2014: My name's Jon, and I'm a dragsterholic...
The analogy stands up. My dad used to say that the difference between an alcoholic and a drunkard was that alcoholics had to go to meetings. Well, as racers, we all go to meetings. As a twelve-year-old schoolboy from Lancashire, I had been aware of the sport through friends of my sister, and one day in October, she suggested taking me to Santa Pod. I had seen it on the telly, but nothing prepared me for the way my life was about to change. My first event was the Fireworks Spectacular in 1979. I remember it in explicit detail. It was the début of the Stones' Stardust (yellow and red? What was all that about?) and my first encounter with Sammy Miller. He did the best Donald Duck impression I had heard before or since, made time to talk to me, and then gave me my first heart-in-my-mouth moment when he crashed in Vanishing Point. I bored anyone who came within earshot for the next six months with that story, especially the bit when, in the post-accident interview, he explained that "All good racers know they should take their car apart from time to time, I just picked the wrong time". I was hooked.
So, over the next thirty four years, I became a recreational drag-user. There were many, many highs: Barry Sheavills' performances in Top Alcohol Dragster at the European Finals when he chipped away at his ET before finally running a five in the final; Steve Johnson getting out of the Motor Mouse slingshot and picking the front end up wheelbarrow style to get the broken car out of the way so Pete Goddard in The Liquidator could race Svante Eriksson's Jeep in the Super Comp final; Brian Johnson and Stefan Reisten finally meeting up in Top Fuel Bike. On the flip side were the occasions when I drove for six hours from Lancashire in a car whose auto box needed a thirty-minute rest every hour, only to watch it rain all weekend before turning round and making the equally tortuous return journey. I made some good pals, and learned a lot from the people around me. I was lucky enough to be asked to crew on a couple of occasions, with the undoubted highlight being the NitrOlympX last year when Turbo, Laura and I went mad in Hockenheim, entertained 60,000 fans and became Swiss by osmosis. Up untill then, I thought I could cope with it. Then along came Tet.
It was a weekday evening in early February this year, and I was engaged in the standard modern off-season pastime: pottering around YouTube and perusing Facebook. I found a video online of a race I had seen the previous year at York between a Porsche something-or-other and an insane Mark 3 Escort on standard rims that was running nines. The Escort easily won, and as part of the ongoing missionary work we all do, I put a link to it on my FB, with a caption that ran something like "...and this is why I am a drag racer". Less than a minute later, Tethys popped up and commented "Well, you're not really, are you?". He had a point: to my shame, I had to admit that I had never actually driven anything up a drag strip in my life. I had attended probably two hundred events as a spectator. On one occasion I discovered that I owned seventy racing T-shirts. But I had got to forty six years old without ever actually doing the thing I loved. That had to be put right.
Back in the early eighties, my good pal Dave had a Mark 3 Cortina, which he ran in the Production class. Production was one of two entry-level car classes at the time. Production was for bog-standard road cars, and the only modifications allowed were safety related. It ran to weight-breaks and indices, and was a real challenge. KP69 (and if anyone has any pictures of it, please get in touch) ran for a couple of events before meeting its end against a tree in Southport. Once Dave had got out of hospital, he headed for the other entry level class, Roadster. Roadster was a dial-you-own class, and all the car needed was an MOT certificate. Because it was dial-your-own, as long as one could be consistent the car itself didn't need to be put under too much strain. Ideal if one's weapon of choice didn't actually belong to you, or (as in this case) had been hired from Avis.
So, fast forward thirty odd years. What was I to do? As a teacher with a family, Nostalgia Funny Car is not yet an option, and my current domestic situation doesn't permit me a dedicated race car anyway. Whilst the Production Class is a distant memory, Sportsman ET is pretty much the embodiment of the old Roadster class. Bearing in mind that whatever I raced would have to get me to work on Monday, I would certainly be aiming for consistency rather than outright performance. A brief chat with a few people resulted in enough people saying "Why not" for it to suddenly seem like a good idea. Before I had a chance to change my mind, the MSA licence was applied for, and I started looking at the calendar.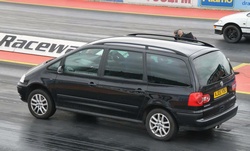 Then the thought occurred that there must be lots of people who have thought about doing this, but never got around to it, or thought it was too hard, or too expensive. Run What You Brungs attract hundreds of budding racers, and there are some stunning cars that race fans rarely get to see. There are also a lot of people who turn up with their daily drivers, and get a lot of enjoyment from just doing laps. I thought that the mechanics of actually running an entry-level race car that doubles as the daily-driver may be of interest. Talking to other people at the recent Dial-in day (of which more later) confirmed this. When I look at the people on the list of Eurodragster.com bloggers, I realise I am in exalted company. Champions, Crew Chiefs, fuel racers and commentators; people I have long admired and whose exploits I have lapped up over the years. One of the most interesting recent additions to the list is Rob Loaring, who demystifies the reality of running a Fuel Car. I guess in this blog I am hoping to do something similar. The readership of Eurodragster.com are incredibly knowledgeable, and I am sure most of you will chuckle quietly when you read this blog. I am not planning to give any secrets away, largely because I don't know any. In the months since I decided to go for this, the one thing I have learned is how little I know about drag racing. I don't have the budget to do all the rounds, and I certainly don't have the money to go significantly faster yet. I am doing a lot of this in a way that goes against conventional wisdom (apparently a diesel car with a manual transmission is not a good choice for consistency). What I do plan to do is to have a lot of fun, hopefully go a round or two, and to tell you all how it went. Learning, learning, learning all the time.

Next time: Jon goes to a Run What You Brung, and learns some more…



Feature ©Eurodragster.com


---
Back to Racer Blog index
---